Every September, the New York Fashion Week opens the door for a whole month of art, luxury and fashion around the world.
As always, this great event has confirmed itself as a never-ending source of inspiration for beauty and fashion alike: thanks to it catwalks and backstage, we do totally have a clue on what's bound to be hot for the coming Spring/Summer  2018 Season.
Let's have a look at what have been the most recurrent, interesting and funny beauty hints that have populated the catwalks of the colourful, sometimes crazy and sometimes romantic, Carnival of Events, Fashion and Beauty that's the New York Fashion Week.
_________

New York Fashion Week Beauty Trends
Graphic Eyeliner
_________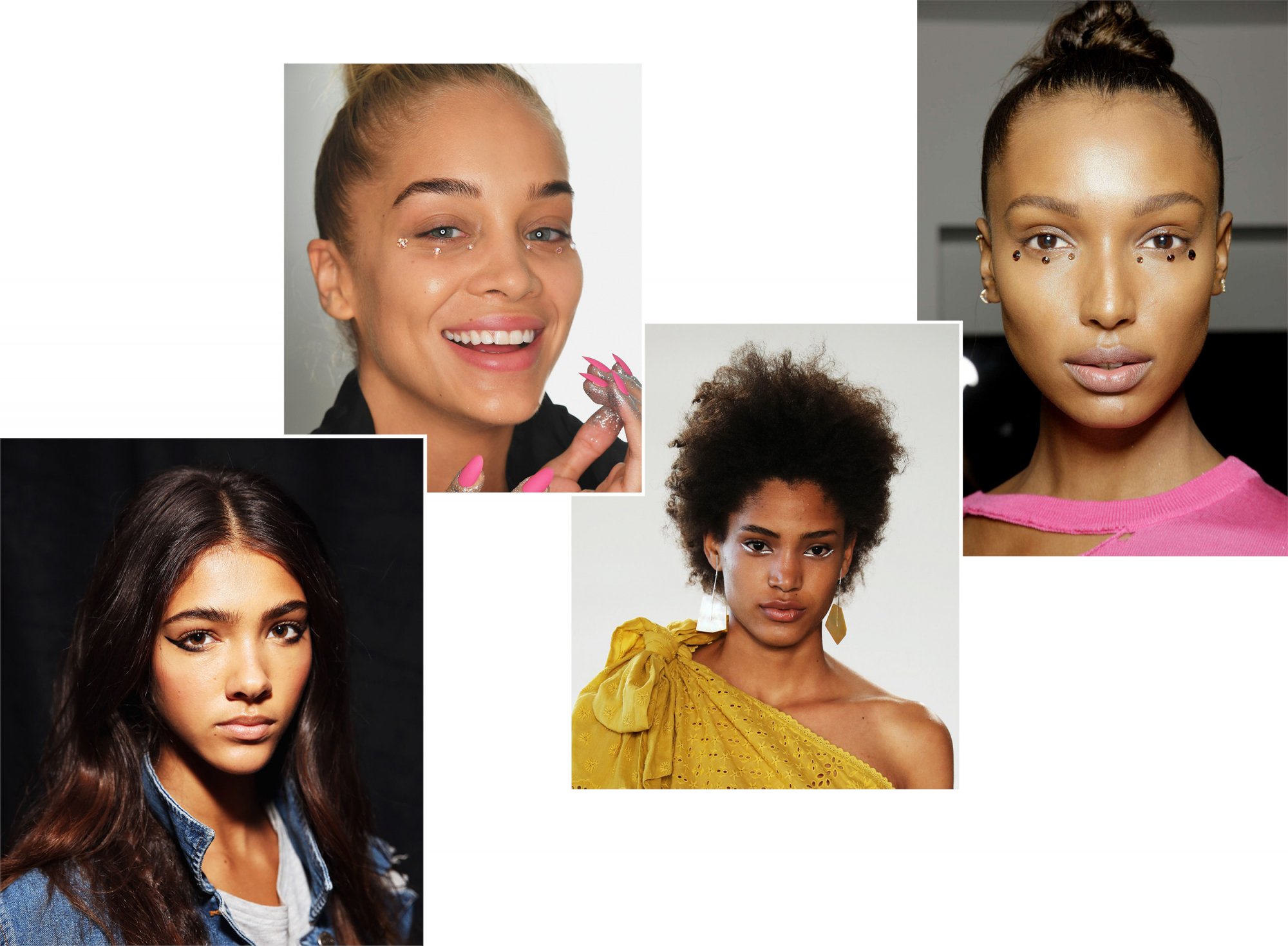 We had already got a glimpse of this futuristic, intriguing beauty trend during the last Haute Couture Fashion Week in Paris. The new memo for your eyes is: get the look upside down.
How? First step: forget the average cat eye.
Then, arm yourself with a liquid eyeliner (Make-Up Artists loved it this Fashion Week) to prove yourself how steady your hand is.
Now, draw a line under your lower eye-line and drive it boldly up, dramatizing the eye-corner.
Ulla Johnson reinvented the trend with a white, graphic couple of strikes under the eye, drawing its borders.
A good way to brighten up the gaze and be dramatic, but without much effort!
And if a thick black upside-down eyeliner is too easy for you, try the princess' look: Jeremy Scott opts for three tiny glitter diamonds to define the eyes of his models
_________
New York Fashion Week Beauty Trends
Glitter Eyes
_________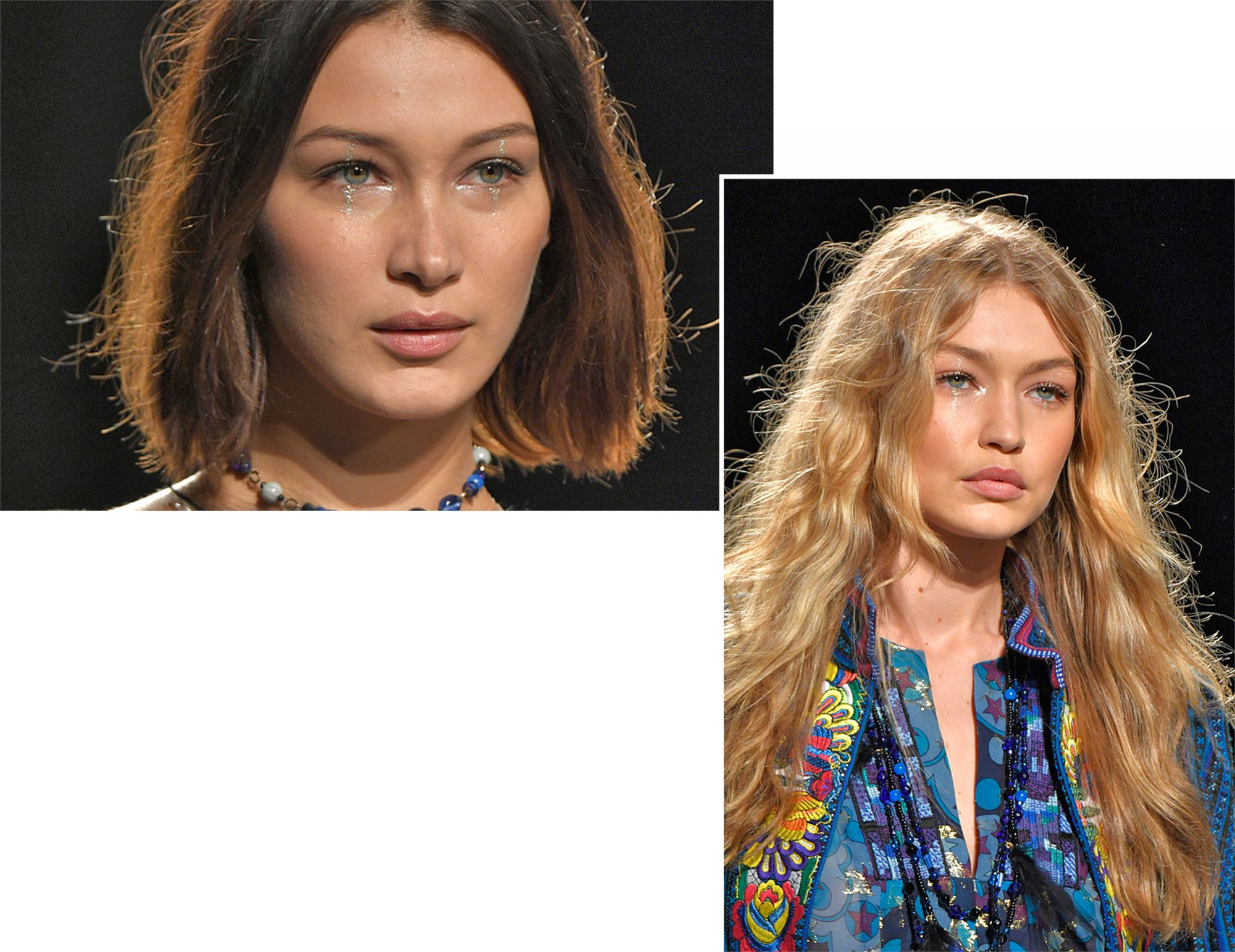 Ladies, welcome the easiest glitter makeup ever.
For the Anna Sui's catwalk in New York, MUA Pat McGrath, always reinventing her style for the Sui's shows, has created a soft but dazzling look that, in its easiness, is pure genius. All it takes is some cream to fix the glitter that will be applied with a brush over the lid. Pat created a graphic look, with just a thin line of glitter that crosses the eye like a sparkly scar.
She used the Elizabeth Arden's Eight Hour Cream on the models' lids and cheekbones. As for the glitter, they were signed Inglot and MAC, in golden and silvery shades.
_________
New York Fashion Week Beauty Trends
Graphic Nails
_________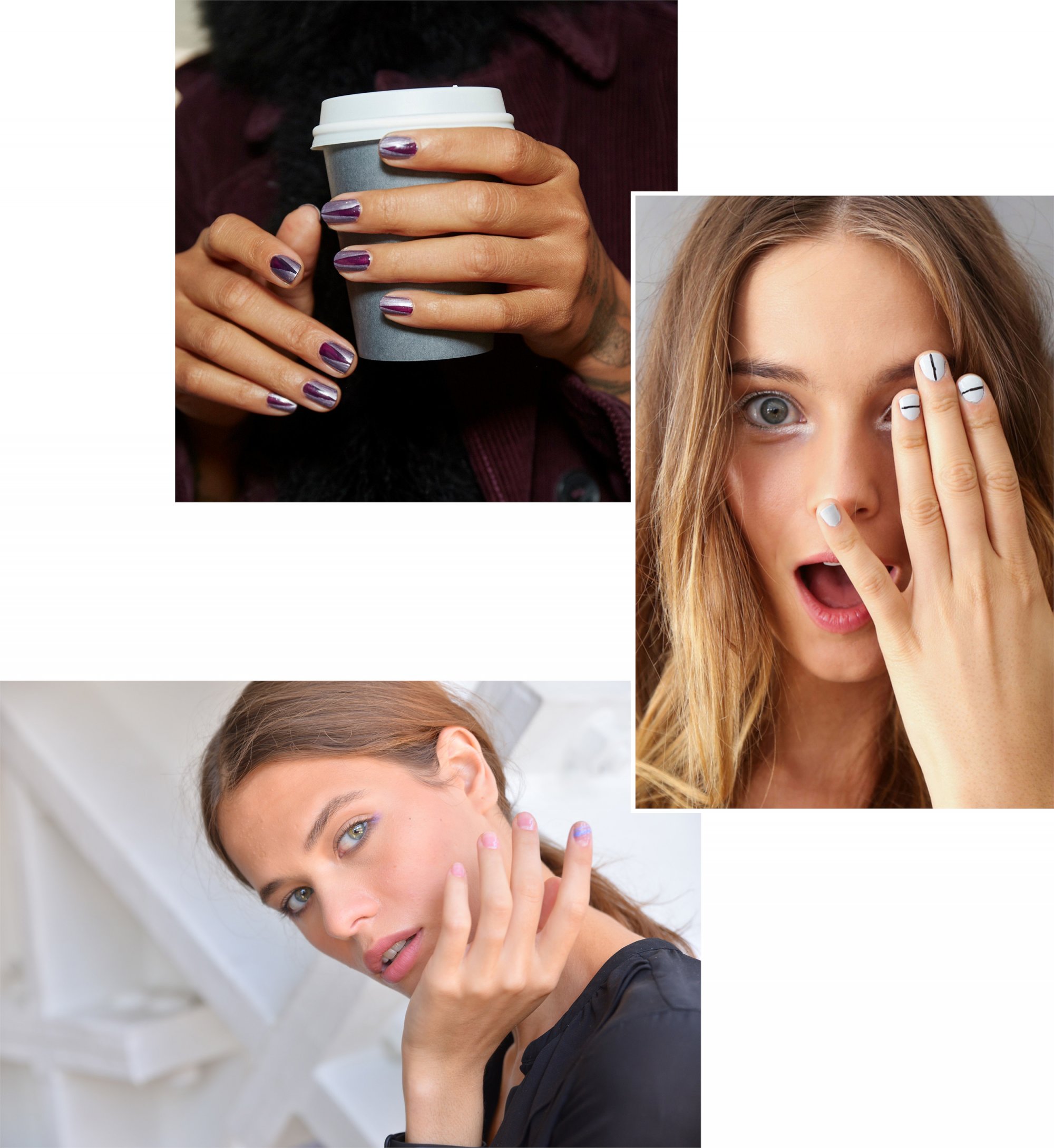 It's the newest trend when we talk about hands and it's all over the Manhattan catwalks: graphic nails.
Jin Soon created stunning nails for the Tibi show, using the JINsoon nail polishes. Again, getting the look might be easier than you think: take the index finger and draw, possibly with the help of a sticker, two lines. One must be thin; the second should be slightly thicker.
Et voilà.
The shades spotted were pastel blue, dark purple and mauve, but the possibilities are endless.
Rebecca Minkoff's models also rocked a purple graphic manicure, created by Michelle Saunders. This time the contrast is between opaque and metallic, using two colors.
The background was made with the Essie Nail Polishes in Girly Grunge, while the triangle at the center of the nail was in Flowerista.
_________
New York Fashion Week Beauty Trends
Colorful Eyeshadow
_________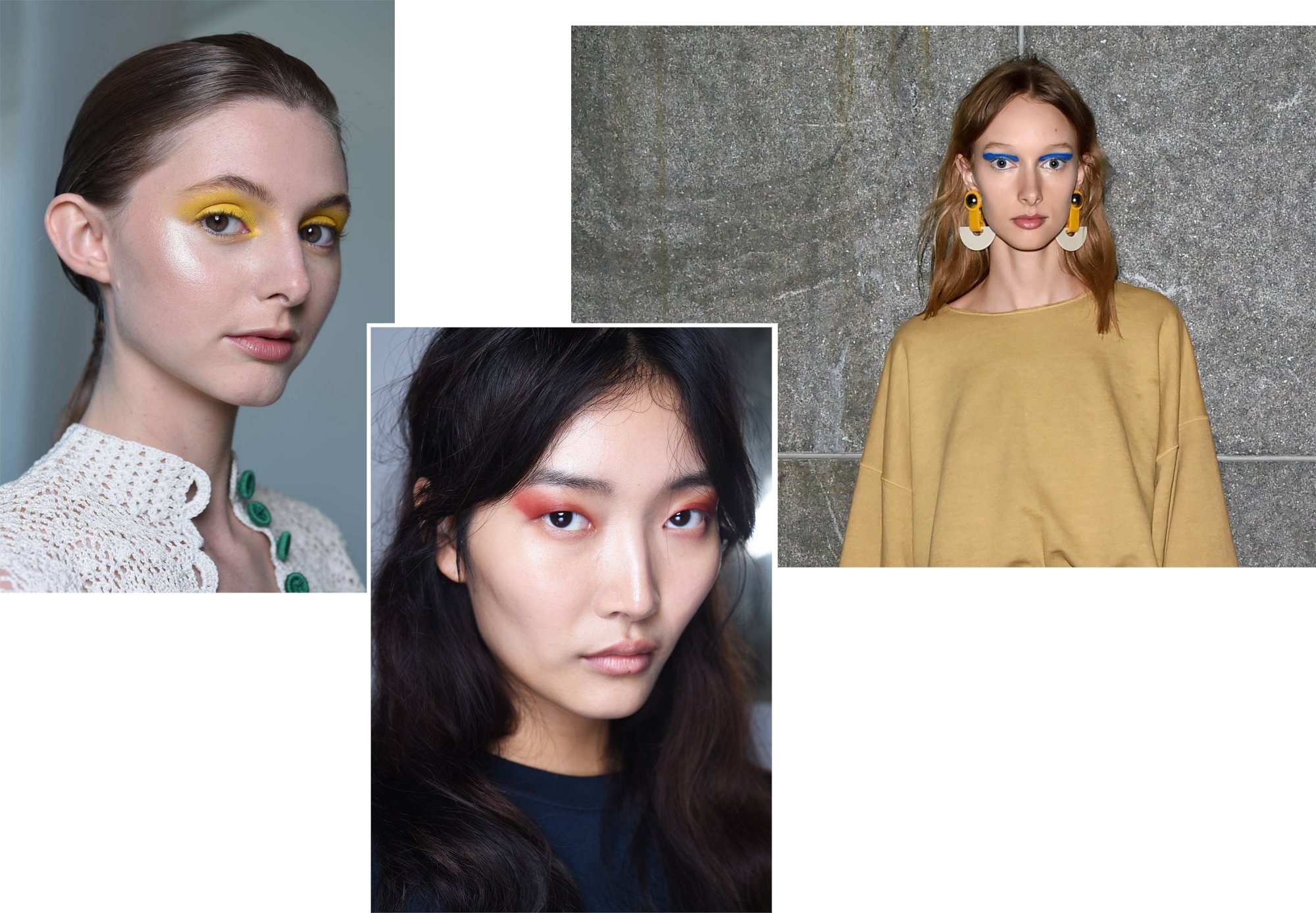 Blue, smudged pigments also for Tadashi Shoji: this time it's a light blue, dramatized by the darker shades of the kohl, used to define the lower eye-line.
Noon by Noor surprises with a strange, interesting splash of color (a bright orange) drawn with extreme precision to frame the inner corners of the model's eye…and nothing more!
Fatima Thomas for Becca created a similar style, but with a bit different structure: she bet on the orange details but adding a glowing touch with the golden eyeshadow.
Also Rachel Comey's models wear a compendium of bright colors and extreme styles: Romy Soleimani for NARS created red and blue eyes. The first is a coral red stretched like a cat-eye and blended over the eye, while the second is an opaque stroke of ocean blue that crosses the eyes of the models like a paintbrush.
_________
New York Fashion Week Beauty Trends
Natural Look
_________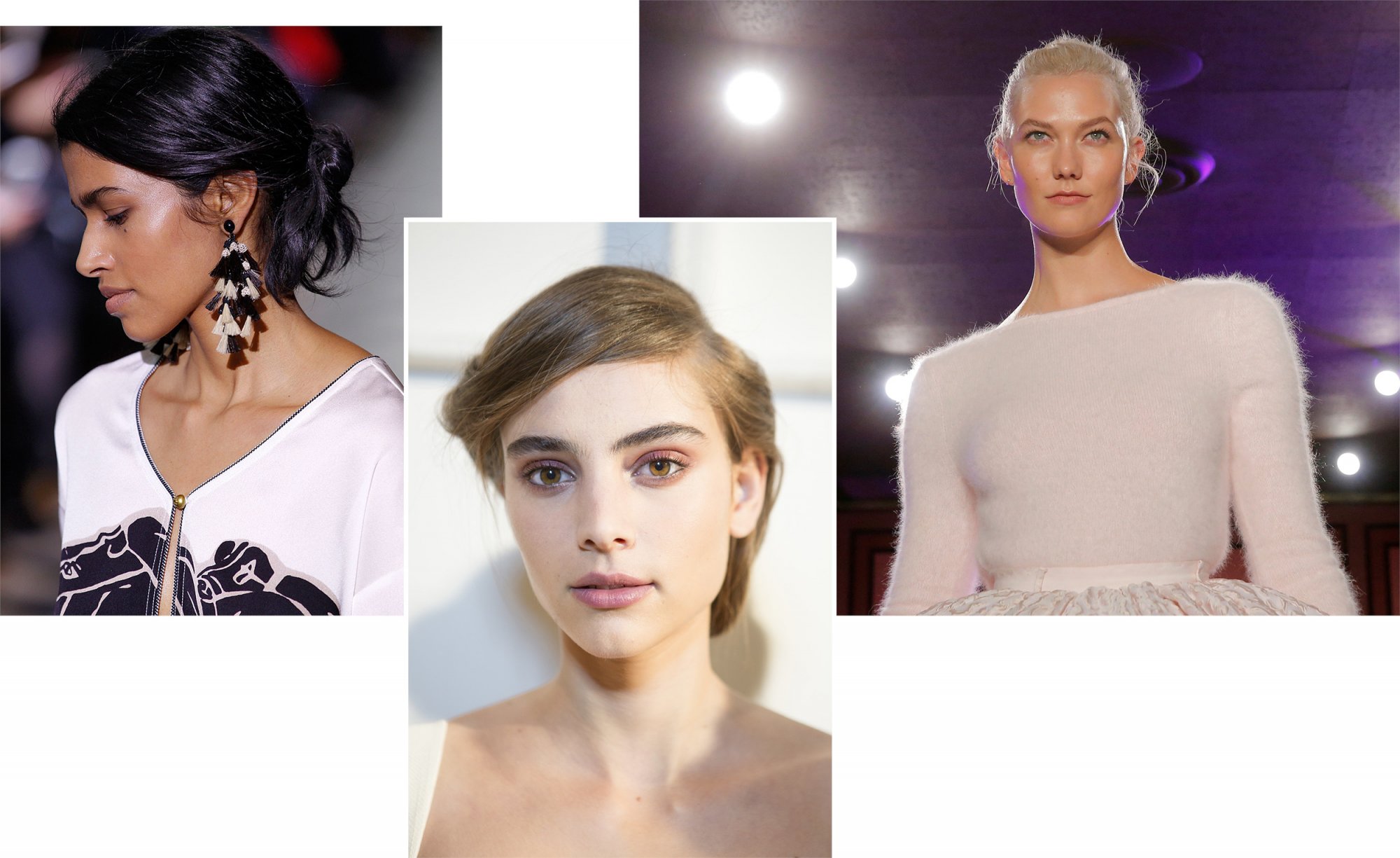 SS 18 is going to be a good time for pink lovers. Brock Collection's catwalk hosted beautiful, romantic, soft shades of rose, both on eyes and lips.
For Shiseido, it was created a soft look, dusty and ultra-matte, with the aid of bronzer on the model's check and a matte lip primer. The effect was dramatized with the orange of the eyeshadow.
Tom Pecheux for Brandon Maxwell has proved himself with a natural look with a touch of retro (The inspiration was a Kate Moss look from the late 90s, done by Pecheux himself). The secret of his makeup? Mac's Retro Matte Liquid Lip Colour.
Also MUA Gato, for Cushnie et Ochs, created a nude look in all the nuances of pink: he used a matte lipstick and peach, wet-looking eyeshadow. The only bad-girl note in this makeup are the lashes, generously coated with the Maybelline's NY Colossal Big Shot Mascara and then pinched together for a punk look.
_________
New York Fashion Week Beauty Trends
 Puffy Cat Eye
_________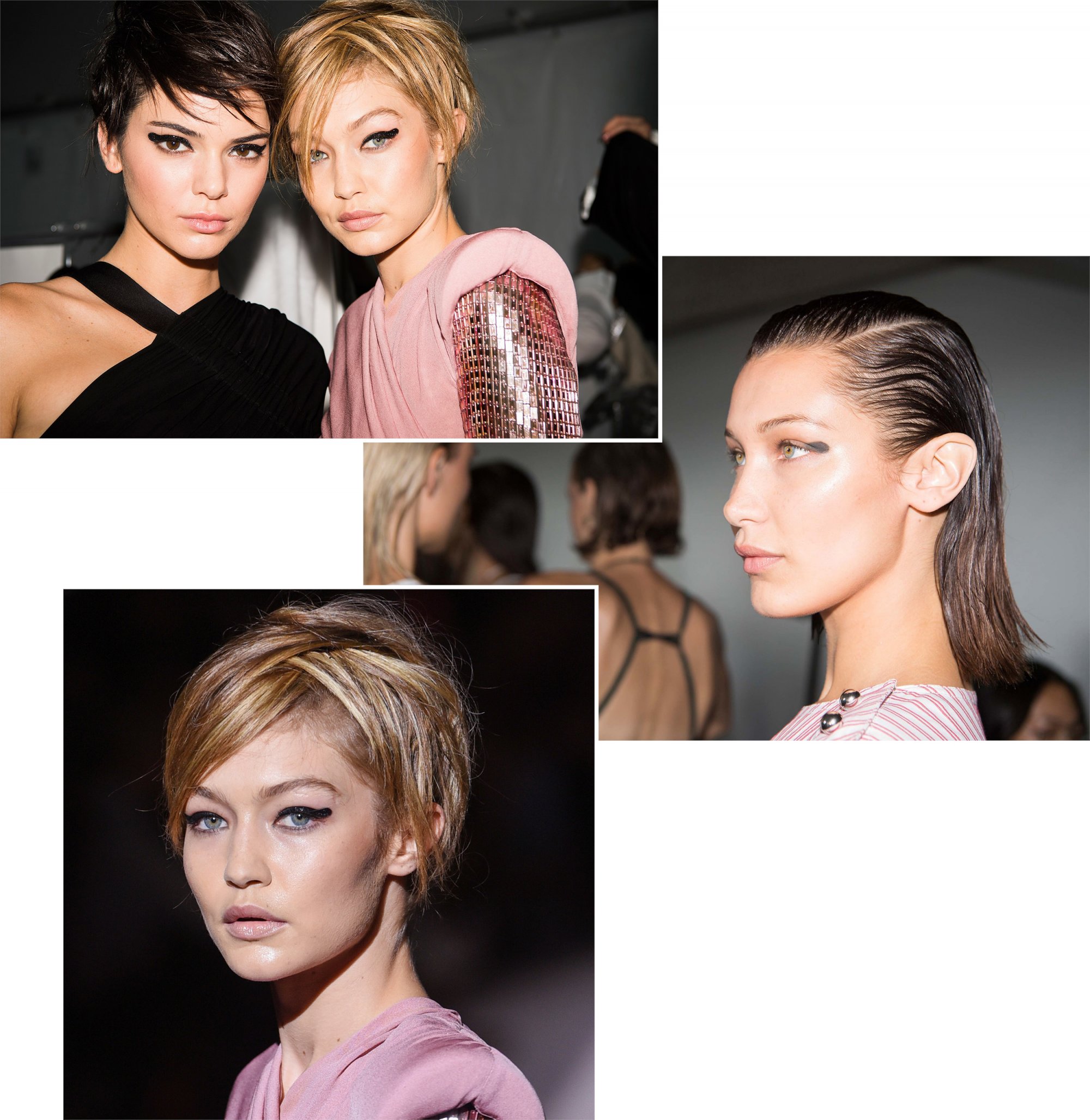 While brands like Ulla Johnson are starting a revolution around the usual eye makeup there's who, like MUA Pat Montelongo for Tom Ford, is dedicating to recreating the Cat Eye (but not as you expect it). Plain black, matte or glittered, this thick cat eye occupies the whole lid, with an eyeshadow effect, but terminating in a round tail, like a cat's.
Jason Wu creates a similar look, matched with pink lips, but decides to blend the thick, black line just inside the lid: the effect is a very defined corner, but an otherwise naked eye.
This year's makeup is bold, with puffy, smudged and round borders.
_________
New York Fashion Week Beauty Trends
Sporty look
_________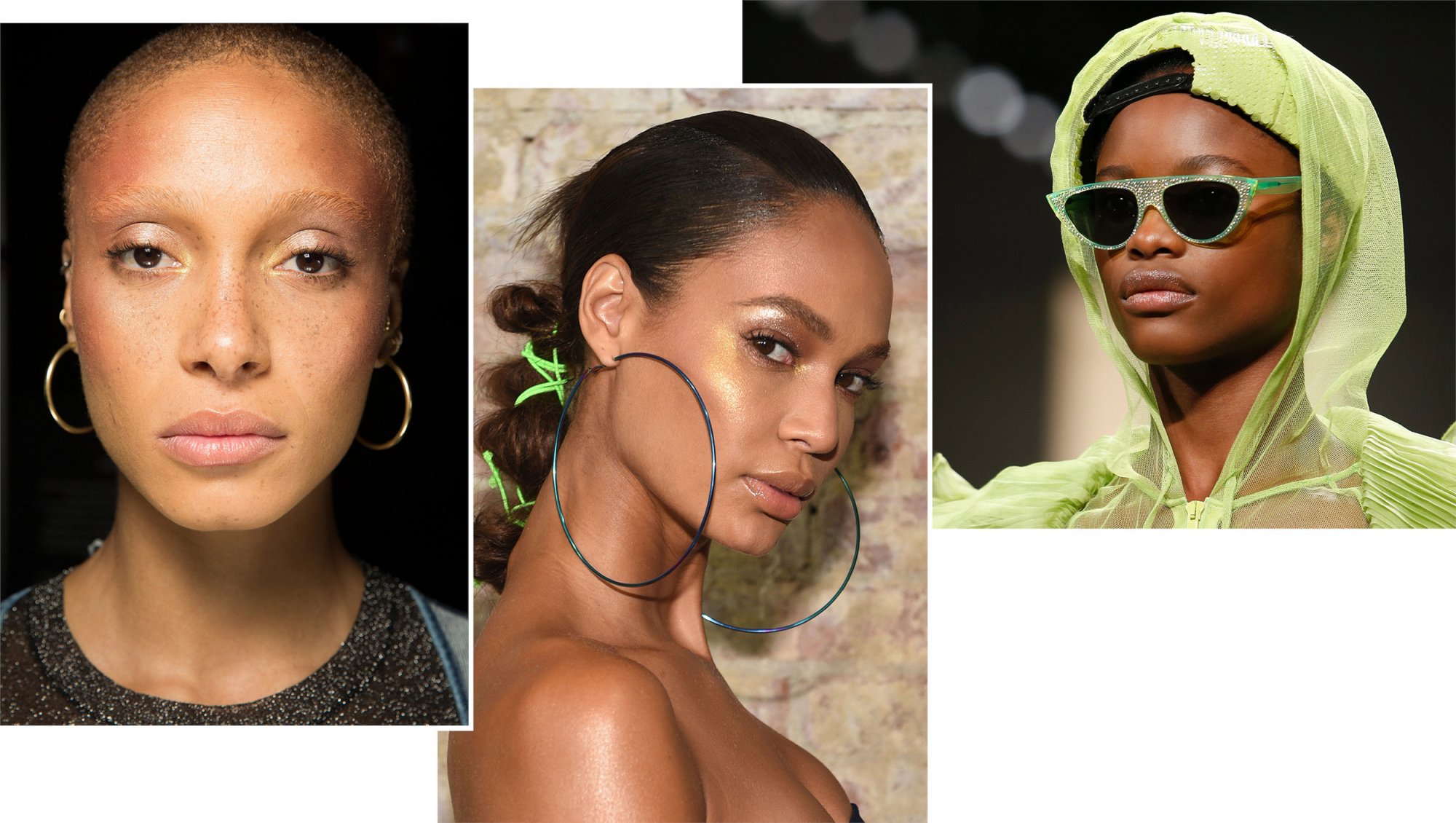 Did someone say, "After the summer I'm going to exercise, I swear"? Well, you're not the only ones signing for some good quality time at the gym: the New York Fashion Week did wear comfy outfits, too.
Mac's Diane Kendal for Tory Burch has created a minimum, natural-looking base. Then, the eyes are defined with a minimum touch of hazelnut eyeliner and the lips glow with the Fleshpot lipstick shade.
Might it be because of the launch of Rihanna's Fenty x Puma collection? The suits, bright accessories, minimal (if not absent) make up and metallic blushes are giving us '90 vibes!