It's common knowledge (unfortunately) that getting to enter the fashion world is difficult, especially if you're young, especially if you're an aspiring designer who wants to impose themselves on the scene as a voice of change.
In a sector where those who reach the top seem to have forgotten their origins and path, one should remember that "new" is not synonymous with different and/or wrong; in fact, this term can also mean a return to the origins in a new way, for example, or a series of original inspirations that, at the same time, give a tribute to those great artists who have walked that same road before, reaching success.
And it is in this creative energy that resides the strength of the new brands, which reinterpret the reality of today through their style and their ideas, giving life to creations that inspire viewers or customers and that, more or less intentionally, contribute to the change of a sector in constant movement and evolution.
As for illustrators, artists, and designers too, to have their "trademark" is fundamental: to be well-identified through their collections and make them reflect the character of the person who designed them is the first step to make your name in the fashion world, especially here in Italy, the birthplace of many designers who have made history.
Although it is not easy to stand out in this "jungle," there are some new Italian talents who have managed to stand out with their ideas and creations, earning the title of "emerging designers worth watching": here are 5 names that, with their unique characteristics, are bringing a wave of youth to the fashion scene. Follow them now, you won't regret it!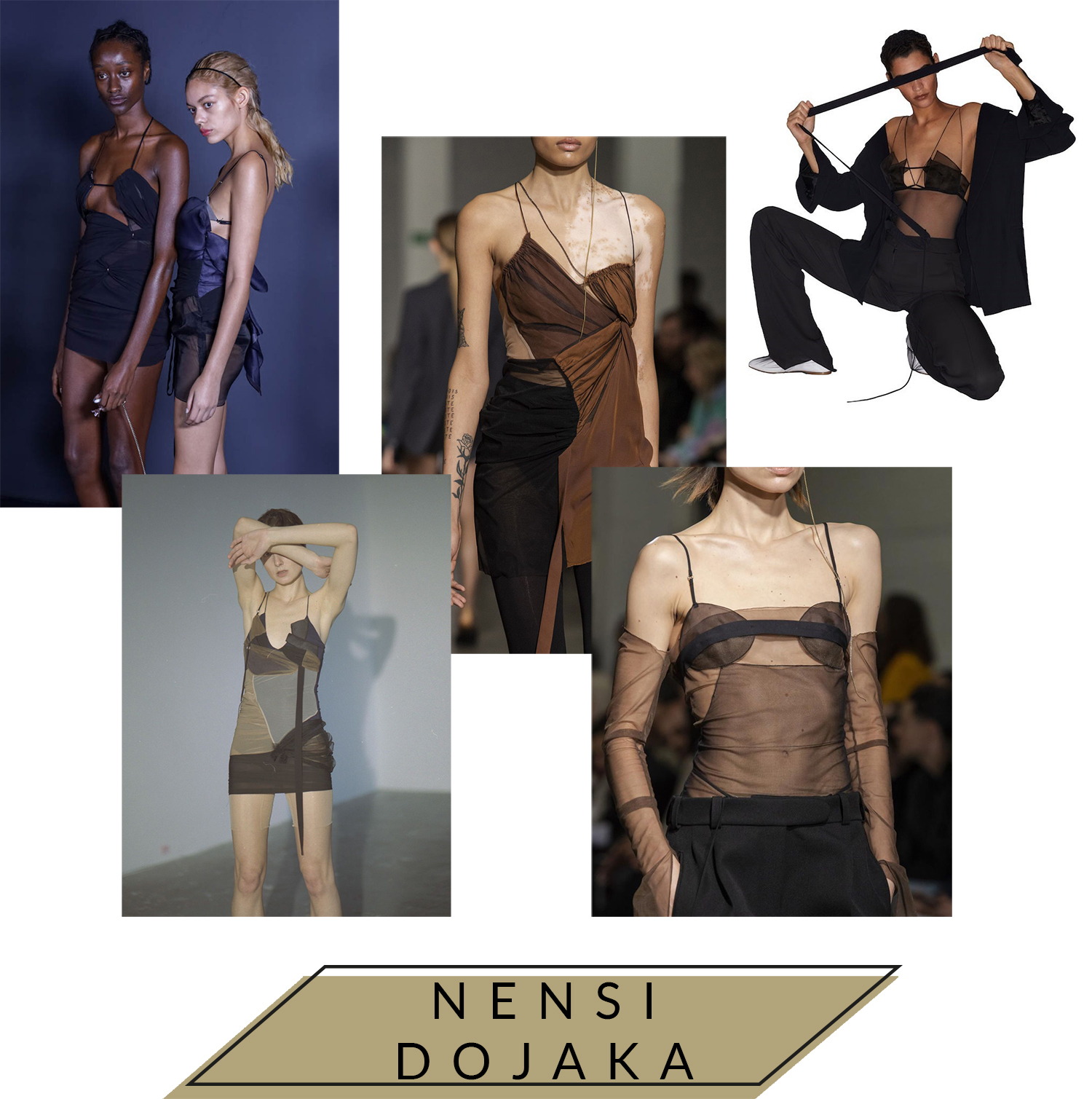 Nensi Dojaka was born in Albania and moved to London to attend the London College of Fashion. During her last year of school, in 2017, she founded her homonymous fashion brand and, since then, her career has been marked by constant growth (she also accomplished a public outing of Bella Hadid with one of her iconic pieces). Her style is feminine, with an aesthetic that reminds us of the nineties, and its protagonist is not the dress or the wearer, but the relationship between the two. The designer loves to play with materials, opposites, and the deconstruction of the fabrics, which are made of sheer and silk materials, suggesting an idea of femininity almost ethereal even though, at the same time, the lines are sharp and marked, very impactful. A dualism that is certainly difficult to create, but has irresistible beauty. Today she is involved in the new Italian project by Alessandro Dell'Acqua (creative director of N 21) and Tomorrow (a go-to-market, production development, marketing and distribution company led by Stefano Martinetto) to research and support young and talented new designers. The project debuted during SS 2021: Nensi Dojaka's collection is now hosted in the Garage Ventuno show-room.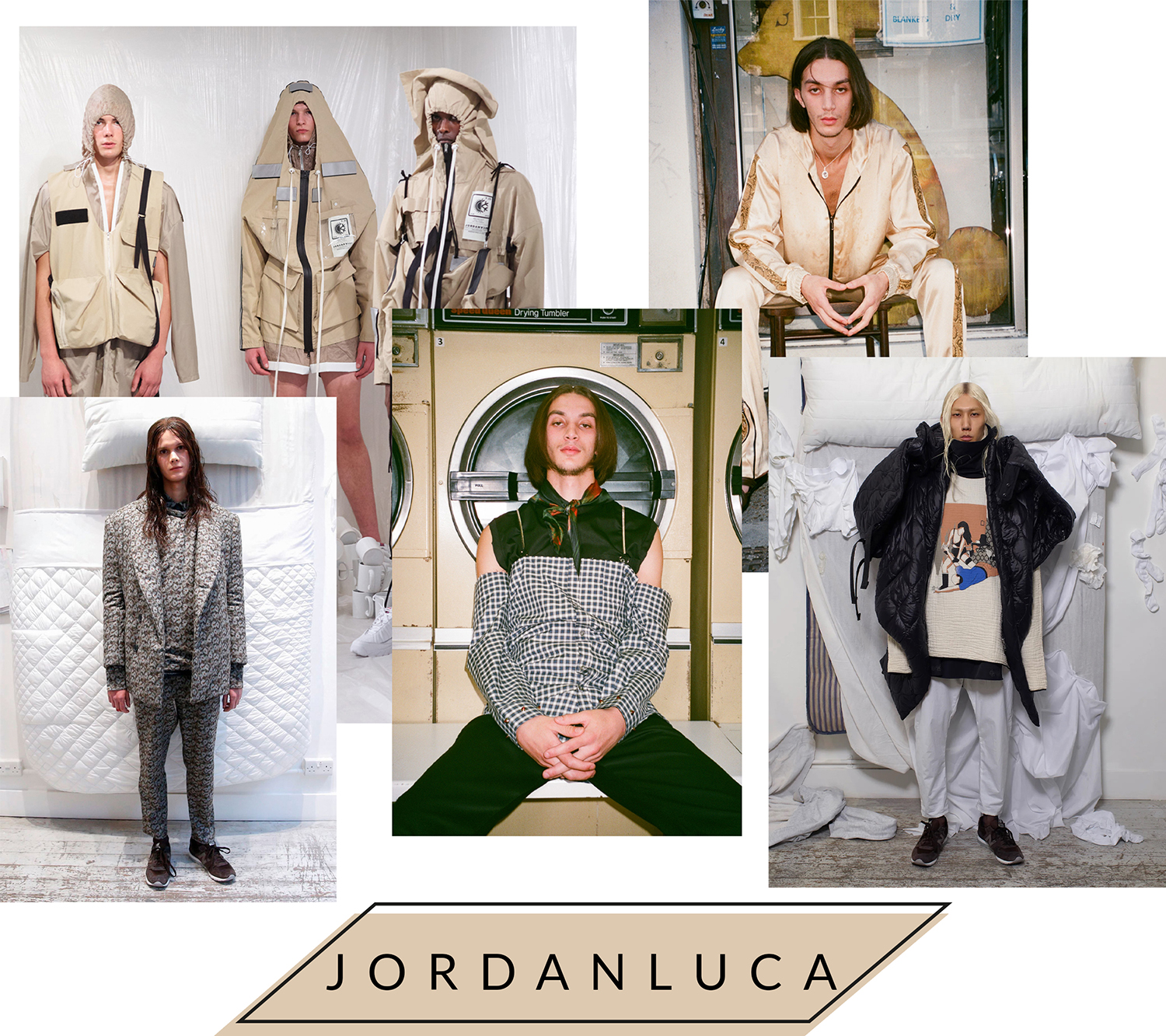 It sounds like a movie, a tale: a young Italian, Luca Marchetto, decides to leave all his certainties behind and jump into the world of fashion. After working for some of the most illustrious names in the industry (such as Lucio Costa, Castelbajac, and Vivienne Westwood, for whom he'd worked as a personal assistant for seven years), at an event he meets Jordan Bowen, a young Englishman who grew up with punk culture: this meeting determines the beginning of a new adventure for both of them with the birth of the JordanLuca brand in 2018. They are both are in charge of the creative creation of the collections, although they specialize in different tasks: Luca is in charge of the "technical" realization of the product, while Jordan is responsible for marketing. The fabrics they use are Neapolitan or Japanese, and the designers strongly believe in "Made in Italy" and in an eco-sustainable approach: the cashmere they use, for example, is recycled from old sweaters, while their zippers are made of recycled polyester. Thanks to the unique mix of Italian elegance and London lightheartedness, they work in synergy to dress an international community, which doesn't belong anywhere.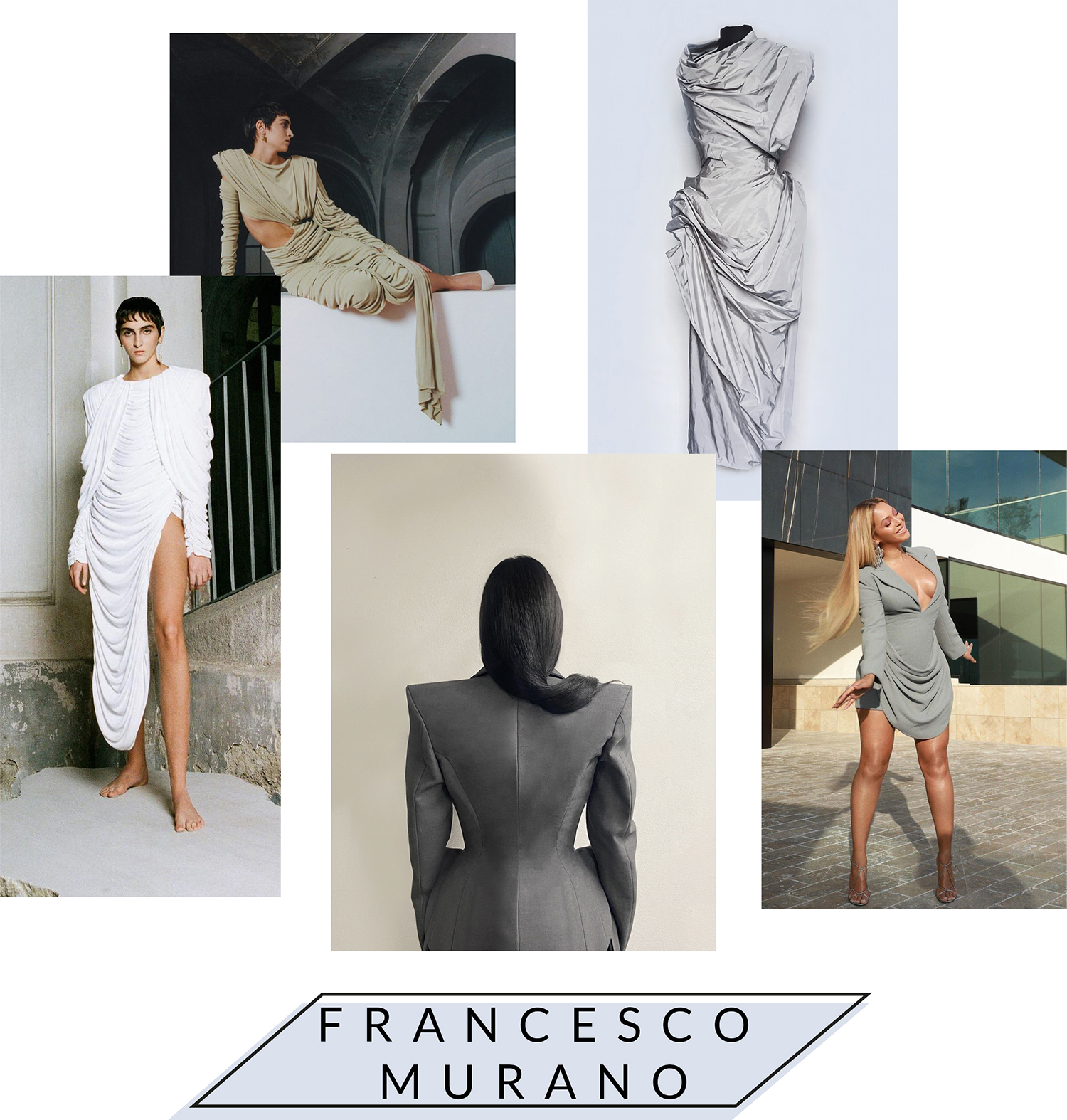 Francesco Murano began his artistic studies in high school and then devoted himself to the fashion world. Over his career, he has won several awards (including the First Prize and the Vogue Talent at the Milano Moda Graduate competition) standing out from the beginning and noticed, in particular, by Beyoncé's stylist, Zerina Akers, who fell in love with his clothes and sent her client some of those to wear: the most iconic is certainly the gray blazer dress. The sophistication of the shapes and patterns of her collections are based on classic, baroque and familiar patterns (like memories of her seamstress grandmother for example), also inspired by historical architecture, in addition to the timeless and iconic eighties.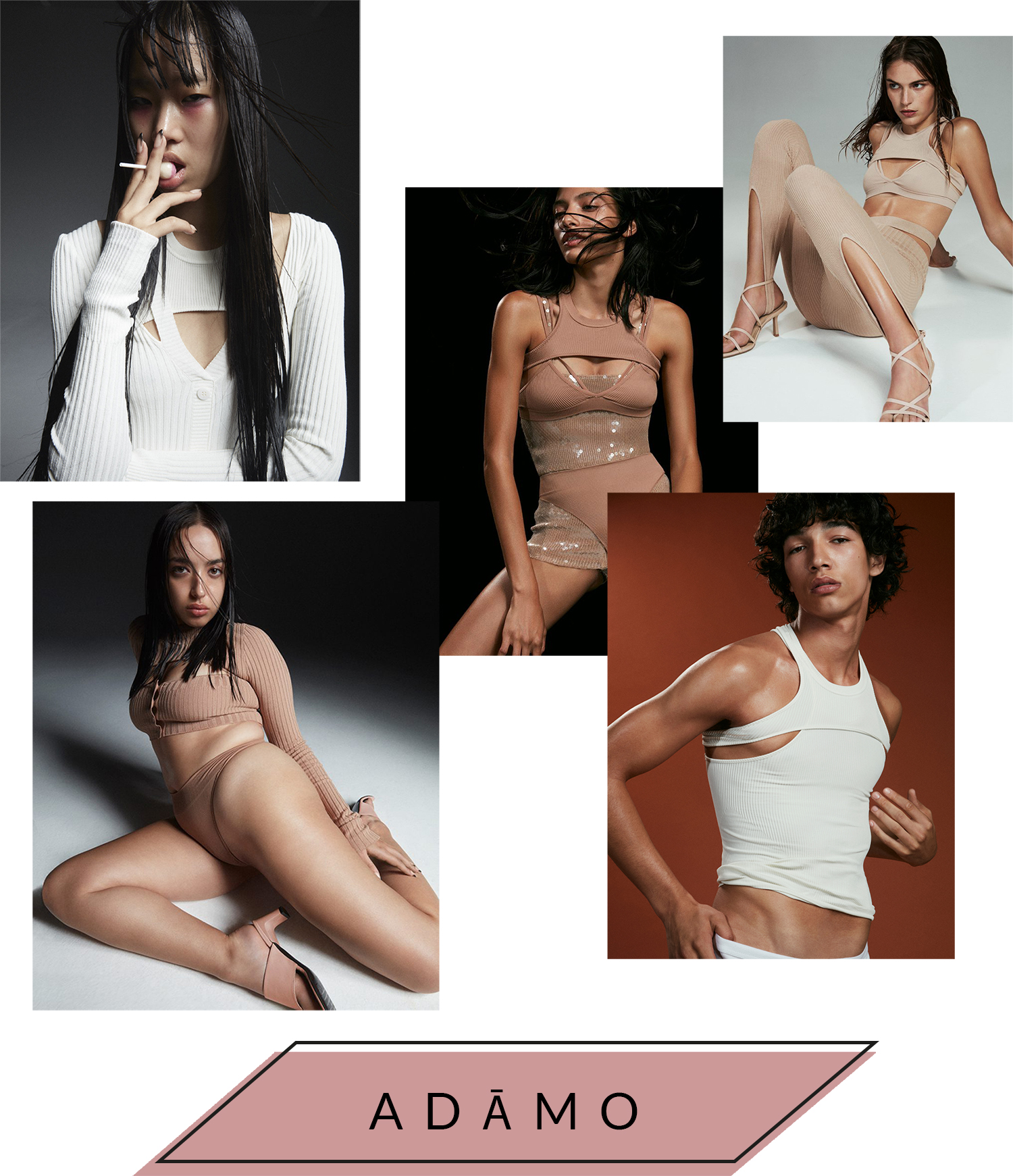 Born in 1984, Andrea Adamo made his name working for some of the most important fashion brands in the world, from Elisabetta Franchi to Roberto Cavalli, until he created his own brand with his own style and his own identity. The designer considers the clothes as a second skin in which to feel comfortable and with which to bond, without shame. His brand plays with the "naked" and its colors: for this reason he uses seamless, a textile technology that allows garments to have no seams, to lean on the skin following its shapes in a harmonious way. Her inspirations come from society, from what his designer eyes can catch. Precisely for this reason, his collection is free from any scheme, putting labels such as "feminine" or "masculine" aside to create genderless garments in which everyone can recognize themselves.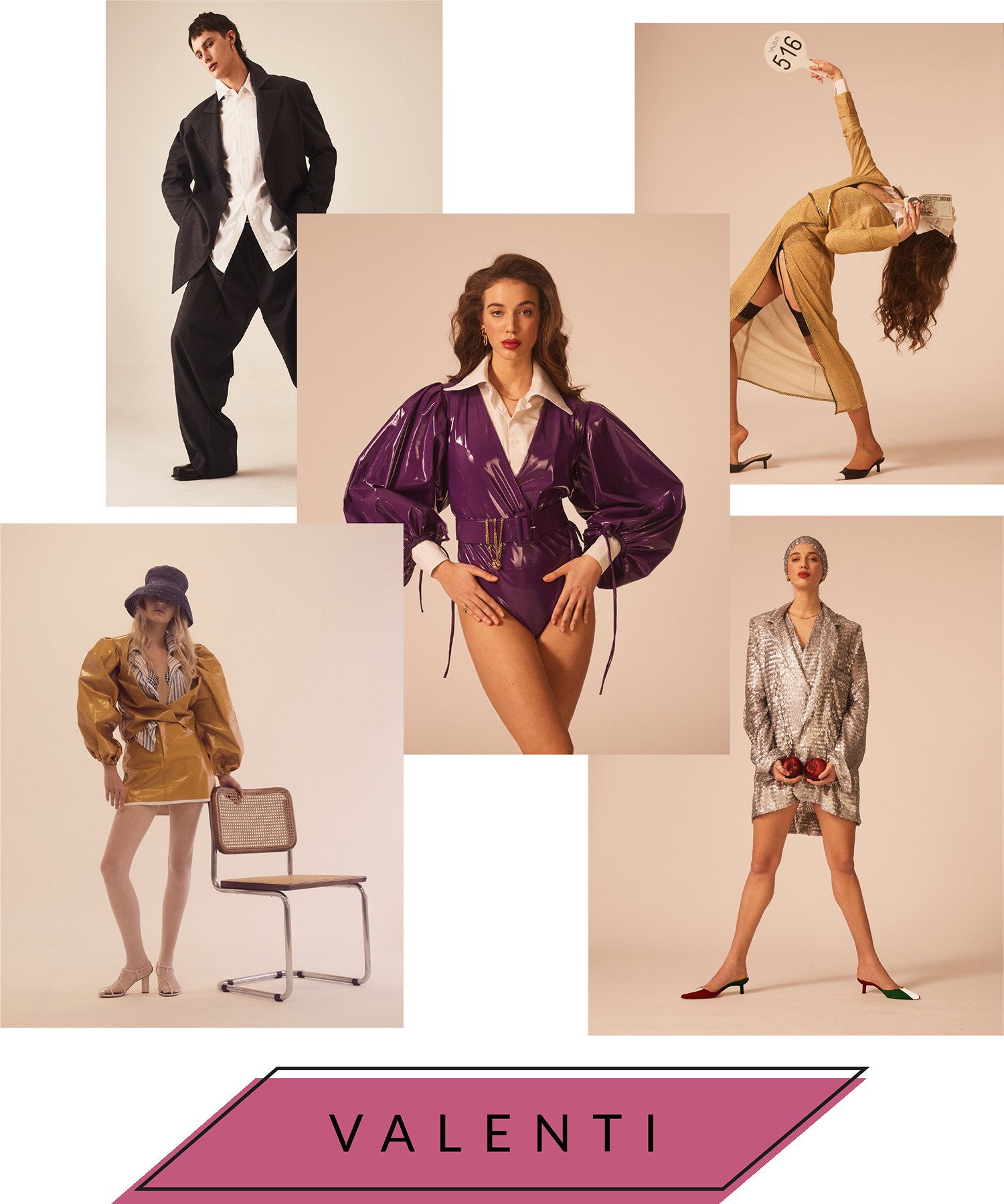 Sometimes the craziest decisions are the ones that lead you to realize your full potential. So Nicole Valenti, after two years of studies at the faculty of Biotechnology and after passing the entrance test to Medicine, decided to leave everything and start studying fashion. In February 2018, she launched the first line of her brand Valenti, inspired by the women of the twentieth century and, in particular, those of her family. Cinema, songs, the living rooms from an 80s Milan, and the Neapolitan style, accurately mixed with the current ones, are also among the inspirations of the designer who has so far decided to go against the trend, producing garments only on request of individual customers.