One vision, one need, one change. So the reality of Bullfrog was born, the barbershop born from the mind of Romano Brida, that combines Italian and American traditions in an ambient stuck in time.
The attention down to the very last detail has brought Bullfrog to be one of the most important barbershops in Italy and, even if the format is in a continuous expansion, Romano still focuses on the essence of his project, which is trying to offer the modern man the highest form of luxury: some quality time for themselves.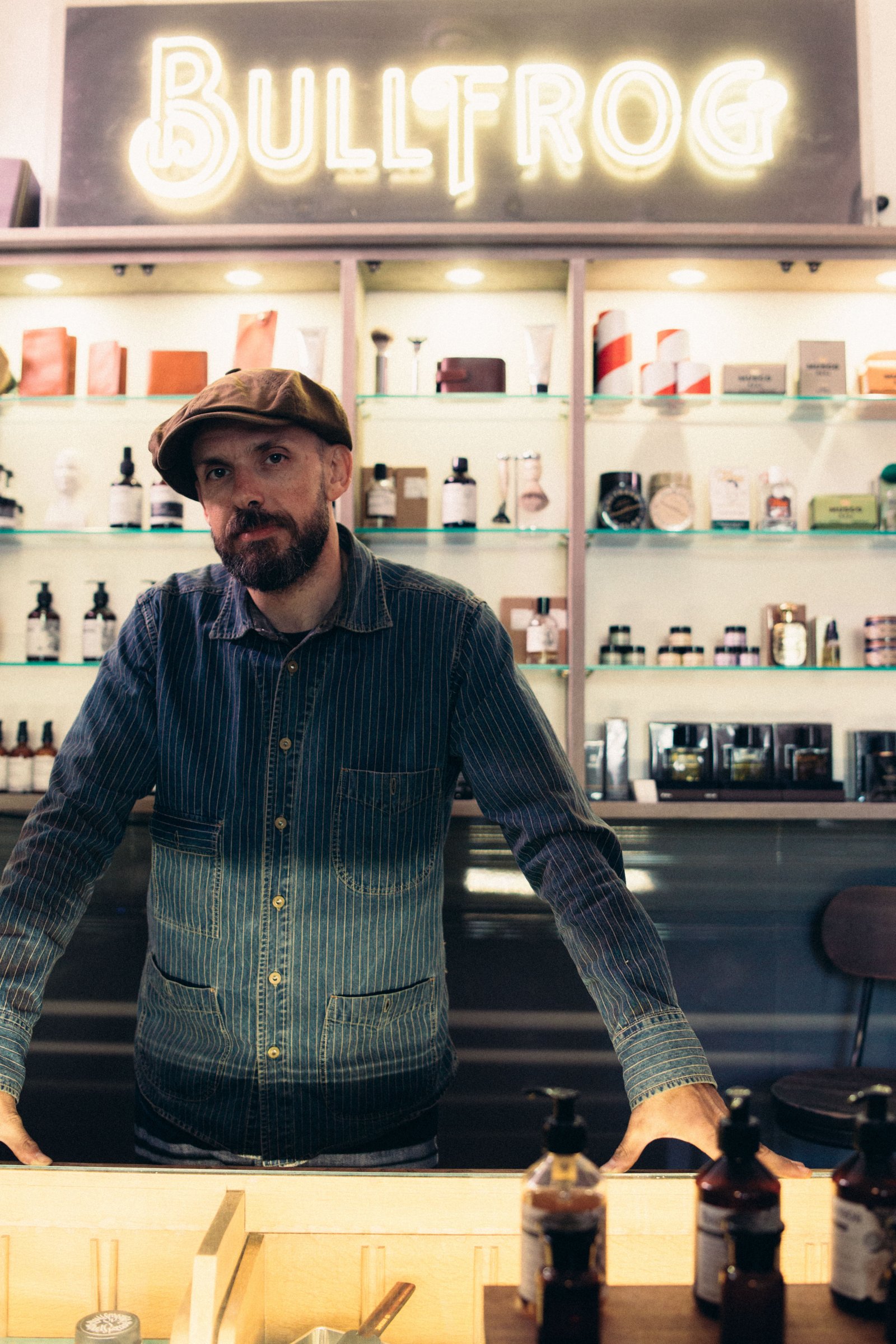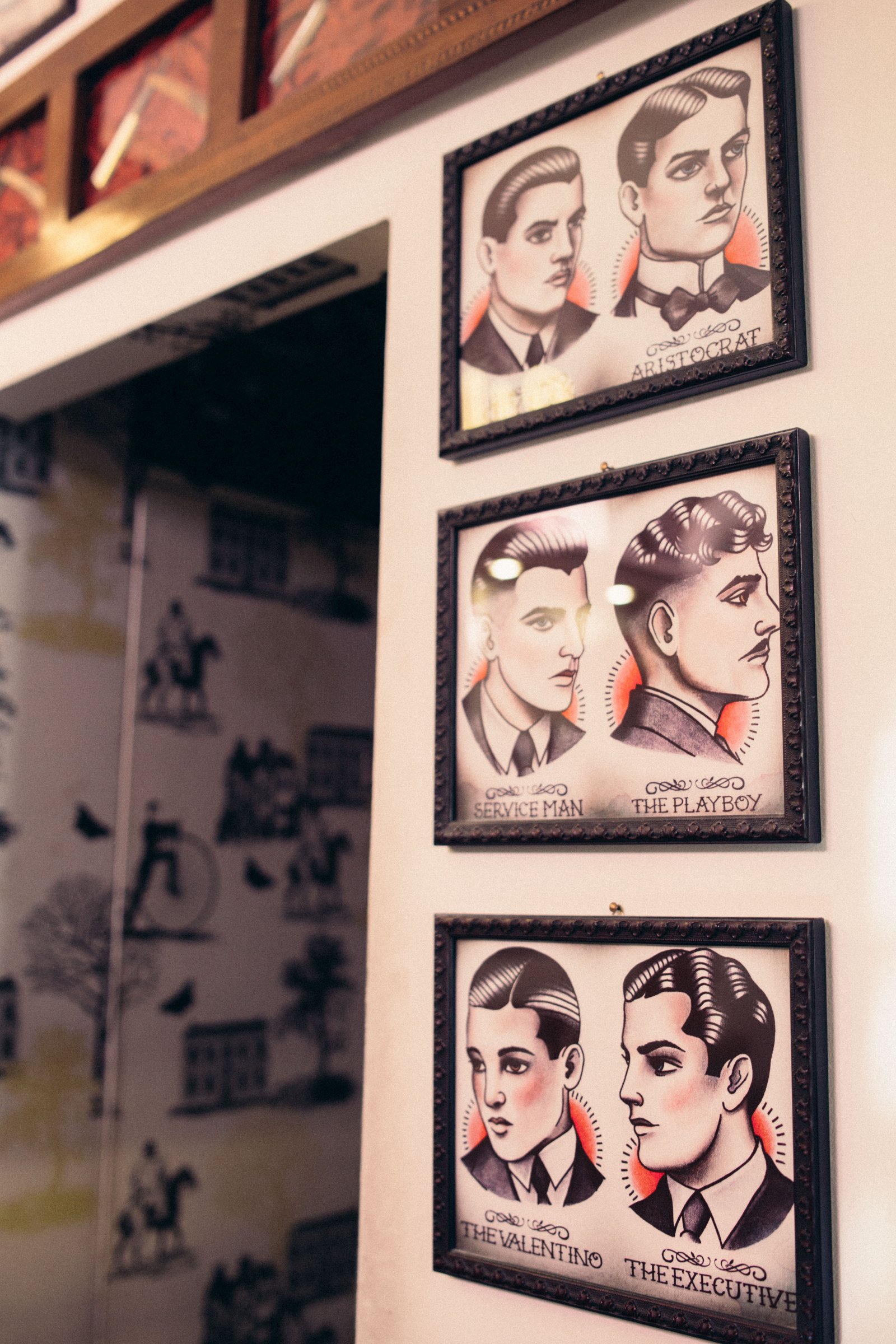 Bullfrog developed inside the Motoquartiere in Milan, and from there it's grown trying to aim as much as possible to men's passions and male luxury. It's not by chance, in fact, that Bullfrog is one of the co-partner brands of "Man's World," the event all about the man and his passions that this year will finally come to Italy, from 11th to 13th May in Milan.
It's also why we interviewed Romano Brida, to learn more about the origins and meaning of his project!
In Italy, barbers died with
the Beat Generation
because men let their hair
and beards grow long and
barbers were not able to
work with those styles.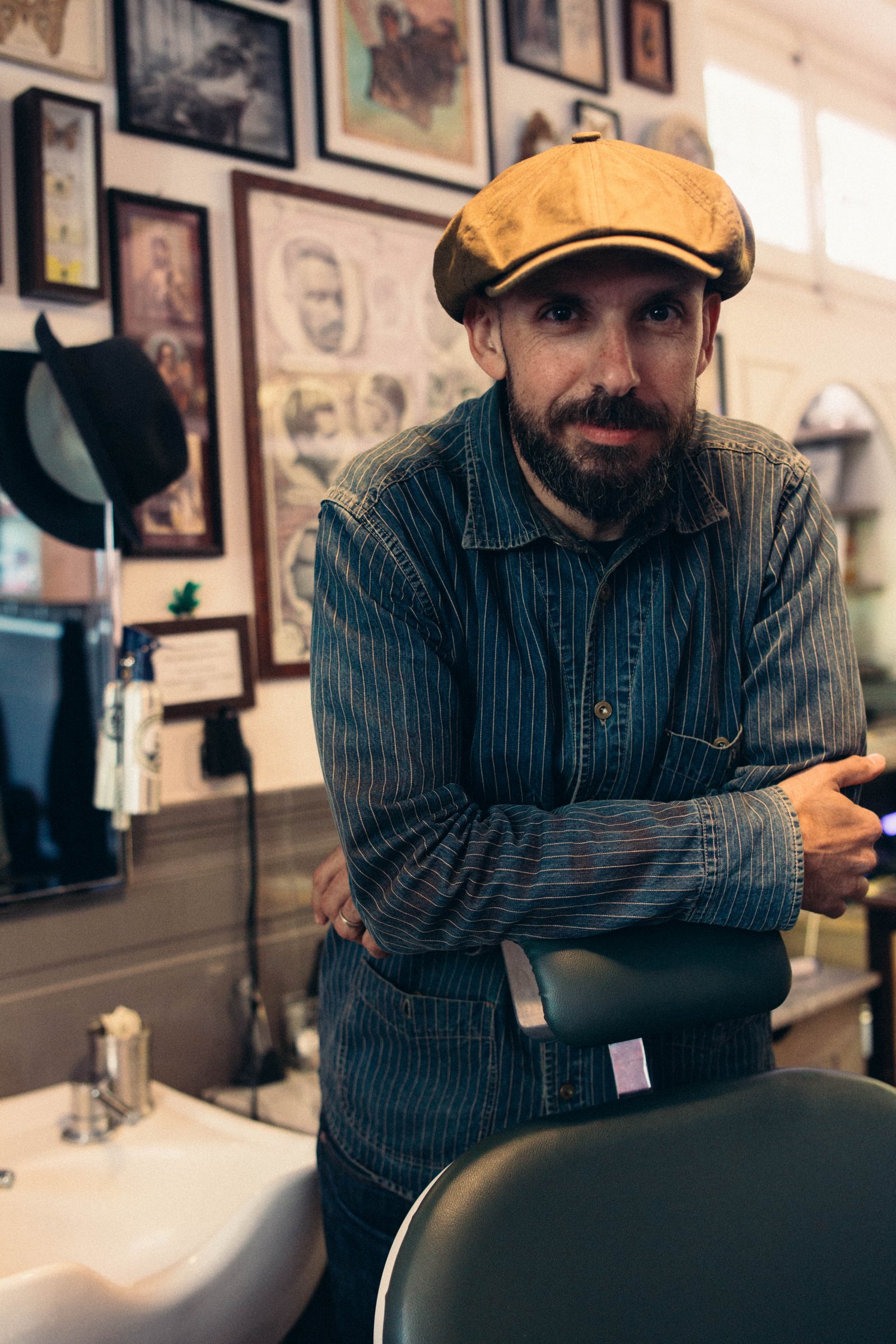 ______________
How did you come up with "Bullfrog"?
______________
The idea was born in 2011.
As for myself, being from Sicily, I had an almost childish memory of the barbershop and, when I came to Milan in 1996, I looked desperately for a barber, founding nothing. In 2011 I traveled to New York, to the States, and I saw this return of the barber. Actually, it wasn't the real traditional barber, and in America, they have quite a few kinds of barbershops: it was something that almost recalled a tattoo parlor, a bar, someplace fancy, where you could sit and hang around, apart from the service.
The attention, down to the very last detail, for the furniture, the details, the perfume you could smell, it was the contrary of a hairdresser. It was a men's place. And I thought, "It would be cool to do something like that."
Well, I am no barber, I worked in the business industry and did consultancy. So I put together an Excel on how much such a business could've been valued.
Furthermore, Facebook had started to pinpoint new barbershops in Europe, like the Schorem in Rotterdam, that shared the taste that I'd seen in the United States. Suddenly Proraso, a product meant for in-house use that, somehow, had been the killer of the profession because it was quite like a barber in the house, started to invest in communication, positioning barbershops I had seen around the world. They were so cool: Tommy Gun in Brooklyn and Schorem in Rotterdam.
If a historical drugstore brand identified a growing trend of style and taste in something I was noticing myself, there was surely something going that way.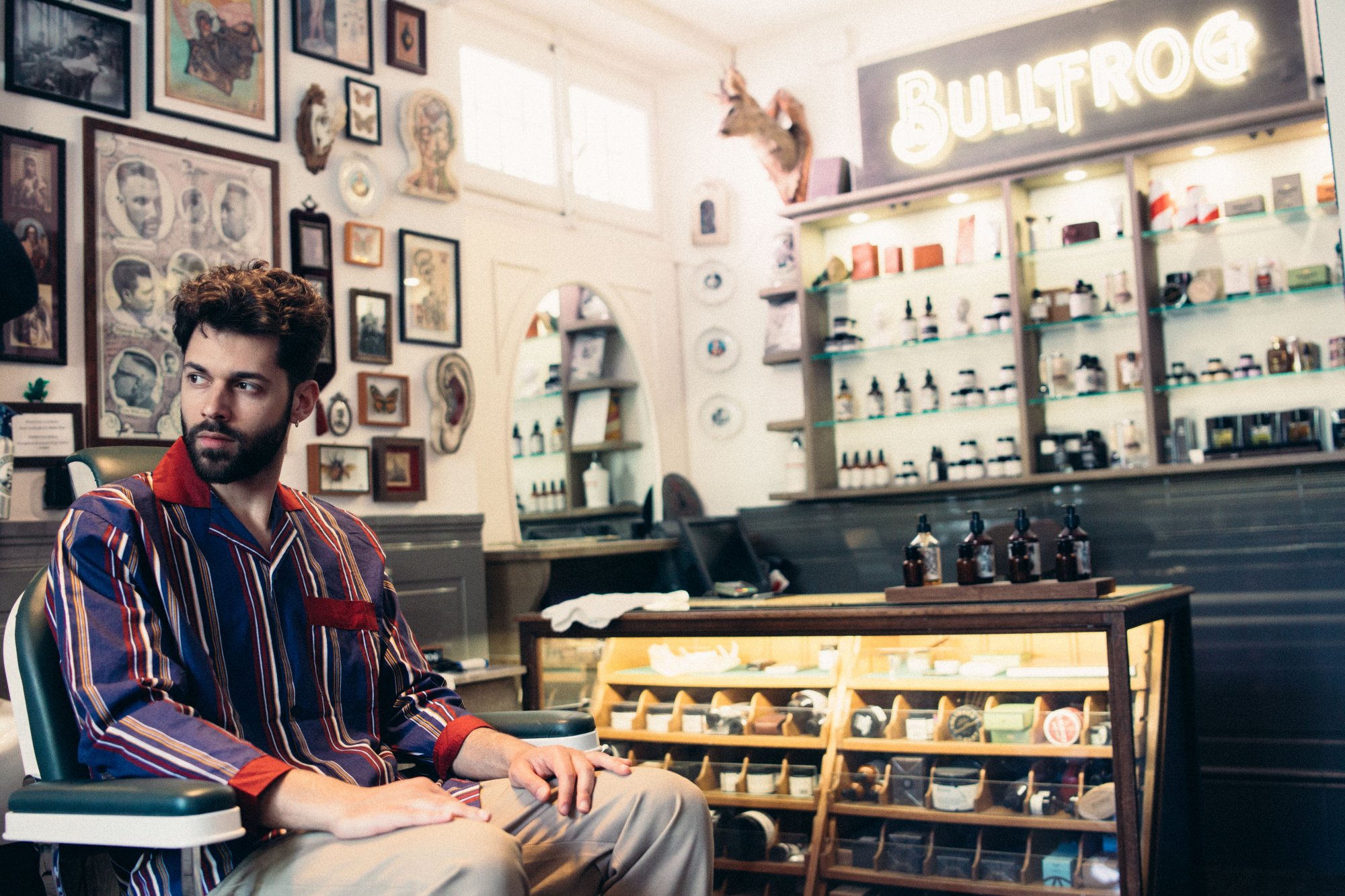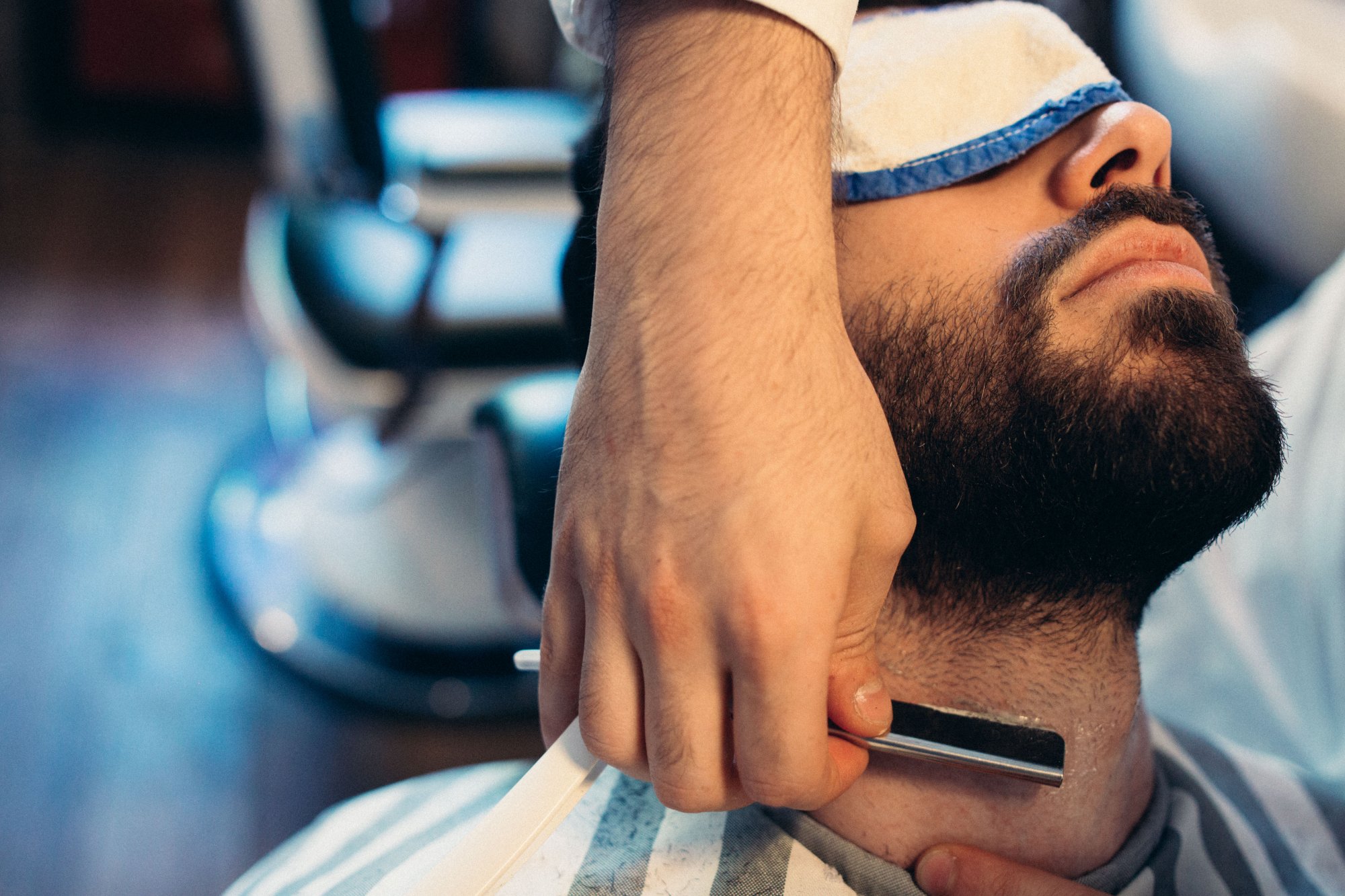 So, the idea of starting a barbershop was there. Where to do it? Absolutely in this area.
Why? Because I had been a blogger since 2006, about both custom cars and motorbikes. I had started this blog when I quit smoking, because I had pauses while at work and needed to disconnect somehow. I was doing good on MySpace and I became one of the best bloggers about customs in Europe, and so, in this area, I started getting popular.
There was a project by Motoquartiere and in 2013 it looked real, almost like a district. Truth is, sadly, that a peculiar trait of us Italians is that we're good at playing solo but we can't work as a team, so this project was potentially amazing but, really, all is left was this space and not much else, and the energy you felt in 2013 never developed.
I was looking for a 100/150 square meters at the least, otherwise, you can't move, and I had no idea of what I should've done. They showed me a room, 20sqm at best. Then, I tried a different approach. How much space did the client need? Almost nothing. So it's a concept, and I rented the room.
______________
What does the client find at Bullfrog?
______________
We implemented a different model of service: for example, a shave lasts 45 minutes. Men now are not made for a traditional shave, it takes the right preparation to not damage the face. It takes time. Time is money and money is quality.
Why should someone want to come to the store? Because of the emotion.
Emotion, time, luxury.
After the crisis money is always the same, what we lack is the time for using them. Unless you don't have them, but then again you're a poor wretch and you have all the time in the world but no money to use.
The modern luxury is having time for ourselves. You buy luxury because you take your time. Women go for massages and treatments, then we can go for a good shave.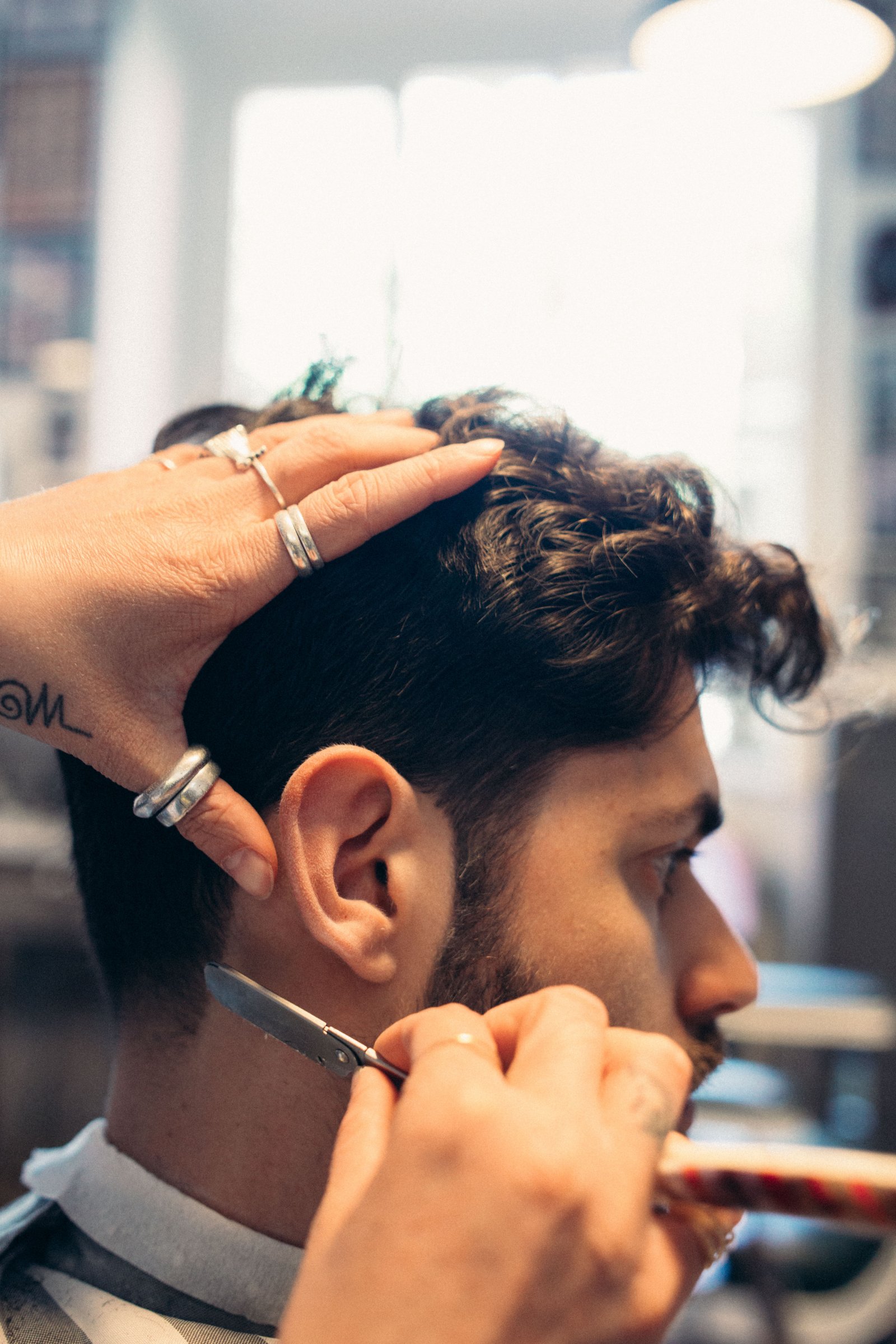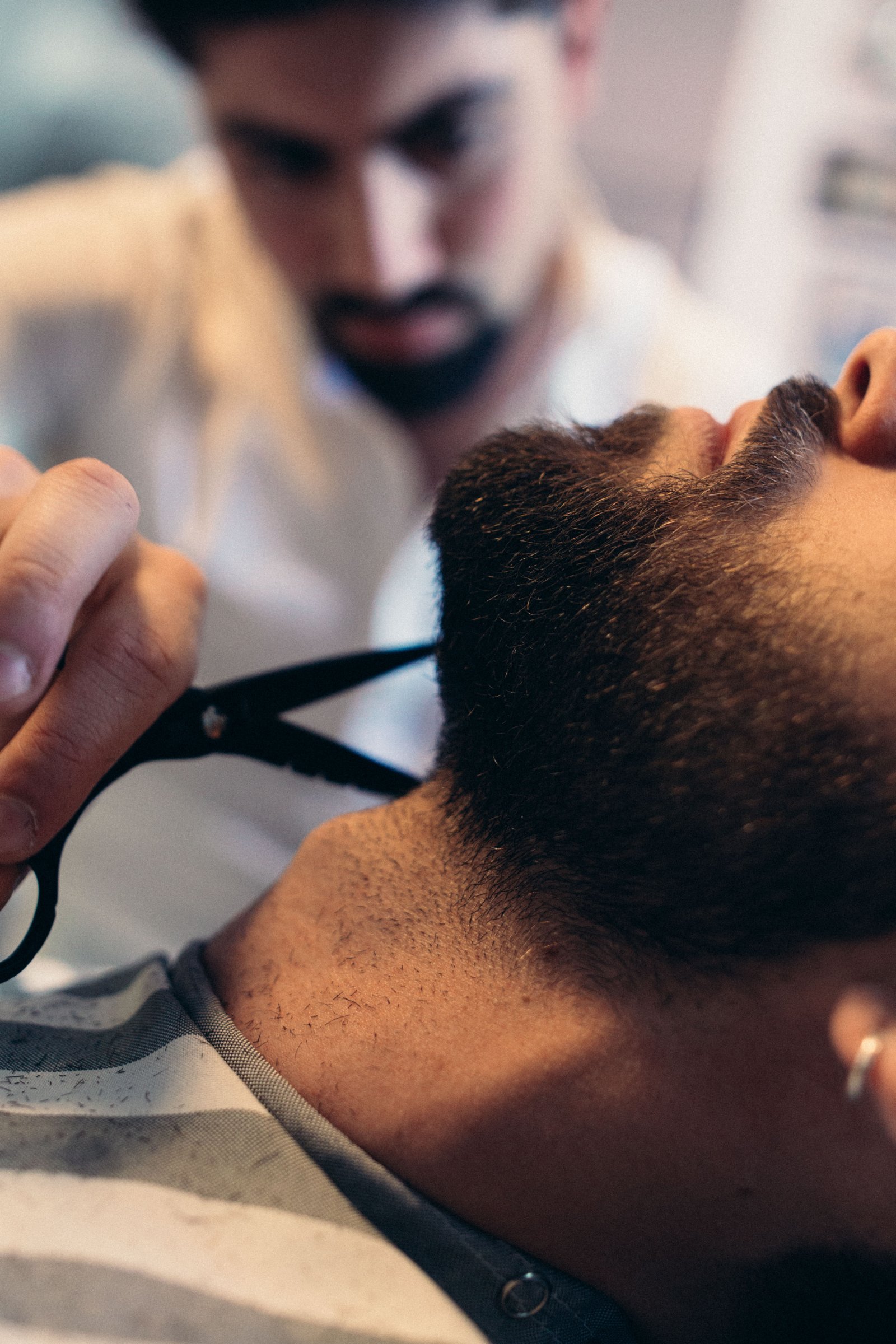 In 2013 this was the coolest yard in Milan, and the shop wasn't on the street, even the position on Google Maps was wrong, there was no sign outside. Bullfrog was born with Instagram.
The first clients started to come: rockabillies, the first hipsters who dreamed about a Ricki Hall cut and now had someone who could try and do it, maybe, even better than the original. So the cut with the hair parted on a side was born in Italy. There wasn't the Executive contour, that's the name of the haircut, before, it was called the cut "all'Umberta" or "Umberto". It was done with scissors and combs but you needed an hour to do it. Now, 25 minutes and ready.
So the clientele was diverse: hipsters, rockabillies, but also bankers. Now, a bolt from beyond: in Italy started "Mad Men" and "Suits," and we were the only ones doing that kind of haircut.
In the Fall, then, another surprise: beards arrive.
So we started introducing new products and specializing in beards, and Bullfrog is now complete: shaving, haircuts, and beards.
______________
What distinguishes Bullfrog from the other barbershops?
______________
I tried looking for a barber here in Milan, playing the mysterious client around some barbershops, but they were a bore, they always had to know everything, the paranoia of the hairdresser was still there.
I asked myself, "Why in the US they don't bother me, I sit down, they won't talk, do what they have to do and in twenty minutes they throw me out? I come here and stay more than forty minutes, so it's more about the time that he dedicates to me, rather than the time I lose."
I'm part of an international club of cars and motorcycles, the one they say it's the best car club in the world with the worst reputation, for a number of reasons: the origin of the club, its members, its founders. It's a family. This family has everything: criminals, drug dealers, professionals, and barbers.
So, via the States, we found a prospect in Canada who said, "I'm in." And so we found one.
But we also needed an Italian barber. There was this 21-year-old boy, a rockabilly from Padua, third generation of hairdressers, who was about to go and work in Carnaby Street. So I contacted him through another motorbike club, and I asked him to come to Milan to talk face to face. He comes in, sees the place and the day after quits his old job.
Watching the two barbers, though, it seemed to me like they were not on the same page.
One had an electric razor, 4 scissors, 10 combs. Comb and scissors for the haircut, Italian school, ok.
The other one had 4 electric razors, all different also for the brand, 2 scissors, 4 combs different from the ones of the other barber. The haircut technique was completely different.
Confronting them, we started doing something different. At that moment, Bullfrog was born.
So Bullfrog is a contamination between the Italian school with the American one: together, they created something new.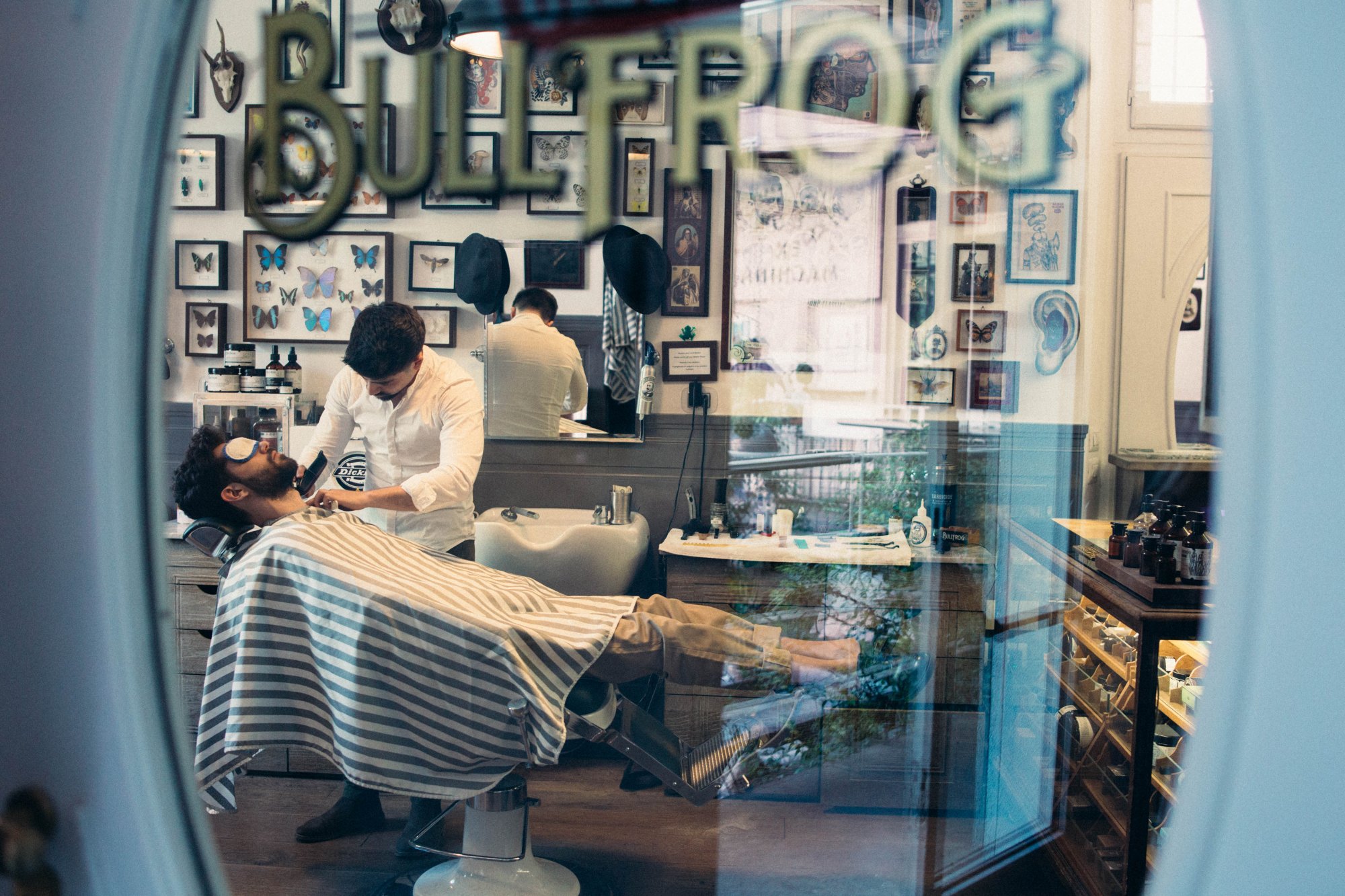 ______________
Why "Bullfrog"?
______________
When I was in the old job I always told this story about change, a metaphor for business, which is the story of the boiled frog: because, if you don't adapt yourself to change you end up like a boiled frog. The temperature changes without you noticing and that's it, you're screwed.
Since it was me who was becoming the boiled frog in 2012, it was ok and I quite liked "frog." But it lacked something badass.
Speaking with this friend of mine with an immediate instinct for the metropolitan market he said to me, "it's not quite like you're a froggy, you're more like a big frog, a bullfrog."
It spites, bites, eats birds and rats, devastates plantations and, even more, it's a bullfrog the one in the story of the princess and the frog. So it's about someone ugly turning into someone hot, perfect.
Moreover, in the hippie culture, if you lick a bullfrog it has lysergic properties, so I can make you see things that aren't real. Marketing at his finest.
Name found.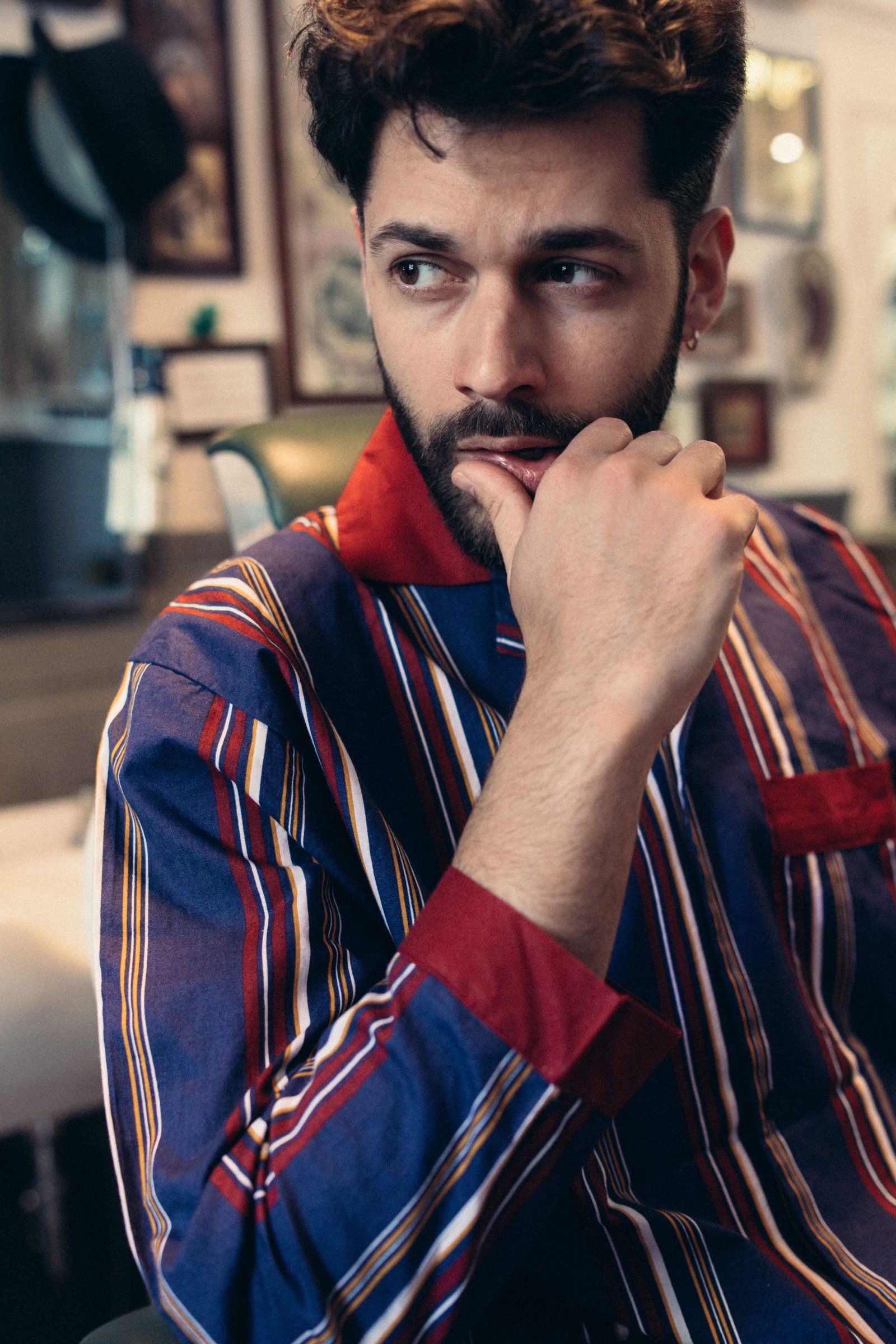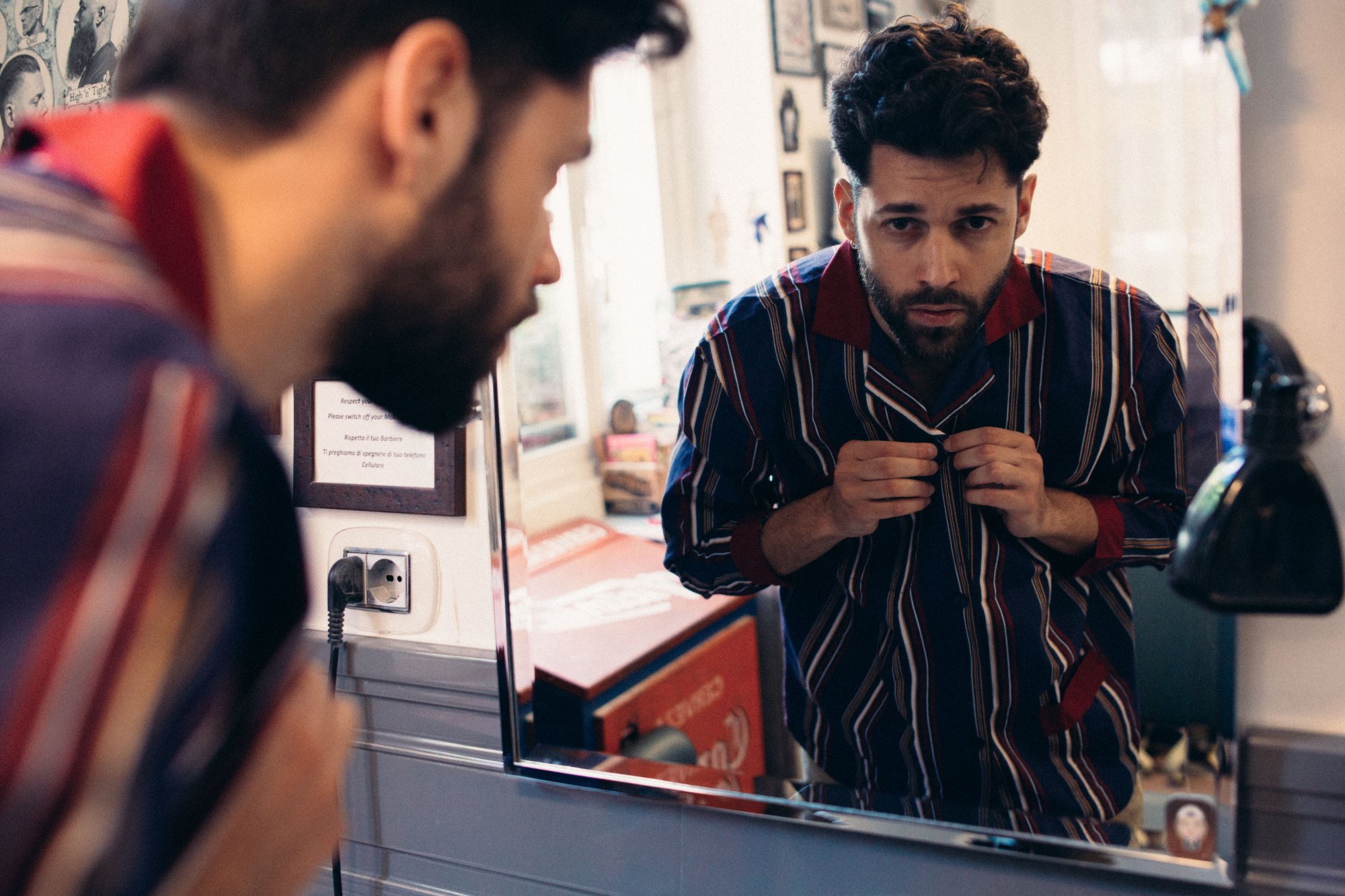 ______________
What's the extra kick that a student gets after going to your courses?
______________
We have two kinds of students, and after all they're workshops that last a day, two at best: the hairstylist/barber who has his own shop and wants to introduce services like our own; and the young student, maybe working in retail, selling products, that comes for the shaving course at least for understanding this world, because everything we did start with this very chair. We have three kinds of service: shaving, and products for shaving; hair and products for hair care, cleaning and grooming them; beard and products for grooming the beard, to nourish it and make it glossy. Furthermore, we also added a bit of perfume because, when you come in, you need to smell something.
This is Bullfrog, so the training talks about the things we do. Even more, we did some courses focusing on communication. We were born on Instagram because, basically, I needed to position Bullfrog in order to have other foreign barbers to come and work here. Instagram in 2013 wasn't much used in Italy, but it created a phenomenon that the clients who had Instagram in Milan took screenshots of a cut and came to me with Whoever's photo. They didn't come with a photo of a model or soccer player, they came to me with a photo of a boy to have their hair cut by a boy. I liked it from the very beginning because it demonstrated Bullfrog's democracy in the relationship with the client: this is a place for everyone.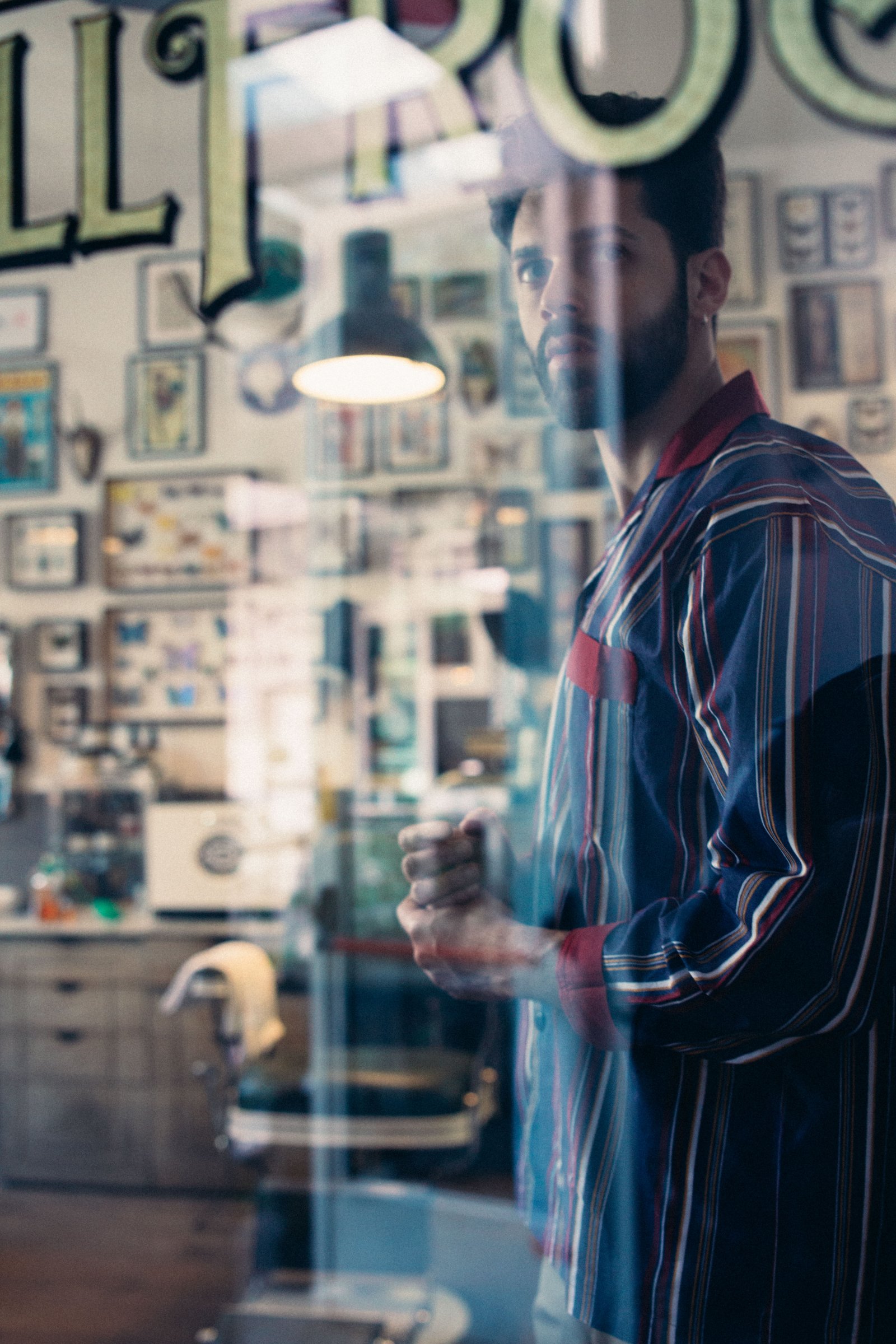 ______________
Your typical kind of client?
______________
The one that's on time. We work only by appointment and if you respect my time I respect yours. But it's a mutual kind of respect; I don't judge anyone on this chair. It's a place that's open for everybody, whatever you are outside that door is well accepted, as long as you respect this chair. And this, in a traditional Sicily barbershop, would be absolutely not true: they don't have respect for differences.
It was fun to see clients covered in tattoos side by side with the ones with suit and tie, and they all had the same haircut and were talking about products. Then, out of that door, they didn't even look at each other.
We created a laboratory that, sociologically speaking, had overcome a lot of men's limits: putting themselves out there, joking, facing different realities.
Cultural coordinates that formed the latest generations about career, profession, family, and luxury, in my opinion, have been disintegrated with the crisis. For example, a man with a beard working for a bank wouldn't have been acceptable once, now this Nation that lost everything, having failed, is looking for new horizons and hopes. What you have, you must enjoy it for what it is. For me, we've been returning to the original state and we've grown up a lot, we're more concrete and a lot fewer hedonists in an '80s-like fashion. It's, therefore, a form of luxury based on the essence, on competence.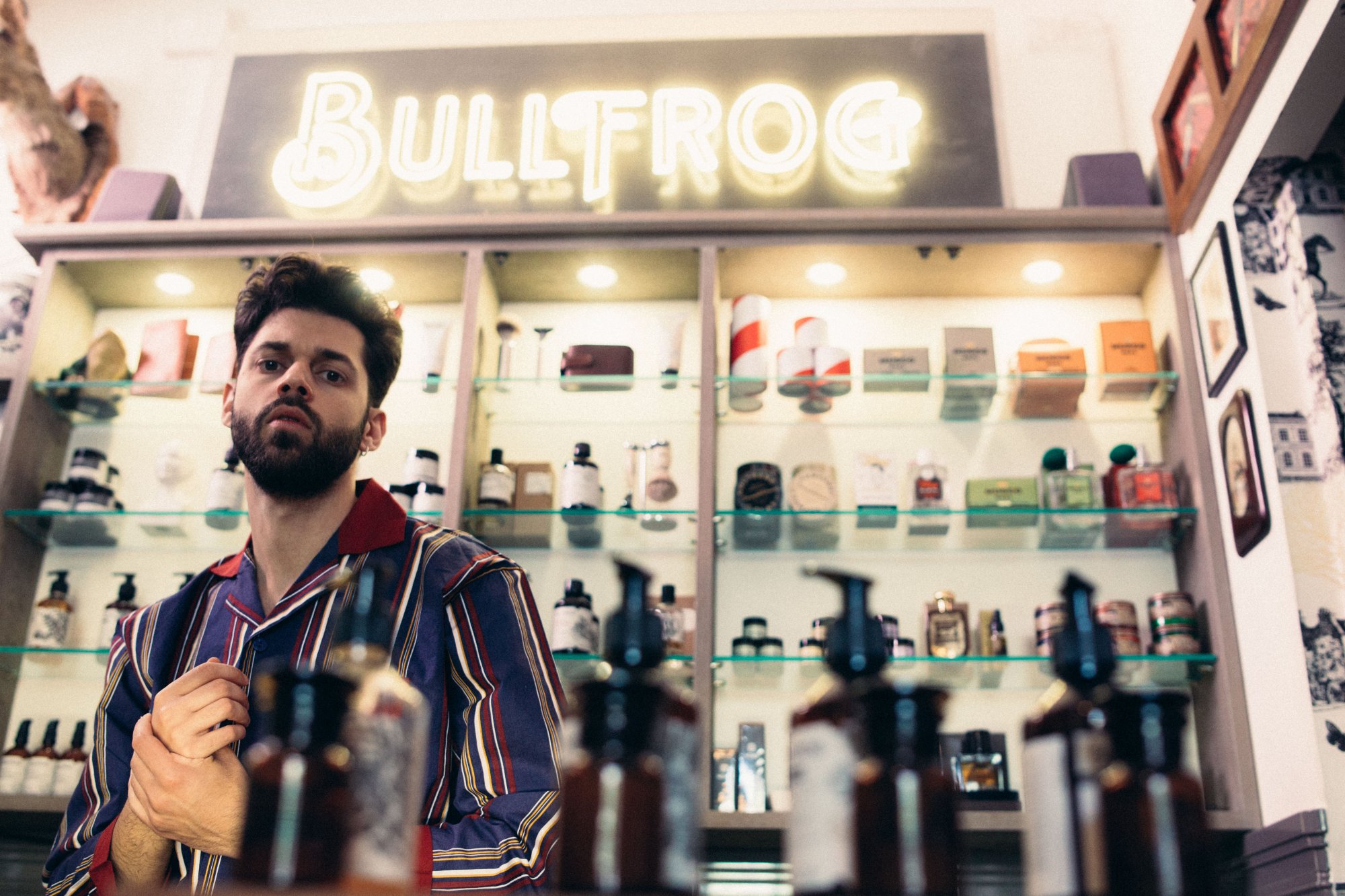 ______________
We know you are incredibly passionate about art, design and music. So, what about Bullfrog's band or song?
______________
On our first year, it was the Dropkick Murphys. The Irish punk-folk is part of the barbershop culture, but because of the pub-like conviviality created by this kind of places.
And then, another band from the opening are the Social Distortion, with two songs that are fundamental for Bullfrog: "Story of my life" and "Ball and Chain."
The Social Distortion is the opening, the Dropkick Murphys are the progression.
Bullfrog is all these elements,
and it's also something material:
wood, the temperature here,
the fragrance, and the music.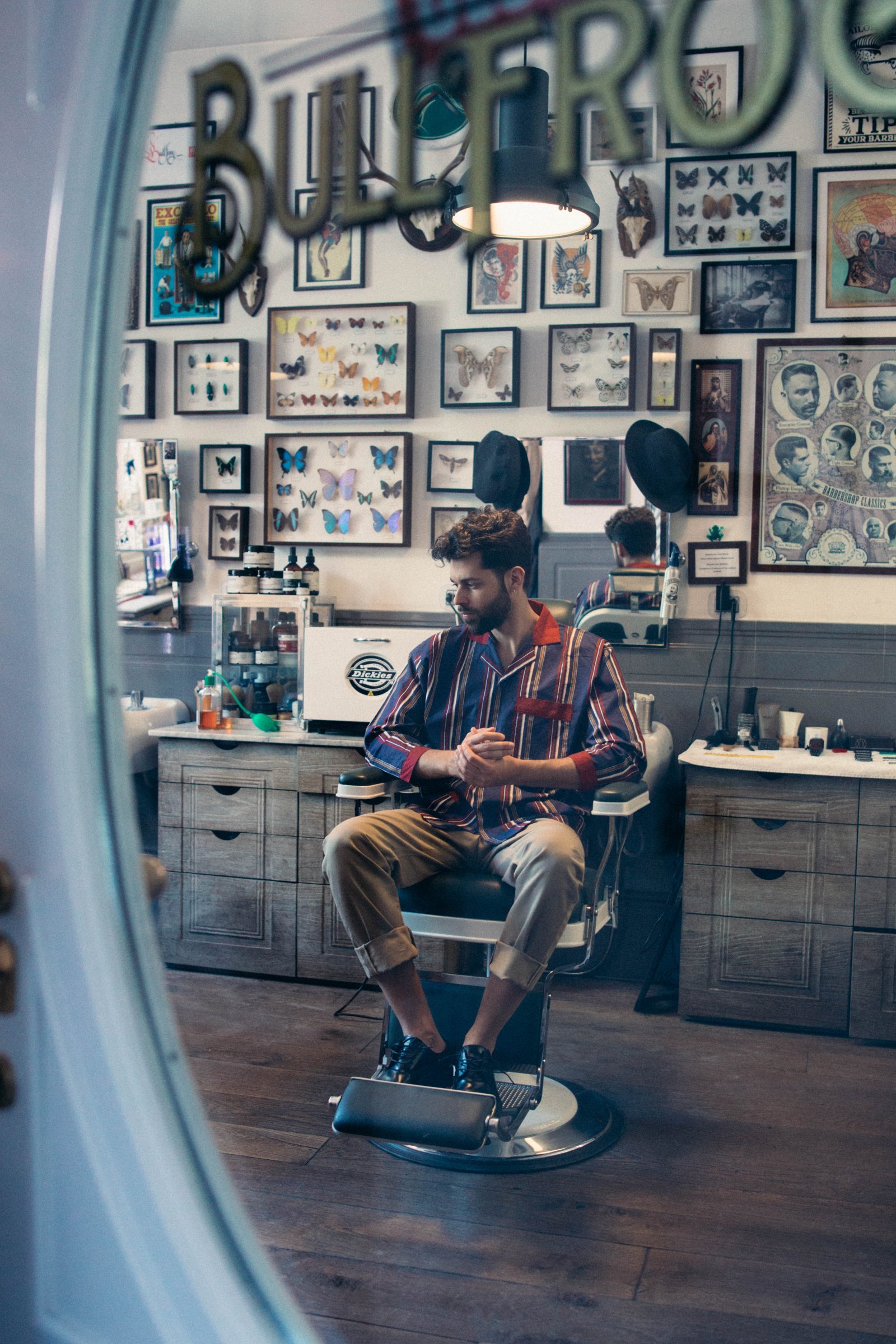 ______________
Has the styling choice for the store been influenced by your passion for art and design?
______________
This shop is my home. The others are all of the same, we did draw them but this is the "Mother Bullfrog," the headquarters, where there is me. The other shops have just to be right, contemporary, never looking like some sort of retro-vintage replica since you have to be a barbershop good for anyone.
The styling is my house, everything you find around here is my life: the cars, the motorbikes, my travels.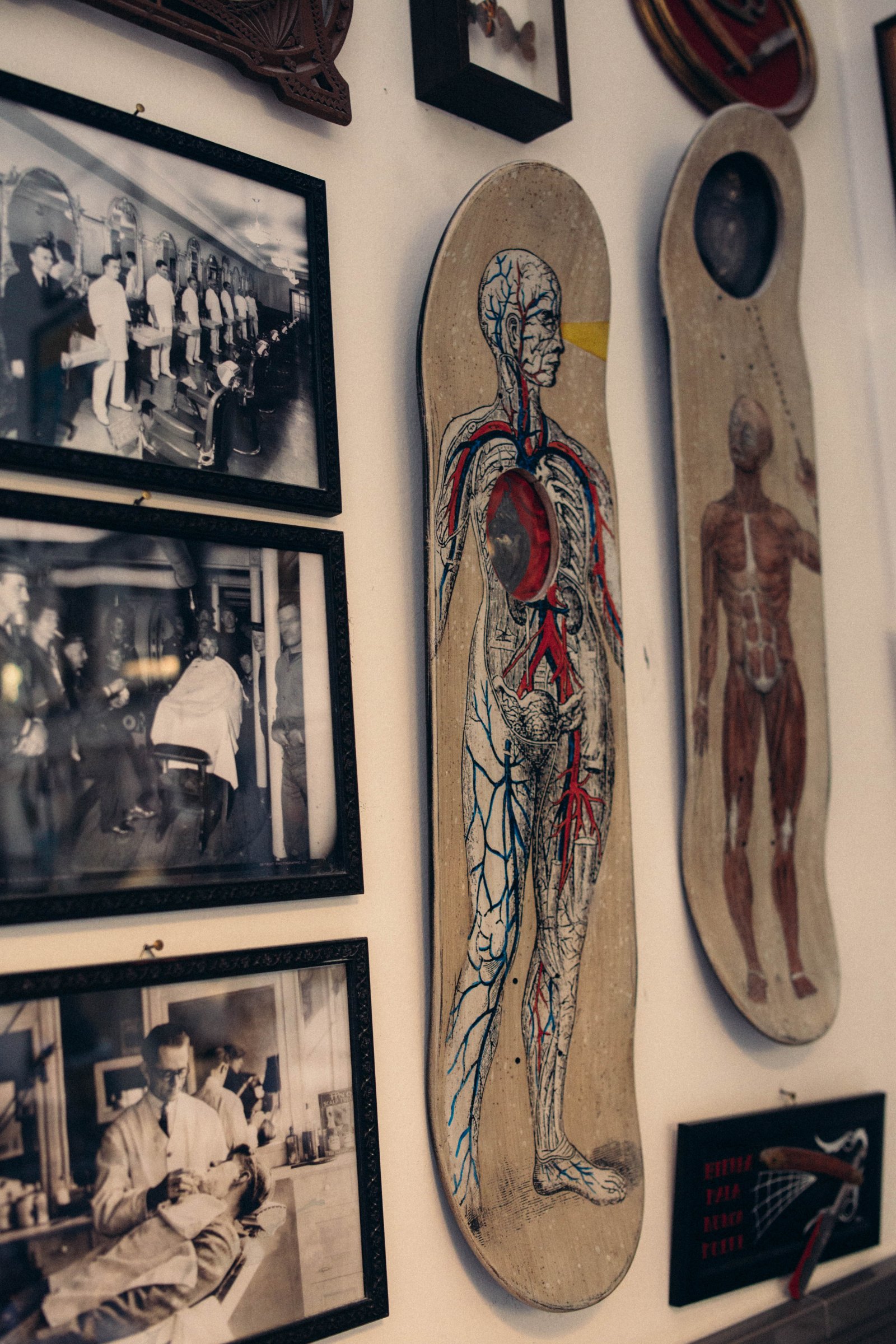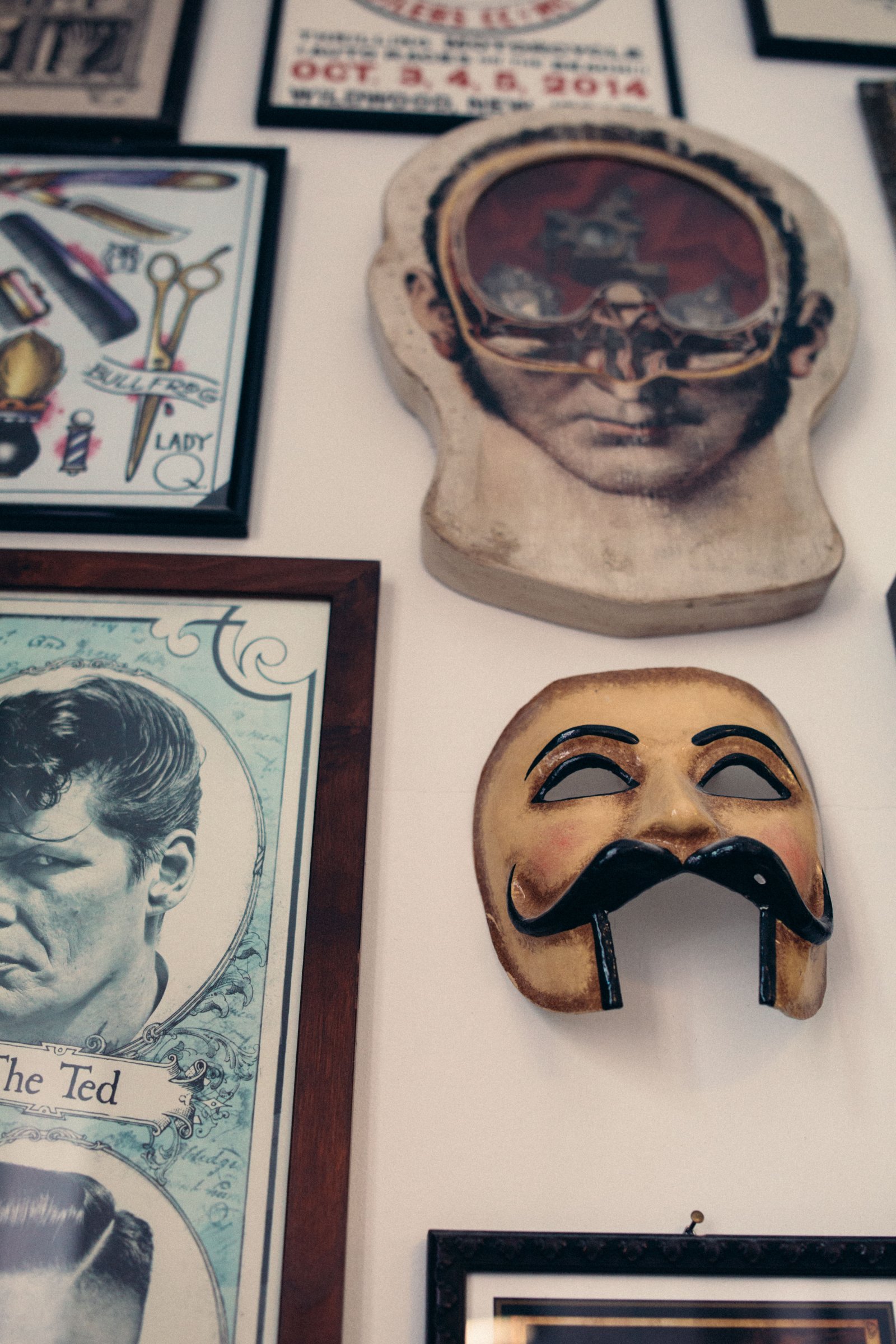 ______________
How does Bullfrog merge everything with Milan's way of life, of speed and of efficiency over quality?
______________
We have an average of 200 appointments in a day in Milan, all on appointment and all 100% based on people being on time.
People in Milan are "imbruttite," one of a kind, and Bullfrog is from Milan, with all its characteristics: that's why the second shop was opened in Zurich.
In Summer 2017, Bullfrog was certified ISO 9001: 2015, meaning that all the processes, the procedures, the competences, our way of work are certified by an external institution and every year it's being certified all over again: so our way of work is so standard that it's certified.
This way of being is quite into the Milan-style, and people like it because my work is worth one Euro per minute and I just tell you so.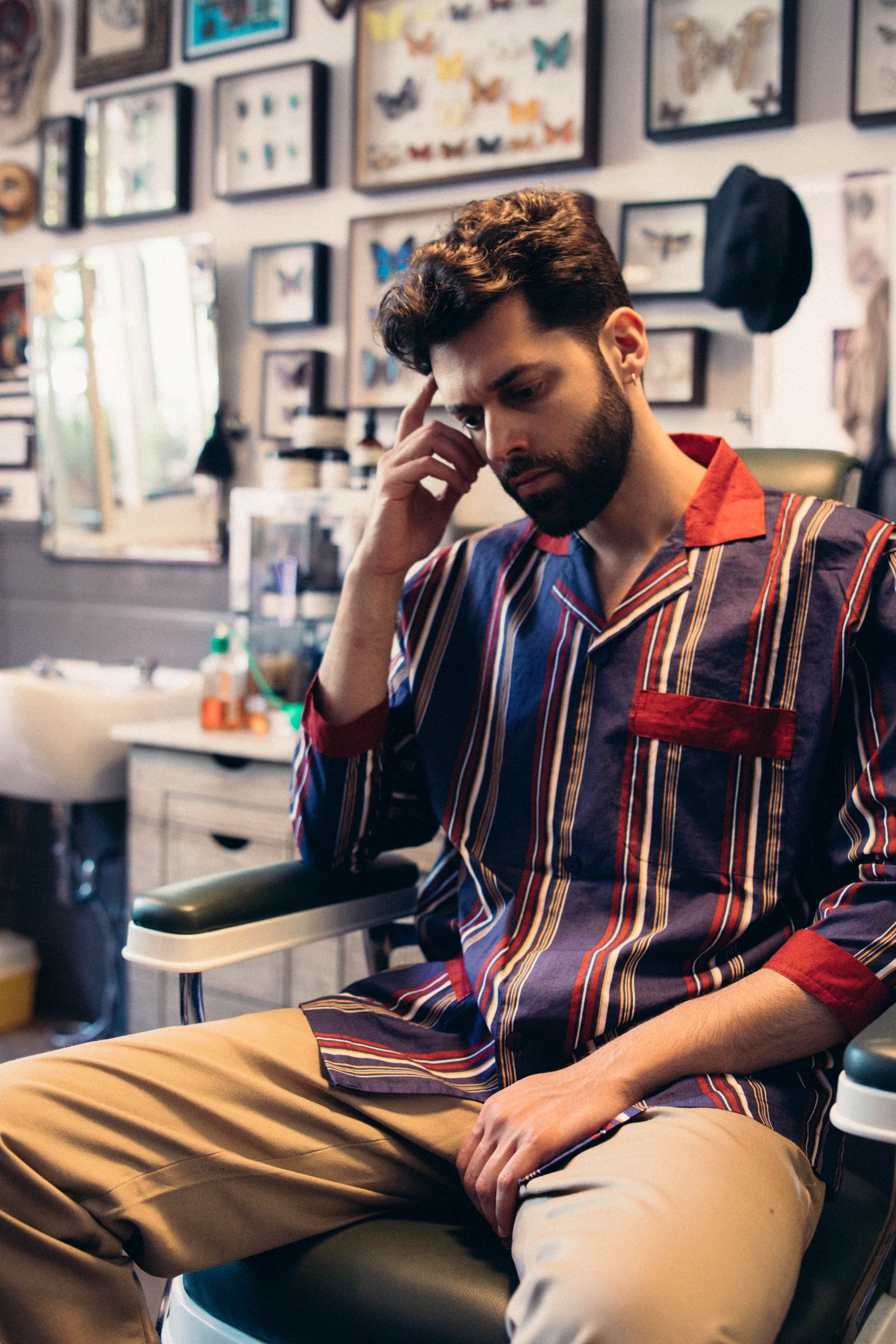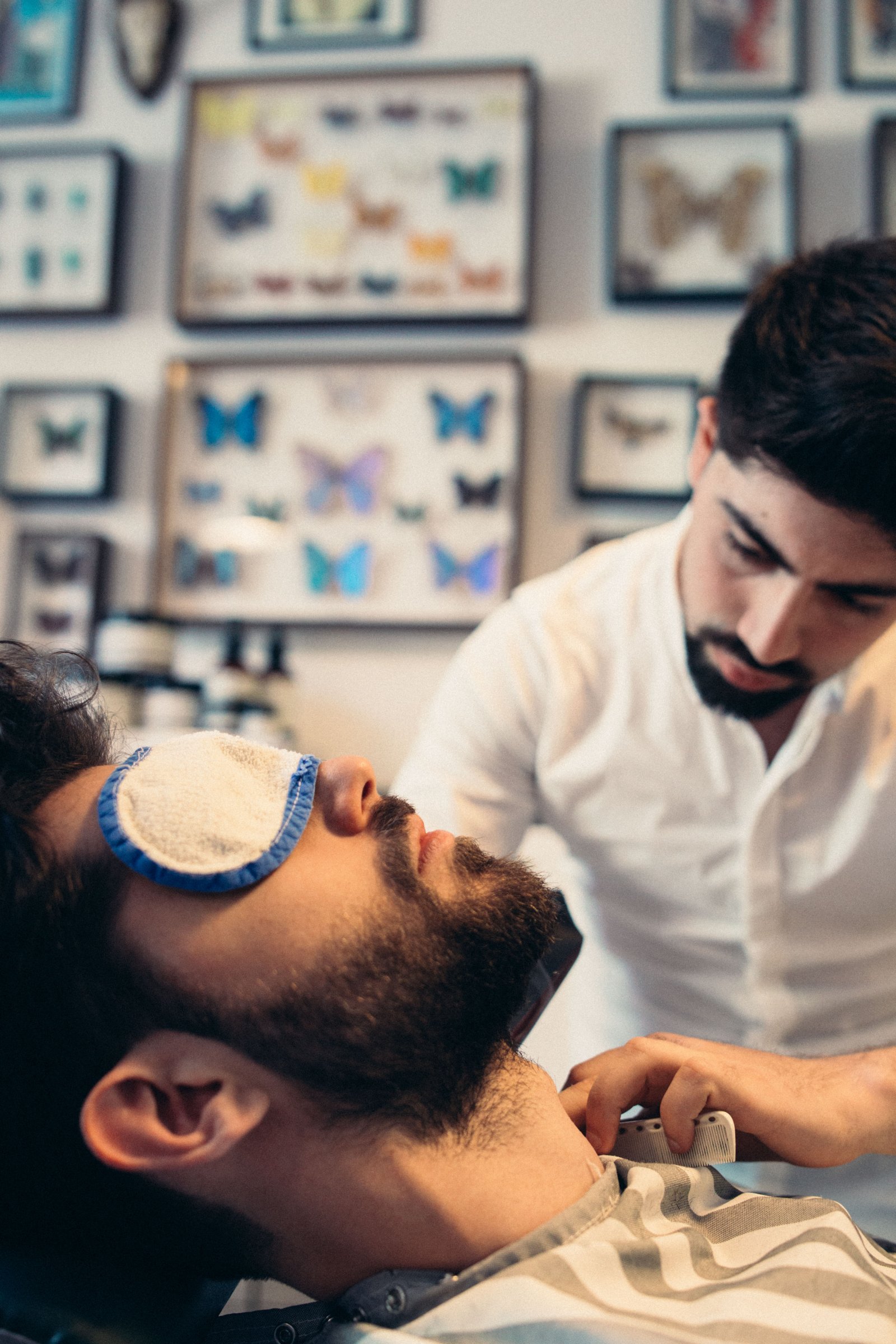 ______________
It's not the first time that Bullfrog works elbow to elbow with Man's World in Europe…a "historical" affinity, let's call it that. What was of this event that caught your attention and what do you expect from Man's World?
______________
"Man's World" is a playground for men. It's healthy because here you can find everything in luxury that might attract you all at the same time. Luxury, as we said before, is finding time for enjoying your stuff. Basically, they gathered all the things that characterize a man, so it's a consumption pattern completely different than the one of a woman, and they enclosed it in "Man's World." Men enjoy a lot of stuff with their eyes, with the idea of possession.
Of course, Switzerland and Italy are rather different as target markets, but the idea of gathering excellences, which doesn't mean they have to be too expensive but that they can fascinate a man's imaginary, is an amazing one.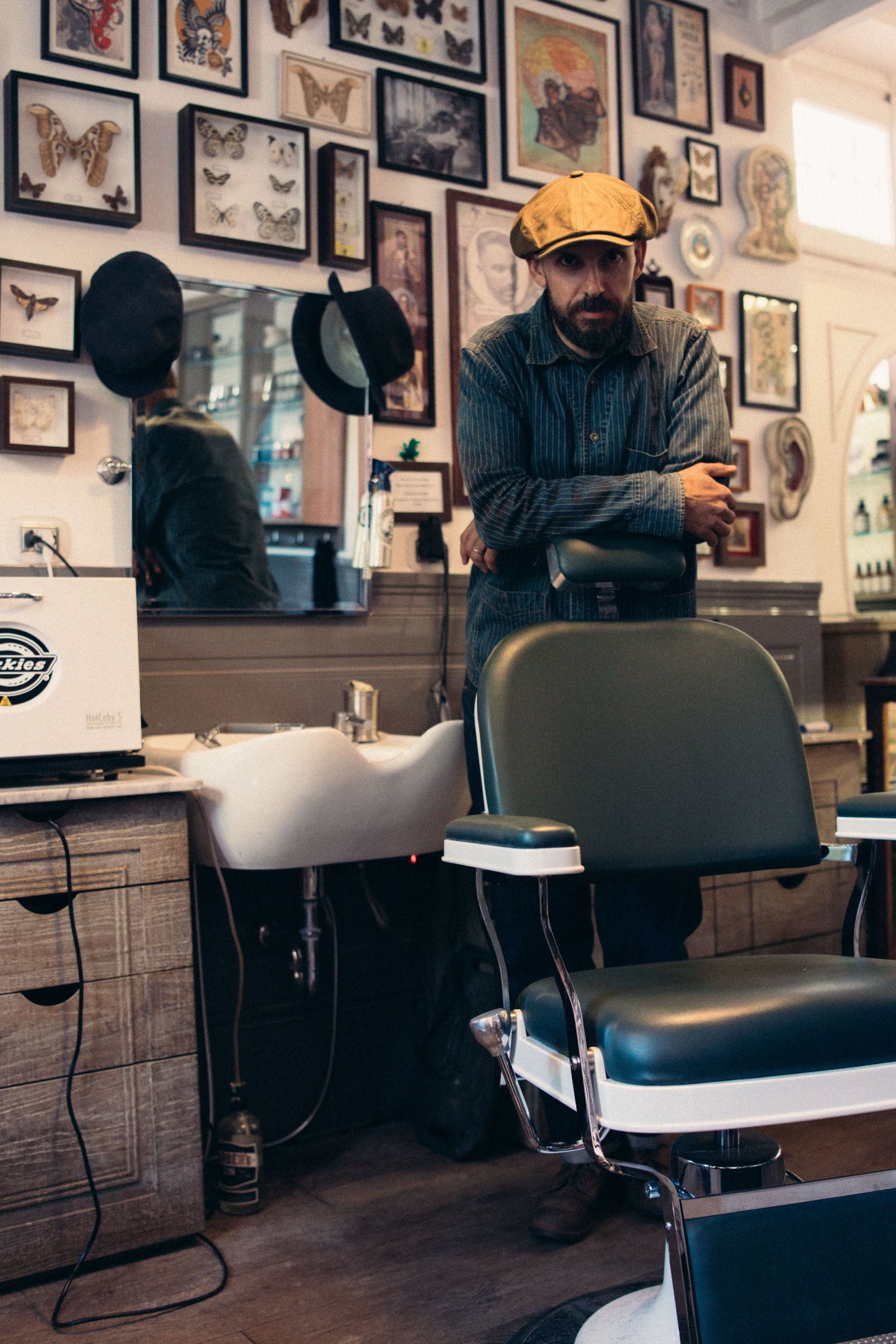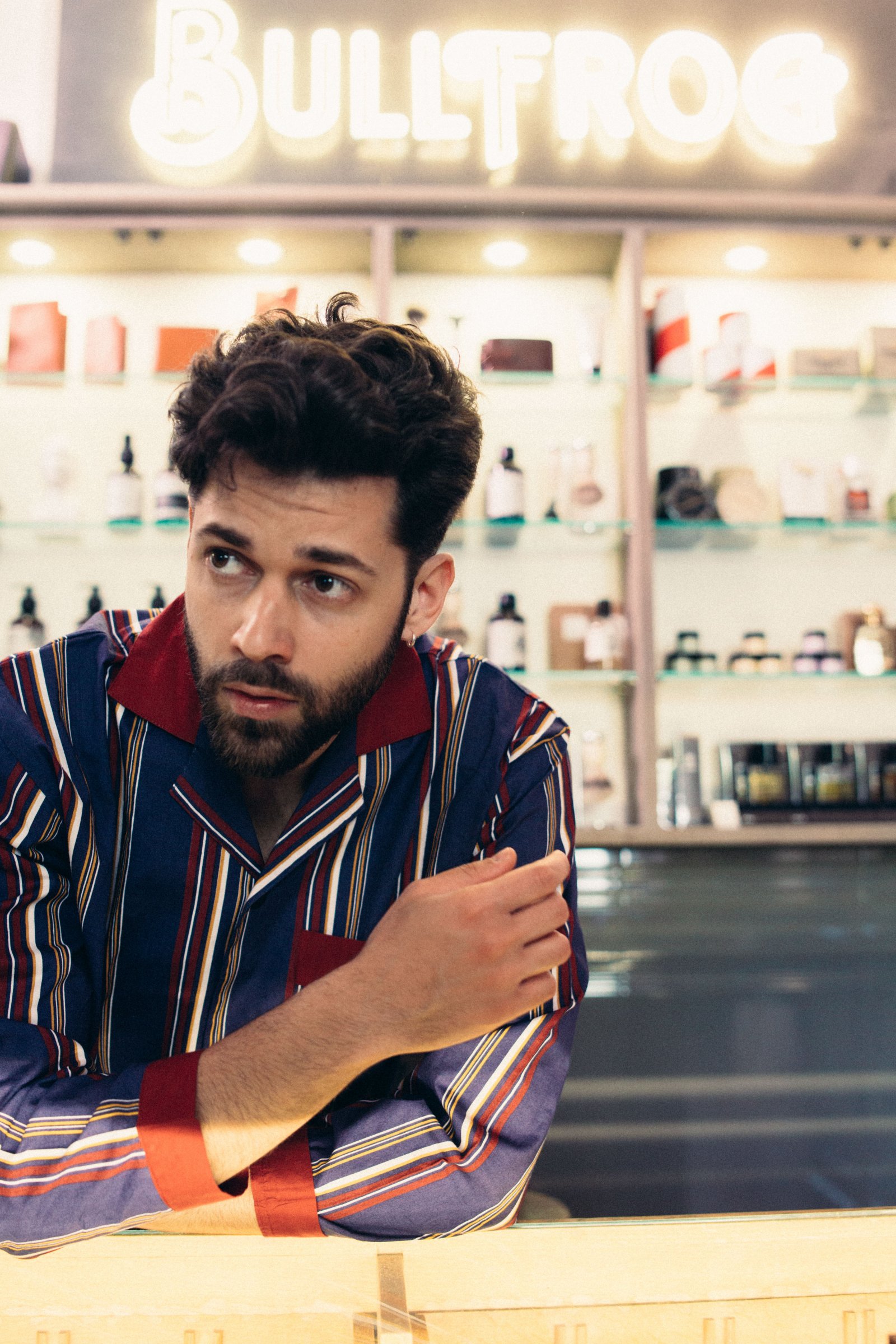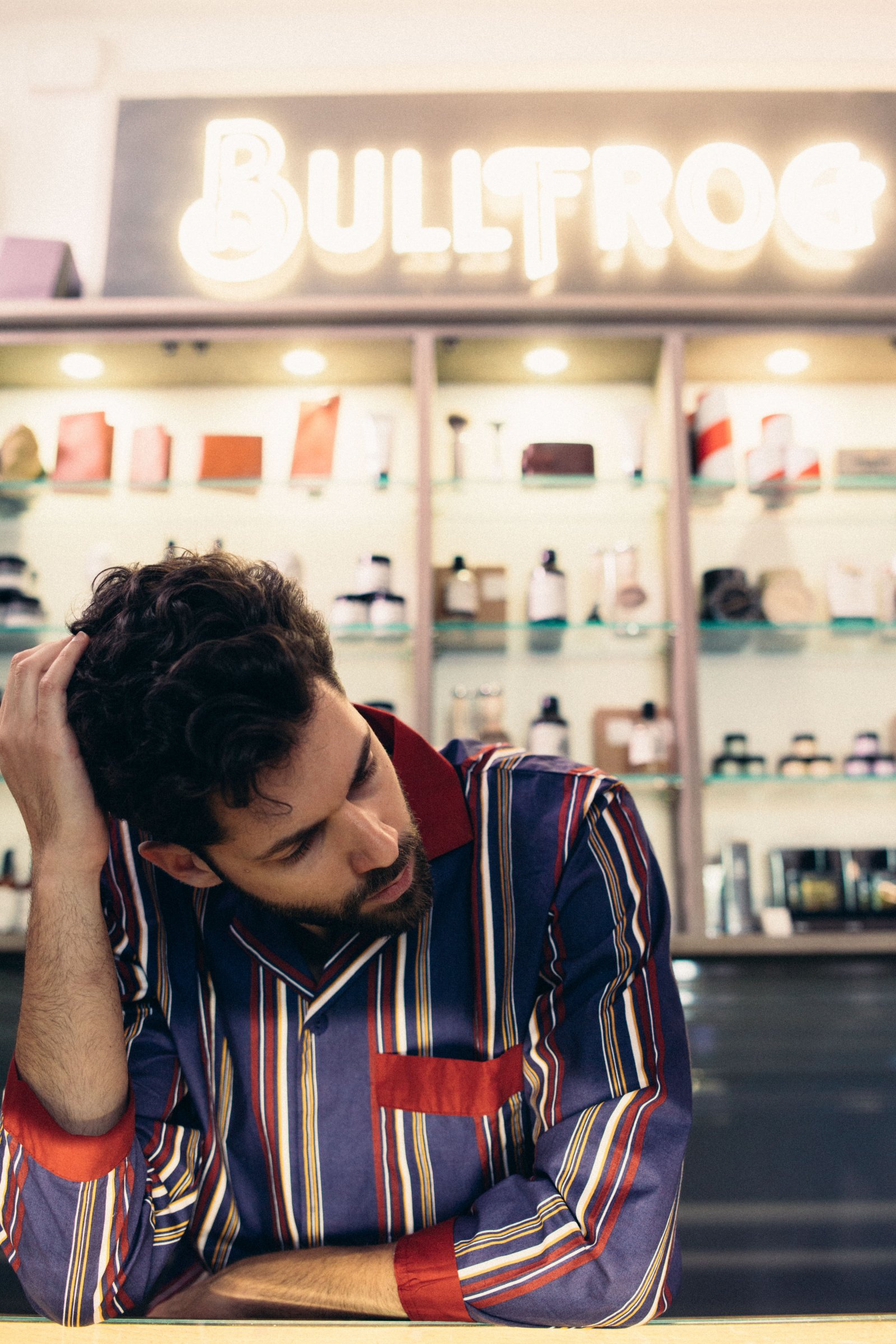 ______________
Bullfrog and WOMO, which is also present at "Man's World," are two similar realities. Two realities and a unique meeting point: offering a 360° lifestyle experience to men. How do you translate this kind of complementarity with your clients?
______________
Womo is a project that was born in 2012, meant to create a functional shopping area for male customers. For whatever you need to travel, for your toilet, outside of the fashion world.
For me, it's quite similar to Bullfrog. Bullfrog's a lot more peculiar, but it's also true that, sometimes, us men, we're simple. I mean, you need a product that wins you over and that fascinates you, but on the other hand, you need nail clippers. They're two things that are good together, although they look like the opposite of one another at first: men have this kind of bipolar behavior.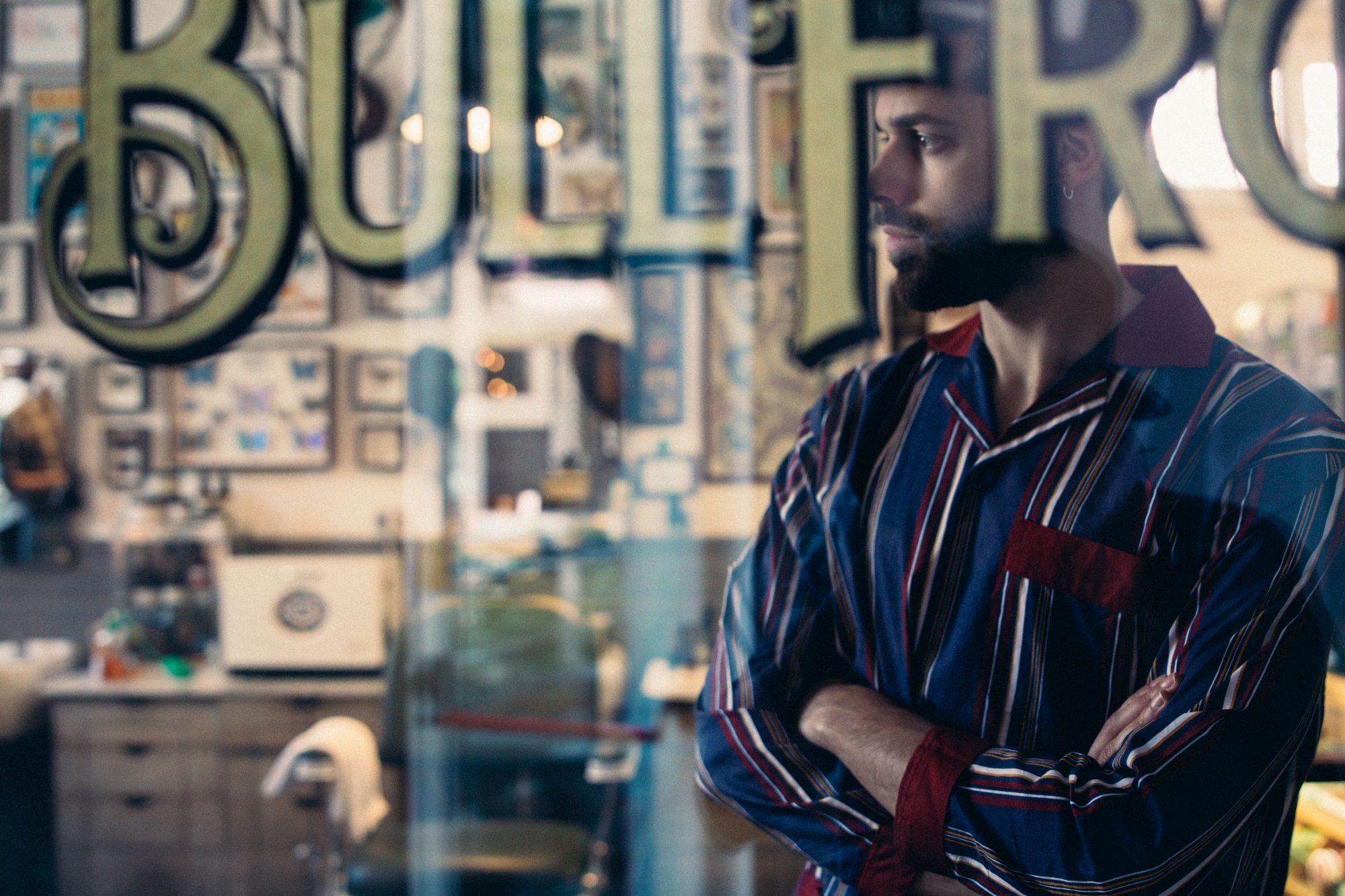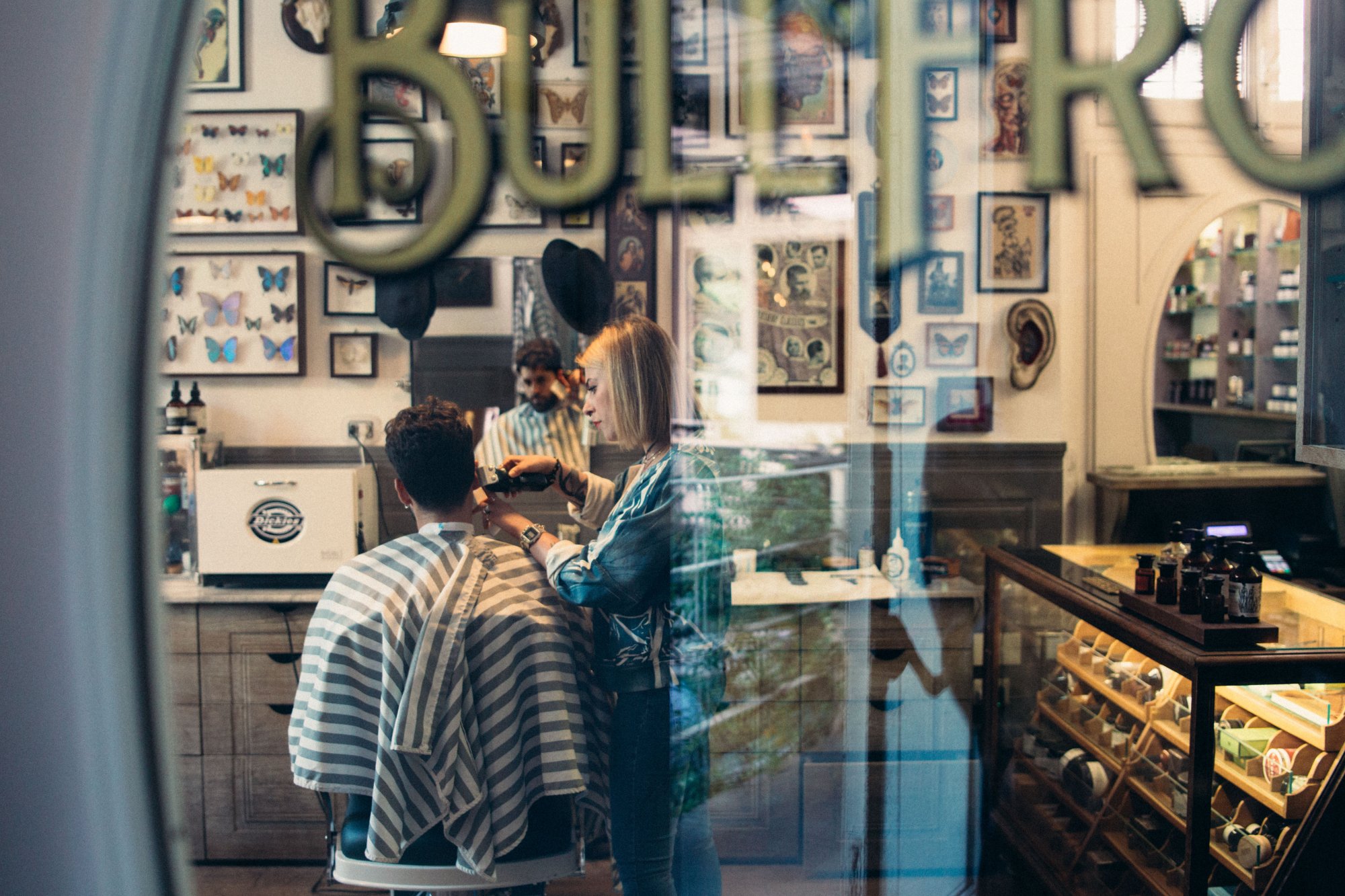 ______________
What about your future projects?
______________
Bullfrog is a project that keeps amusing me. Because I'm an old man of 47 lives among twenty-year-old boys who treat him like a buddy, and because I manage to attract a lot of millennials, both as workers and clients; and that gives me a lot of energy. I have a lot of problems with 35-year-old people nowadays.
In 2016 we developed a Bullfrog franchise, and so we're managing to open new shops without heavy investments, and we keep on tagging along a lot of young people and a beautiful clientele.