When a 
passion
 becomes your 
life
, you can consider yourself a lucky person.

When a 
passion
 becomes your 
work
, you've won.
And 
Paloma Garcia-Lee
 has proven herself to be a winner: after an incredible career in the entertainment business, she's landed the role of 
Graziella
 in the Oscar-winning movie "
West
Side
Story
," creating a character that is both inspired by the previous adaptations (and the original work by Shakespeare) and infused with her person and feelings. 
I'm a huge theatre kid so having the opportunity to chat with Paloma about her role and more was a 
dream
. During our 
interview
, she revealed herself as an artist who's willing to explore different paths to grow her 
personality and
 abilities and, most of all, to show her 
humanity
, which is the only must-have both on stage and on the screen. Together with Paloma, we danced through her 
memories
 on the set of "West Side Story," her friendship with Mike Faist and Ariana De Bose, her music taste (obviously), and being 
afraid
 of fear itself. While being 
grateful
 for her happy places and every new chapter in life.
You're an actress, dancer, singer, and performer. What made you understand that you wanted to be a part of the entertainment industry? Do you recall that specific moment?
There have been so many pivotal moments in my life that have been affirming and re-affirming that I wanted a life in the arts. I think I have always been drawn towards this career path because my parents were in the business, and I did grow up immersed in it. I feel that I was called this lifetime to be an artist, to heal myself, and hopefully inspire healing in others through art. I feel so alive, so magnetic, so in my calling when I am making art, talking about art – it simply just is what I am here to do – in many ways. There were many pivotal moments of discovering my desires, my own identity, and my love for what I wanted to do. I feel I am ever-evolving as an artist and those "signs" those "aha" moments continue to drop into my life, and I continue to discover more and more how I want to use my artistry, my voice, my passion.
You have an incredible experience in the theatre. How has the journey been so far? What is the latest thing that has surprised you of this world? 
I am surprised at how my dreams just keep growing and growing. I am very lucky, and it's not lost on me that before even being in my mid-twenties I had accomplished so much that I had desired and been able to step into so many of my biggest dreams. And it just keeps expanding and growing and I can't wait to see what the next 12 years of my career and life will bring my way. I am passionately and ambitiously shifting gears and working towards a whole new chapter of my artistry and the things I want to do. It's thrilling. I feel invigorated in a way that I have not been in so long and it's surprising to me how we ebb and flow and how our artistry grows and shifts and expands over time.
Speaking about musicals, you play Graziella in Steve Spielberg's "West Side Story." What was your first reaction when you read the script?
I was in awe of what Tony Kushner had done. I thought it was remarkable. Every scene I kept saying "that's so smart" out loud as I read through. It had so much depth, so much care, so much spark to it. Pure awe.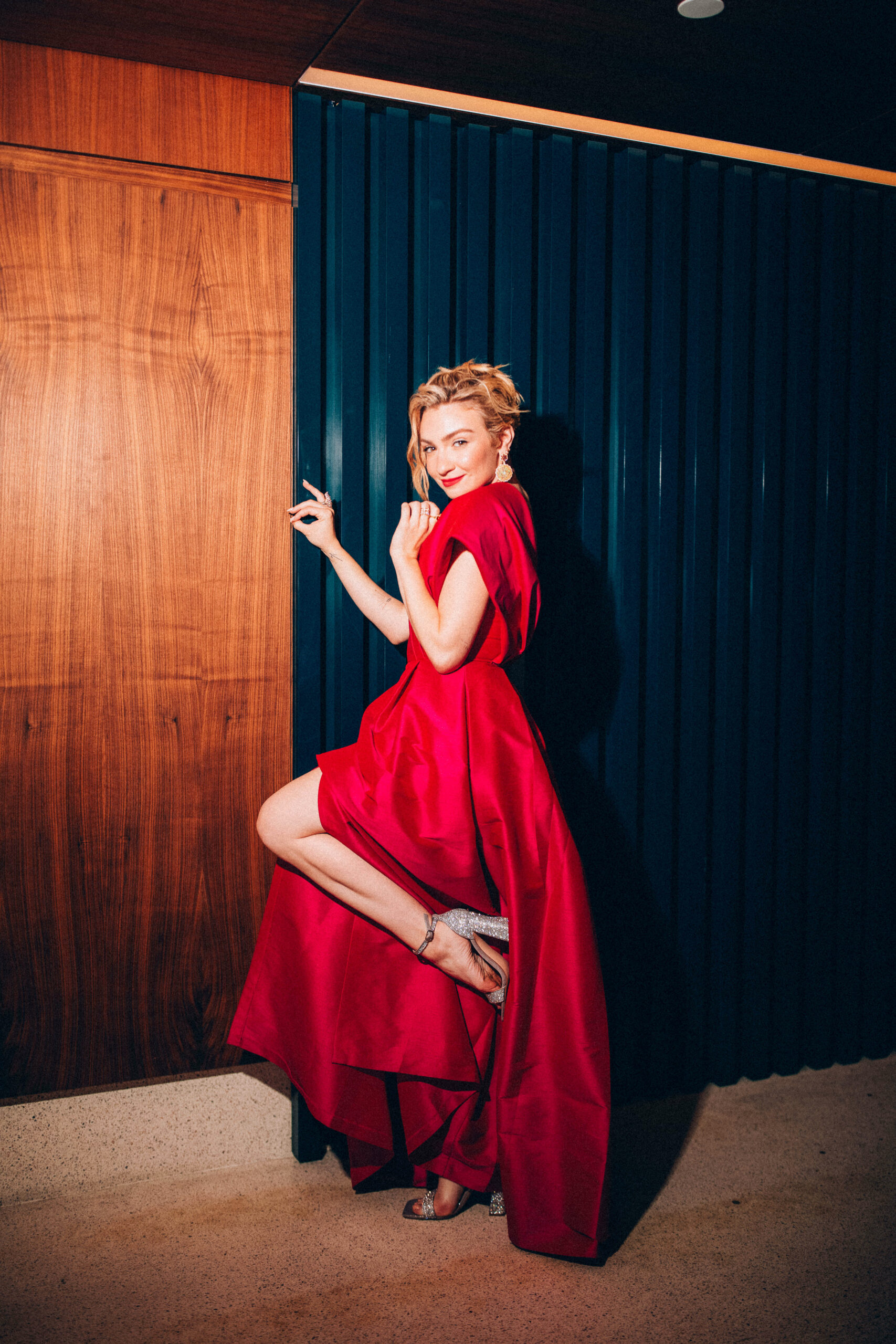 "I feel I am ever-evolving as an artist and those 'signs' those 'aha' moments continue to drop into my life, and I continue to discover more and more how I want to use my artistry, my voice, my passion." 
How did you work on your character? Did you find some inspiration from the original musical or the 1961's movie?
I was very familiar with both the original stage musical and the '61 film. Something that is rarely spoken about – if we want to go back to the original text of Romeo and Juliet – Graziella is Rosaline, and we bring that to light in our film. She is barely in the R&J text but serves as a very important piece of the puzzle. In Romeo and Juliet, Rosaline is Romeo's ex-lover, and he ends up meeting Juliet while going to a Capulet party to catch a glimpse and possibly see Rosaline. We introduce that plotline back into the story in our film and it adds a layer of depth and certainly establishes this character even more, far more than she ever has been before. While I am a huge fan of Ginka Trikonis and past Graziellas and Productions – I dug deep into myself and allowed this character to come from parts of myself, from my connection with Mike, with Ariana – and my innate humanity. The description of Graz includes many attributes that I already possess – so it's more about unburdening myself as an actor and just allowing those things to come forward in a present and genuine way.
Were there any challenges to face when playing Graziella? And how much of yourself did you put in this role?
I put so much of myself into this role. Graz and I just wanted to infuse her with more depth and nuance and humanity than I have ever seen before and allow her the space and freedom to come off the page and jump off of the screen in a new way. There was immense pleasure and joy in bringing her to life. Bringing myself to life.
In the movie, Graziella has a close relationship with Riff, played by Mike Faist, who's also had an incredible career in the musical theater industry. Do you think that this resemblance between your paths somehow helped you shape the relationship between these characters? How did the two of you work on your chemistry (which is on fire, especially during the dance scene at the gym)? 
Mike and I just innately connect as human beings. We simply allowed our organic chemistry to develop and exist and brought that forward into the work. We approach art and life with a similar fullness and passion which was deeply bonding. There were many moments of alignment with our meeting and working on this project together. I think our joy and celebration of that time in our lives is certainly captured on screen.
Also, you and Ariana DeBose, who plays Anita, are great friends, while, in the movie, your characters are great rivals. What was it like to have to turn into enemies while you were filming?
I think Grazi and Anita – if anything – are more competitive with each other, not necessarily enemies. I doubt behind closed doors, or if they ran into each other on the street would ever be outwardly nasty or malicious to each other. When she comes into the drugstore and Graziella is aggressively talking to her, we are dealing with such heightened stakes so there is rage and confusion and anger – but even then, we still see Graziella try and save her. I think there is a deeper psychological dynamic at play that differs from the gang/enemy mentality that the boys might have with each other. We both leaned into a very joyous and ferocious competitive energy in Dance at The Gym. We are such fans of each-others work that in-between takes we were always laughing about something and making little moments here and there, watching each other's coverage, cheering the other on. When we got to the drugstore scene at the end, we were both also each other's comfortable dealing with such heavy, traumatic material. It was a joy, a gift to make this film with a woman I cherish so deeply in my life. It bonded us in a whole new way.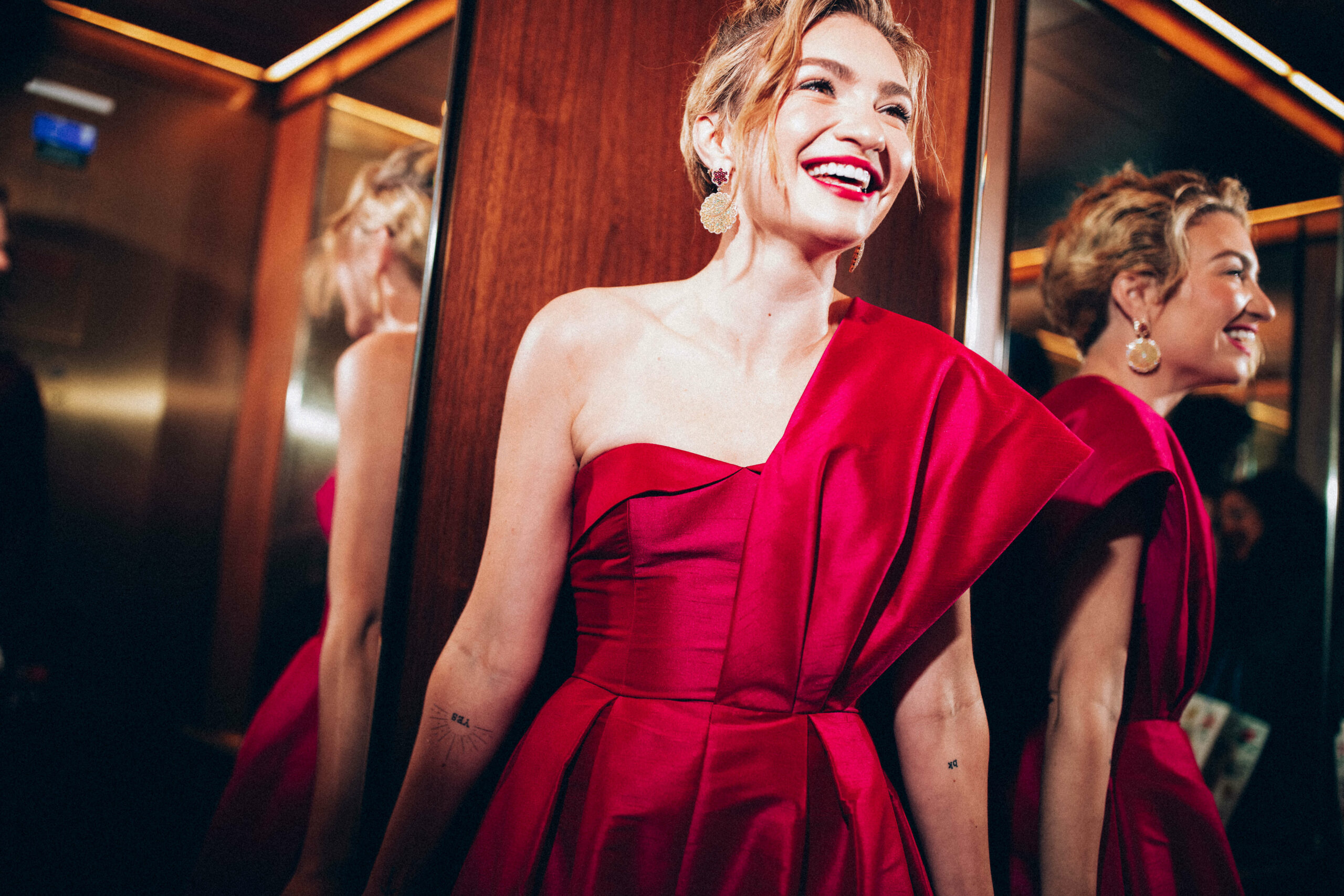 " 

The description of Graz includes many attributes that I already possess – so it's more about unburdening myself as an actor and just allowing those things to come forward in a present and genuine way."
What was it like to practice the choreography of the movie? How long did it take to prepare all the dance numbers?
The rehearsal process and time frame differed for everyone, the boys rehearsed for months, the shark ladies also had a longer rehearsal period because of "America" and "I Feel Pretty". Dance At the Gym is the only time I dance in the film, and we put the bulk of that number together in a week and then had follow-up rehearsal days and brush-up days, camera blocking days, etc. That is such an iconic number and there are so many moving pieces to it, it was a massive undertaking. I can't say enough about Justin Peck who choreographed the film and his assistants Patricia Delgato and Craig Salstein.
Where is the Oscar for best Choreography? Justin is one of the greatest choreographers of our time. He is so smart, and I can't imagine anyone better for this work. His movement is incredibly visceral, musical, human, electric – I just am completely in awe of him. I was a fan of his for so long and to work with him in this way was lovely. I wish the world could see the entirety of every moment of every dance number. His attention to detail and the care for each step, each moment is just second to none. There was so much respect for us on set and we had full-time PT, daily warm-ups and we were treated like the athletes we are, its joyous to bring dance to the big screen like this – I hope it helps a wider audience have more respect for the work of true triple threats.
Speaking of musicals, what is your favorite one?
I have so many favorite musicals. I am a big Stephen Sondheim fan and I love "Sunday in the Park with George." The depth in that musical is astounding. I am not sure I could ever pick a favorite though, I have so much respect for so many. I've spent the last 12 years working in the theater and I have seen countless shows that left me speechless – I think musical theater performers are some of the most talented and versatile performers on the planet and I hope that we continue to see Hollywood embrace those of us coming from that world.
What are the top 3 artists you are listening to? 
I love music and have a VAST music taste. I am usually into Motown and Older soul and R&B music. My usual playlists include Smokey Robinson, Marvin Gaye, Sam Cooke, The Temptations, Mary Wells, The Sapphires – that list goes on and on. I also listen to a lot of newer retro-pop/new soul and have been a fan of Durand Jones and the Indications for years – Aaron Frazer who is their drummer and vocalist just released a dope solo album as well. I love when you watch an artist rise – I was sitting in a restaurant the other day and one of Aaron's songs came on and I just smiled. Have you seen the movie "That Thing You Do?" that moment where they hear their song on the radio for the first time – I always wonder what that must be like. I digress – right now my big three I have on repeat are Cleo Sol, Raveena, and Eloise! New ladies making music that I just love to vibe to.
A song to describe this moment of your life?
"Searching for a new day" – Sharon Jones and the Dap Kings have been on repeat lately. As has "Young Love" – Cleo Sol. and to round out the trio…. "Daddy" – by Della Reese.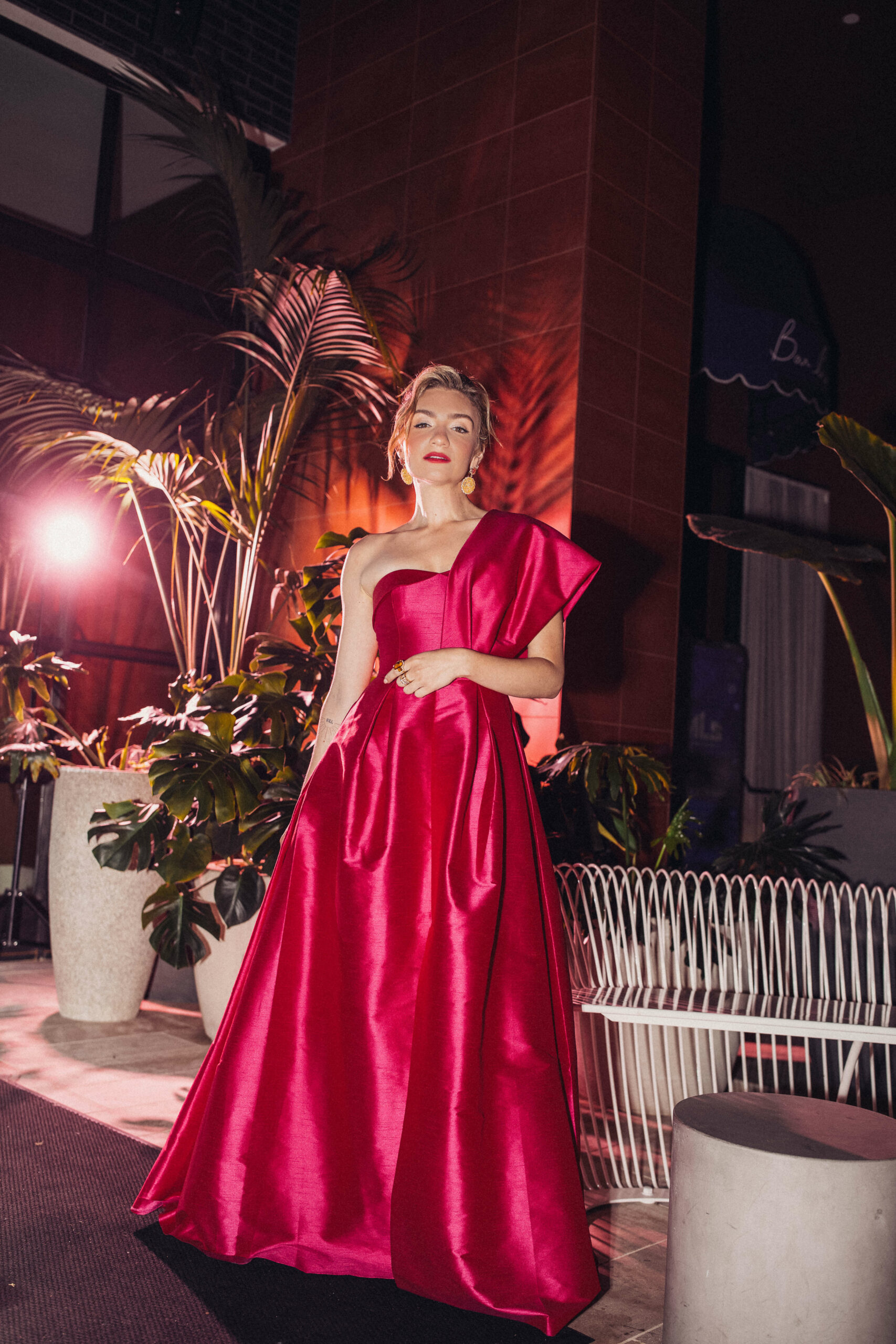 "

I've spent the last 12 years working in the theater and I have seen countless shows that left me speechless – I think musical theater performers are some of the most talented and versatile performers on the planet and I hope that we continue to see Hollywood embrace those of us coming from that world."
If you could play someone from a musical, both from the past and present, who would you choose and why?
I don't feel the roles have even been written yet that I want to play. I am manifesting creating and originating work with directors' writers and composers. I am very focused and drawn towards on-screen work right now and my heart wants to pour itself into either a period drama, something supernatural – a character that develops and transforms and goes through deep conflict and transformations. I have so many adjectives bursting in my chest of the sort of art and character and piece I want to dive into. I will say – I would love to do a series musical or movie musical where I could step even more deeply into myself, where I can sing songs in a key building for my voice (I feel we don't embrace altos enough), and I could showcase all that I have to offer as an actress and flex all I have to offer as a dancer too. I am a true triple threat and I look forward to the day I get to show that more widely to the world.
An epic fail on the job.
The number of epic fails and bloopers that happen especially live on stage on Broadway are astounding. I have done everything from forgetting the words to a song I am singing to falling flat on my face, to forgetting choreography, to missing entrances because of quick-change disasters, shoes falling off, wigs falling off – live theater is the most incredibly challenging thing because you can't just yell "cut" when something goes awry – you have to make it work and keep going and figure it out, in front of 2,000 people and it is both mortifying and thrilling all at once.
Your must-have on set/stage.
No matter where I am working, I need to have a calm and cultivated dressing room/trailer. I need to have quiet moments to start my day and to ground myself. I also… and this is going to sound silly but love waffles…. a good day on set starts with a waffle and a coffee. I also love Bacon, Egg & Cheese Sandwiches and Broadway days usually begin with one of those. So basically… peace and quiet… and breakfast foods.
What does it mean to you to feel comfortable in your skin?
I am discovering my authenticity more and more each day. Right now, for me, feeling comfortable in my skin means speaking my mind, only being with people, in places and environments where I feel seen and valued, and trusting myself enough to say no to things I don't feel in alignment with my greater goals and path. Being me, really, truly, me and honoring those things consistently. I find that I fall into people-pleasing patterns. I think the entertainment industry has conditioned artists to exist in this interesting state of neutrality and timidness that is toxic for artists. I work every day to stay in a state of creation, curiosity, passion, and openness, diving deeper into my authentic self and allowing myself to bring that ever-evolving human and artist into the rooms and spaces with me fully.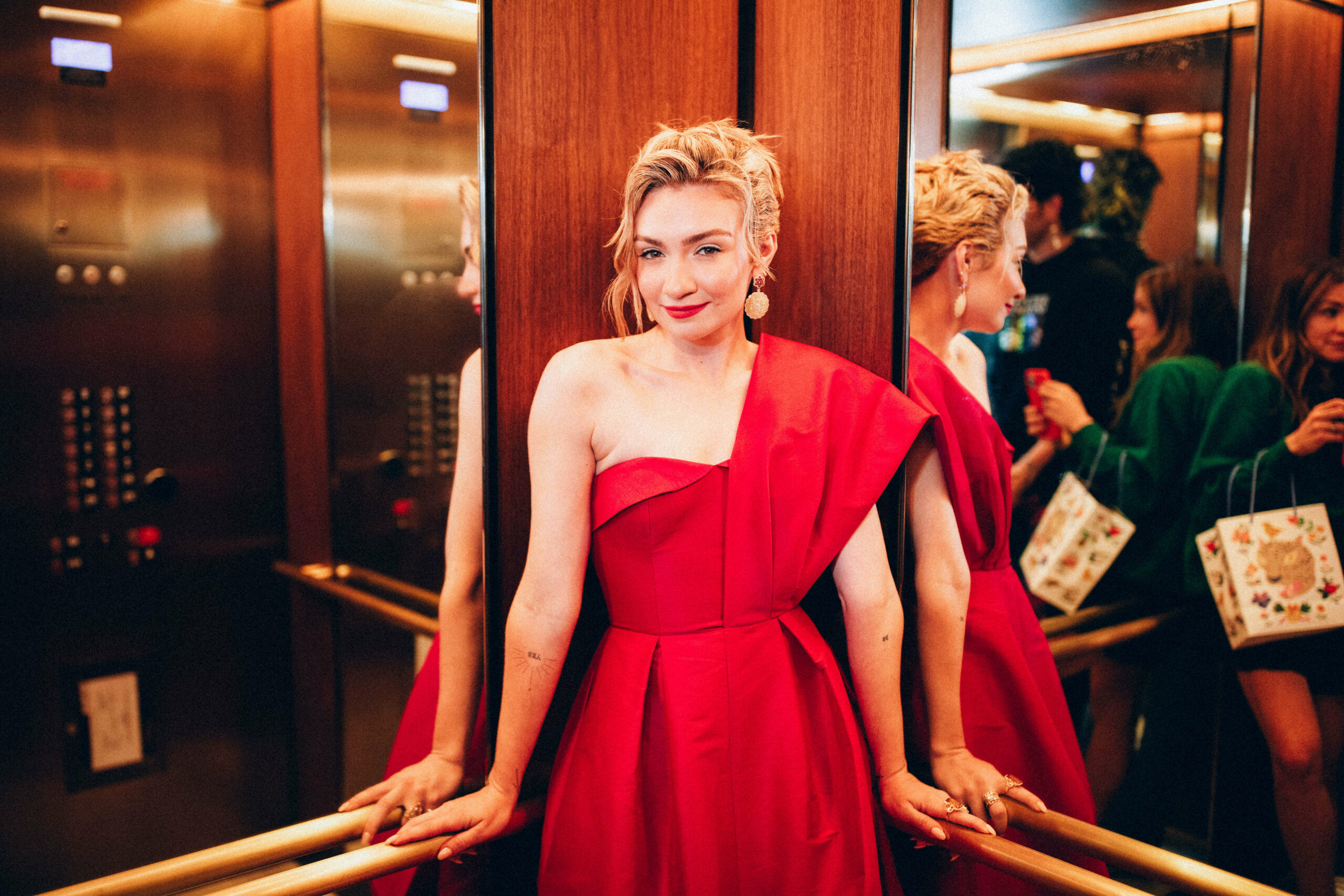 What are you afraid of?
What a gorgeous question. I will answer this as vulnerably and as honestly as I can. I am afraid of being afraid. I mean that so wholeheartedly – I am afraid of not having the bravery to go after all that I want in this lifetime. I have a deep commitment to leap and risk and to have the audacity to be the human, the artist that I want to be. I constantly have to free myself from the idea that "when I get the job – then I can" "When the right director sees me" "when the right role comes around" – I give myself full permission to be uniquely me, and the human I am and I'm even starting to play with the idea of picking up a pen and writing my piece – I look up to women like Ilana Glazer, Greta Gerwig, Phoebe Waller-Bridge – I call them my holy trinity – women who wrote their way in, who may be also didn't feel seen in the scripts or the roles coming their way – and so they did it anyway – and they put pen to paper and dared to reveal themselves and not wait for others to permit them. I'm afraid of choosing fear, of holding back, of somehow being on my death bed saying, "I wish I would have".
What's the bravest thing you have ever done?
In 2019 I decided that I would change everything in my life and take steps each day that pointed my compass towards true north. I decided, with so much love and with so much gratitude put a period at the end of one (incredibly successful and beautiful) chapter in my life and turn the page to write another. I decided to go for my biggest dreams, ones that had become "someday" and "when the time is right". What I have begun to learn the older I get is, there is no better time than today to live the life you want to live and be the person you want to be. Time is not promised and it's easy to choose the fear of the unknown or fear of failure over the leaps and risks that I feel a rich and fulfilling life might require.
What is your happy place?
I have so many and they range from the simplest little thing like the perfect cup of coffee in the morning and walking with my dog. The feeling of being in the saddle with my horse and feeling that bond of a 1300LB animal allowing me to be its dance partner. I'm so happy when I am connecting deeply with a friend, oh I love connecting with people. Of course, I love being in my work, in my calling – being on set- being on stage. Feeling creative. Dancing. The feeling when you crawl into bed after a long day and can put down everything and exhale. I have so many happy places. And for that. I am grateful.