The quality of Richard Ginori products, with their richness and elegance, are the trademark of the Florentine brand that over the years has surprised us with unpredictable collections that, nonetheless, are able to make us fall in love even more with its timeless charm.
During the Design Week in Milan, we dived, almost literally speaking, in the sea of inspiration behind the latest collaboration of Richard Ginori with the young English designer Luke Edward Hall, who created "Il Viaggio di Nettuno" collection ("Neptune's Journey). Inspired by Greek myths, the beauty of the Kingdom of Poseidon, the Mermaids and the sea creatures, the collection is a blaze of colors and classical and contemporary prints, aligned with the artist's signature and the aspirations of Richard Ginori.
In a corner of the Richard Ginori store that looked like a small parlour, we sat with Luke Edward Hall to talk about his artistic style, his passion for classicism and the process behind this collection, whose inspiration took us far away, towards the horizon, while in the distance it feels like we can take a glimpse of Neptune's silhouette and hear the so sweet, yet so dangerous, voice of the mermaids…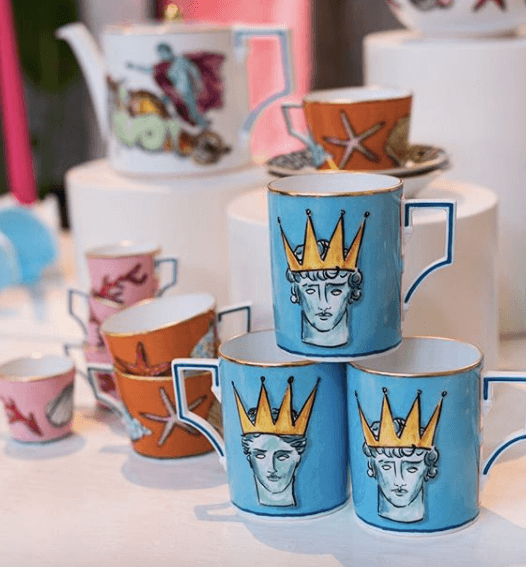 How would you describe your colorful aesthetic?
__________
I am inspired by history, and it's about a sense of playfulness and color, it's a big thing for me. I think my style, in general, is about adding playfulness and having fun.
Because art is also fun.
__________
Yeah, and I think there's a lot of grey and beige out there, and I'm trying to inject it with personality.
Where do you find inspiration for your work?
___________
I find inspiration all over, really, but I often move back to history, to certain periods of it: for example, this collection is Greek myths and Mermaids, I've been a fan since I was very young. And then from traveling – certain things are inspired by places I go to and then novels, a lot of books that I read. All over, really!
Everything is art.
___________
Yes, you kind of get inspiration from a lot of places but I guess I look to the past quite a lot for inspiration: I find inspiration from the past and then create something fun and contemporary, that's what I try to do.
 I think you can take inspiration from the past, but you can't be tied to it. For example, with Greek Myths, it's nice to take this vision and do something a bit unexpected with it.
Classic Culture is a recurring theme in your art. Do you think that its aesthetic could still be found nowadays? And what does it mean for you?
__________
I don't know why I just love it. I think what it is, for me, is that I love myths because the stories are crazy and fascinating and I get such great images from them. I use many of their motifs in my work because you get these great things, like the story of Arion on the Dolphin, or whatever; the stories are crazy, they're so magical, and I find them fascinating, so I love taking that, those stories, and do something contemporary with them. And I would say that that the actual stories are still kind of relevant to this day.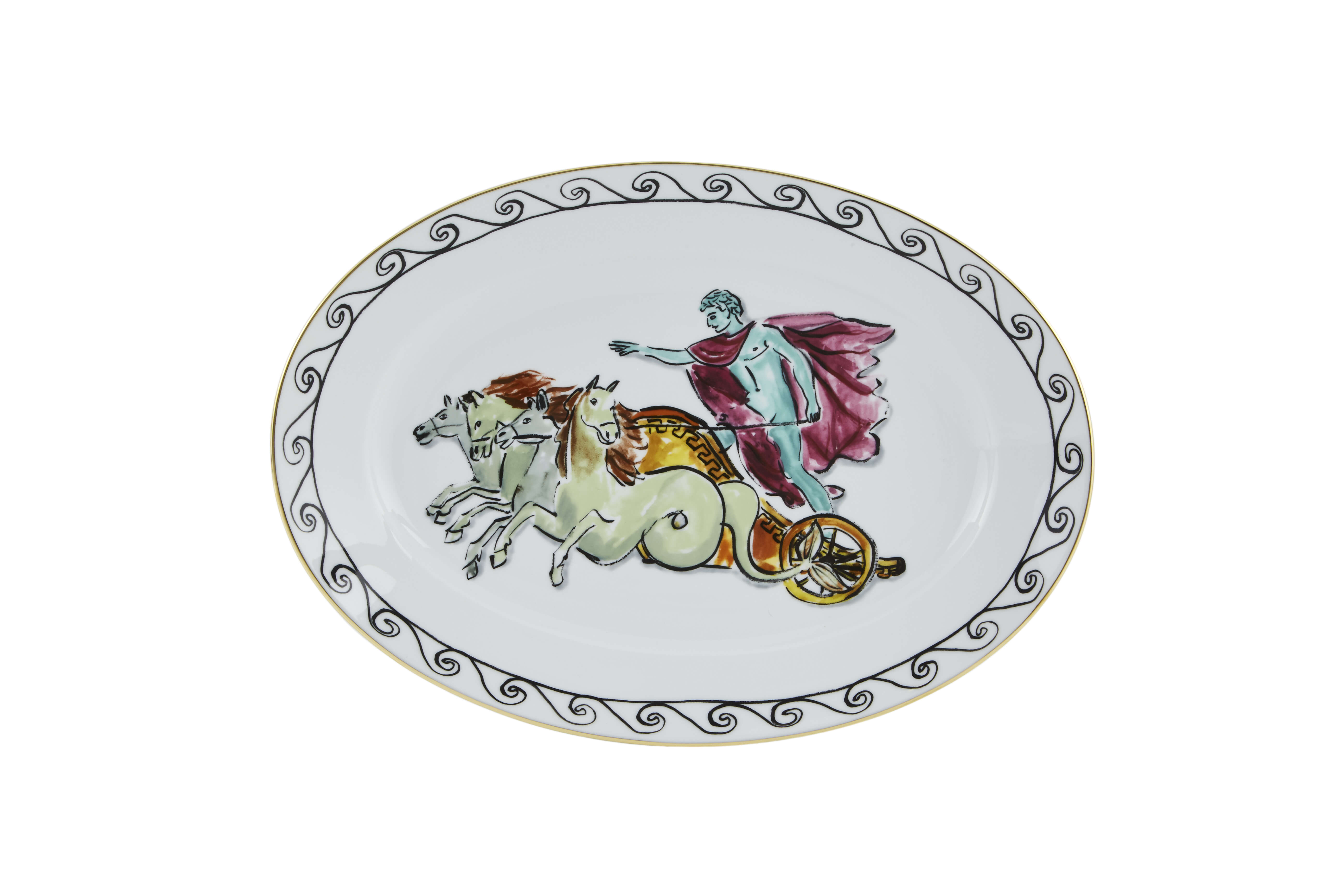 "I love myths and legends because I think that the stories are crazy and fascinating and I get such great images from them."
Your collection in collaboration with Richard Ginori has been referred to as a "continuous pursuit of beauty, the encounter between creativity and craftsmanship." 
From where did the inspiration come from and how did you combine your vision with the one of Richard Ginori?
__________
I think when we first started speaking about the collection we were talking about different sort of themes and ideas, and we decided to talk about the sea. And then, because I have this love for myths and legends, I was able to combine them in a way and bring in the sea but think about Neptune and his friends and other characters connected to the sea. So that's it kind of how it came together, then we decided to sort of have this kind of story around it.
So it's called the "Viaggio di Nettuno" because it's about the idea of Neptune on a voyage through the sea with these different characters coming in. So that's kind of how it developed, but then it's been fascinating because I visited the factory outside Florence, learned about how they work, and the pieces that they made and the process of making them. It was really nice because I went to them with lots of drawings and they showed me how they could apply them to pieces: I learned a lot along the way, but I hope that we were very respectful of each other. It was always really fun to work with them because they were always teaching me things and they were open to trying things out. 
I was like, "I want to make this candle holder" and I drew it, I drew a little sketch, and they were like, "sure we can do it," and they made it like two weeks later.
 So the process was really fun.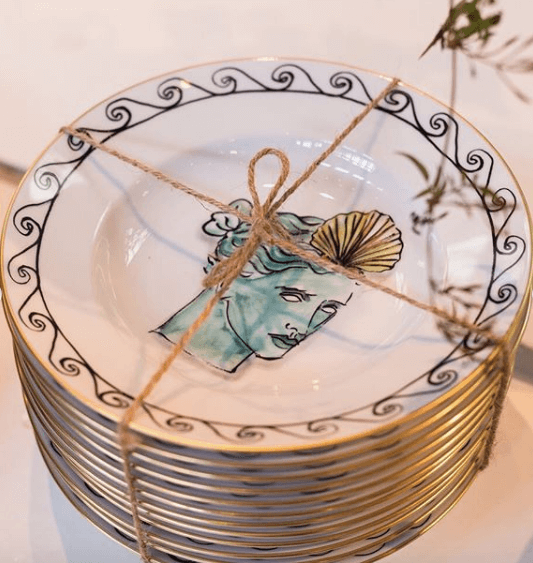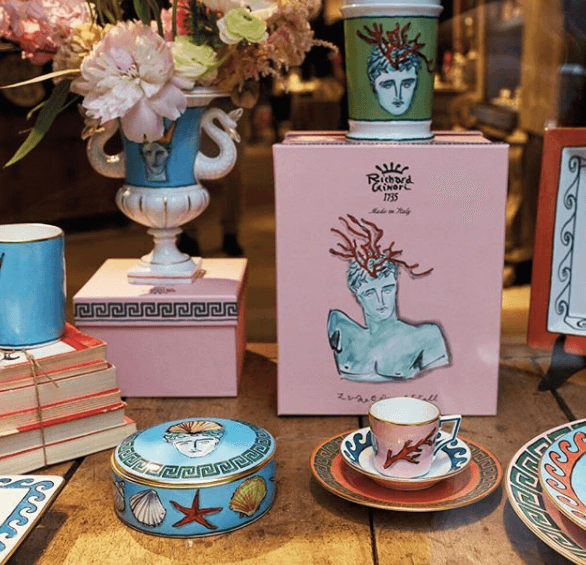 "It was always really fun to work with them because they were always teaching me things and they were open to trying things out."
What was the creative process beyond the "Viaggio di Nettuno"? 

 
__________
I went to spend a day or two in the factory learning how the pieces are made, which is great because I think it's really good before you do anything just to learn about the different stages and the different things that you can do. And then we started searching with the theme and with the ideas, then I went into all the drawings and then we basically outlined them on the pieces. It took a while to figure out that we had this character with this border, and then we would have this color, there are a lot of things to consider.

 And also to make sure that the colors work together as a whole. So yes, that was kind of how we worked. Of course, we spent a while talking about the colors, because the color is a big thing for me, so it was really important to choose the right color, and I think Ginori said that it took a while to get the right colors: It was quite tricky to get the colors to be so saturated and bright.
What does creativity mean to you?


__________
That's a hard one. I think it's about following your heart. It's a very personal thing, and I think it's having the freedom to create something. Like, in the last few years I've had to remind myself to keep going and follow my imagination because it's a very personal thing, that's what I can say about it. Someone earlier asked me "How would you describe beauty?" and I think it's a similar thing in a way.
Creativity, beauty, they are such big terms, and you can't describe them, it's very personal.