True story.
When I met Kerry for the first time it was during the Venice Film Festival, the night before I had seen "The Banshees of Inisherin" and, although I was already in love with her past works and her career choices, and I felt a great admiration for her, after seeing THAT film, I also wanted to tell her that she deserved an Oscar, that it was the most beautiful film I had seen in Venice (and beyond) last year and that I couldn't wait to ask her a thousand things about her character, the "hows" and "whys" of everything.
And then I saw her, and managed to tell her something: "The Banshees of Inisherin" was my favorite movie and she was extraordinary. But that was the time for photos and videos, for that kind of creativity.
Sometime later, we met on Zoom to have a chat, besides all the thousands of questions I still had to ask her from that day. And here comes the true story: I was so fascinated by what she said, by how she opened up about herself, that I didn't realize how much time was passing and, even though, from a window on the bottom of the screen, her publicist (rightly) reminded me that my time was up, I did not realize that I had actually run out of time. Because that's right, Kerry doesn't talk for the sake of talking and doesn't say simple things, but she says things and this gives strength to anyone who listens or reads them.
When you prepare for an interview, you always want to give your best. Sometimes I just don't want to prepare myself, I just want to get carried away. But this is not possible. The minutes that precede the "chat" or, as in this case, the appearance of her image on my PC screen, are minutes full of positive tension, which Kerry has managed to transform into something that still remains with me today, which in the end is nothing but the main objective of those who have chosen to do my job and whose main purpose is to share something important.
True story: Oscar nominee and BAFTA winner Kerry Condon is our March Cover Story.
I'd like to start by saying that I loved "The Banshees of Inisherin"… It really was my favorite of the past year. It's funny, it's bittersweet, and sometimes I wanted to cry because certain scenes are so tender but cruel at the same time – I think it's such a beautiful and well-made movie and you are amazing in it.
Thank you so much. I feel the same about it, too. This movie reminded me of the feeling of a breakup when you really don't want it to end and how desperate you can get. It's so embarrassing when you think about it!
I was wondering when I saw the film, what were your first thoughts when you read the script?
Initially, when I read it, I wrote to Martin [McDonagh] and said that it felt like one of his plays got a movie.
I thought it was so perfect because the plays that started his career were set in Ireland, and after he finished "Three Billboards Outside Ebbing, Missouri", he was a little bit unsure of what to do next, since "Three Billboards" had been a success, so, I felt it was extremely wise and smart to go back to the beginning and to what you had done when nobody was looking or paying attention and to focus on that.
I knew it was going to be great because it was his forte: I always felt he just had an ear for how Irish people speak and really smart observations of Irish people. I thought it was going to be brilliant because the plays are so good but not everybody knows about them or has read about them, whereas they're the ones to me that are the most amazing of all his work. I was super excited it was going to be in a film for everyone to see.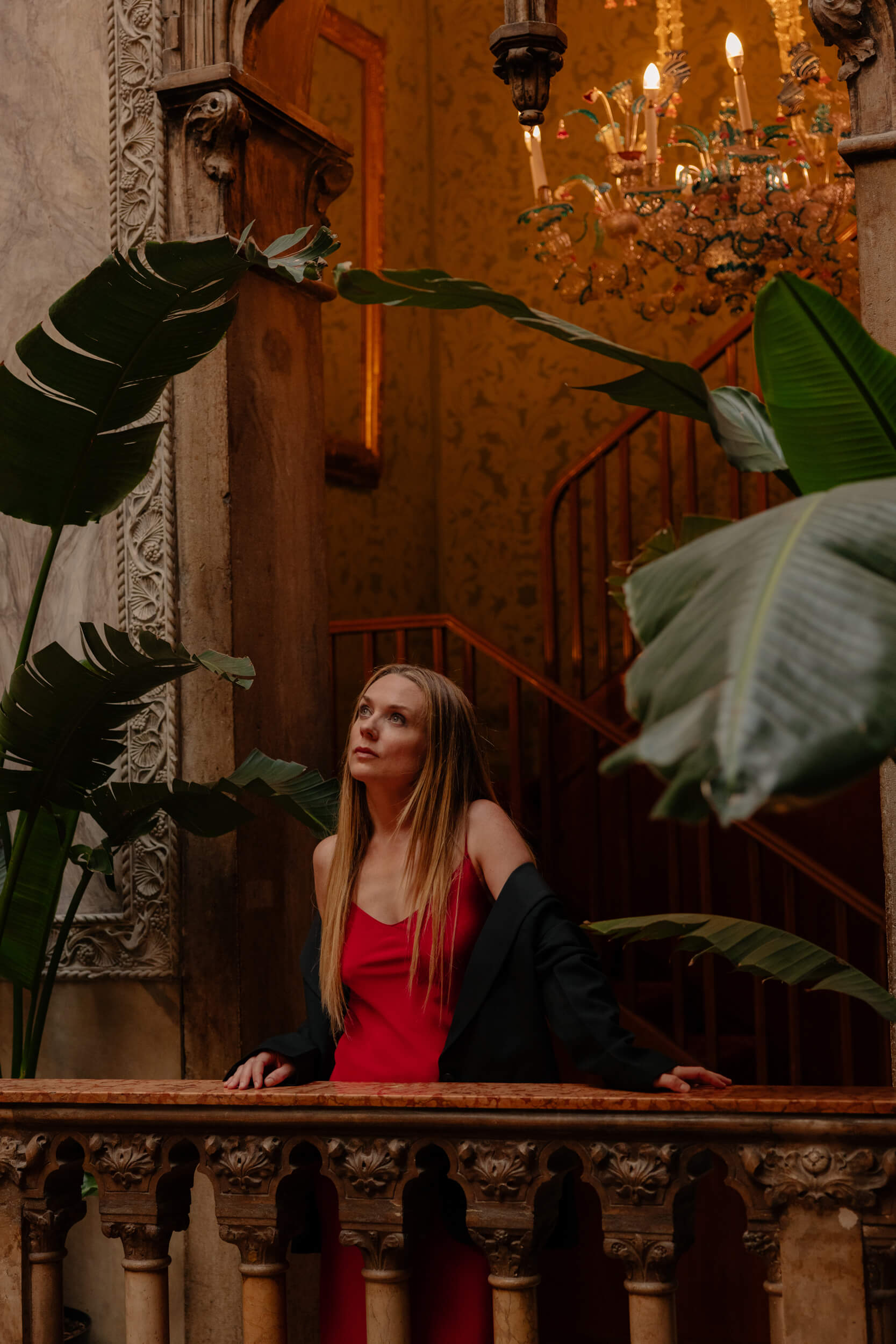 What are the questions you asked Martin about your character?
There were some lines I remember that he had put in that we discussed because we felt that maybe were a little bit too more like the characters that I played in his plays – I played three roles in different plays of his, and they're quite different, they're quite sure of themselves and very mouthy and they're not shy, they're fire-crackers. A couple of the lines felt a bit like those characters, so he changed them because it was like Siobhán was as outspoken as those girls, but those girls were a lot younger, there was a childlike boldness to them, whereas I felt like we wanted Siobhán to feel a little bit wearier and more private and a little more like she didn't need everybody to know that she was very smart and she didn't need everybody to know her business. So, those were the first things we discussed.
Then, I was also wondering how much of a love life she ever had: was she a virgin? Was there ever any romance in her life? We made up an idea that perhaps she was definitely a virgin but she had had a romance, maybe it was only a day or two in length, but a boy might have come from the mainland and she might have had some moments with him but she couldn't leave with him because she was duty-bound; it was like she had a taste of something and then it was gone, just little bits of lusts. It was hard because she was jaded to get hopeful, it was very contrasting, so I'd find moments where she was just tired and she'd had enough of everyone, but then also moments where she was childlike with Pádraic: the hope could be there, and it was still the beginning of her life, almost.
Maybe I'm wrong, but I think that being an actor, with the many characters you play, working a lot on yourself, you also learn new things about yourself. What have you discovered about yourself while playing Siobhán?
That I don't seek approval – I'm quite similar to Siobhán.
Even when I'm going to a party or when I'm not seen necessarily as an actress, I don't need people to think I'm great, I don't look for validation from other people. There probably was a time in my life when I did, I don't know if I ever did really badly, but I'm quite like her in that way where I'm very internal and I don't need everybody to think I'm great to feel good about myself, or the movies that I've done, how much money I have and all those silly things that a lot of people are quite obsessed about.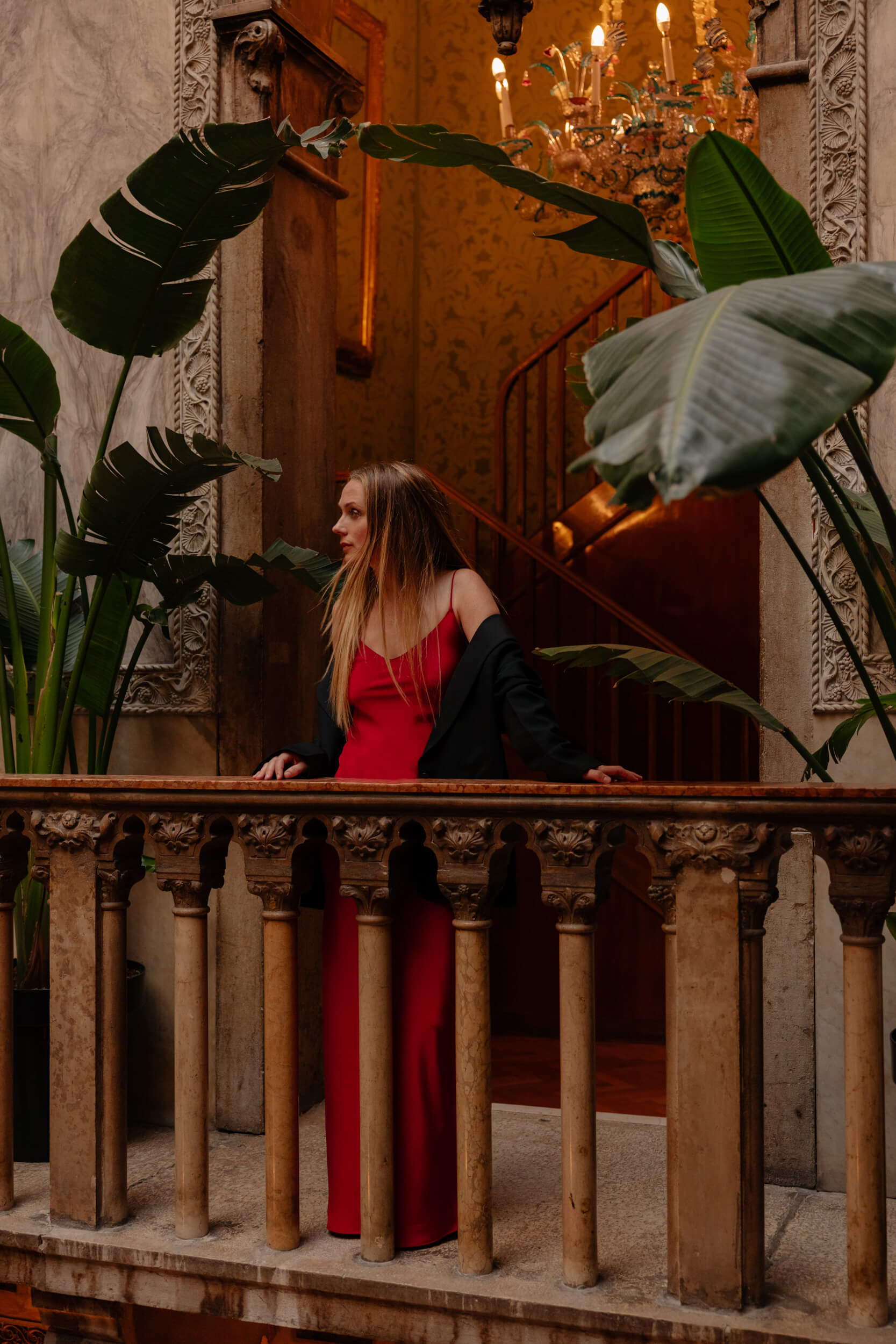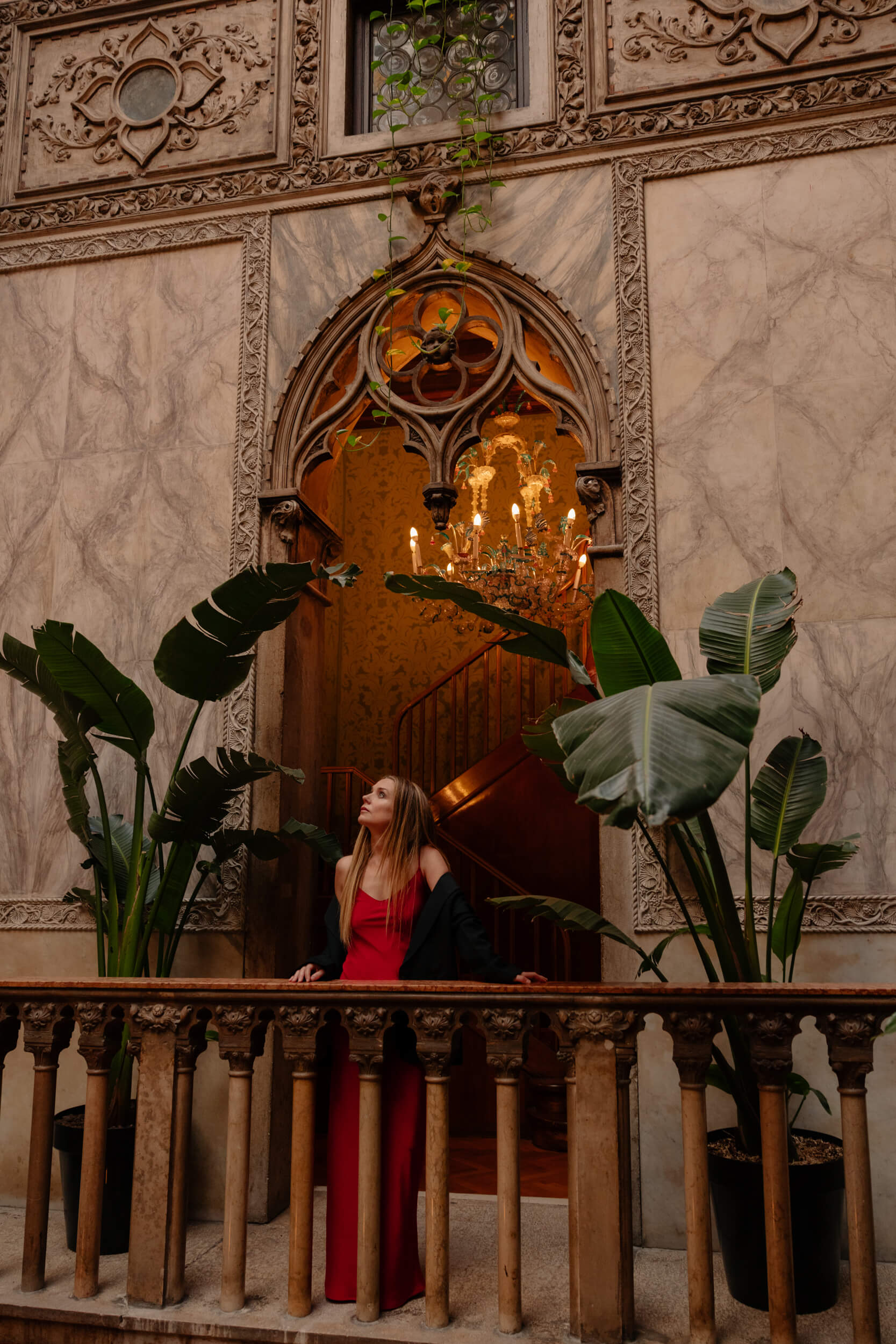 It's a beautiful thing to achieve, I believe, to feel free from other people's approval, I think it's amazing.
I think it also comes from a dark place because ultimately, I feel like I'm very aware of my mortality, I'm so sure that I'm going to die, so I think, "Why would I be wasting my time here worrying about what people think of me? When I die, that's not going to matter to me". So, I think it comes from the start of a "saddish" play, or rather an awareness that my time here is short.
Your character seems to be the conscience of everyone, in the sense that she's the only brave one, she always knows what to say, whereas the others certainly are very particular and well-defined characters, but Siobhán to me is the only one with some sense of reality. What was it like to play someone like her?
I think she can see and understand both perspectives, and that's what's very interesting about her, and she's jaded by both – she doesn't understand why Pádraic can't just let her go, and she also feels that Colm's character sort of thinks a bit big of himself. You know the scene in the pub when she corrects Colm's character about the date of the Mozart thing? That was very interesting because it is a great line, showing that the woman knows the correct date; she really only does it because he makes everybody laugh at Pádraic, she doesn't come in and correct him in front of everyone, she only does it because he was rude. So, it was very empowering to play somebody who was okay with having intelligence and not everybody knowing about it, she didn't need everyone to know she was smarter than them.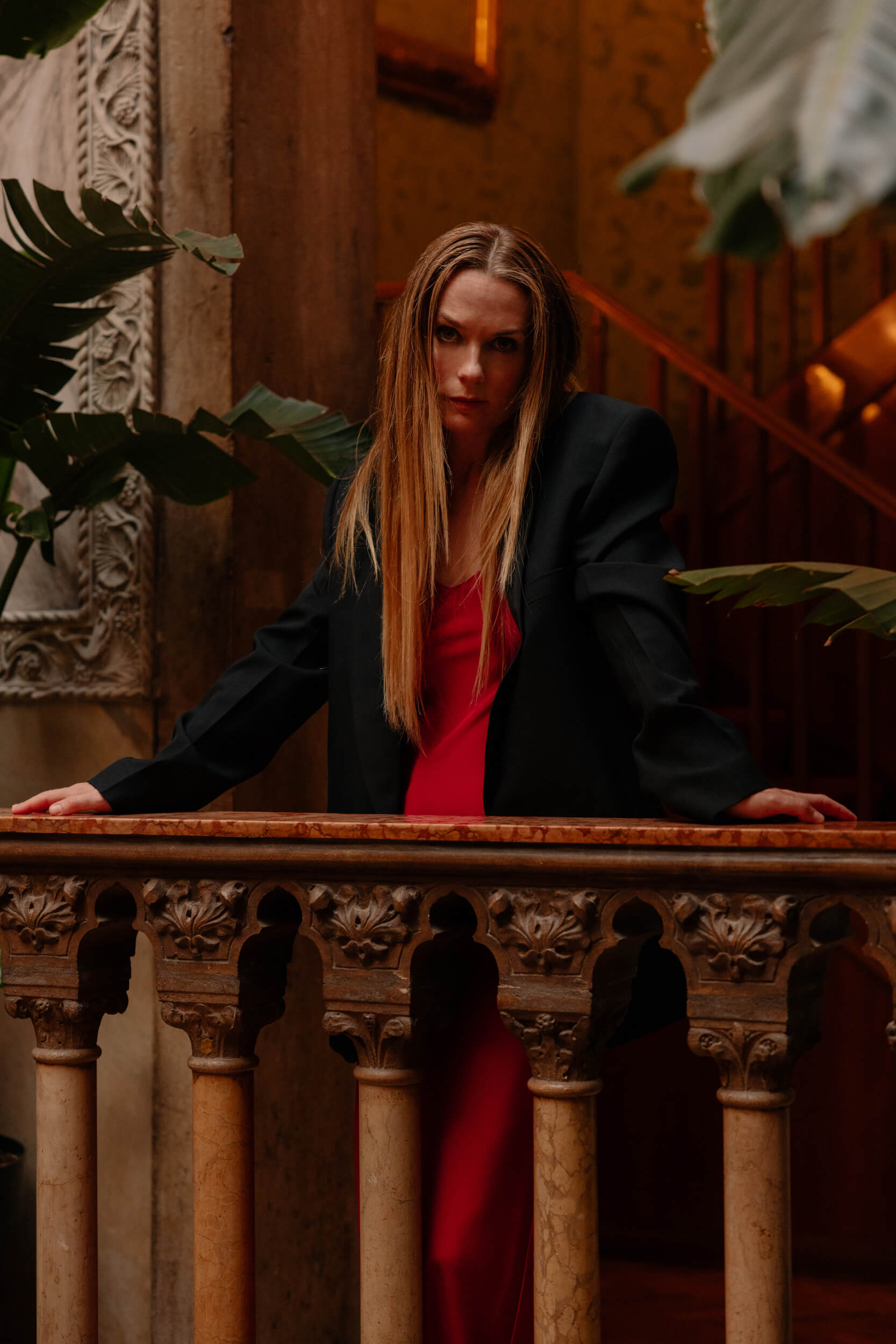 "It was very empowering to play somebody who was okay with having intelligence and not everybody knowing about it, she didn't need everyone to know she was smarter than them".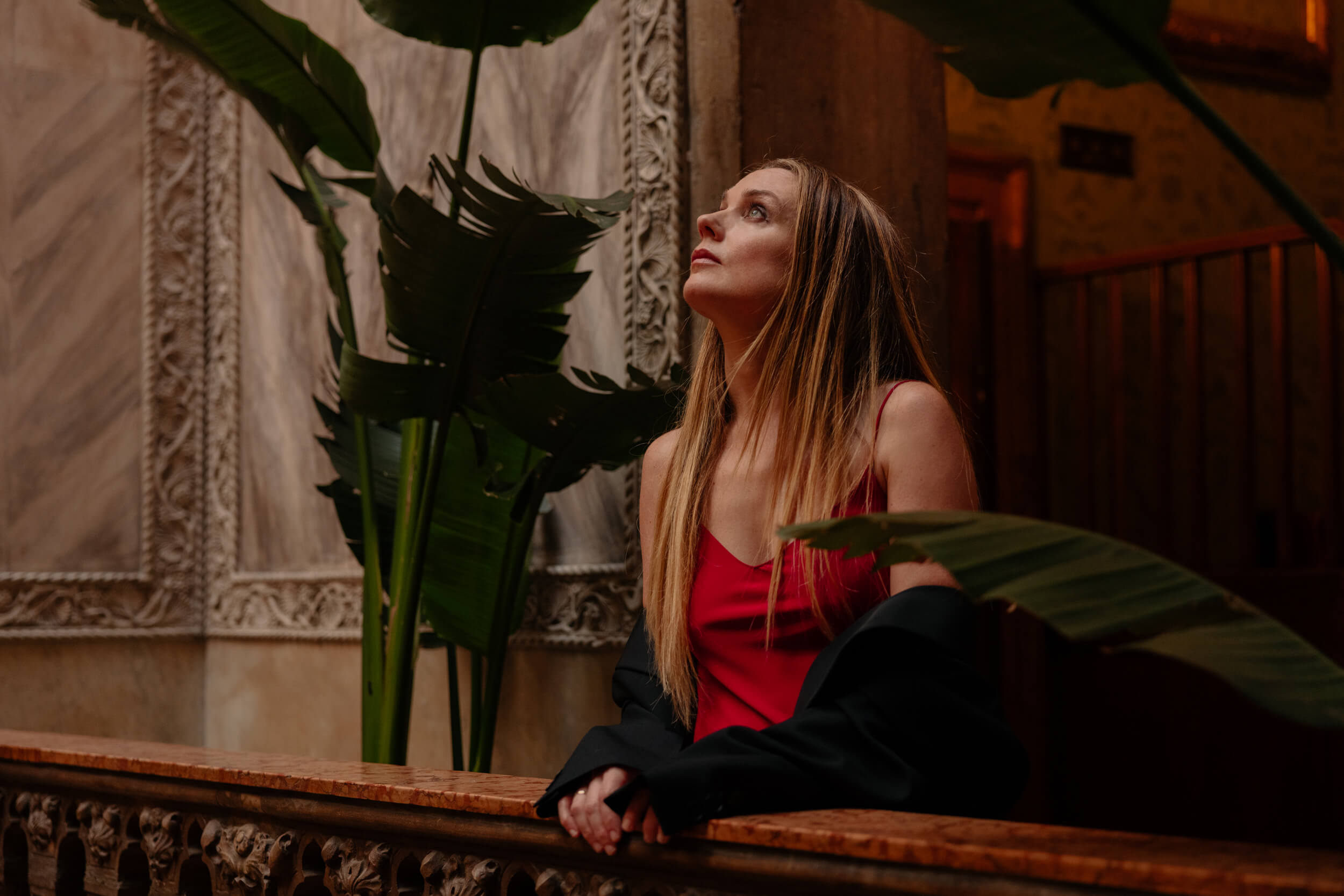 The movie is also set on such a beautiful island, which sometimes can also be bad in many ways: there you can find isolation, boredom, and solitude. How do you personally cope with solitude? Do you ever search for it?
I am the kind of person who, when Covid happened, thought, "I'm going to be thriving!". I love being alone. I have to make myself go out more, if anything! What I like about this is that while I do love solitude, and I need solitude for energy, I love being around people when I'm at work, but it can be draining because of all the different energies and personalities; I need to be alone to get energy and recoup. But I think that if you spent too much time alone, you can spin out a little bit, and I found that beautiful about the movie in the sense that you can be in a place that's really beautiful, like nature aspect which can be really beautiful, but you can still be very lonely and miserable and very sad.
You know, I was in Tahiti and I was miserable, so, it's interesting that we think, especially in comparison to the animals, "Why aren't we content with our surroundings?". The human condition screwed us up a little bit, I feel. The animals are so at ease and peaceful and kind and sweet and we're not.
I think another big theme in the movie was kindness and the fact that kindness should always be an important part of our lives. But we also see what happens if you take kindness away from a person who's asking nothing but it…
It's so sad because it was basically Pádraic's loss of innocence. He is a nice guy, and that's how people change. After the movie, you think, "Gosh, what happens to Pádraic? Whom does he become?". He becomes somebody totally different. That's why I don't understand why people can so casually hurt people and not think about how it has repercussions! I would like to think that a lot of people think that you need to be delicate around children because if you hurt them or say certain things to them, it can have an effect on the rest of their lives and how they think about themselves. I feel like when we get to be adults, we sort of discard that notion and we don't really care about hurting, we become more selfish, I suppose.
Martin [McDonagh] always corrects me and says I should stop going on about the sadness of the movie because he says that I tend to look at everything from the sad point of view, and those themes always resonate with me, like the sadness of humanity and the sadness of life, but it can be a bit of a downer if you're promoting a movie, so I should stay in a little bit more of a happy place! [laughs]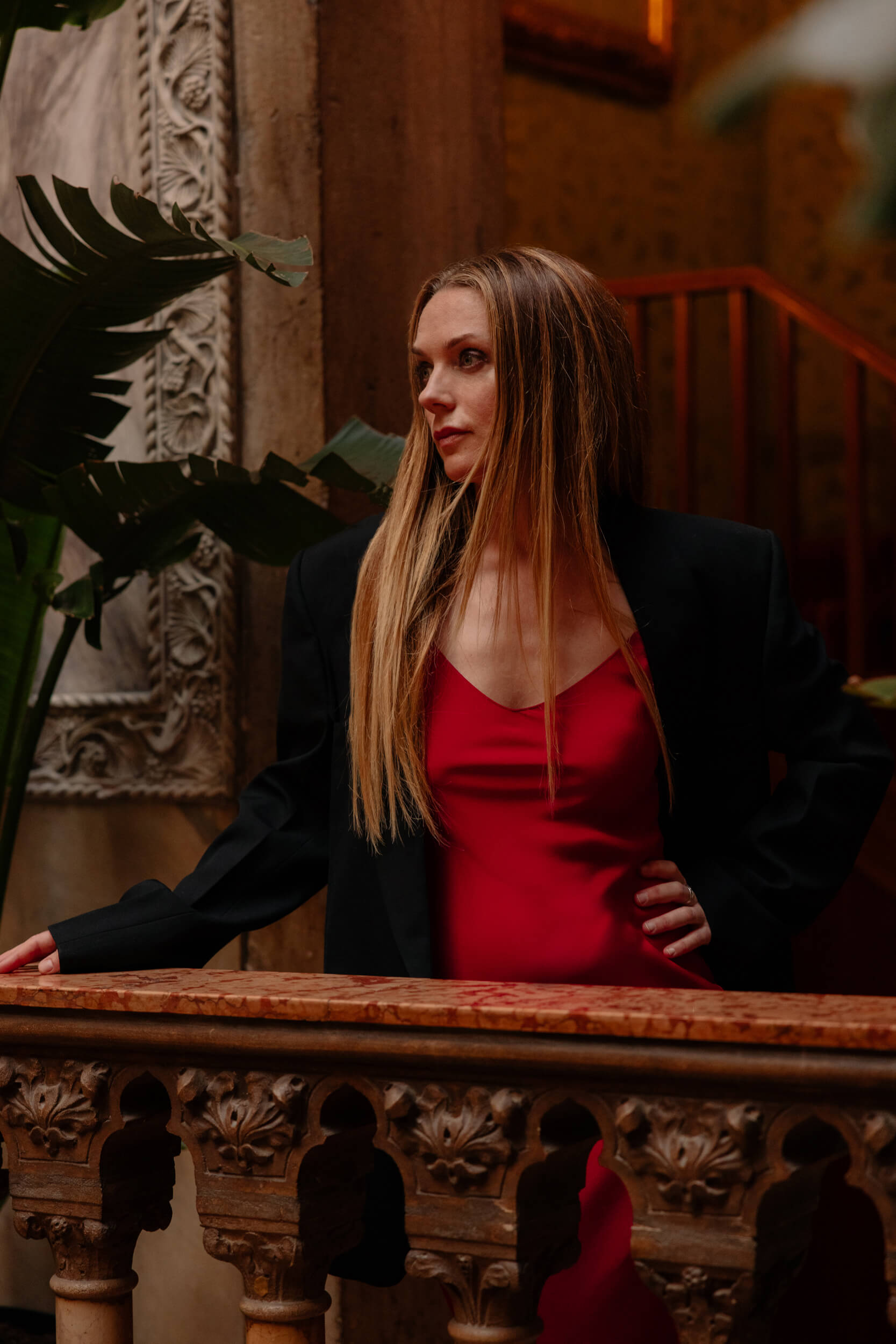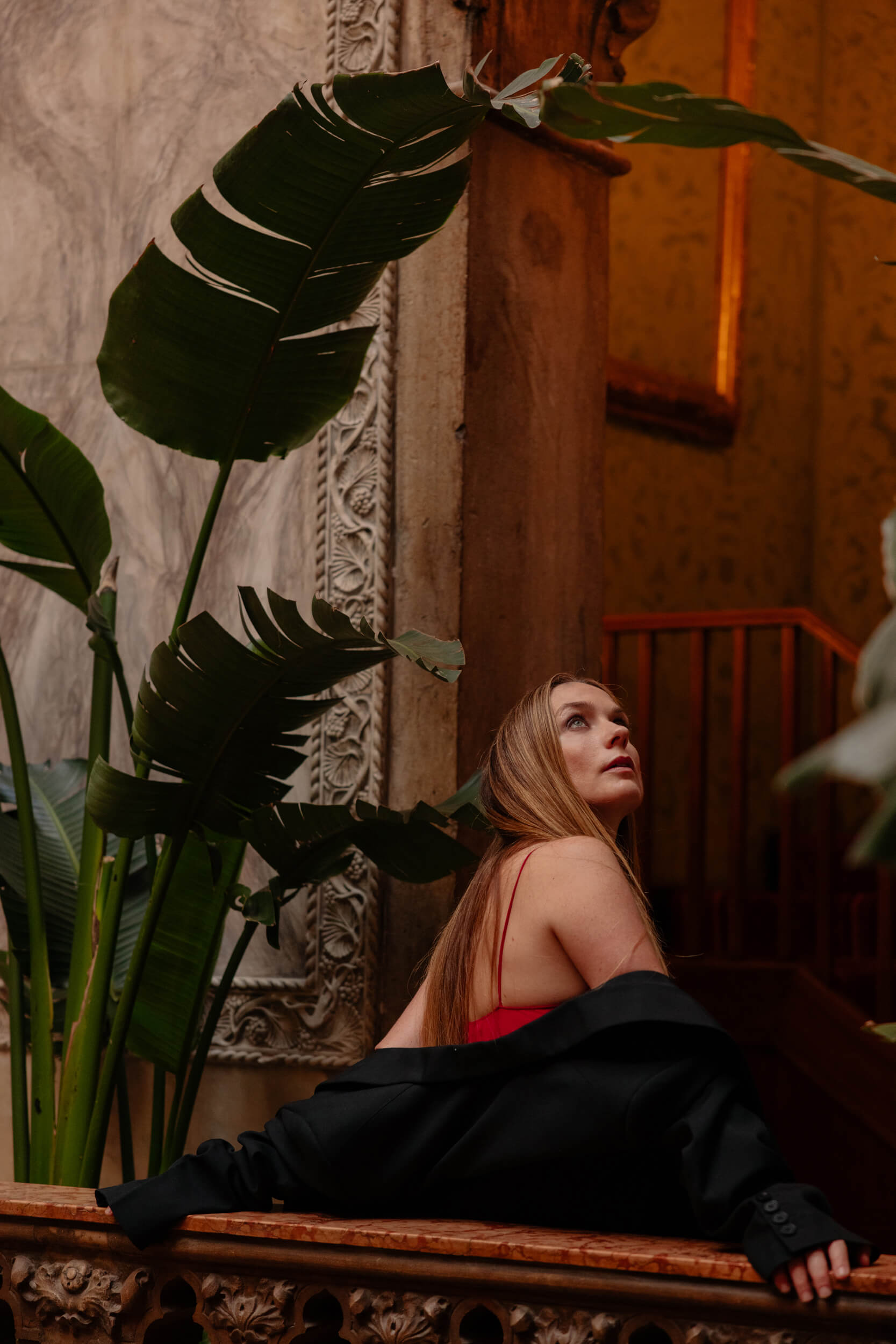 The film also talks a lot about reconnection, which is a very current theme right now. One thing that I always find moving about watching films is then somehow you feel connected, in some ways, to all the people that are watching them with you, and it's amazing. For example, at the Venice Film Festival, that's the feeling, because you're with people that share your passion, and that's what's so special about watching films at the cinema or at film festivals. What's your favorite form of connection?
To be honest with you, in the workplace, when you're working with the crew – I always feel so comfortable. I'm not very comfortable all the time in public but on the job, I always feel a connection to people, in the sense of being moved. At work, I feel a connection, excitement, the fun, there's a common goal and everyone's really nice and we're all getting on.
Listening to live music, I suppose, is another one. Sometimes, I get a little bit self-conscious because I feel like I can cry easily and I can get moved easily, and I think, "Everyone's going to think I'm on the verge of a breakdown!". Maybe, if I lived in Italy, I would be fine because it's so normal in Italy: that's what I really like about Italy, you can be so emotional and that's so healthy! And I also like that you can get really angry, too, and it's not the end of the world: in two minutes, you're going to be friends with that person again! Here, if you get angry with somebody, normally it's a huge rift, a terrible thing and I find that quite difficult, to be honest, because it's not really truthful. I'm sure it's a man thing, too, because I'm sure men have moods and hormonal changes that I'm not aware of, but as a woman, you don't know how you're going to feel tomorrow, there's so much it depends on, who knows? There's this silly pressure or expectation that we should have this consistent mood, but unless you're medicated, I'm not going to be consistent in my mood at all.
I think sweet things move me a lot, like if I see a little boy holding his mother's hand when they're at that age when you know that there are 6 months to a year left before he's going to stop doing that, moments that sometimes really make me want to cry because they're so beautiful. So, beautiful things move me as much as sad things.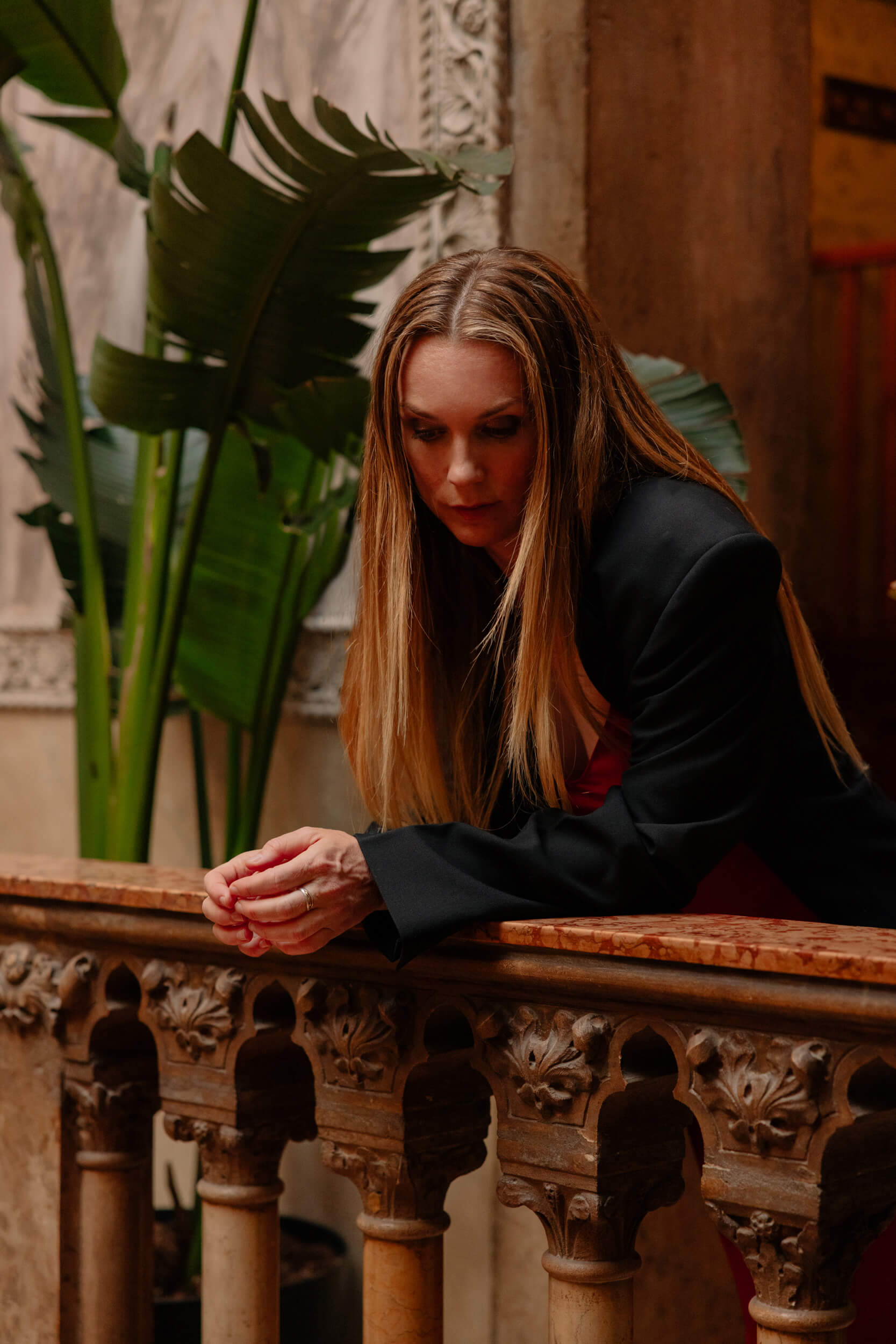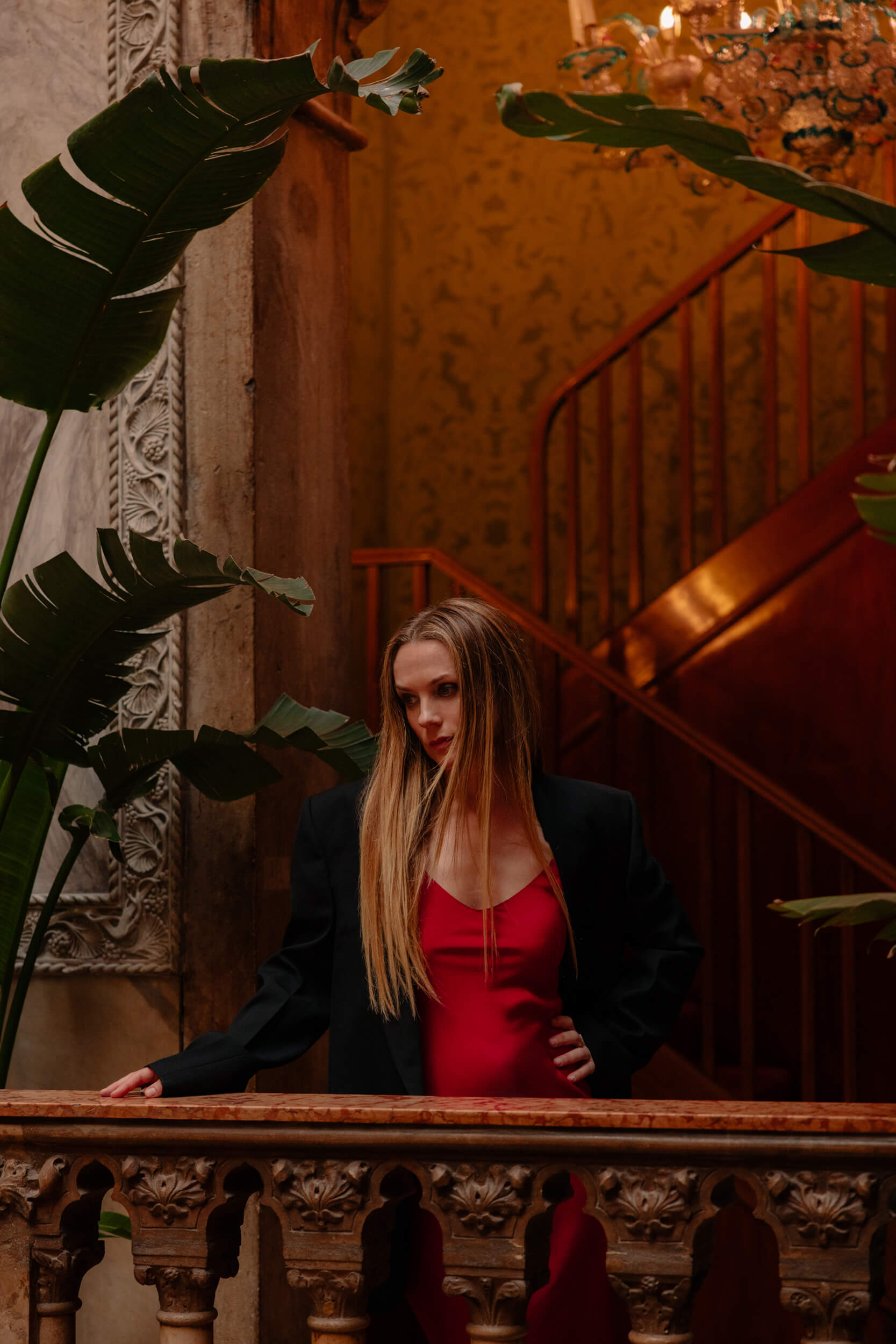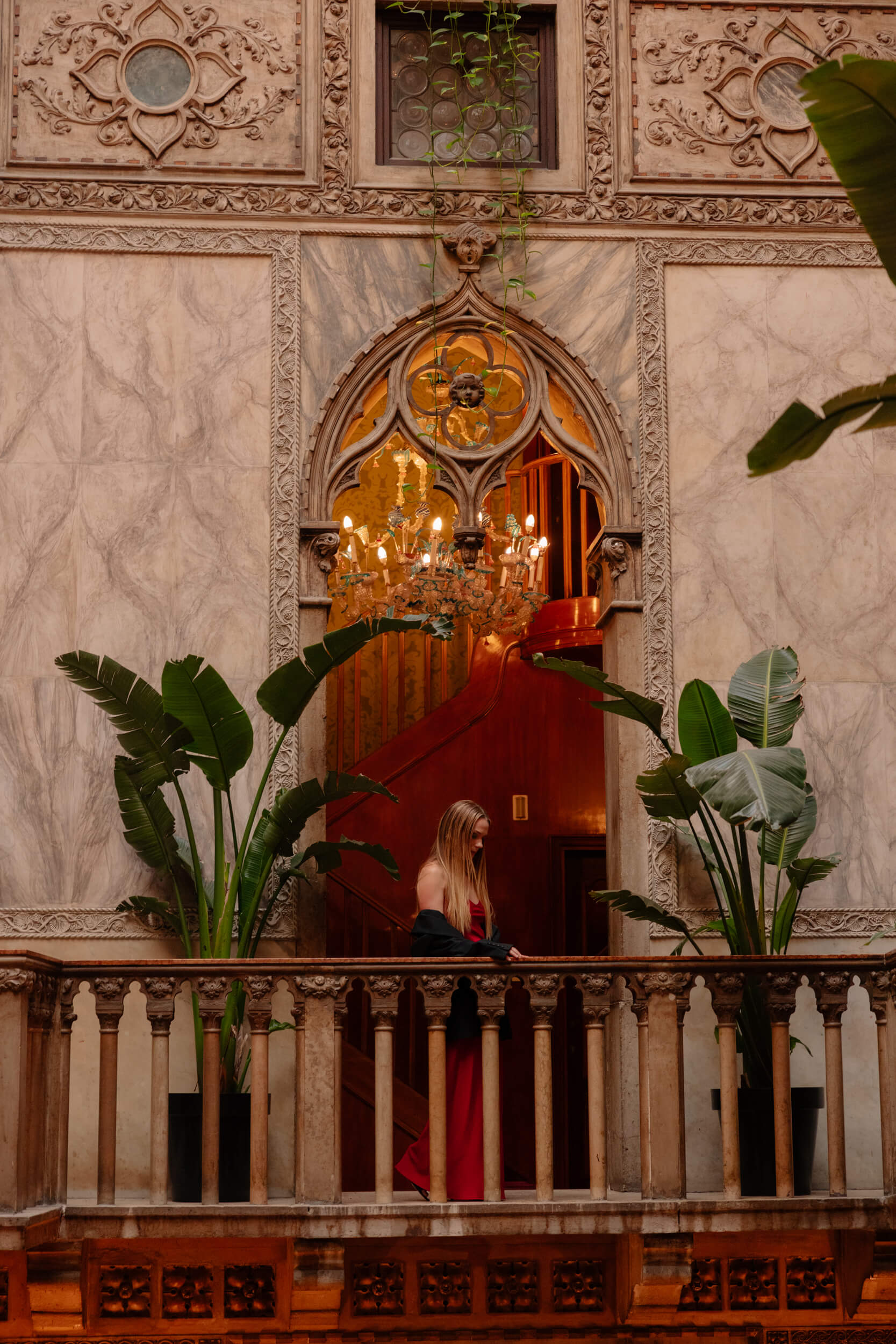 In the movie, Colm brings out the question of how important it is to be remembered; do you think it's more important to focus on being remembered for the things you're trying to do or to focus on taking care of the present?
Personally, because I don't feel a desperate need for approval, I think it's more important to focus on your own private experience and your own human experience and to be kind and nice. I think that the need to be remembered is a fear of dying, maybe, a fear that you don't matter, maybe. The thing is, though, that the movie is interesting also because of its unanswered questions: Colm's talking about leaving art behind, but art in the sense of art that moves people; beautiful art does change how people think or at least makes them make some questions on things, but not every form of art does that – a lot of art is just for entertainment, or the enjoyment while you're looking at it, and it doesn't stay with you. Colm is talking about leaving something behind, but what if his music is shit and it isn't remembered?
Yeah, I think he wasted a friendship…
Yes! So, it's an interesting debate because if you're leaving behind something if you need to be selfish to leave something behind that is great or of greater importance than your life, sure, I guess it's hard to answer, but I just think you don't need to be unkind in your pursuit of a legacy, nor selfish, although, let me be honest, I've always thought that being an actress is super selfish: I prioritize my career over anything and I always have, I've missed so many weddings and births of children and so many important moments, and I left my family when I was 16, I bailed on them basically and I just went after my career. But everyone who knows me understands that about me and accepts that about me, and I try and buy them all really nice presents with all the money that I make, so I try and balance it! [laughs] However, it does at times feel quite selfish. Also, I didn't ever think about getting married or having children because I thought I just wanted to be an actress and follow this through to the very end because I worried that if I had a family, I would really struggle with dividing my time and leaving them and stuff like that.
There is that kind of worry and it is a little bit selfish, so I do feel guilty that being an artist or trying to make art is a little selfish, but I do try and do good things with my money to ease my conscience, so I've rescued a lot of animals and I would like to rescue more – otherwise, I'd feel like, "Why am I doing this, why am I feeling so focused on this thing, for what?". I never really understood why, I just knew that I wanted to be an actress, but I never really knew why it was so consuming for me. But now I think that if I make loads of money, I can rescue lots of animals and I can employ people and treat them well, and so my life will have more meaning than just being focused on "how amazing I was in that movie".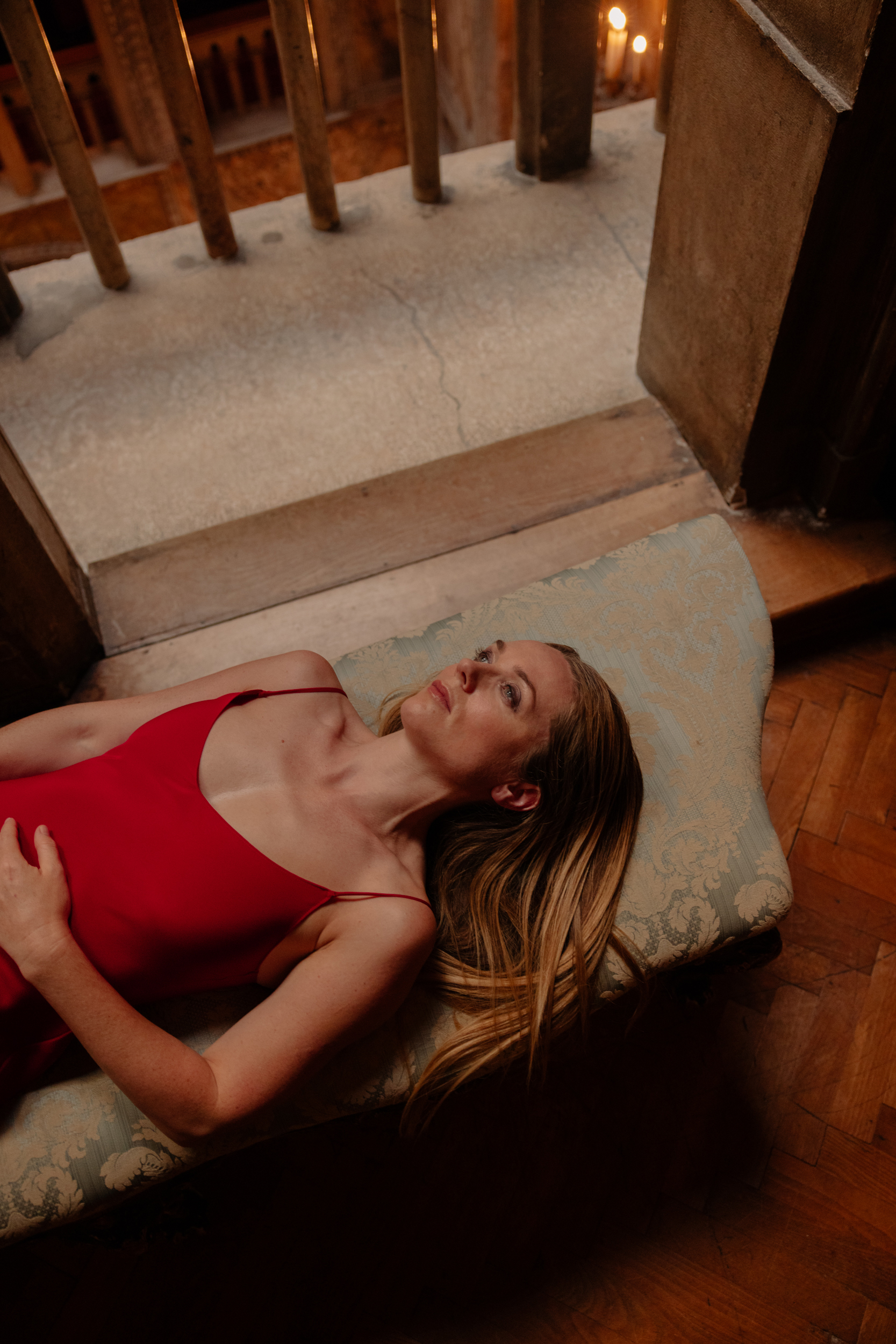 "I just think you don't need to be unkind in your pursuit of a legacy"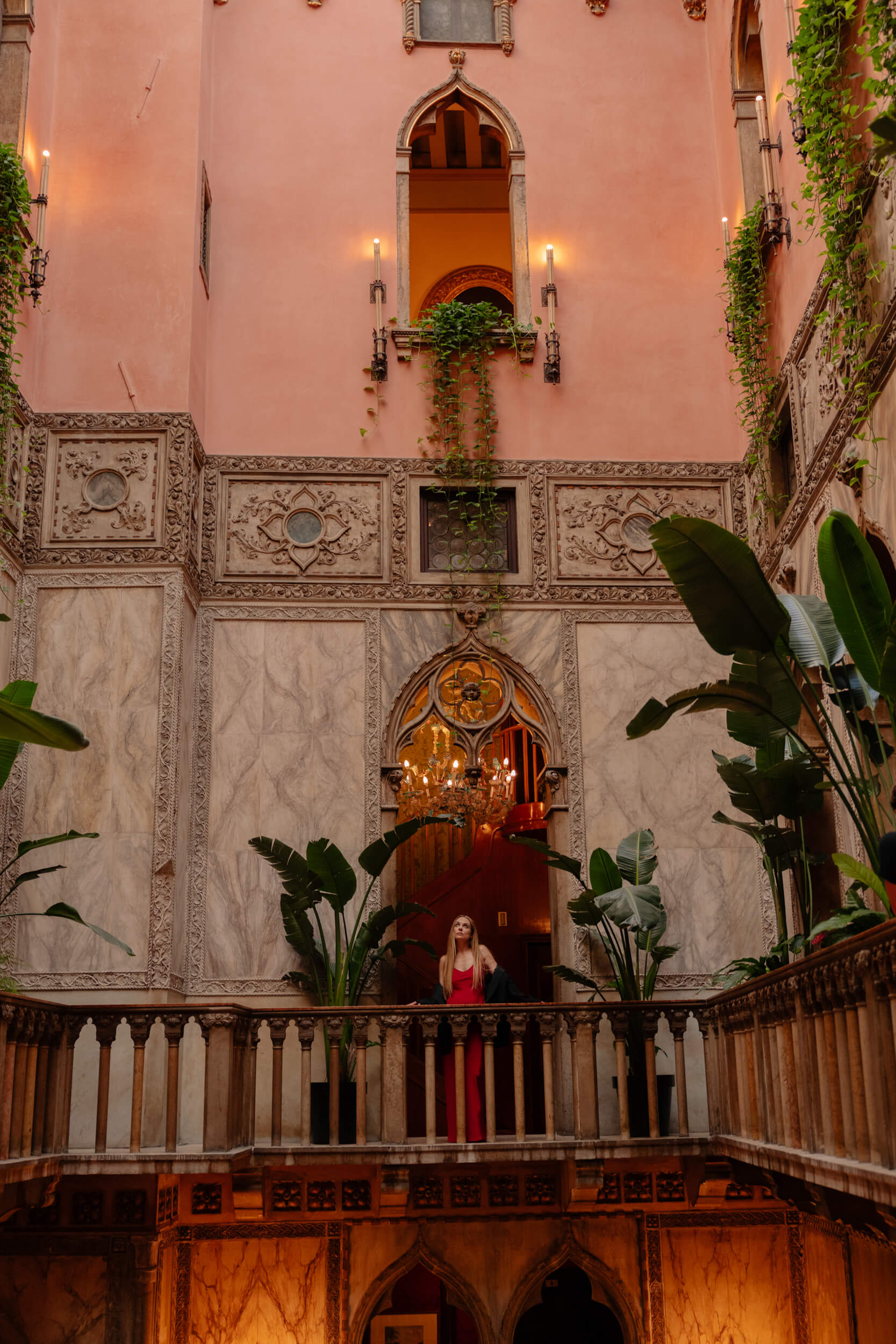 For me, movies are not just movies, they're a way of expressing my emotions and a form of therapy. I've been going to actual therapy for 10 years, and I always talk with her about how important it is for me to watch movies and feel empathy for the characters. This means that your work is so important to me because I think that with your art you make people feel things. For example, my partner is not a guy who really likes to explore his emotions very much, but movies are a different kind of thing, movies are his only way to deal with his emotions, both watching and making them because he's a director.
Wow! I do try and think about that, in the sense that I try to look normal and I like not to let my own personal vanity or how I want to look influence me when I'm working. It always bothers me when I see actors who're playing a drug addict, for example, and their skin looks like they've been in a cave for 20 years, and if someone has bags under their eyes, it means they're a drug addict… But have you ever seen what somebody looks like when they're a drug addict? So, I've always felt that if you abandon your own vanity, you can really let people exhale about themselves and feel more. Because sometimes I feel like thinking, "Oh my God, that person is so beautiful, why is my face like this?!" and that's so distracting, and if you do that, you're setting this bar that's not fair, nor kind, nor real! Therefore, in my opinion, you're not really doing your job properly. Of course, would I have liked to have had a little more undereye concealer on certain jobs? Yeah, but that's me!
When Irish people watch this, they should think it's not far removed from what they look like. I remember I saw a movie called "Dogfight" when I was very young, with River Phoenix and Lili Taylor, who are so brilliant in it: she plays this girl who's basically an ugly girl in a competition of "who can bring the ugliest girl to a party", and he brings her; it's so sad, but she's so good in it and I remember wondering about how she must have felt being cast for that part. However, if you put away your need to be attractive, you can open these doors to being an incredible actress and hit a lot of people who feel like that – if you can do that, it's super cool, it's such an advantage, I think.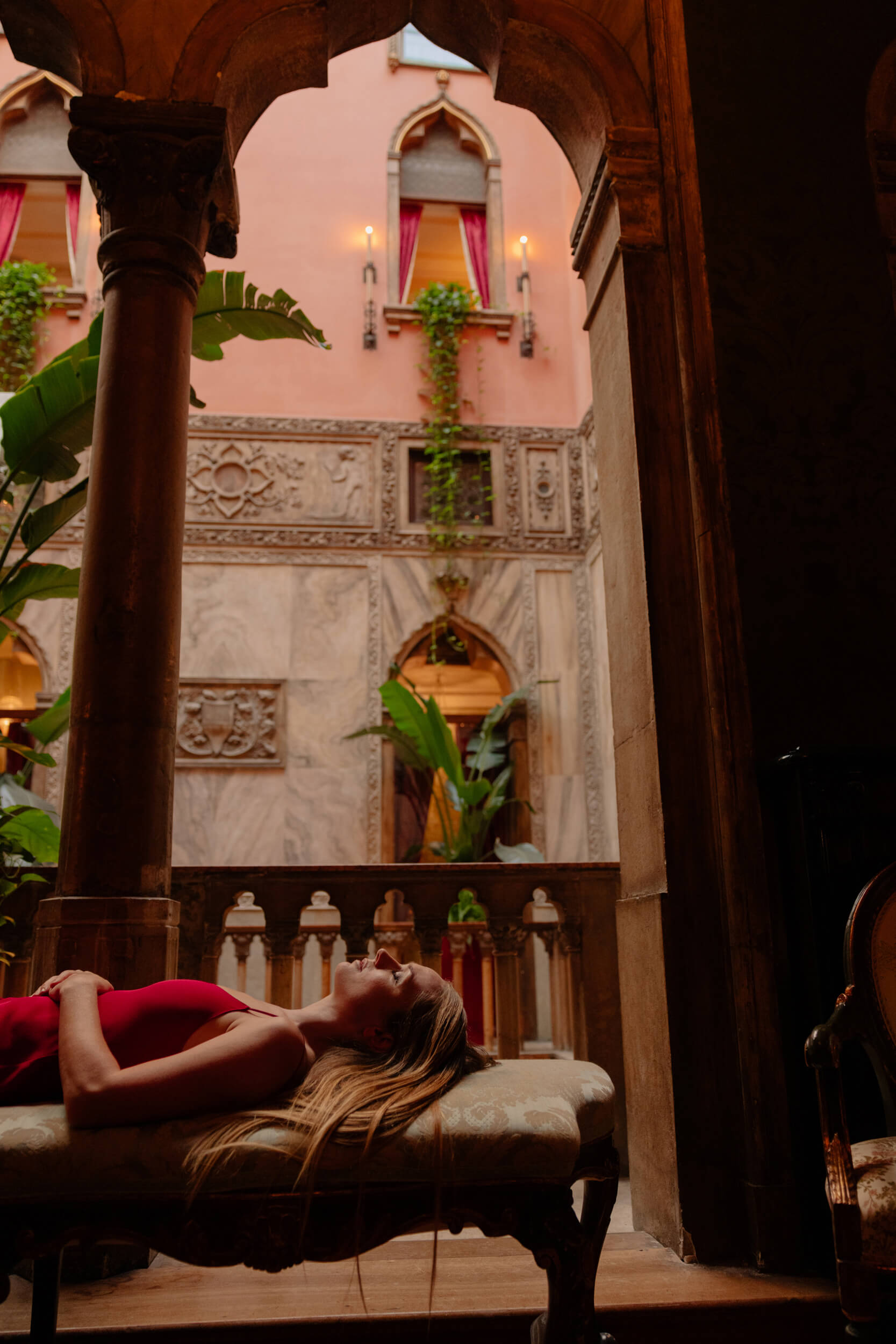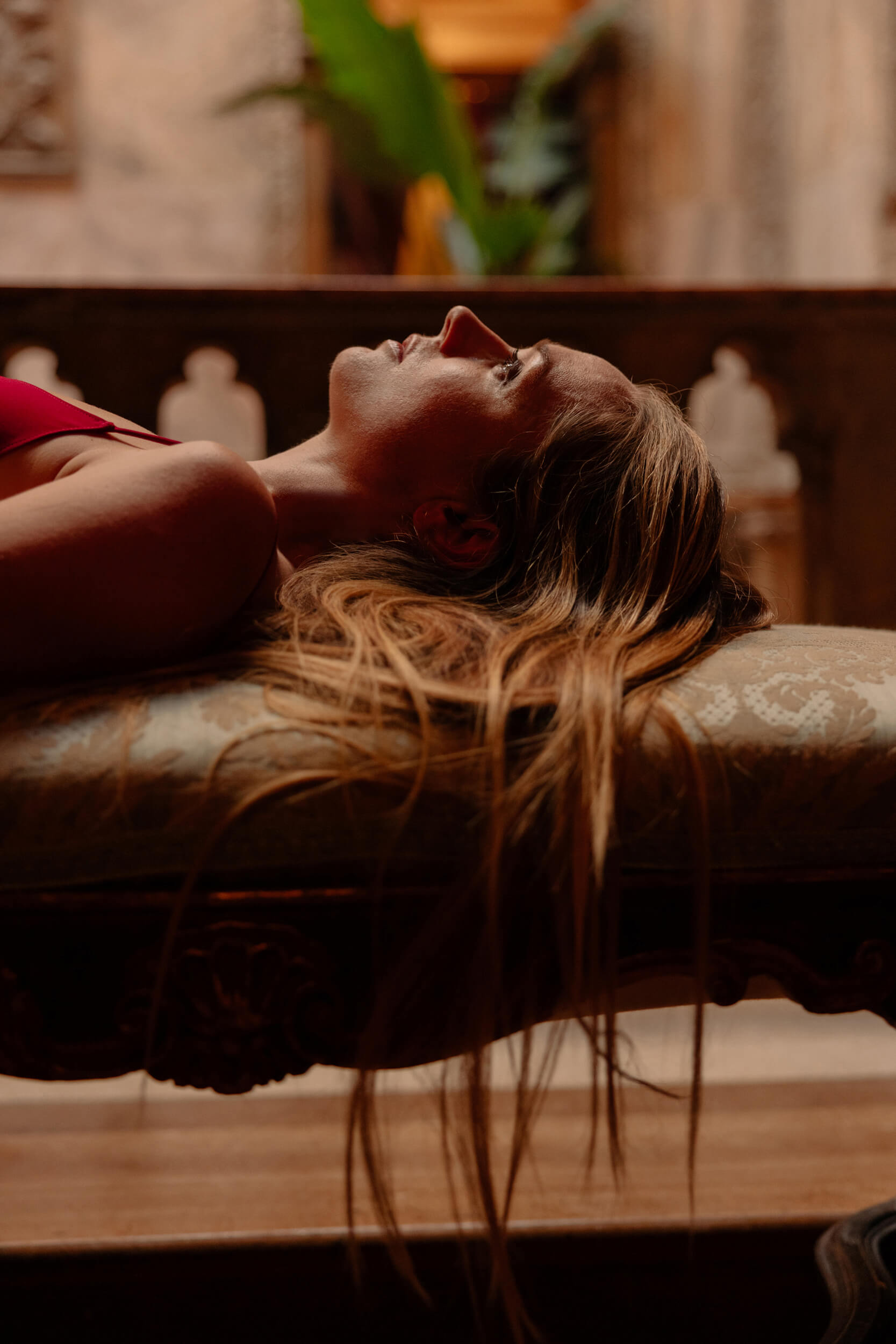 As I told you before, the audience and I laughed so much at certain scenes in the film because it has such a beautiful irony. What is it that makes you laugh the most?
In this movie, there are so many things that make me laugh, especially cruel things, like one scene, in particular, is the one where Pádraic sees Colm walking past him on the road and he doesn't even look at him, it's so funny because it's so rude! Martin and I would laugh about things like that, but we shouldn't have because it's hurtful [laughs]. I really liked the bartender in the pub, I found a lot of his lines and his facial expressions very funny; I also like the scene with Pádraic and Siobhán, where Pádraic is trying to think if he's stupid [laughs].
In real life, I love Martin's things, I love dark humor, and I love "Curb Your Enthusiasm", the show on HBO, when I watch that, I think, "That's me, that's my life!". I really love funny movies, and I'm always in the mood for a funny movie, maybe because I like escapism with films, I'm not always ready to be moved. With literature, I like heavy books or moody feelings, but with films, I like myself drawn with more entertaining and funnier things, strangely enough. It's very rare that you get a movie that's moving, thought-provoking and funny, too, and I think that's why this one is so unique, it's only a bit sad, but it's so funny too, and maybe this is why it's doing so well.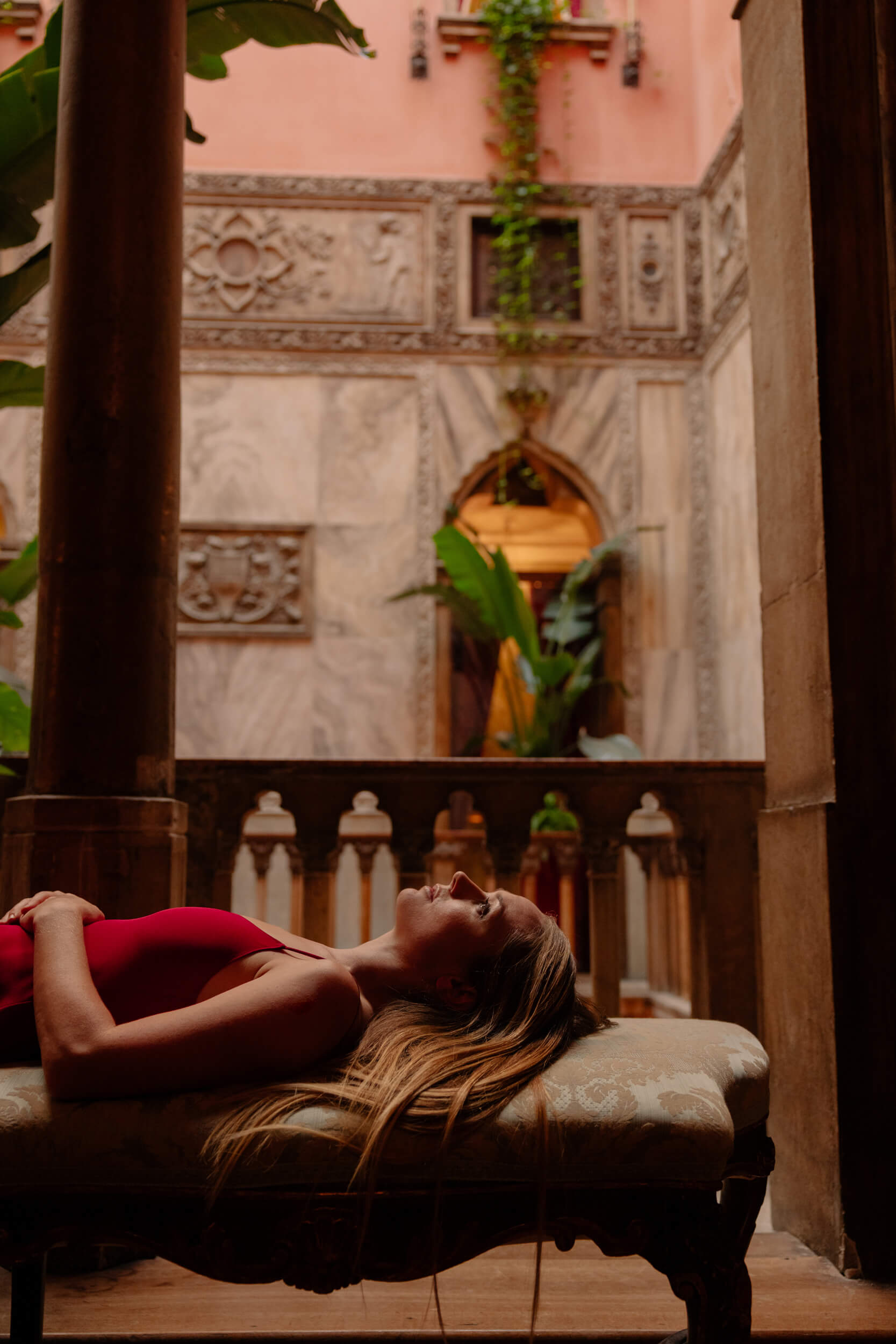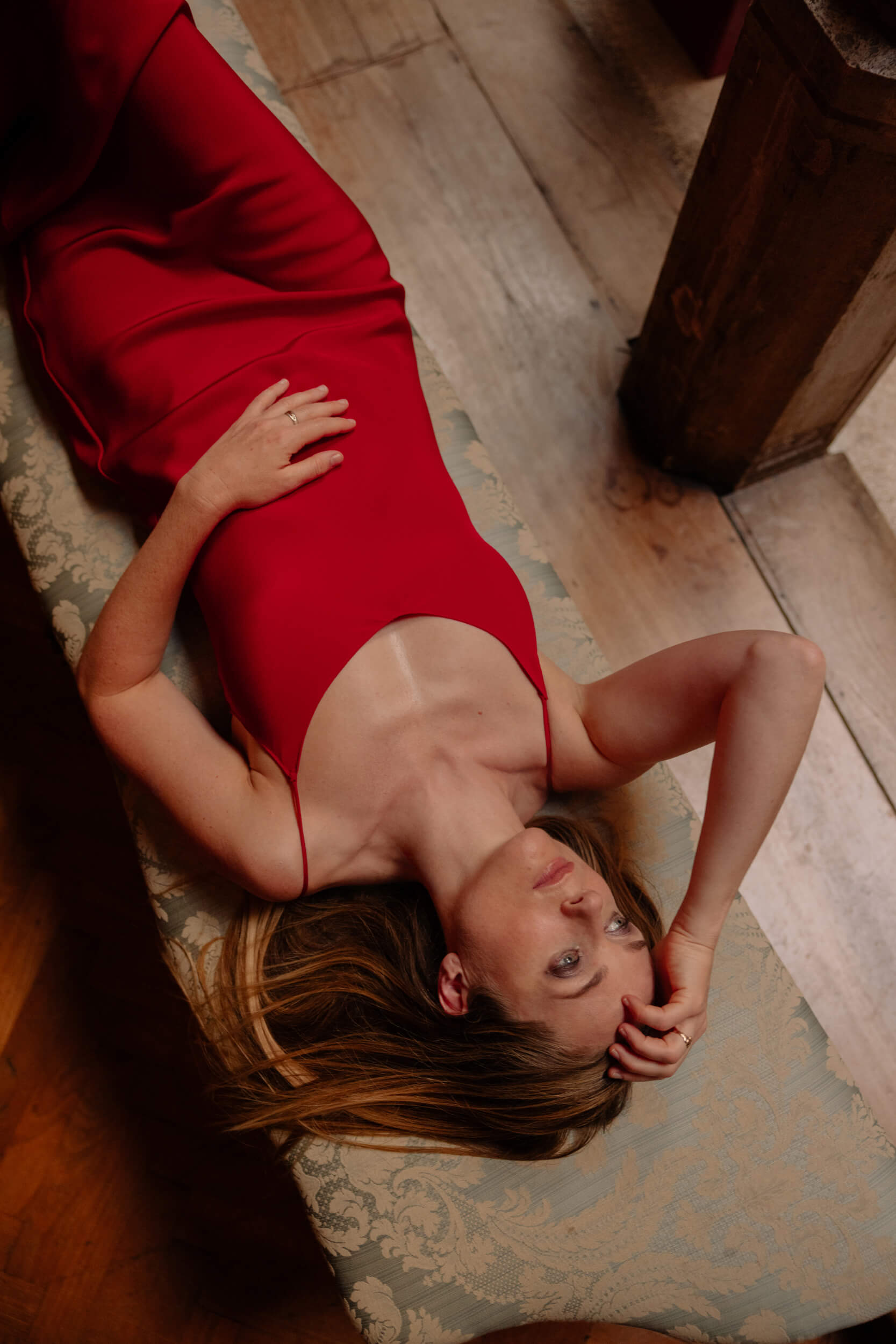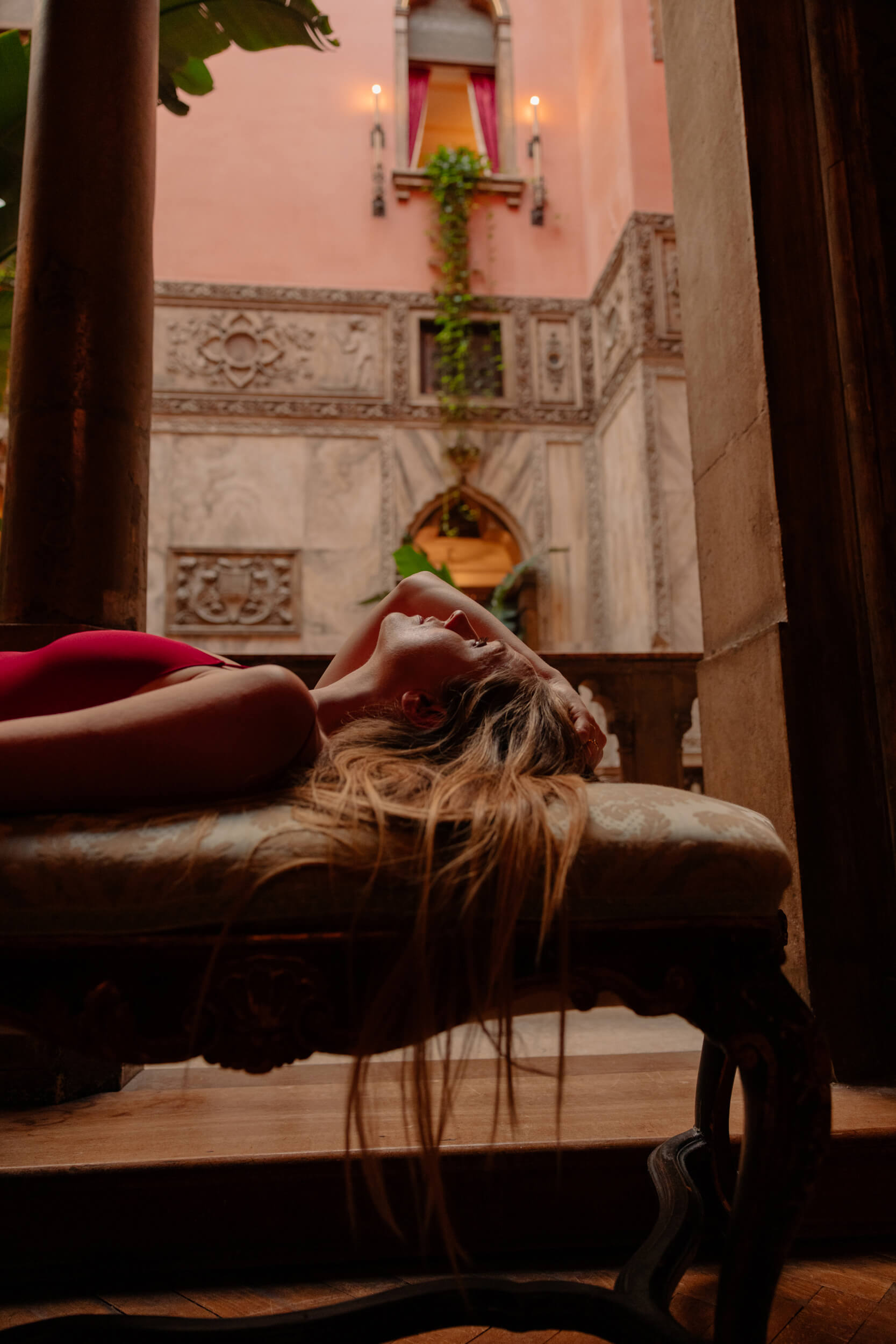 In general, when you read a script, what makes you say yes to a project? What do you look for in a character that you might play?
I usually try and go with my forte – there are so many things that I know are my forte, but I think I know more of what I'm not good at now. I know a lot of actors think, "Do something that scares you", but I'm sorry, I'm not doing that! I ride horses and that's enough of an adrenaline buzz for me, life is so intense, I don't need to scare the shit out of myself at work.
I think I would rather consider who's the director, or if there's an actor attached to it whom I really like or whom I really want to work with, or if the part is something that I know I could do very well. If I start having a feeling that I could be terrible acting some part, I wouldn't do it because I don't want to be crap! So, normally I'm excited about doing things that I think I'll be good at. Then, location does matter, as I get older, particularly if it's a TV show; if it's a movie, anywhere I can hack it, but with a TV show I might be away 6 months and then 5 years, and I don't want to be cut off from my friends and family in a place that might make me very depressed, my mental health does have to be factored in. Depending on where you're at in your career and in your life and what's going on, the money does matter, sometimes you need to do a job for money as an actor, it's a career, and especially for people with families, it is a job ultimately and it's such a luxury to get to a stage where you can say, "I can set it out for six months and wait for this role that I want". However, there have been times in the past when I did not have that luxury, and I would have to think, "Okay, I need money, so I'm going to have to do something for money – what's the best thing that I can do right now for money?" and I don't think there's any shame in that, to be honest, because it's good to have work ethics, and I'm from a working-class background and also an independent woman so I don't have somebody paying my bills for me. If you do something that pays very little, after that there is this notion of "okay, but I have horses to feed…".
It sort of has to all align, maybe, an event seems meant to be, but I wouldn't say the money is the main factor, anyway.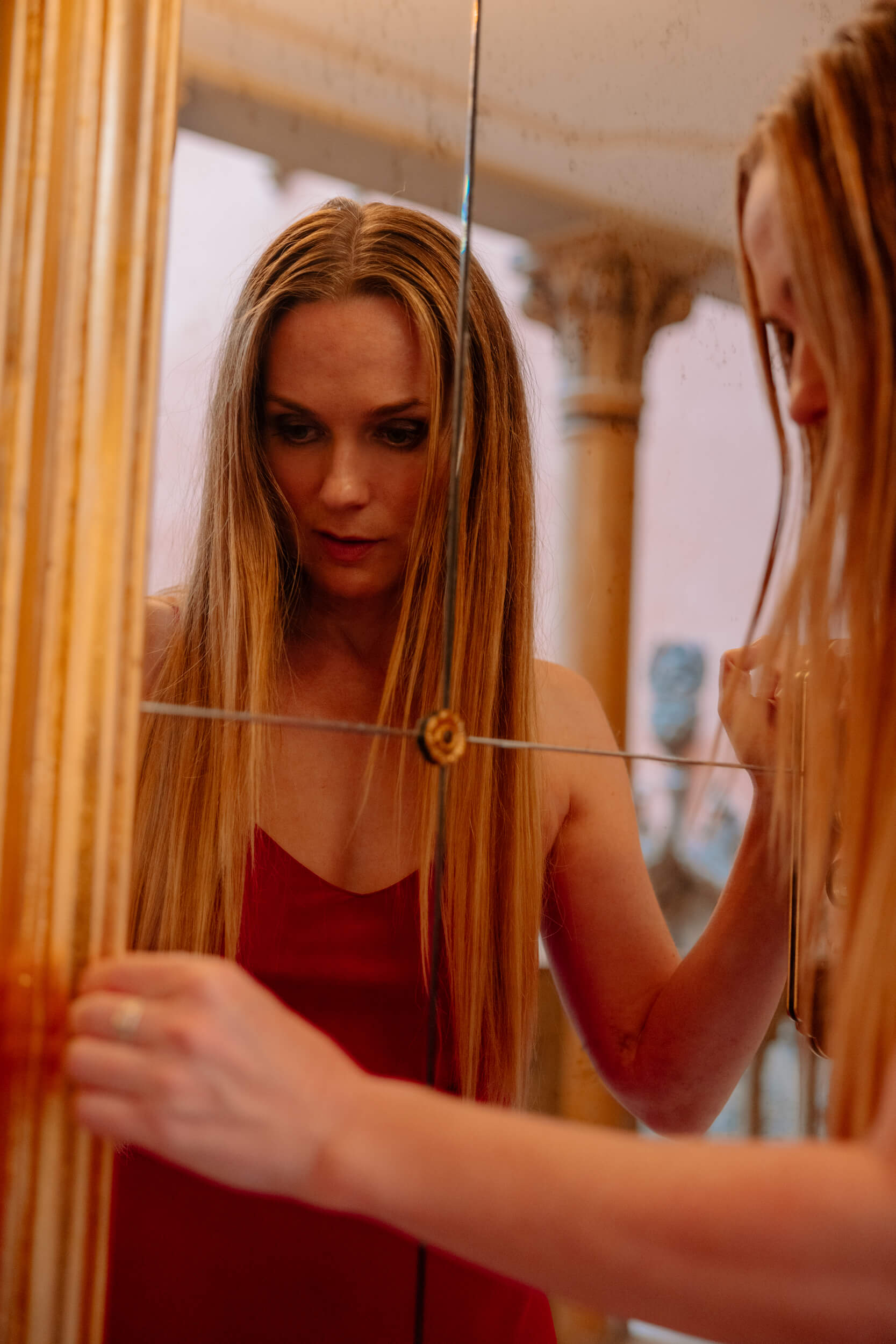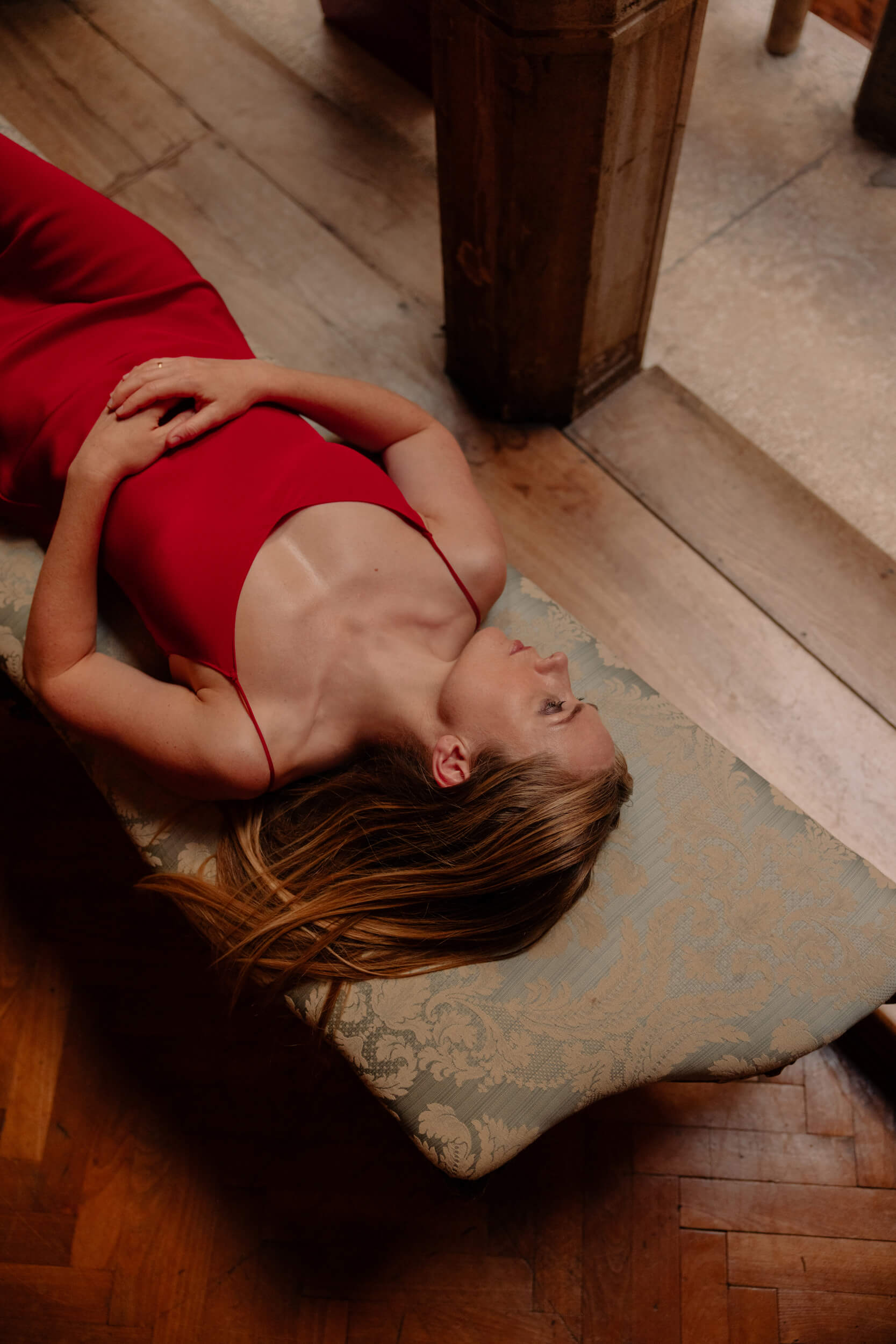 "Normally, I'm excited about doing things that I know I'll be good at".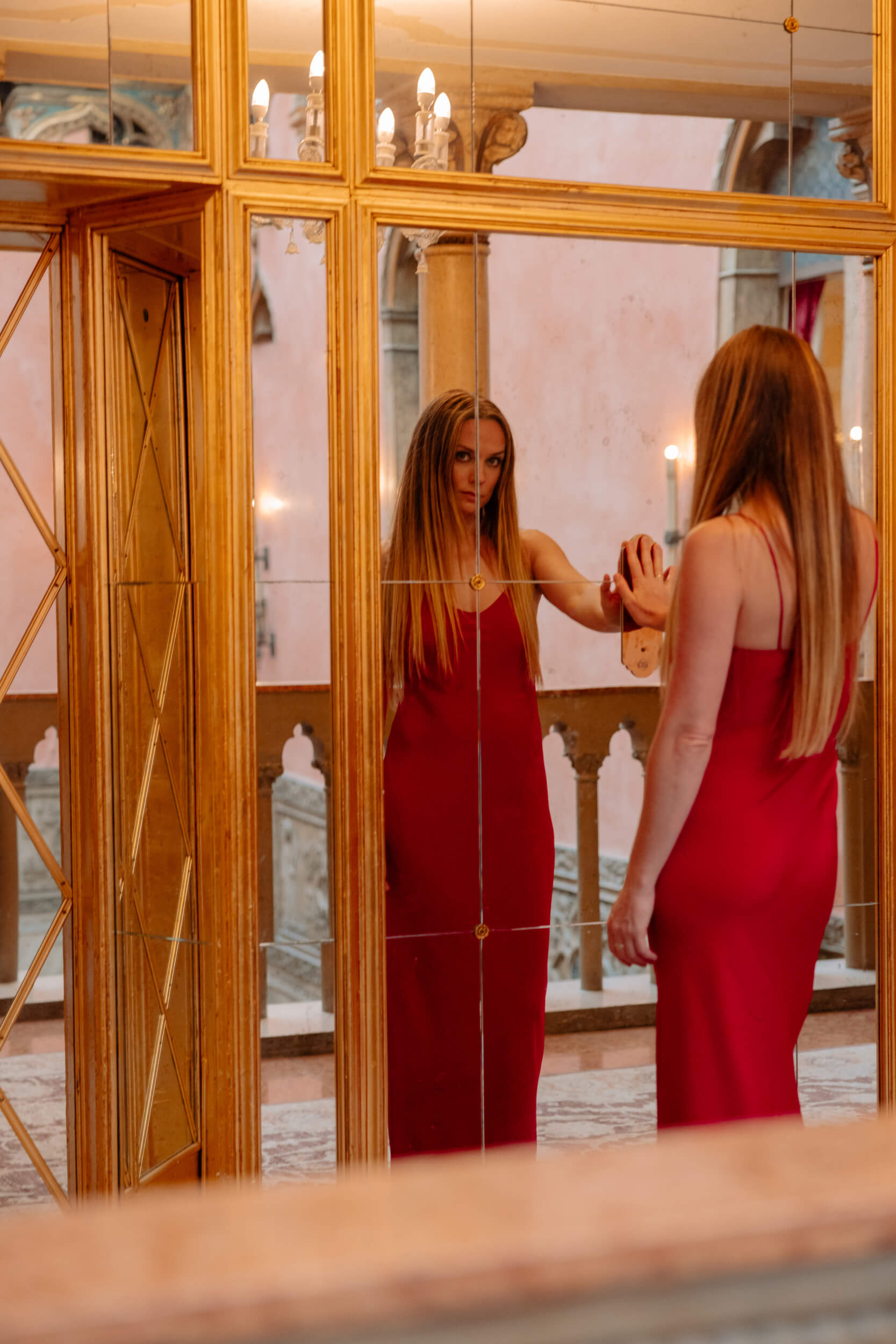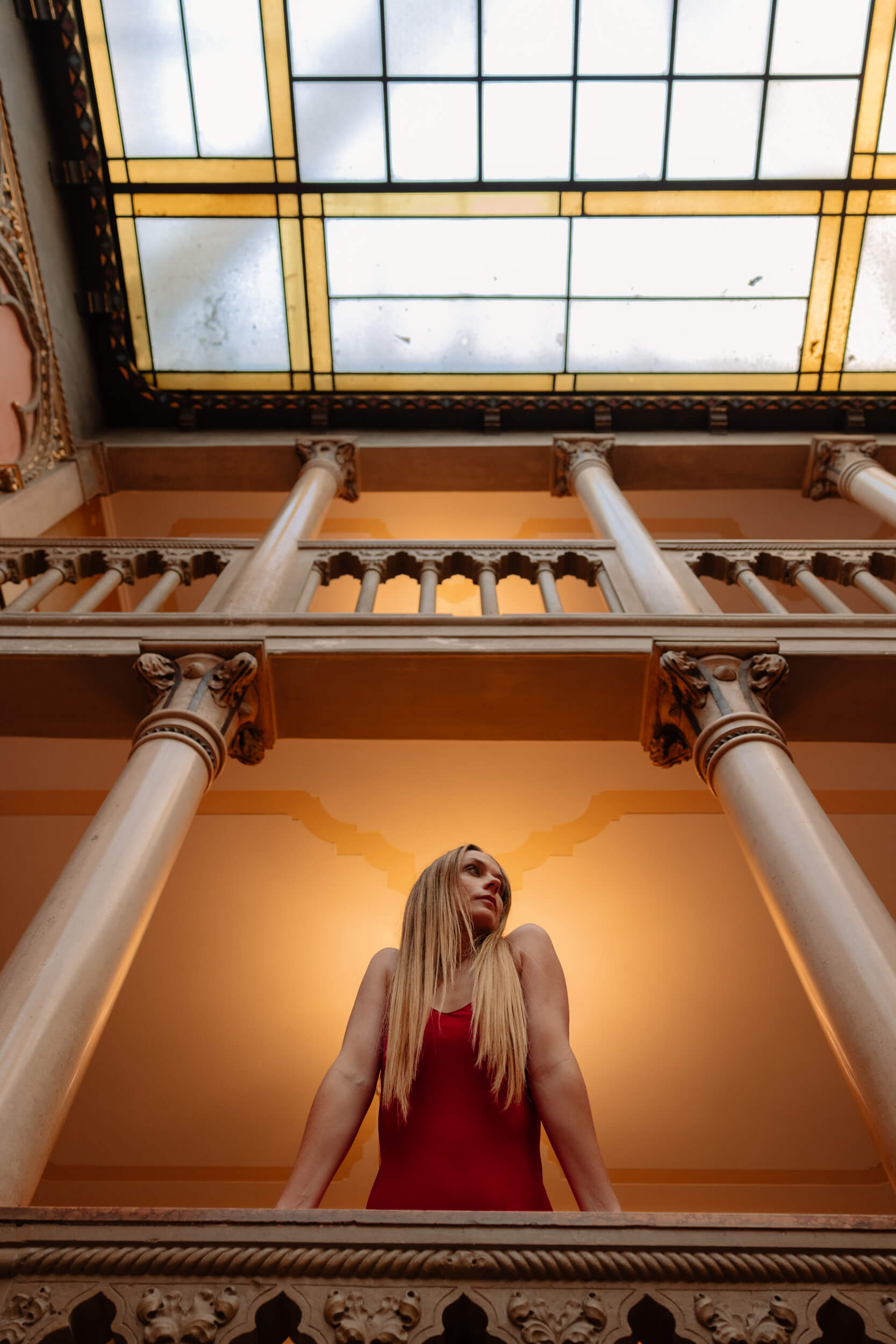 What's your most remarkable act of rebellion?
I suppose being an actress in the first place because I became an actress when I was really young and I've wanted to be an actress before American Idol and all those things; then, I was from the middle of nowhere in Ireland, I didn't know anybody in the industry, so there were no connections. But I don't think that was rebellion, my family didn't tell me not to do it, and my parents knew that I wanted to leave home when I was 10…
I suppose maybe the fact that I didn't really want to get married or have children, but I don't know if that's rebellion, I think it's a truthful, honest feeling, but I guess some people might see it as rebellious, meaning that I'm going against something, maybe just saying it out loud is quite rebellious, that I've never felt the desire to give birth, and that's something that a lot of people don't say because they think it sounds like Cruella de Vil. When I talk with friends who've had kids, they've wanted them, while I've never felt the desire… Perhaps I would be open to adopting a child, but I've been adamant in my rebellion in that regard. But I don't know if that's rebellious…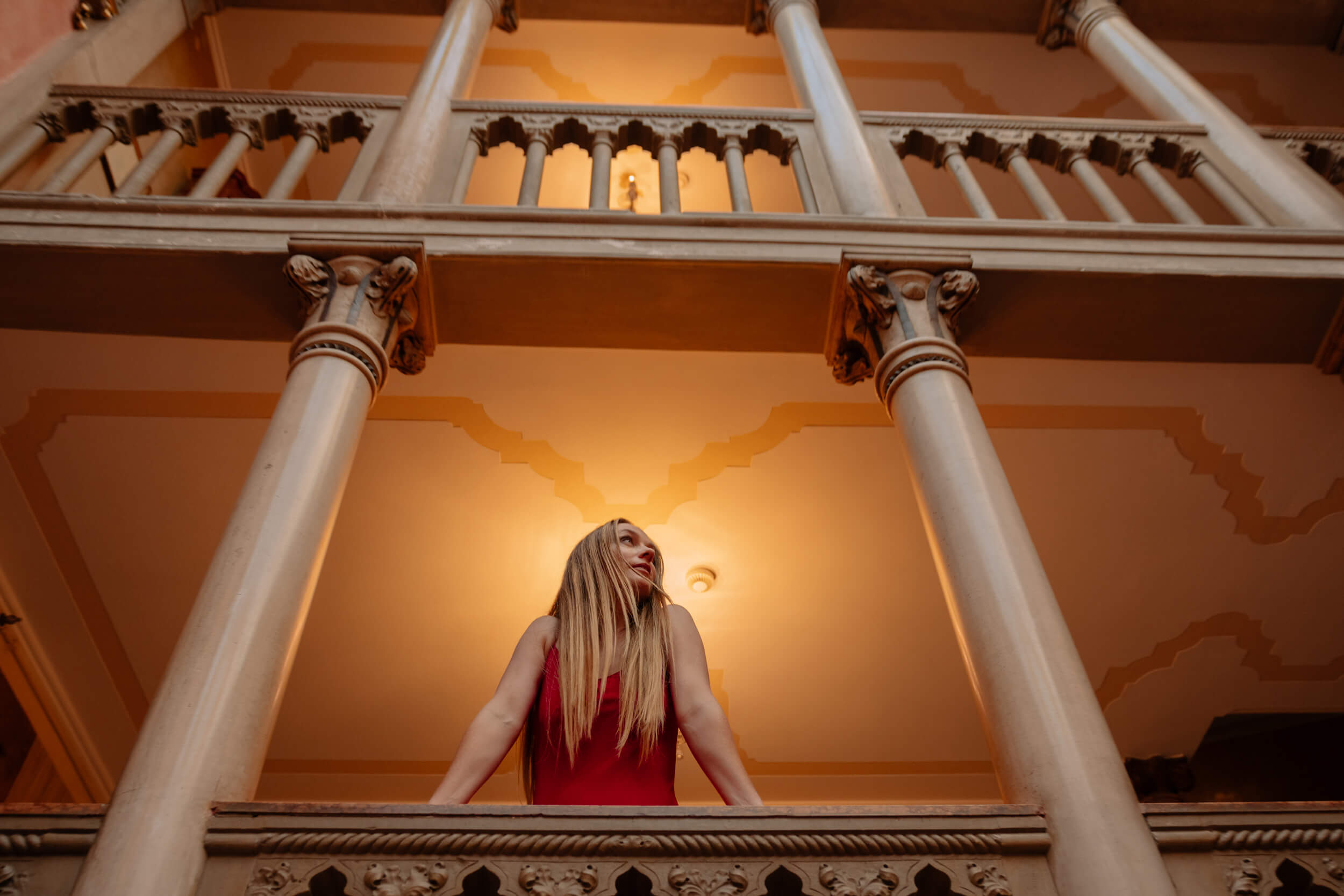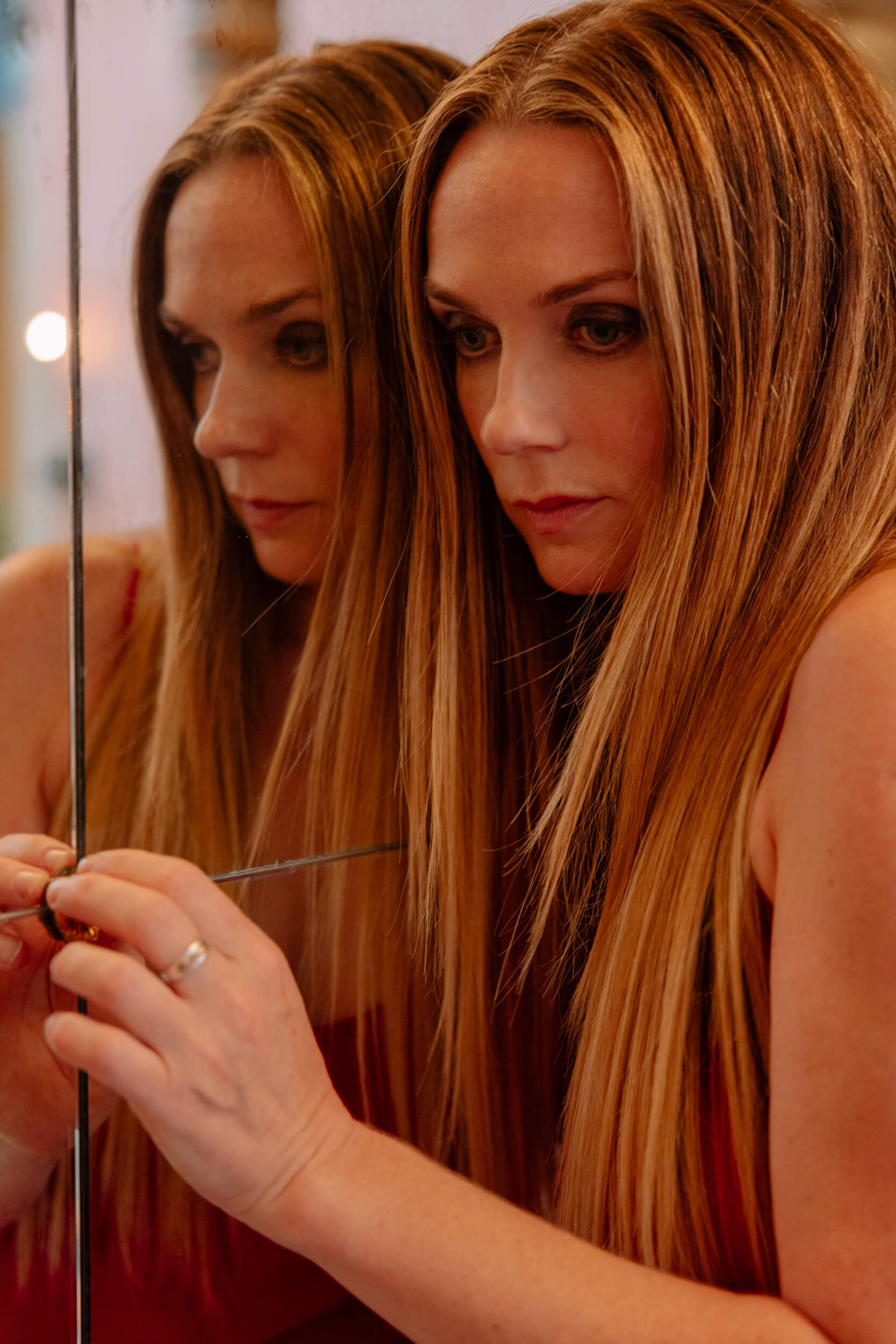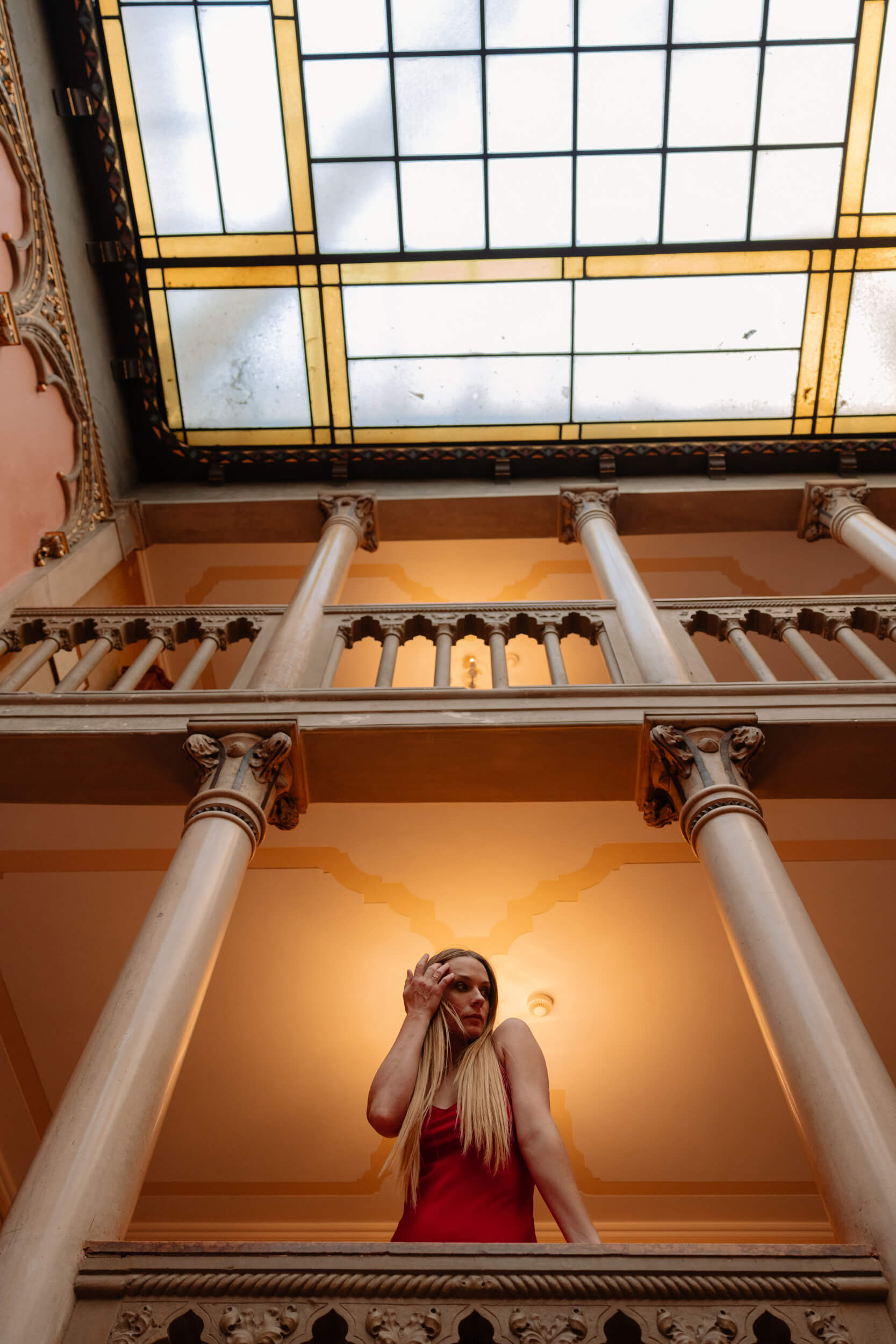 Last question: what's your happy place?
This is easy: my happy place is with animals. I just love being with animals. I had a dog for 15 years who was the love of my life, and she's gone now, and I think of her every day, I feel like I'm having a tricky life without her in it, and I'm thinking, "Do I need to move on and get another dog?" but I'm not ready to do that. Taking care of an animal, even just being with my horses, I feel so happy and so needed and truly loved in a way that I never feel when I'm with human beings. I grew up in the country, so even as a child, I always was alone with animals and spent a lot of time with my imagination, so I feel very calm and content and loved when I'm with my horses.