Jino Murad shares her passion for design both through her refined works, which are specifically designed to make the space unique for the client, and the way in which she speaks about herself. She also transmits it by talking about her inspirations, her experiences as an interior designer and the power of creativity.
We sat with Jino in a London living room to discover more about her curious and motivated personality that's constantly looking for new inputs, useful not only for her work as an interior designer but also for her personal style (especially accessories), knowing how important it is to keep always your eyes wide open; because inspiration is everywhere, you just need to know how to find it.
How did your passion for Design begin?
________
I've always been a creative person from a very young age, very crafty and always loved to make things. I enjoy the whole design process of coming up with an idea and actually creating it. I've always been interested in art and design, that was the only subject I was fascinated by.
Maybe it's also a different kind of satisfaction when you follow a process and design form the beginning to the end.
________
Absolutely, yes. It's something you've created in your mind, and then you see it become a reality, and it's the same with the interior design because it's a space that you experience and it's a thought that becomes quite a fixed space. That design process is very interesting.
Your work really got us fascinated with colors, art, and textures. How do you use and mix these elements in your work?
________
It's a really good question because, for me when designing a space I consider all these elements like pattern, textures and materials in interiors and the inspiration comes from everyday life. I feel that space needs to have all these materials in order to bring it to life. There are just so many options that you have, but in order to create a unique space and to give it life, all these characteristics need to be used together in the space.
Lighting is also really important. Natural light is the most challenging part of the design because lighting changes colors. One color that I may have in the studio could dramatically change in somebody's home or in another environment. I think natural lighting is a challenge for everyone. It's the most testing part of what I do: it's how it changes colors in the room and the entire ambiance of a space.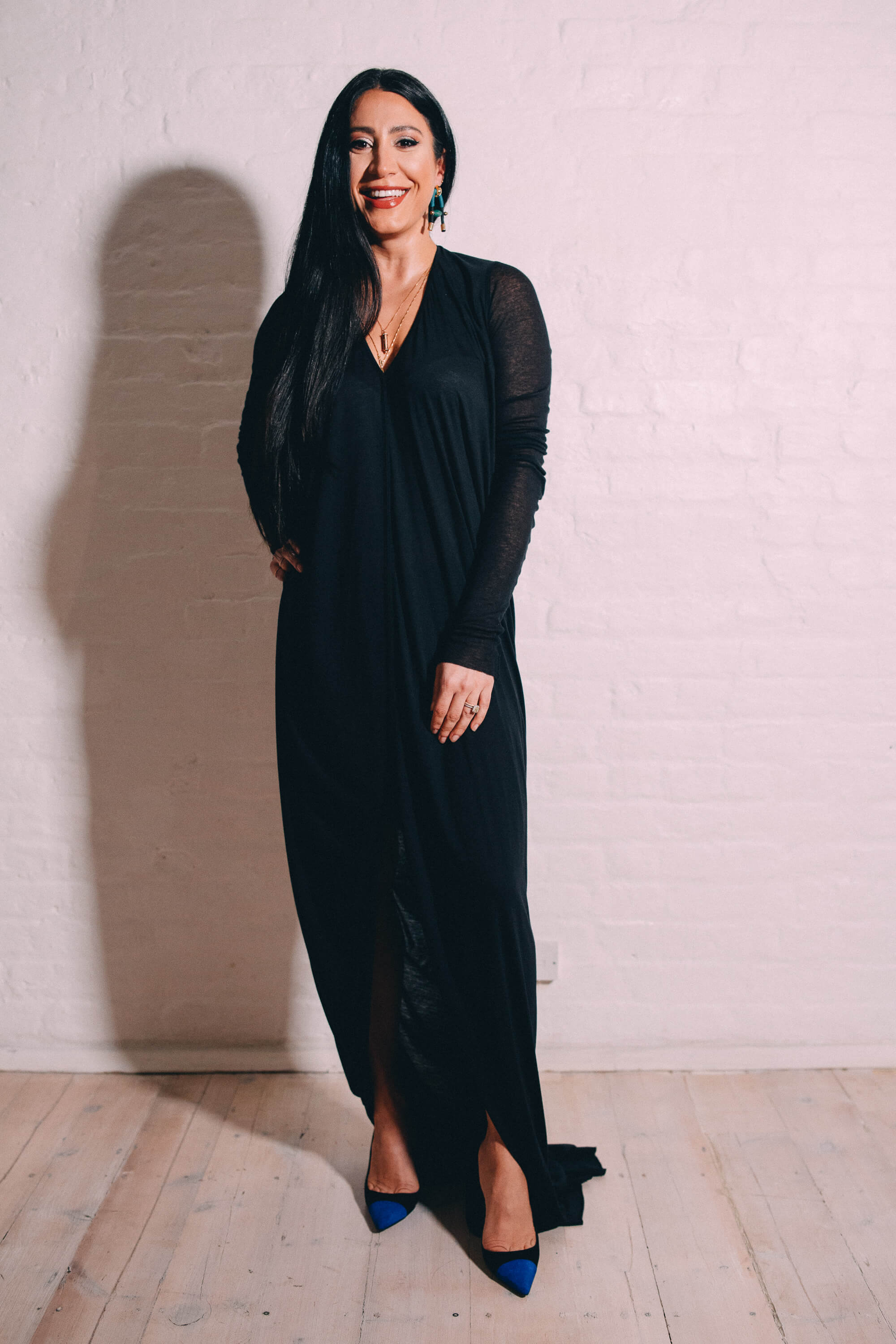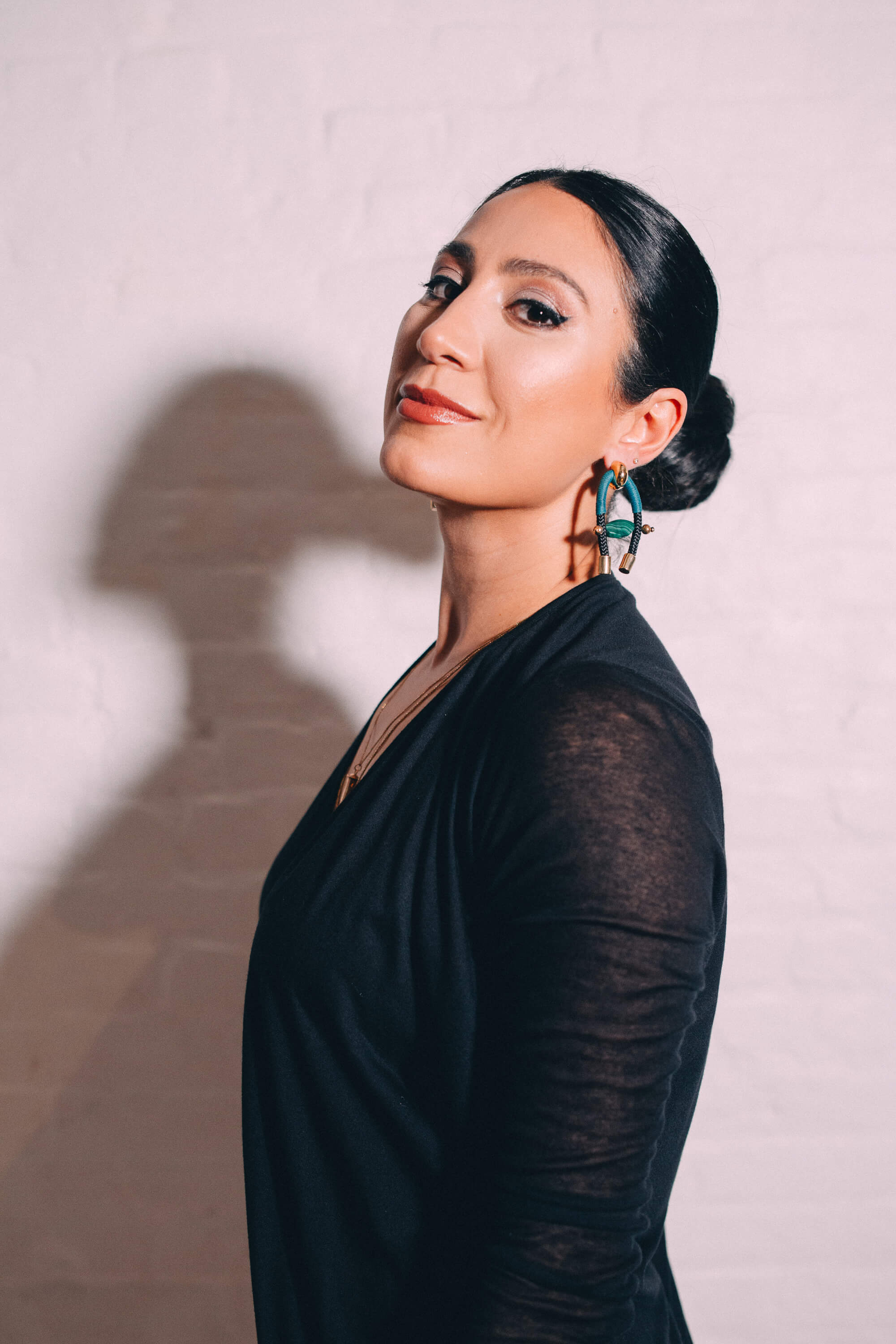 "I consider all these elements like pattern, textures and materials in interiors and the inspiration comes from everyday life."
And can you describe your idea of high-end urban chic?
______
London is a high-end urban chic. I think it's the very essence of it.

In fact, one of my following questions is: you did the design of many apartments here; what does this city give you as a form of inspiration?
________
I'm a London girl, I've grown up here and spent all my life here. So, for me, this is the only city I would actually live in. Because it's cosmopolitan and has so much to offer you, the architecture, the galleries, amazing exhibitions that are on every day. It's an inspirational place and when I think of High-end urban chic, I really feel like it's London, it's the very essence of it. London's got the grit, but also very chic. There is so much infrastructure for us in our industry. Huge amounts of development, a great place for being creative for interior designers and architects. An incredible city!
Are you an art lover?

________
Yes! I am, I love art. I think you can have an empty space, fill it with art and then be happy with it.
Who is your favorite painter, or which is your favorite painting?
________
Art is everything. I love Andy Warhol; I would love to have all of his collections. I love Picasso; he's one of my favorites. I'm currently collecting an Artist that is based in South Africa, and his name is Ryan Hewett, and I absolutely love the way he paints. It is mainly faces, but you can't see the faces, there's a lot of emotions, it's abstract. I love abstract art.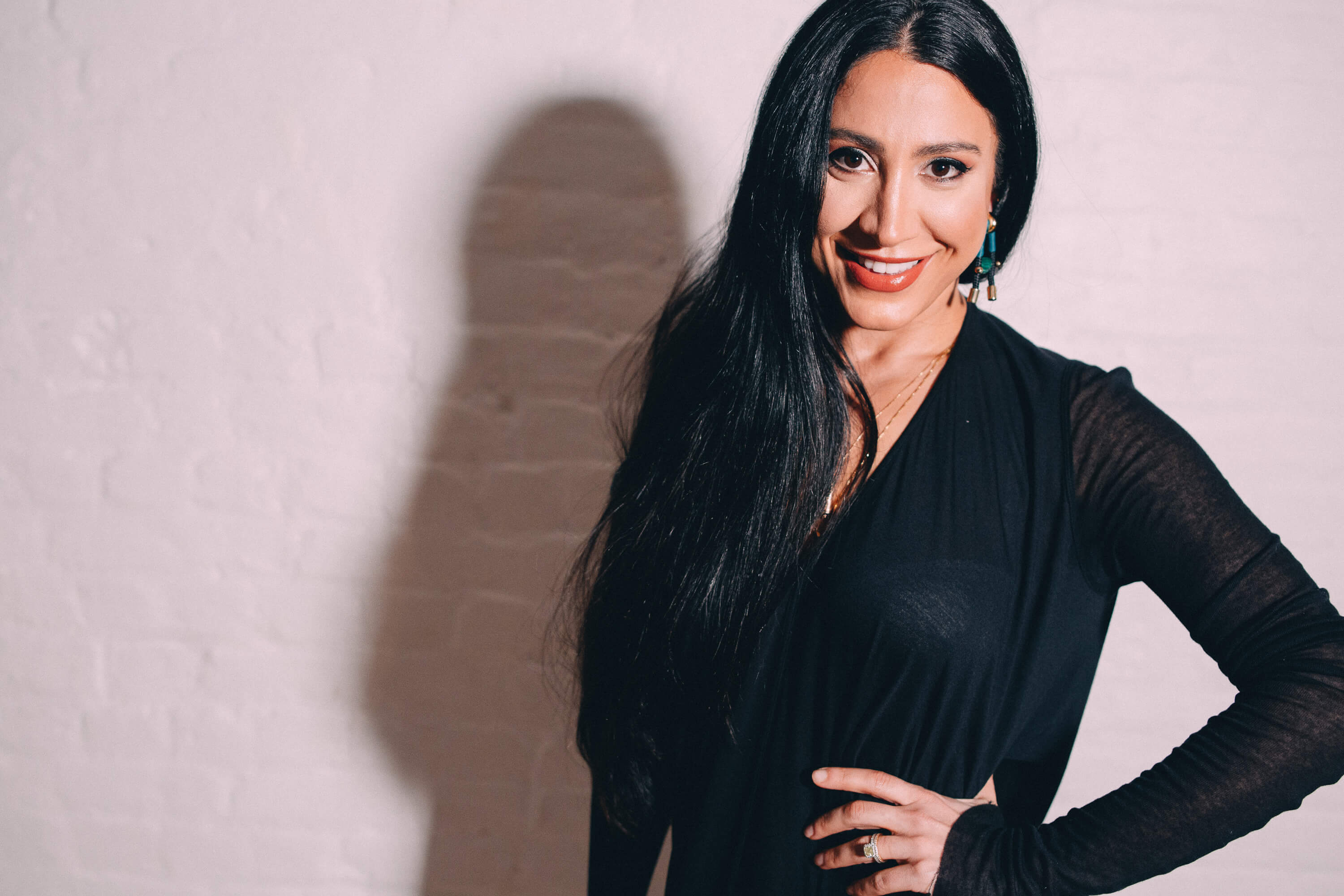 How did you combine your idea of interior design with the needs of the client?


________
My clients inspire me, and I always feel like it's a journey that we take together, from the beginning of the project. I don't impose my specific design and needs onto them; I am a really good listener, I take in what they're saying. And really if it's their space, and they're going to live in the space, they need to feel happy, and they need to love the space. I'm just facilitating their vision and trying to create and bring it to life. I'm always inspired by them.
I currently have a client that likes everything to be quite minimal and that can be challenging sometimes. Because my personal style is quite bold, and I like antiques, I like to mix different materials and furniture, I love vintage lighting. So, when you have a client who only likes minimal, it's demanding, but it's also so inspiring because it pushes you to create in a different way and to think about how you can still use your personal style as well. That to me is lovely because you get to go through that journey with them and create an amazing space which formulates happiness in the end.
I think that what's important is to create emotions behind the design.


________
Absolutely. Because you're living in the space, you're touching the sofa, touching the cushions, walking on the floor with no shoes on…all these physical experiences evoke instant emotions.
"You get to go through that journey with them and create an amazing space which formulates happiness in the end."
You have to feel it.
 And related to this, there was a project in your career that you're particularly proud of?
________
Yes! There's been many, of course, the one you know of, the Manolo Blahnik Flagship store, it was a beautiful project to work on. Manolo Blahnik was an amazing, inspiring, wonderful man who is eccentric, and we worked together on creating this beautiful boutique.
My next question of course was related to your work with Manolo Blahnik. What was your first idea for this project and did it also develop thanks to Manolo's advice?


_________
 When I went to the office, he took me to his studio and showed me the blueprint of his new book, which was the most incredible thing. And that inspired me. He showed it to me before it was published, I felt very privileged. It felt like an exclusive preview! And that was my brief, I didn't have much time with him. It was a very short introduction, he took me to his studio, showed me his new book and talked about his book, things, people and places that he loved. He loves Sicily, movies, beautiful women, that was my brief, honestly! I created some concepts for him, in the first meeting: it was the first concept he accepted, it was amazing! I felt like we understood each other on a creative level.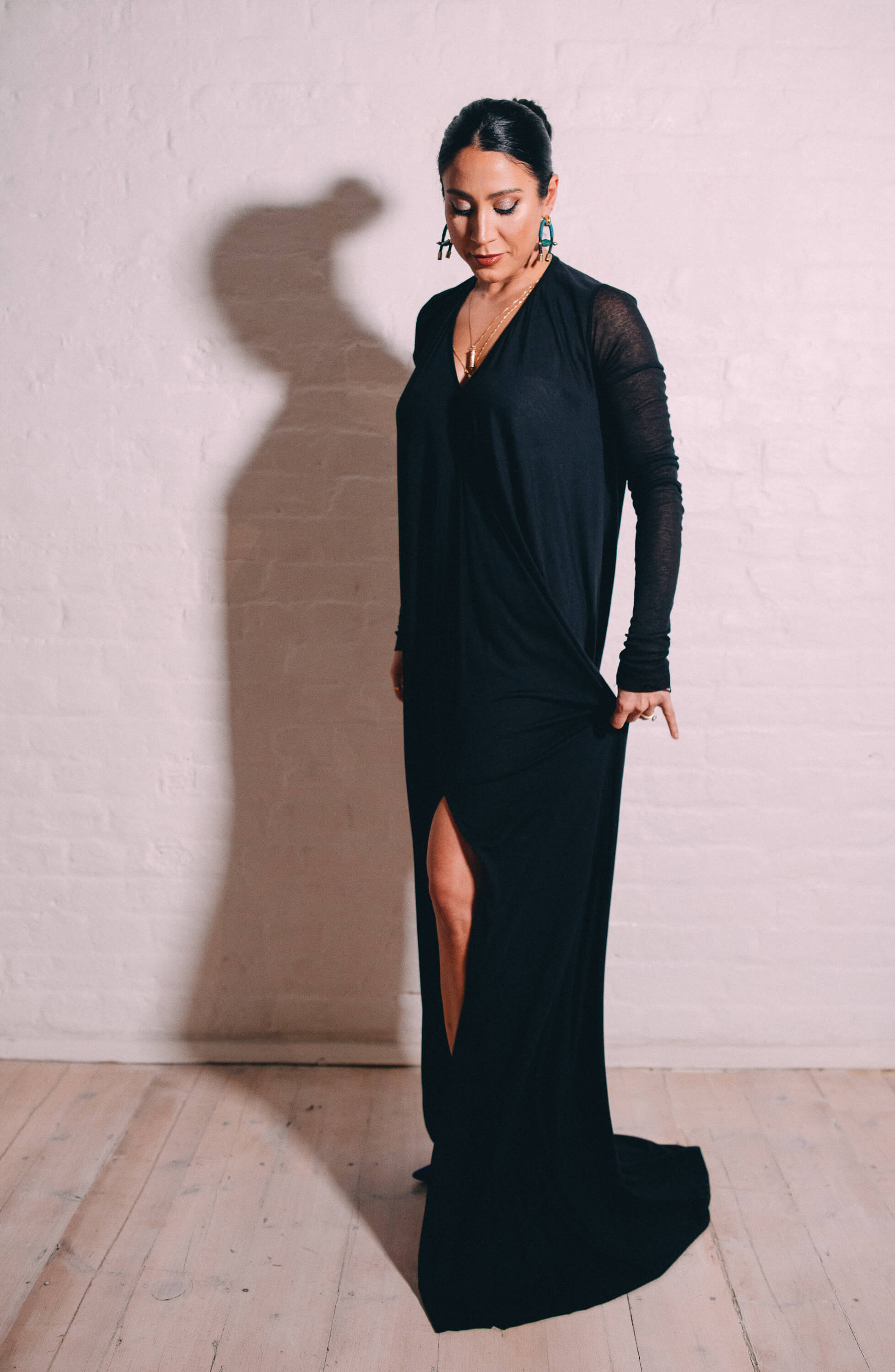 If you could choose, what is your favorite detail or corner in the Manolo Blahnik store?
______
I love the columns. I love the hair on hiding shelves: it was a beautiful detail that I came up with. On the first floor, there's a fireplace with a long mirror and beautiful benches covered in jewel-colored hair on hiding, that's my favorite corner because it feels like you're in your living room, trying on fabulous shoes! A very private corner of the shop, because it's on the first floor, so you don't see people passing. It's a very intimate space, and you have shoes everywhere, trying them all on and I think that's also key in wearing a pair of Manolo Blahnik shoes, trying them on. It's like an art piece; it's like going to a gallery and wearing art pieces.
Would you say that Manolo is your favorite designer for shoes?


______
For shoes, yes. Definitely. Because they're not shoes, they really are not: Manolo Blahnik doesn't follow a trend, he creates from his heart. He's so inspired by history and art and places and cultures. Every shoe has a story.
What's a design piece that cannot miss in an apartment?
________
I would say lighting; lighting is key. If you have beautiful, decorative lighting and architectural lighting, it can change the space. It can make it moody or sexy or quite stark and studio-like. I love chandeliers, I love vintage lighting, and I think you can have a completely modern space but have a beautiful chandelier and it dresses it, it's like jewelry.
What's your favorite designer or design period that inspires you or that has inspired you?
________
There are so many designers! I love fashion. I love Azzedine Alaïa, and I love his approach to the material. 


I feel like his creations are architecture and sculpture. 


________
It is. If I had to pick a Fashion designer it would be him, for sure, it would be Azzedine Alaïa. I love stylists: I love Carine Roitfeld, I think she's incredibly fresh, she brings so much sex and drama to high-fashion. And then for interior design, I love Kelly Wearstler, I love her approach: she's an American, LA-based designer, she's bold, she's sassy, she likes to experiment with a lot of prints and materials that you would never put together usually, but she gets it right!
I'm a fan of the art deco period and but I'm inspired by all of history and like to mix things up. There's not a specific period that I draw inspiration from; it's from everything.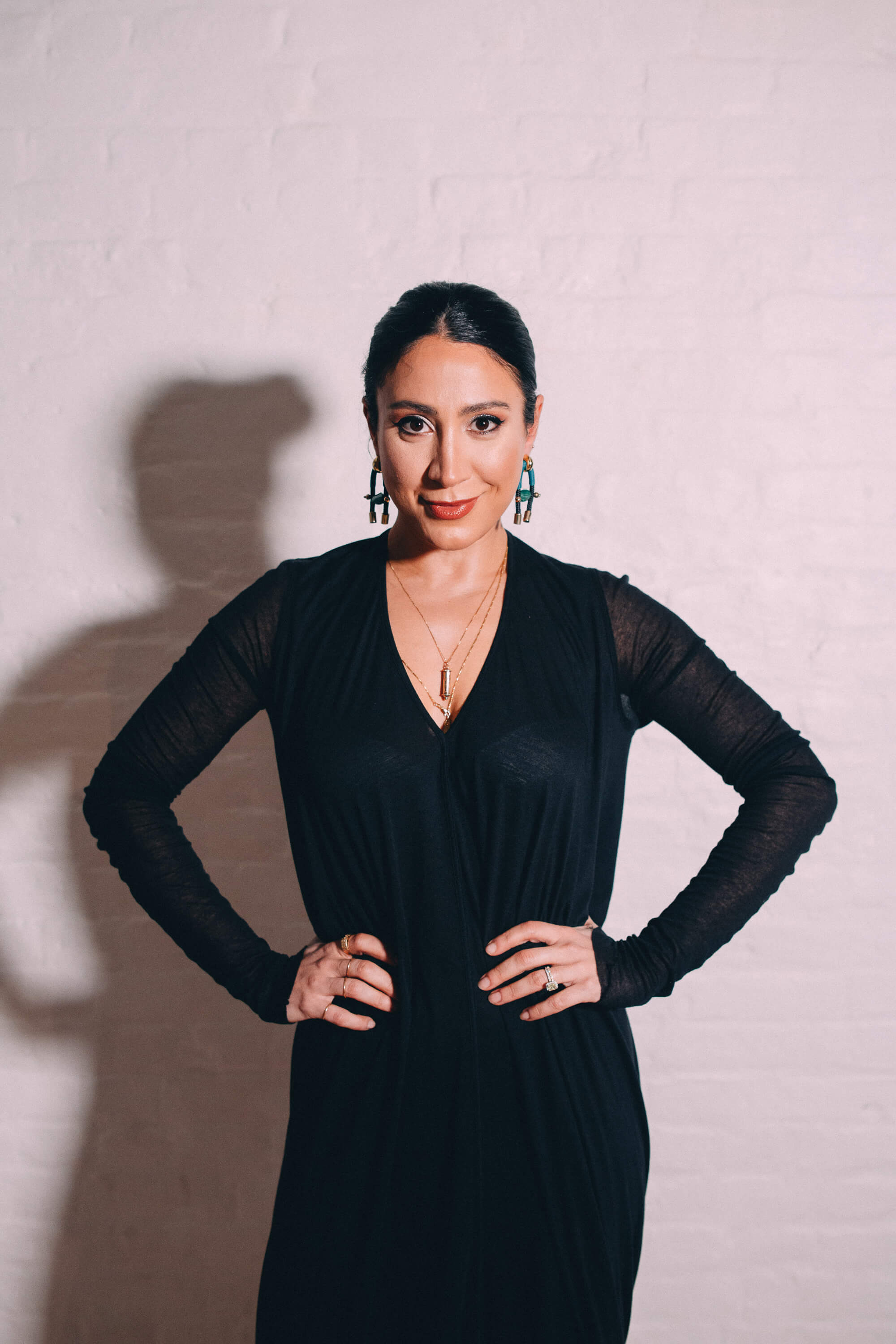 You said you're a fashion lover: how would you describe your iconic looks?
________
My personal look is quite simple and pared back, but I also love bold colors, and I tend to bring that into accessories. I love the accessories. And that's how I approach interiors. I like to create a backdrop for beautiful objects, I apply this to how I dress and with how I design interiors. I love collecting art and objects, every object has history. I enjoy bringing that feeling of life into interiors through vintage furniture and art, I love that more than anything else.
Is there an accessory designer you would love to recommend?
________
The South African designer that I'm wearing, Pichulik, but also Lara Bohinc. There are so many amazing accessory designers but also so many vintage ones. I love 70s jewelry, 80s are my favorite, 80s vintage Gucci is perfection. Also, Tom Ford, all of his accessories. I love 80s jewelry at the moment, but I go through phases. At the moment I'm collecting 80s Gucci accessories and pieces from the Tom Ford era.
He changed Gucci.


________
Yes, yes, he did.
And now there's Alessandro Michele who changed it again. What's your relationship with makeup and beauty?
________
I like to have quite a simple beauty look, maybe with a strong lip or a strong eye. And then accessories, I like to keep the face quite simple and fresh looking, because I think I have quite strong eyes and lips, I can enhance either.
"I love collecting art and objects, every object has a history. I enjoy bringing  that feeling of life into interiors through vintage furniture and art."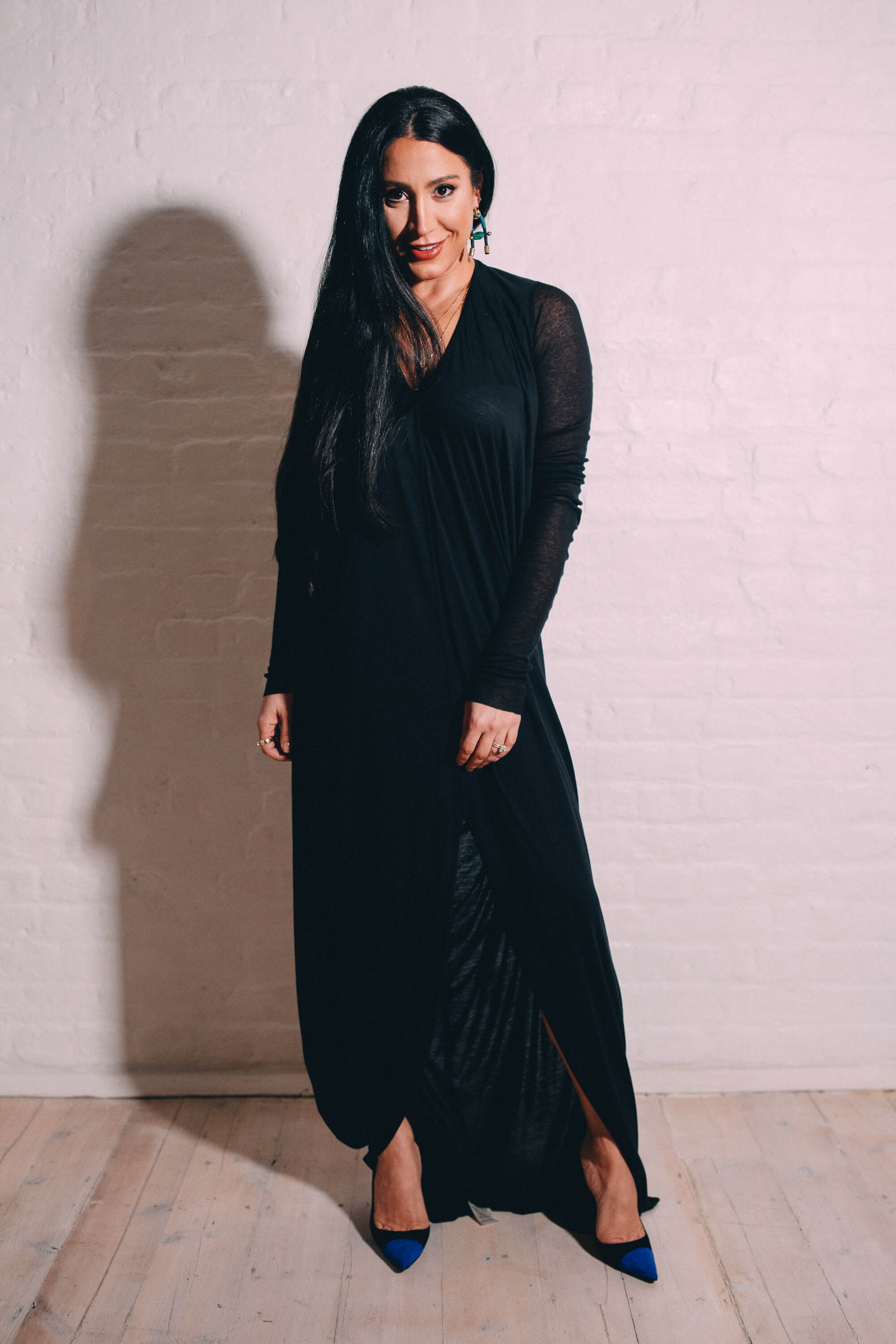 Do you get inspired by travel when it comes to your work?
________
Yes! Everything really, travel is such a luxury, because you have to have time and time, for me, is the biggest luxury. We live such a busy lifestyle in terms of time, when you have a lot of projects on you can't just go traveling, but I get inspired by everything. The rain, that's always so inspiring: I was looking at it on my way here, and it was on the window of the taxi, and it looked like crystal beads. It was beautiful; it inspired me for a light fitting I'm currently working on.
It's everywhere, you just have to be aware, and you have to be open to take it. You don't have to always travel to be inspired, you can go to the park and draw inspiration.
How would you define design?


________
It's life; it's everything, it's all I know. I studied interior designer at University, and my first job was with Kelly Hoppen, who is an interior designer in London. She paved the way for me going into high-end interior design, it was my first ever job, and I haven't done anything else since, so, for me, design is everything. Everything is designed, from the sofa we're sitting on to the cups we drink from.
What's next for you?
________
Since I've had my baby, he's inspired me so much. He's in the studio with me most of the time. And because of him, I want to do so much more for example, I'd love to do homewear and jewellery perhaps, even combine them both in some way: I'd love to do boutique hotel designs, that's probably what I'd like to do next.
Do you have a dream project?
_______
I think I would like to do boutique hotels; I'd like to create a very unique boutique hotel with furniture, accessories, lighting and jewelry, all combined in this space to create a rare luxurious experience.
It's coming!