"Berning In Hell" and "The Housebroken Tour" are only two out of a wide range of projects comedian Hannah Berner has put all herself into – the first is a hilarious, genuine, and brutally honest podcast, the second is her very first headlining tour. Always and forever full of surprises and hopes to make people forget about "the struggles of existence," Hannah's shows and social media feeds are explicitly aimed at fulfilling one specific purpose: amusing people, making them feel less alone and, most of all, comfortable in their own complexities.
During our interview, Hannah told us about her projects, dream achievements, purposes in life and at work, emphasizing how appealing she finds the power of laughter and the scariest challenges, in the name of one mission: learning to always speak up and feel your feelings, no matter what.
Your viral tweets and stand-up comedy have a large following in the USA and beyond. How was your passion for comedy born and what were the first steps you made to become a comedy diva yourself?
I was always a silly kid and I always loved surrounding myself with hilarious people. My Grandma would always tell jokes at the dinner table and my Nana has the most amazing comedic timing. My Dad can light up any room with his sense of humor and I think I subconsciously learned that laughter can heal anyone. I was always the friend who was trying to make everyone laugh in the group text… I just didn't know I could make a living at being a goofball.
You've sold out prestigious comedy venues such as Dynasty Typewriter at the Hayworth Theatre in Los Angeles, Cobb's Comedy Club in San Francisco, and Laugh Boston, you host some of today's most binge-able podcasts, "Berning in Hell" and "Giggly Squad," and you co-host a late-night talk show, Bravo TV's "Chat Room." What has the most difficult part of your career path been so far?
I think the most difficult part of my career path is that there is no real recommended way to climb the ladder – but maybe that's why I like it? To become a doctor or lawyer, you know what tests you have to pass and classes you have to take, but with the entertainment you kind of feel like a leaf in the wind, but I like the excitement that you never know where you can end up.
Are you a fan of podcasts? How did you come up with the idea of starting your own podcasts?
I started my podcast "Berning In Hell" when I got into the entertainment world and realized that even though people have money and fame, they still have demons. I was determined to talk to people who are idolized and humanize them to show we are all dealing with the struggles of existence. I also liked that people could listen to an unedited version of me and my perspective if they liked me from TV.
I actually don't listen to podcasts that often because I love creating more than consuming.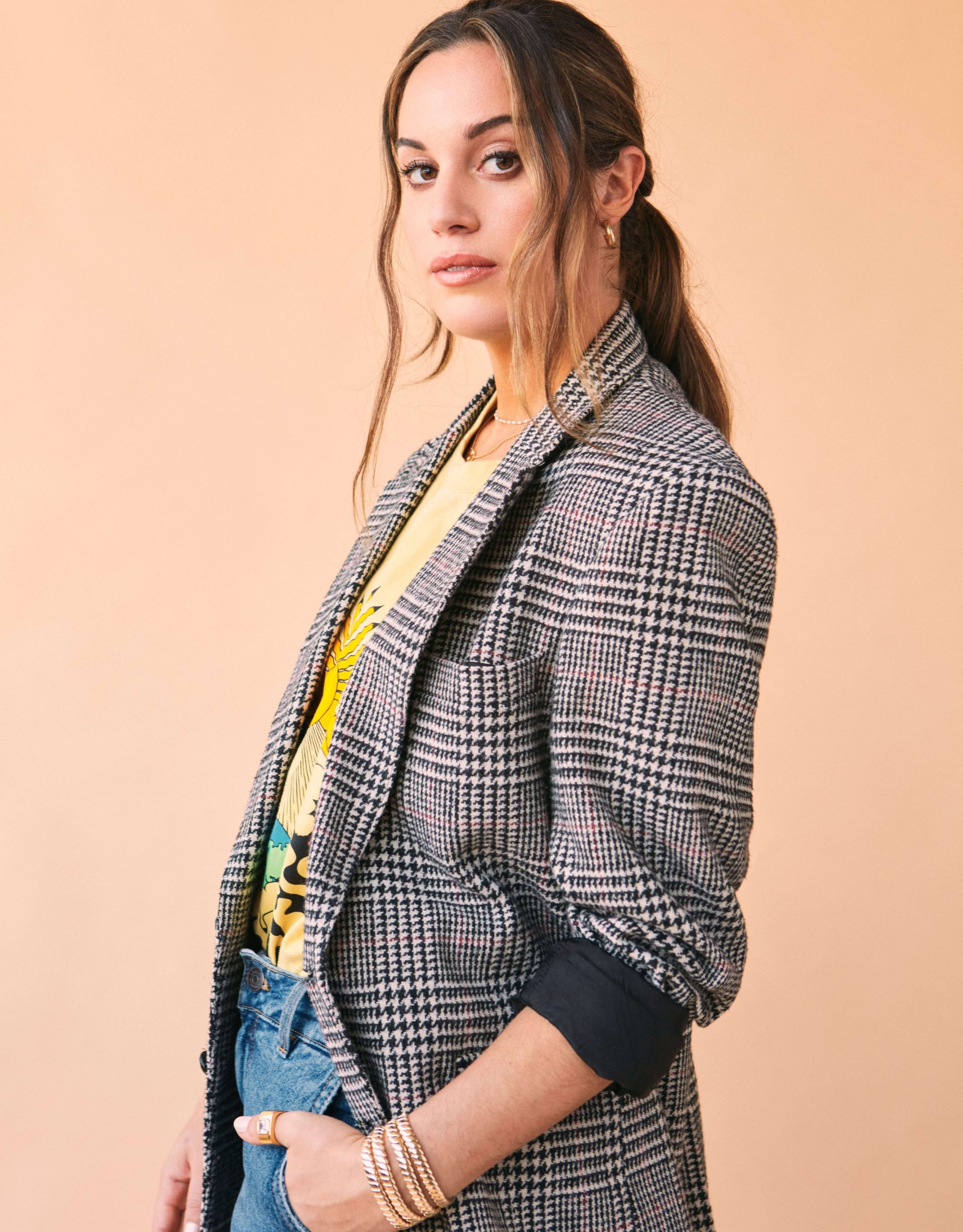 "I was determined to talk to people who are idolized and humanized them…"
Your stand-up comedy shows and Instagram/Twitter feeds offer unfiltered access into your love life, depression and anxiety, insecurities, relationship with your parents and dating errors and trials: where does your natural predisposition and comfort in sharing parts of your life and of your own self come from? Have you always been a natural communicator?
I have always hated small talk, I'm very bad at faking anything, and I'm an avid over-sharer. At the end of the day, if I can make someone feel less alone from something I said on my platform, that makes me happy.
You're about to start your very first headlining tour, The Housebroken Tour: any fears and/or special goals you wish to achieve during this journey?
This tour is exciting because I'm really on my own. It's just me and my material that I've been writing for years. I'm also so happy to be able to see people in the flesh (even though I hate that saying) and not be behind a screen like during quarantine. Connecting with people and feeling their energy and being the reason why someone got to forget their problems for an hour is awesome.
You grew up playing professional tennis before discovering your predisposition towards the comedy world, and played a part in season three of Bravo TV's top-rated series "Summer House." Sports, acting and comedy: what role does each of these disciplines have in your life? 
Tennis taught me that I can challenge myself emotionally and physically and always survive. Reality TV and comedy are two things that scare a lot of people (including myself) but I love to face things that scare me. If they go well, I gain confidence, and if I fail, I learn more about myself and get stronger for the next challenge.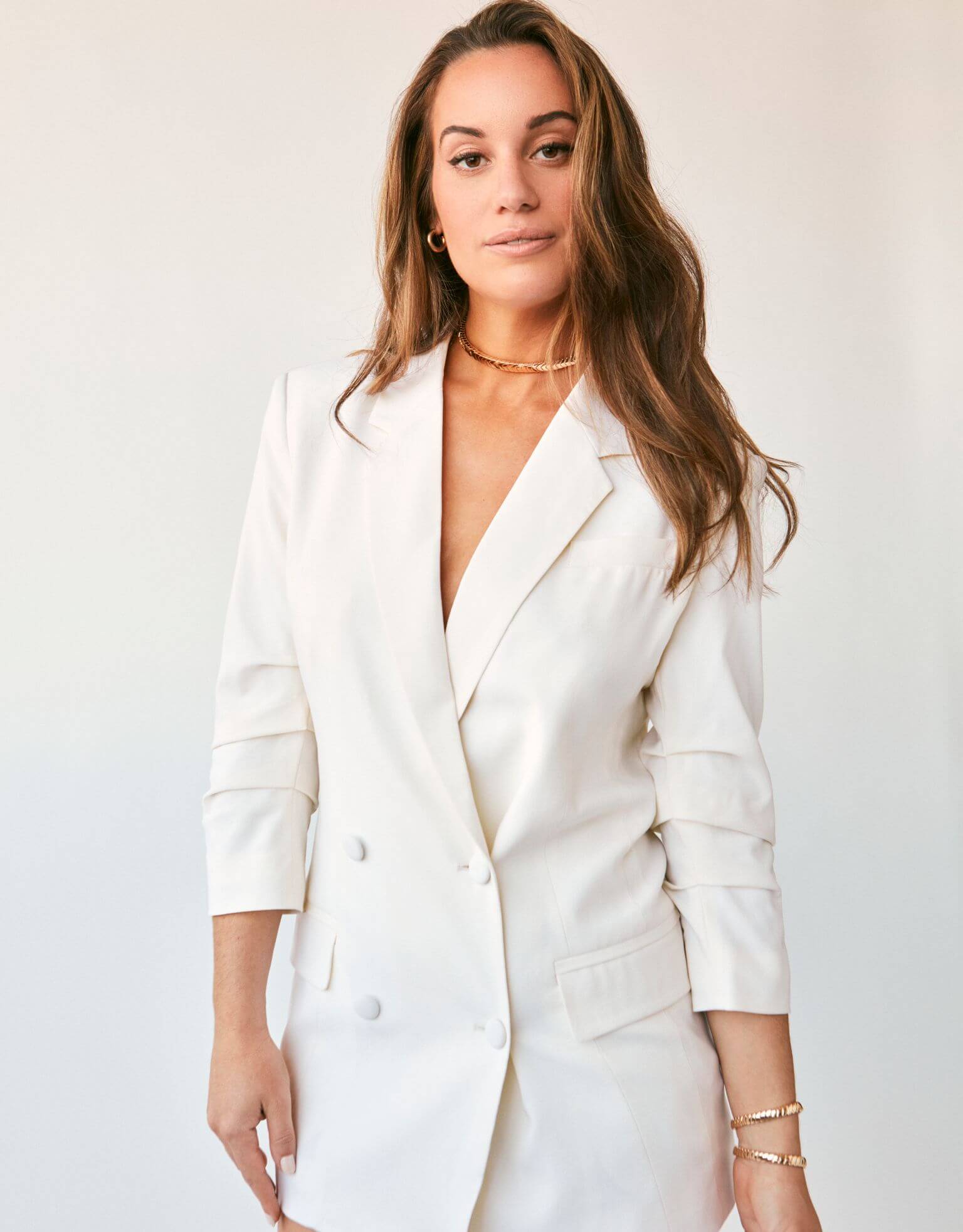 What's your "motto"?
Even when it's raining, the hoop is always there.
What's the biggest inspiration in your work and personal life?
I grew up with a mom who is an extremely hard worker, incredible leader, intelligent, and highly empathetic. She is behind a lot of my career decisions and always there for me whether I'm having an emotional breakdown or just need to know the best train to take to get to Queens.
How would you define your comedy style?
I think my comedy style is honest, vulnerable, and in your face.
Many people think that there can't be comedy without self-confidence. Is that true? What does self-confidence mean to you?
I love this question. I think a lot of women have felt like in the past that to be funny you have to be self-deprecating like you can't be hot AND funny. Well, you can. Women are more complex than just being funny. You can be silly, anxious, happy, sexy, sporty, and scared. Self-confidence is being comfortable in all your complexities and embracing the journey.
"Self-confidence is being comfortable in all your complexities and embracing the journey."
You're an actual female force in comedy and entertainment today, and you say what a lot of women think but are not able to say in public: what advice would you give to girls and women who are afraid to speak their minds?
I think the biggest thing you should be afraid of is ignoring yourself and your feelings for other people's happiness because then you are abandoning yourself. Once you speak up about who you are, you will start finding the right people to surround yourself with and the things that bring you joy. When it comes to manifesting, you have to say what you want out loud and see how the universe listens. I don't mean to sound like a witch, but it's true.
What's your favorite comedy show and who's a comedian you particularly admire?
Some of my favorite comics right now are Taylor Tomlinson, Pete Lee, Rory Scovel, Nikki Glaser, and my fiancé Des Bishop.
You're also an advocate for mental health, using your platforms to openly speak about your own struggles and break the taboo of the topic: in what ways would you like to see the relationship between comedy, social media and self-care developing in the future?
Social media is so bad for you but it's so good for your career, so it's a real double-edged sword. I can't control if other people use the internet to spew hate, but I can control trying to use my platforms to bring people giggles.
"Yeah sex is cool but have you ever gotten out of a toxic relationship?", says one of your tweets. What is toxicity to you and, if you've managed to get rid of it from your life, how did you do it, how should we do it?
I think a lot of the times I ended up in toxic situations was when I was ignoring the little voice in my head telling me that I'm not happy and I deserve better. Always listen to your gut and honor your needs.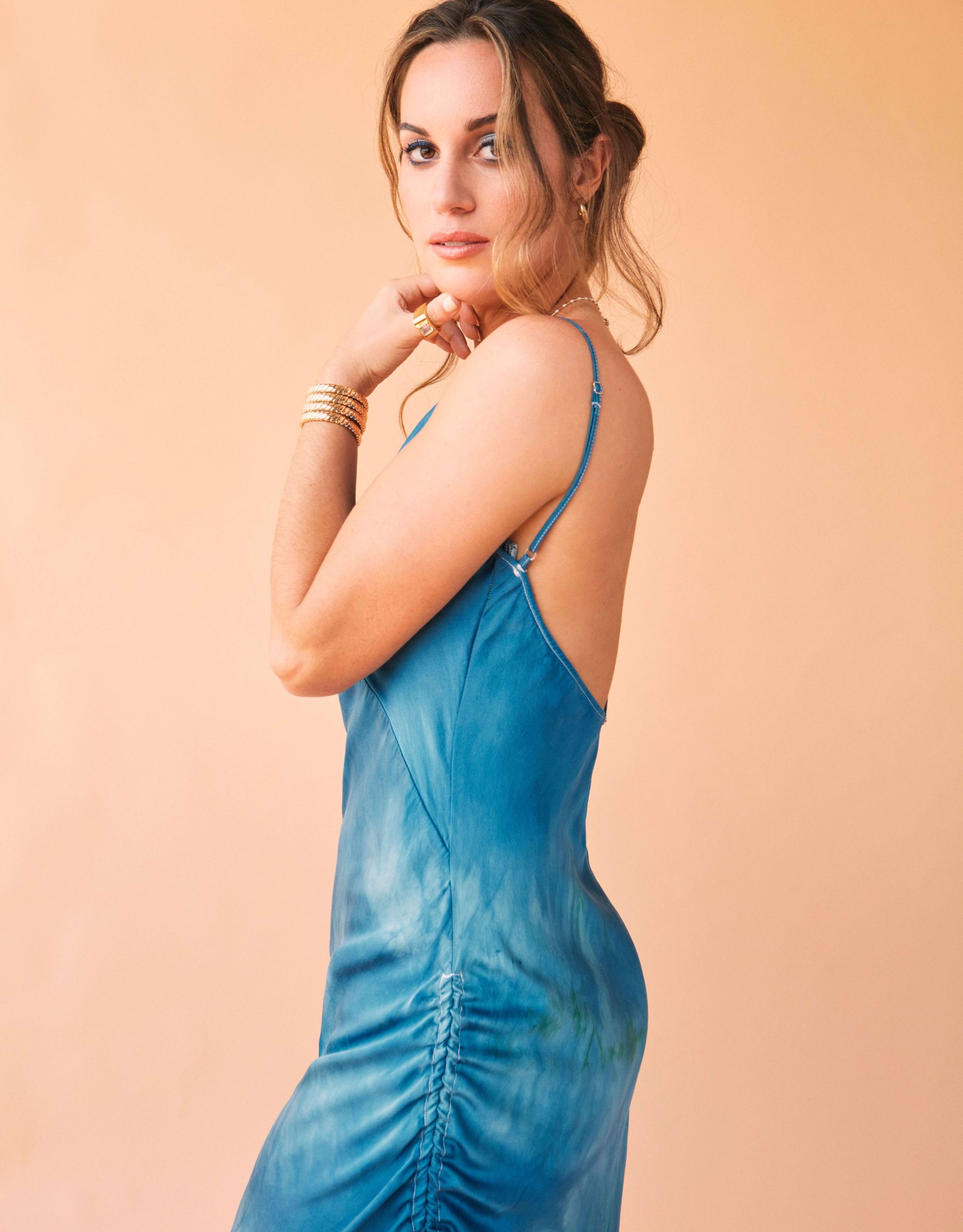 "Listen to your gut and honor your needs."
What's the book on your nightstand?
"Ego Is the Enemy" by Ryan Holiday.
What's your go-to podcast?
"Going on Call Her Daddy" and "Girls Gotta Eat" have been some of my favorite podcast experiences and I love listening to them because they are friends that I look up to in the podcast industry.
What's your happy place?
Wherever my cat is.
What's your dream project?
I think doing a comedic tv show or movie based on some experiences in my life that the public didn't see.
Three pieces of advice you would give to someone who's starting their adventure in the world of comedy.
Talk about what you think is funny as opposed to what you think other people will like, never say no to a podcast or stage time in the beginning, and put effort into really marketing yourself on social media.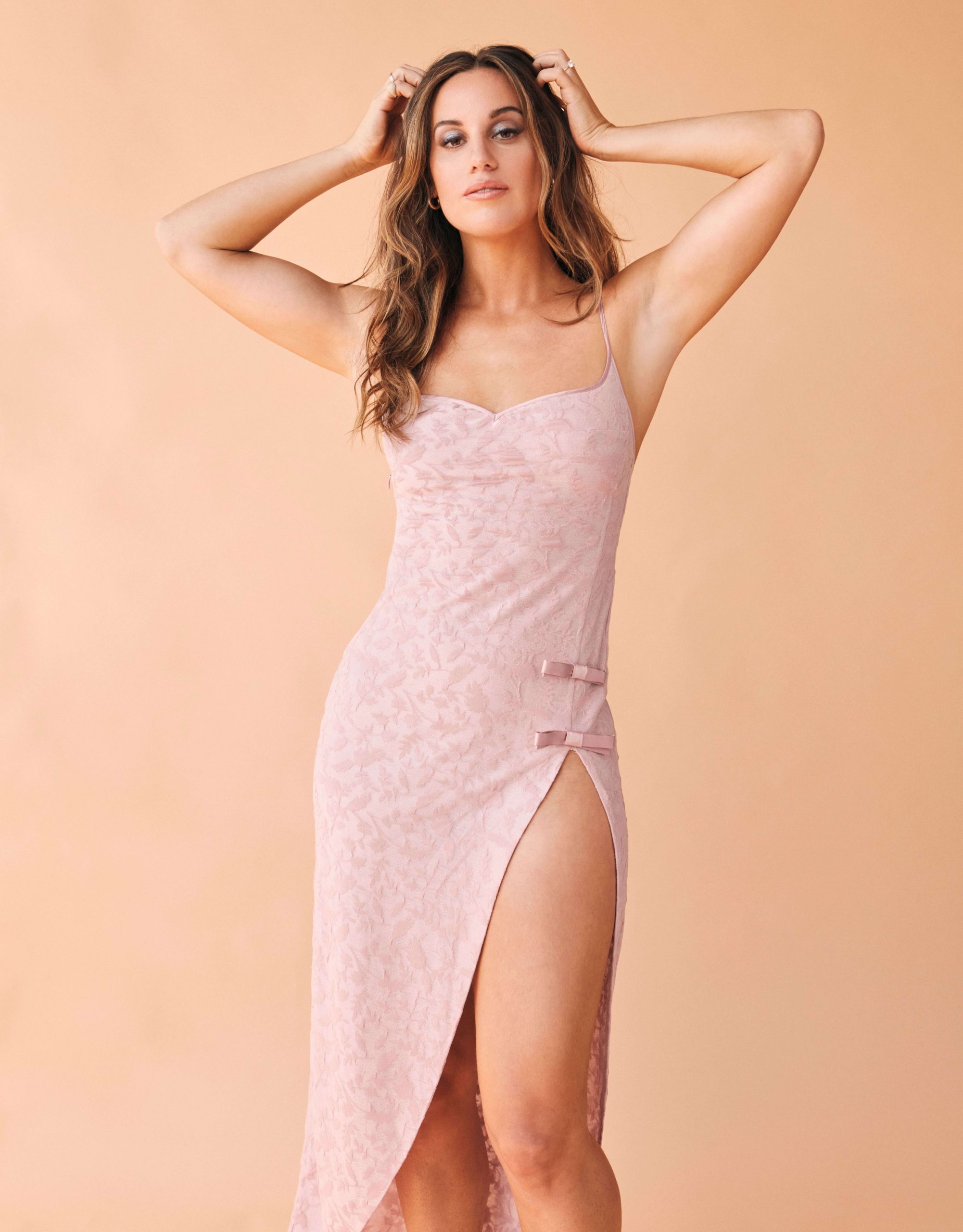 What does creativity mean to you?
Taking a thought in your mind and making it a reality.
What does "feeling comfortable in your own skin" mean to you?
When you are alone with your own thoughts, feeling like you are talking to your best friend who is nice, empathetic, and understanding.
What's the latest thing you discovered about yourself?
I need to work on "feeling my feelings" more!
You make lots of people laugh, but what or who makes you laugh? 
Animals really make me laugh because they aren't trying to make you laugh.
What's the bravest thing you've ever done?
Quit jobs that weren't bringing me happiness, even without a backup plan.
Any future plans and projects?
I'm working towards a stand-up special one day!
Photos by Brendan Wixted.