You know we love Emma Day.
After

interviewing here on her personal career and best makeup looks

, we couldn't wait to ask her everything about the looks she did for Maya Hawke and Francesca Hayward at the 77th Venice Film Festival. And also, we had a chat about quarantine and how it is to start working again in this new world.
Between the '60s and 70's inspirations and using colors in the most modern and fresh way (with a hint of vintage, of course) this is what Emma told us about the mesmerizing looks she did in Venice and the key products she used, and that we photographed on her balcony with an unforgettable Venice view.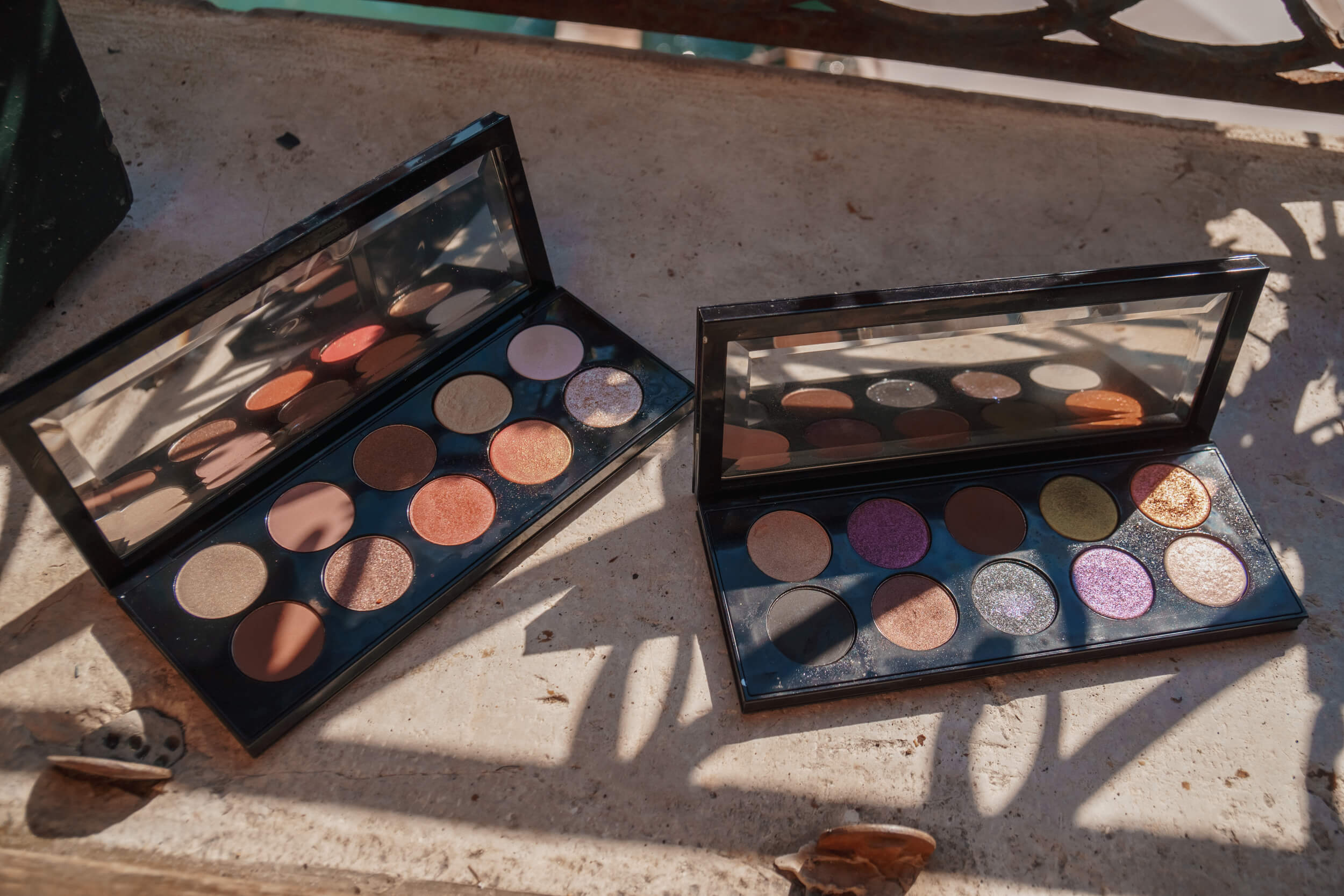 For Maya [Hawke], what were the inspirations, what was the process?
Maya is a bit of a rock chick, quite a free spirit and I think the main thing that we didn't want to do was to make it look too done.
She's 22, she's cool, and she knows her style and she's quite sassy thus I took a lot of my direction from how she likes her skin, which is how I like to go, she's very natural, I love her freckles. Then we kept it simple for the day look: just that pop of coral and the lashes, she's got amazing dolly lashes, she doesn't need false lashes! We kept it really fresh and then I thought, "Okay, so we've got the mask off/mask on," but the lipstick I used was great.
For the night look: she was in Versace, which is high glam, but she's young and you want to make it youthful. It started to become a slightly 70s eye where I did the sockets stronger, and then it was paler. I was also thinking of Jane Birkin because she really reminds me of her, plus Maya loves her, so I was thinking, "What would Jane Birkin do?" She was 22, doing a film premiere, how would she go about it? She was wearing a fabulous dress, but she didn't want to look too done, too old, too glamorous, that's not her vibe. It was very easy to work with Maya, we're all in the same sort of path with it, and then she was talking about "Scarface," we love Michelle Pfeiffer's bob in "Scarface," so she wore that little rounded 70s bob, as well, which I love.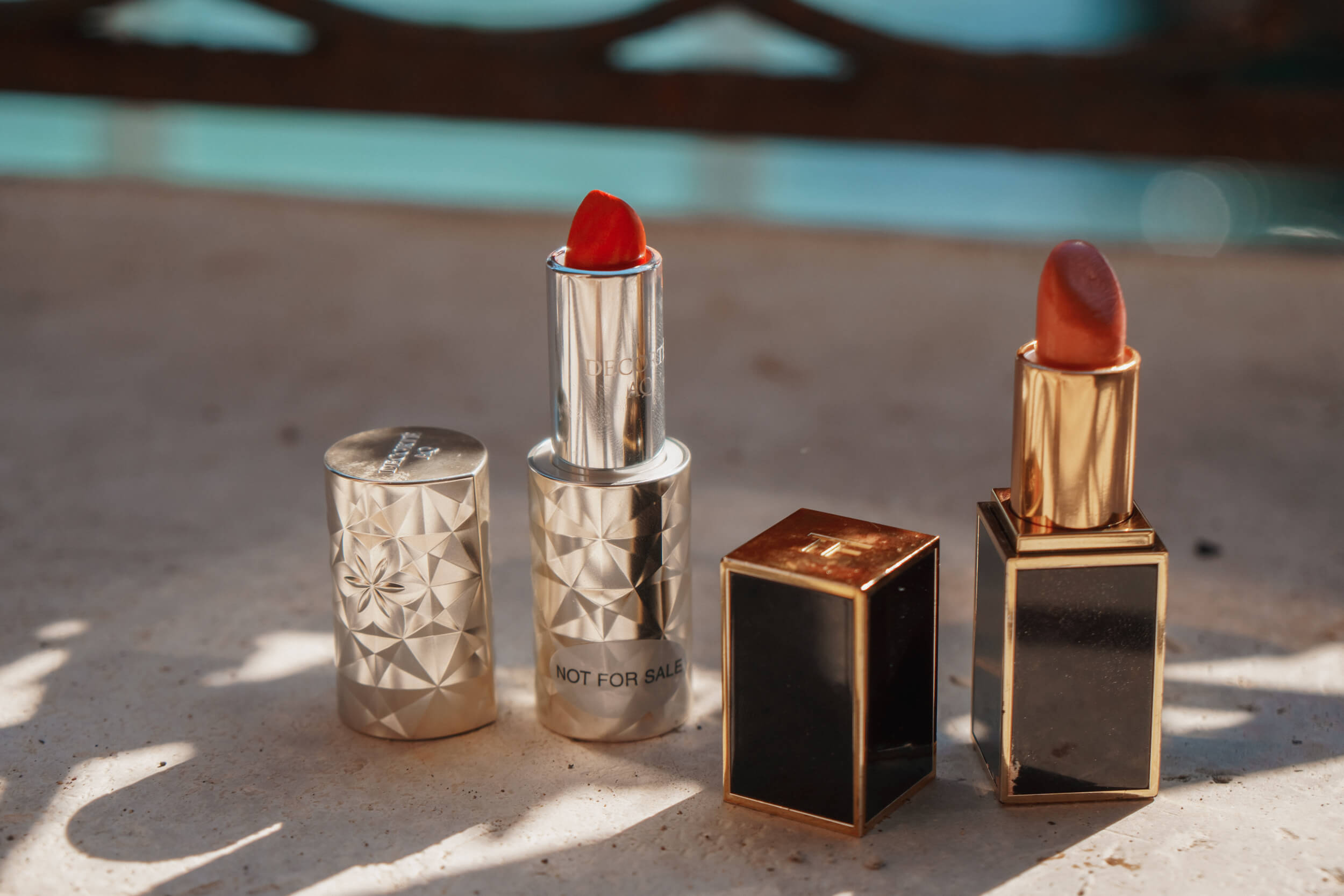 "Maya is a bit of a rock chick, quite a free spirit…I was also thinking of Jane Birkin because she really reminds me of her."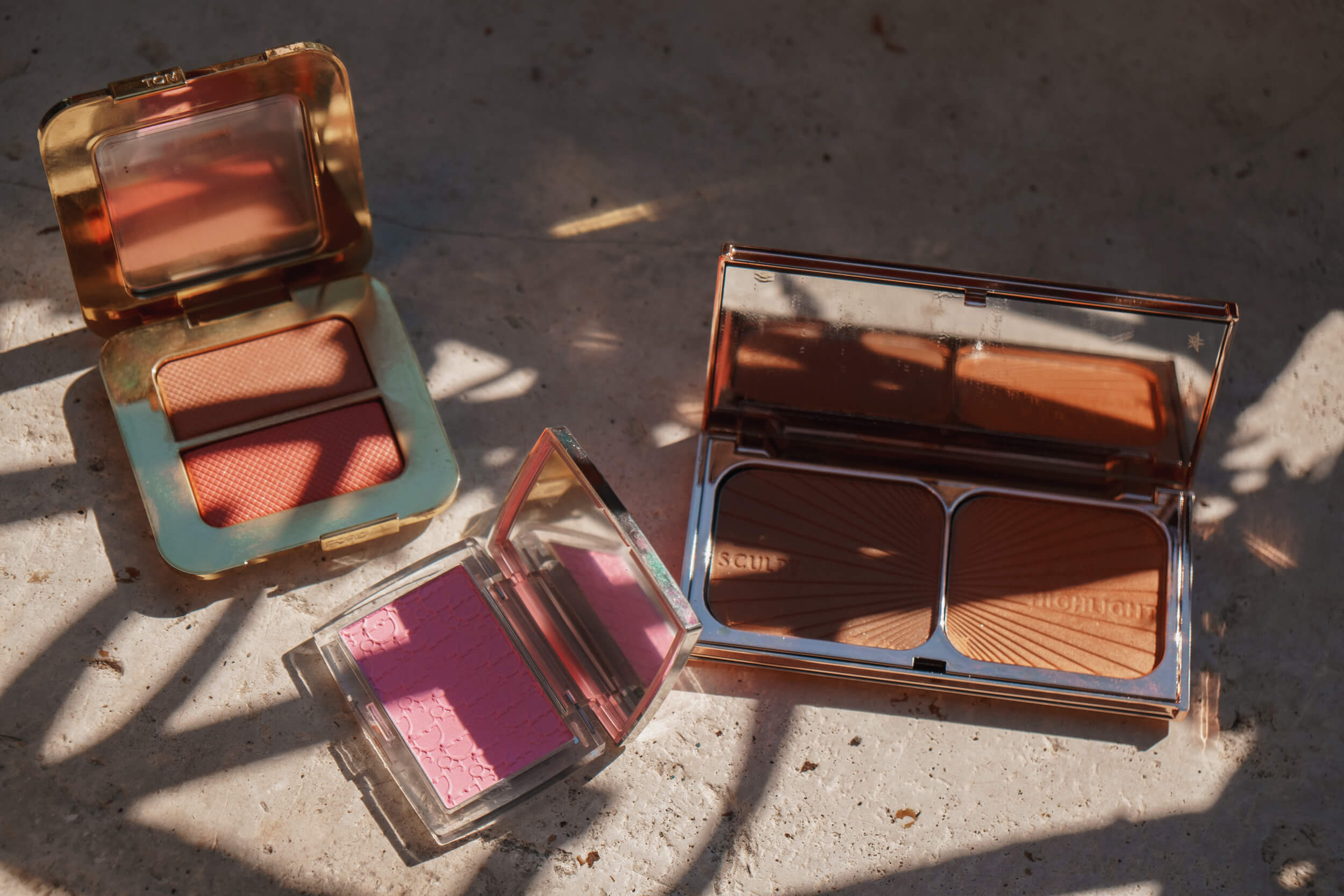 Again, it was not too sophisticated, it was youthful and pretty; she looked like she was herself, and for me, if you get the girls feeling like they're them and great, that's what we want to go for.
But, you just never know, the first time you work with someone, you hope you get that connection. They might have looked at what I've done before, got the vibe of what I do, and then they might want to work together depending on that. So, all came together.
What would you say is the trick or the secret to doing a perfect rounded socket? Because it's not so easy, sometimes you do too much…
In Maya's case, it worked because she got so much space in her eye area for makeup, and it's not easy for everyone, but she's got that massive eyes, so you can do those big 60s eyes (and, again, it's really about her vibe and her face). Everything is depending on the girl because if someone's a bit more hooded, it would be quite hard to do that, but the key is to go higher with that line, and then you need to do a paler wash, and it's a very round, soft shape; there are no hard lines because it's all sort of blended. It's all about understanding the eye shape. My friend Ben Talbott [the hairdresser] always says to me that I go for vintage references, but I can't help it, when I see a girl I'm like, "She's that girl, she's in that kind of vibe, or spirit," but I want to make it modern, I don't want to make it derivative, it's got to be present time as well.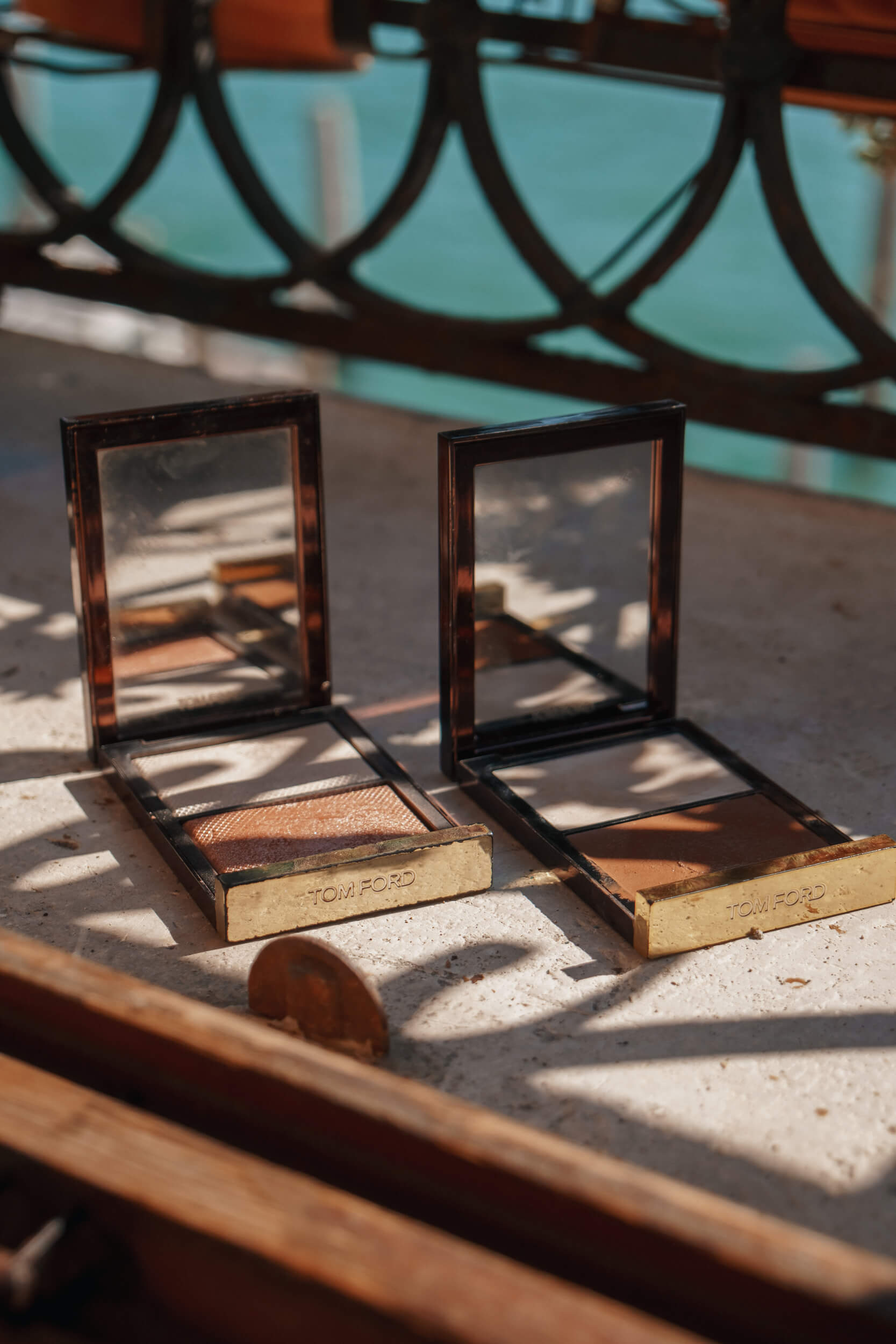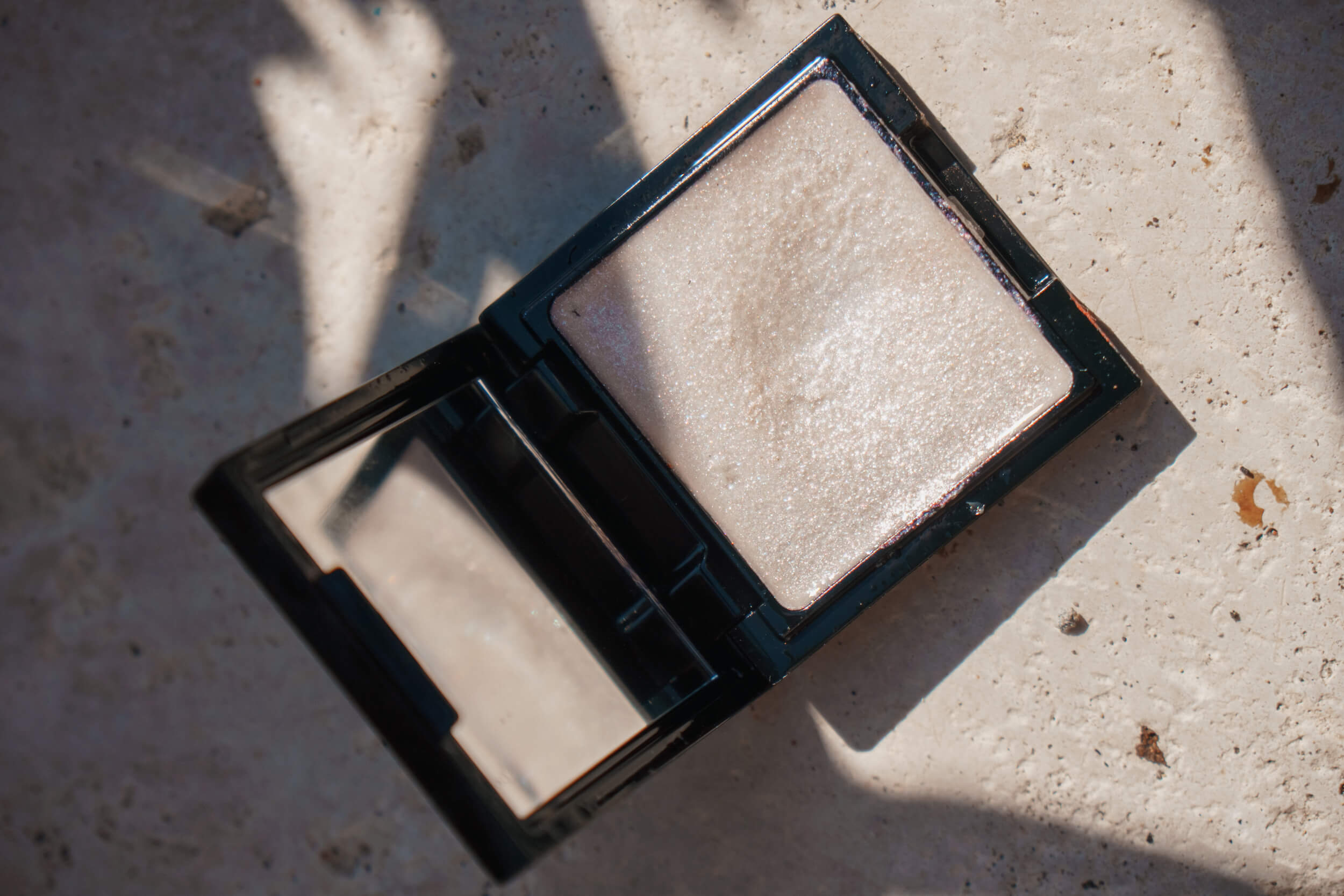 I loved it so much because, as you said, it was a little bit vintage, but at the same time it looked so fresh…
Yes, and also, I wanted all the freckles like she'd been down on the beach for a bit; I wanted her to look like she had come out from the beach and done her makeup, so she'd still have that beachy look.
What about Francesca? It was a completely different mood and color…
I did this little 60s vibe with her the day before and MiuMiu always lends itself to being quite playful: you look at the dress and you think, "So, what about this?" I just saw silver on the neckline of the first dress, so I did a little 60s eye. Also, the daytime shots of MiuMiu, they always do them in the middle of the day, and you can't see anything [laugh] unlike the red carpet where you can see the light changing, so you have to go quite stronger than you think you need to.
The second day we were just like, "Let's go a bit punkier." We had this green dress and she's so open, and I kept this NARS green eyeshadow I was given during lockdown and I thought she'd be perfect for it. Also, you just want to be fun, MiuMiu is not taking life too seriously, the dress is really dolly, it's just kind of like to dress up a bit, in a fun way. You can do anything you want with Francesca, you can make her look in a million different ways, the only problem is that she's so beautiful, she's got that face where you just want to keep working, but you've got to stop. [laugh]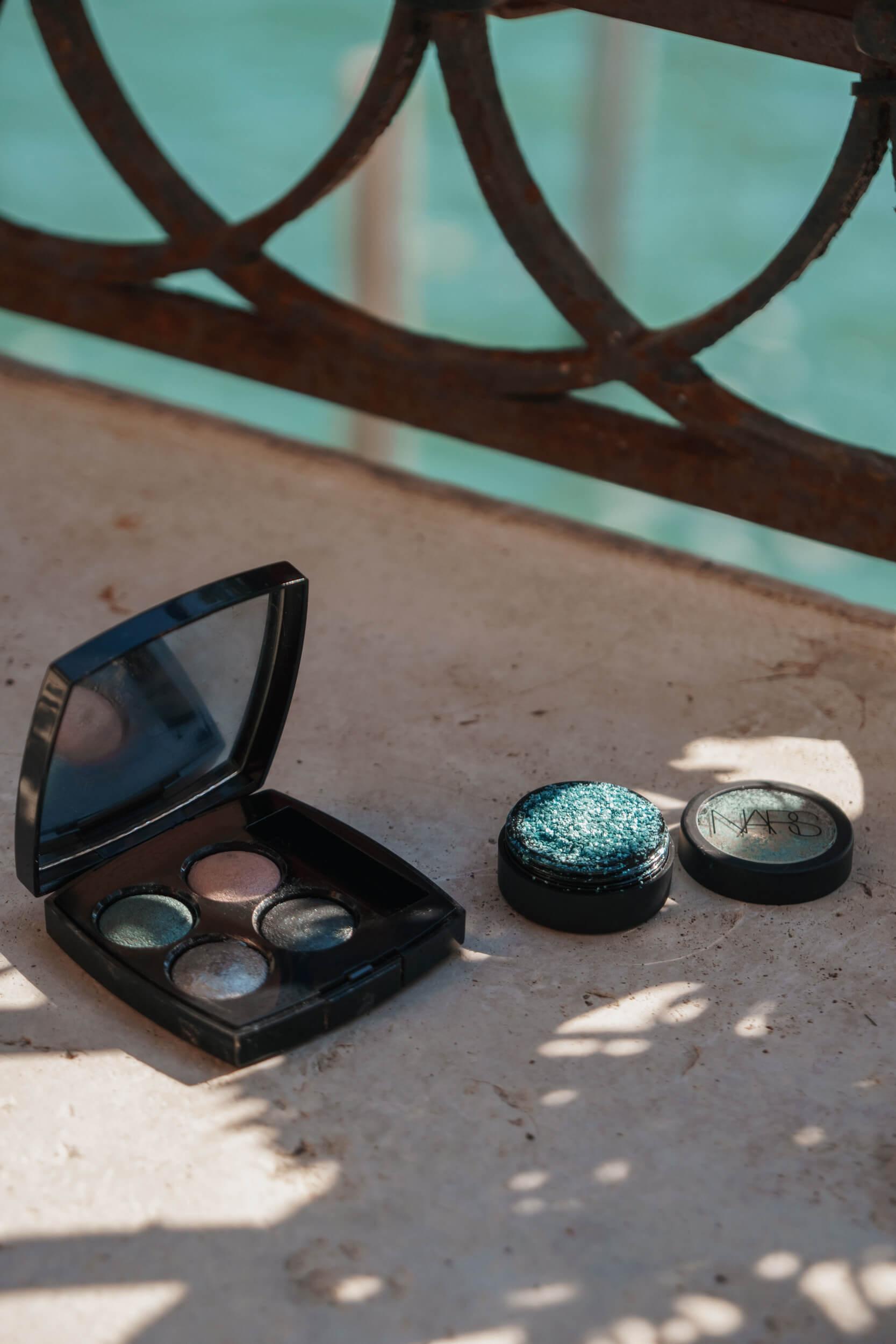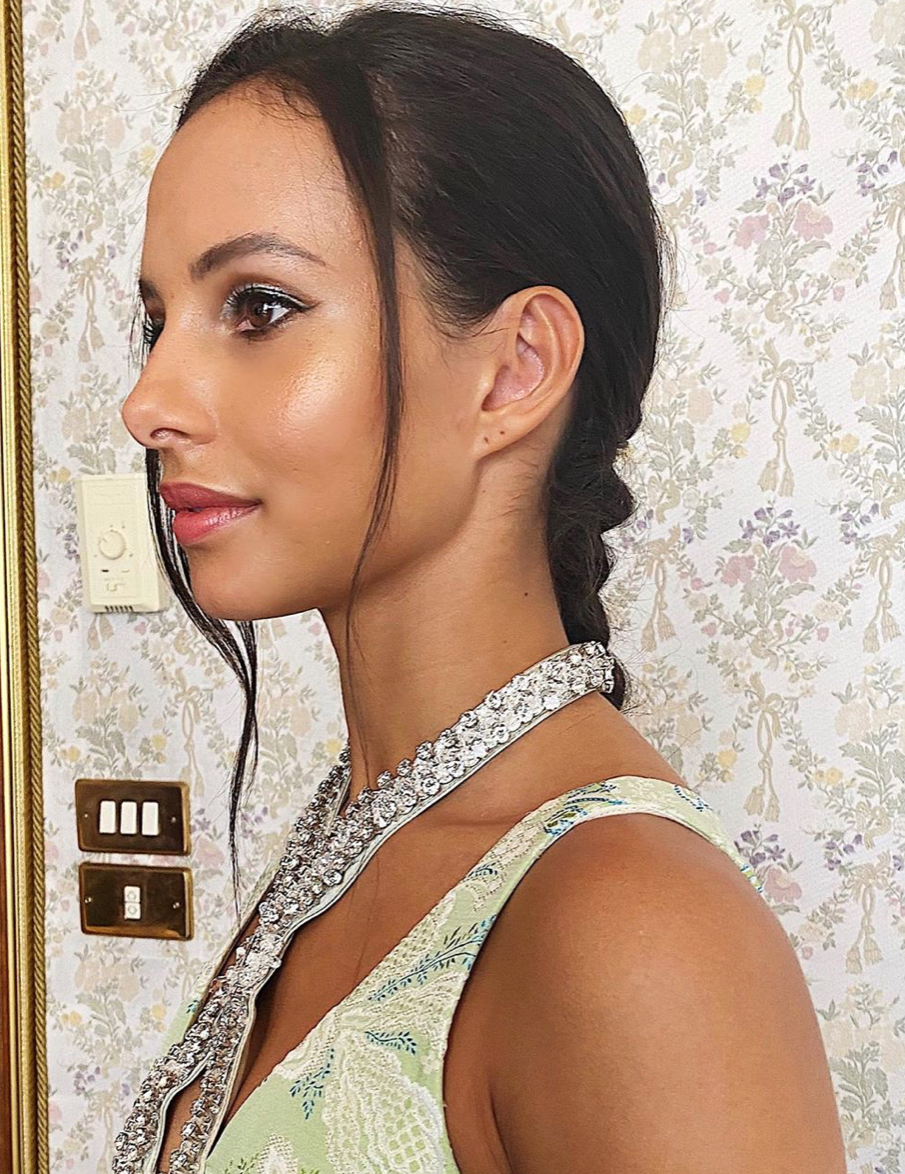 "Let's go a bit punkier."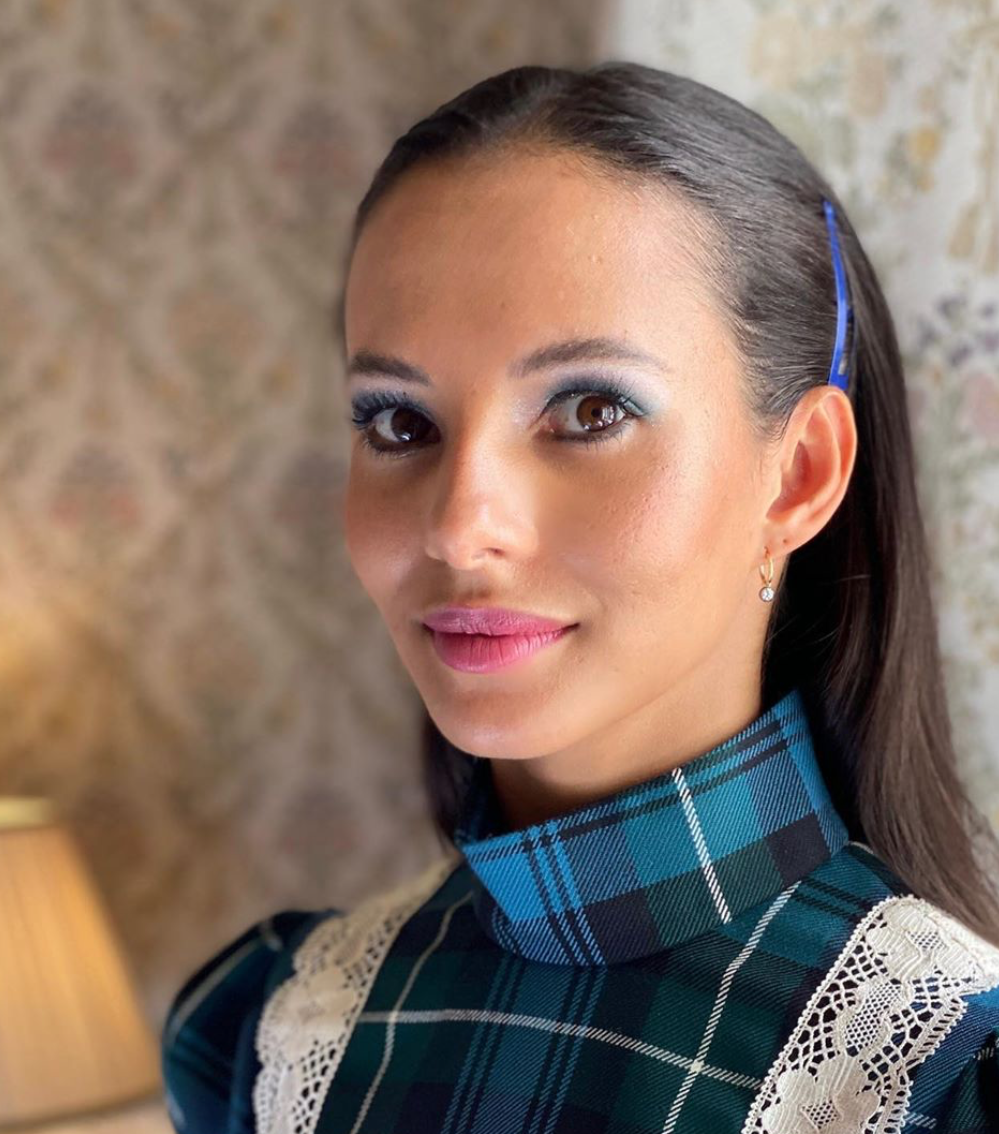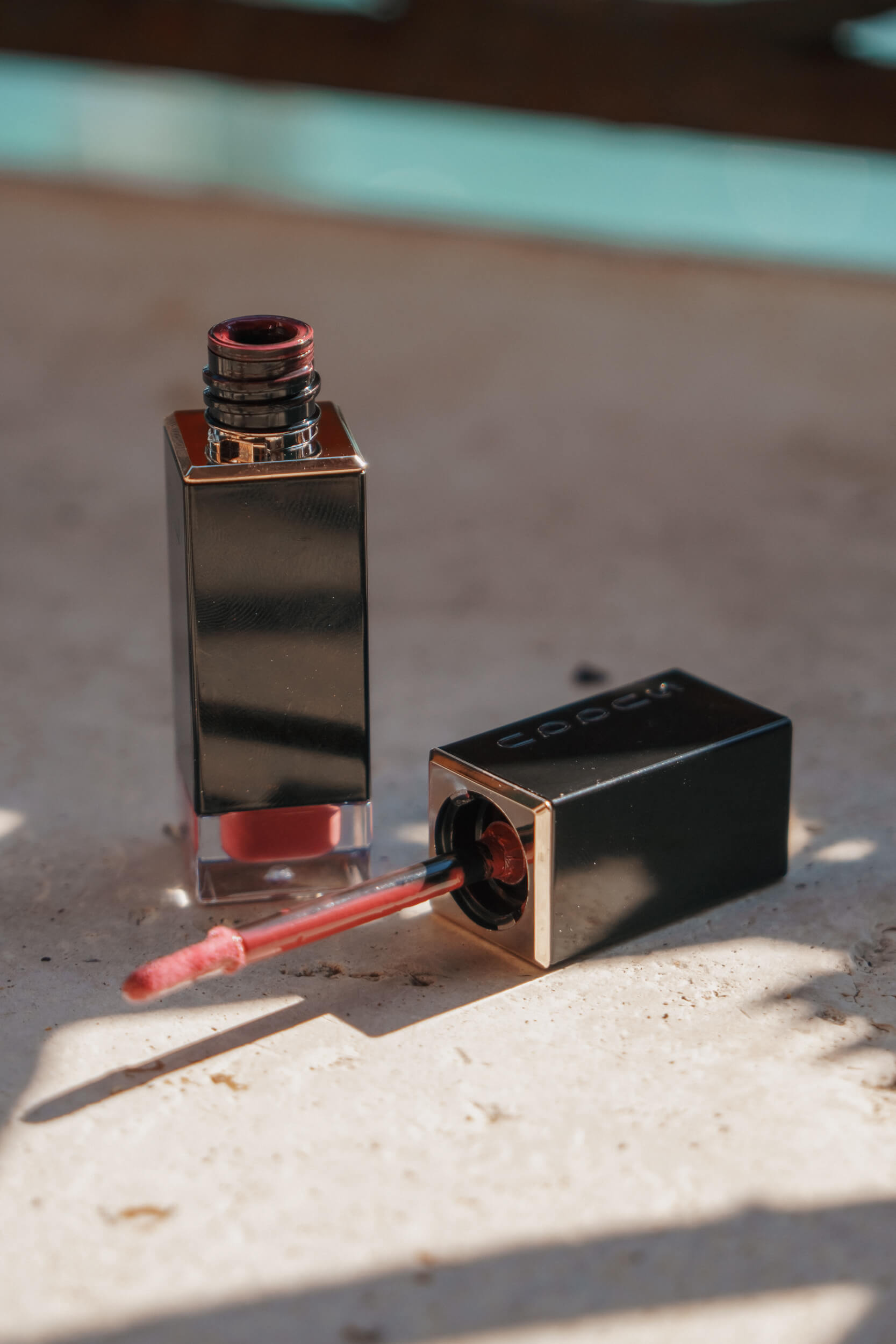 About using a bold color like the one you used on her, what's a piece of advice you would give to make it work? 
The NARS I used was a glittery green, I dabbed it on with my fingers since it sticks better if it's that kind of pigment: I took it all the way up and then I did a little socket line with it because rather than make it graphic, I wanted to make it soft, again like in the 70s. It's a little socket line sort of thing, as well, I didn't want to make it one wash of color, I wanted to soften it off a bit. The key is no hard hedges, make it soft, if you want to do that.
I'm always attracted to colors, I really love them, but sometimes I'm scared to do either too much or too little that you can't even see it, so color is not always easy. 
My advice is don't go too crazy, just build up the color and see how much you need, but the way that green would look gorgeous on you.
It's not always easy, and I have to say that vibrant colors – I hate to say this – look better when you're a bit younger, but you've got to be careful who you're putting it on, whereas if you're a bit older I'd maybe go more for a great color on the lips, but it's just a fine balance.
How was going back to creativity after quarantine?
You know what? My friend said, "Oh my God, you have really unleashed!" I got that feeling of, "I don't want to be too boring, I want to have a bit of fun." I hadn't done any red carpet since February, so I was worrying a bit about working with masks and all the protocol. Obviously, I'm cleaning everything, I've been very mindful with that side of things: I use a new palette when I'm mixing colors, I'm not using mascaras straight from the ones I got, I'm using disposables. Now it's a bit more of a process, I'm constantly cleaning and disinfecting whilst I'm working, I want the client to feel reassured that I'm thinking about this, I'm not being slumpy. We've always cleaned everything, but this is extra.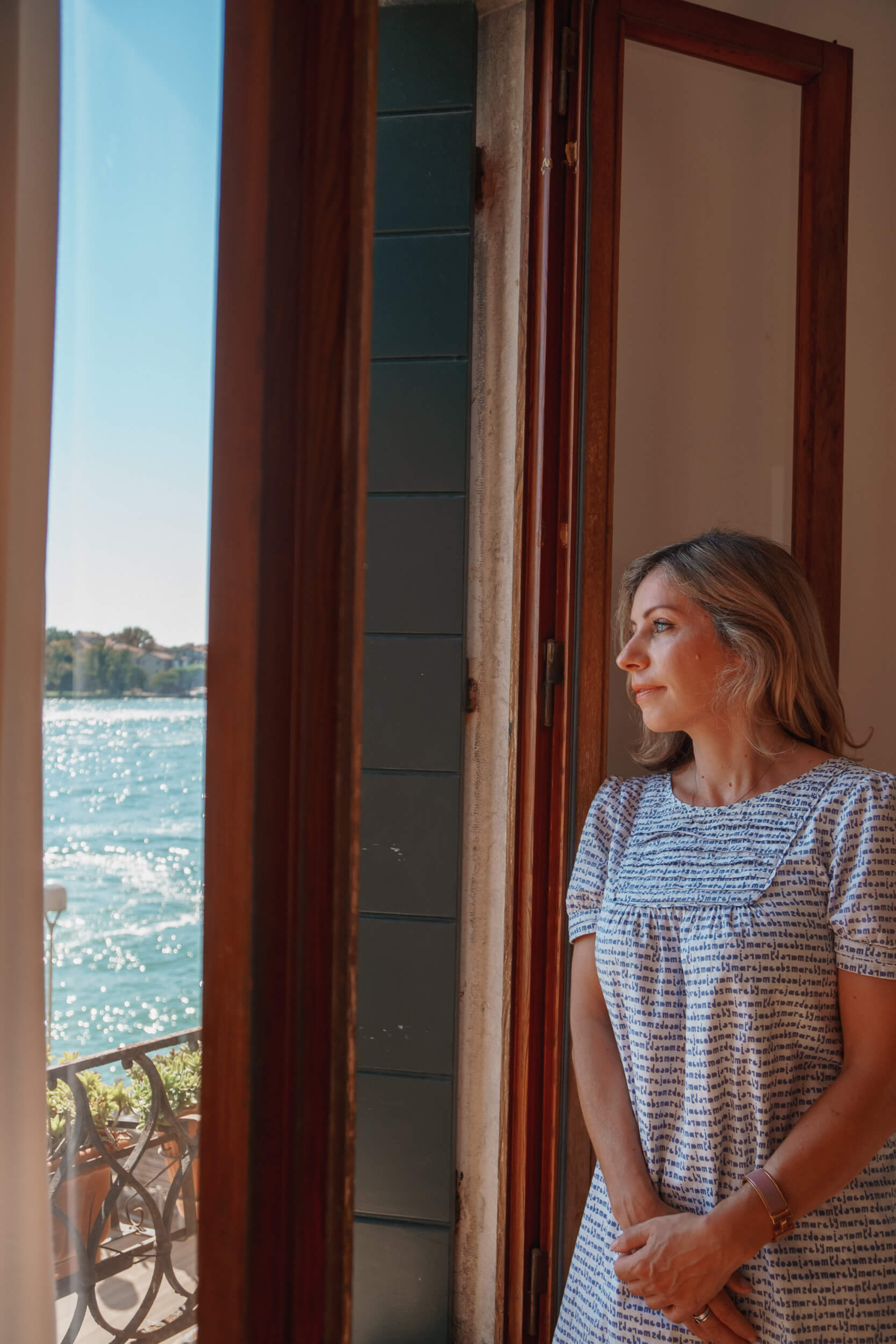 "I want the client to feel reassured that I'm thinking about this, I'm not being slumpy."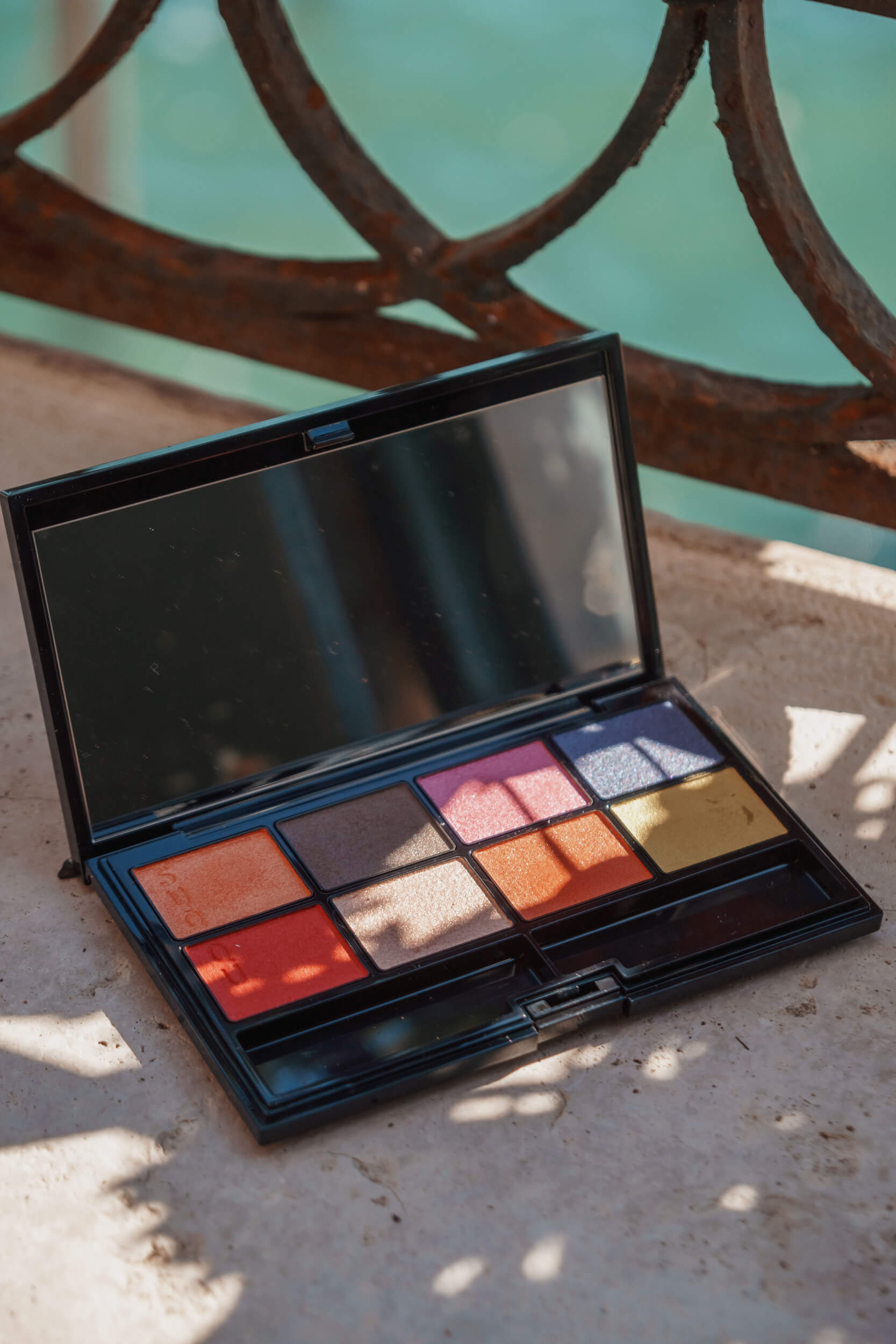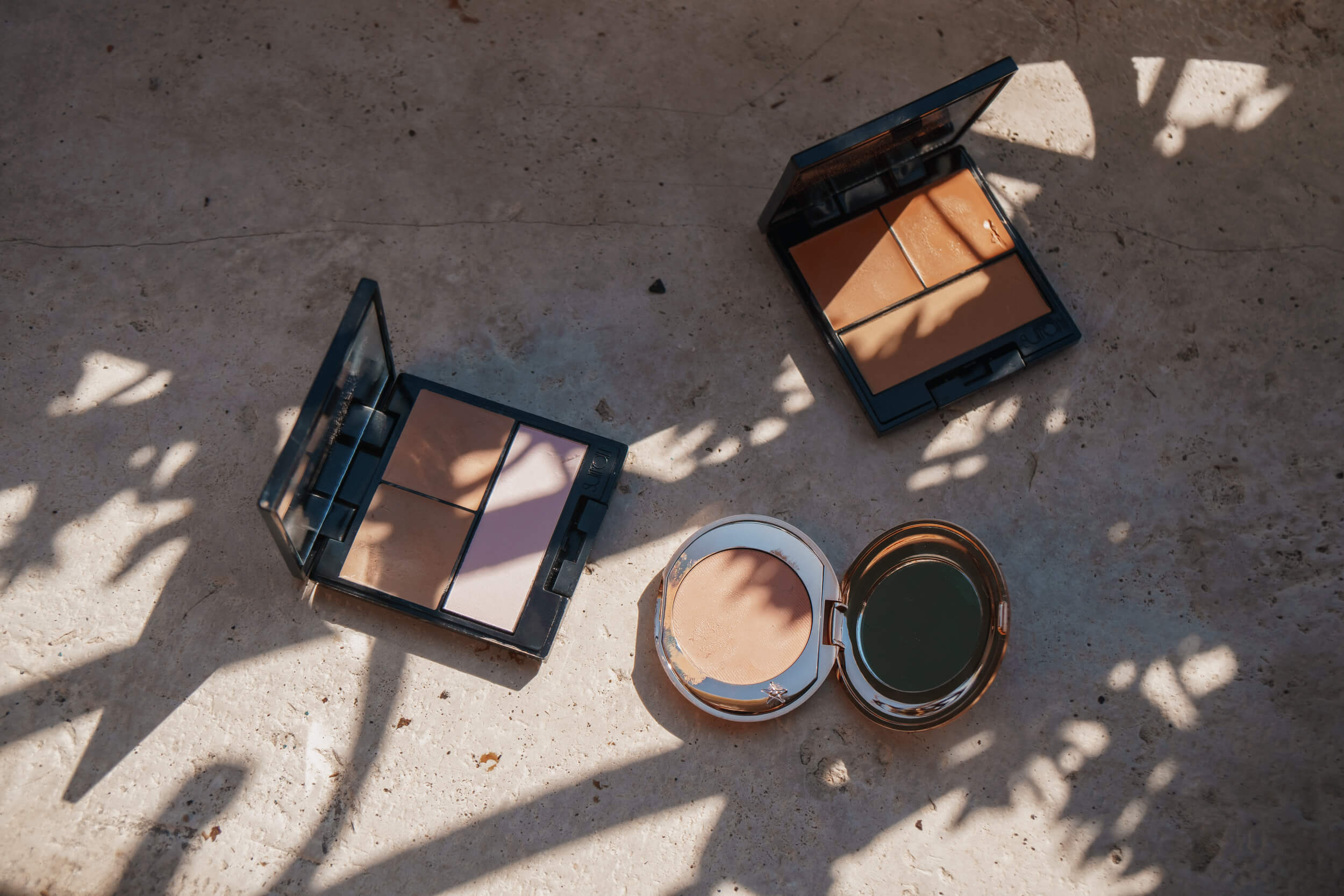 For you, has something changed now, with masks?
What I hate is that I have to wear glasses when I work, and I sometimes find that quite uncomfortable. If it's hot you steam up, and it's something you have to get used to, particularly in the humidity of Venice. Sometimes you get a bit claustrophobic. But we have to work, and we have to get on with it.
The first client I went back to work with I actually wore gloves, I thought I want them to feel safe, but It was really difficult working with gloves, because I'm so used to using my hands, so now I just wash them constantly and using hands sanitizer all the time. It's different times, but everybody is really happy to be back. There is this sweetness going around, we're all happy to see each other, we're all friends and we're like, "Oh my God, we're back here, how did this happen?" which is really amazing.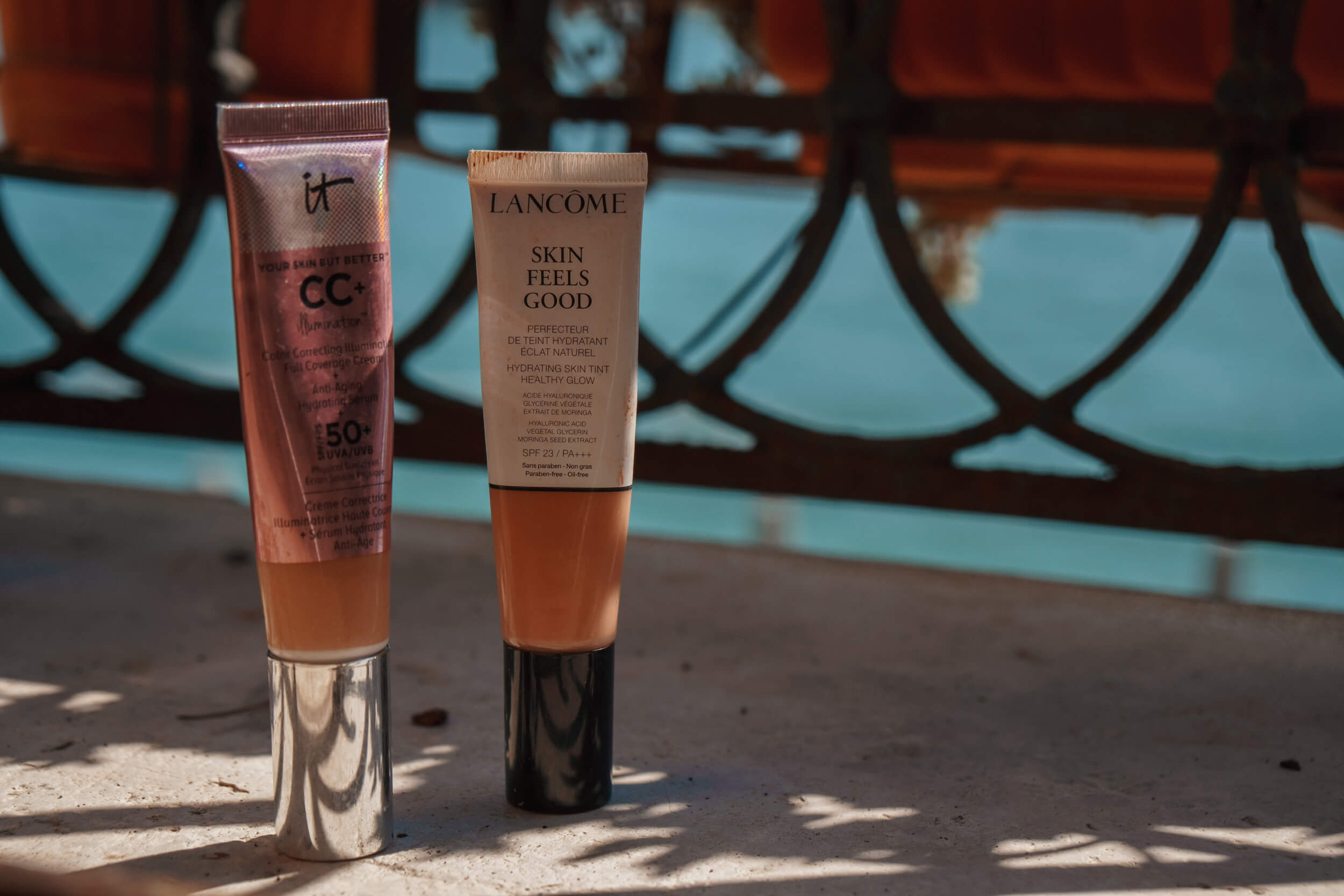 "t's different times, but everybody is really happy to be back."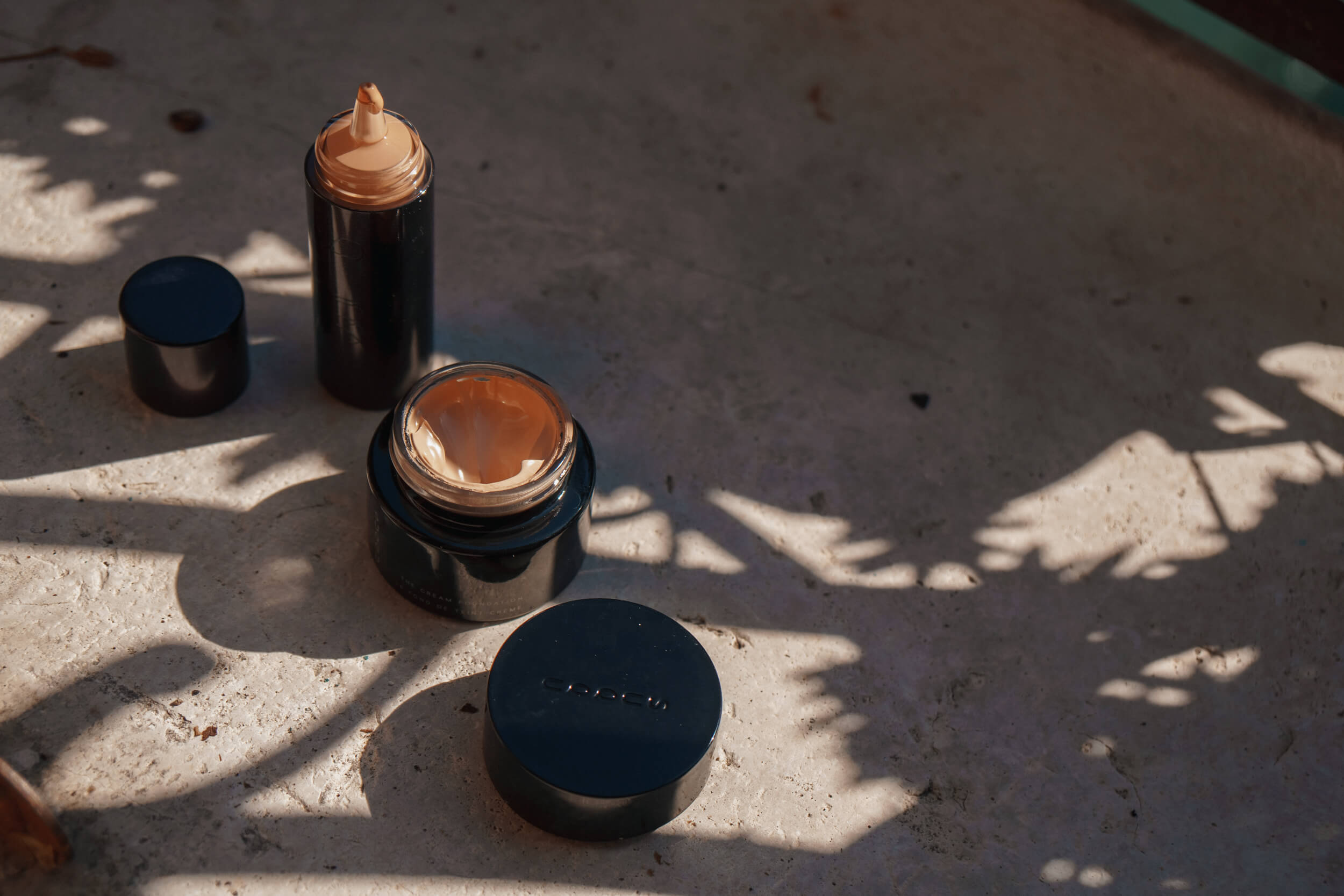 Venice this year feels like a little miracle…
It does feel like a miracle and I really respect the Italians who are making it happen and are making it happens so well, as well.
It's a really strange period. Who knows how it goes on, but I hope this makes people feel that we can actually make things happen. Now there's going to be the Fashion Week in Milan and there are going to be some shows, we're doing a little something, so Venice is paving the way.