Donald Mowat is incredible.
 That's the first thought that goes through your mind when you first meet him -he's sweet, and his smile as he introduces himself is lovely– and that's something that still lingers in the back of your mind when you listen to him. Another thing instantly clear is that Donald is surely very passionate when he talks about work: the movies he did, the one he likes, and the carefulness and commitment that he put in the details.
We met him at the Graphic Bar when the place was still quiet before the frenzy of a Saturday happy hour in central London. Immediately, Donald strikes as a kind person, and funny, and you also see how he must be very humble, but also keen to look for the tiniest detail in everything -something, we'd say, quite important when you work as the head of makeup department in a big production. In front of a Gin and Tonic (one of the very best in Soho), he opened up with us about his recent works, from the responsibility of "Blade Runner 2049" to the emotive challenge of "Stronger."
But Donald has also been crystal clear sincere, although he's so funny and easy-to-talk-to that you don't immediately realise it: he's not afraid to say out loud that "Stronger" was a difficult movie to work to -both for him and Jake (Gyllenhaal)- and that it probably deserved a better treatment (we agree, by the way). He laughs, too, as he says that "Blade Runner 2049" terrified everyone in the production. It's always a bit strange when people of great talent admit that something has been difficult for them, but you can see relief and happiness in Donald when he talks about "Blade Runner 2049" which, by his own admission, was a great responsibility.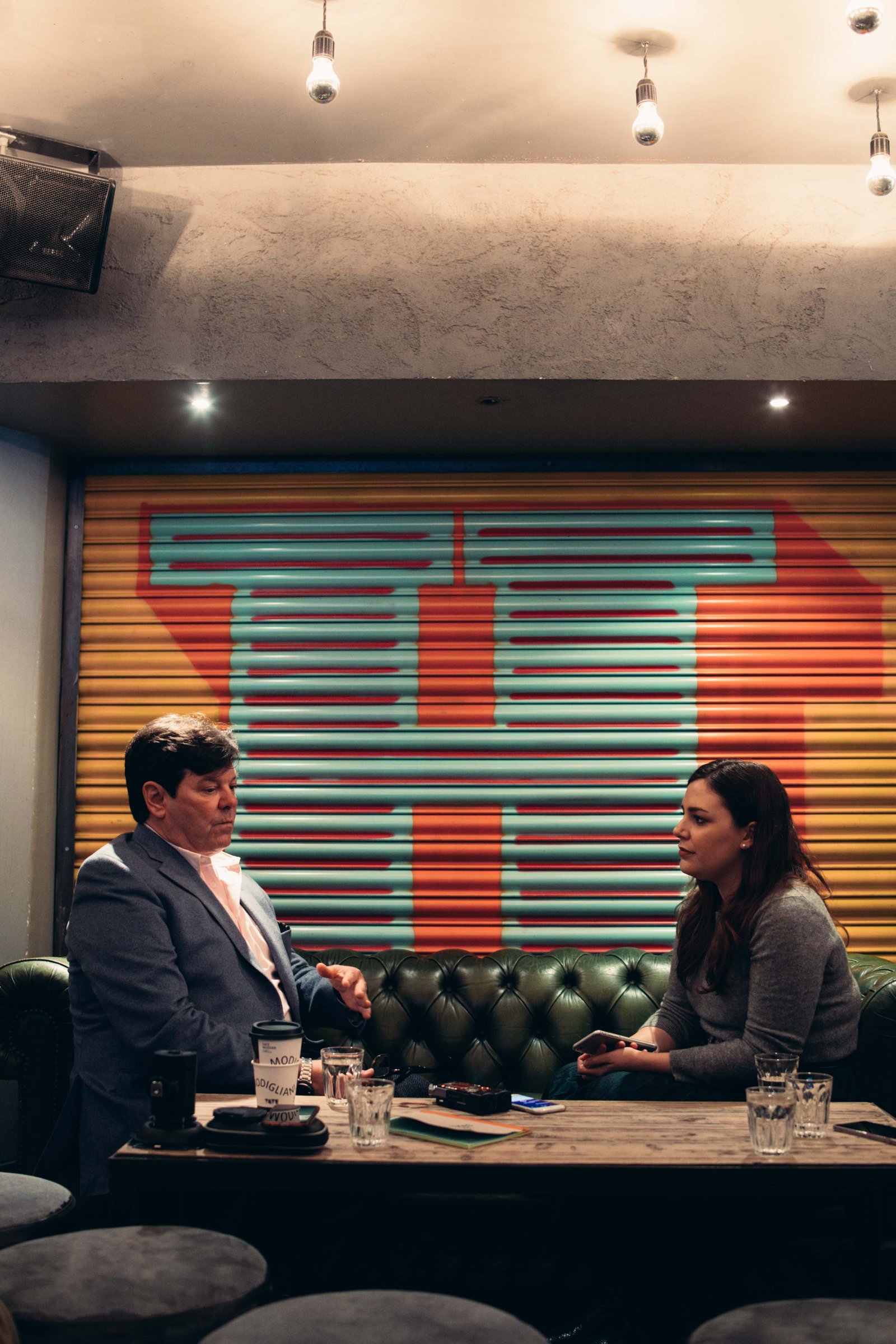 In the age of the reboots and sequels, everybody was terrified about "Blade Runner" and that's what convinced him. We must say, he went through magnificently (just look at Joi's makeup. Look at her.)
It's fascinating, hearing him talk about Jared Leto's contact lenses, his will to stay blind throughout his role, and about the importance of Joi's (Ana de Armas) lipstick, a tiny thing that could completely change the character's personality and appearance.
With a huge list of movies he worked in as makeup designer, from Skyfall to Sicario, Donald contributed in shaping a lot of fictional worlds as we see them now: relatable, true, and as close as possible to the reality we know.
Sci-fi isn't for him, he says, and it's intriguing how he finds challenges in the real world, in conveying emotions and experiences through makeup (as in Gyllenhaal's case in Stronger) and in sticking as close as he can to the veil between fiction and reality.
That's also clear in Blade Runner 2049, where Donald and Roger Deakins (director of Photography) were somehow distant to the genre, and that added that touch of reality that made the world of K. (Ryan Reynolds) believable, real.
By the end of the interview, so, the feeling was still there: Donald Mowat is really incredible.

He's extremely human, and yet his love for his work and his professional commitment are transparent. It was a pleasure to meet him, to get to know him a little bit and to share what's behind such difficult movies, although for very different reasons, as Blade Runner 2049 and Stronger.
"What I love about film is the sense of reality."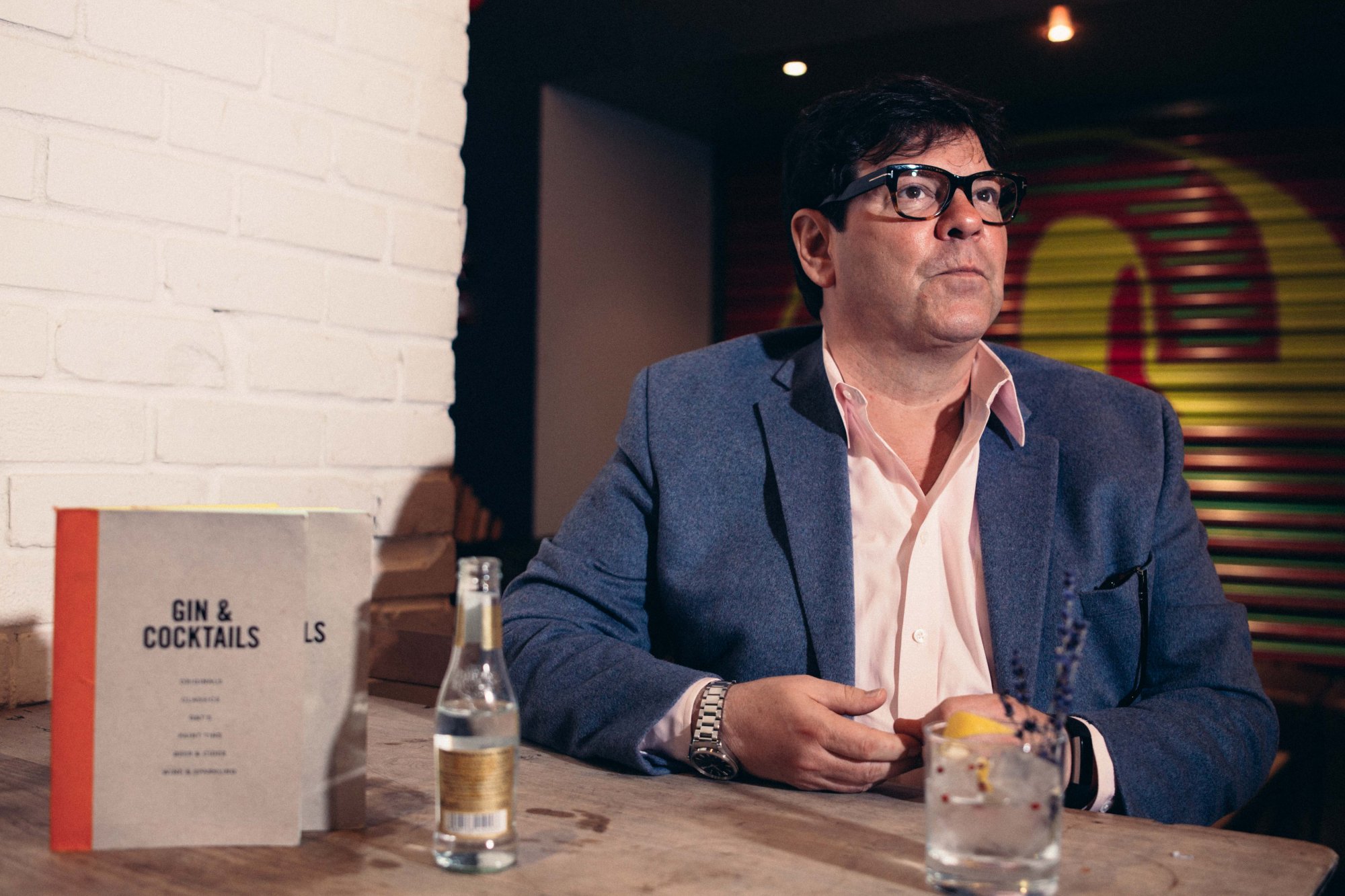 ___________________
When did you know you wanted to be a makeup artist for the movies?
___________________
Pretty young, maybe fifteen, because I really liked the films and the artwork, and my dad took me to the theatre a lot; it's like "Cinema Paradiso," when you make a connection when you are very young. I used to go very often, maybe some of the movies I shouldn't, maybe I was too young, but I really noticed details. When I was in high school I was a terrible student and I was making my parents crazy, really crazy, so I started to do theatre and drama and I ended up doing the makeup, the kids had to look older so I did it, and the rest just happened, people starting to say "Oh, get Donald to come and do it" so I did some opera, theatre, and some dance. That was it!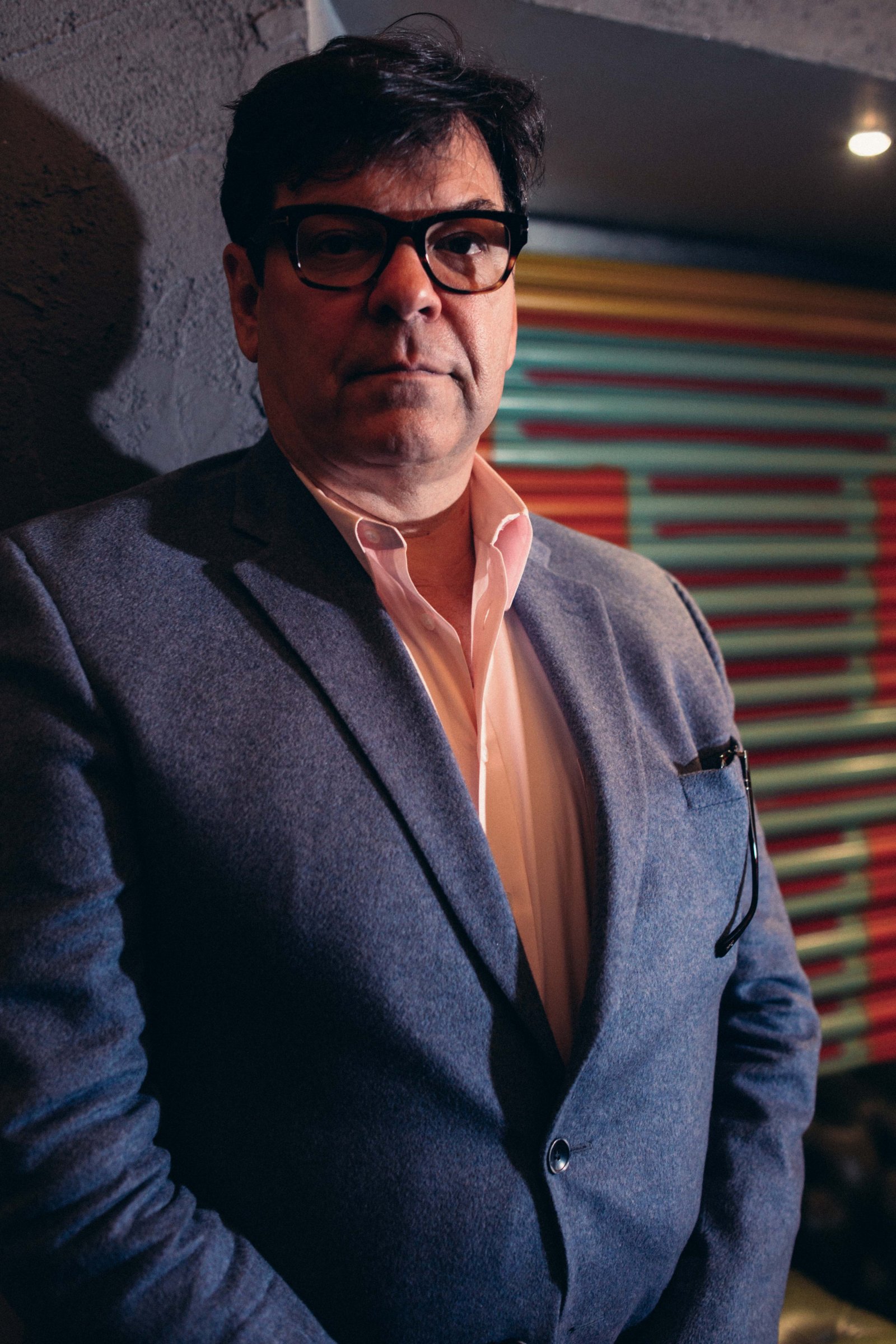 ___________________
Do you have any preference within the theatre, editorials or movie makeup? What's the biggest difference between these different branches of the same art?
___________________
I'm working mostly on films now, yet not long time ago I went to do live television with Ryan Gosling for SNL and it was hard because what they do is a genre, it's their own thing. Occasionally I work also in theatre, but what I love about film is the sense of reality, because I don't work in fantasy so much: "Lord of the Rings," "X-Men"? "don't call me!" I love it for other people, but for me, when they offered me the very first X-Men movie, I'm like "it's not my thing." So I think film is good for me. I like documentaries, and I love watching ballet and opera but again, it's not for me – I think you have to know, It's like when you are taking photographs, you know what you like, so when you have to do wedding you are like "well" but it's still photography. So that's for me how I felt a little bit.
___________________
As one of the most sought-after makeup artist in Hollywood, how does makeup influence your everyday life, outside the working environment?
___________________
Good question! I think no matter what you love to do, you are always thinking about it. Who does the sound, s\he is always listening. For me I like to look at people, all kind of people, I love it. So when I'm working on a film, I usually know when the director comes and asks "it's gonna be this" I know what s\he means.
___________________
Let's talk a bit about "Stronger"…
___________________
"Stronger" is one of my favorite job ever! And David Gordon Green, the director, is a remarkable man and it was a pleasure working with him.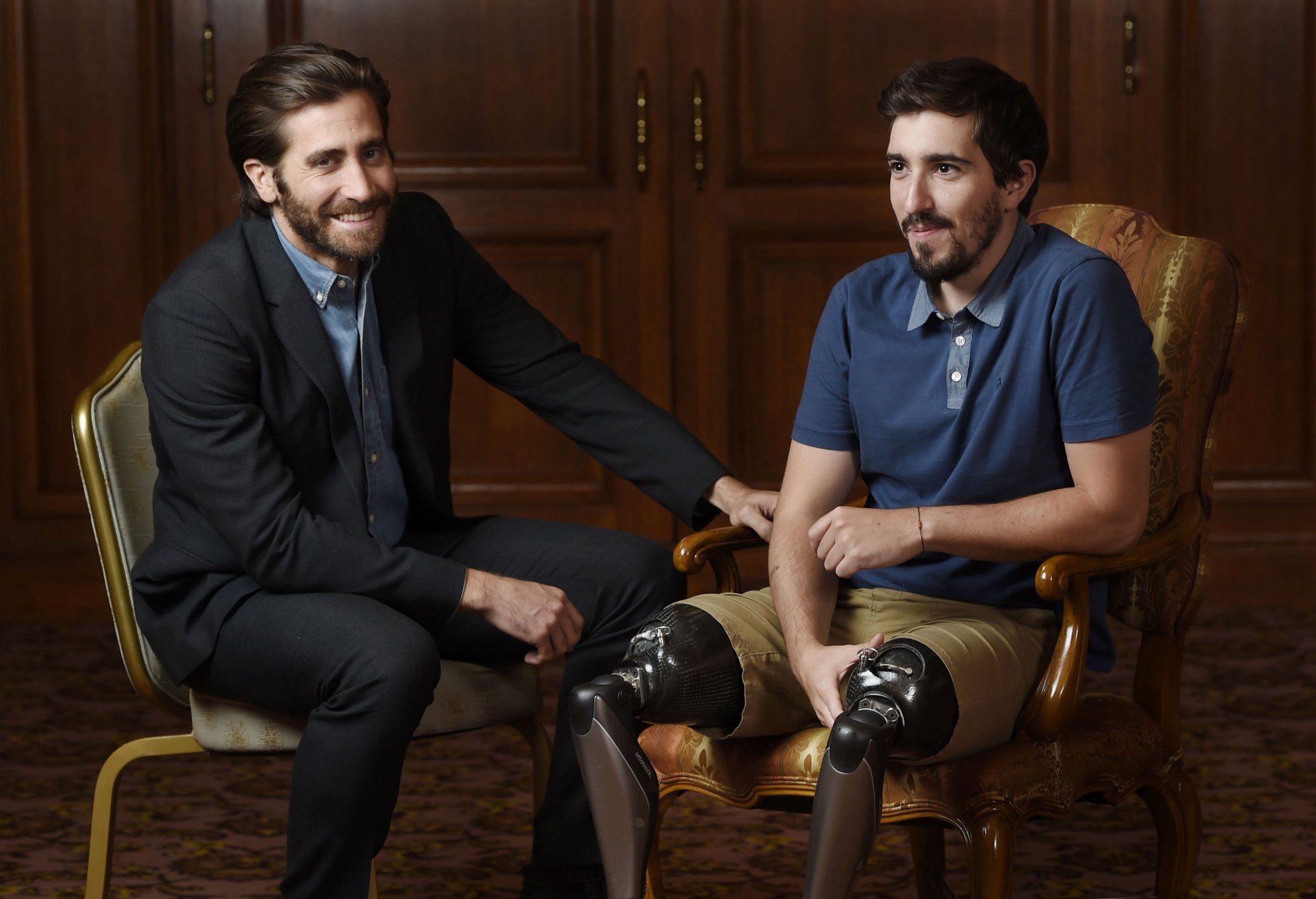 ___________________
You have to tell us how you did it. Jake Gyllenhaal face is completely transformed.
___________________
He is a spectacular actor. When we did "Stronger," what I found it was interesting with Jake was that he relied on me because he wanted to do a great performance. I think the movie was very badly treated. But for me personally, when I was coming back from filming with Ryan (Gosling) and on the plane movie library I saw "Stronger," and I watched it and I was crying. I said "they f***ed us up" because that movie is way better than people are saying.
With Jake, the biggest thing in the film was not only we had to do a live casting of his legs in three positions, so he could wear the prosthesis but that was easy, that's not a big deal because he sits over his knees. But with Jeff (Bauman), when I saw Jeff in a research, the one thing I noticed was his eyes. So I said "let's do dark contact lenses for the look," since we were trying to make his eyes not as blue since Jake's are so identifiable. So I tried for green, but when we went to the eye doctor and I choose a color, they went brown. and it was serendipity because it's like it happened and it was meant and Jake said: "this makes me look dope" and I said "yeah, but look at Jeff' because when you have a major catastrophic injury, your eyes are different. So that's why we decide to do that. And I primped his hair and made them look very sick, thinner.
And the doctor, Dr. Jeffrey Kalish, who was the surgeon that amputated Jeff, I phoned him and said "Dr. Kalish, can I talk to you?" and he helped me with all and gave notes, so when you see the debris and the legs, he had verified everything I did and said "Good job" and, as soon as he said that I said, "ok, I'm happy."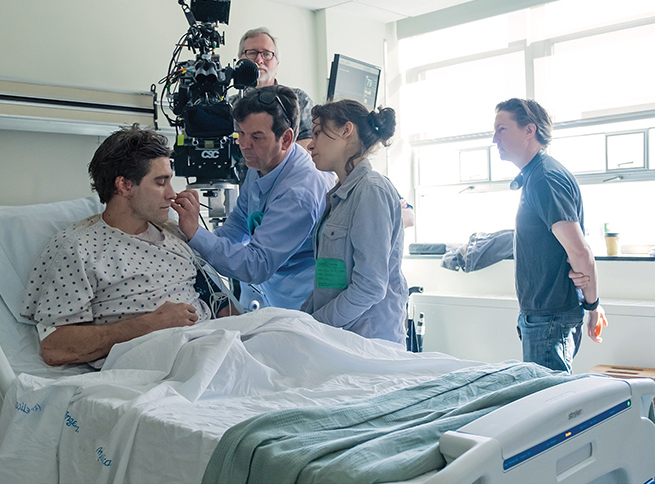 ___________________
Wow…A lot of work!
___________________
A lot of work. For instance, Tatiana (Maslany), she is in "Orphan Black," so I went to see her on the set of the series in Toronto and I'm looking at her and she is pretty, and I think "but how is she supposed to look next to him?" and she asked me the same and I said, "you need to look as bad as he looks, because that's your guy," like she feels responsible. And then the mother is Miranda Richardson, and I thought "she is wrong, she is too beautiful" so we changed her eyes a little bit, and I got her the wig and make her face look like a little bit like she drinks too much and smokes too much, because she is too beautiful and very elegant. She is so English, very British and tiny and very pale, so we did that with her and it was just a joy.
___________________
About "Blade Runner 2049", can you tell us a little bit more about the mood behind the scenes and the creation? It's very difficult to make such an iconic sequel, how was it?
___________________
It was terrifying! I was a huge fan, I saw the original one when I was very young, and I started working in the industry in 1984 so for me it was iconic, because Michael Westmore created the makeup and I loved it. And I used that – especially the look of Rachel – as my inspiration in my very first job, a TV programme in the 80's. And on the film (Blade Runner 2049), I did watch it a little bit of the original in the beginning, and then I stopped, it was starting to make me compare it. I am not Michael and I didn't want to copy what he did. I was very worried that I was going in that direction and I would be coping something. And Denis Villeneuve, we did "Prisoners" together and "Sicario". I love working with him, Denis knows how to create tension.
And when he called me for "Blade Runner" I was like, "why are you calling me? it's not what I do" so I was a little nervous and I felt insecure. The, one night, I was having dinner with Roger Deakins, the director of photography, and his wife I was saying "why me?" because Roger does not do Sci-Fi either. But then that it made sense because I work a lot based on reality and I know how Denis works, and I know he didn't want crazy. But people think about "Blade Runner" as something big and sometimes creatively that's a big mistake because you can become a distraction in the film. When I started prepping, I did phone Denis Villeneuve up and, I was still doing "Stronger" and I was very tired at the time, living in Boston, and said "I don't know, I'm scared of this" and he goes "Don't worry my friend, we are all terrified" And then I thought: "ok, we are ok now, we are terrified together!" That's what happened.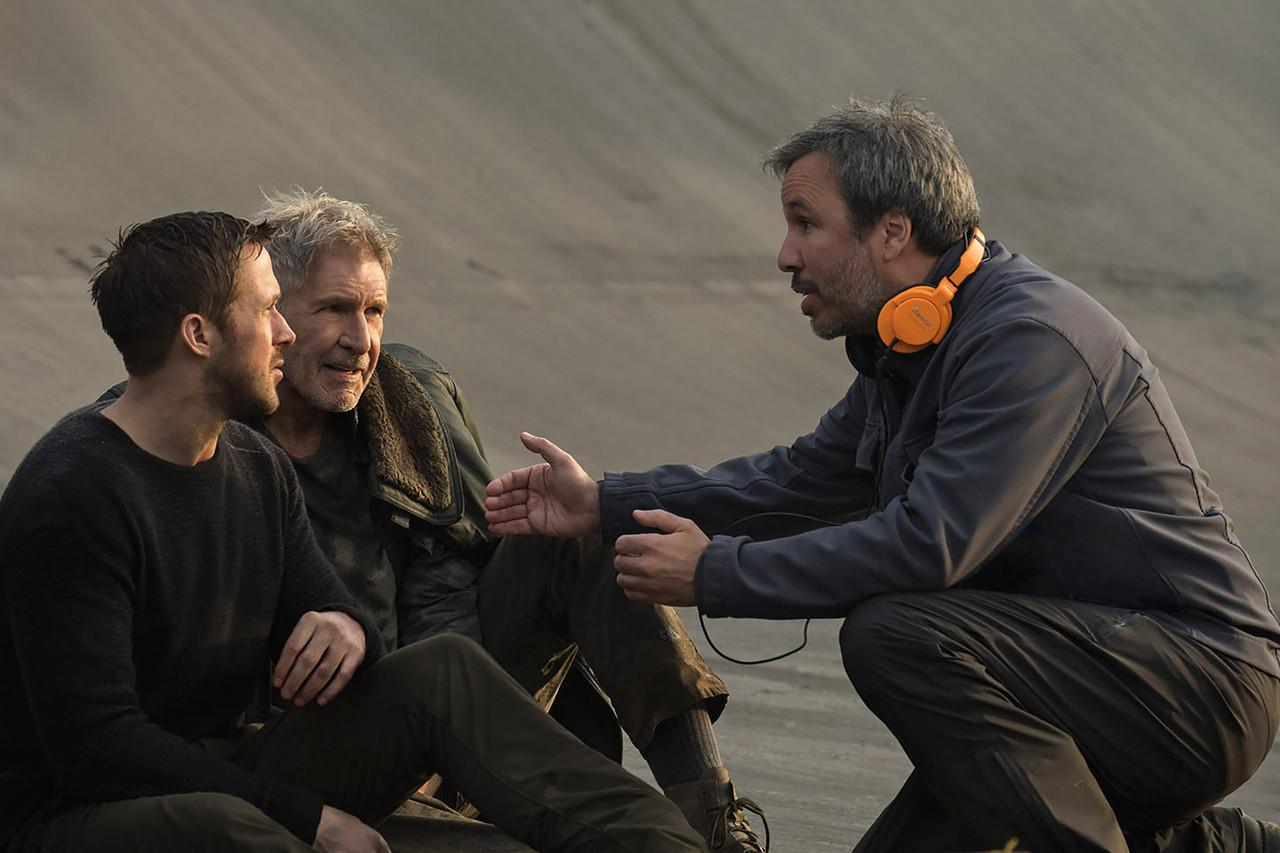 ___________________
And how did you work on the moodboards for each of the characters' makeup?
___________________
It was hard because I went to Montreal where Denis lives to talk a little bit but he really had to take time; he was still wrapping up "Arrival." So I went back to L.A. for the costume fitting and during the first fitting, I met Robin Wright, Ryan Gosling, Ana de Armas, and Sylvia Hoeks, basically all the main actors. And I took Ana and Sylvia for contact lens fitting, then I met with Ryan just one time, just to get a feeling, and then Robin. But you know, those meetings are usually "Hello, how are you" and you know nothing, and you leave.
And then we went to Hungary and it started there. Denis sent me some pictures that he thought were very inspiring and I looked at some and thought, "I don't think so." And it's still interesting because you get a sense but it's very important to say to people that it's the element, that you may start here, but it does not mean that this is what it is. It's just saying, Alexander McQueen with those amazing makeup with the black mouth and Denis likes that, but we are not going to do it but we may try something. And then I would pull my own pictures and he liked to see them.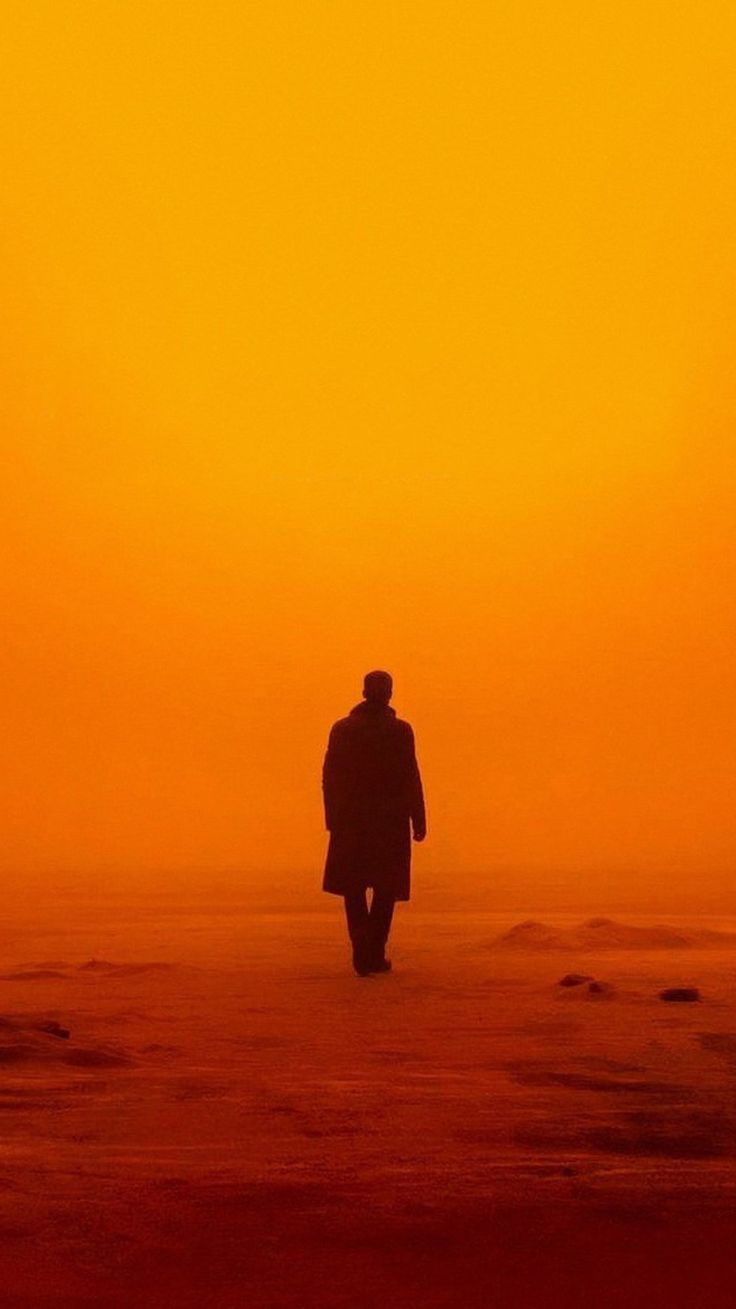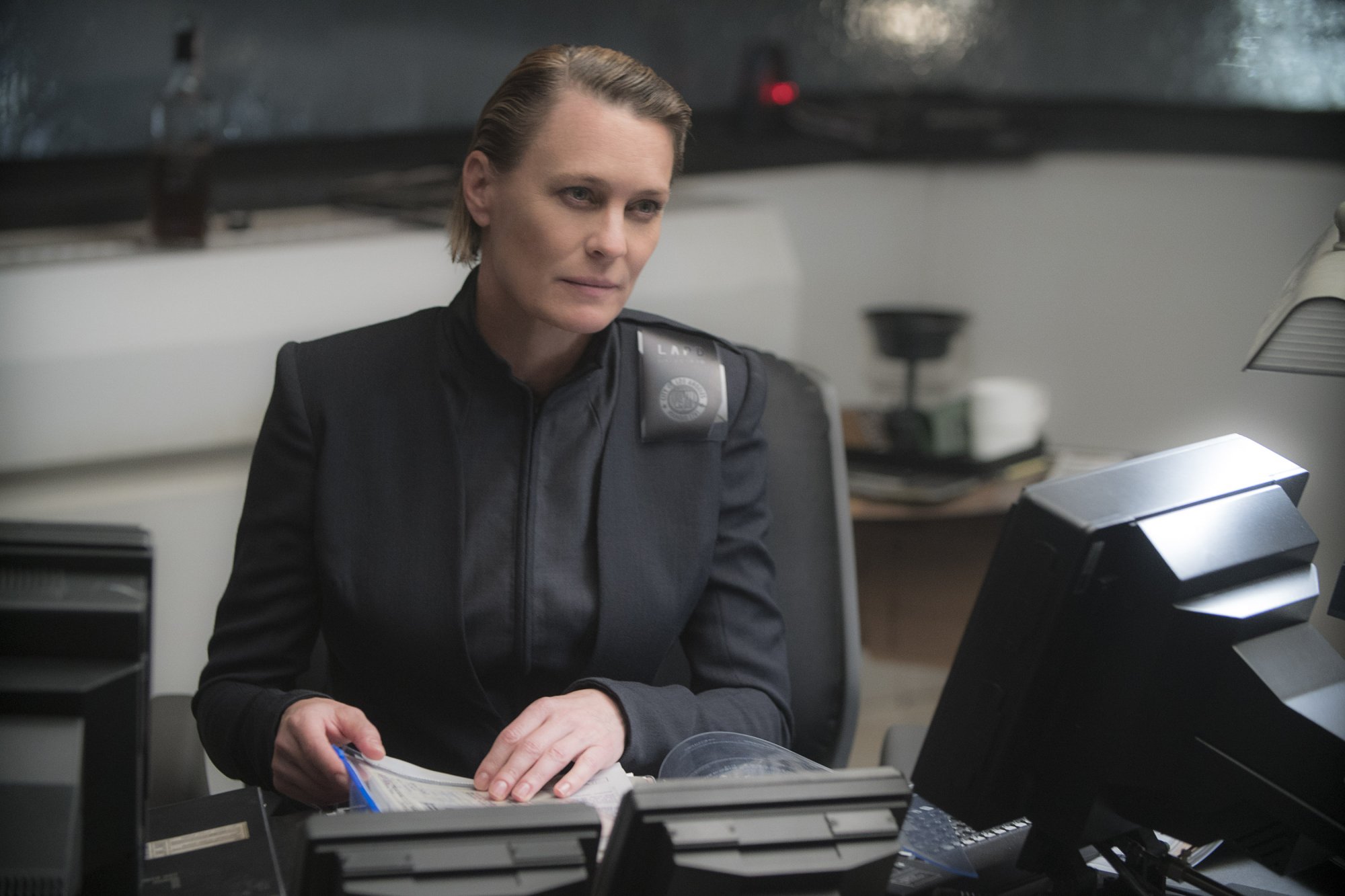 So for Robin Wright, I don't know why I thought Jeanne Moreau, I thought that was interesting and he liked it because it was a hardness to her and Robin may not look as beautiful, or as fresh as she does in "House of Cards."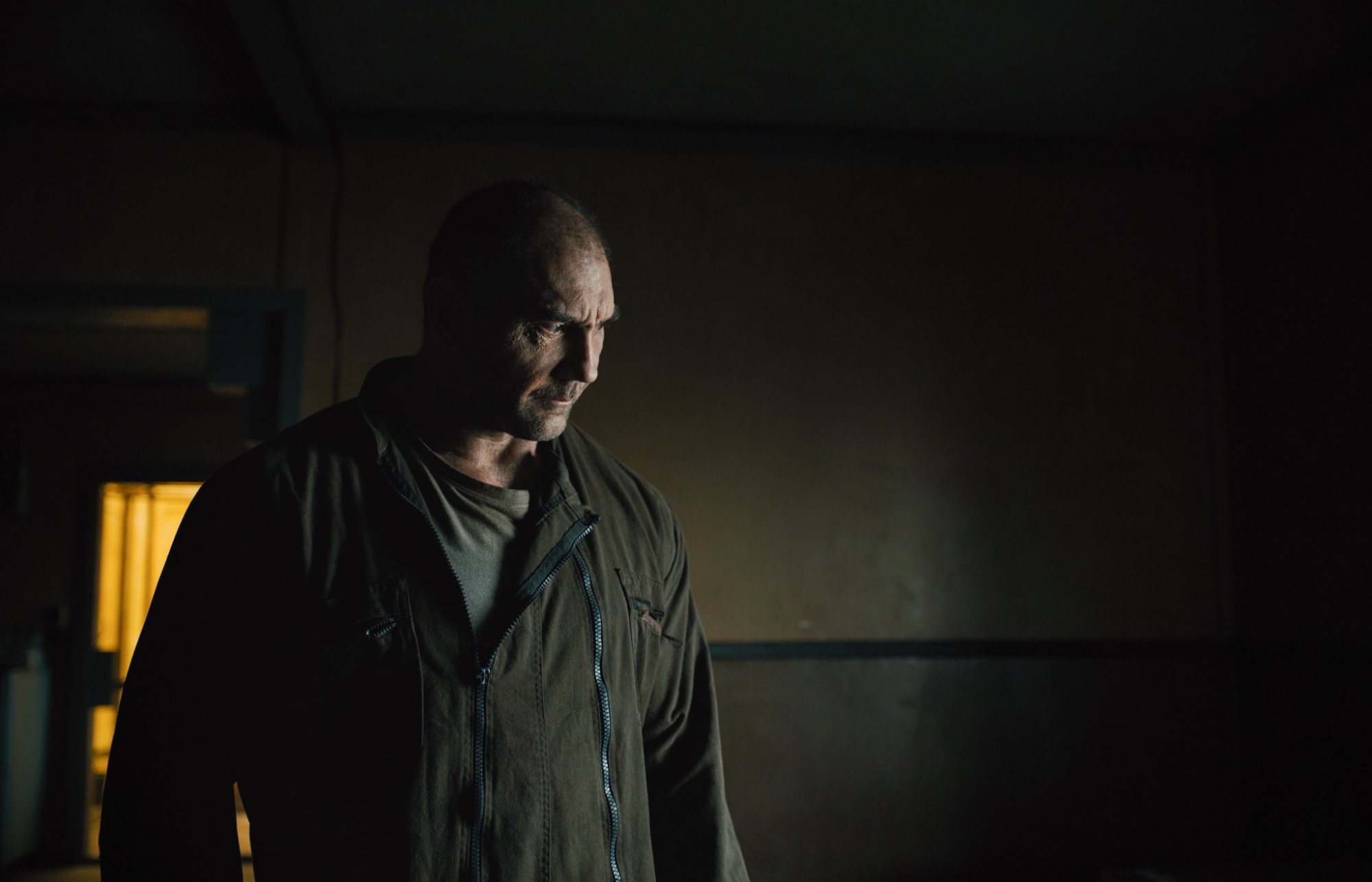 And then we did a pre-makeup test for Dave Bautista because they thought he was too young, he is the only actor to have made a pre-makeup test to approve since we had to make him look older.
Ana de Armas was a challenge because she would be Joi, and so I met her in LA, she is very funny and we had a lot of fun together and of course, she would be pink.
And the pink started of as red and then it was yellow wise, I thought it looked like Mystique from "X-Men," and I didn't like it and I said to Denis "I think this is not gonna work" so we talked a lot, but all he kept saying was "it has to be pink" and I said to Roger "What color of pink?" and he goes "Bubblegum.", so we did the contact lenses and changed the wig.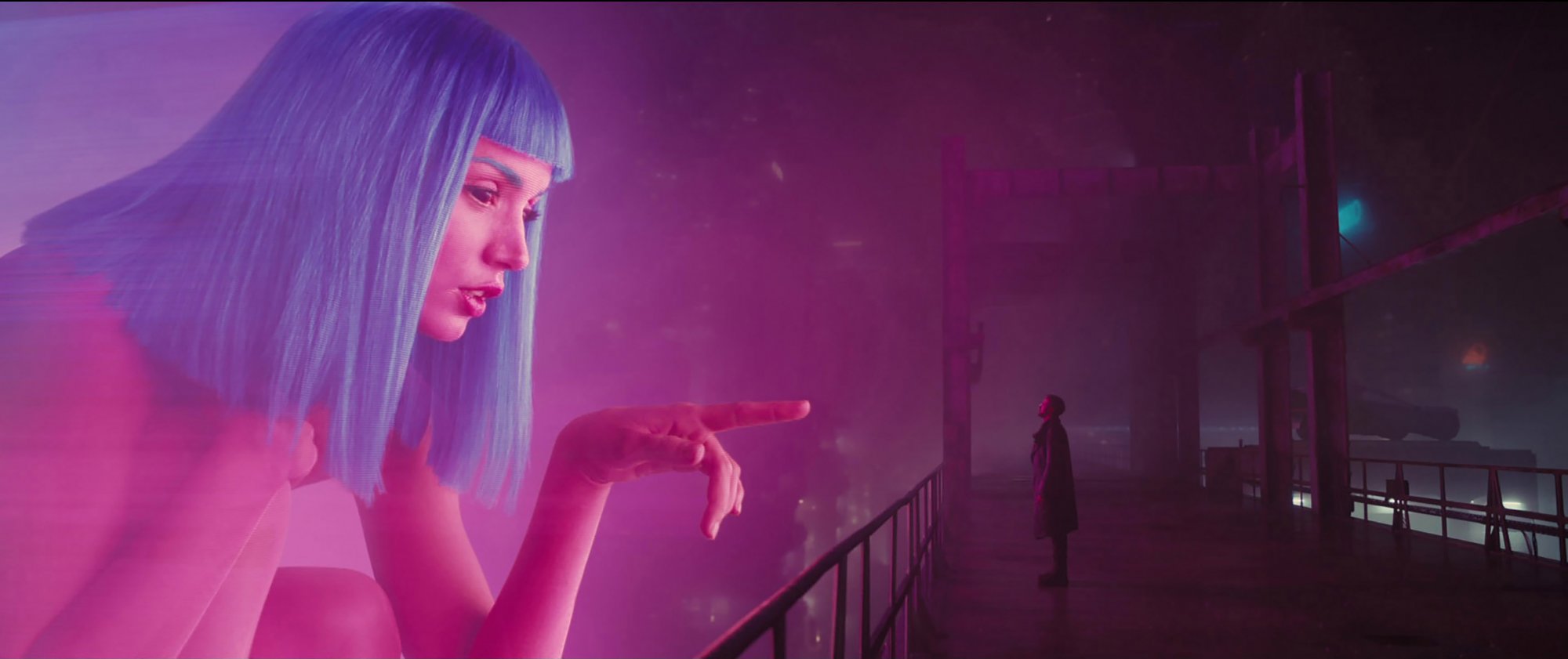 But I did a board for every single actor: every actor, would that be the replicants of Sylvia Hoeks, a bit robotic and a bit androgynous. Originally the look was supposed to be very elegant, sophisticated and chic like Tom Ford or Chanel. Denis said, "if you put her in the red lips, you know she is the bad guy," and that's true. So we said no: it's like Cruella de Vil. We got rid of that and now she looks a bit more gender neutral or something interesting.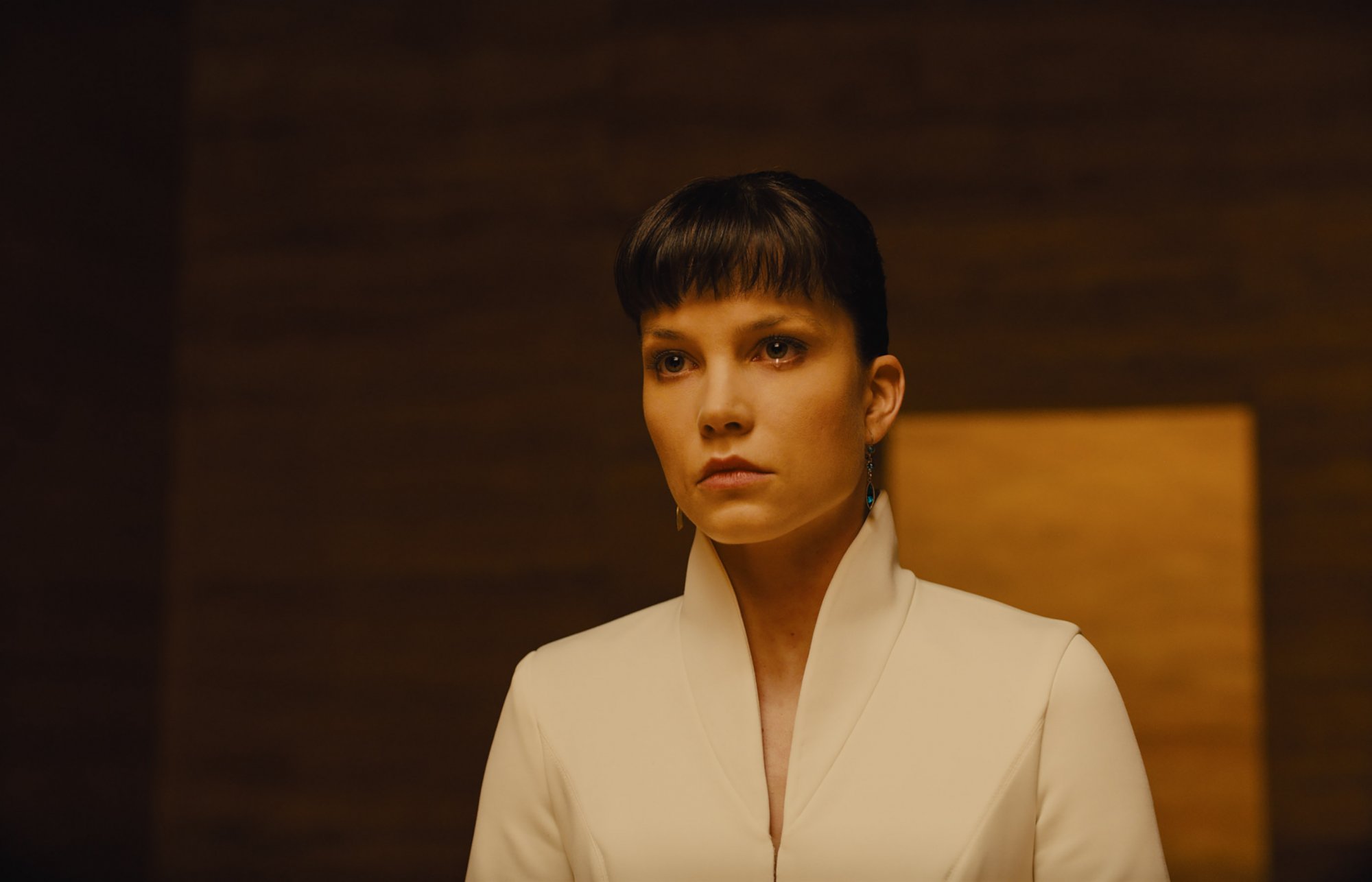 ___________________
And what about Jared Leto?
___________________
It was very hard with the contact lenses. So for the casting, at one point, they talked David Bowie, but he was dying very quickly, and it was very sad, we thought maybe Tilda Swinton since the character is within a very androgynous world but when Jared took the part, it was exciting for everybody but then he couldn't change his appearance very much, because he was doing another film. He scripted as having this eyes – that could be a little bit goofy because every movie they do something. So I called the people who make the lenses and we did a very specific design, hand painted, two pairs of contact lenses, one over the other, we called it a piggy-bag, and then he couldn't see.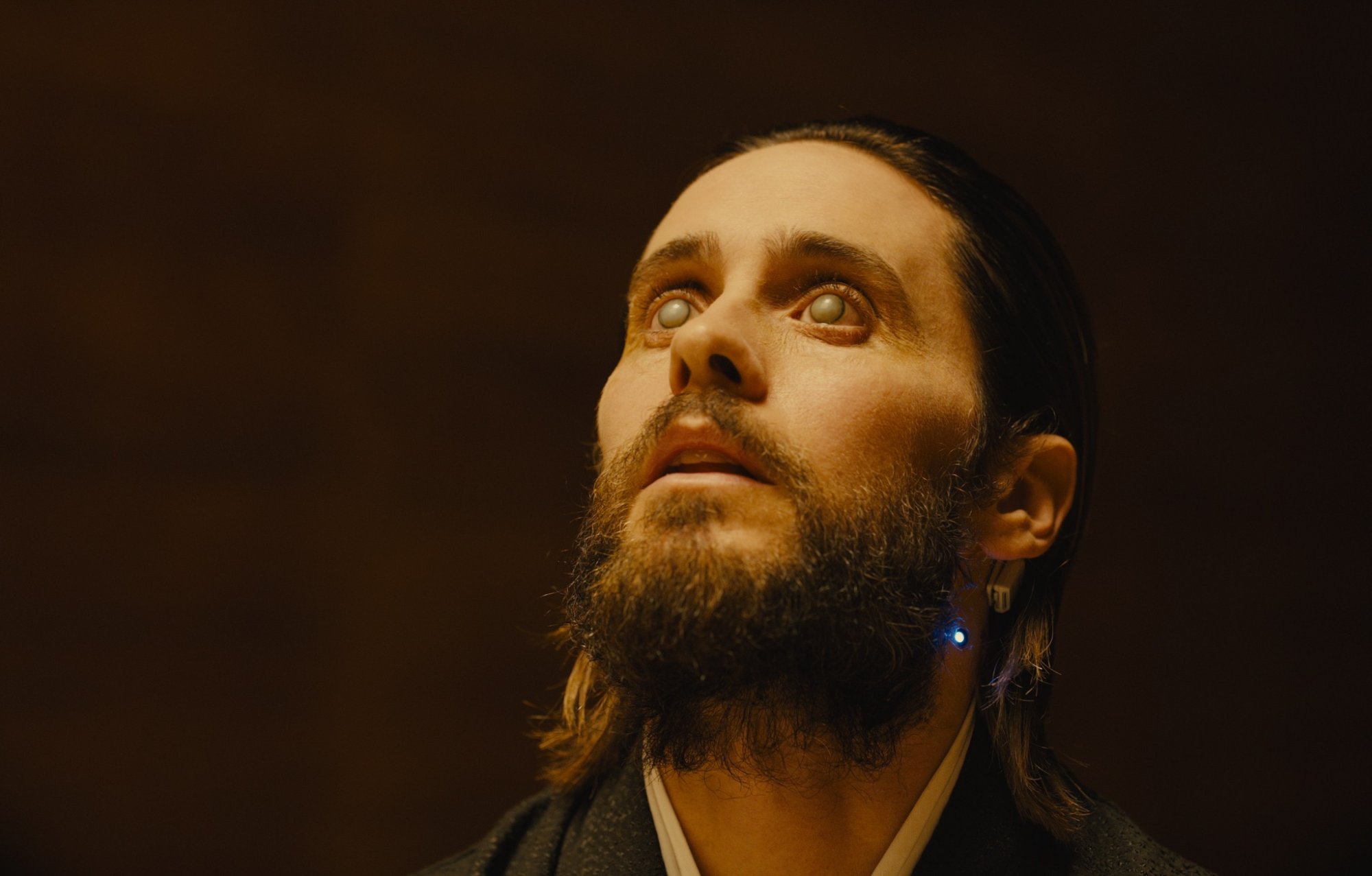 ___________________
And he stayed "blind" for a couple of months.
___________________
He had to keep them on, so he saw me, but I remembered that on the very last day he said "Oh I thought so-and-so was like a funny guy with white hair" "no, no, he is a short guy and he is black " he really stayed blind and that was very funny because he didn't want to see anybody. So, he saw me in the morning, and we did his make up and then he had the lenses in and we went to set with him.
___________________
We already said that the original "Blade Runner" was incredible. How, at a certain point, did you maintain the pressure under control with all the expectations, was it a team job?
___________________
My team is amazing because they know me and I know them. I had a wonderful lady from Budapest, Csilla (Blake-Horvath) and Jo-Ann Mac-Neil, she worked with me before, I brought her from the UK and Jason Collins from LA. I hired Kerry Warn for the hair. But it wasn't a big hair movie, it was more bringing it back and that's hard to do because everybody can make people do something big. I think it was a sense of reality and keeping it real, for real!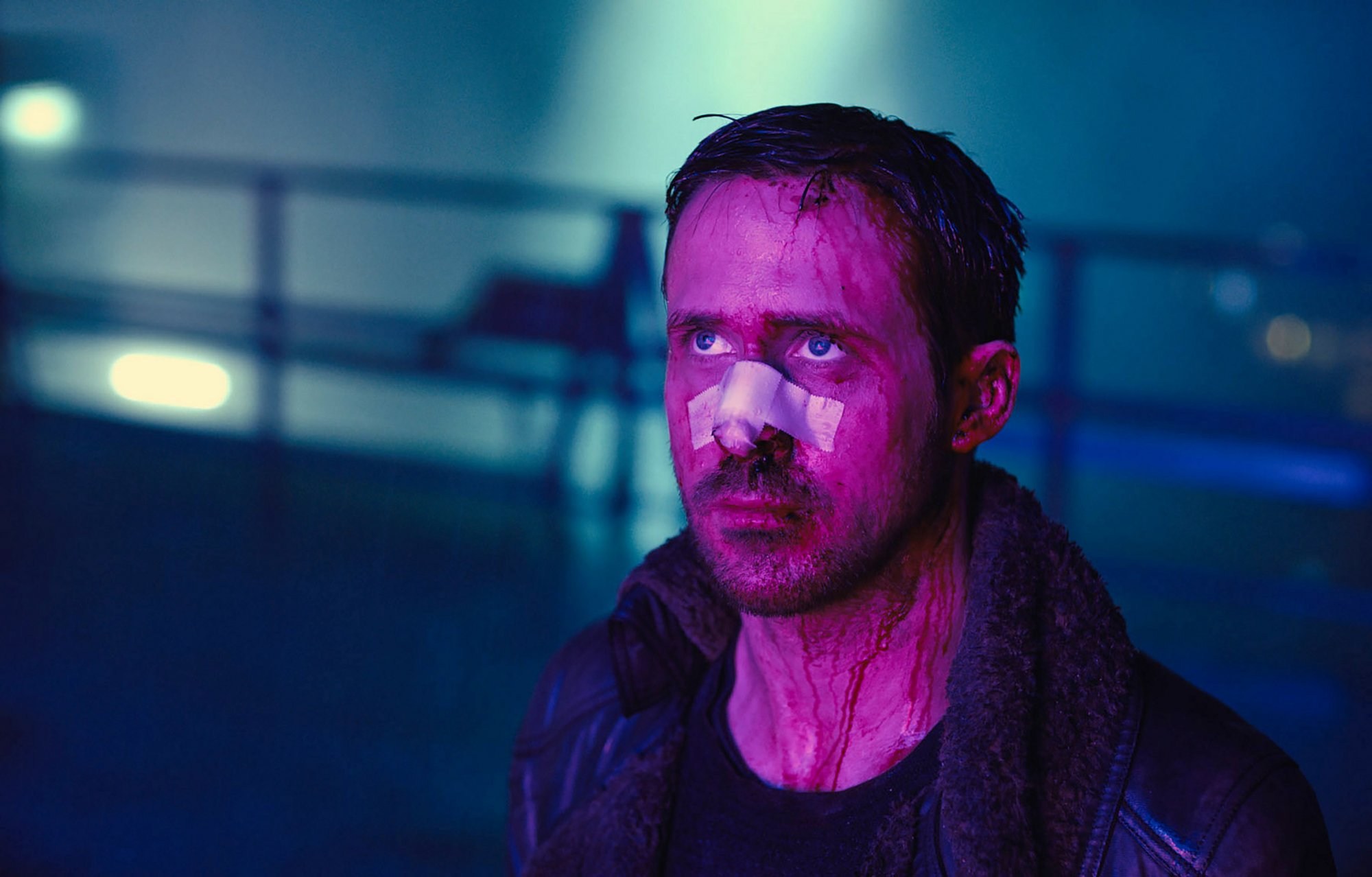 For Ryan, my reference was Jack Nicholson in "Chinatown" with the bandage on the nose.
___________________
And your favorite movie make up, of all time, if you have one?
___________________
I would say, "Barry Lyndon," it was really impressive and I thought "Cabaret" was kind of impressive too. But then I love simplicity like "Howards End" and "Barry Lyndon," because of the nuance stuff, people doing really beautiful work that you don't notice. Or "Atonement," I thought the makeup was brilliant because you never noticed it. I saw "Barry Lyndon" when I was 12 years old…Every image is a painting.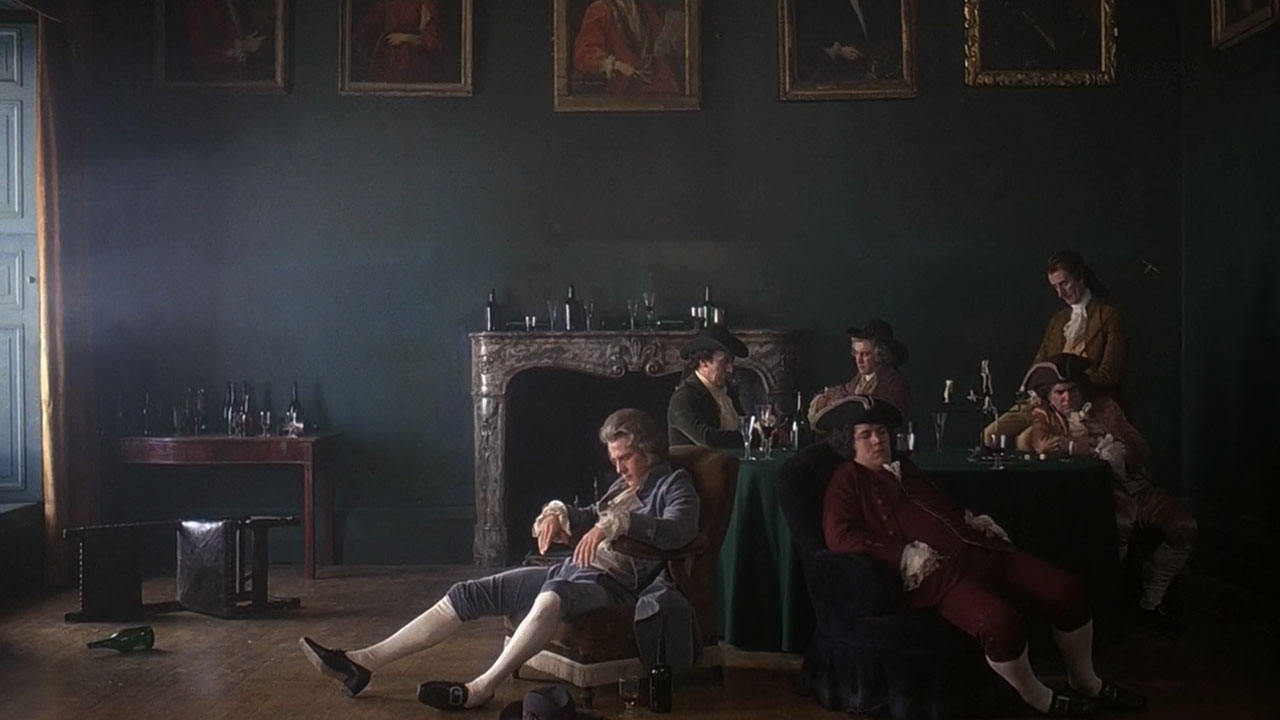 ___________________
What's your dream project?
___________________
Probably I've been very lucky to work on some good things but yes "Blade Runner 2049" is pretty much a dream project. Lots of people mix it up because they think that dream project means your favorite, it wasn't my favorite, it was hard. I mean "Sicario" is one of my favorite jobs and it's one of my favorite films, I loved working on it, I loved going to work, the actress, I loved everything about it. It took some work, it was very specific.
___________________
What's next for you?
___________________
We have one more day left with Ryan Gosling and Claire Foy, it's a film about Neil Armstrong Apollo 11 set in 1969, we have one day left. We filmed in Atlanta and we went to Cape Canaveral last week, and we have one day left. And I am prepping now for Dan Gilroy's next film with Jake Gyllenhaal, Rene Russo; it doesn't even have a title but it's very interesting, it's a little bit like Nightcrawler, a little bit like Nocturnal Animals.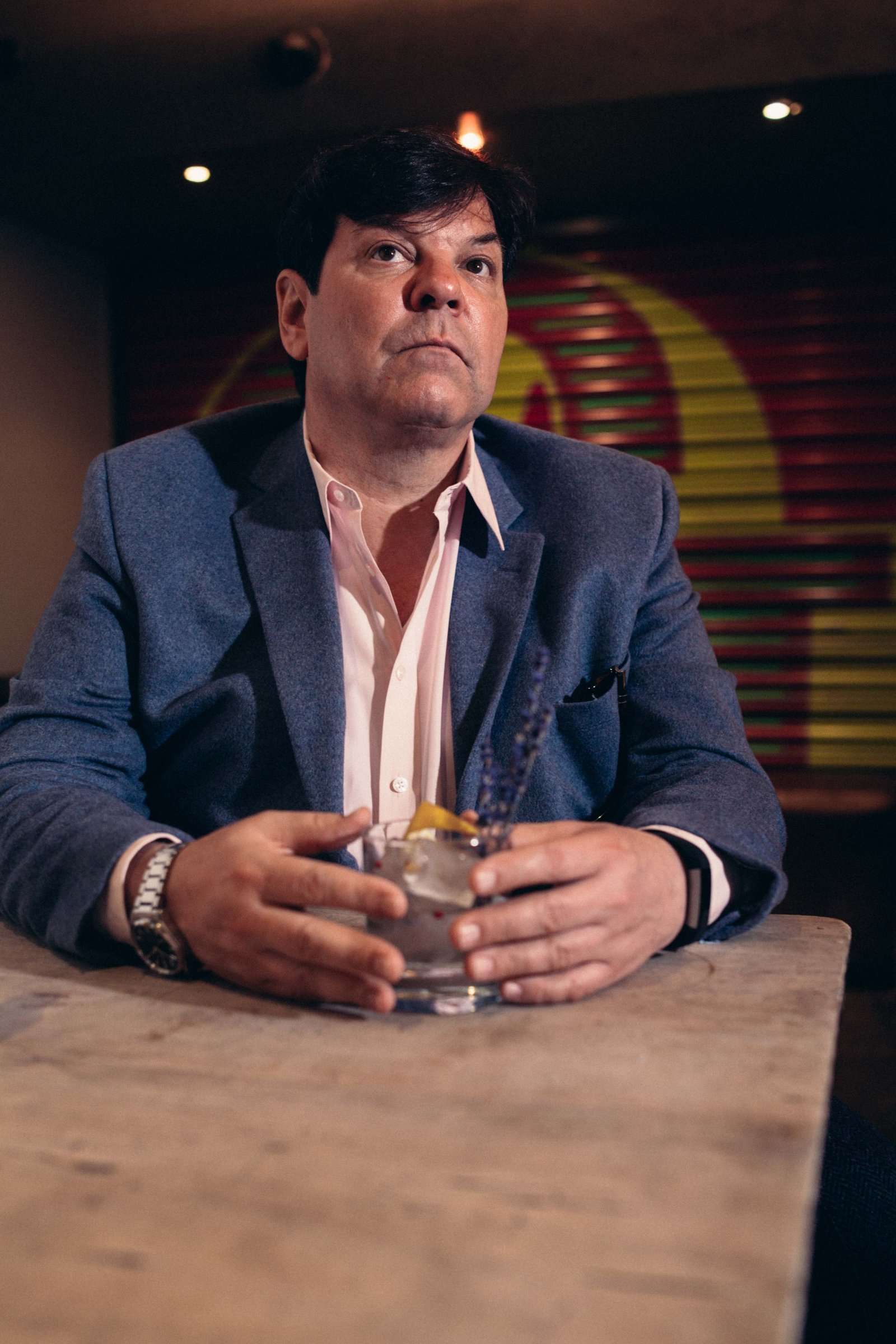 ___________________
One last curiosity…How was receiving the Queen Elizabeth II Diamond Jubilee Medal?
___________________
I think they should give people things in everything, in the real world. For me, what I really like is to meet people who do real jobs that are very significant, so when I went for the Queen's Diamond Jubilee medal there was somebody who did something that I'm impressed with – movie stars whatever – but somebody who did something like a cancer cell and someone who discovered some type of painting, someone who works with an indigenous tribe, that's interesting . To be with people that do things, volunteer, health care, that's very impressive for me to see. And you are out together and you meet people who have a life like that. There was a guy that was a specialist in some kind of poetry, I was fascinated. I have a friend here who is specialized in Italian Literature and she is from Philadelphia. Go figure! But she went to Cambridge, and she studied in Venice. That's what interests me.
In the film business, you might take yourself too seriously, and even I do it. There is a point when you have to look at other things, to see what people are doing; that's why I like documentaries so much. "The Florida project," for instance, oh my God, it's one of my favorite films this year, because it's real.