Magic, love for natural and potent ingredients and folklore meet in a skincare brand that is all about nature and pampering the skin: discover the gentle but powerful action of organic ingredients (and the charm of a magic and folklore-infused brand) with Magic Organic Apothecary!

Pills of History
Charlie Fowler founded MOA (Magic Organic Apothecary) in 2010 after the birth of her daughter, who suffered badly with eczema, prompting Fowler to embark on a beauty journey looking for healthy skincare. After she researched the alarming long-term effects of the petrochemicals being prescribed to her child, Fowler looked for a formula (later developed in the Green Balm) to create a simple and effective organic balm to ease the itchiness and discomfort.
It was during this research that Fowler discovered ancient folklore and herbalism and was introduced to the humble yarrow and its many beneficial properties, as well as being a plant shrouded in tales. Now, the yarrow is grown on an organic farm in Somerset, and the MOA team takes care of every step of the production, from concept to design (hand-drawn by Charlie herself). Sometimes they even sow the tiny seeds by hand, according to the MOA website, clearly creating a brand that is loved and meticulously curated from start to finish.
To help every need of the skin (from energizing to moisturizing) the beautiful-looking MOA products combine yarrow with other herbal extracts and botanical oils, with a little bit of magic given by the beautiful colors, the therapeutic scents and the lavish textures. The result is a beauty line that looks like a potion from a fairy tale and will make you feel bewitchingly good!
The Mission of the Brand
The MOA is immediately recognizable thanks to its natural organic skincare products entirely made in England with care, love and a sprinkle of magic (hence the name, Magic Organic Apothecary, also know with the shortened version MOA).
It is, in fact, inspired by old herbal folklore and has a tinge of magic in it, thanks to the beautiful colors and scents of the products as well as their amazing names and packaging. Thanks to her background in art and design, Charlie draws herself all the beautiful illustrations on the packaging, creating a line that is as beautiful as it is helpful for the skin.
The whole brand is mainly based on the hero-ingredient herb yarrow (also known as Achillea Millefolium after the "Iliad" hero Achilles), a calming herb that has been used for millennia to heal, soothe and repair. According to the legends, the Greek hero used it to heal his soldiers' wounds after a battle.
The products at MOA are created with selected botanical ingredients and are strictly cruelty-free, moreover, they don't use petrochemicals (mineral oil), parabens, SLS, phthalates, fillers, or artificial fragrance. According to their website, the newer products are fully plant-based, meaning that they are also suitable for vegans.
Being conscious of the environment is the first step for living well and in sync with mother nature: the brand values kindness towards the earth, using recycled board and printing with vegetable inks and reducing whenever possible the usage of plastic.
Something we love? Whenever you buy something from MOA as a gift, the brand plants a tree!
Our Favorite MOA Products: the Shining Stars!
The Green Balm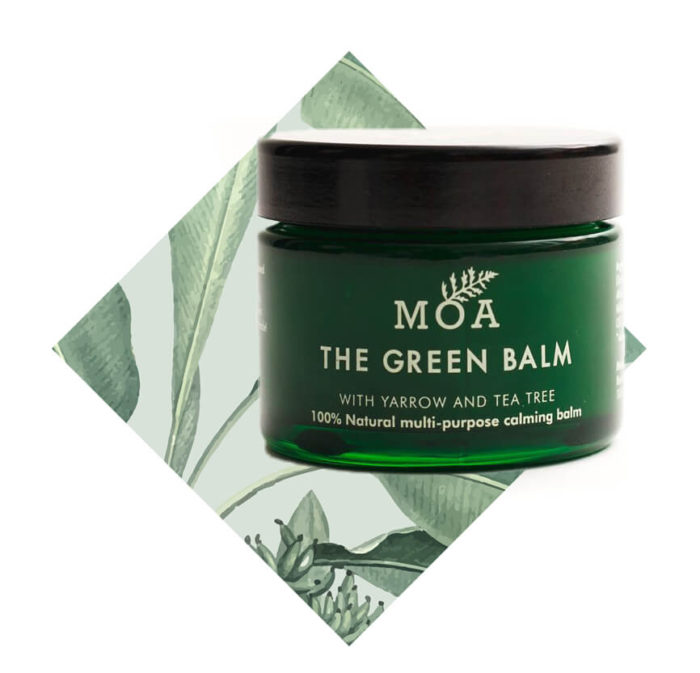 The flagship product of this brand and the product that originated MOA: this is an organic, multi-purpose healing balm based on the healing and soothing properties of the herb yarrow (Achillea millefolium), used for centuries to heal and repair, along with tea tree oil, nature's powerful antiseptic. This product is also perfect to remove caked-on eye makeup, leaving the skin balanced and glowy.
An essential and multi-tasking product for every skin's needs!
The Green Fairy Hand & Lip Balm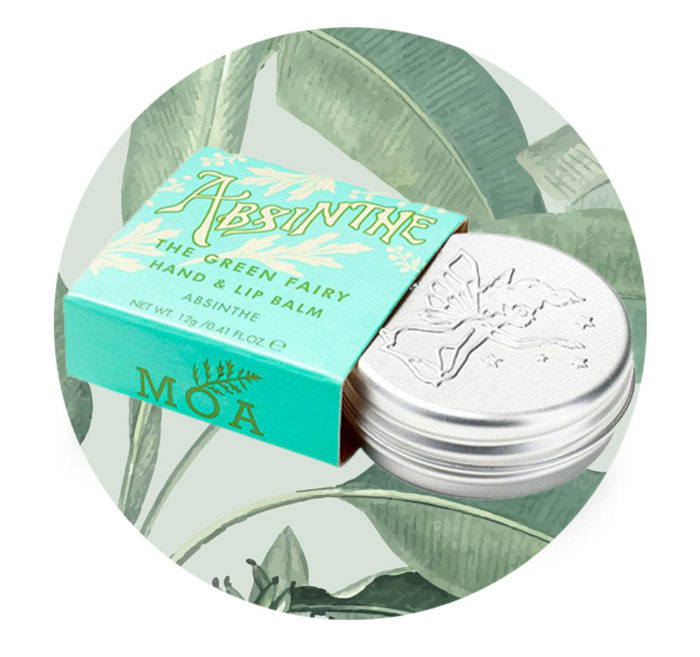 This vegan and dual-purpose salvation balm, sweetened with stevia, has a non-greasy formula to soften dry cuticles, hands and lips.
It's a real pampering experience because caster oil, shea and cocoa butter provide a silky-smooth moisturizing base to soothe while the candelilla wax provides a nourishing and protective coating. Other than the famous yarrow extract, icon of the brand, this balm has brightening grapefruit, lemon peel and aromatic peppermint, fennel and aniseed.
Dreamy Mineral Soak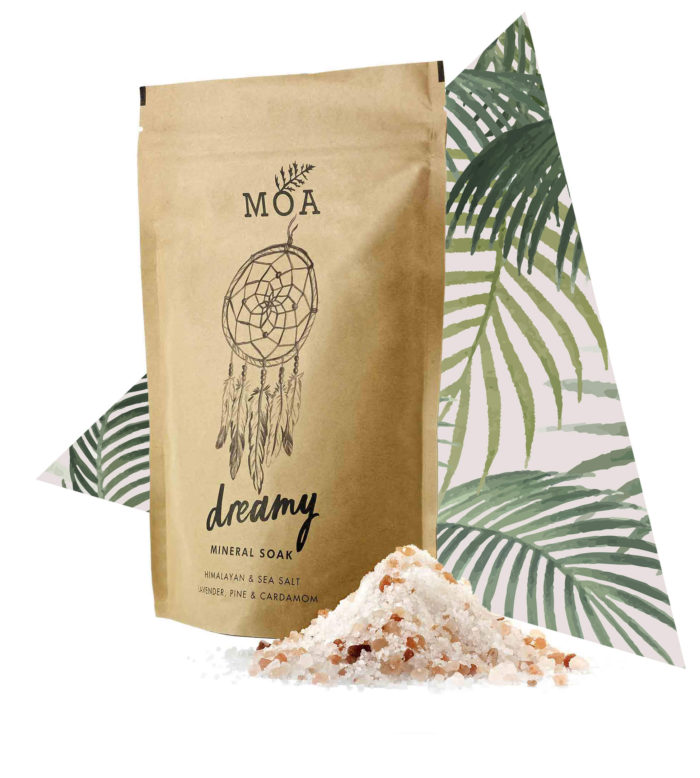 Mineral-rich Himalayan pink salt and sea salt cleanse and purify the skin whilst helping to kick-start sluggish circulation in this vegan salt bath that restores hydration, so it won't leave the skin wrinkly or dehydrated. Lemon peel and pine oil help to boost the health of problematic, oily skin and blemishes.
All the while, the lavender essential oil promotes a soothing sense of relaxation and the cardamom oil offers relief from emotional stress.
Daily Cleansing Ritual – Hot Cloth Cleansing Kit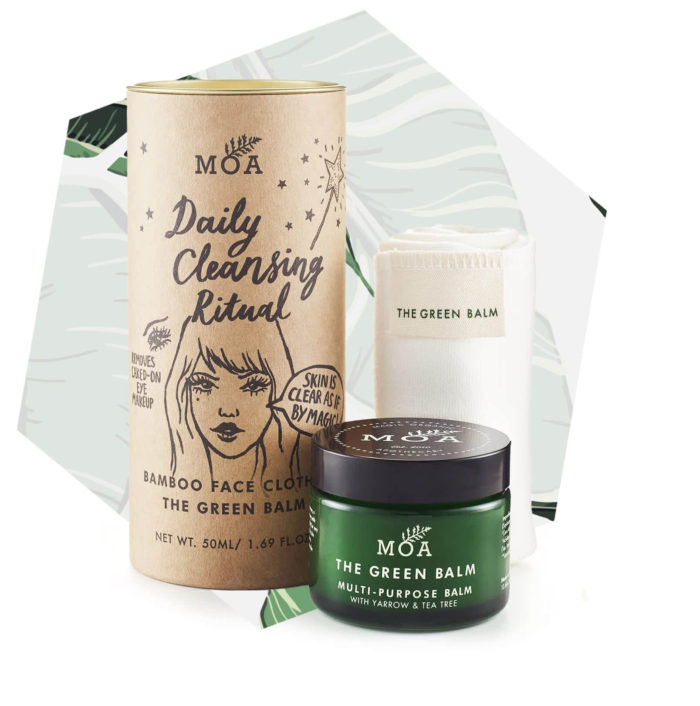 The Daily Cleansing Ritual is composed by a pot of The Green Balm and a super-soft bamboo face cloth, reusable and machine washable, to cleanse your face and take the day off after a long and stressful day. Hot cloth cleansing is gentle on the skin and doesn't strip it of its natural oils, balancing it while cleansing deeply and favoring the health of the skin without causing involuntary break-outs. Ideal for oily, acne skin as well as dry and sensitive skin types.
Hello Sunshine Energising Body Oil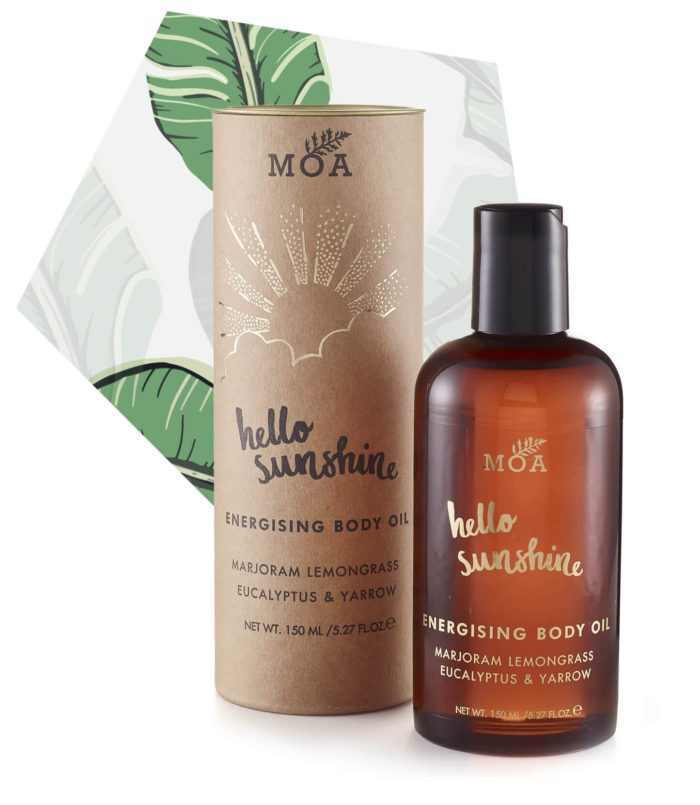 An energizing and vegan body oil full of active organic ingredients, with vitamins, antioxidants and amazing citrus notes. This refreshing body oil is enriched with yarrow to soothe aching muscles and antibacterial lemongrass, as well as marjoram essential oils that calm and cuddle the senses.
Marjoram, also known as mountain joy, according to folklore is a lucky plant that also brings good fortune, hence the name, "sunshine in a bottle"!
Aphrodite Facial Oil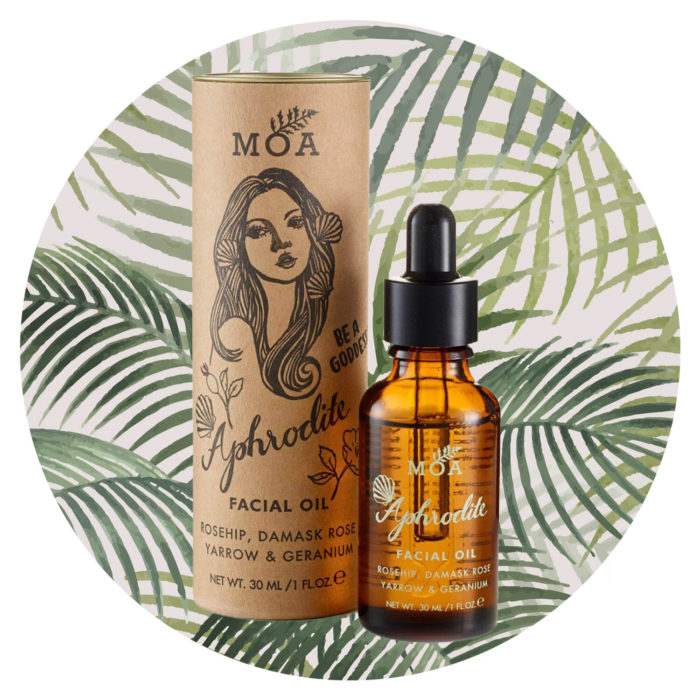 This vegan serum has been infused with precious Damask rose essential oil, rich in vitamins to boost beauty. Damask rose oil is also known to be helpful for dry, sensitive skin while rosehip oil is known for its regenerative properties. The iconic yarrow extract, hero product of the brand, helps to even skin tone while the marshmallow extracts hydrates and soothes the skin.
Fortifying Green Bath Potion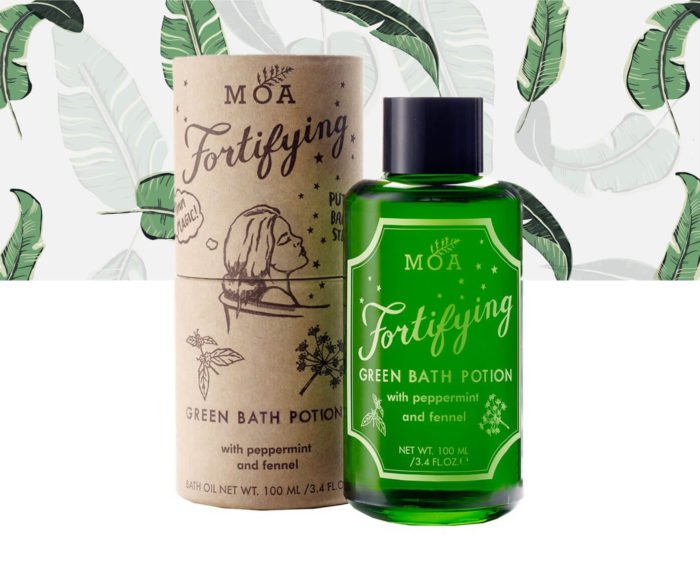 A beautiful (and vegan) emerald bath made with an invigorating herbal blend that comprehends refreshing peppermint, detoxifying fennel, relaxing fir needle, as well as yarrow extract to calm and revitalize the skin, for the perfect good-night cuddle.