Pioneers of healthier and happier skin, never afraid to think outside of the traditional, often overused, box to bring us new solutions for our old skincare problems: this month we discover Gwyneth Paltrow's Goop!
Pills of History
The story of Goop is long, constantly under the spotlight and often controversial.
One thing is sure, though: Gwyneth Paltrow, founder of Goop and pioneer of a new, cleaner way of seeing the world – and, by extension, beauty – single-handedly revolutionized the skincare industry in the last two years, achieving success and results.
The brand started in 2008, in "Gwyneth Paltrow's kitchen" according to the brand, in 2008 GP (as the Oscar-winning actress is referred to by her employees) sent its first Newsletter featuring recipes for Turkey Ragu and Banana-Nut Muffins.
However, GP's tradition to ask the crew and extras for their local café and restaurant recs begins years before, in 1994 while filming "Jefferson in Paris." A long journey that will later bring GP's brand to a partnership with Condé Nast, different clothing design collaborations and, in 2016, to a sought-after skincare line. In 2017, Goop's first wellness symposium debuted in LA and in the same year Goop established itself as an iconic brand.
Why Goop? Of course, "G" and "P" are Gwyneth's initials, and the actress added the double 'OO' because someone told her that all the successful internet companies had double O's.
Beauty-wise, Goop brought good ingredients, good ideas and, most of all, proven results to the table when it debuted with a non-toxic skincare line that started with Juice Beauty in 2016.
Since then, their beauty range has expanded considerably. Only in 2019, the brand introduced an overnight glow peel, a pore-refining tonic, a body luminizer, and more must-try products, real skincare heroes and giants of the clean beauty.
Other than top-notch and entirely natural skincare products, on Goop's website the audience can find an ever-going conversation on clean beauty, for more educated and conscious choices on clean beauty and beauty tips!
The Mission of the Brand
Goop doesn't believe that beauty products need to be toxic to us in order to be luxurious and effective. Therefore, the one from Goop is a rigorously clean beauty, with a famous glow-inducing skincare line that keeps expanding.
Natural ingredients, result-oriented but good for our body and our mind, are the cornerstone of this brand that really sees skincare on a 360° perspective. They approach skincare "from both inside and out" to grant not only a healthy and glowy complexion but also a happy skin and a soothed mind!
To achieve that, the brand relies on the best high-performance, active ingredients and non-toxic formulas.
Despite the many milestones and successes, as well as the possible controversies that Goop has met, some concerning the relatively high-end pricing of their products, what is for sure is that this brand occupies a front-row spot in changing the beauty world and introducing a new way to see skincare, sometimes through entirely game-changing and never-seen-before novelties such as Goopglow, "the skincare you can drink."
At Goop, they define themselves as the "tip of the spear—in short, we go first so you don't have to." A brand that is not afraid to innovate, and to bring us the best of the best.
Our favorite Goop Products: the Shining Stars
Goopglow Morning Skin Superpowder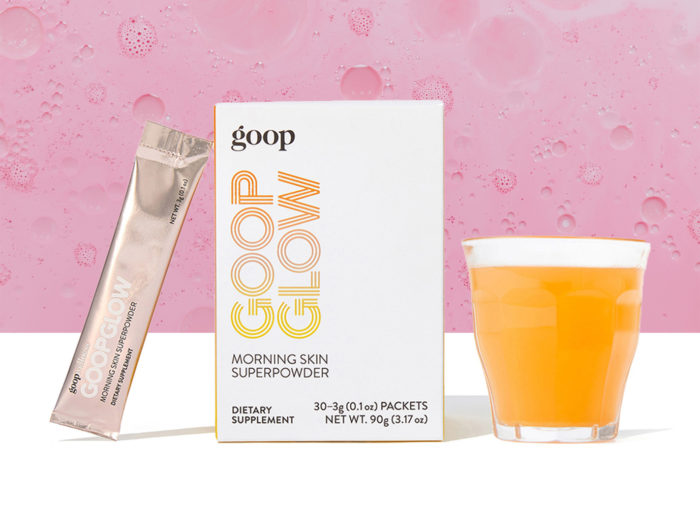 With this little revolution in the skincare world, we can finally "drink" our way to amazing skin.
Enriched with vitamins C and E, grape-seed proanthocyanidins, and CoQ10, along with the critical carotenoids lutein and zeaxanthin, this little boost of health for our morning routine tastes like orange and lemon verbena.
A power shot of antioxidants that will help our skin being the best version of itself!
Rose Quartz Glow Kit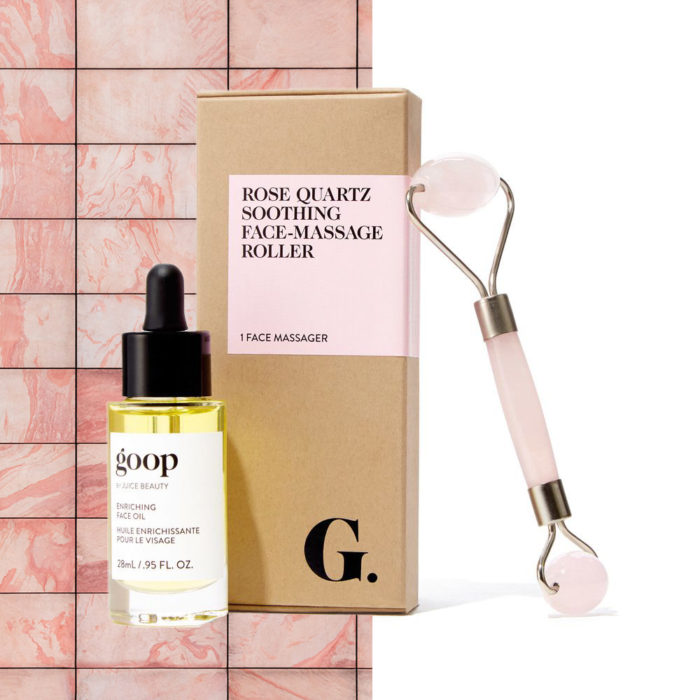 A duo for our skin that combines the power of the rose quartz crystal to the boost of energy granted by the Enriching Face Oil. The cooling and revitalizing power of the rose quartz crystal awakens the face and stimulates the circulation, while the Juice Beauty Enriching Face Oil from Goop nourishes and leaves the skin supple, soft and glowy.
The website recommends to use the oil and massage it with the roller morning or night for dewy, plumped skin.
Exfoliating Instant Facial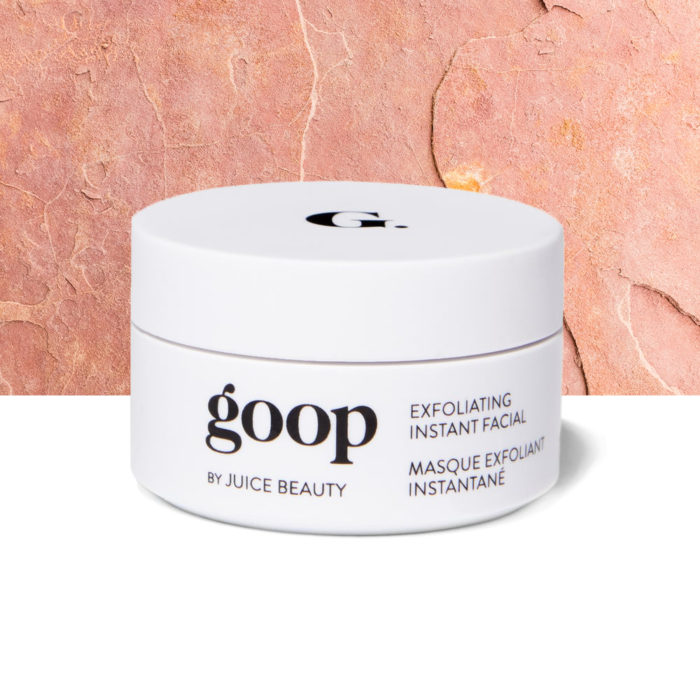 Formulated with potent USDA-certified organic ingredients for a professional result that is also gentle with our body, this product contains approximately 86% organic ingredients and it promises to brighten and soften skin to reveal a glowing, smoother-looking complexion.
A vitamin B5-packed Exfoliating Facial for perfect skin.
Goopglow 15% Glycolic Acid Overnight Glow Peel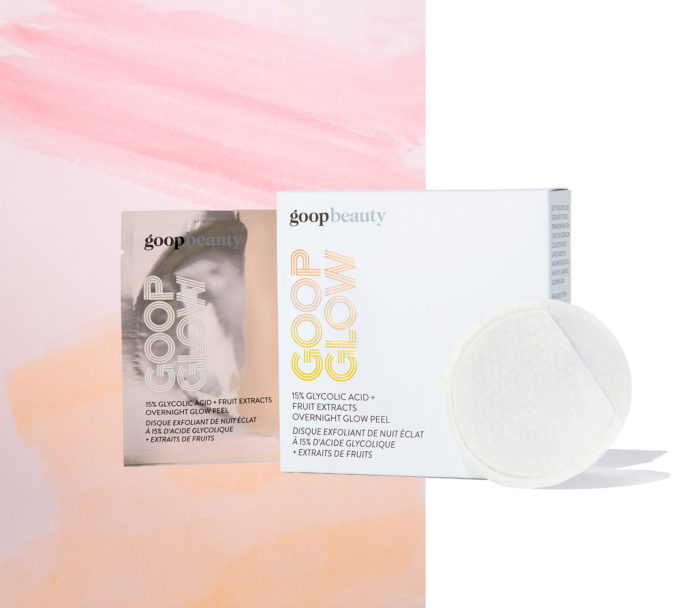 With its intense exfoliating overnight acid peel pads inspired by professional chemical peels, the skin will be rejuvenated and renewed, for a radiant complexion.
The glycolic acid and fruit extracts (among which we find mango, banana, yellow mombin, and Australian kakadu plum) work together with naturally moisturizing hyaluronic acid.
Goopglow Microderm Instant Glow Exfoliator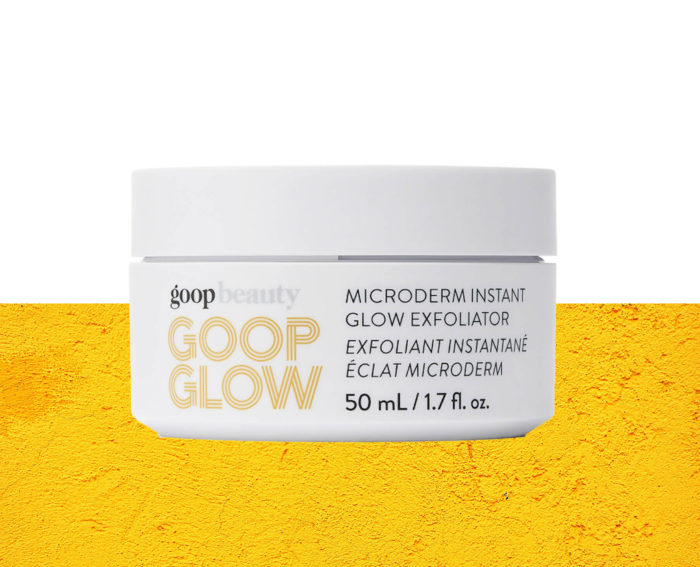 A soft, almost marshmallow-like consistency and a potent, benefits-packed formula with a blend of four micro-exfoliating minerals for an always radiant, healthy and happy skin!
A dual-action that delivers the benefits of both physical and chemical exfoliation: our hero product to cleanse our skin from impurities.
Revitalizing Day Moisturizer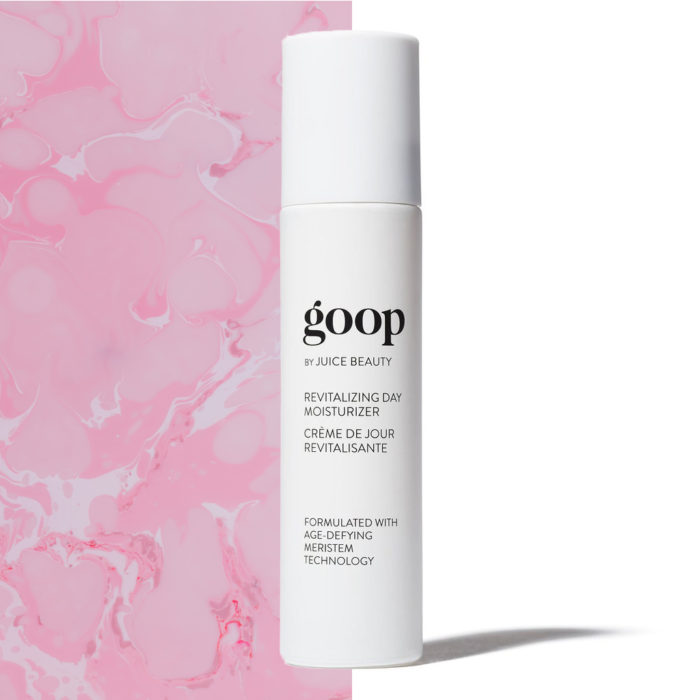 A lightweight daily cream to take our hand and guide us into a world of happier, more nourished skin: the Revitalizing Day Moisturizer is a day-by-day ally and a moisturizer that fits perfectly into every makeup routine.
It softens and nourishes the skin while targeting dark spots and hydrating.
G. Tox Daily Detox Duo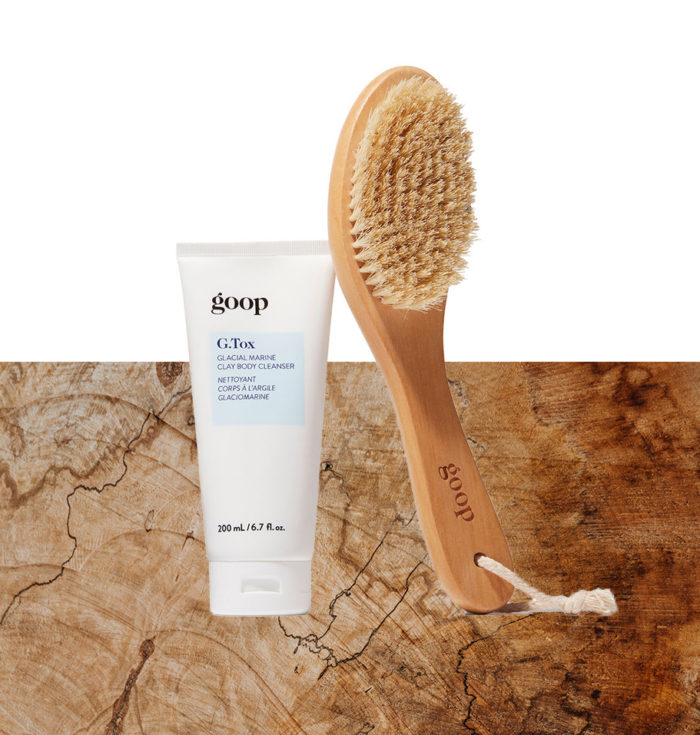 This duo really changes our everyday routine, guiding us through a deeply energizing skin-detox journey in two steps.
First, the G.TOX Ultimate Dry Brush: this brush is made from pure, natural sisal, for a light exfoliating effect right before the shower.
Under the running water, we find step two, thanks to G.Tox Glacial Marine Clay Body Cleanser: a luxuriously creamy body wash made with a hand-harvested glacial marine clay that's full of essential minerals.
A daily ritual to cleanse our skin and our mind!
Day Ginger + Ashwagandha Energy Body Wash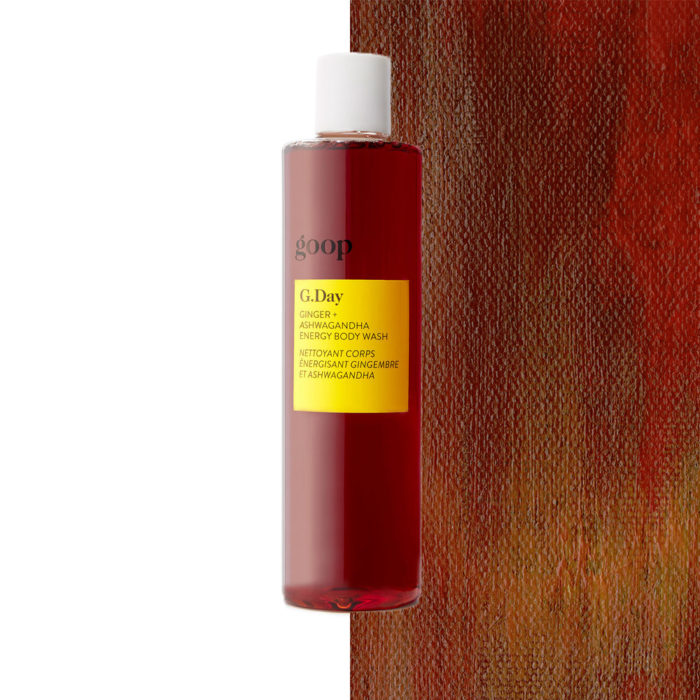 Are you ready for a bath of pure relax, that nourishes the skin but also grants us a sweet moment of relaxation to wash the day off?
With this product, Goop proposes an invigorating, plant-based body cleanser that leaves your skin feeling refreshed and helps you clear your mind.