The Holidays are almost here – wood cracking in the fireplace, peppermint, hot chocolate, and lazy nights in. What better time to take care of our skin? So, if the previous weeks were all about parties and dinners, on bright colors and shimmer, this episode is all about you: your skin, your alone-time with a blanket, your favorite series and a good skincare routine, your holiday-worthy relax. We dedicated part of our routine to the new collaboration Alex Steinherr x Primark that, with sustainable ingredients and luxurious textures, has added a little spice to our skincare.
The collaboration has been 2 years in the making, but it is finally available, mixing technology, five different paths for every need and routine (from a Glow-dedicated range to the collection that balances and unclogs, up to the products conceived for people who live in high-polluted metropolis and cities) and a price range that is really unbeatable. Just in time for a little present to our friends, family and – why not? – to ourselves as well.
So let's cuddle our skin with something new and exciting, something that's good to our face and to the environment (cruelty-free is definitely the best way to set the mood of 2019). Because, as a wise, wise movie says: Christmas is all around!
As obvious as it may sound, the first sign of radiant skin is a thoroughly cleansed and deterged skin. We used the Low-pH Sulphate Free Cleanser, from the Pore Balance line, to maximize the radiance of our skin, deeply soothing and moisturizing it.
Like many of the other products created by the collaboration between Primark and Alex Steinherr, this cleanser has an innovative, exciting texture, that starts out as a colorless gel and, when warmed up and applied on the skin, turns into a rich milk. The formula with Salicylic acid is perfect for oily skin, but also to prevent breakouts and red spots, which may occur if, let's say, maybe we've exceeded with mulled wine and Christmas sweets.
Just saying.
For the second step in our cuddle routine, we chose yet again a product of the Pore Balance range. This clay mask with Kaolin Clay, niacinamide and Raspberry Leaf (great thanks to its deoxidant properties) comes in a delicate mousse texture, which we've massaged on the skin to unclog pores and fight against pollution that builds on our skin, suffocating the cells and making it look dull and uneven. It is perfect for oily and combination skin, and its light texture makes it definitely different from the regular clay masks in our routine.
We left the mask on for a few minutes to let it perform its detox magic, to boost some life into our stressed skin!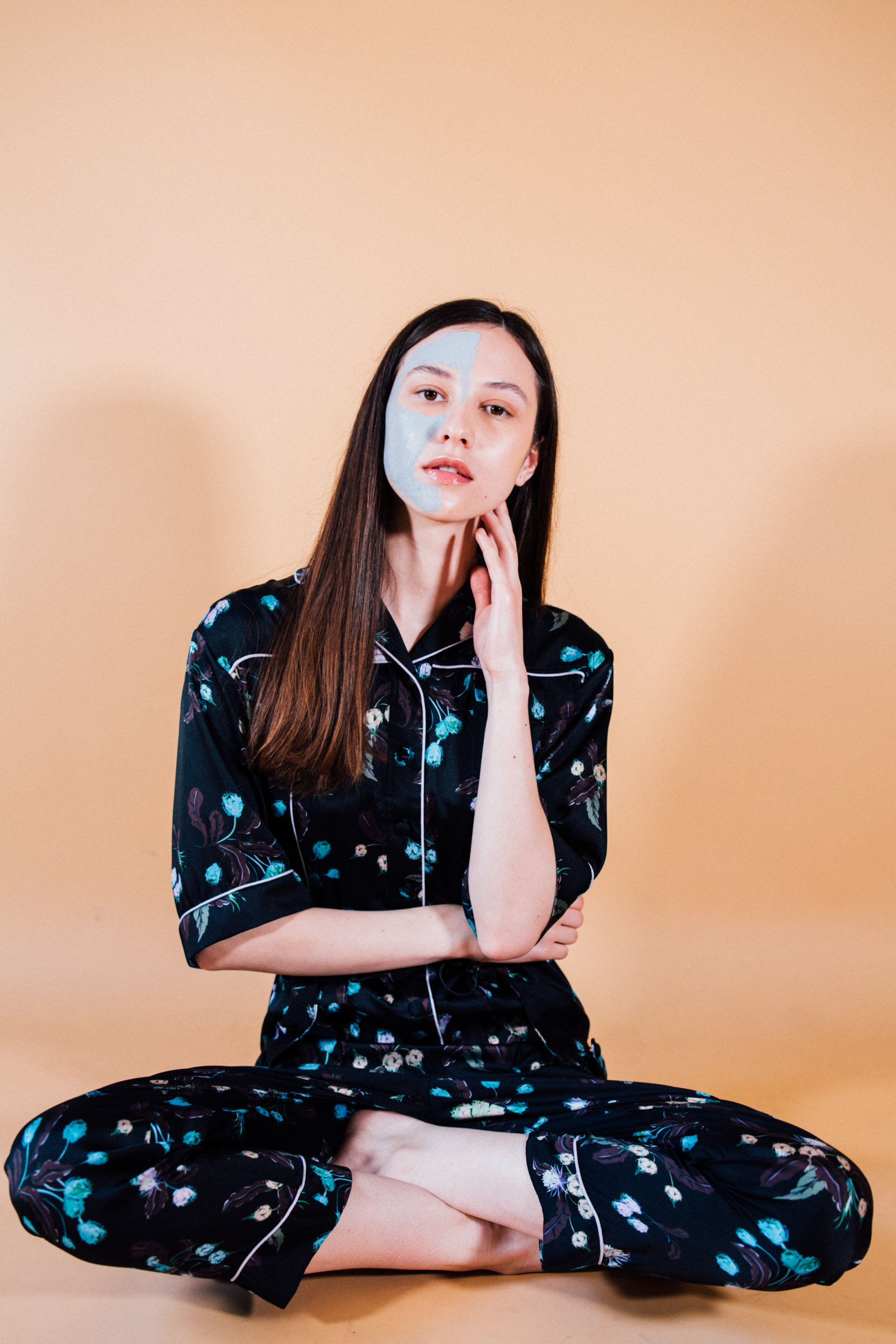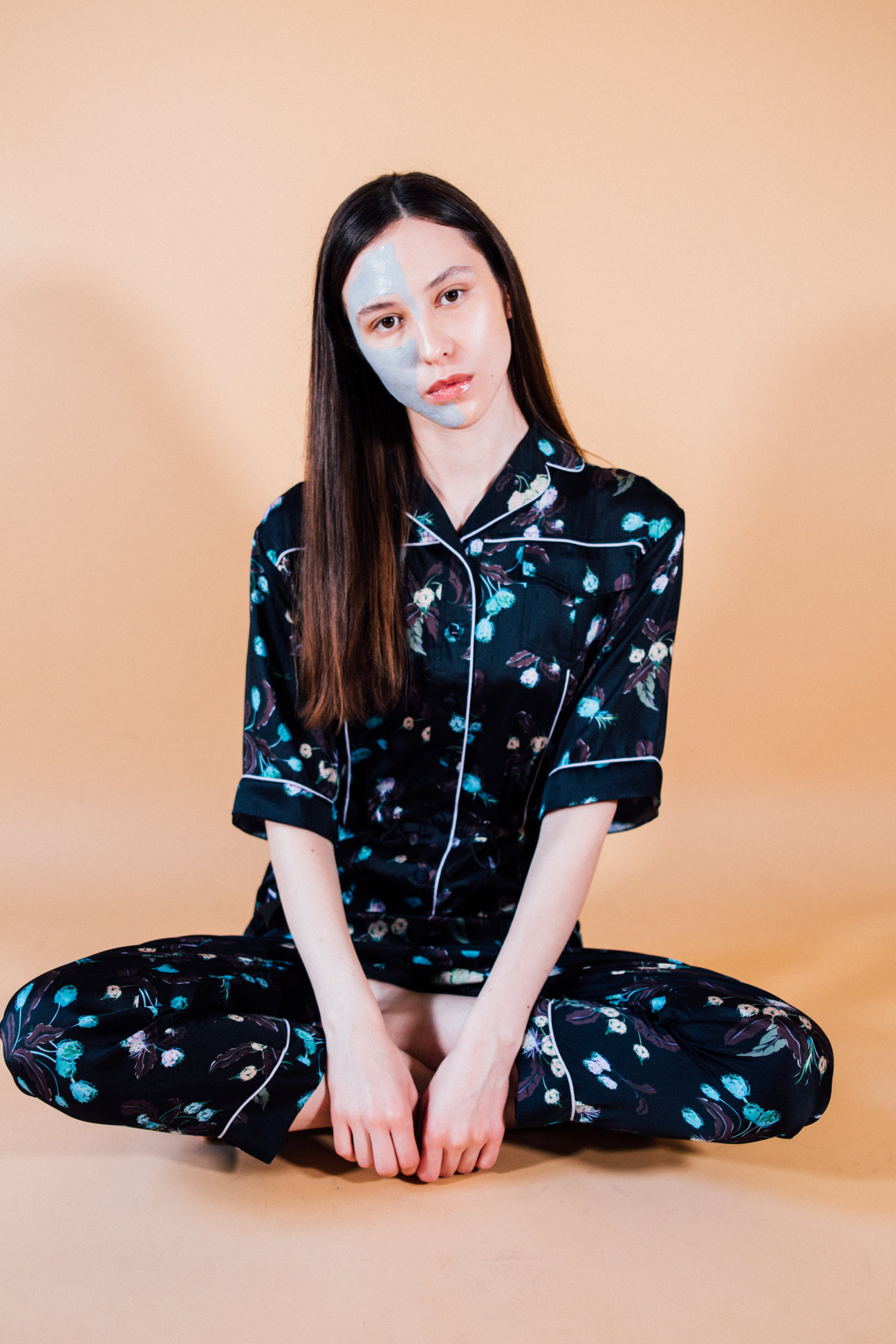 S K I N C A R E   T I M E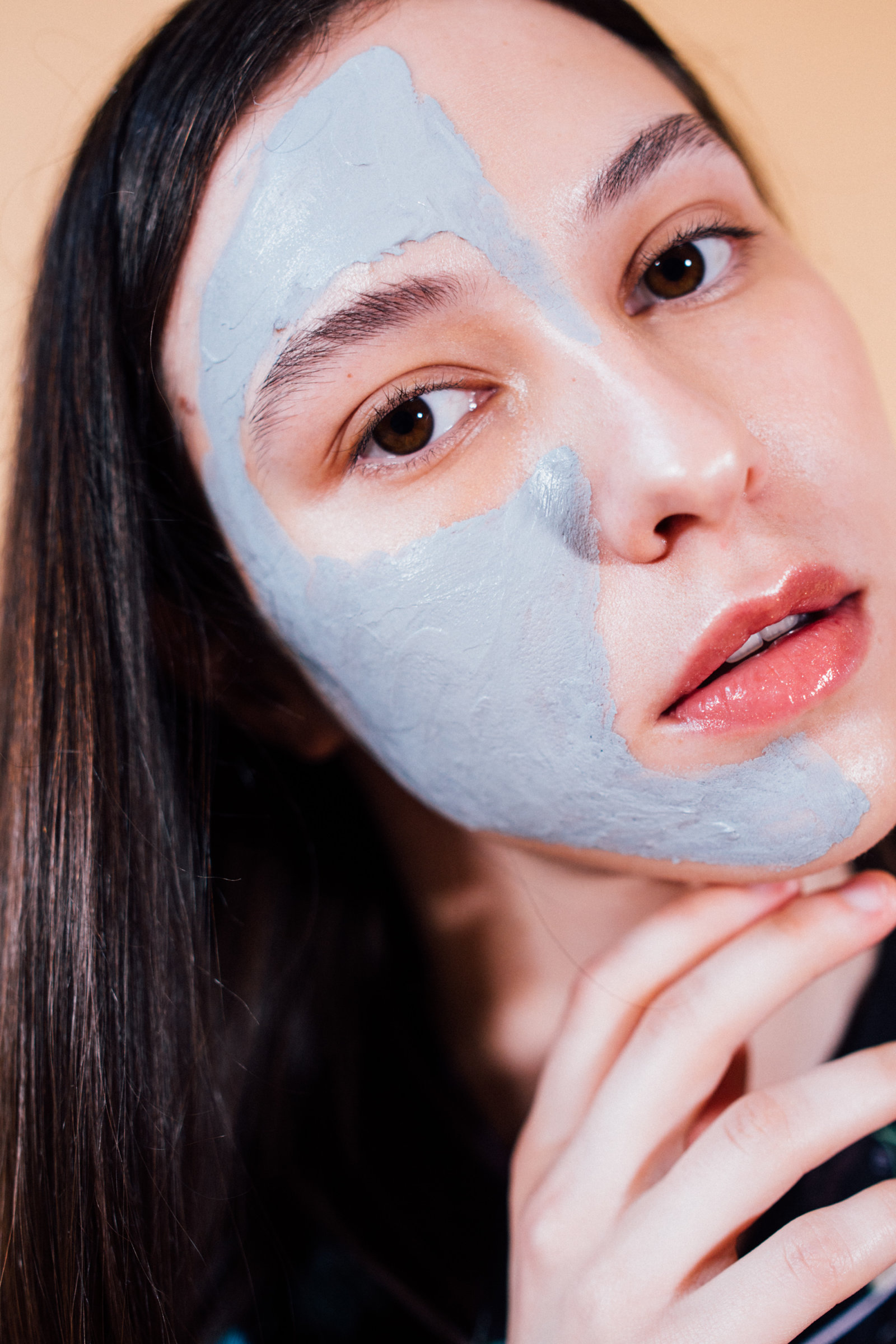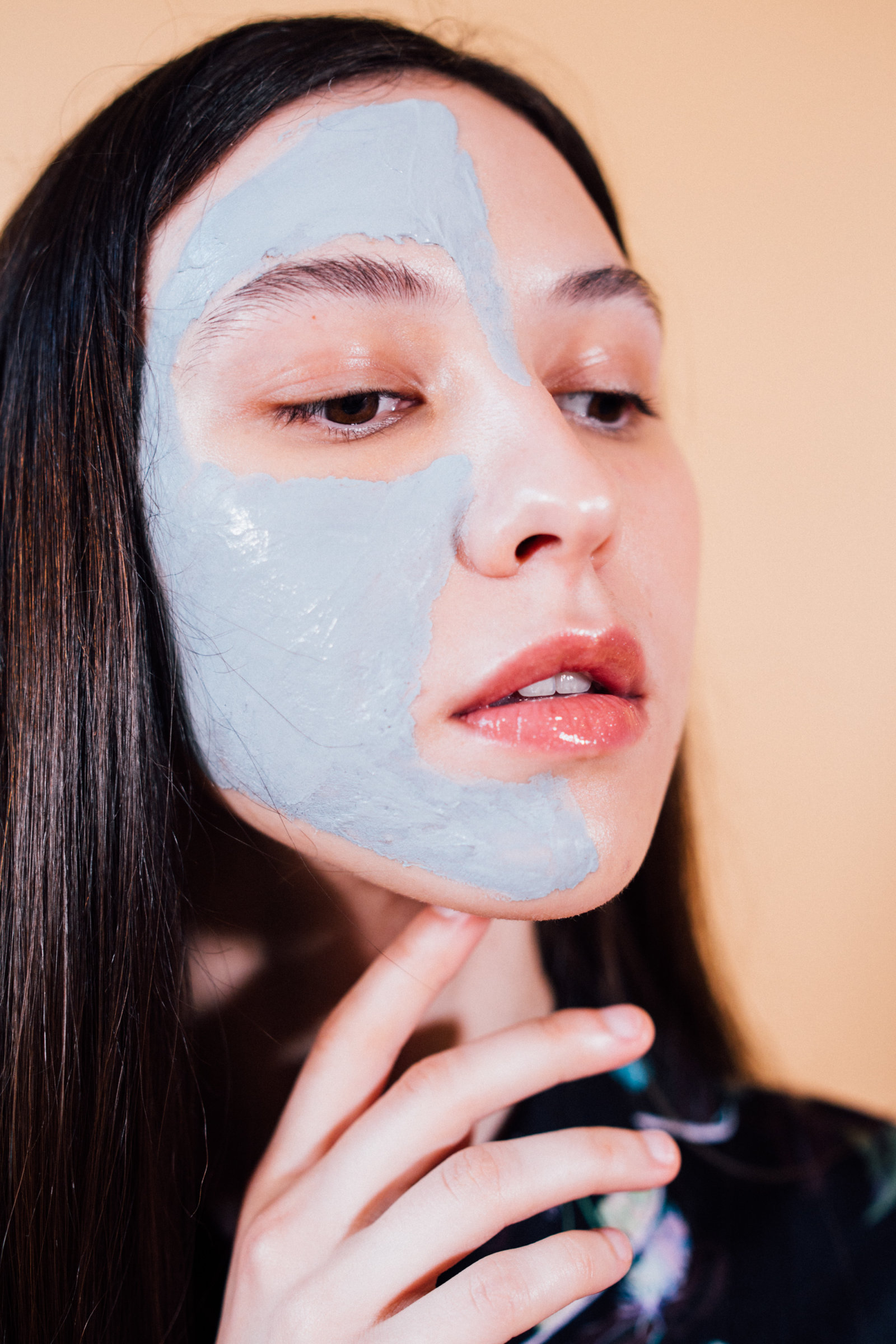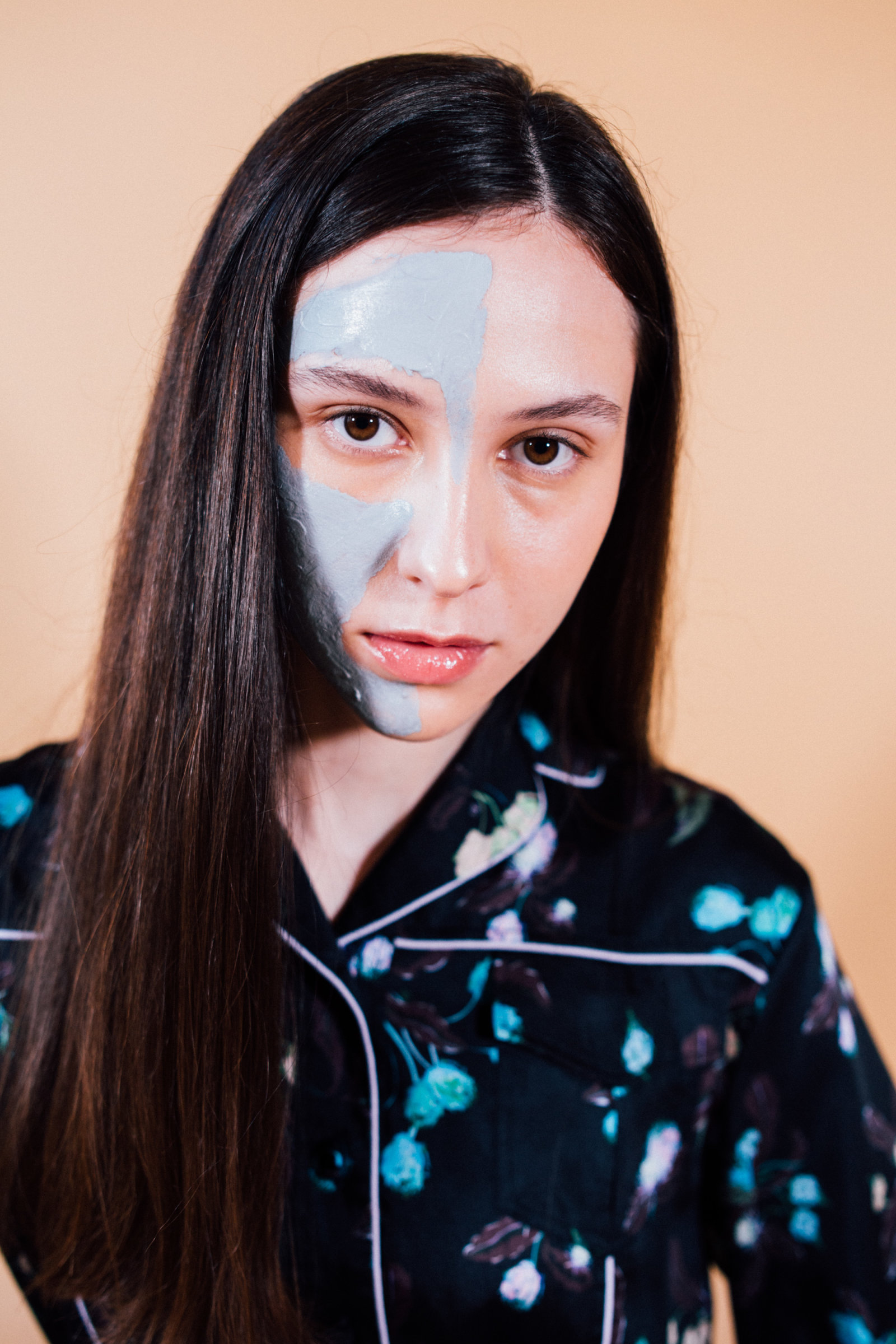 – Step #3: Get That Glow –
If Christmas mornings are designed to sleep in, Christmas evenings are for taking it easy and taking care of ourselves: and if we say Relax, Millennials say "face masks." This one is particularly good since it combines two types of Acid, amino and hyaluronic, to deeply moisturize and plump the skin, enhancing its natural glow.
And if you think it may be boring, we have to stop you here: this two-step product contains a beneficial essence with two acids and Korean camellia (step 1) and a cotton sheet mask (step 2), designed to be mixed and together.
Then you can apply and enjoy!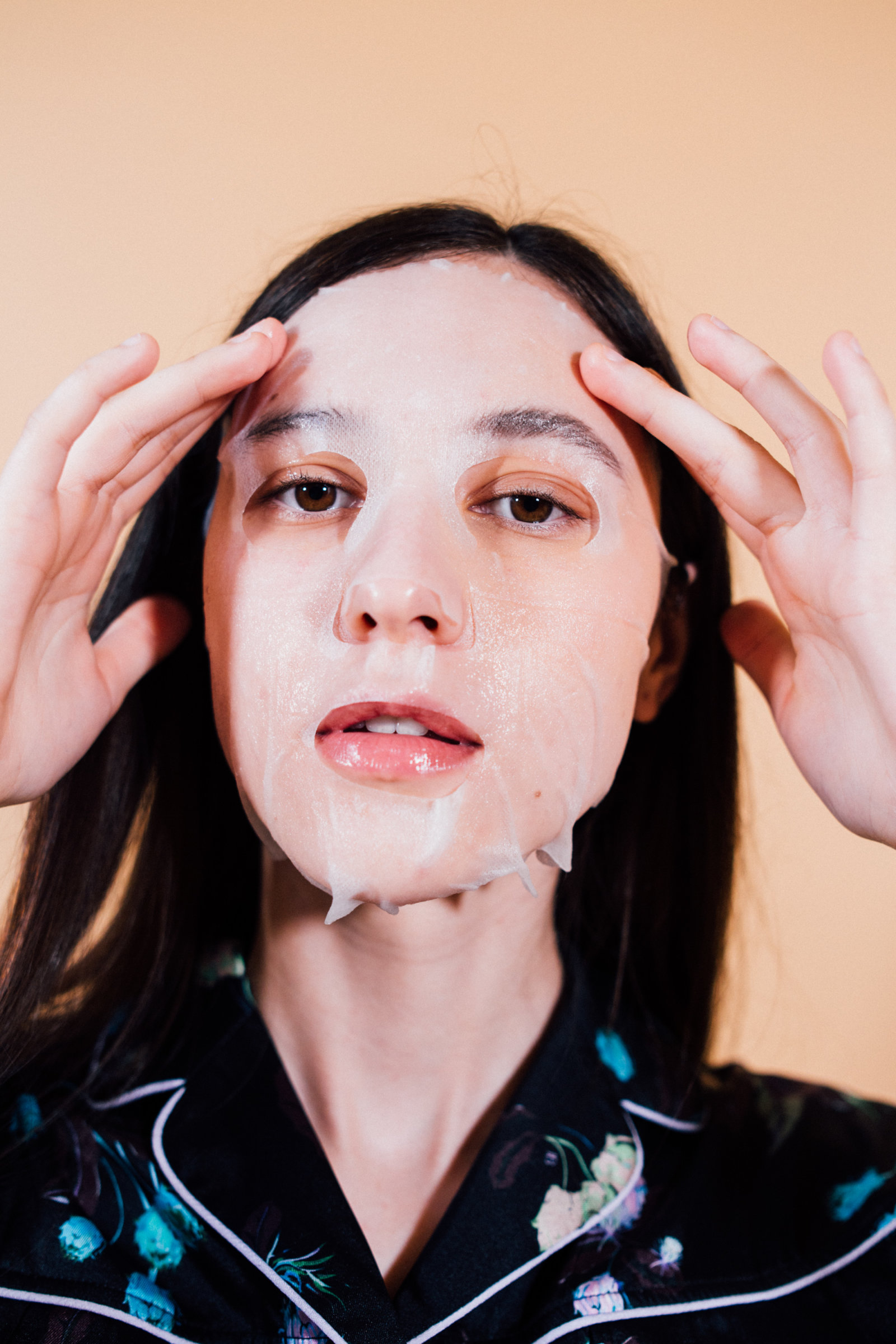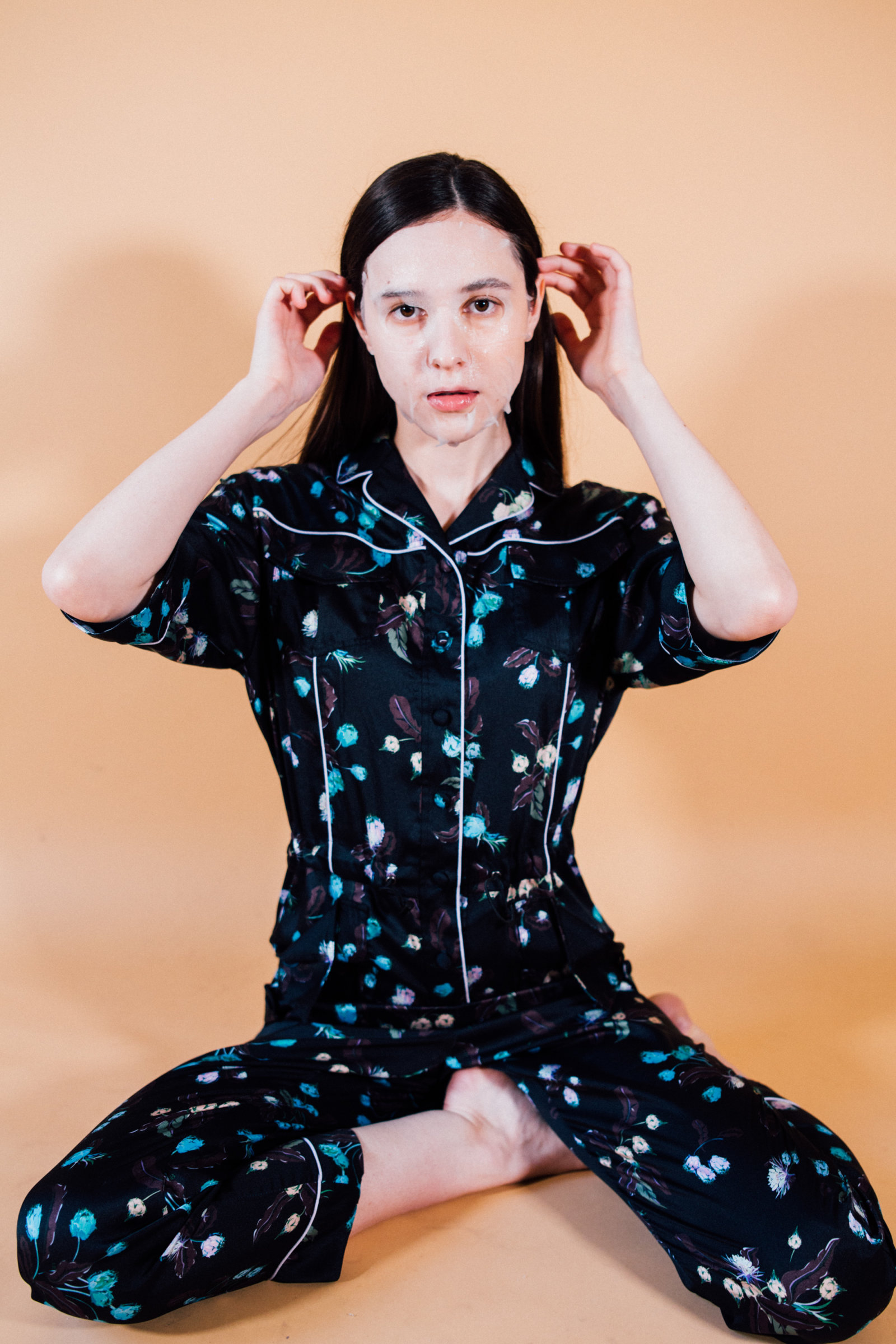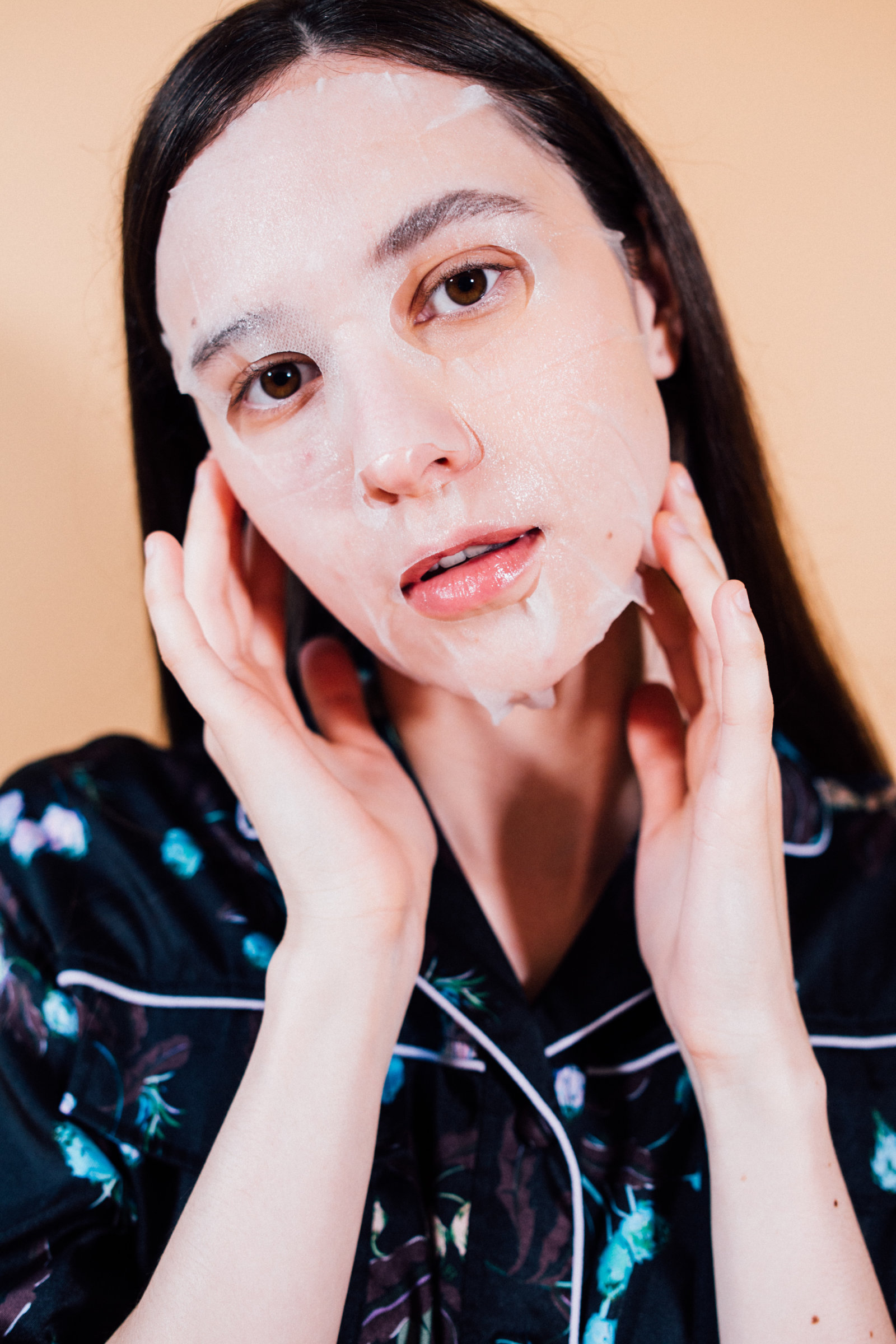 G
L
O
W
L
I
K
E
A
S
T
A
R
– Step #4: Live the SPA –
Then, as a final cuddle, we used the Sleeping Face Mask to hydrate and plump our skin thoroughly. With Willowherb and Chamomille, this face mask soothes every red area and makes the skin feel fresh and smooth. But it doesn't have to be nighttime to wear a night mask: you can gently dab the product on the skin and leave it on for about 6 hours (roughly from when you wake up to halfway through the afternoon), remove it before makeup and it will still be hugely beneficial for your skin.
It may also be the perfect present for that one friend that doesn't have time to pop by an SPA, and wants to turn her bathroom shelf into one.
Now that the preparations are through, we can consider ourselves ready to hit the party with our super-radiant skin and a light touch of makeup. This way, we can be radiant and prepared for a Christmas jumper-themed party (we love them, what better way to bond and feel Christmas in the air?). After all, around December, a jumper either red, green or gold and with some cute reindeer or snowman on it, is our cup of tea – we matched it with red shoes to remind ourselves to be confident and black jeans for a touch of minimal.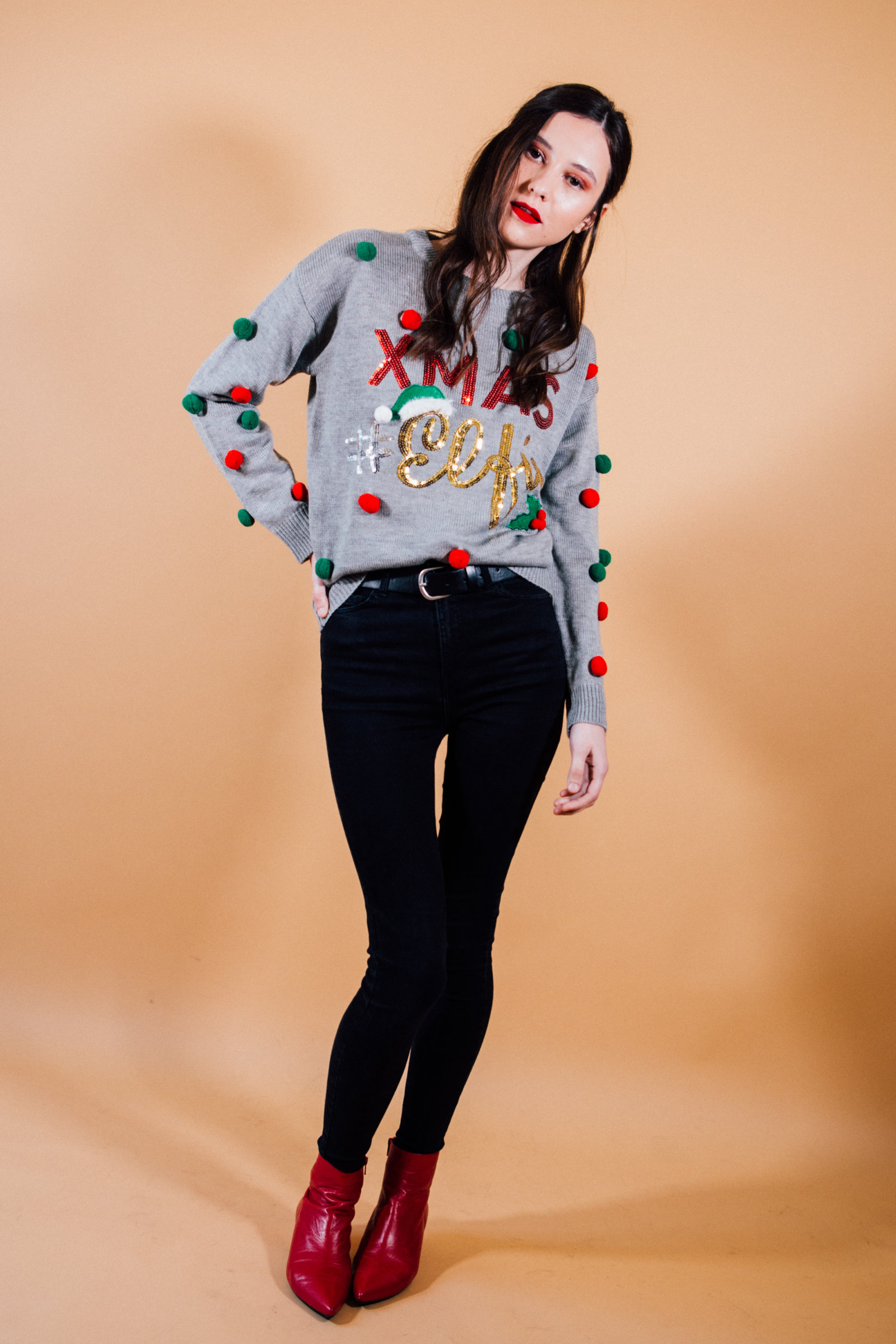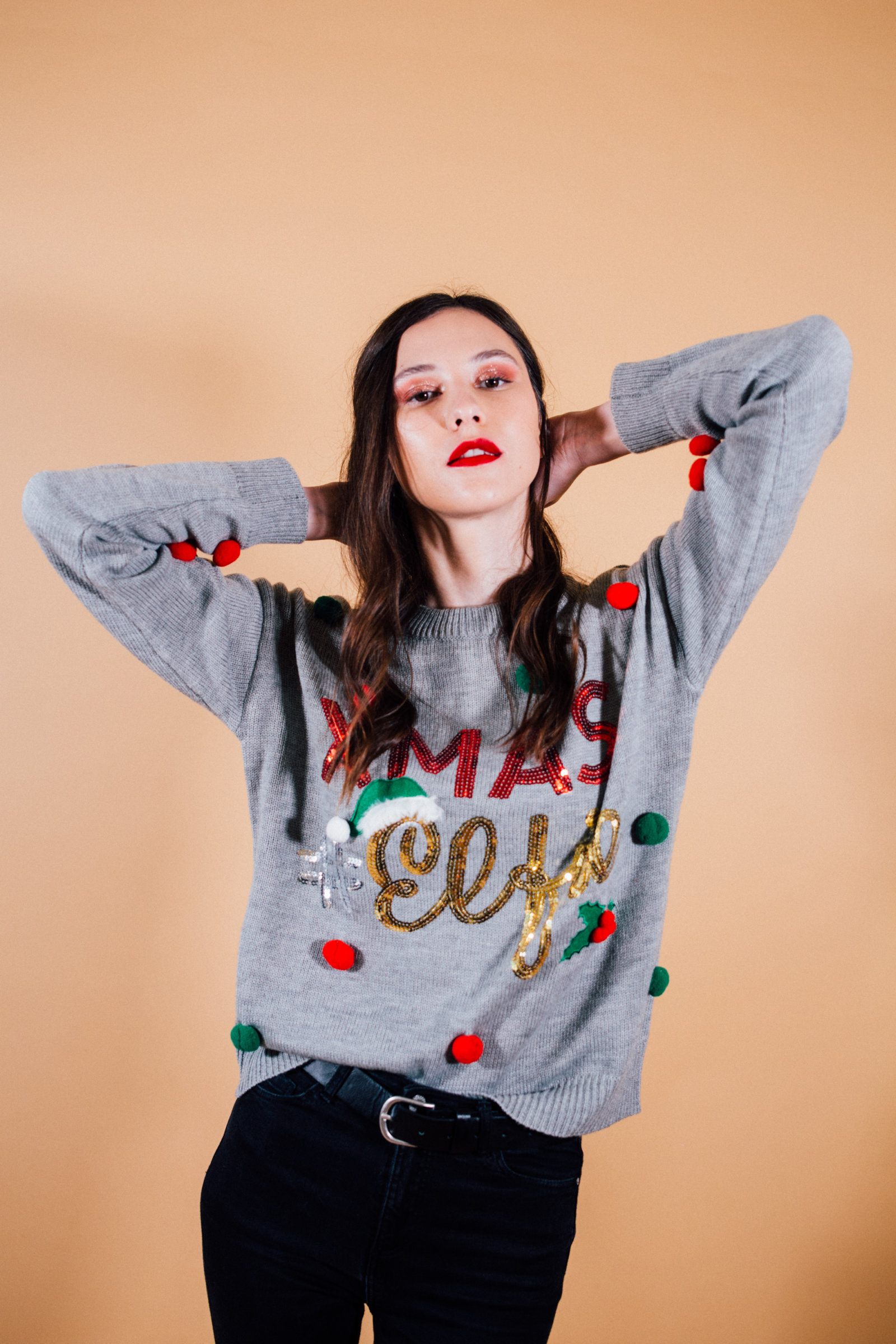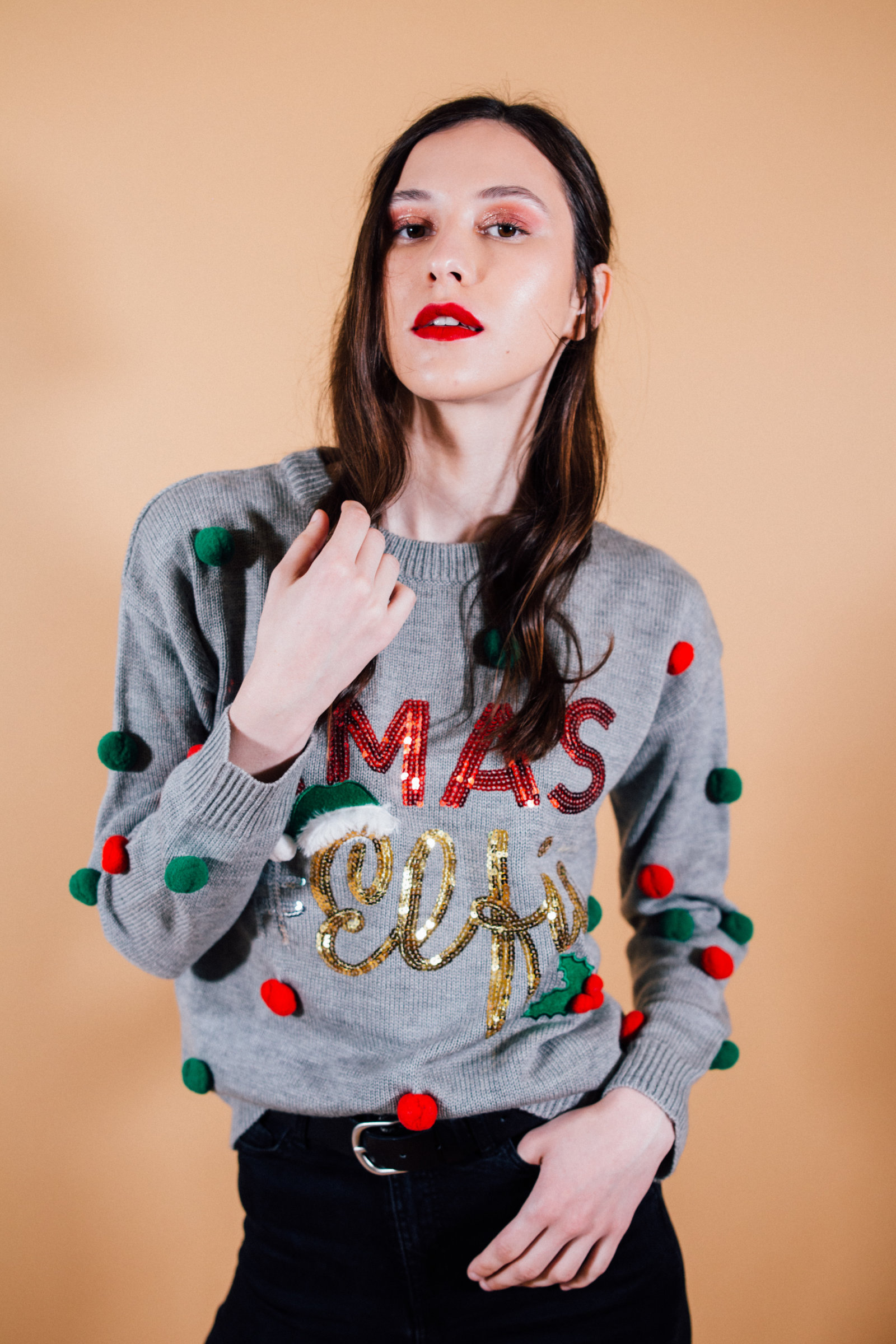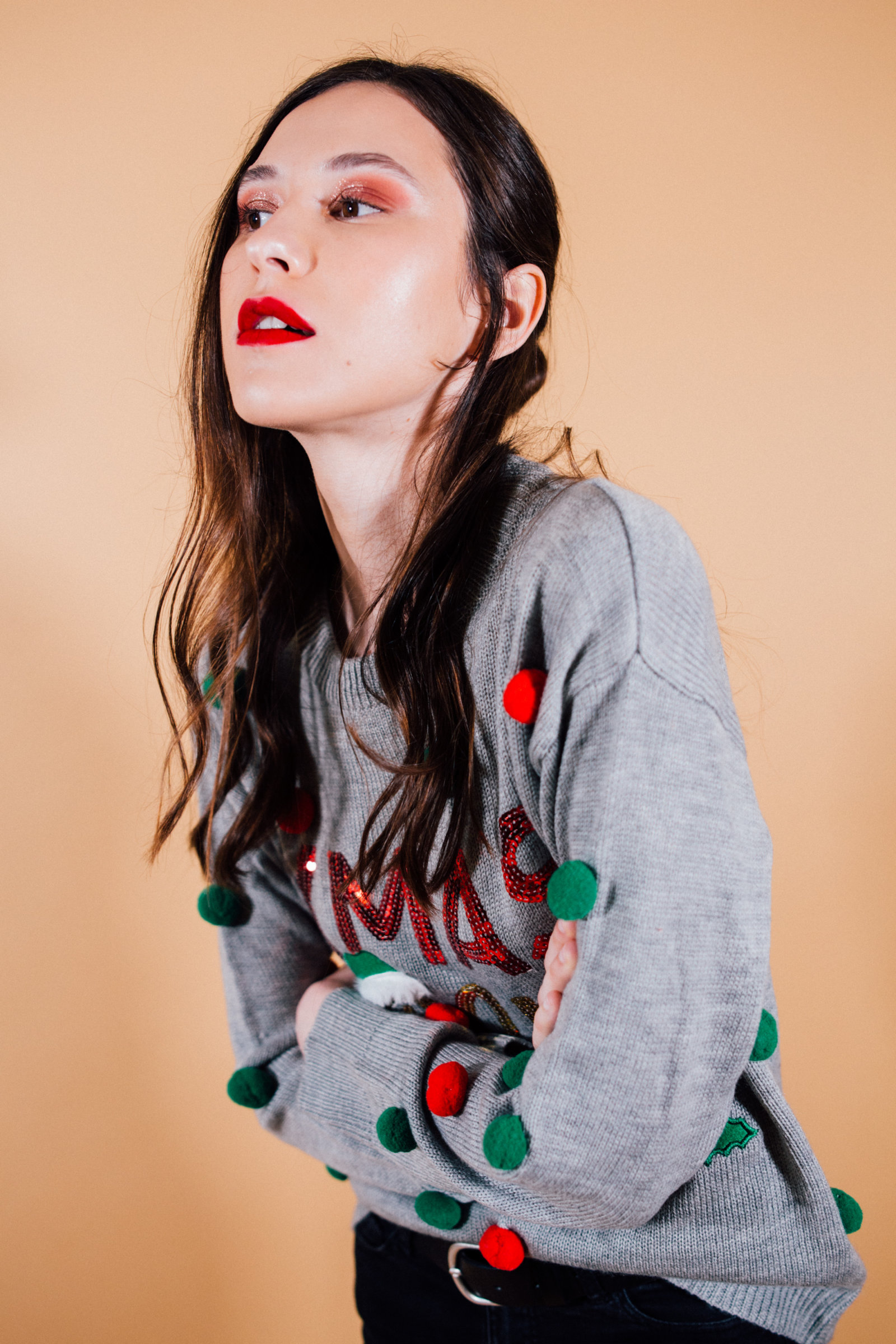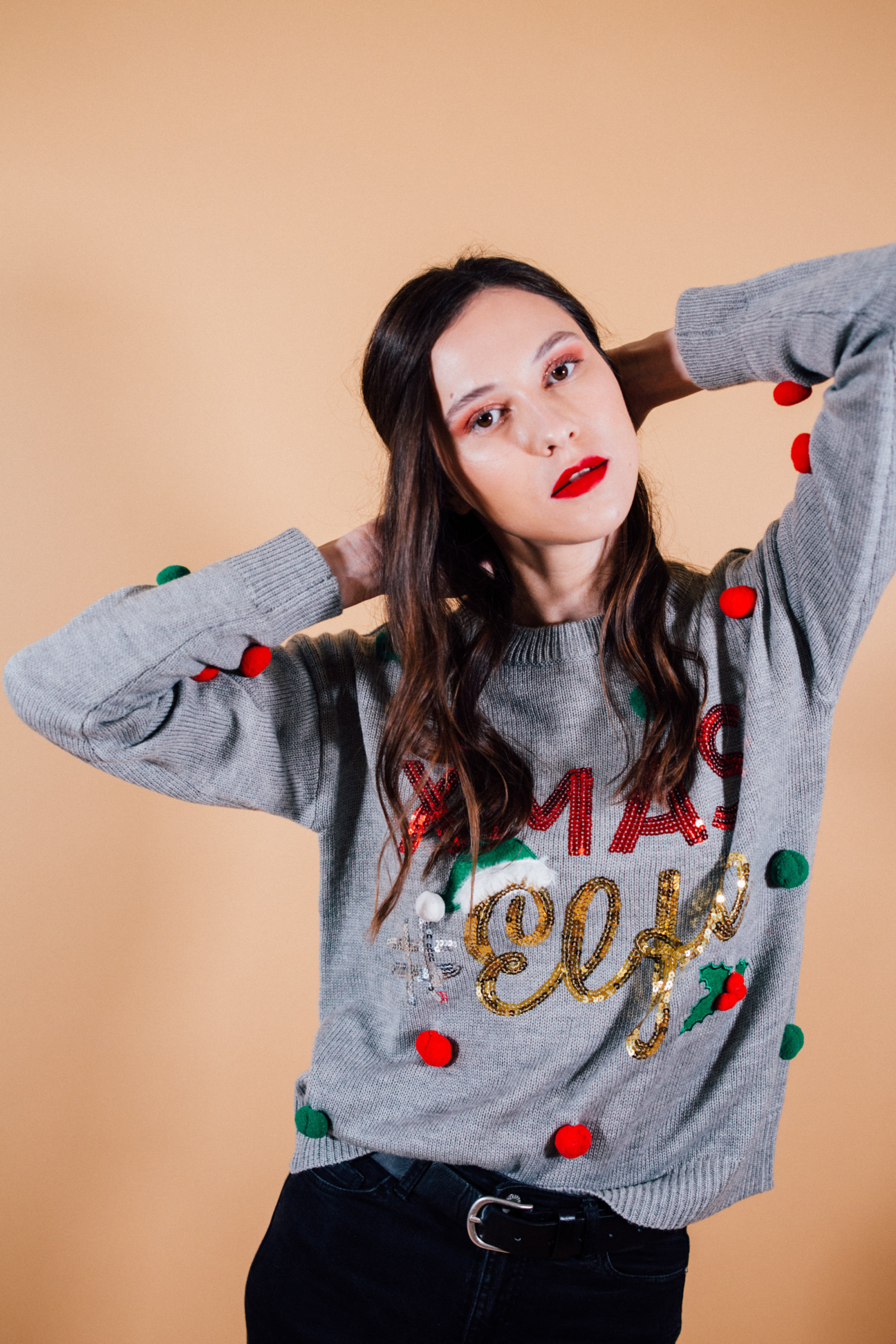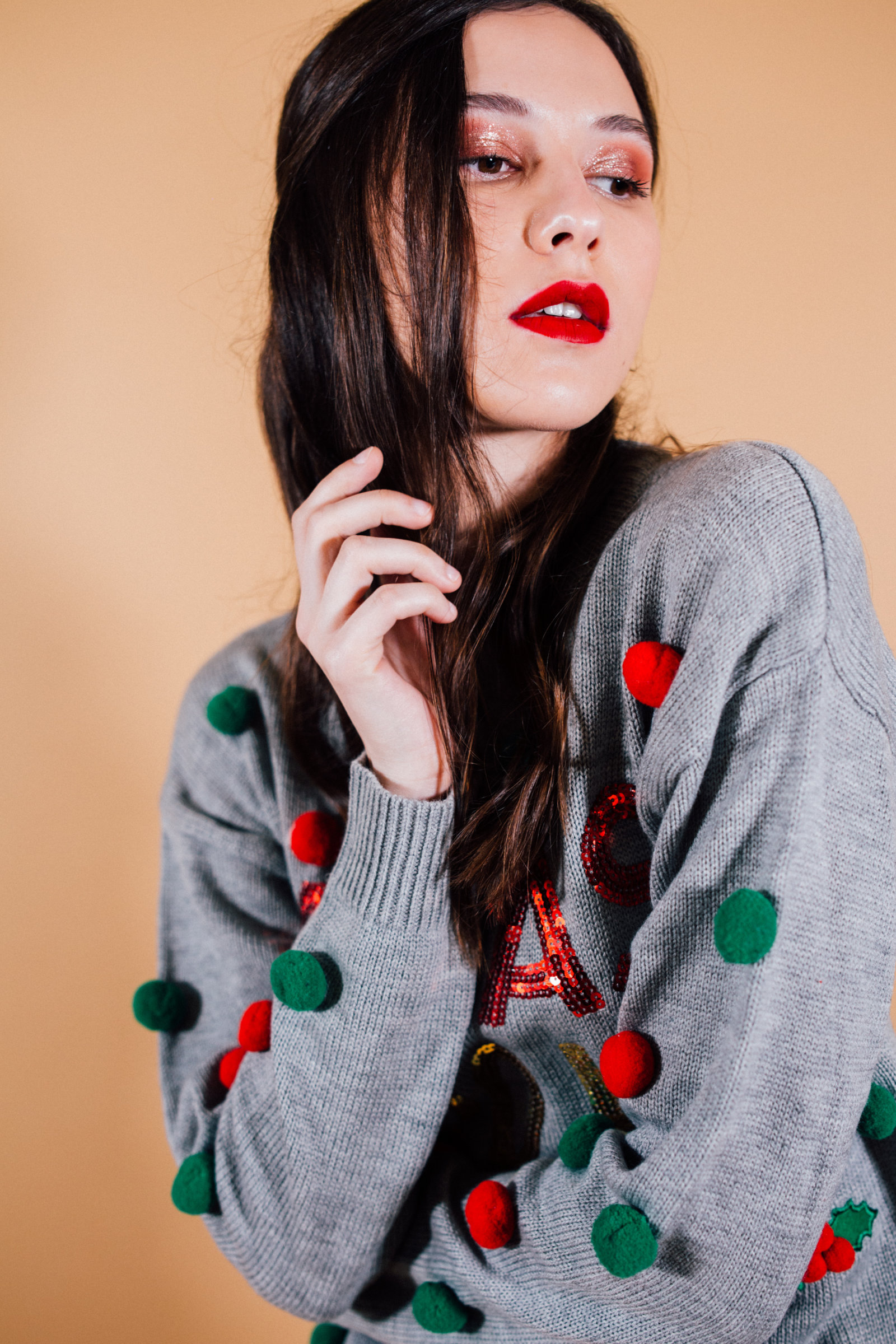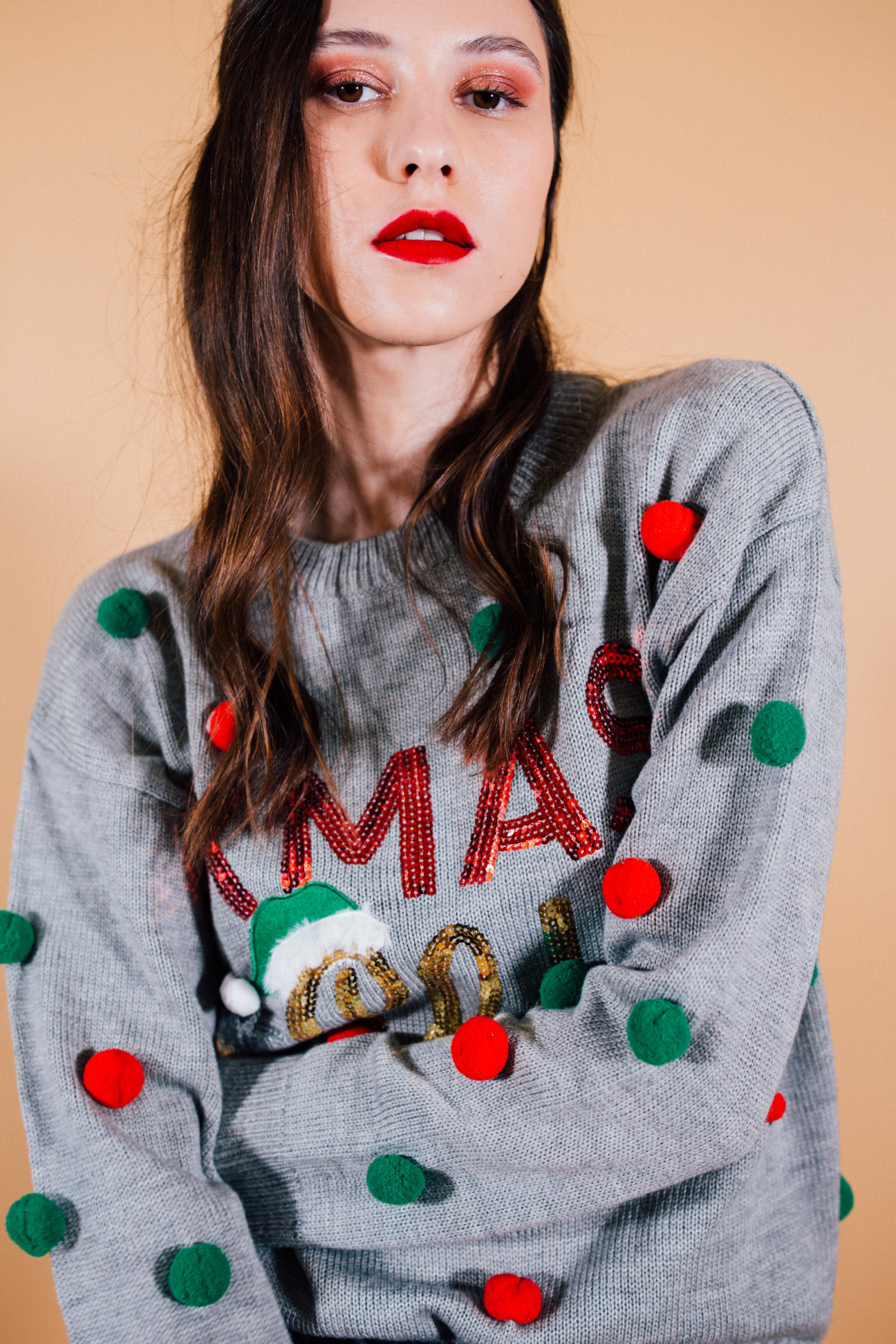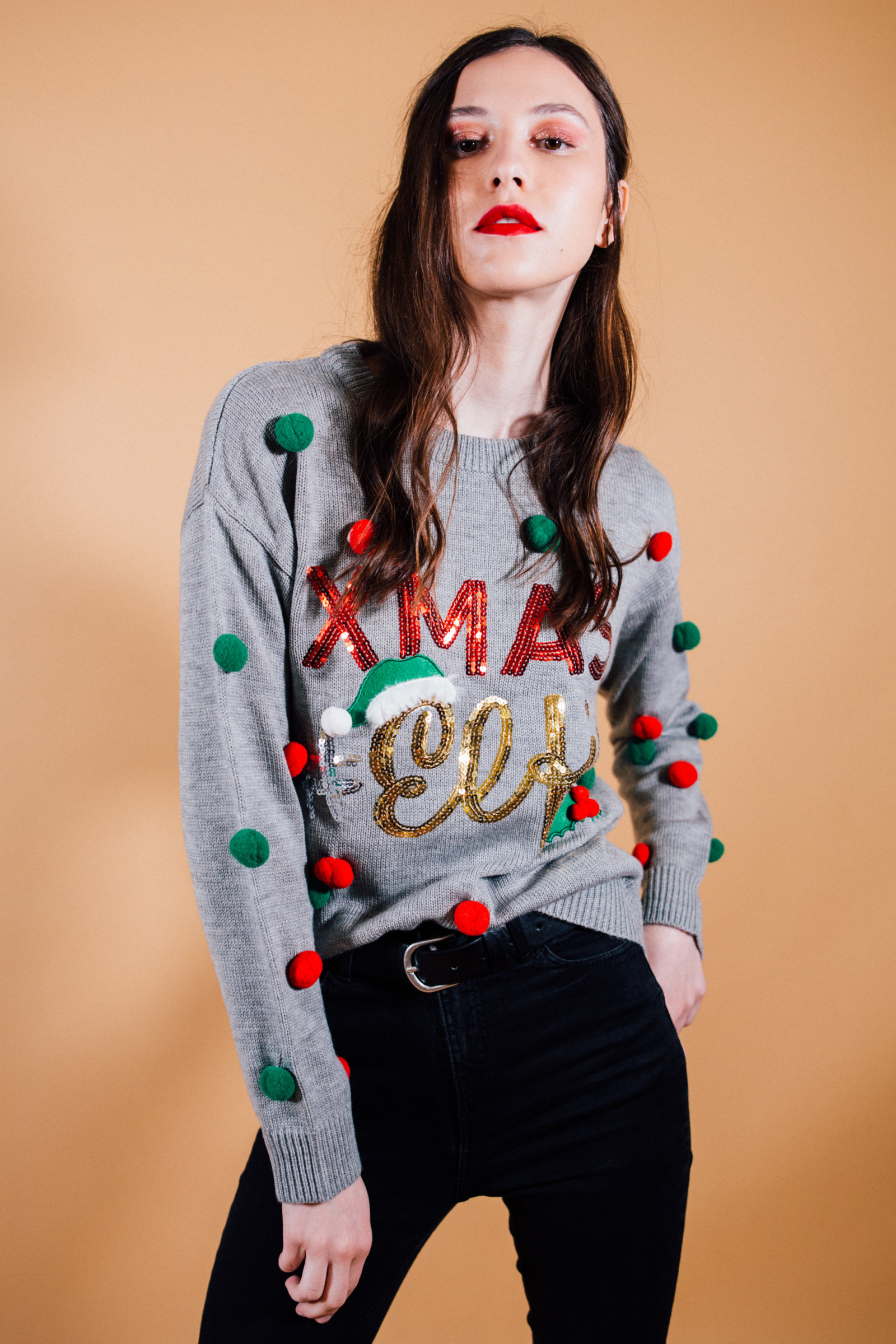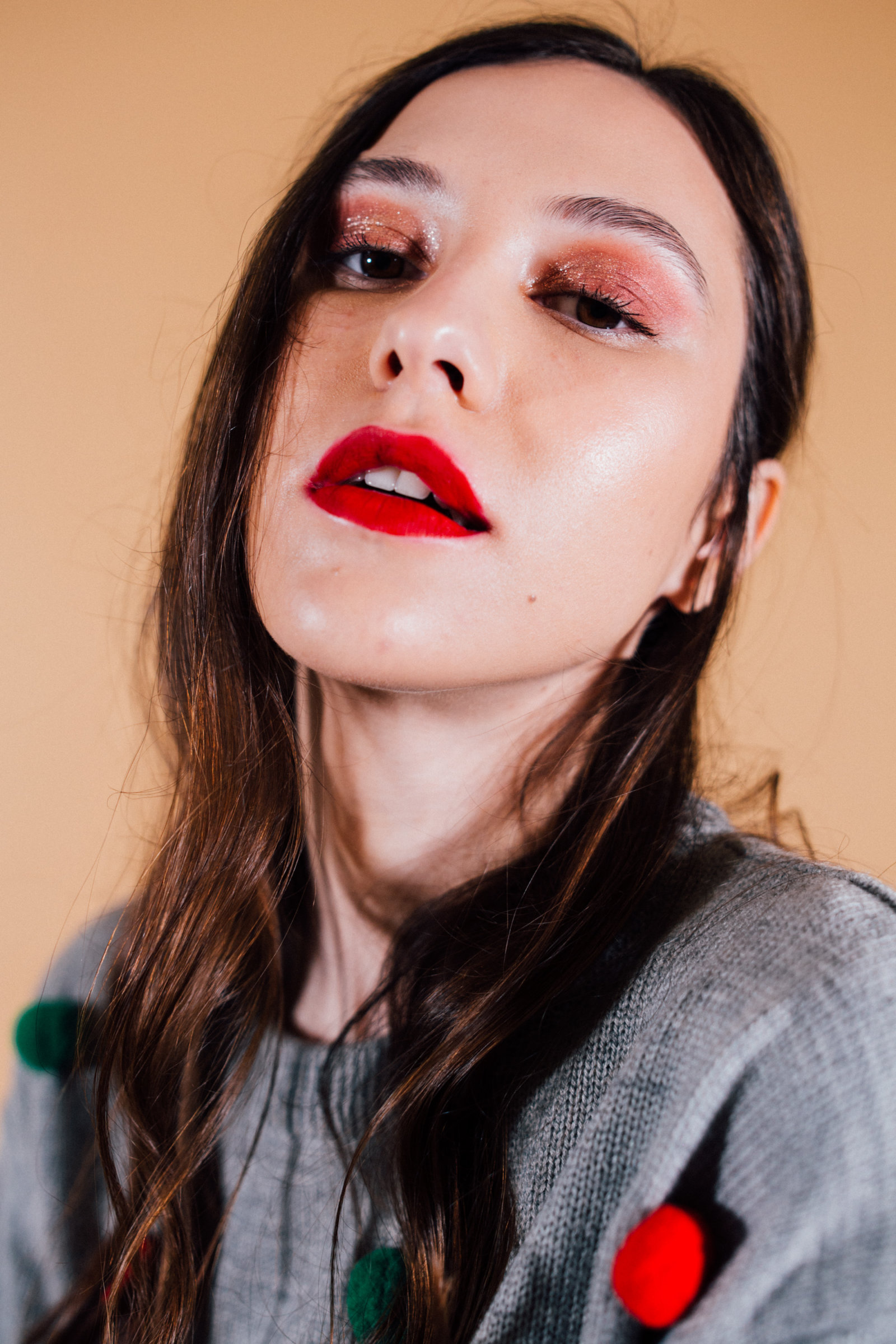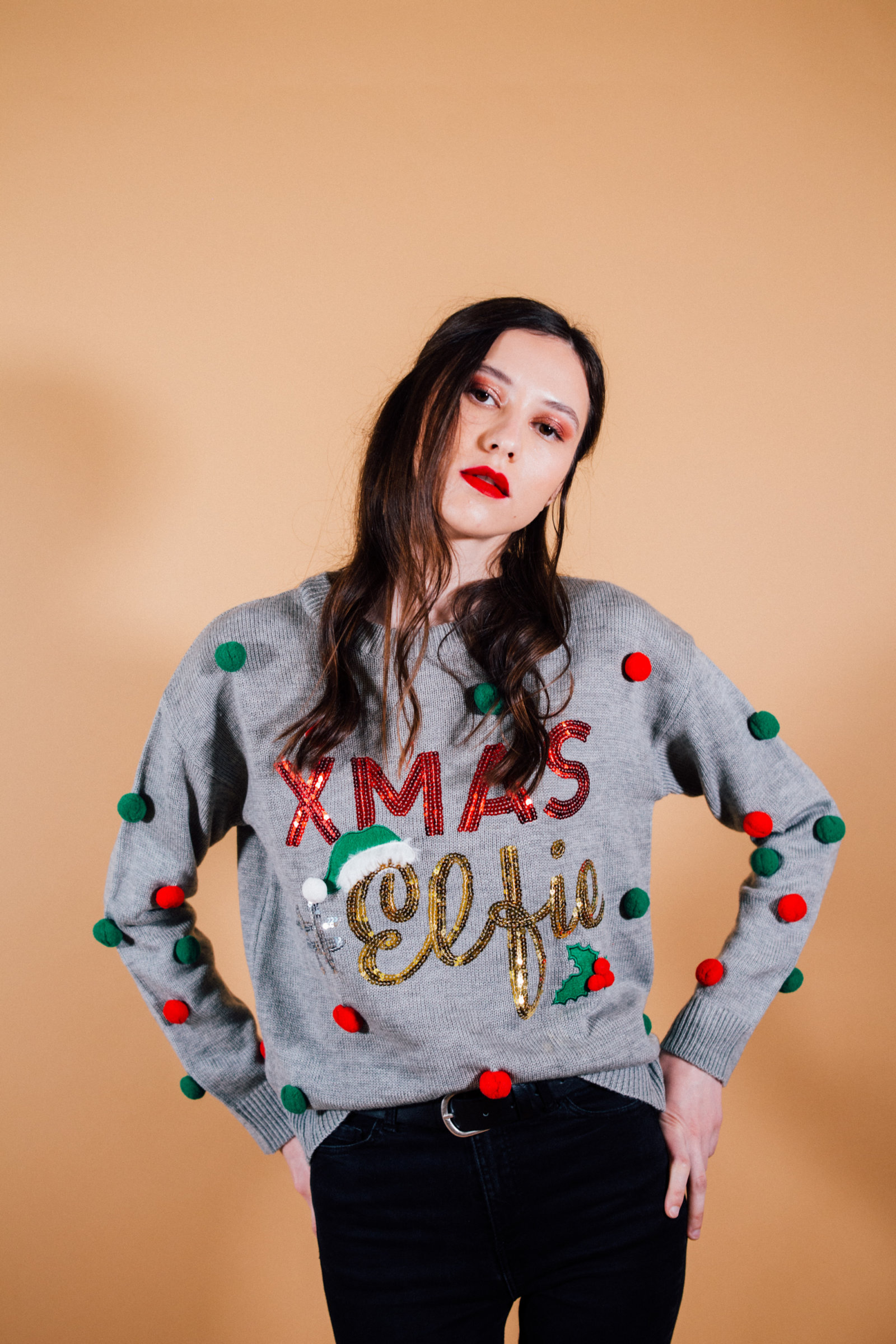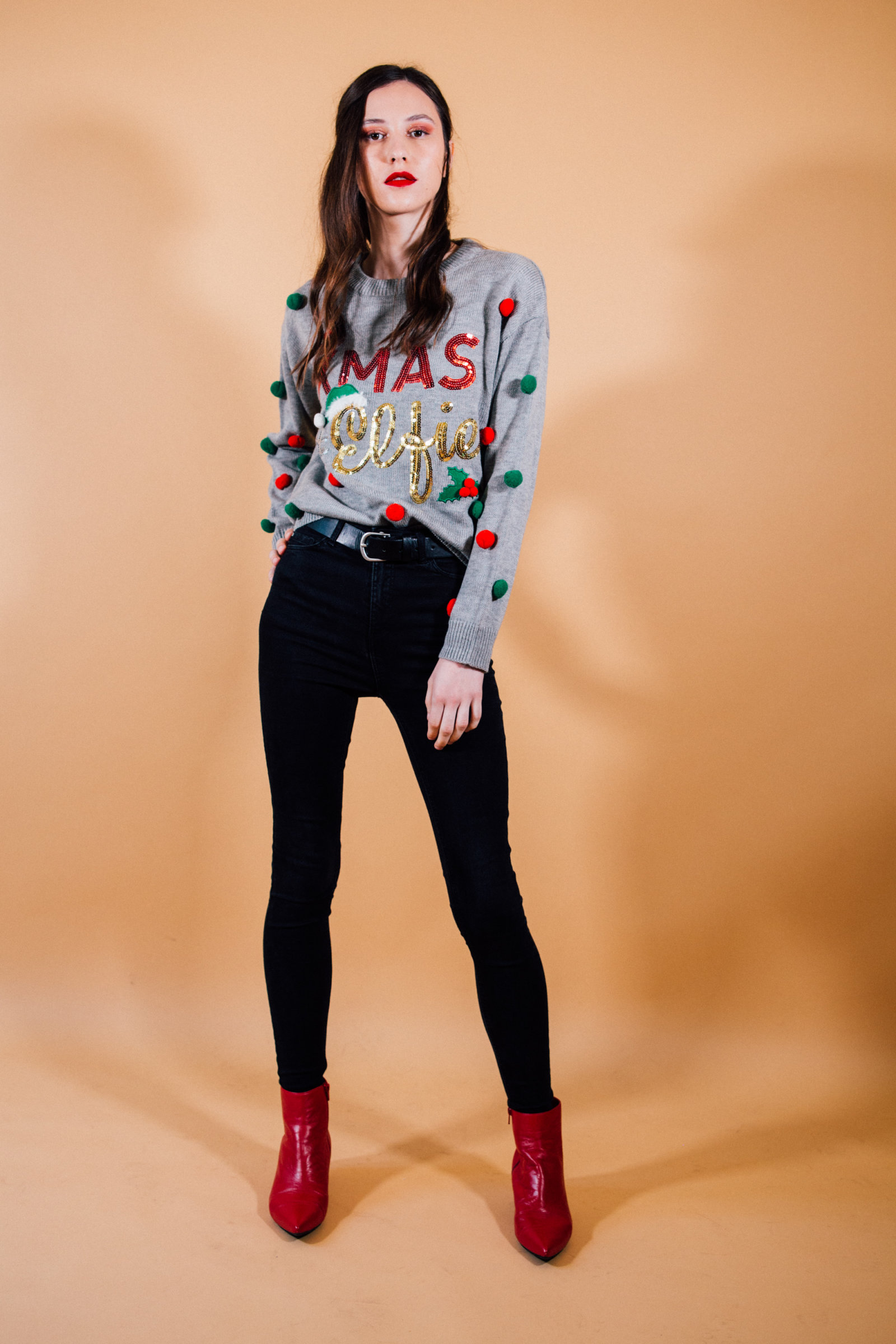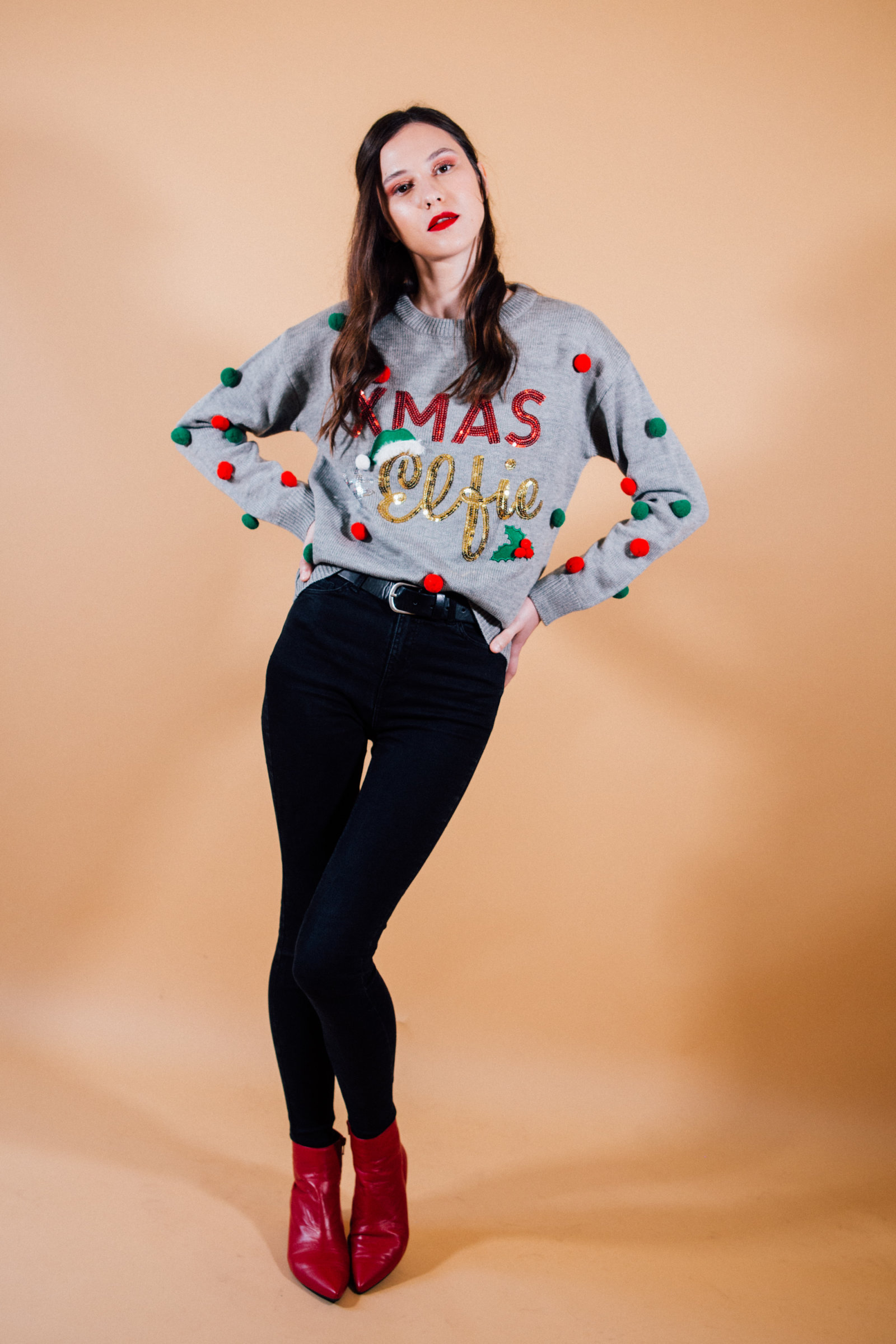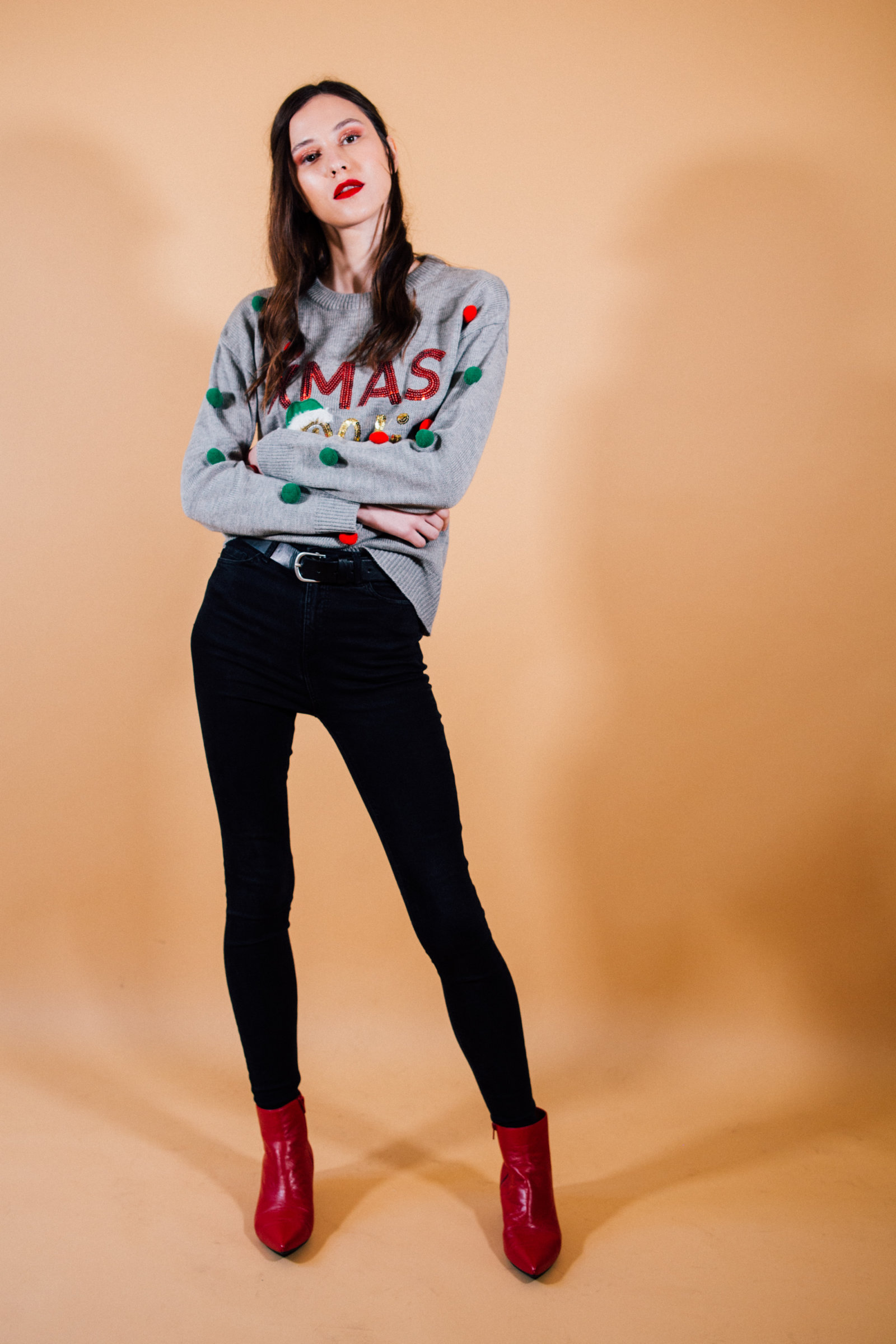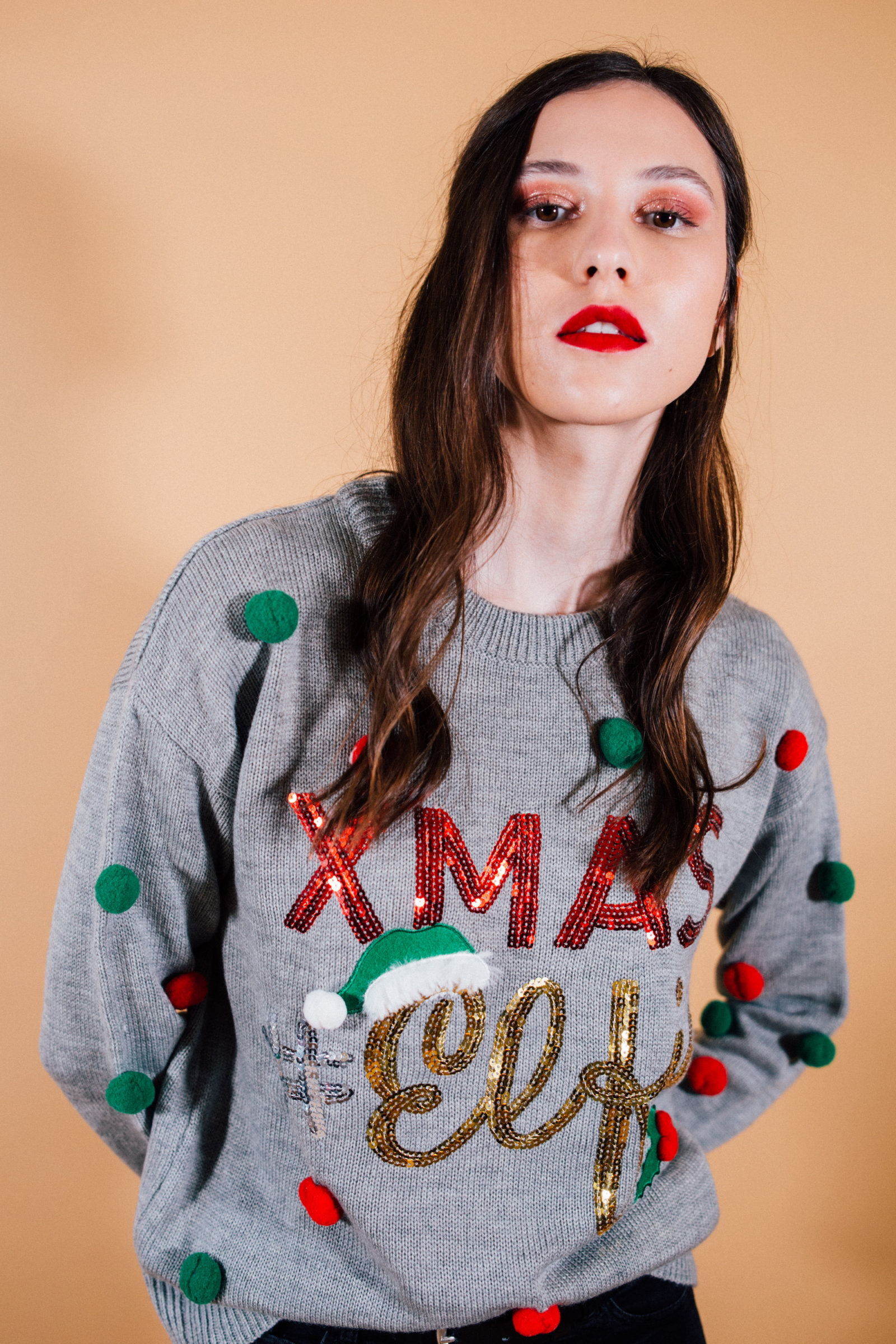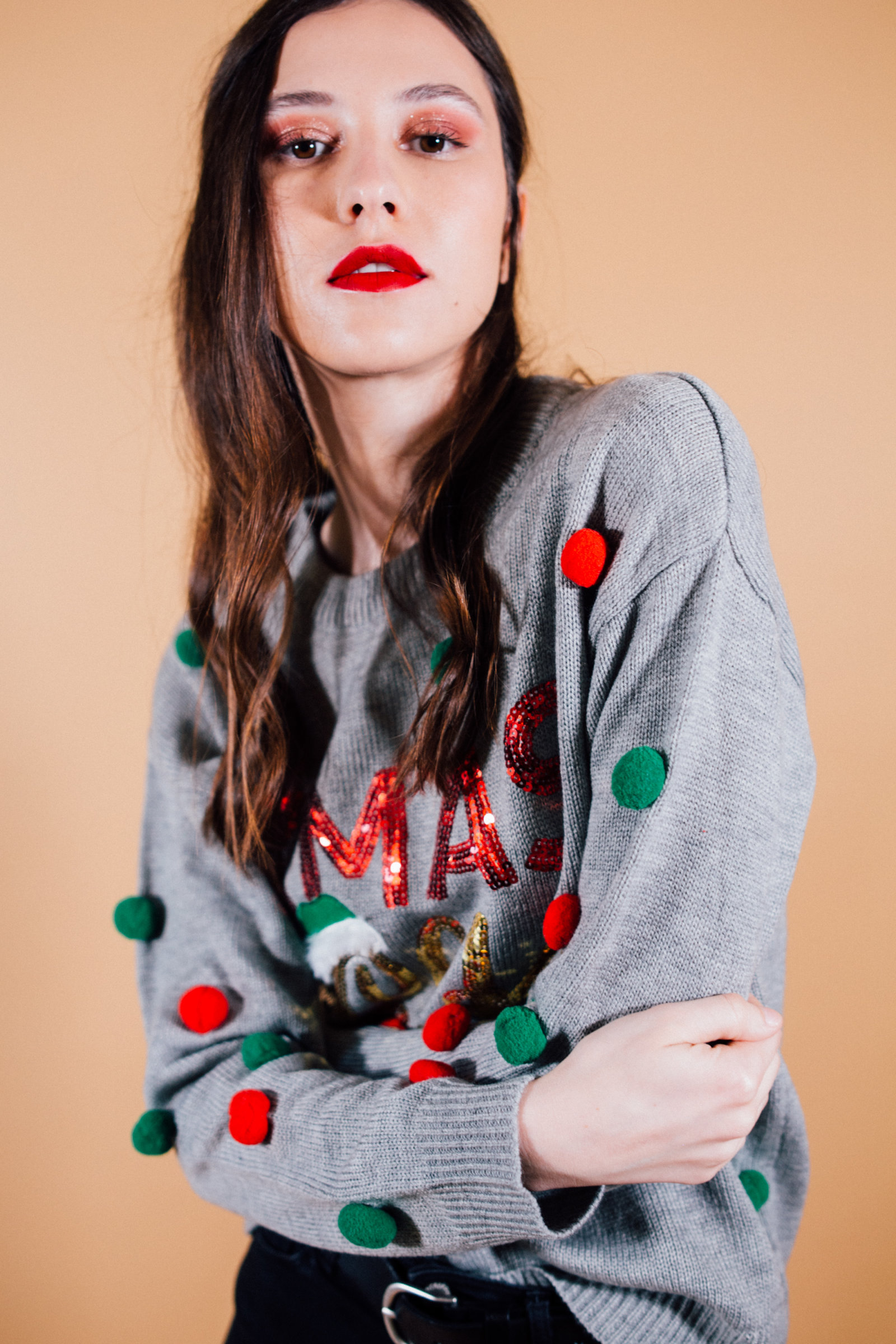 Or why don't we go full Santa and rock an outfit that winks to the classic "Christmas" style and takes inspiration from one of his elves? We can go as far as we want with the themes outfits because, really, Christmas is always a good time to have fun with our loved ones. We can be an elf, we can bring our friends present and joy, because there is no better time to breathe in that playful, almost child-like atmosphere that brings out our child-self, even only for a day.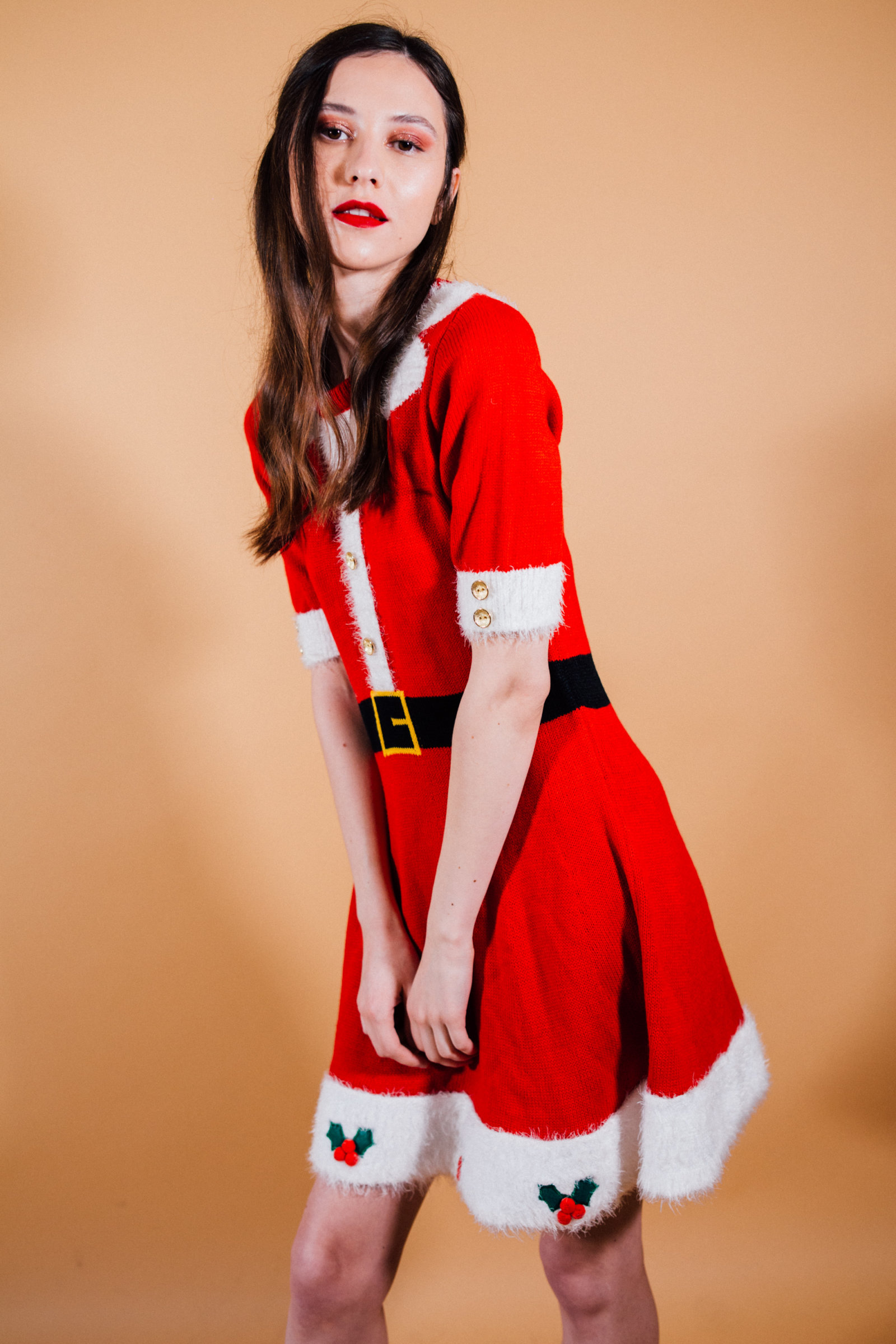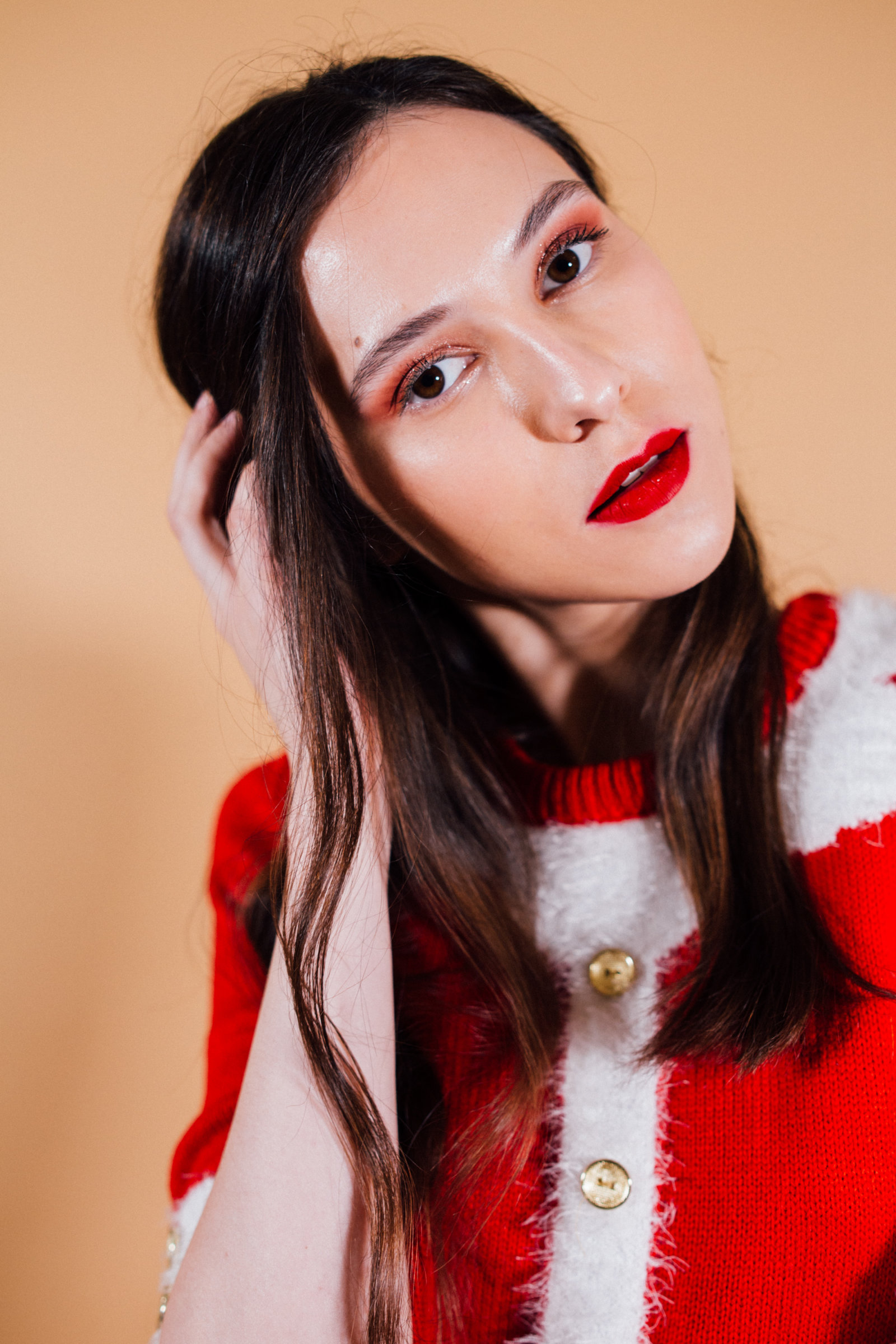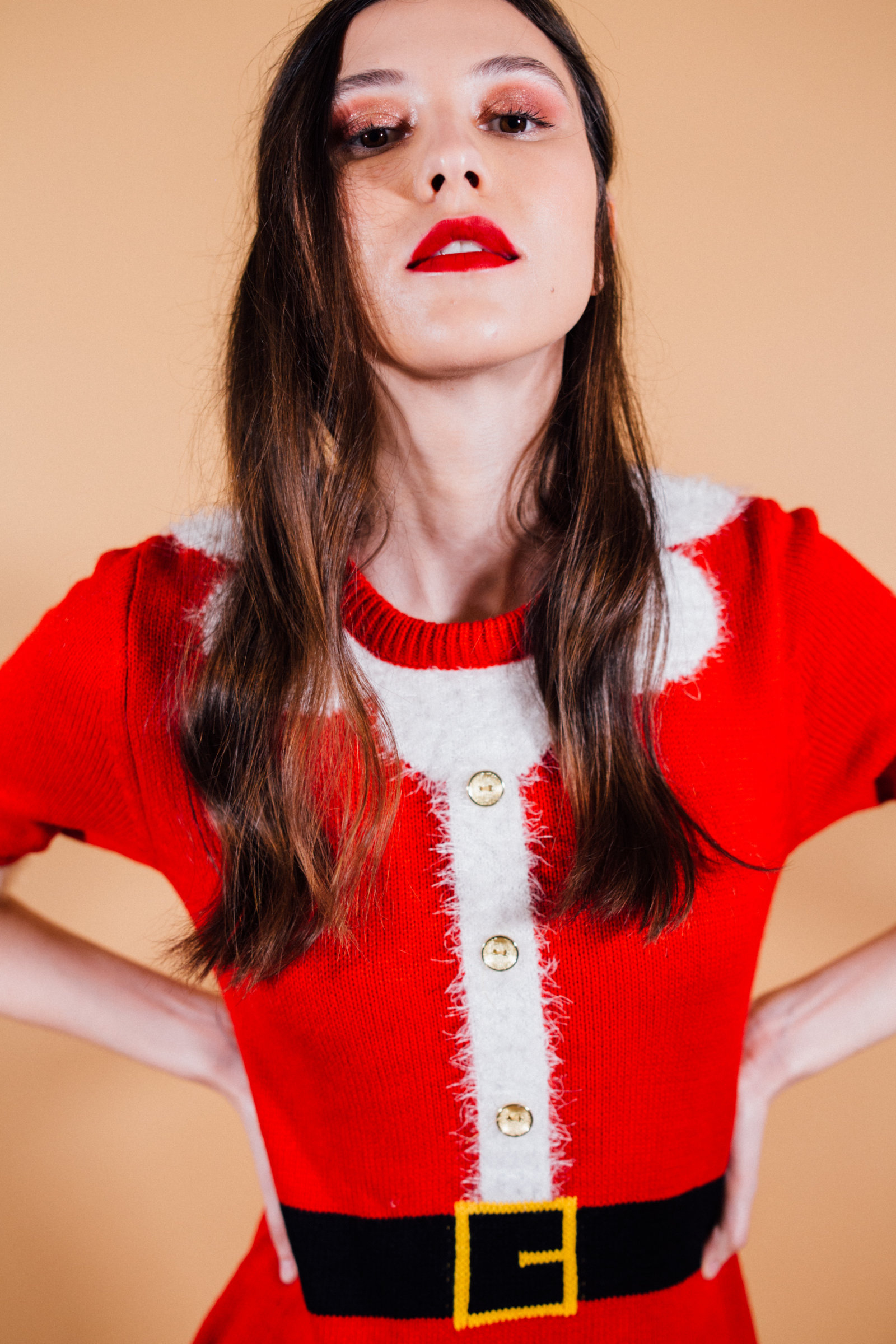 BEST OF YOU
DURING THE HOLIDAYS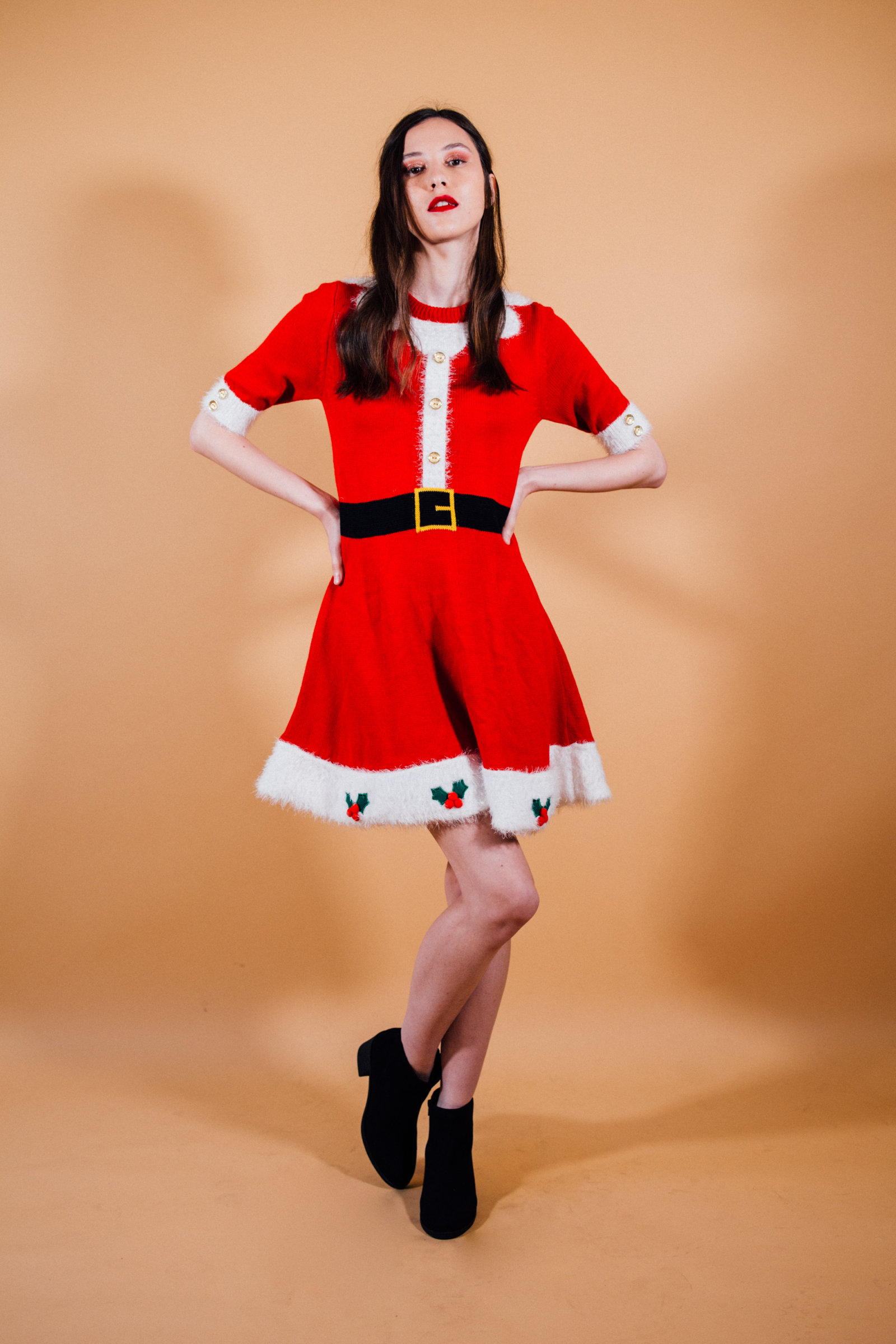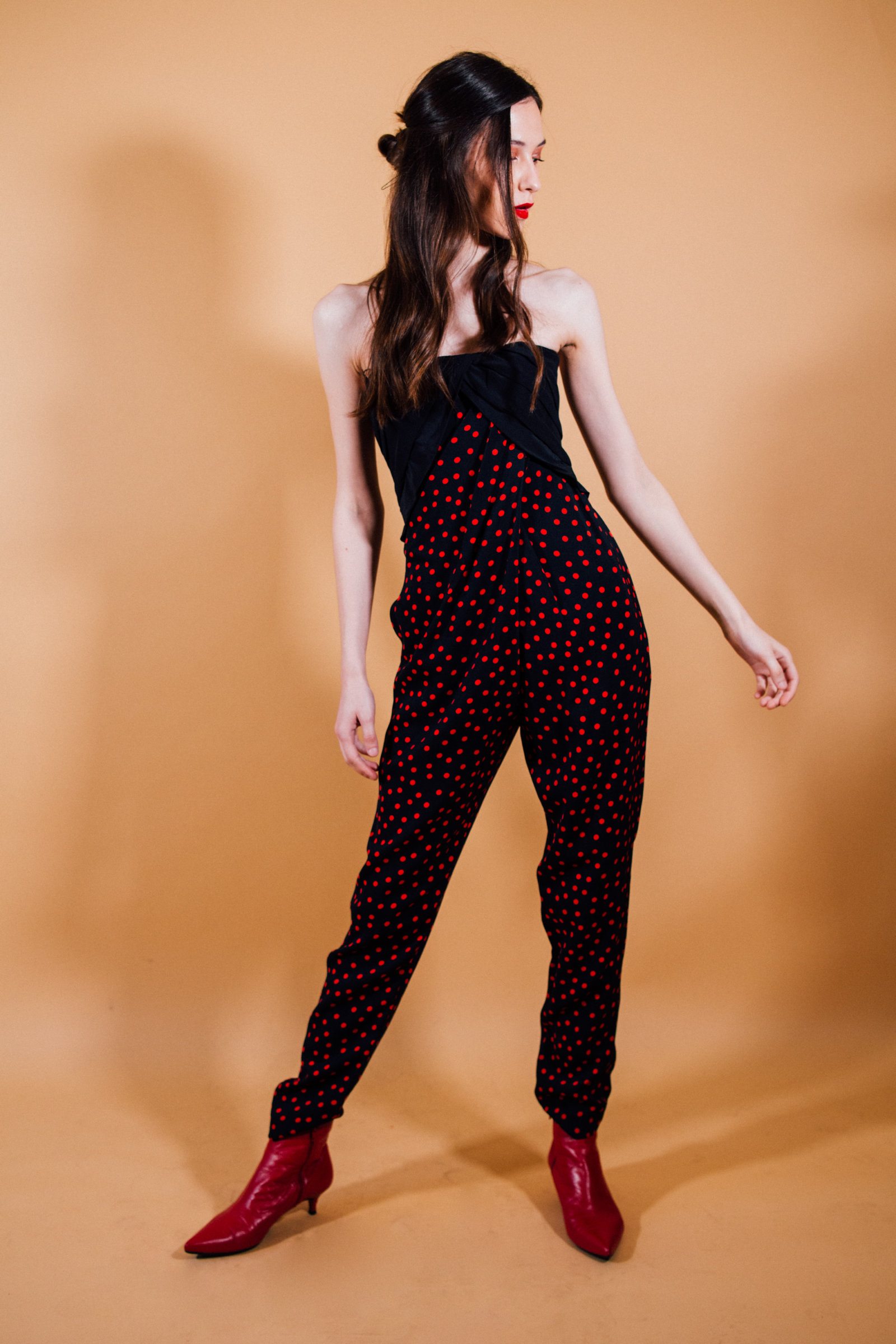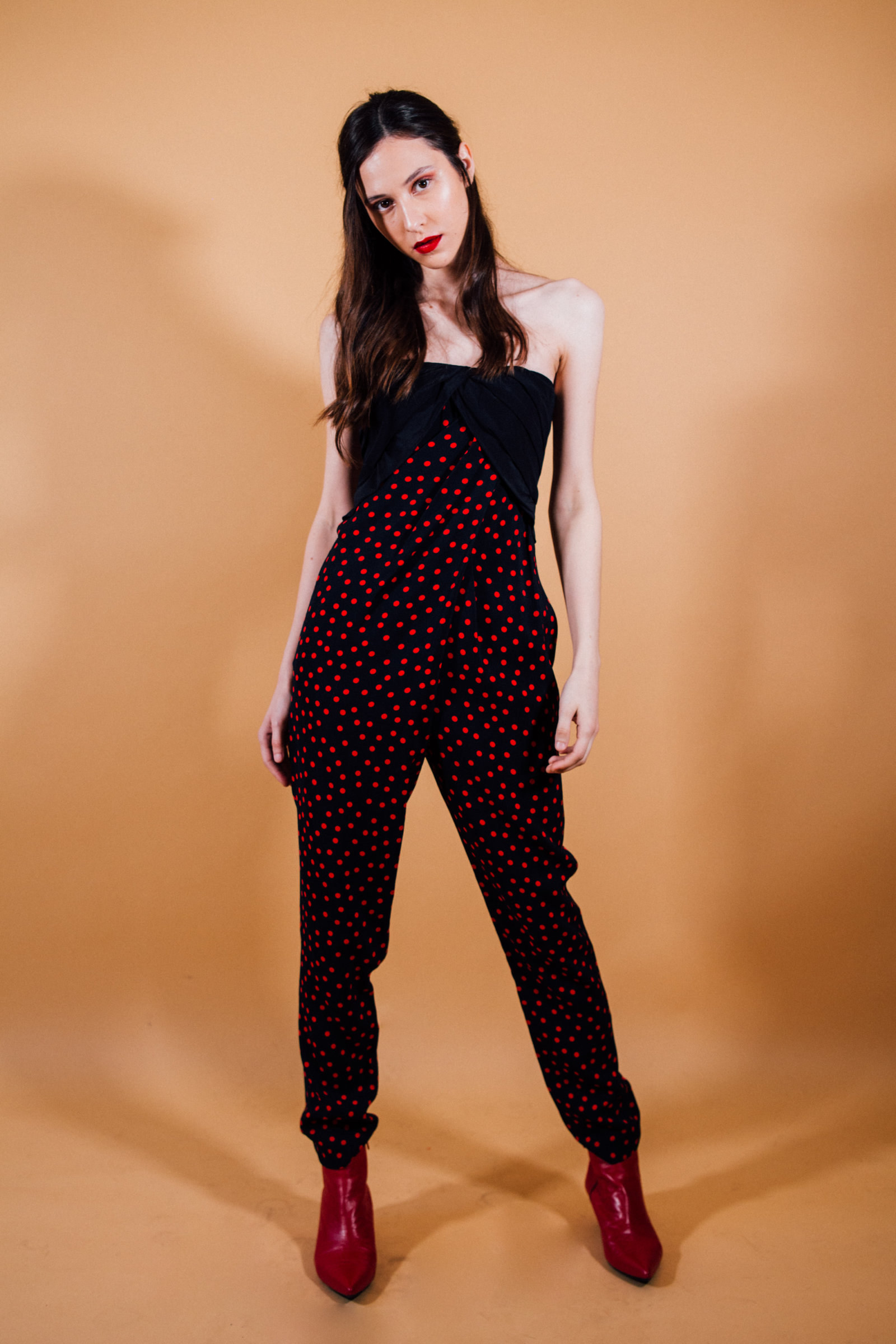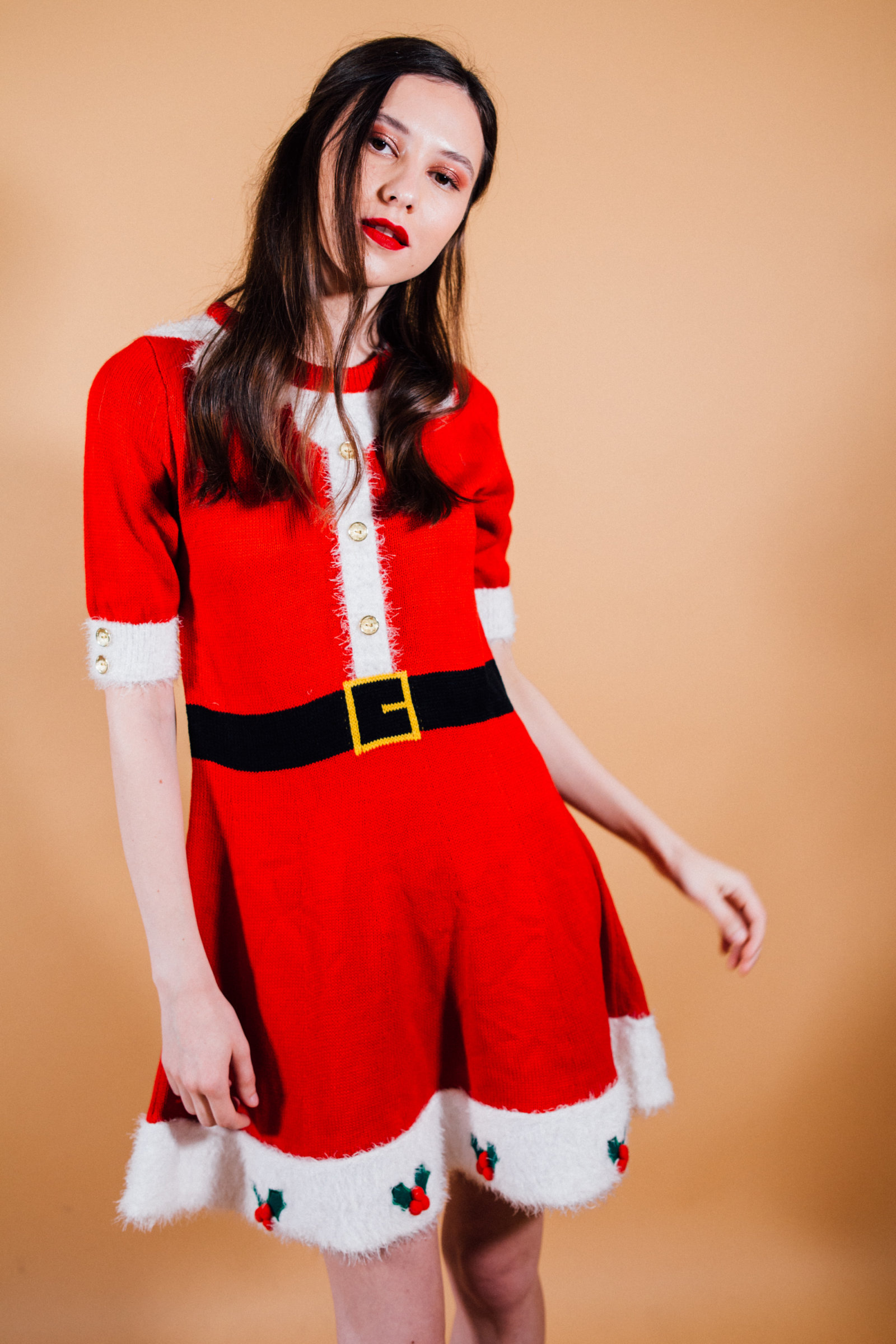 But we should never forget that, while it's cold outside, our skin needs extra-care to be happy and healthy.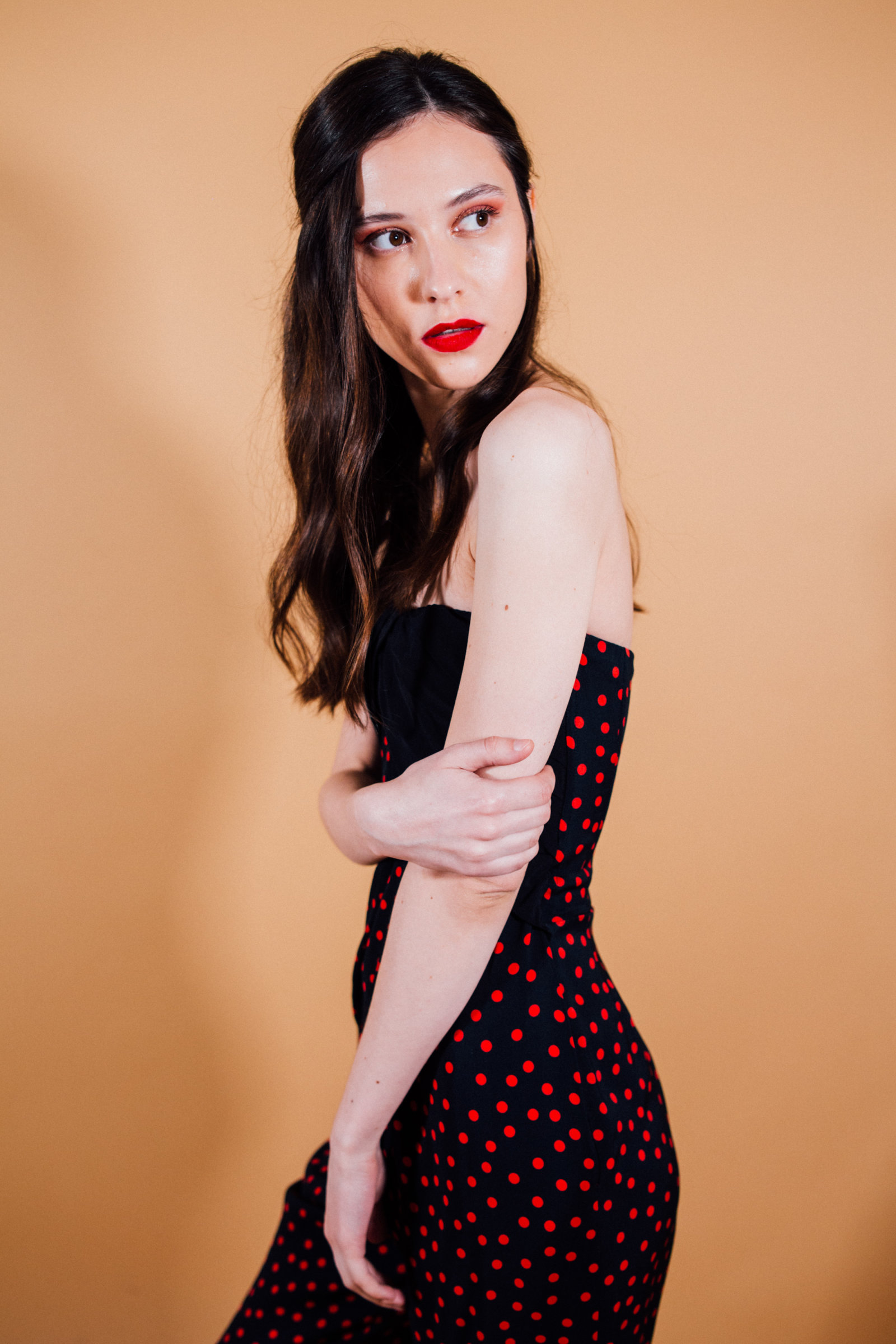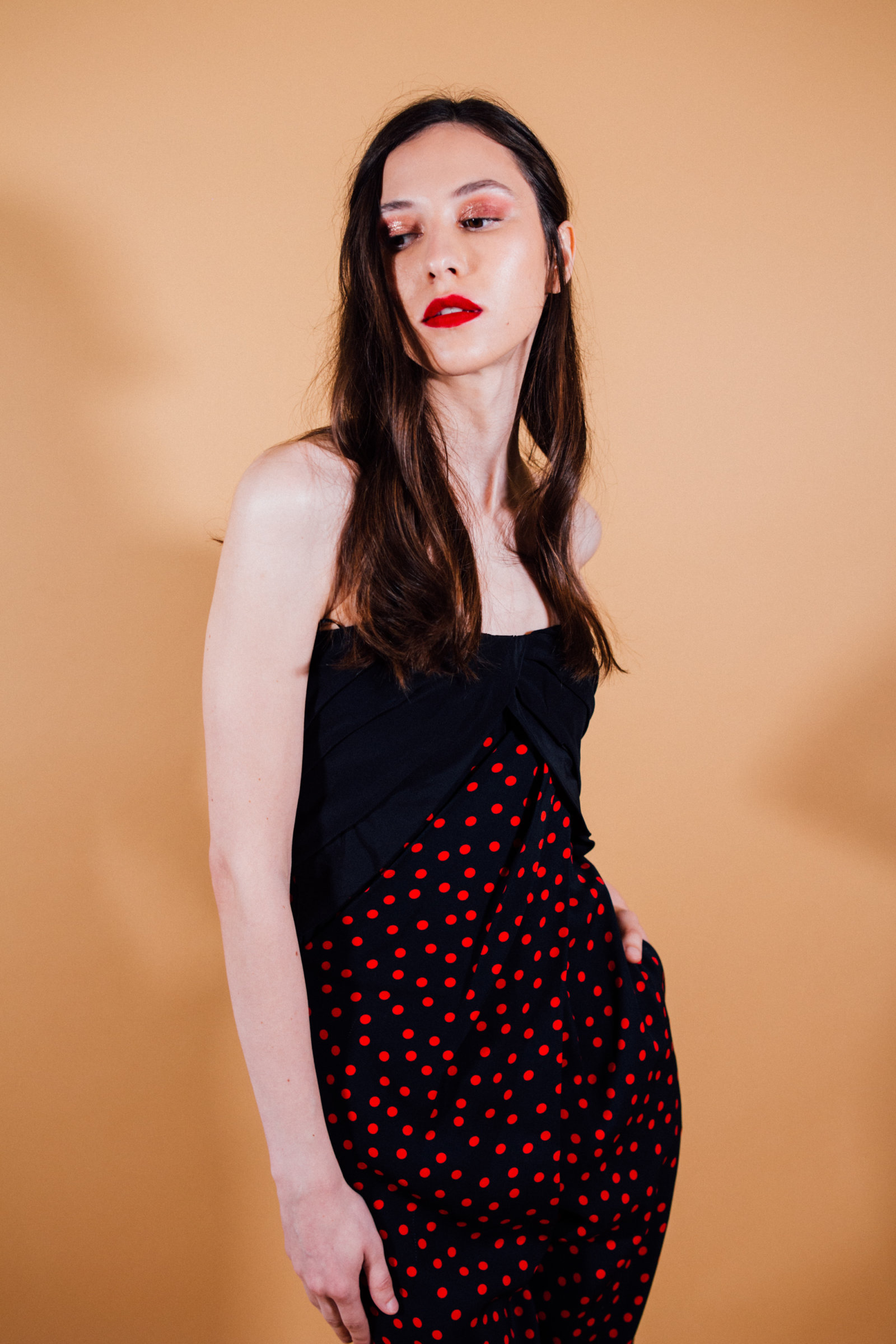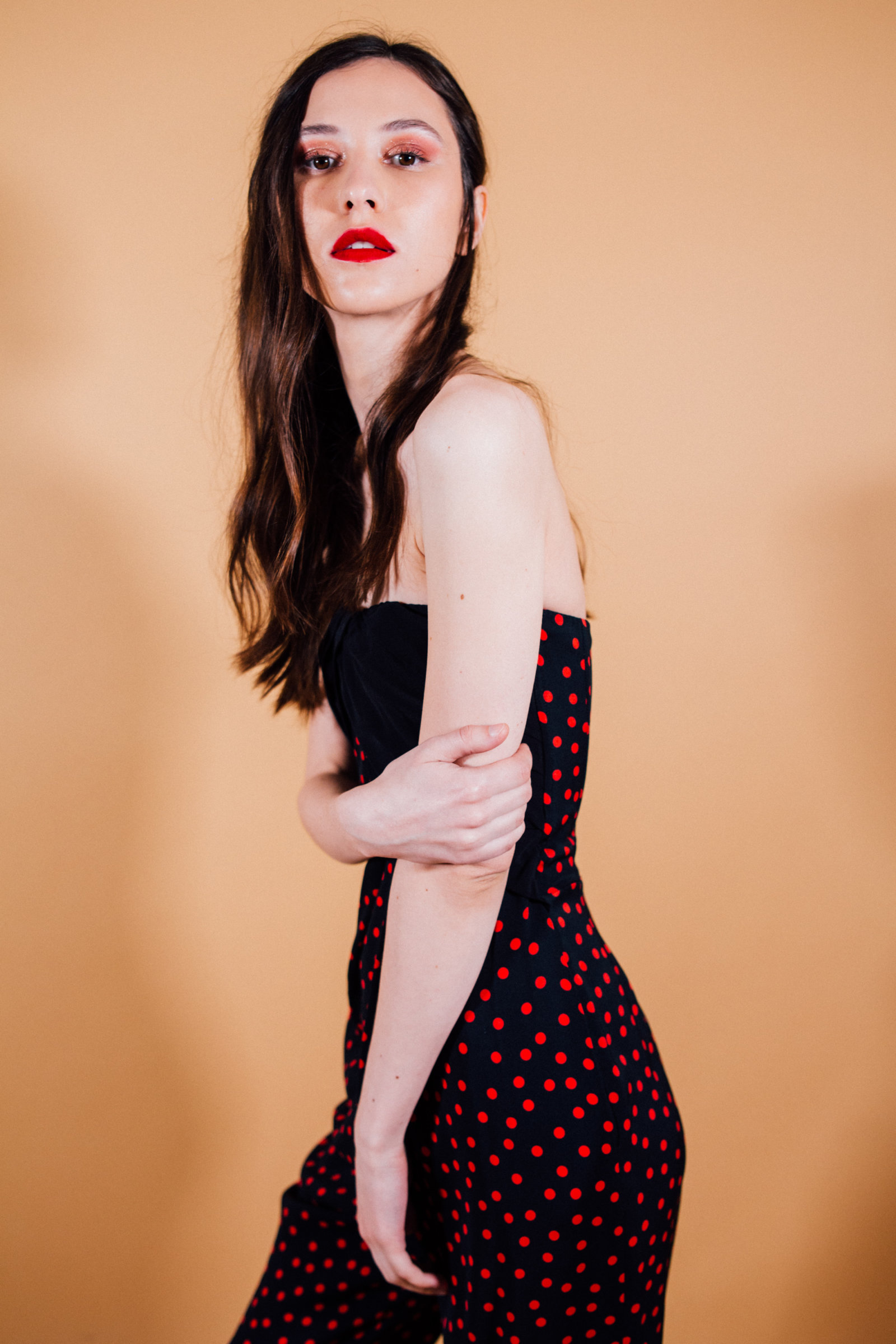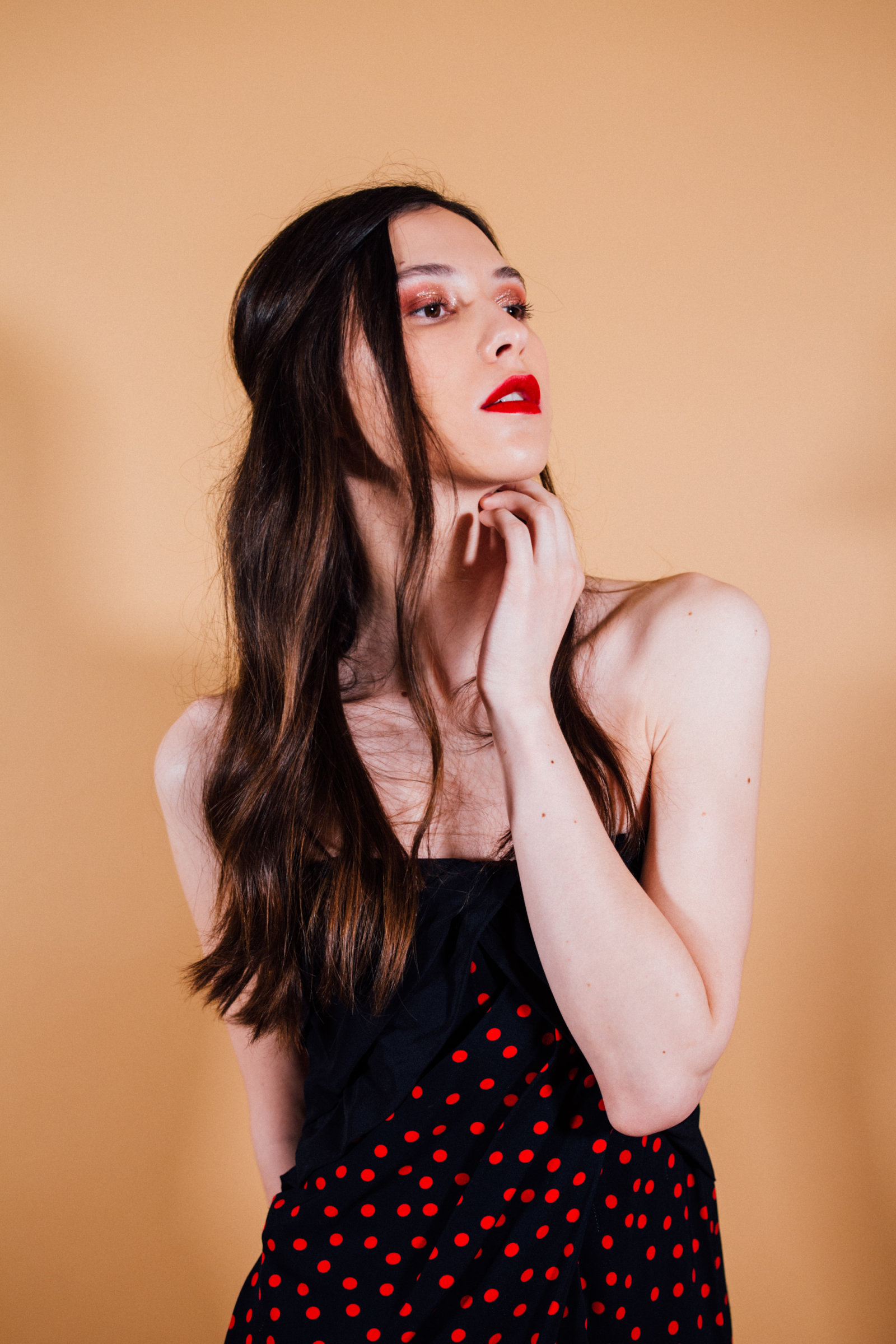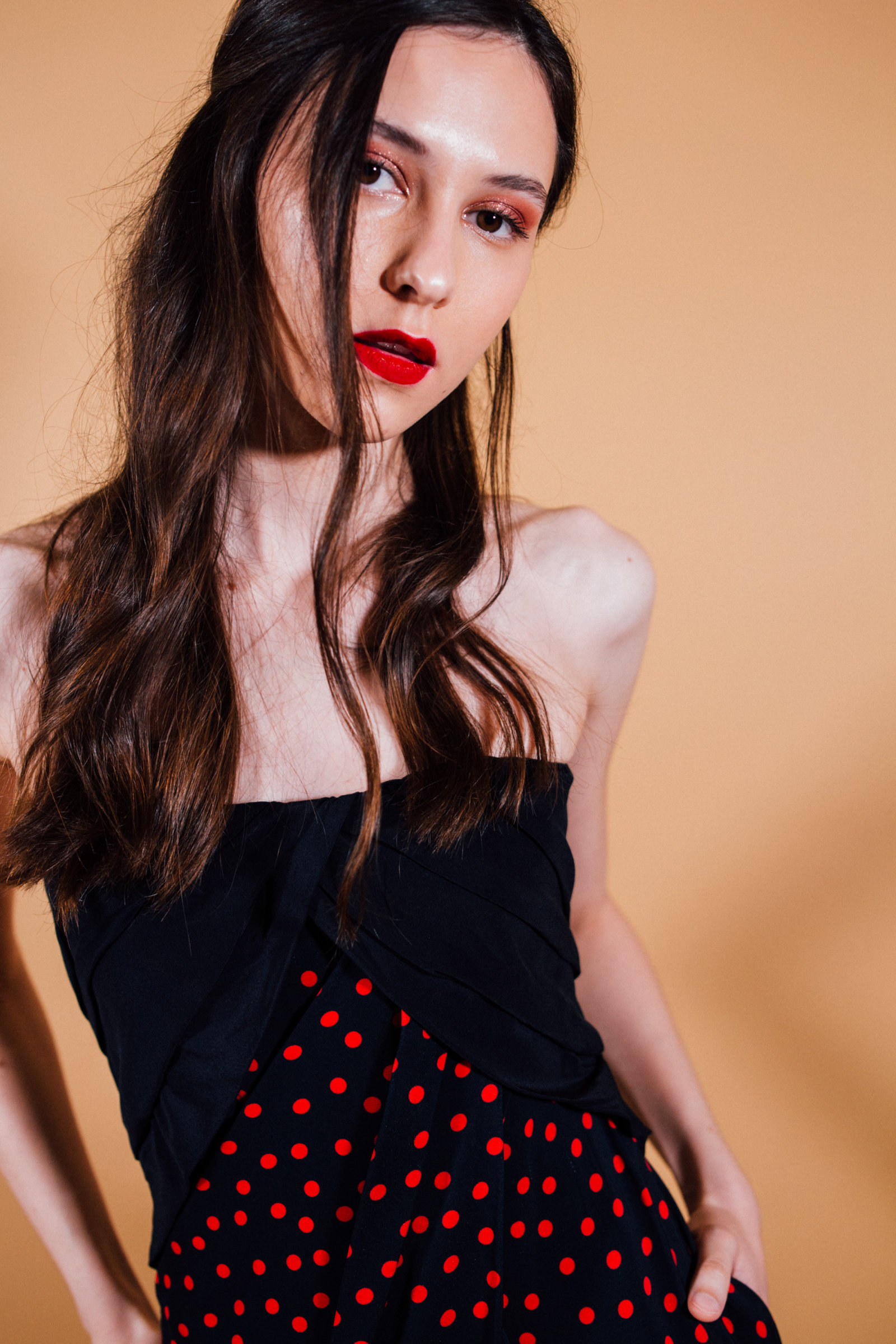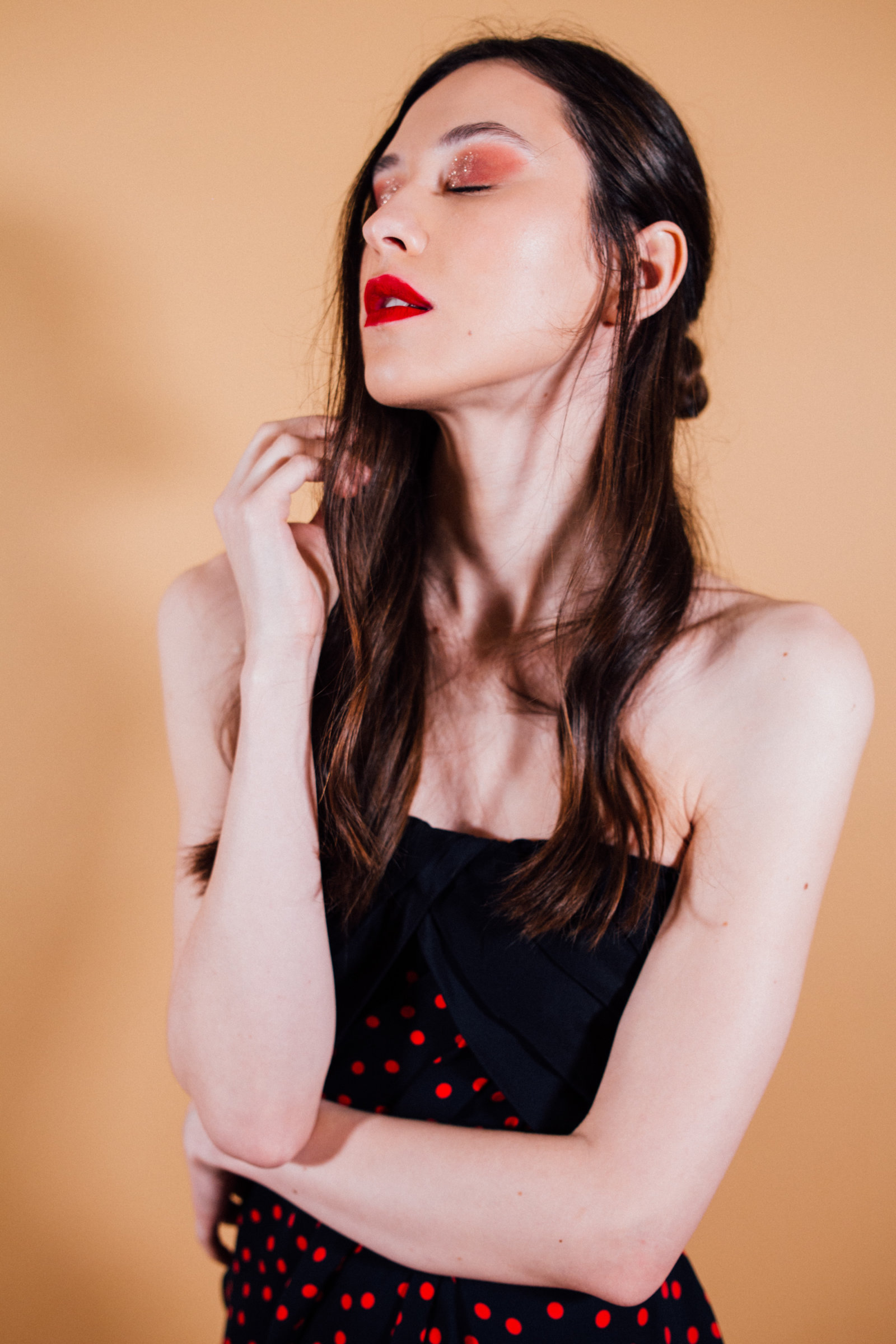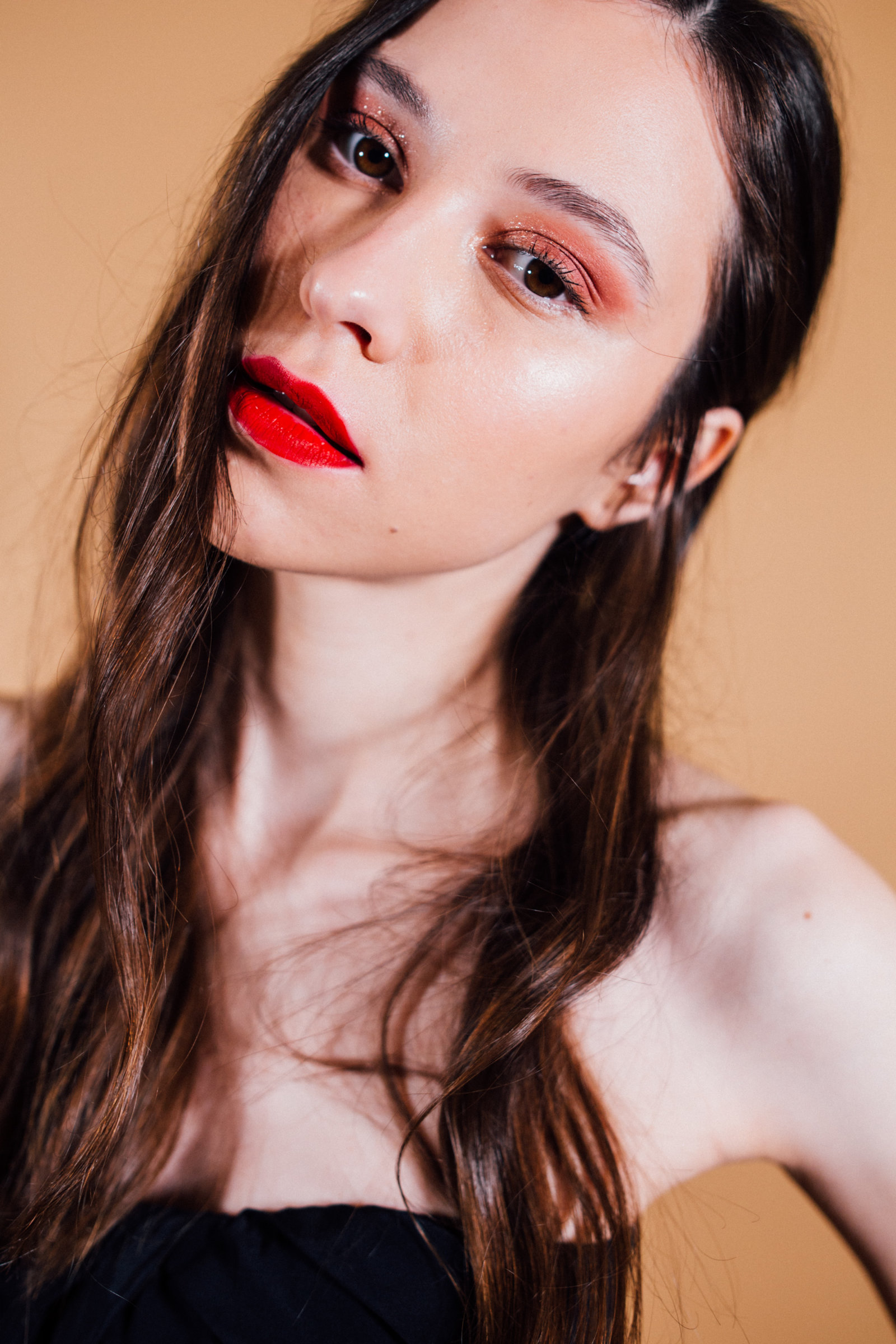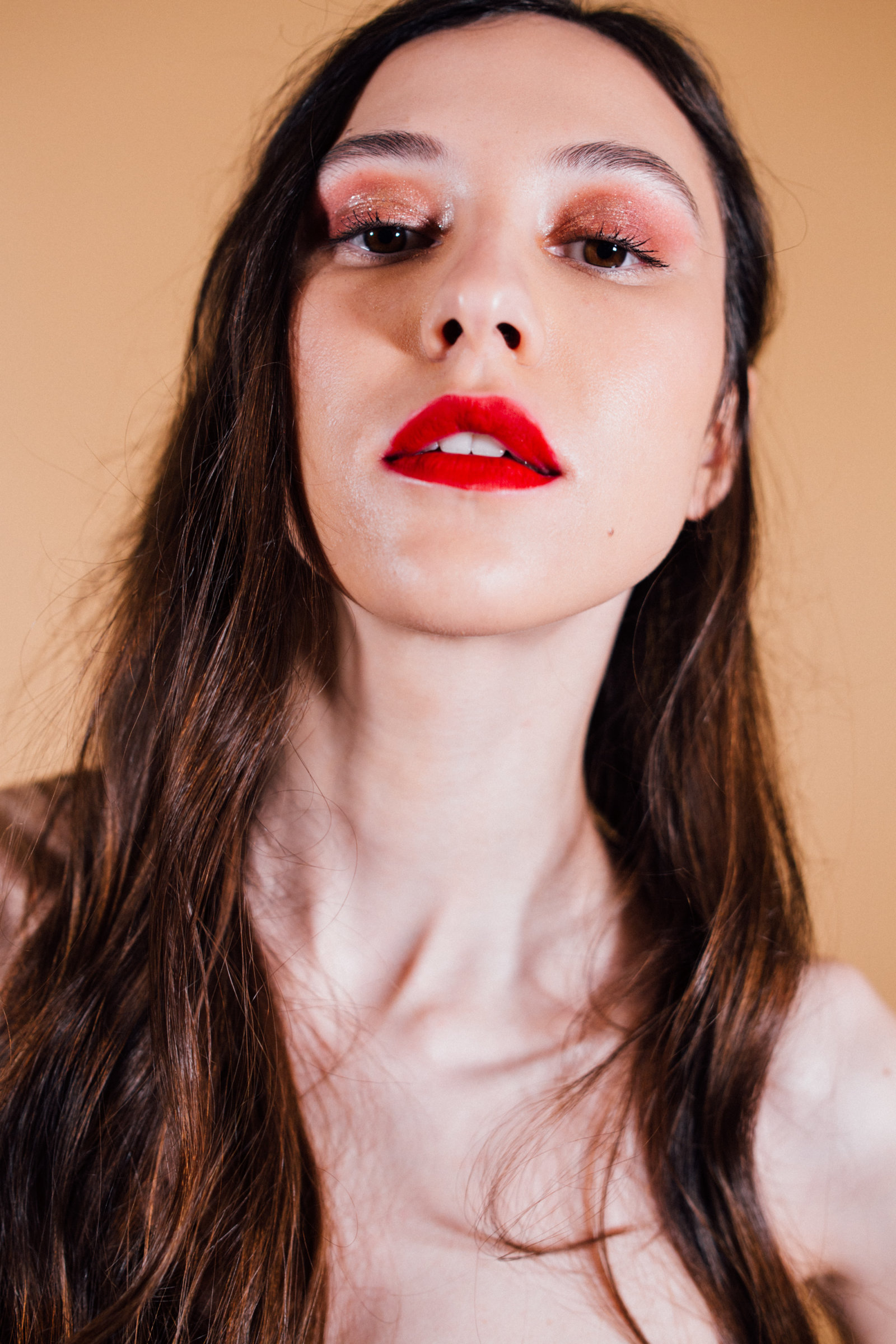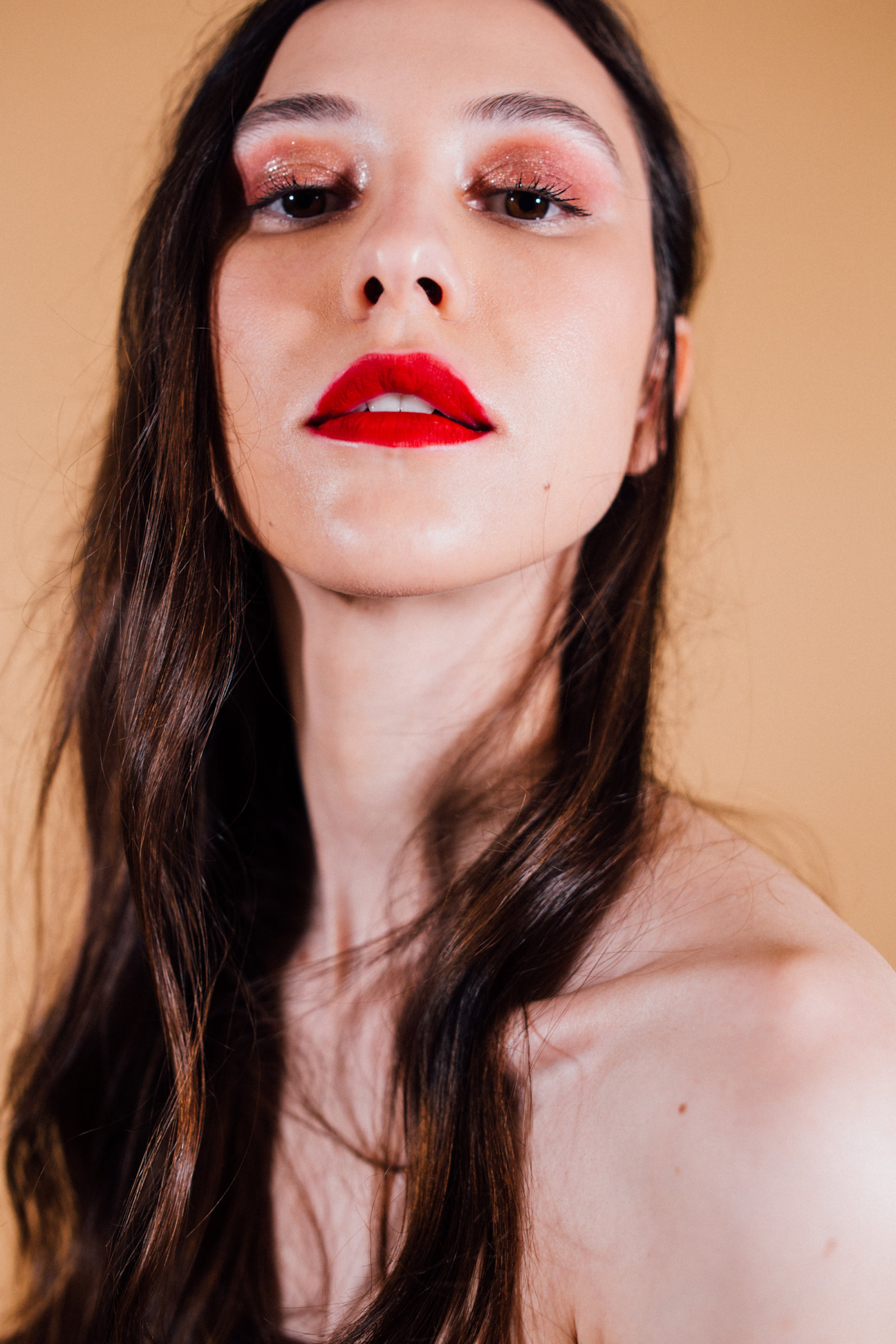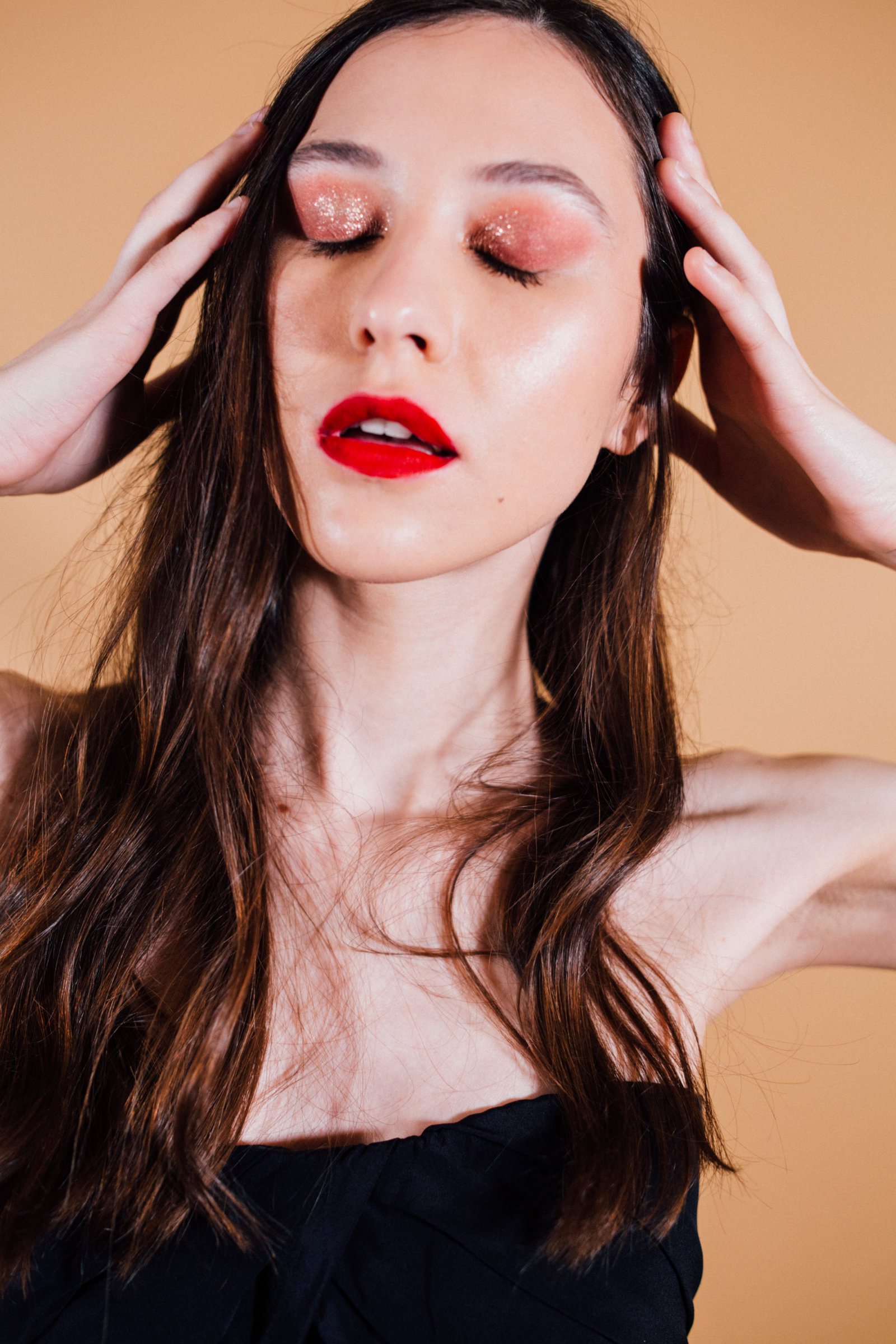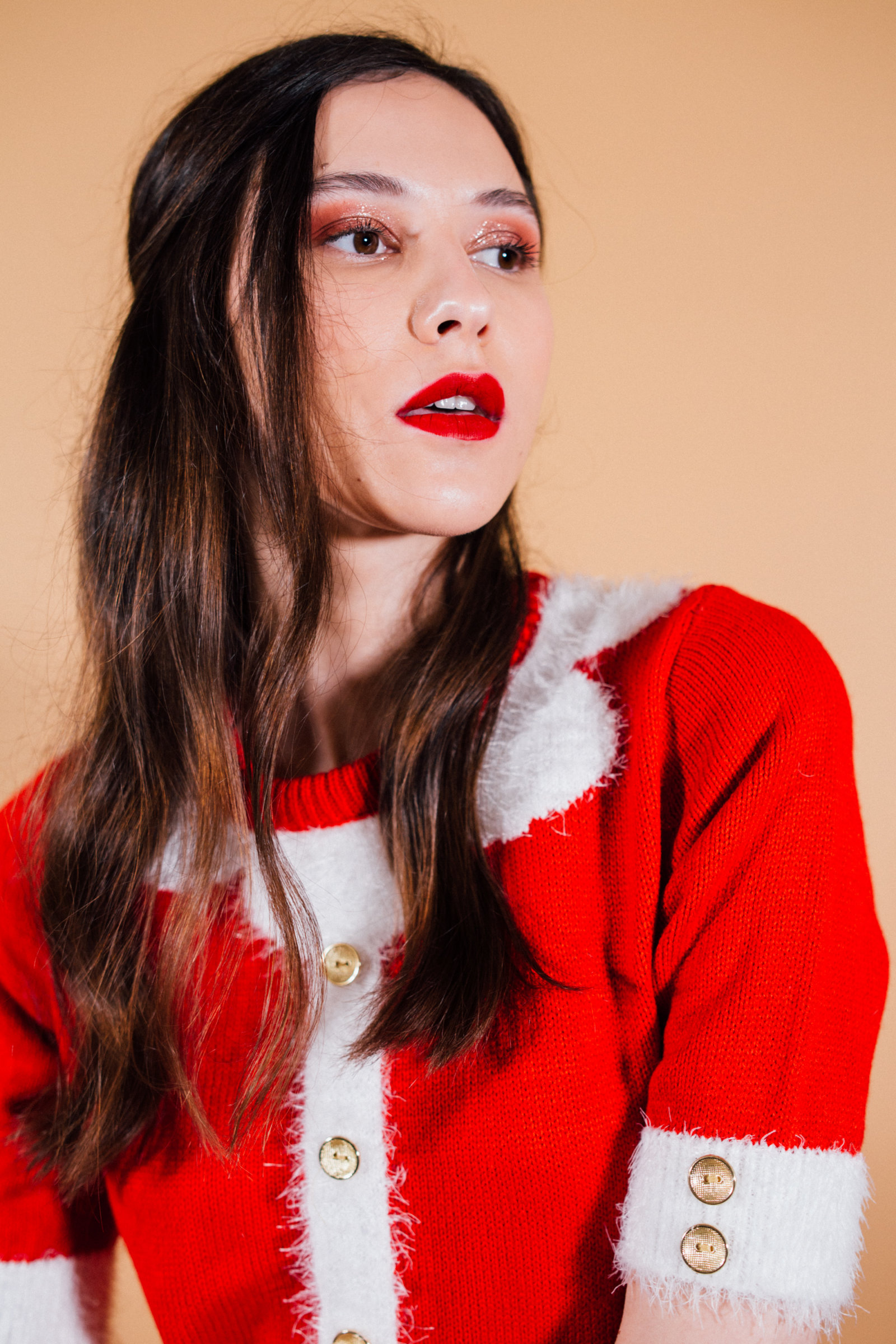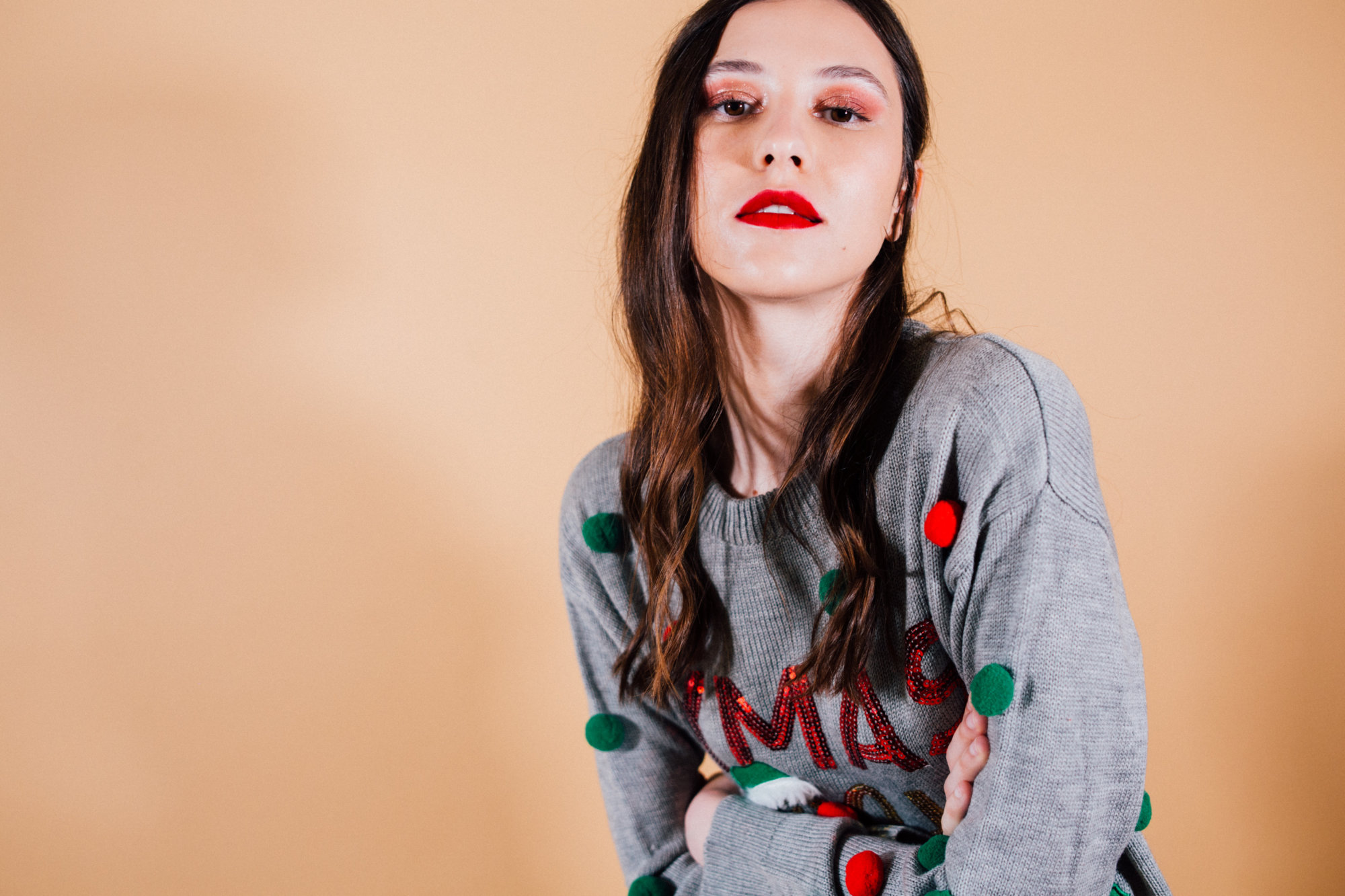 Credits:
Suit: Isabelle Blanche
Knitwear: Primark 
Jumpsuit: Mario Dice
Shoes: Unisa
Model: Victoria (26 Models)