Elena Salmistraro + 24Bottles, the perfect combo, created a limited edition that was presented during the Design Week. the launch took place during the Replay's "Holy Green" event at the store Replay – The Stage.
The 2 limited edition bottles with the designs by Elena are a celebration of nature and altruism, with a legend behind waiting to be discovered. The limited edition will support the Malala Fund which since 2012 is battling to bring the right to education to all the 120 million women in the world that don't have access to it.
In our interview, Matteo Melotti and Giovanni Randazzo (founders of 24Bottles) and Elena Salmistraro told us about the creative process and the message behind their collaboration and what their hopes for the future are.
Sustainability, design and creativity: in your opinion what's the key point to combine these elements in an ever-new and contemporary way?
__________
Giovanni: The idea at the beginning was to create a product whose mission was firmly sustainable, namely avoiding the use of disposable bottles, with a process and project that was at the same time beautiful from a design point of view, talking to an audience not initially interested in the topic of sustainability that is drawn by the aesthetic of the bottle instead. Then, as a consequence s\he does a good thing in buying because it's good for the environment.
Matteo: When a "green soul" isn't enough, you also need something that becomes an iconic object.
Giovanni: It's about functionality and aesthetic at the service of a sustainable mission. The concept of sustainability can also be hidden as long as it's the backbone of the company: behind every collaboration, there is this goal, but it's hidden behind a beautiful and captivating object that stands out for its aesthetic and design.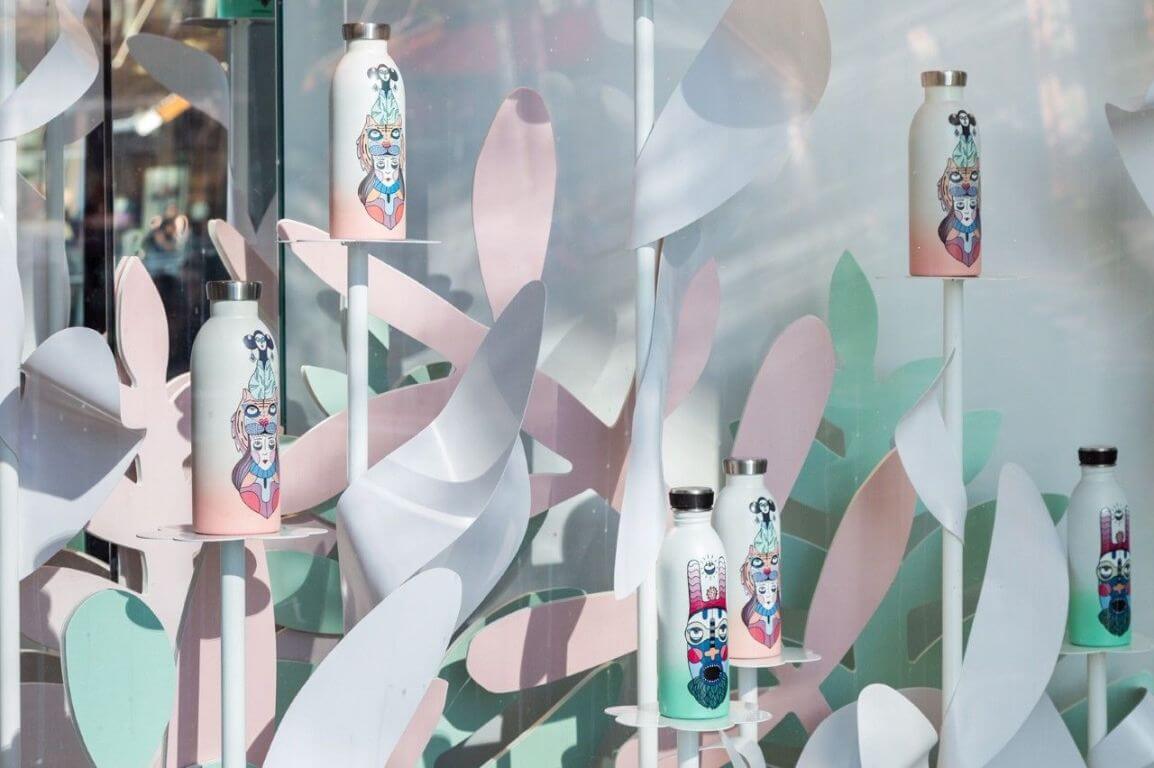 What is the message that you want to share through the collaboration with Elena Salmistraro?
__________
Giovanni: We are proud of it because the topic is important and delicate, it's about the care and welfare of women and the gift of altruism. Elena drew two legendary figures that tell about these two themes. And this, transferred into these beautiful images has closed the circle, namely the support we will give to the Malala Fund, that since 2012 has been battling to guarantee the right to education for women and young girls that don't have access to it, that are counted to be around 120 million. It's a collaboration that makes us very proud.
What's the inspiration for these two designs, and what was the creative process behind them?
___________
Elena: My inspiration is constant – it's important to say that it's the second year that I collaborate with Replay, and they as well are very attentive to the environment so this "marriage" was just perfect, they have experience and they care, so we thought to unite everything into an event.
The inspiration is all about nature; during my research, I saw this Diana, protector of animals and women, a well-known Roman goddess, and I wanted to revisit her image: you can see that there is this woman with a tiger as partner\friend. The other figure is called Sakra and is inspired by an Oriental story, the image is a "lunar rabbit:" the legend says that there were 4 animals – an otter, a monkey, a rabbit, and a jackal – that wanted to help this elderly man in distress. So the monkey climbs a tree to get some fruit for him, the otter goes fishing, and the jackal steals food from other houses whereas the rabbit that doesn't have a specific ability thinks of jumping into a big pot, donating in this way its meat to the elderly man. This sacrifice, this charity, touches the old man who reveals himself as the Sakra, a divinity, and so he decided to draw the rabbit on the moon. As a matter of fact, if you look at the moon when you are in the Far East, you can see a stylized rabbit sitting next to a big pot.
I thought that the theme of altruism could be the perfect subject. You can see the use of pastel colors that recurs in my way of painting.
Fashion, environment, and design: which world would you like to explore next?
__________
Matteo: Right now, we are entering the world of universities – here in Milan we have done some really nice projects with the Bicocca university and the Politecnico, and we are discussing other projects with other universities. We believe it's a world outside the one of fashion but inside the one of sustainability, it's important to educate the new generations to the use of a sustainable product and to realize that in the last 40-50 years we managed to destroy something that for million years had remained uncontaminated. We absolutely need this turnaround that can only come from the new generations.
It's a change that must take place, otherwise, we won't be able to leave our children a better world.
"We absolutely need this turnaround that can only come from the new generations."
What are the most difficult challenges that you find yourselves facing? Sometimes, for instance, sustainability is seen as a trend and not a way of life…
__________
Giovanni: Let's say that the challenge is the everyday life: people get up in the morning, put on their bandana and live their own war, whereas thinking about their consumer choices and the planet, hence having the time to think about the food in plastic packaging or disposable bottles, fades into the background. Because you have to go to work, you have a lot to do, you don't have the time for. This is, though, a distortion on a behavioral level that impacts on a global scale; but we are confident, because here in Italy when we started this project we were looked at as if we were aliens because of the idea of a reusable bottle, nowadays, instead, we see that the new generations are more and more sensible and closer to this routine.
If only it was easier to find water on the streets….
__________
Matteo: You get the stinky-eye, it's true, but in the airport or other situations I can refill the bottle from a tap. Of course, here we are a bit difficult.
But France and Germany do it already so we'll come around, too: it depends on us, if we start asking for tap water or from a jug, they will eventually start offering it at you as an alternative.
Giovanni: The change must come from us.
If one of your bottles was a movie superhero, what would be called? Instead you Elena how would you design a superhero?
_________
Elena: Covered in leaves. [laugh]
Giovanni: After hearing the story of Sakra I would say him, it's the new superhero to put on our bottles. [laugh]
Elena: It must be all green though!

 "The challenge is the everyday life."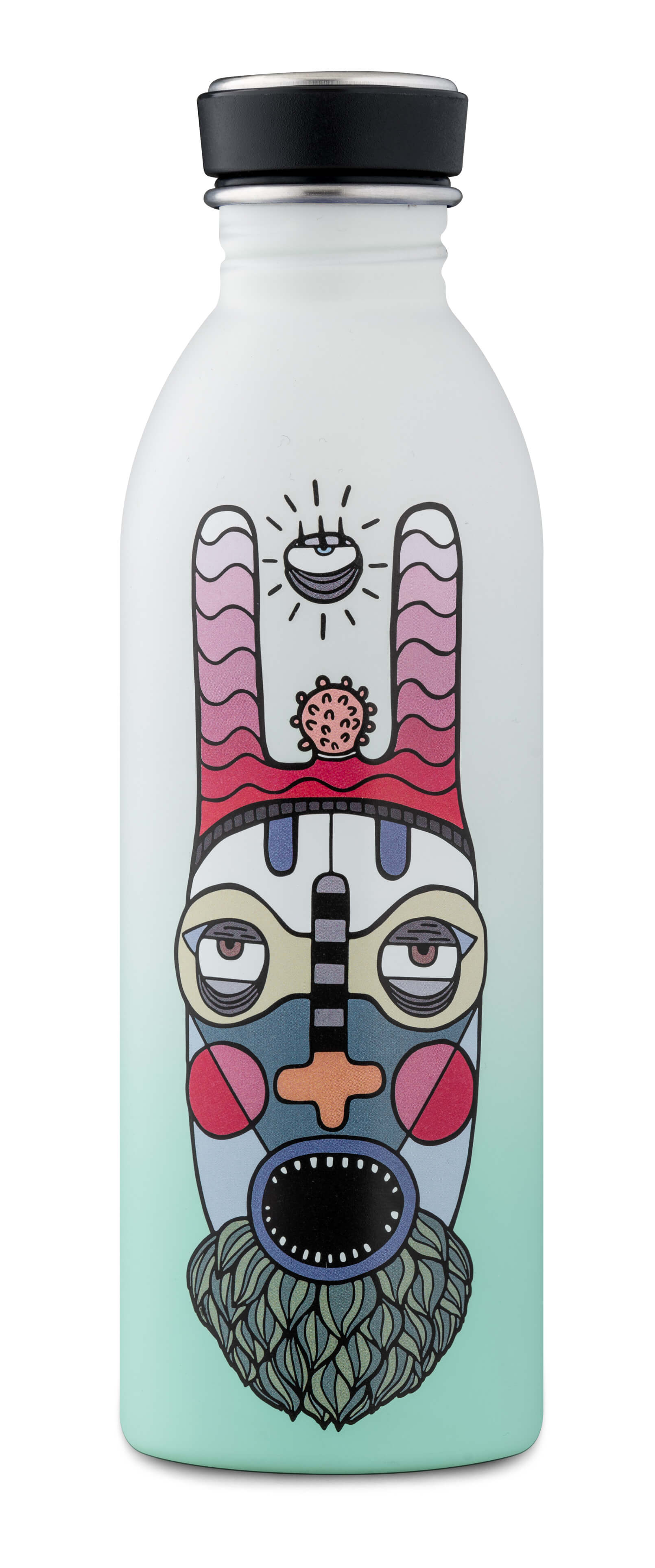 Elena, how would you describe your style in three words?
__________
Eclectic, figurative and poetic.
As a designer, what do you look for in your collaborations?
__________
This year we thought about the environment and the welfare of women, it was a delicate way to get together. In general, what I look for is the feeling with the company, I have turned down many jobs because there wasn't the right connection. And then, to believe in the same message, there must be common values and principles.
Your dream project as a designer?
__________
I would love to get into the world of interior design. I'm already doing it, step by step, but I'll get there.