Dear SKIN,
That's how letters begin, right?
Usually, we write to someone to express our feelings, to give life to words that had no voice before. Or we write a letter to ourselves, or an emotion, to get rid of thoughts and feel lighter or to express a concept clearly, to put ink on paper.
Writing a letter to oneself is an art because it is part of the art of loving oneself: being able to lovingly and rewardingly talk to oneself, making oneself take an extra step towards our inner self is important.
And with "Dear SKIN," we wanted to write a letter to our skin. The skin is what accompanies us throughout our life, protects us, and, sometimes, confronts us with others, puts us to test but, it as well, just wants to be understood and cared for in the right way.
In this project in collaboration with Paula's Choice, this is exactly what we wanted to talk about, and we did it through four different voices, who, with their experiences, told us something very powerful: acceptance, inclusion, self-care, body positivity, scars and a kind of beauty that screams "truth," just like the brand itself does.
Discover with us who the protagonists are and what are the letters they have written to their skin, to tell themselves and everyone that looking at us, loving us, and taking care of ourselves is the best thing we can do.
And you, what would you say to your skin?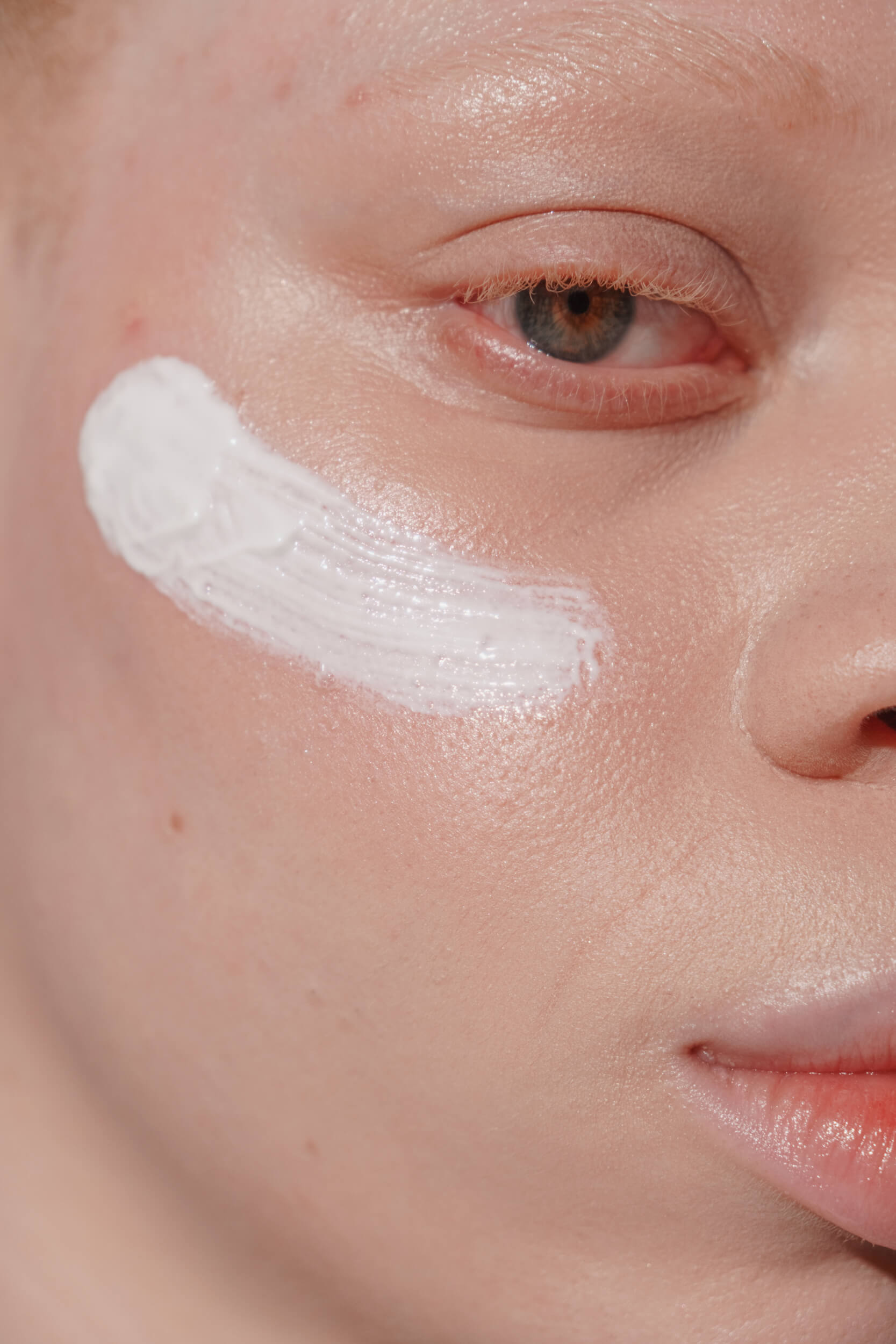 THE PRODUCT: Calm Non-Greasy Moisturiser SPF 30 by Paula's Choice.
WHY: I chose CALM Mineral Moisturizer Broad Spectrum SPF3 30 because, not having enough melanin, my skin is very sensitive, and the sun is my first enemy. I chose this cream not only because it protects me from UV rays but because it also moisturizes my skin. That is why I like to apply it even several times during the day and not only for sun exposure.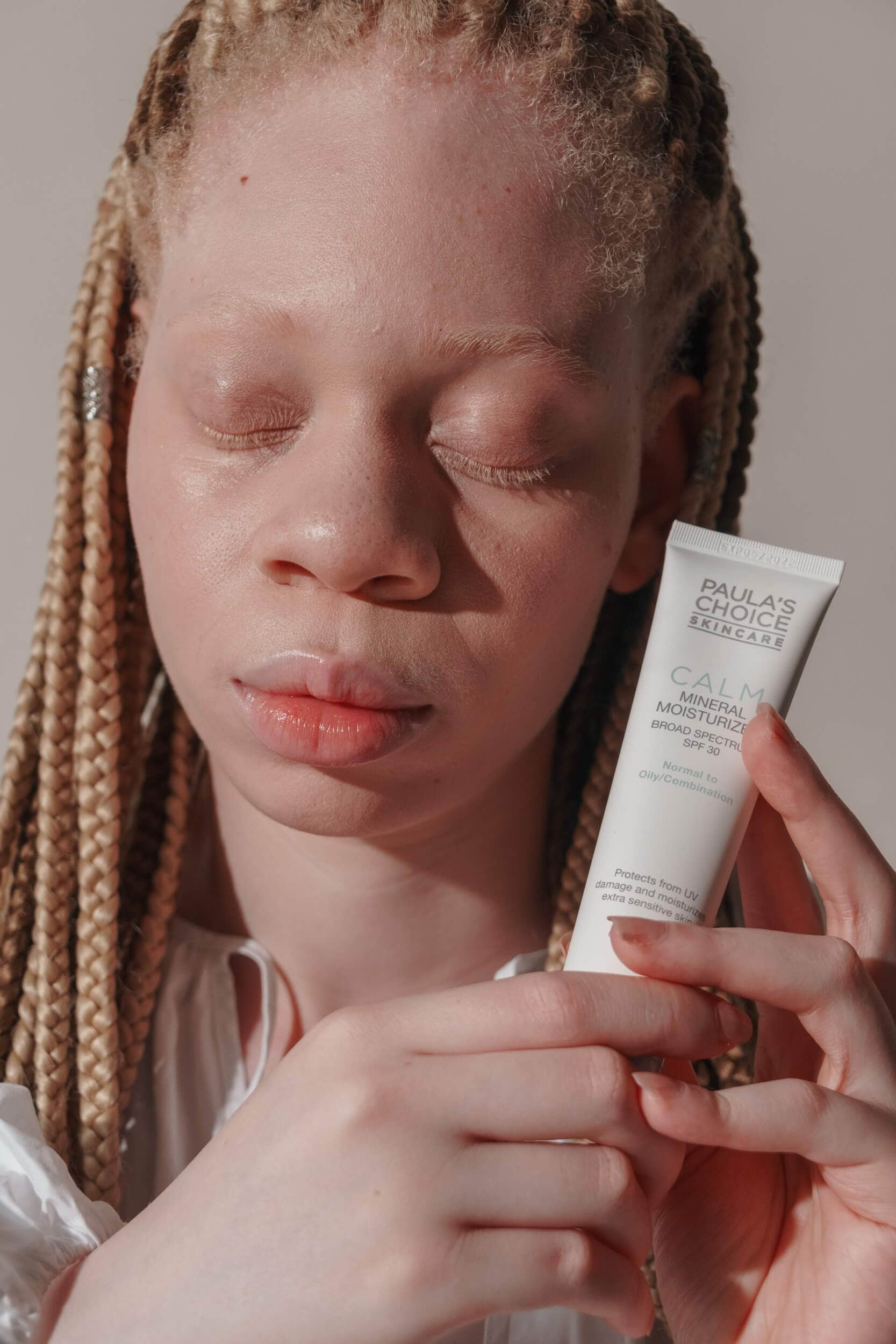 Dear SKIN,
My skin is my force.
My skin is the first thing other people see.
My skin is my treasure.
It's the thing I must take the best care of.
My skin is fragile, sensitive.
Growing up, I've started taking care of it: through the smallest gestures, to me, it's important to feel comfortable in my skin. I've always found it hard to find the right balance for it, but I've understood what I needed to set it free: I've learned to let it be more natural and cover it less. To me, it's important to feel free and feel my skin free to breathe.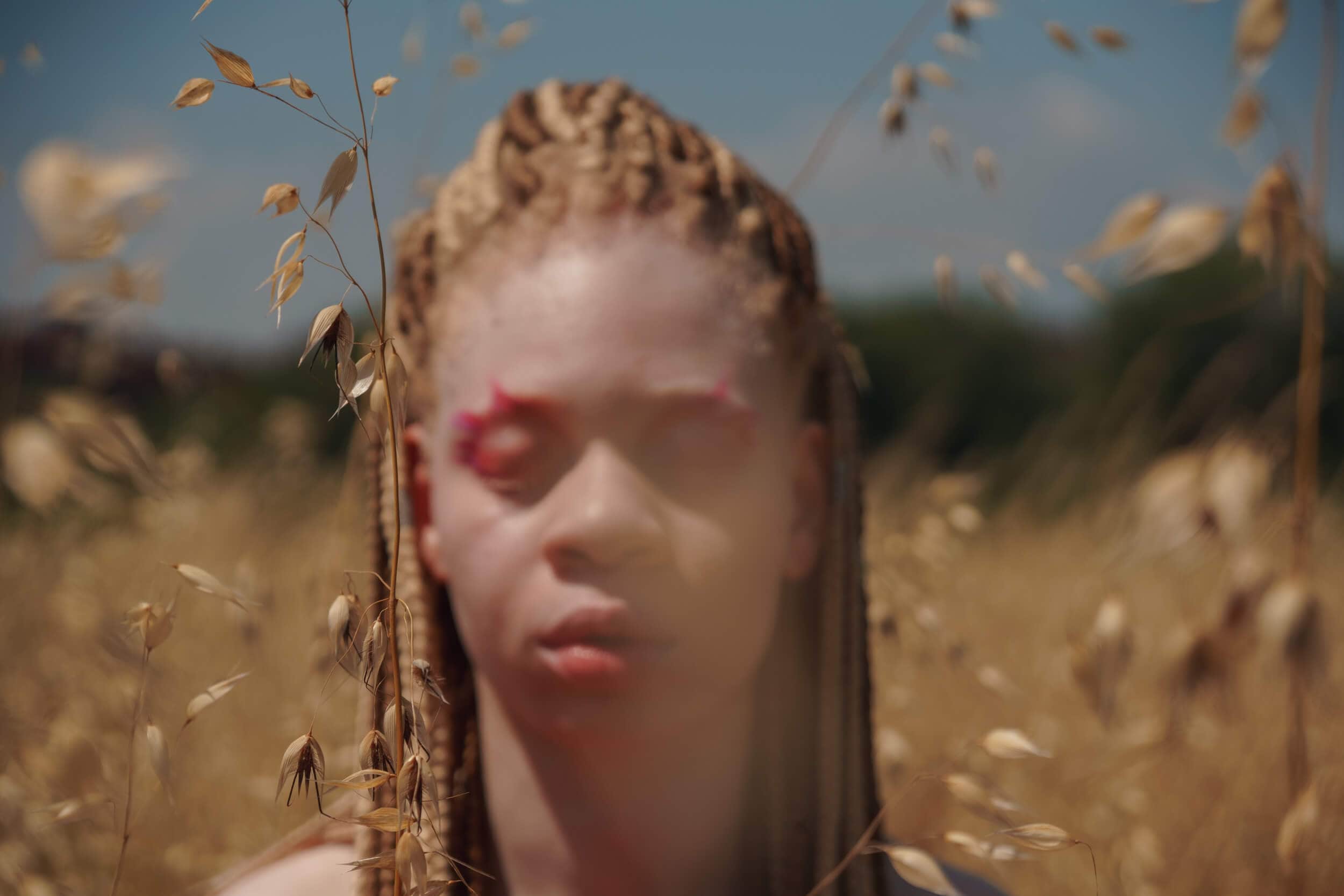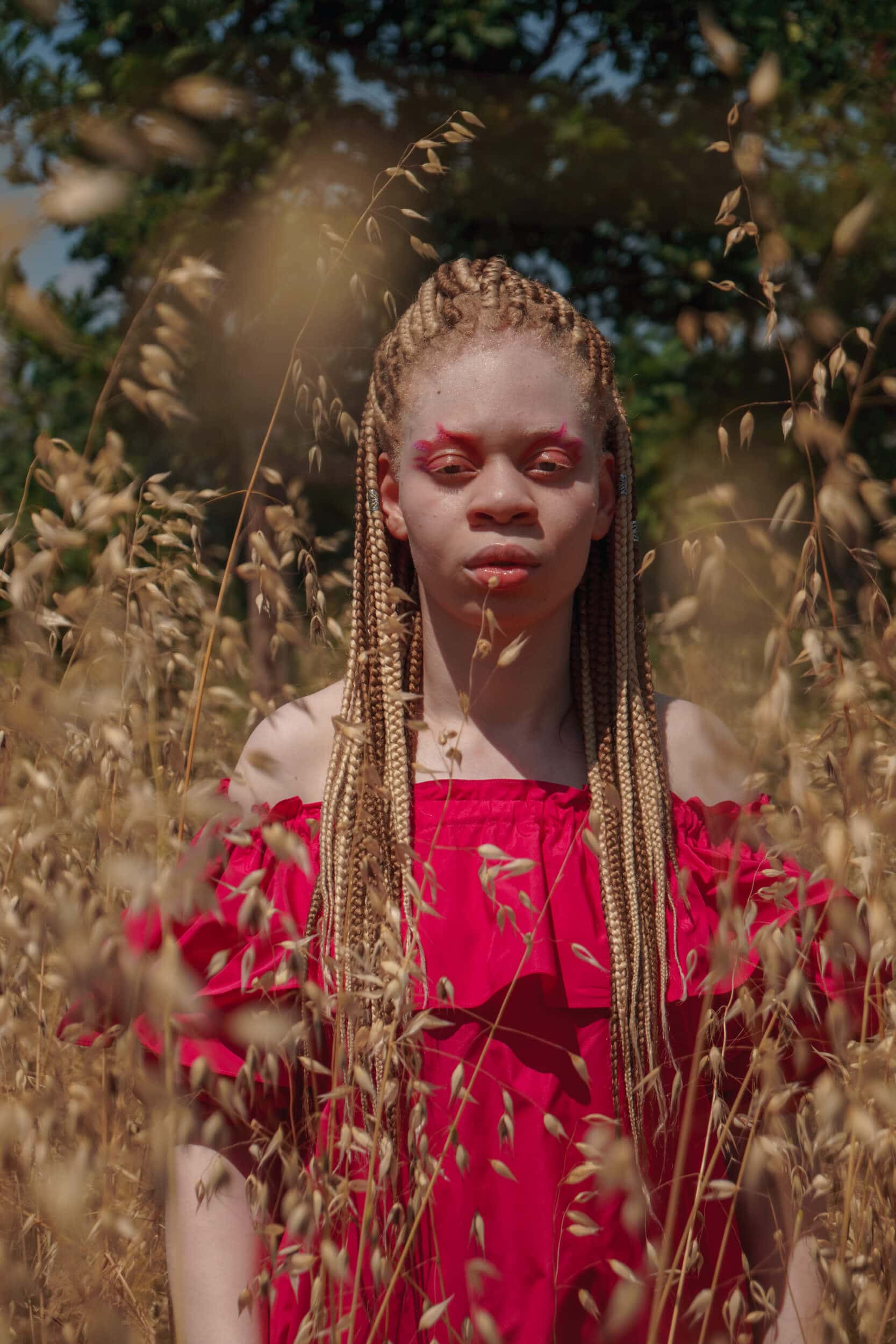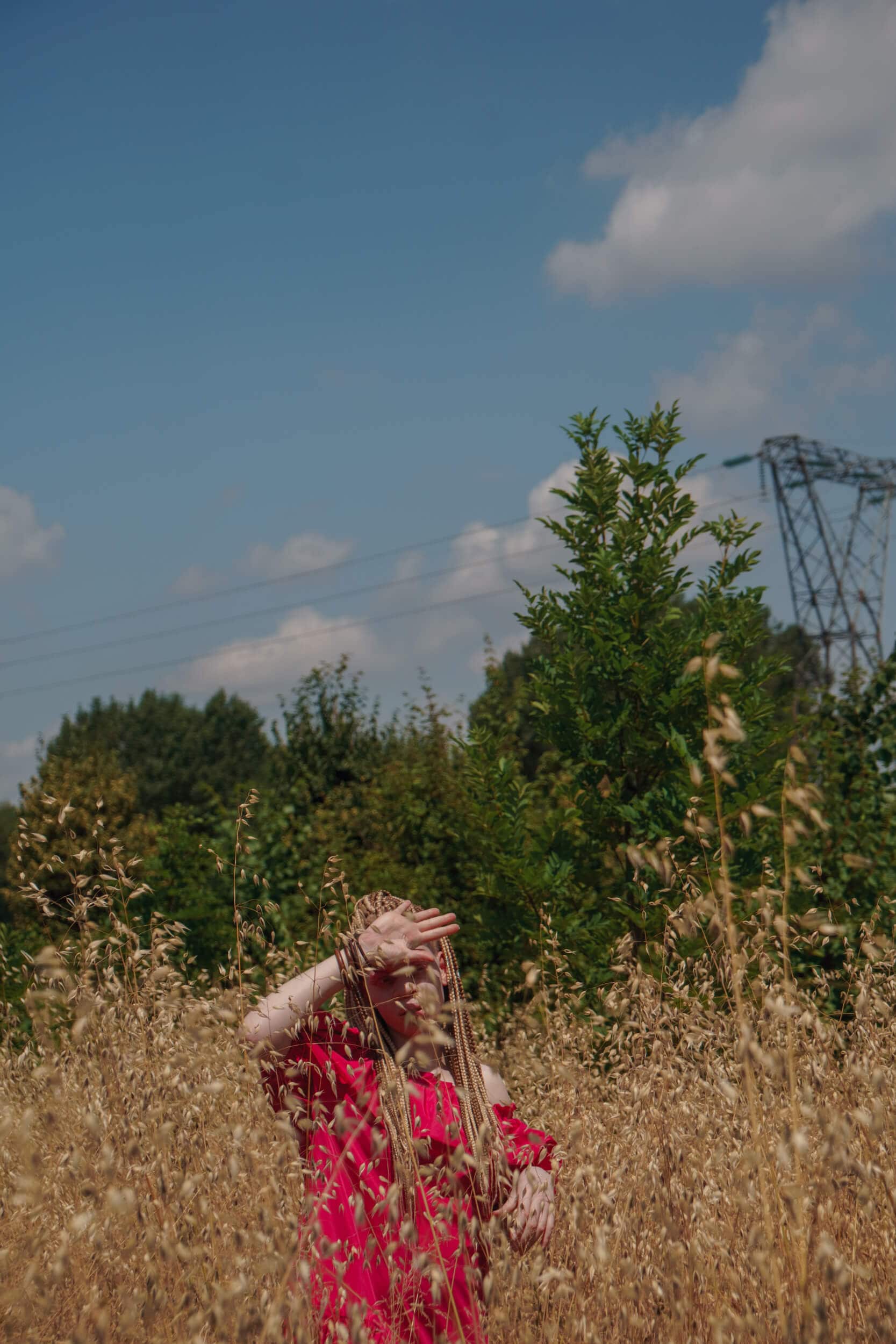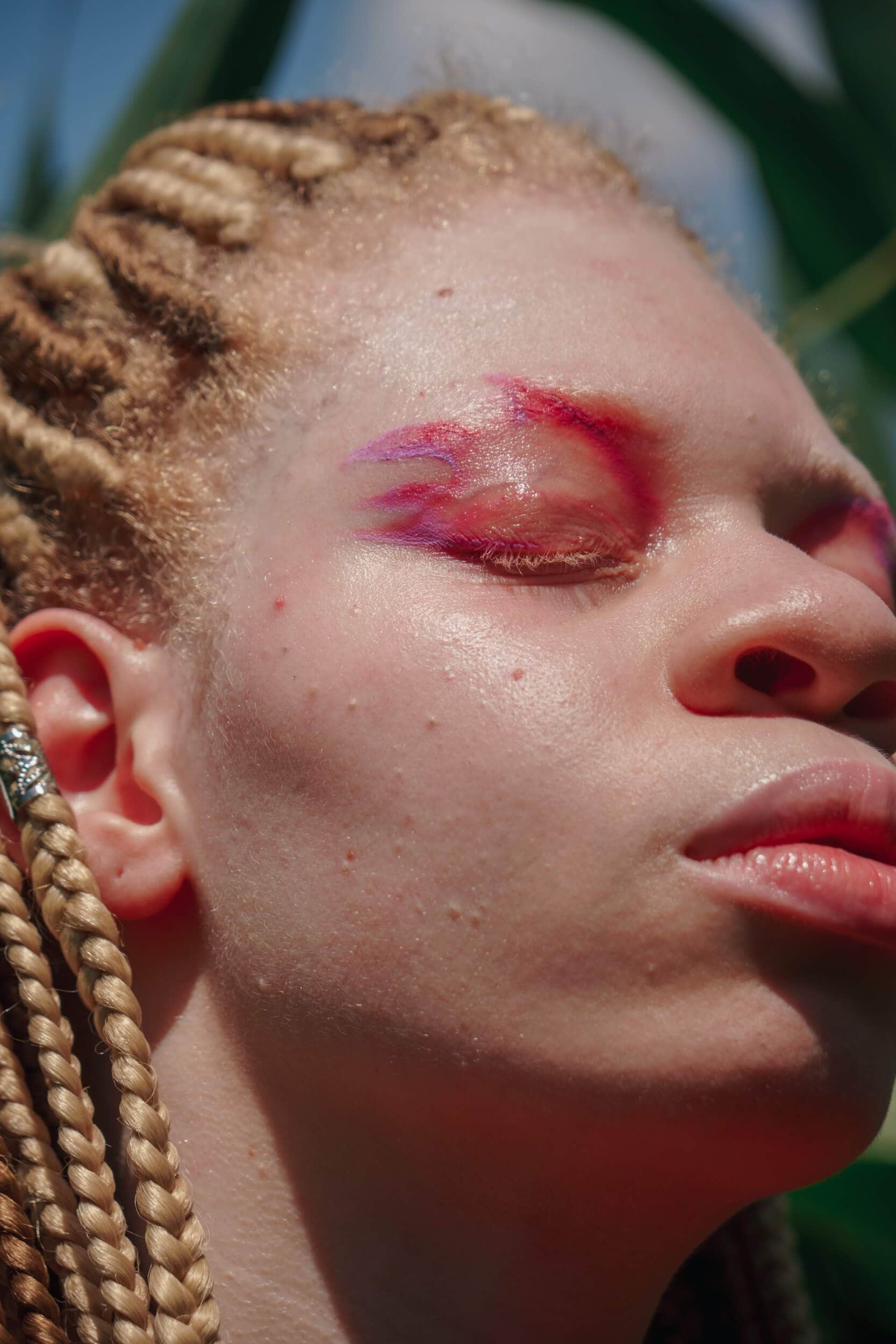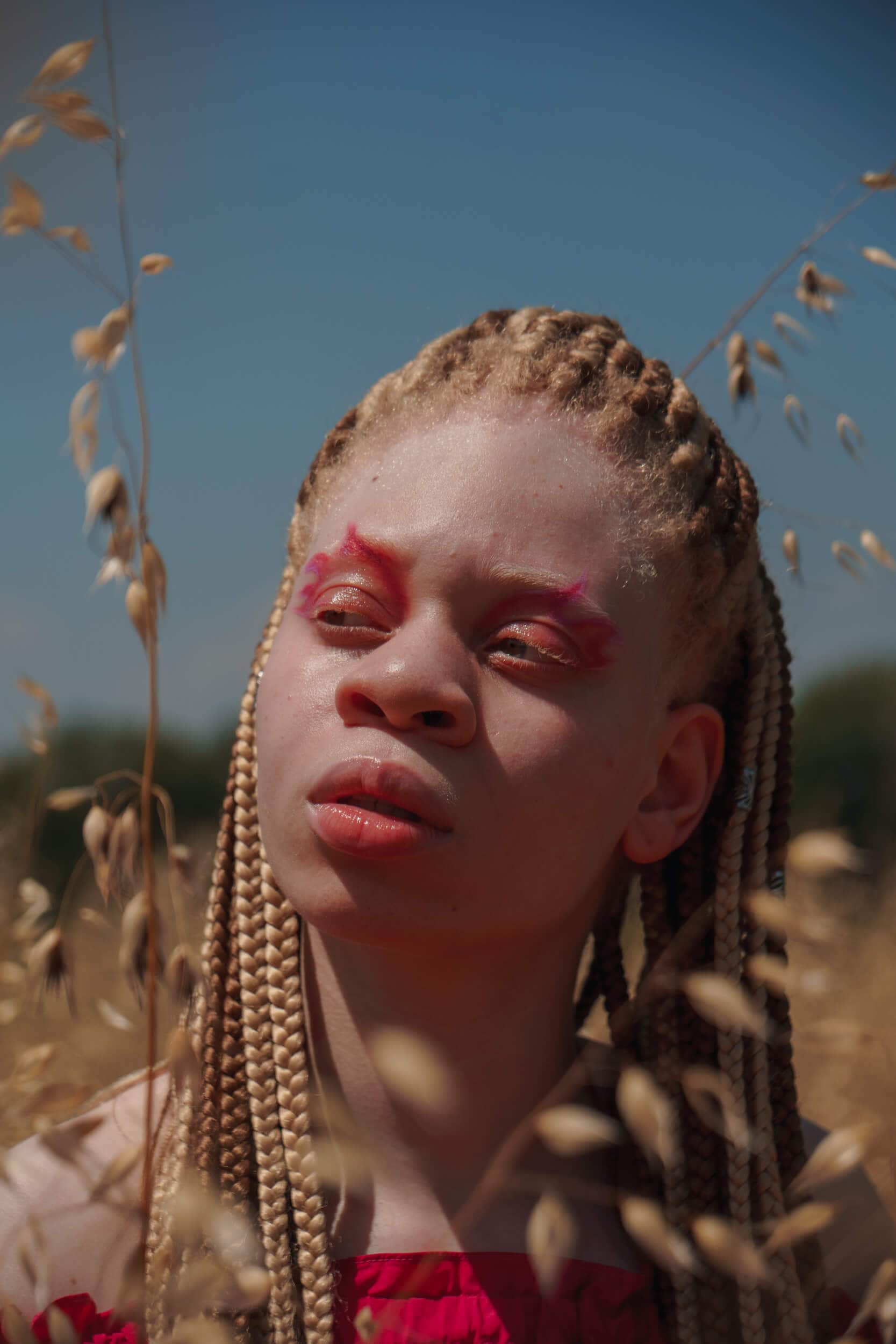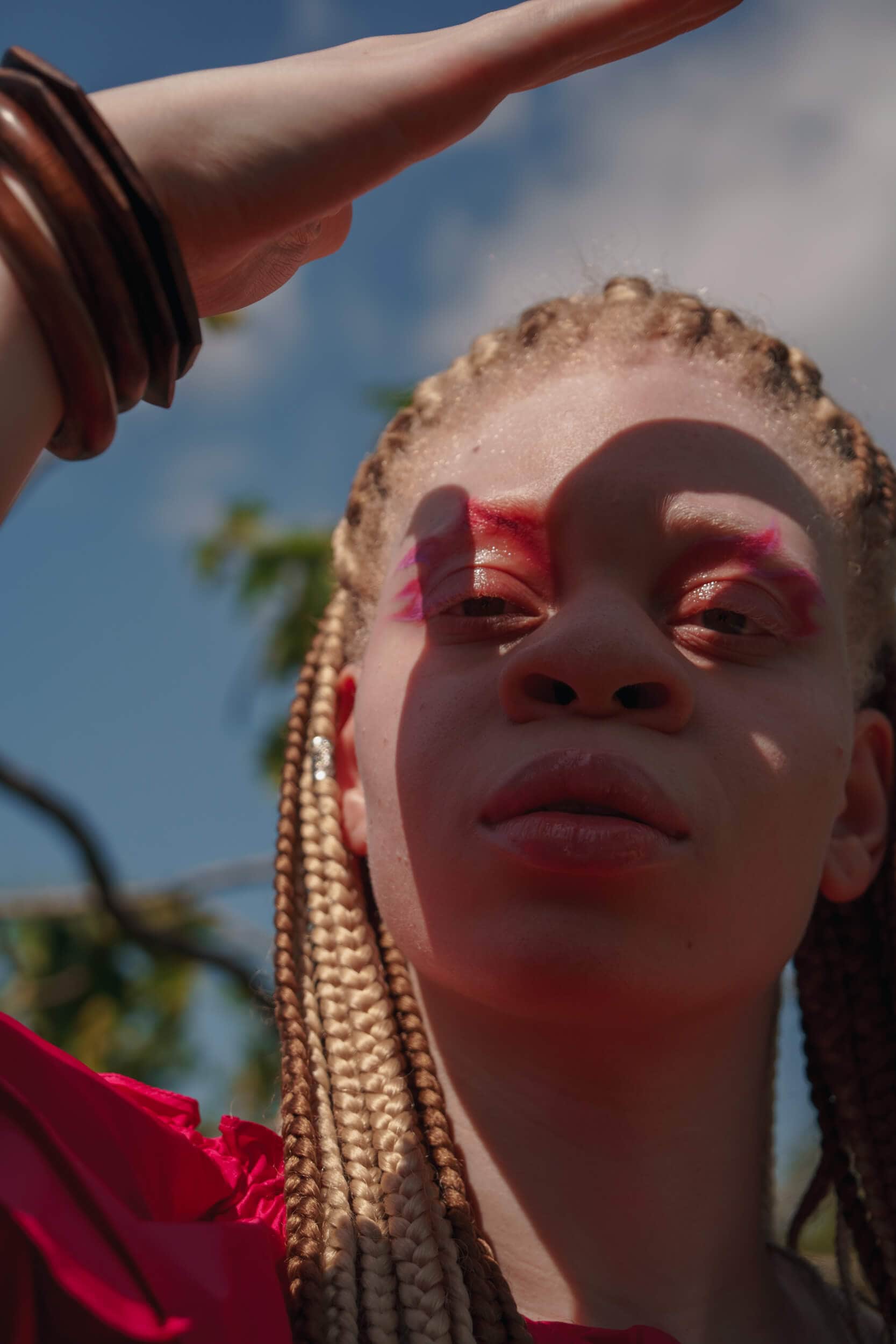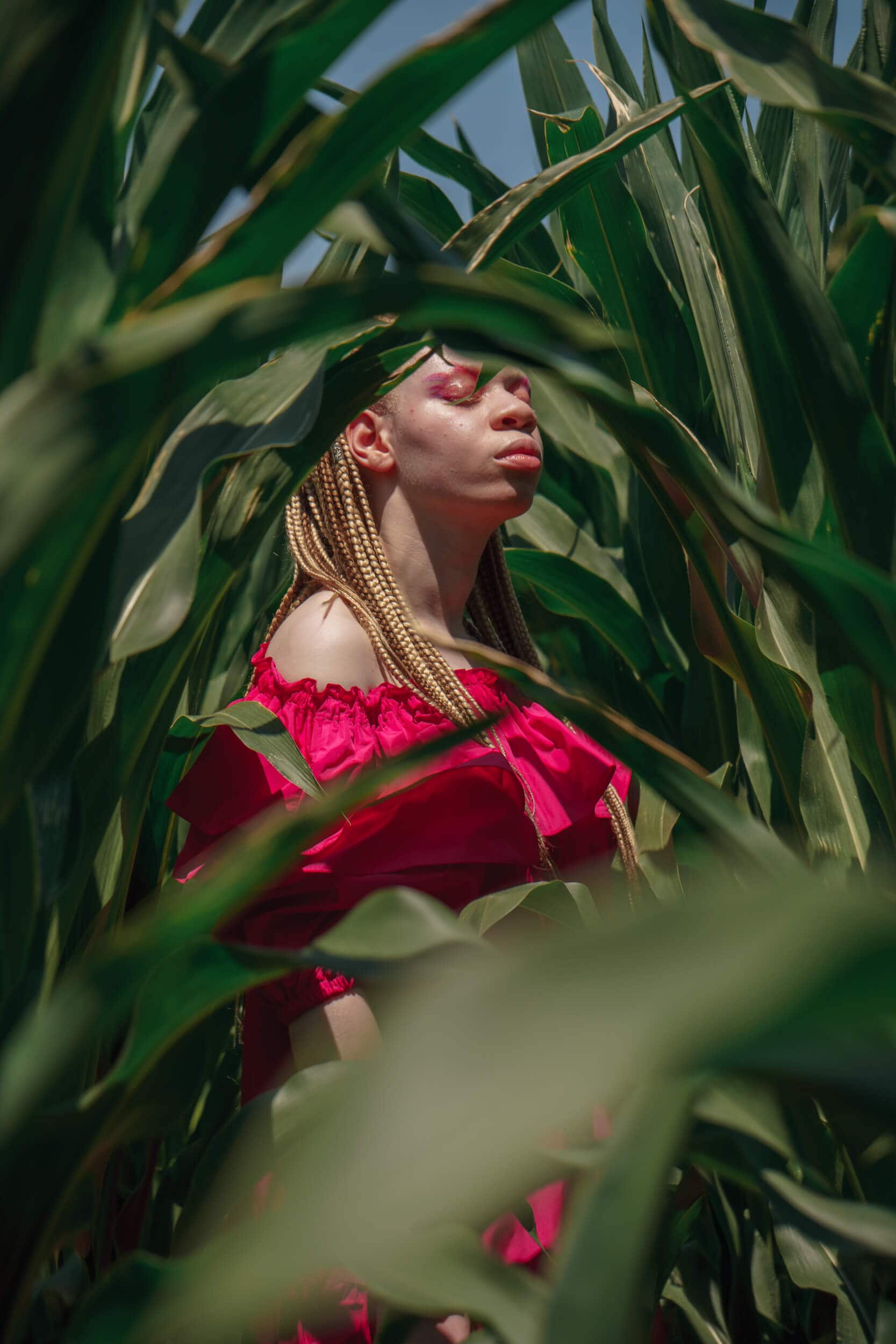 THE PRODUCT: Resist Anti-Aging Eye Gel.
WHY: I chose this eye contour gel because when I have intense and stressful periods or when I don't sleep much, the skin that surrounds my eyes is the first to suffer. There will then be more marked dark circles, and my eyes start to feel heavy. This eye gel helps me to give relief to this area: to feel it fresher, hydrated, and less heavy.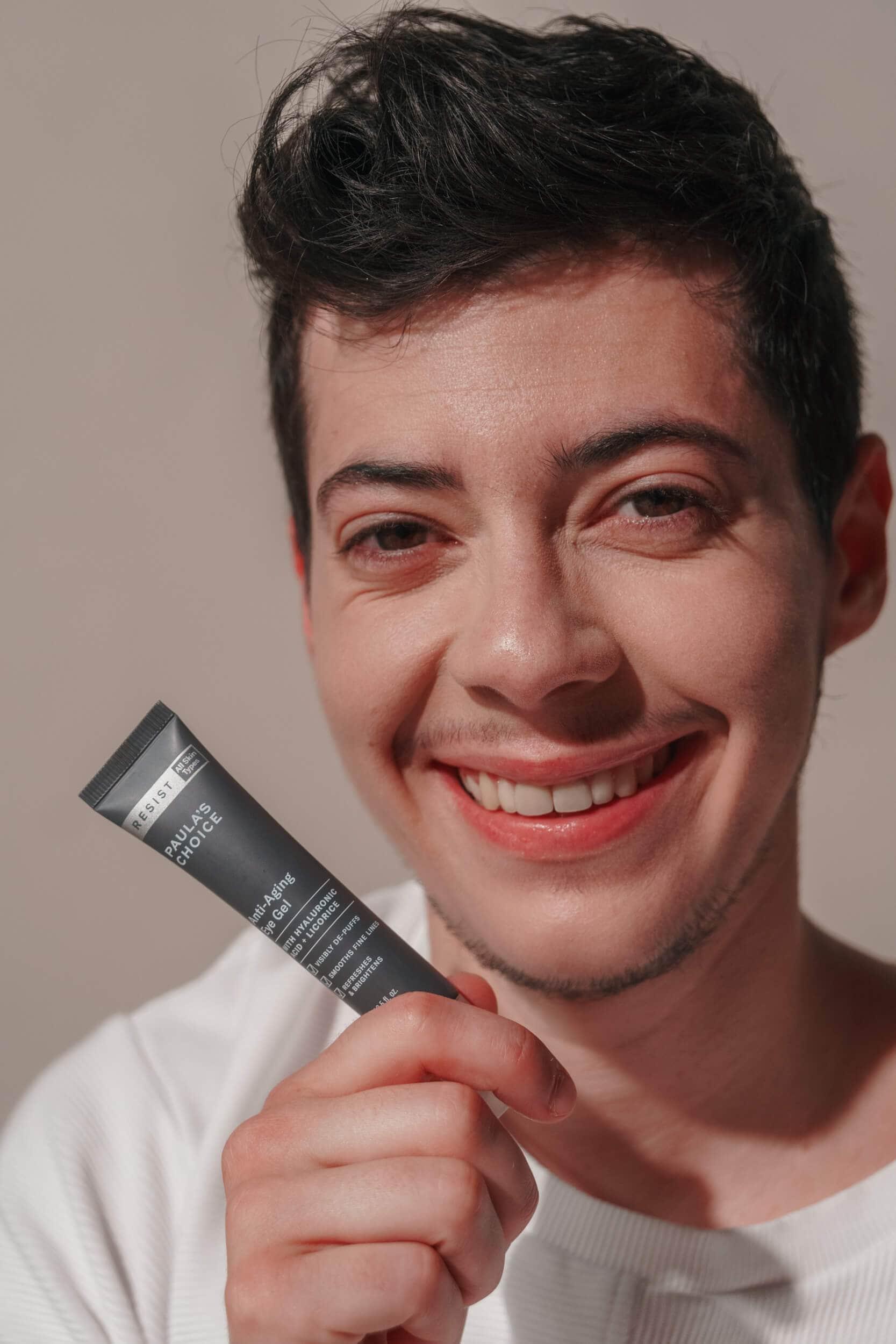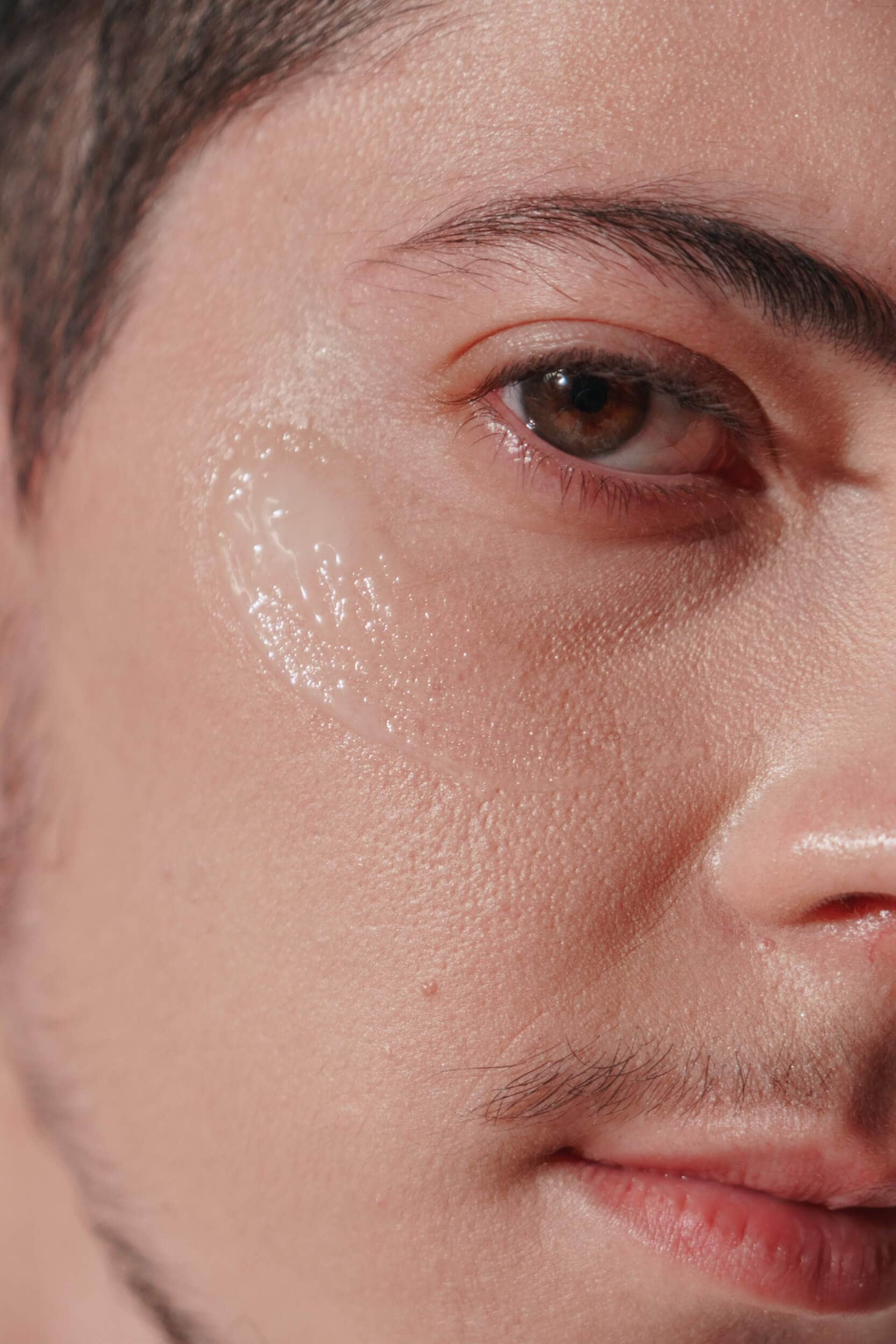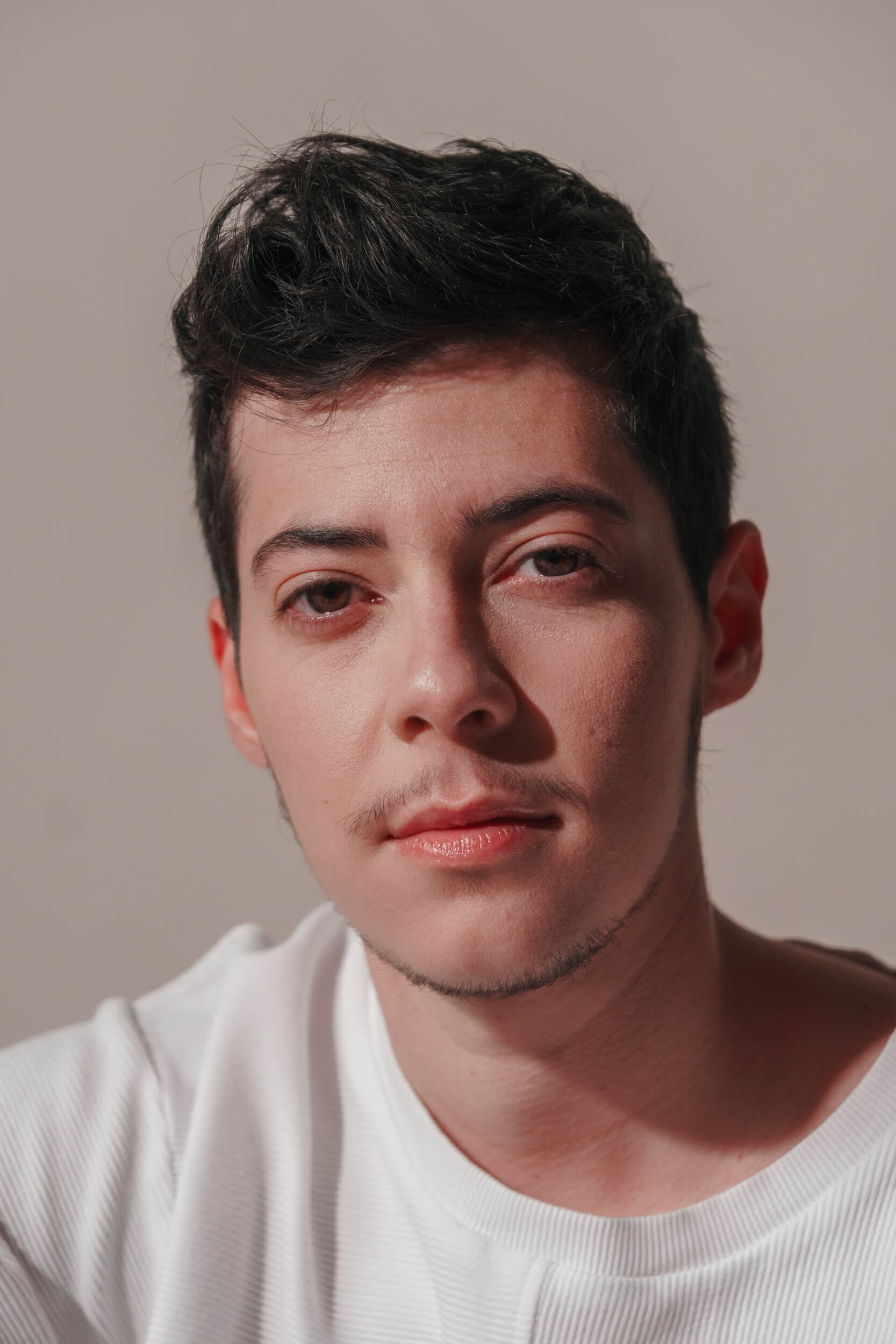 Dear SKIN,
My skin has two types of scars: those caused by accidents, even the small ones, that have taught me something I care for. Then, there are those I have chosen: those of my transition. These are the scars I've desired and I'm happy I have them. These scars tell a part of me.
Some people ask me what they are, so I tell them about myself, and that's how they become part of my story. To me, beauty means self-confidence, means joy, being positive, taking care of yourself. To me, the beauty of people is the one that comes from charisma, I like to see someone who takes care of themselves as if it were a way of expressing themselves as if it were art. Makeup is expression, skincare is protection. 
I don't like looking at society's typical aesthetic canons, but I like to bring forth what I want. I'm attracted to the deepness of people and things, I like to investigate, work out why.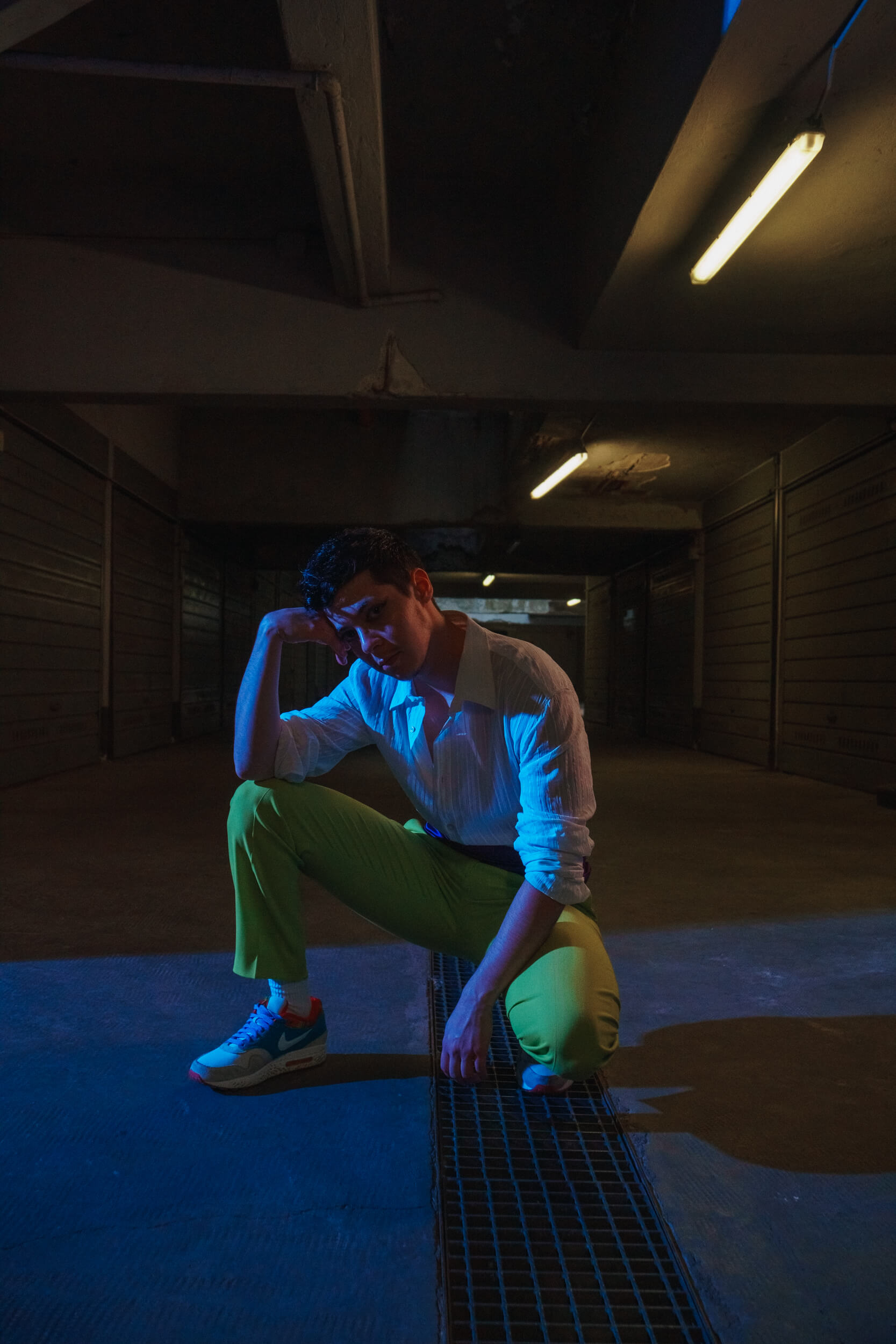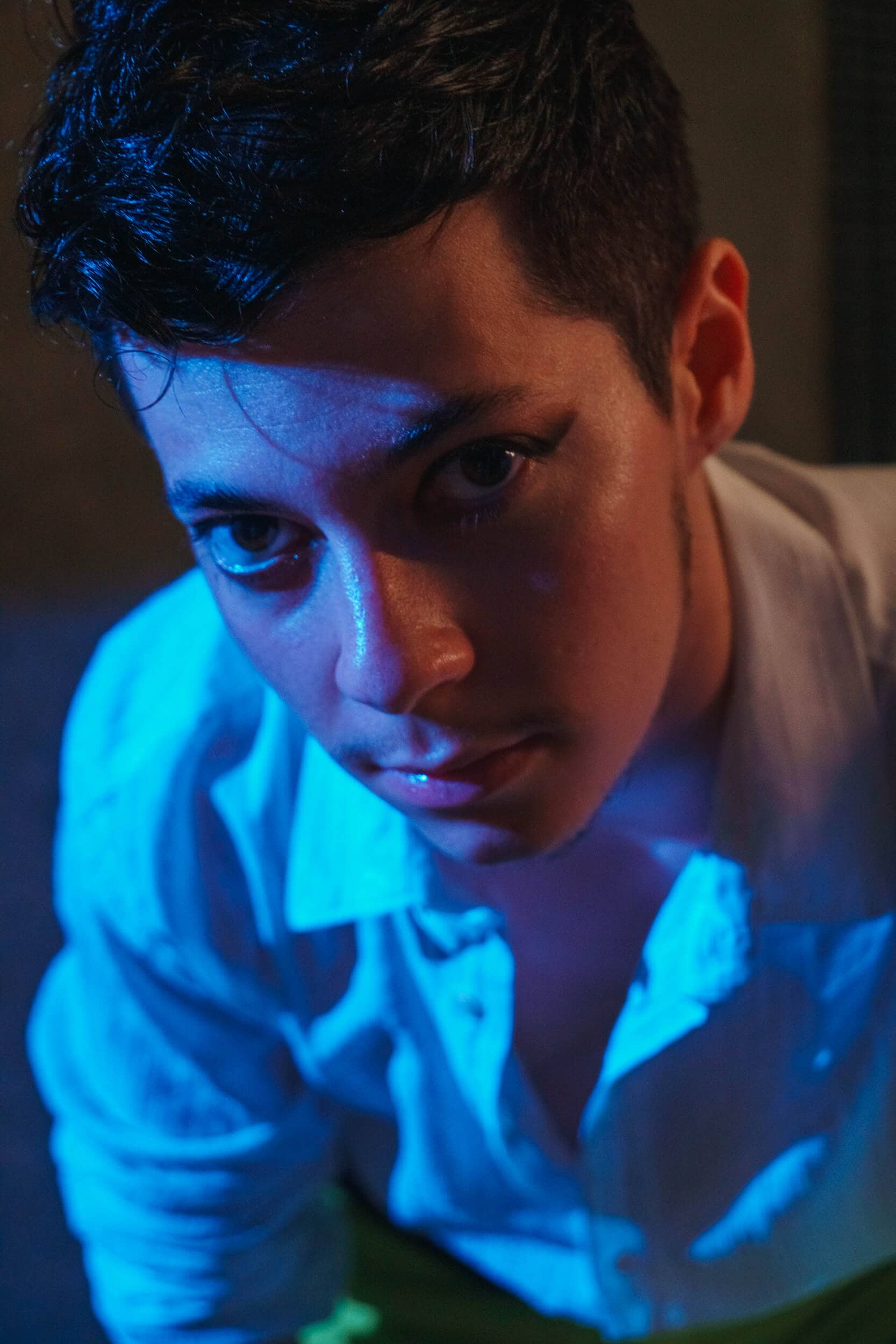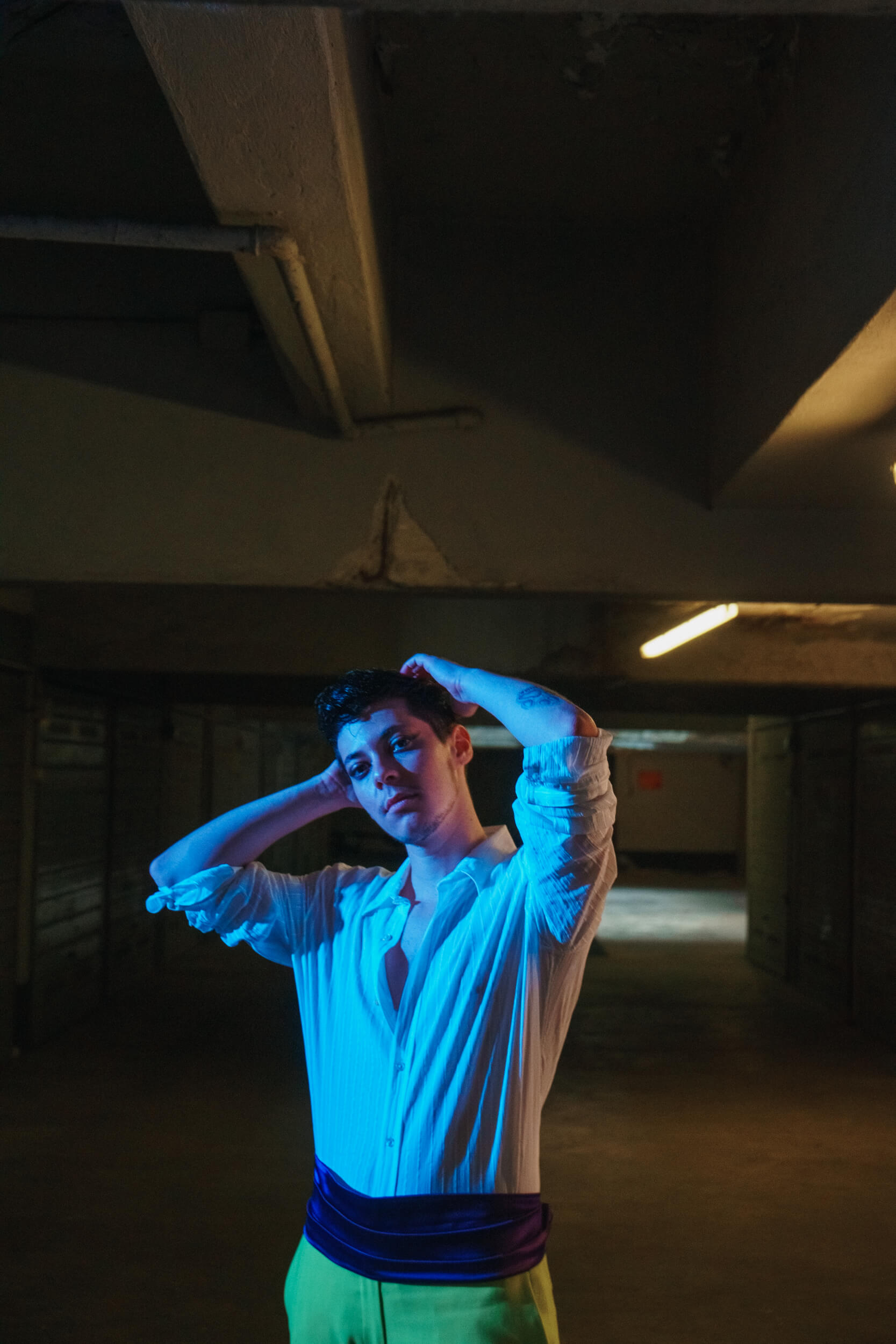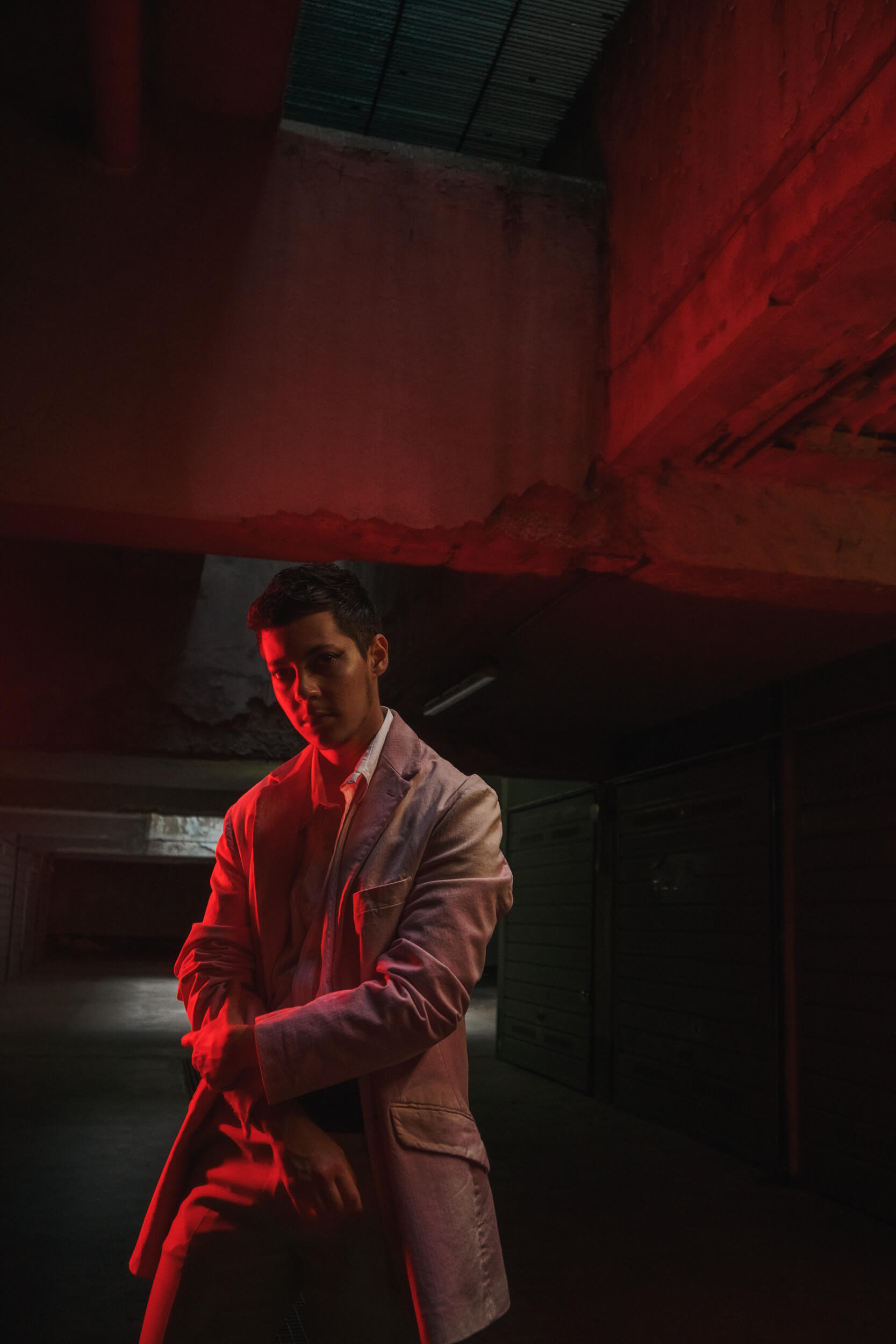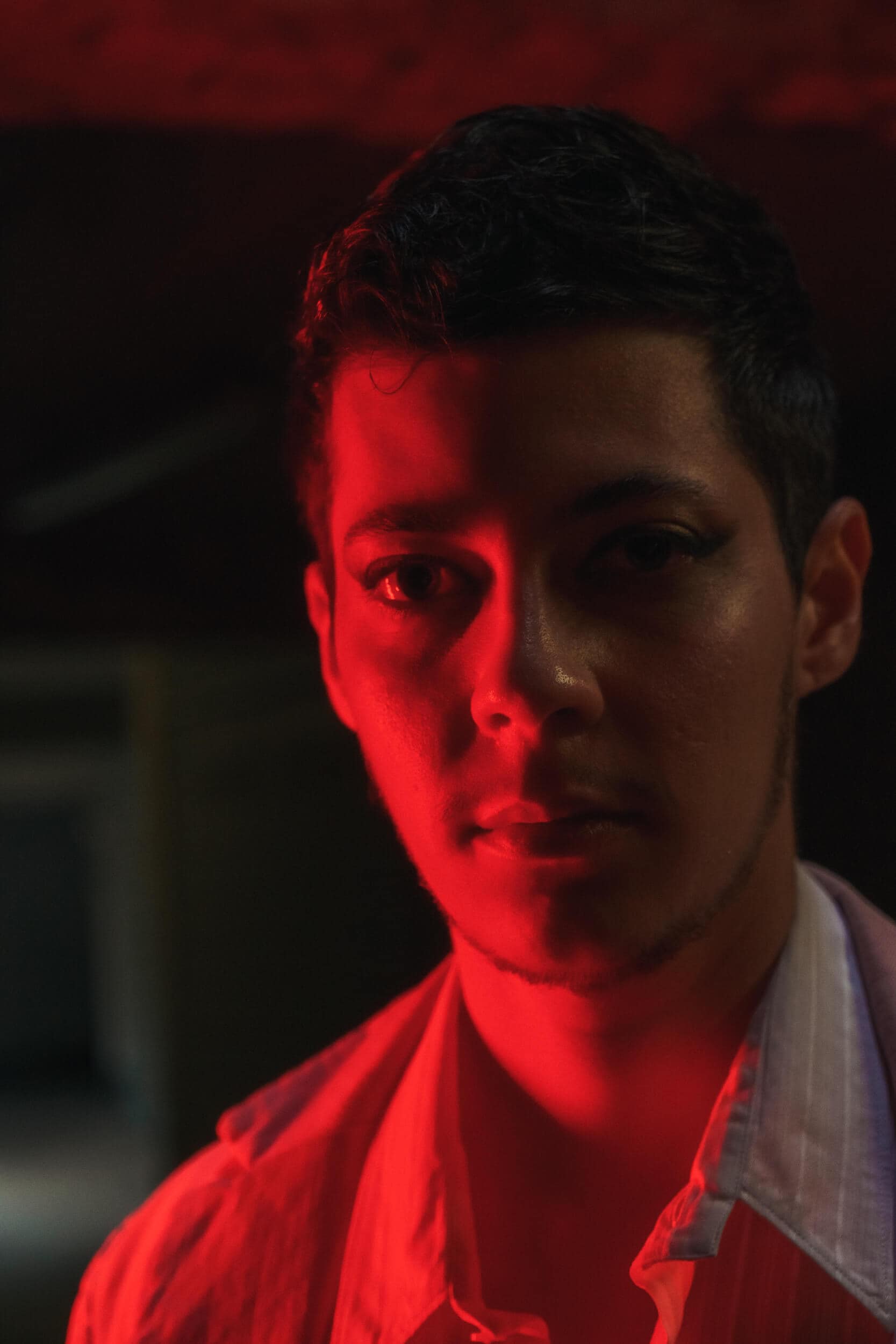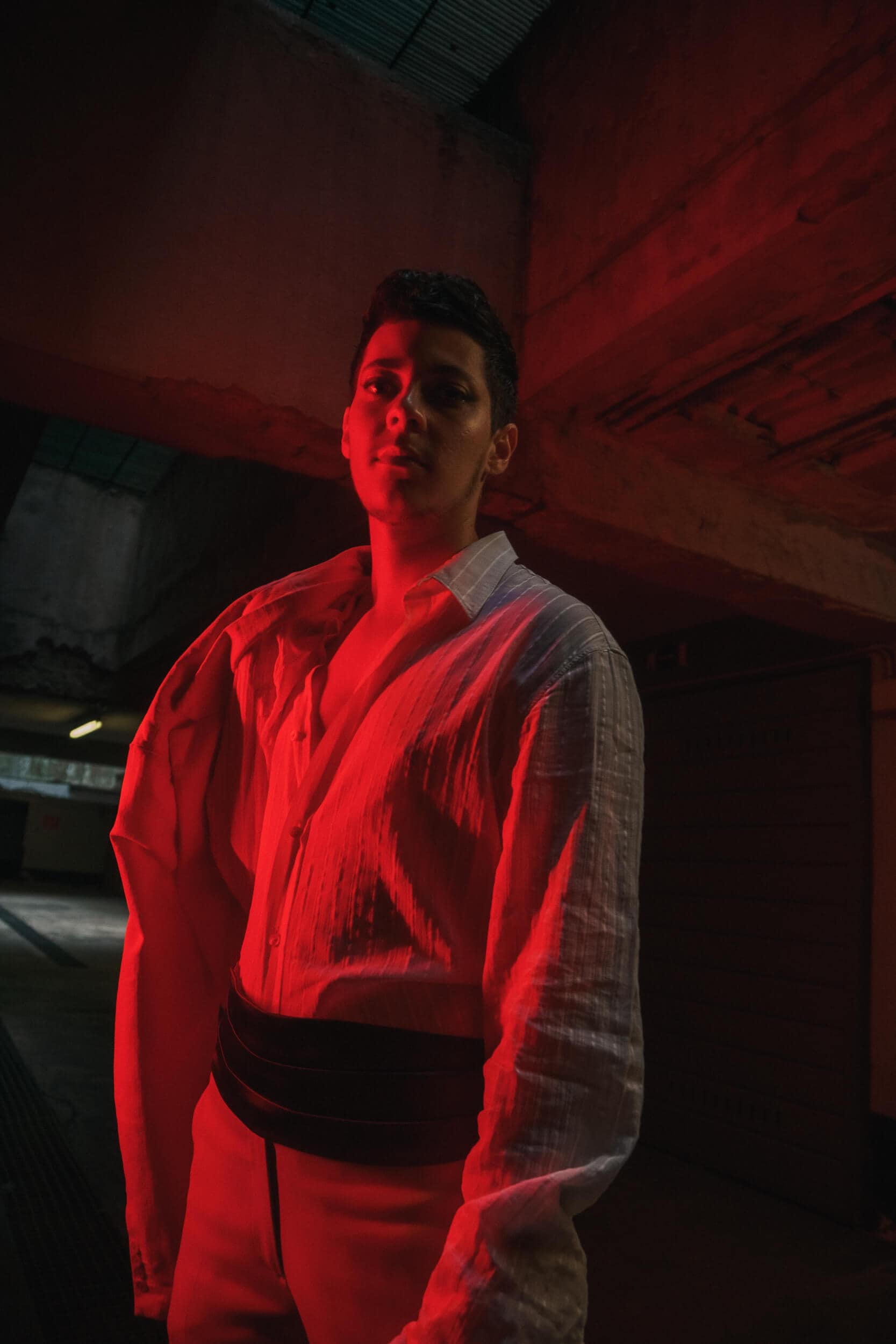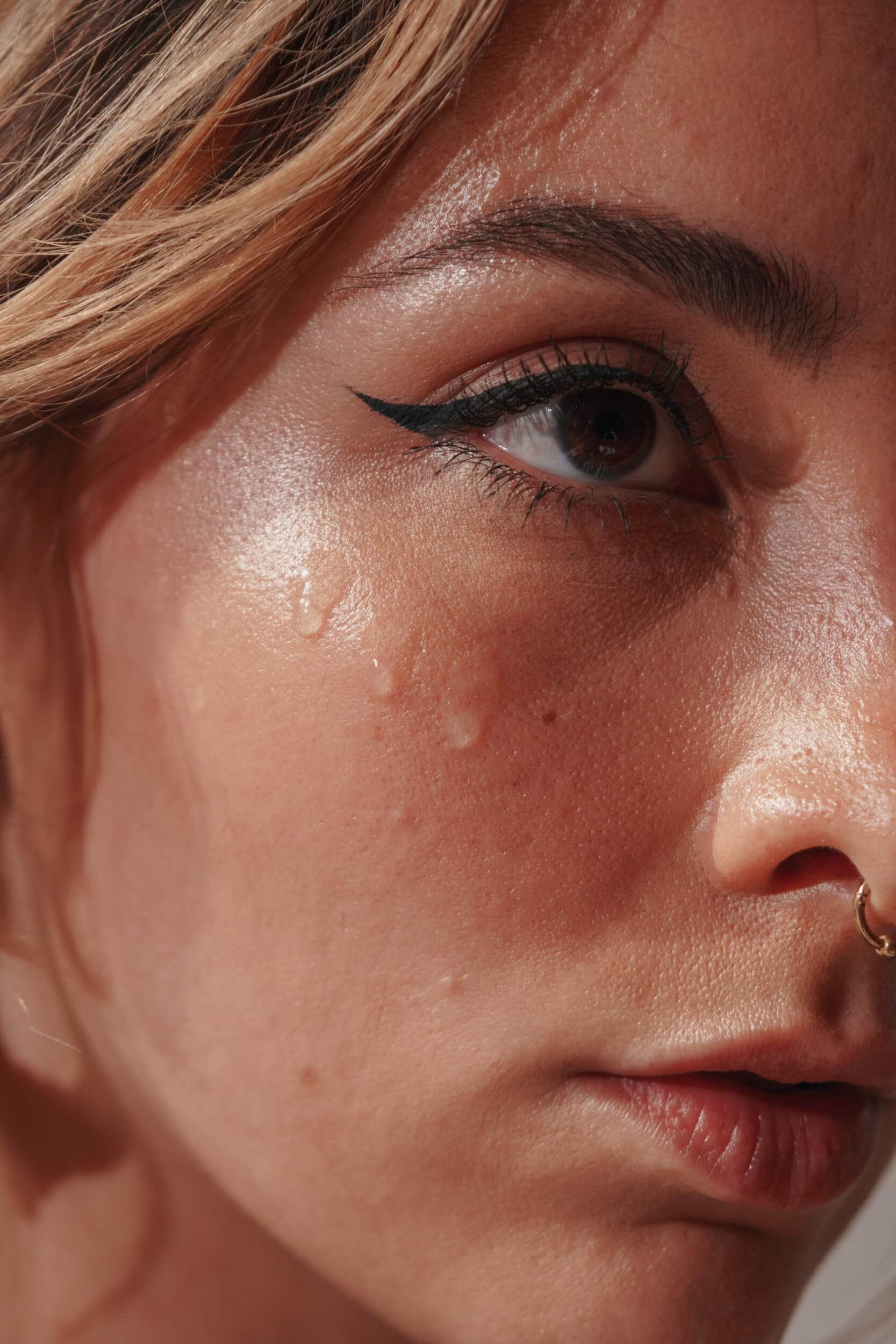 THE PRODUCT: Skin Perfecting 2% BHA Liquid Exfoliant by Paula's Choice.
WHY:
I have always been curious about this product, even before trying it, because people I admire used it. One thing I love is its 

texture

 which is thin and never sticky. It doesn't burn on my skin, it doesn't turn it red, not even where I have the most 

delicate

 skin; this is the area when other exfoliants make me red a little sometimes. Although it exfoliates, it does so gently. This product has managed to 

improve

 the appearance and outcome of white dots and closed comedones. Since I added it into my routine, I noticed a great change, while, before, I had never witnessed real results on closed comedones. Plus, it 

improved the texture of my skin.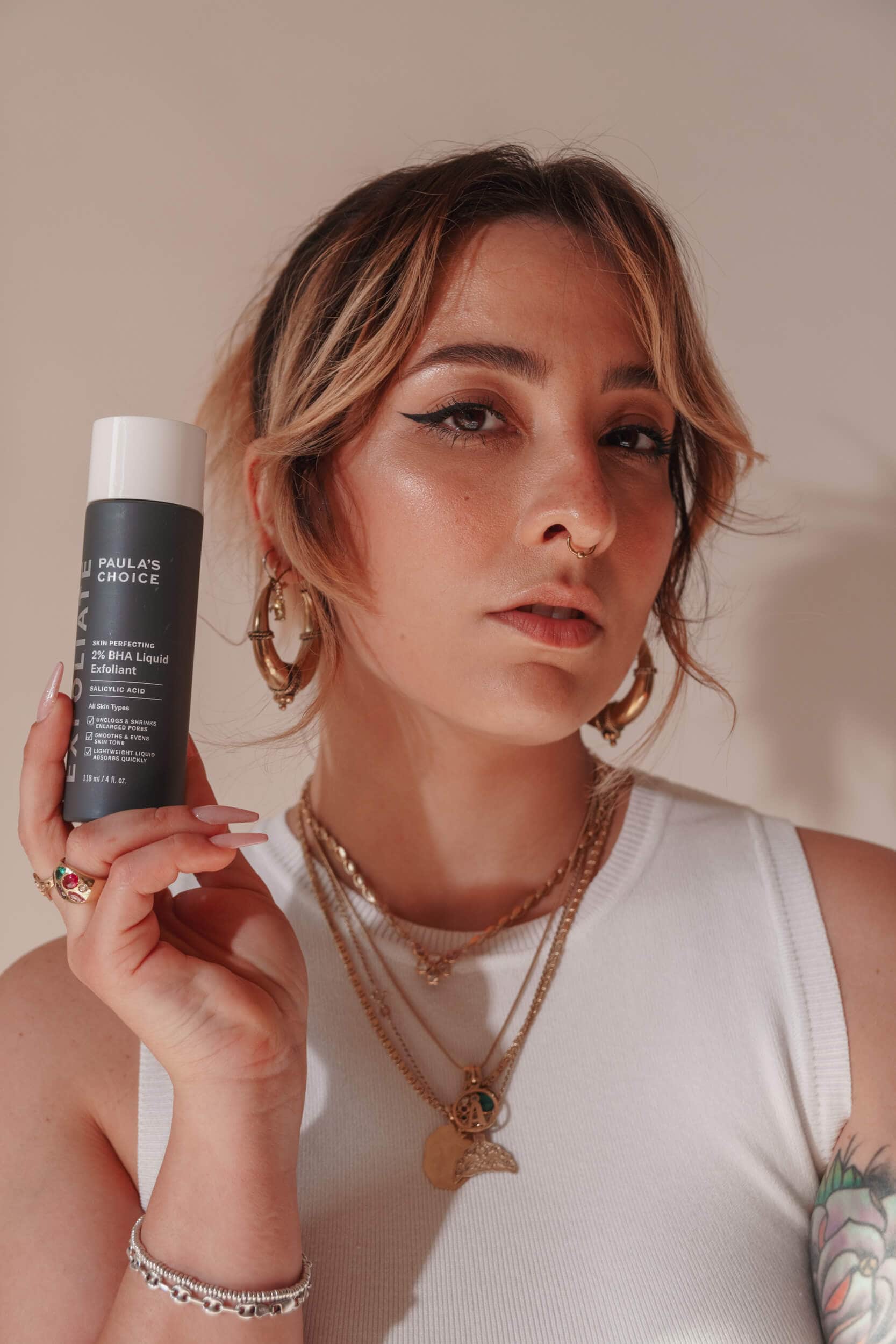 Dear SKIN,
To me, body positivity is a choice and an attitude. It's a choice because we look at ourselves in the mirror every day and decide to feel love or hate towards our shrine, that is, our body. It's choosing, choosing to feel good, choosing to appreciate what could be small imperfections, diversities. We need to choose to love ourselves.
I like to feel good, I love my curves. I take care of my body and my skin in every single one of its shapes, I like to create relaxation routines for myself, moments in which I close myself off, in my house, which can help me take a moment for myself.
The story with my skin is a story that has had lots of very deep highs and lows that have also mentally affected me. There have been moments in my life where I've hated my own image reflected in the mirror, I've suffered from acne.
I felt deeply uncomfortable in front of the camera, even though it was a time where I used to expose myself a lot on social media, so I tried to speak about normality, integration, avoiding "acne shaming." I've had the strength to treat it and, today, I can feel a strong awareness of my routine.
Now, I live my self-confidence.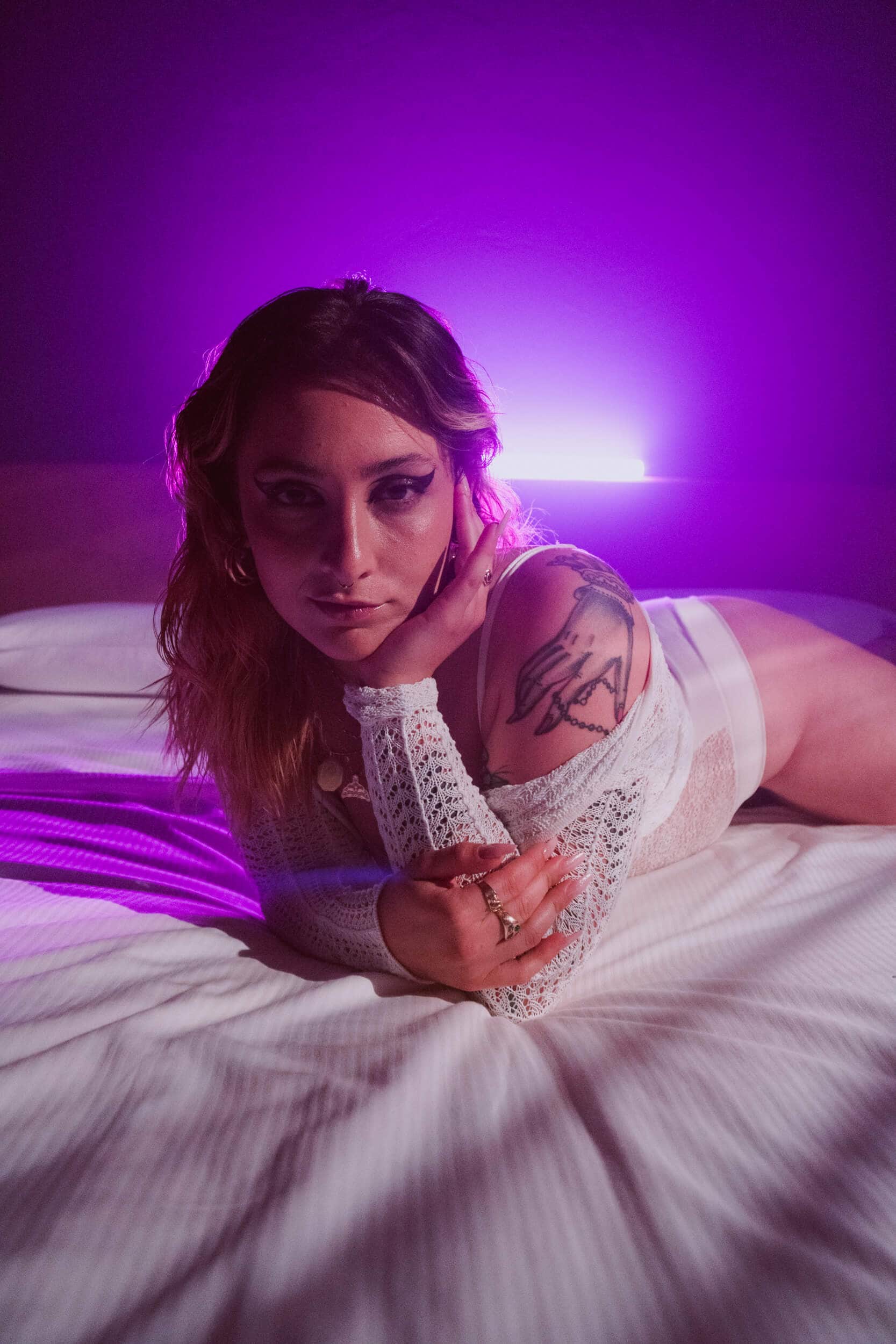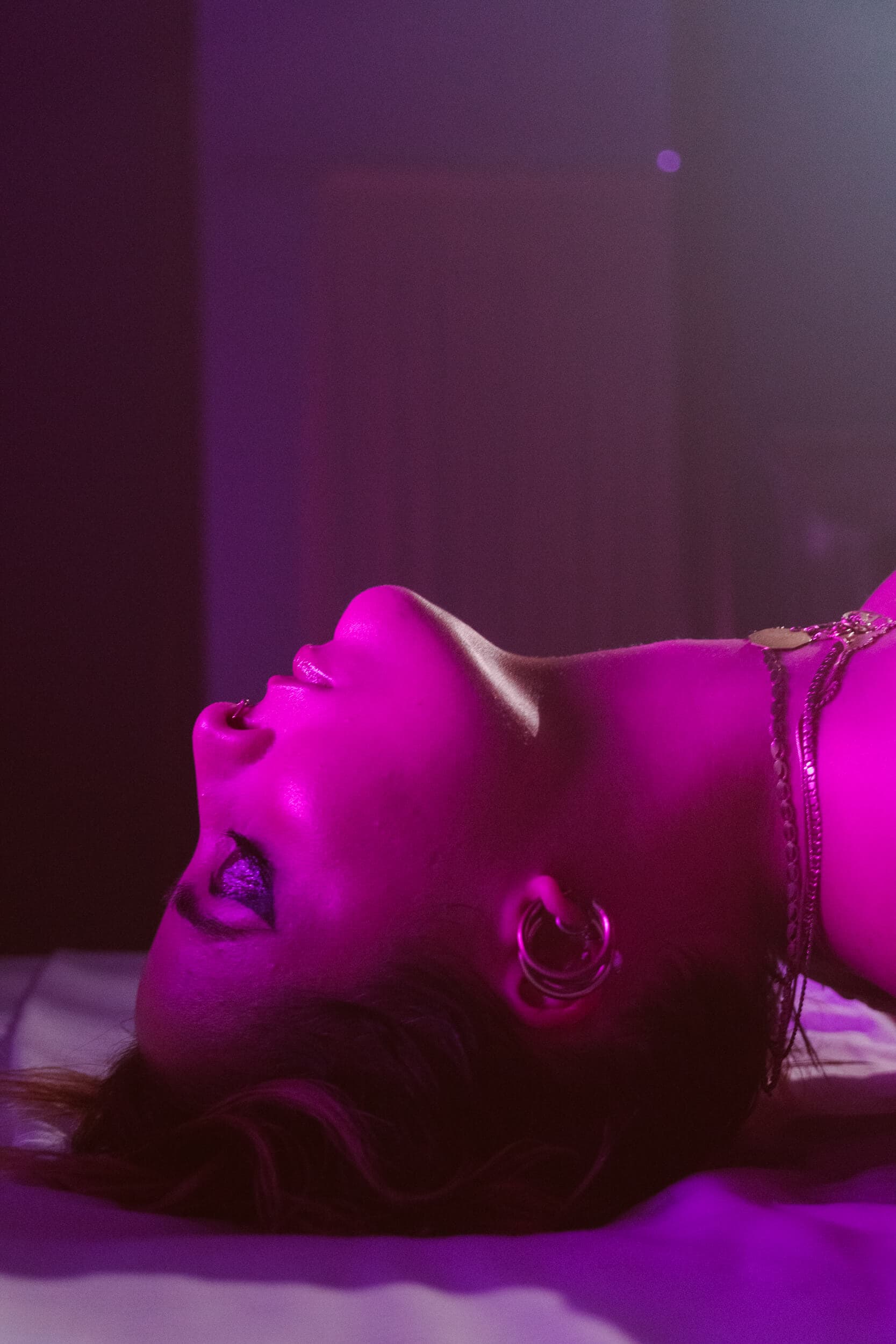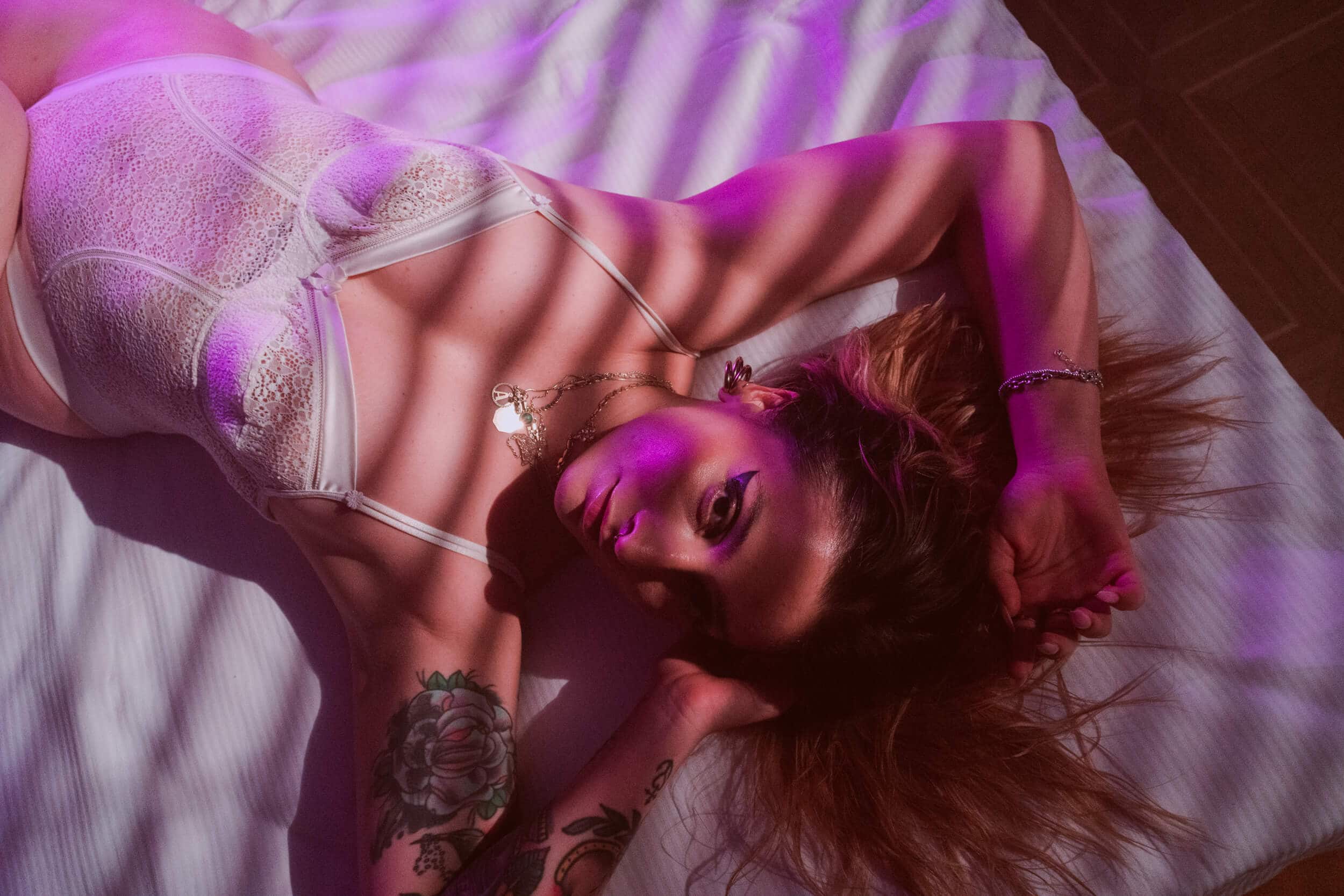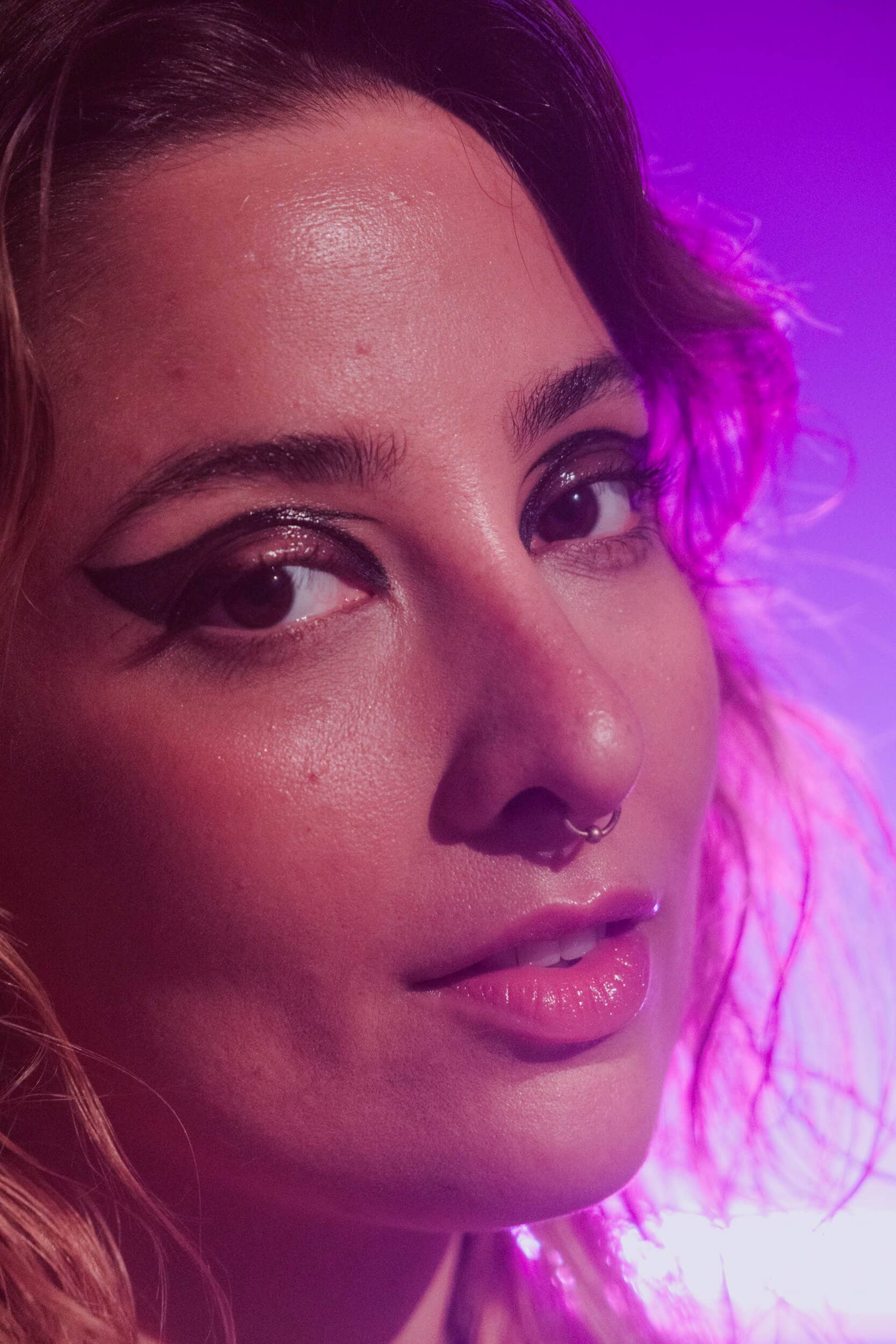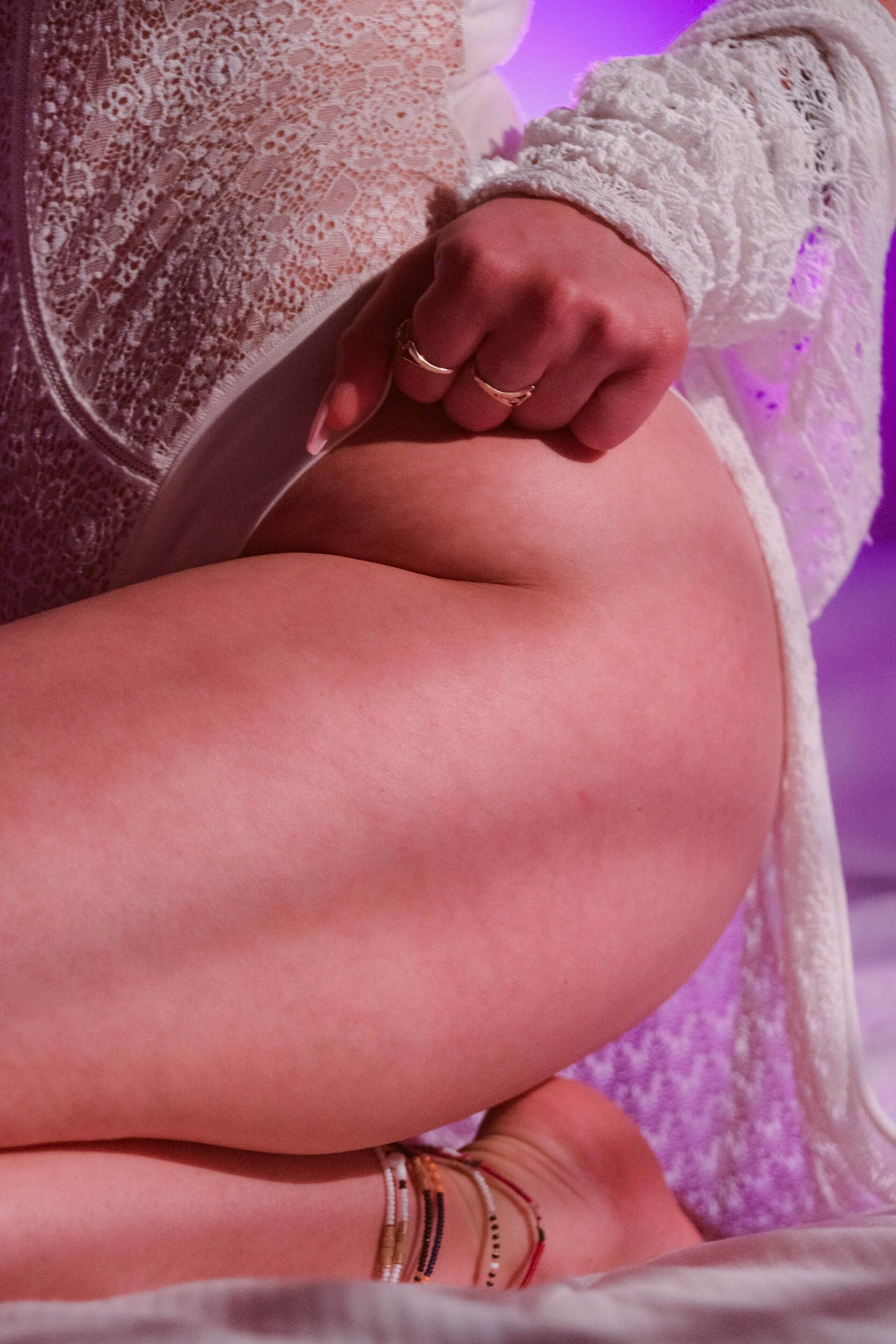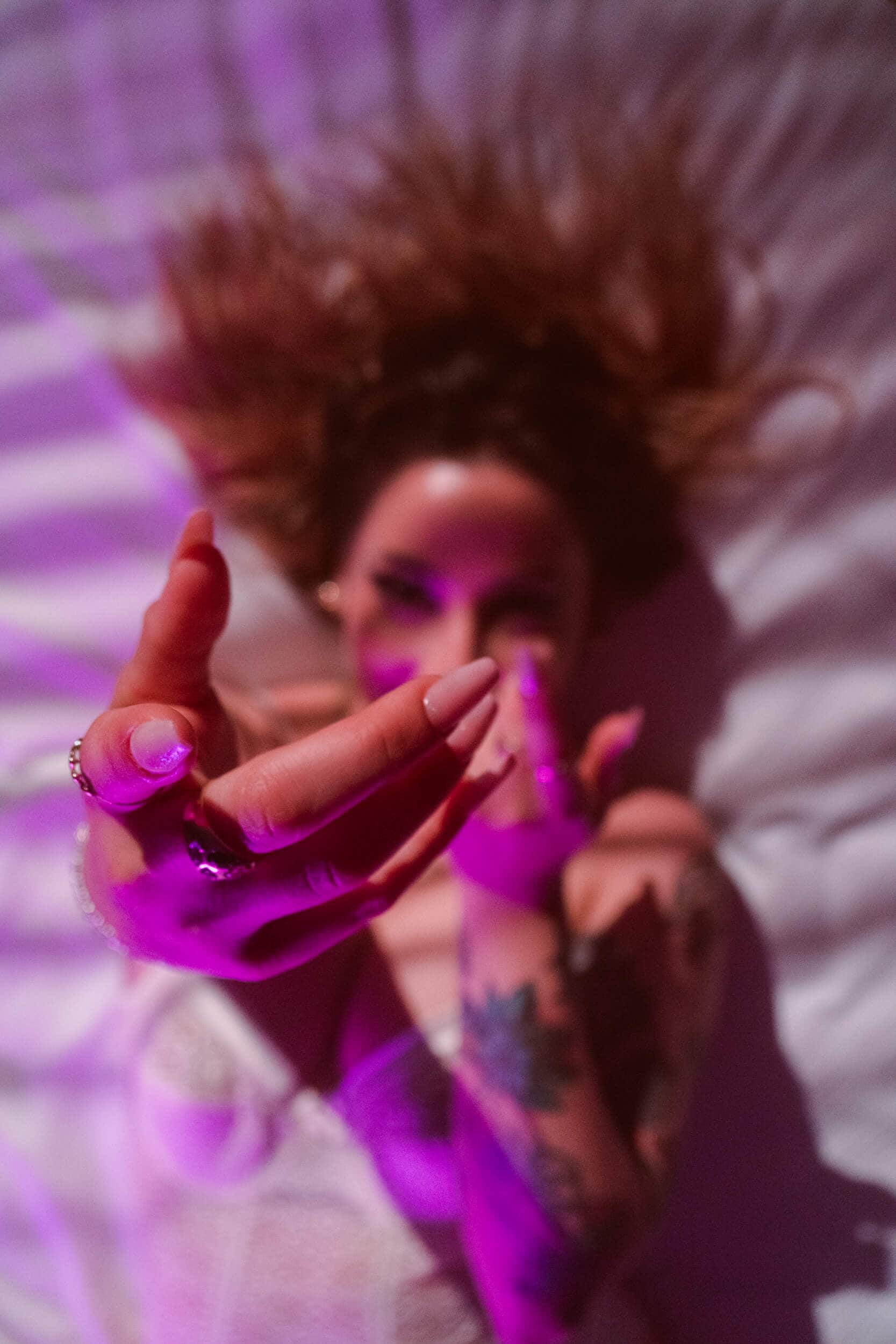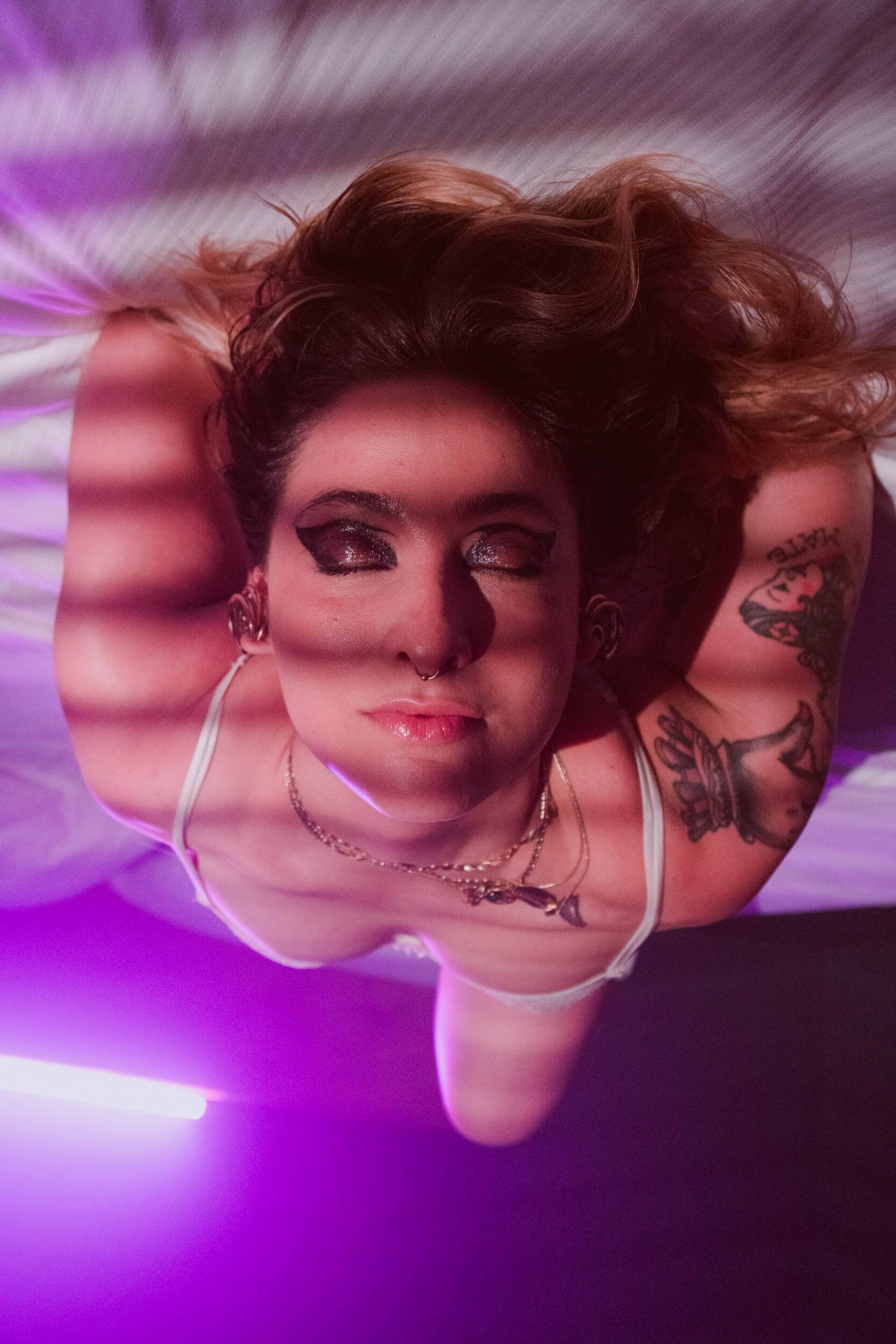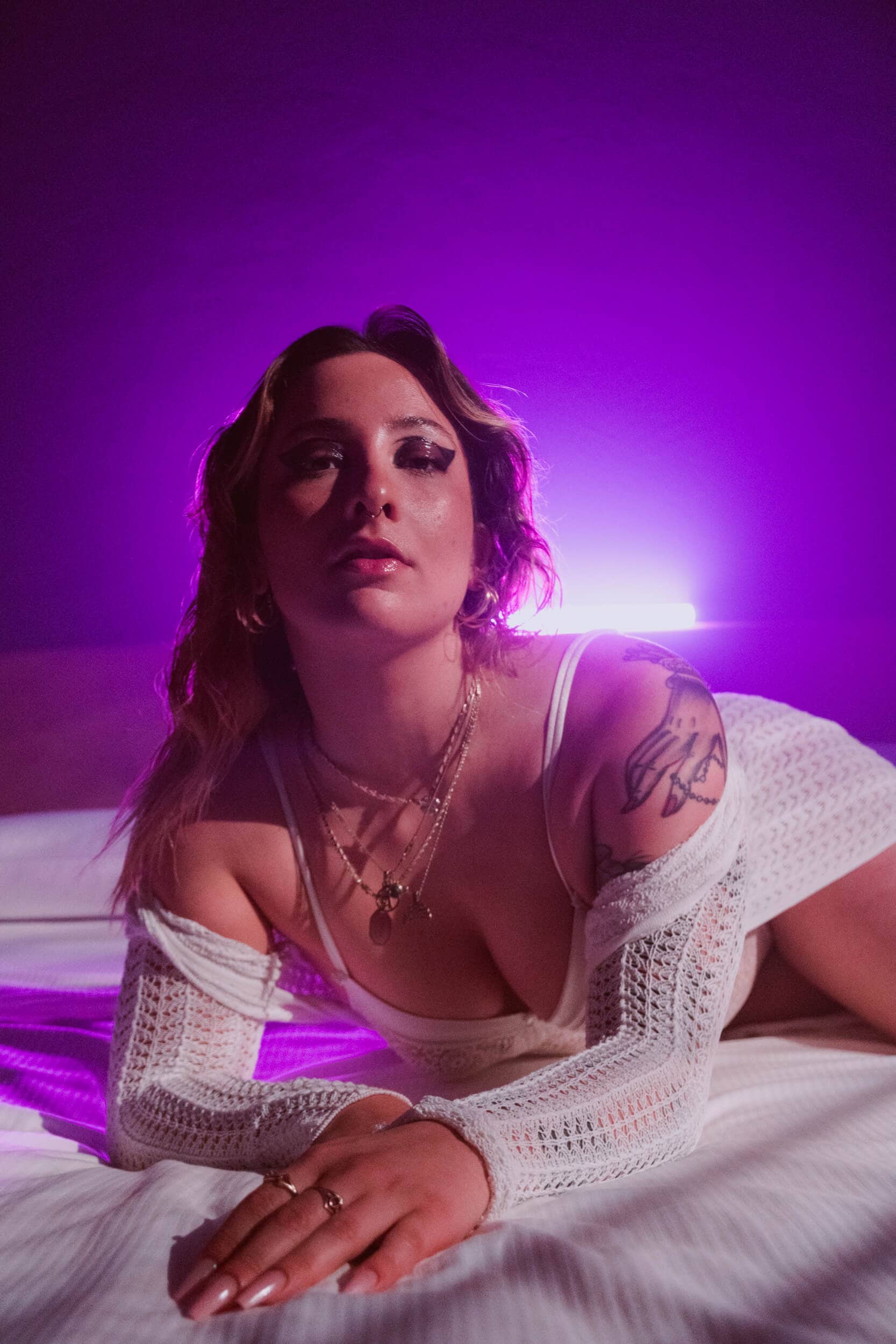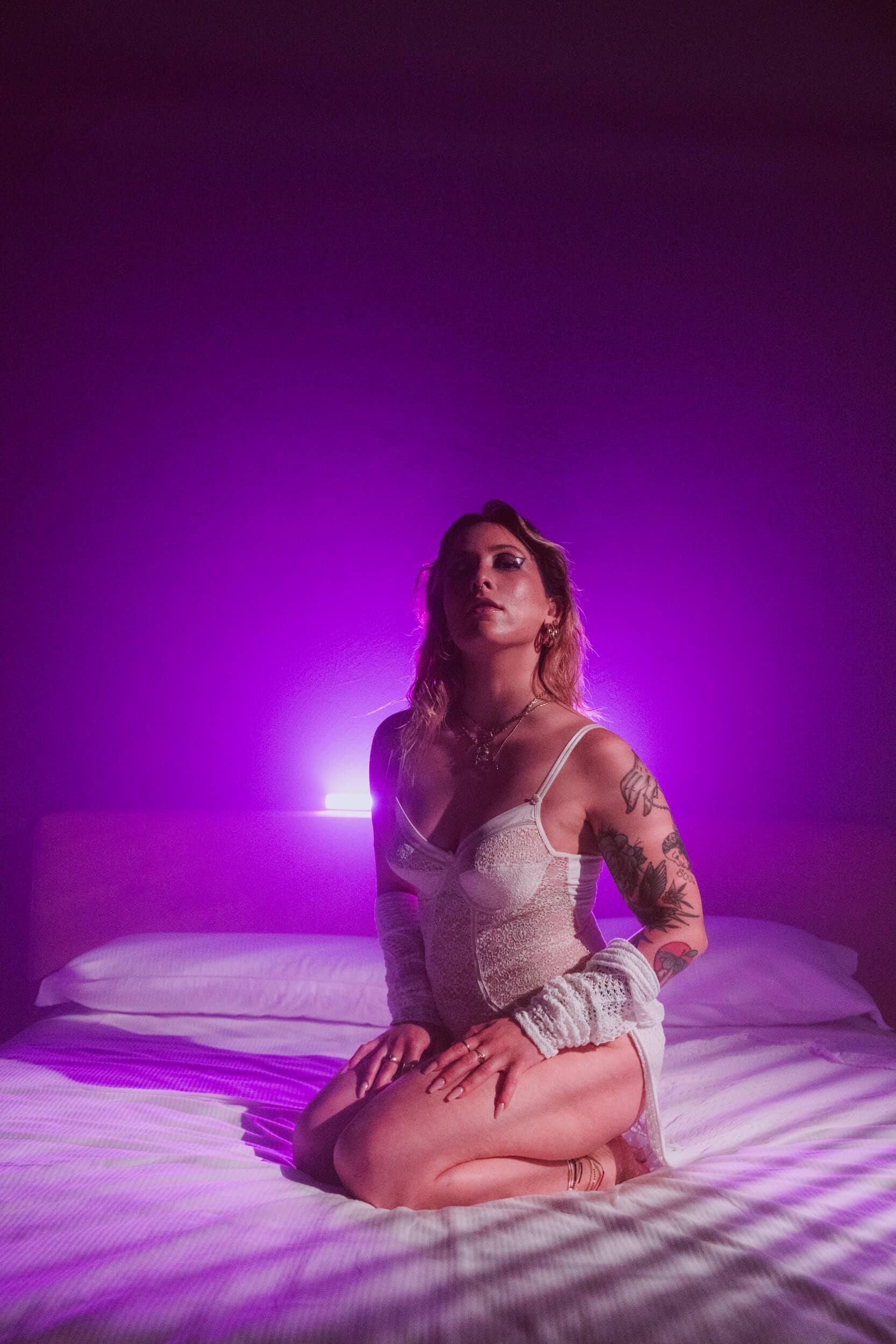 THE PRODUCT: Skin Balancing Moisturiser SPF 30.
WHY: I chose the day cream Ultra-Sheer Daily Defense with SPF 30 because it is two products in one: "Moisturizer and SPF;" and then I am a person aware of his shiny skin, and this is one of the very few face creams that has managed to balance sebum, helping me maintaining a matte effect on the face.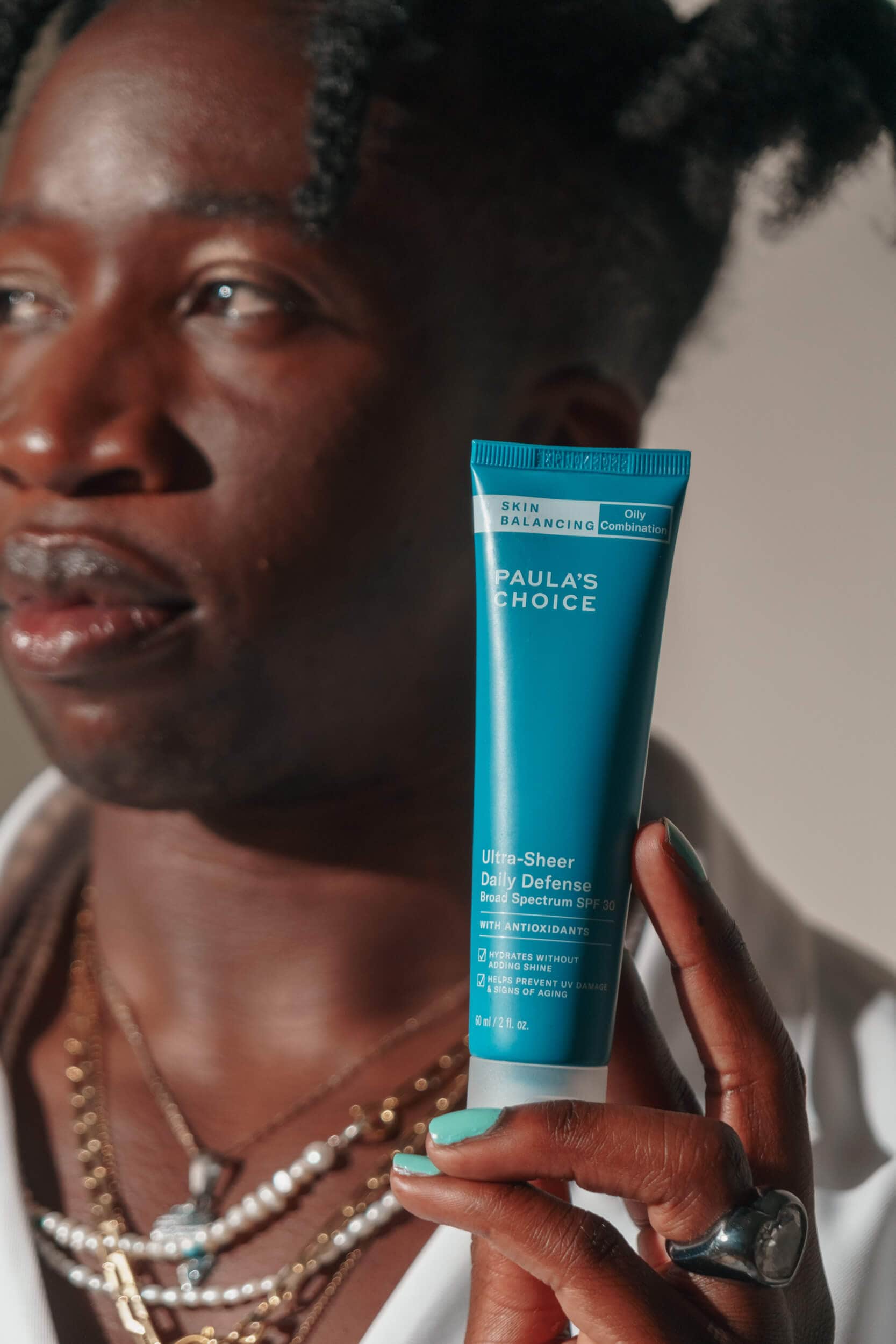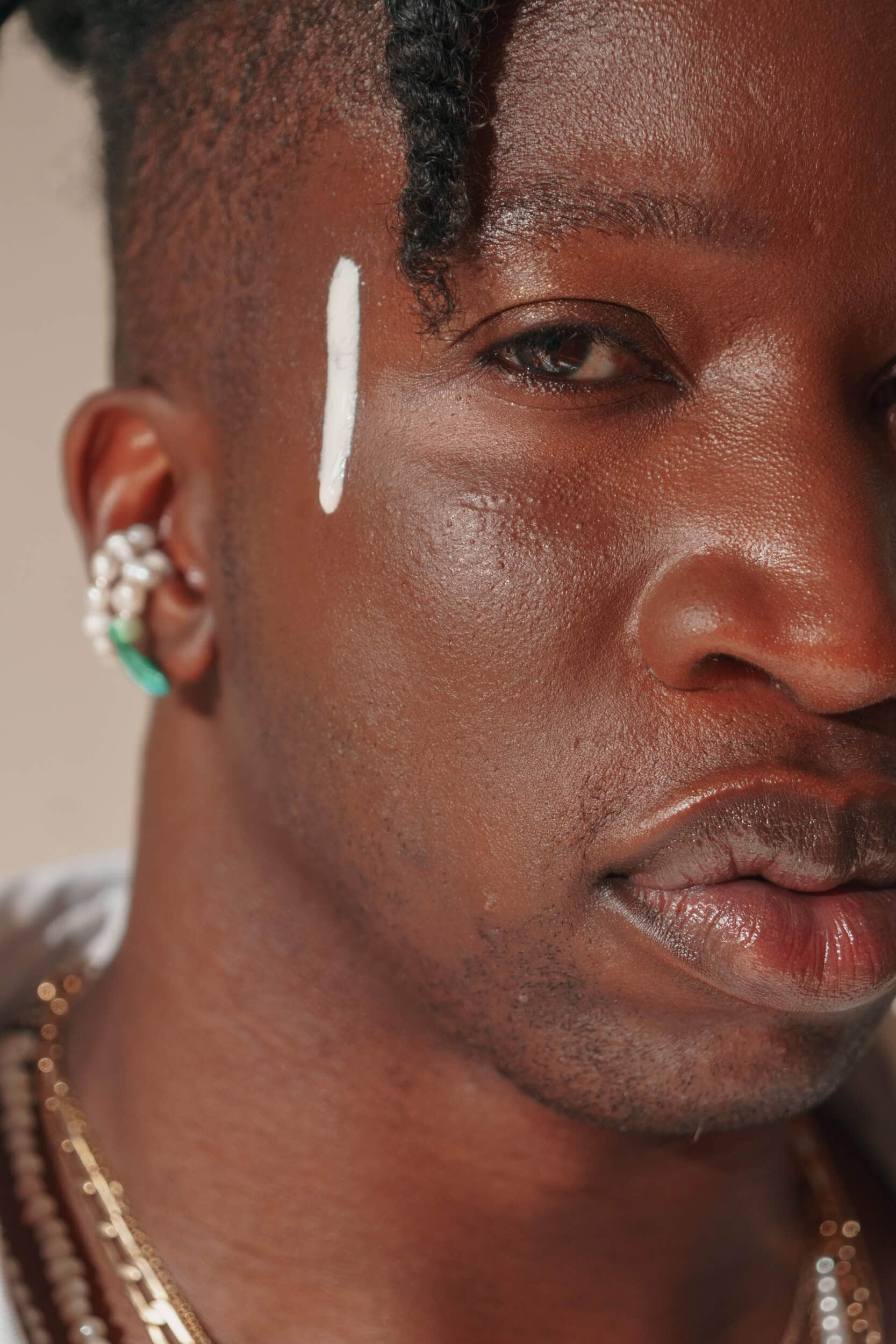 Dear SKIN,
Ever since I was a teenager, I've always had a conflictual relationship with my skin, I felt embarrassed because my skin was too shiny. I'm learning how to get to know it. I'm learning to appreciate it. I'm learning to care for it. Growing up, I've also understood my face. I have some very African facial features: big nose, big lips, small eyes. All of this has fueled my insecurities.
As an insult, I would often be told, "You look African," And as a compliment, they would say to me, "You don't look African." I wanted to get a nose job, but my nose represents my family, it's my mom's nose. I think she's beautiful, why shouldn't I think that of myself? My lips annoyed me, and people used to make fun of me: they were "too big." I often felt uncomfortable. I still feel a bit insecure, but I'm more self-aware and I'm happy with my facial features.
I'm proud of my skin.
I'm proud of how I take care of myself.
I'm proud of what I am.
As you go on in life, you keep discovering yourself and always more of yourself, and you get to know yourself always better. The more you go on, the more you realize that some things are part of your person, your body, your face. It's nice to discover and rediscover yourself every year, every day.
I only hope that I can fight all my insecurities, I doubt that it will happen, but I'm optimistic.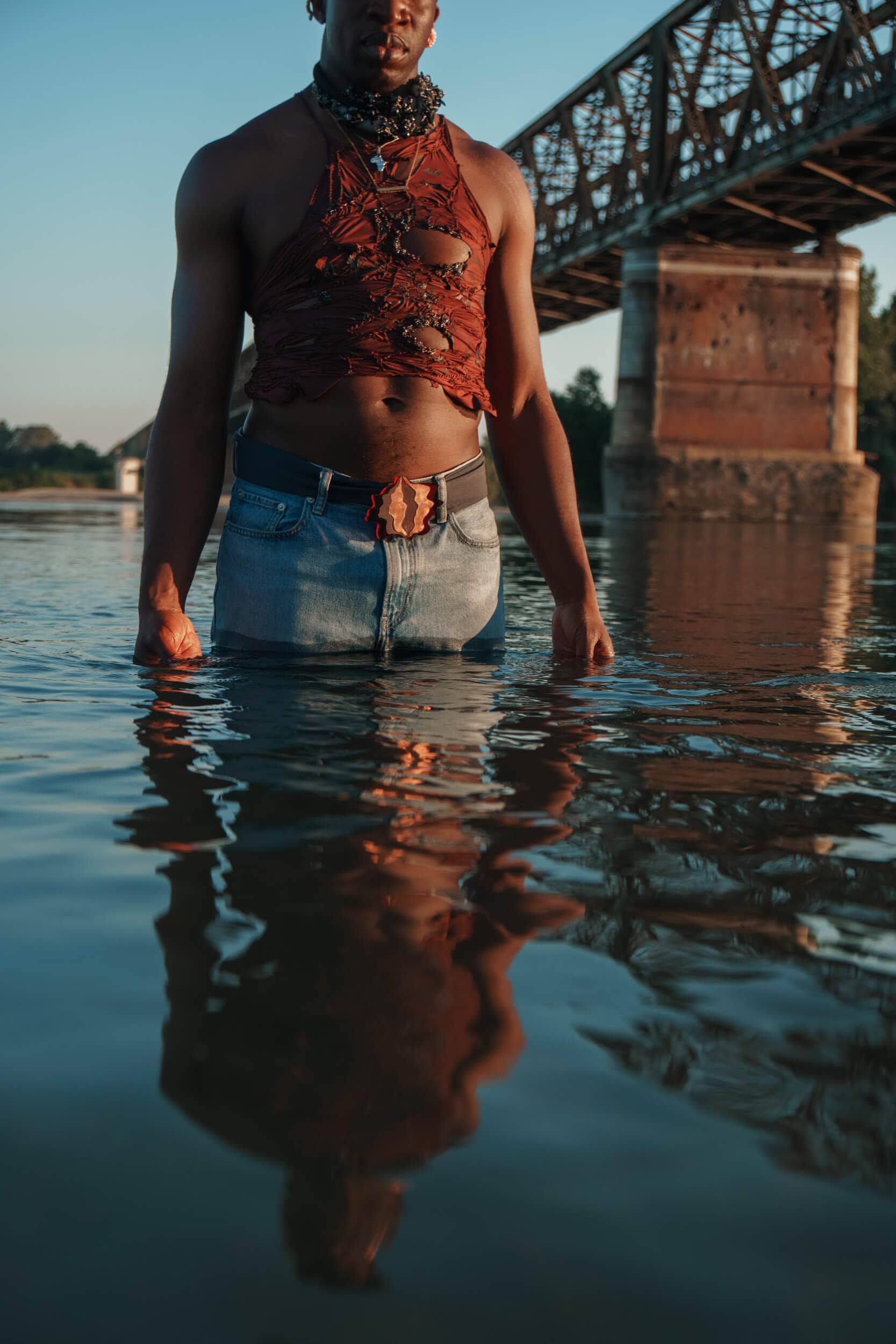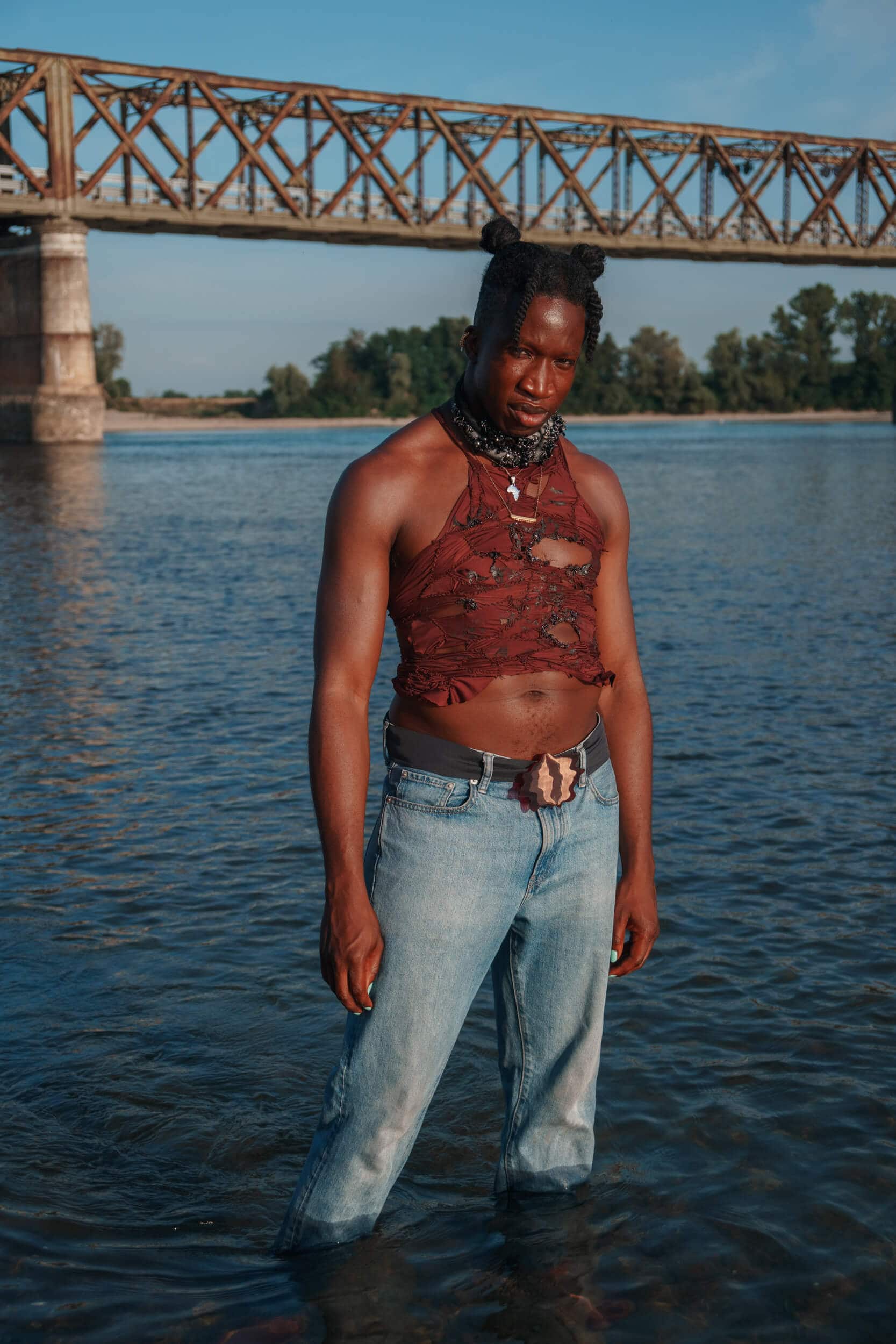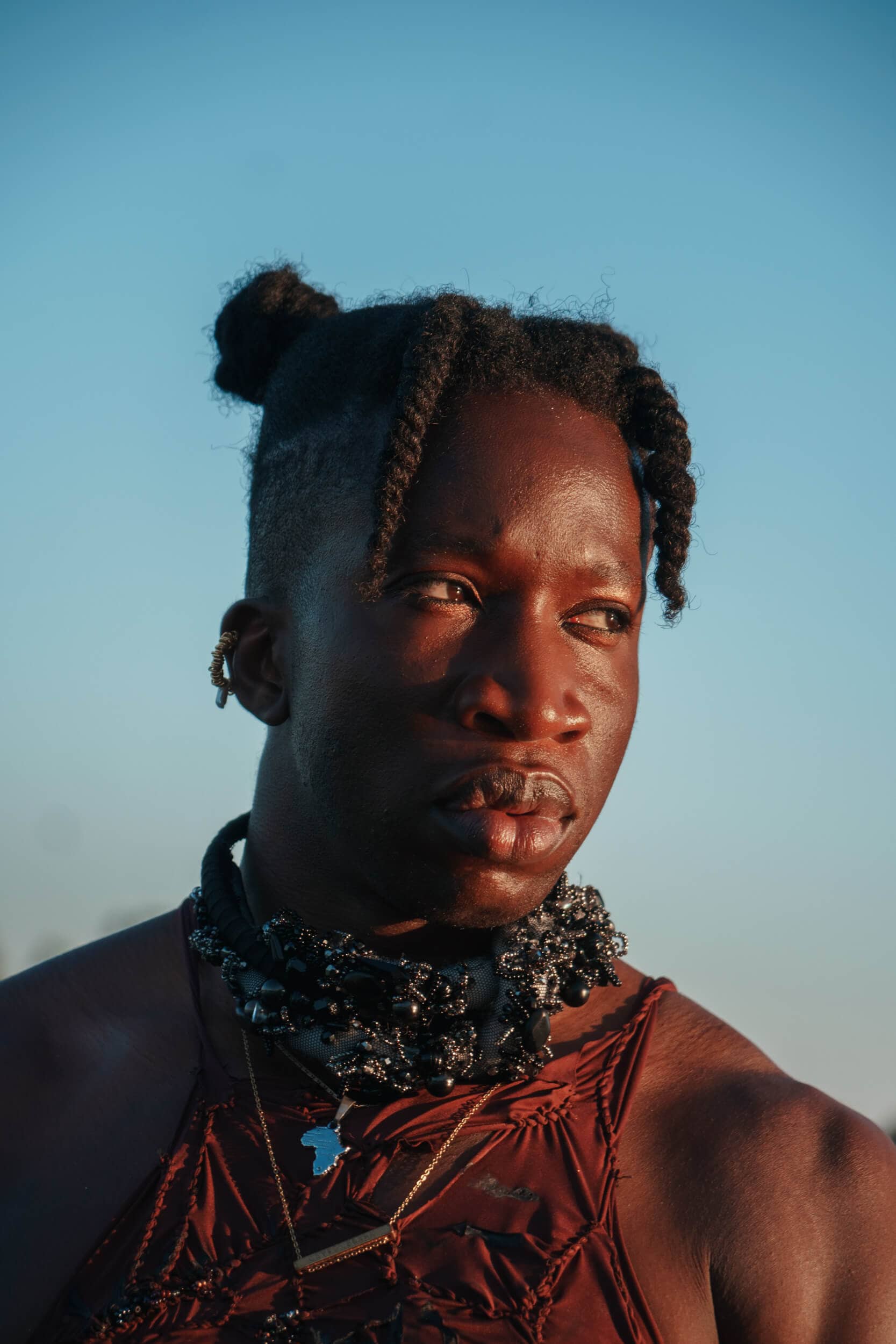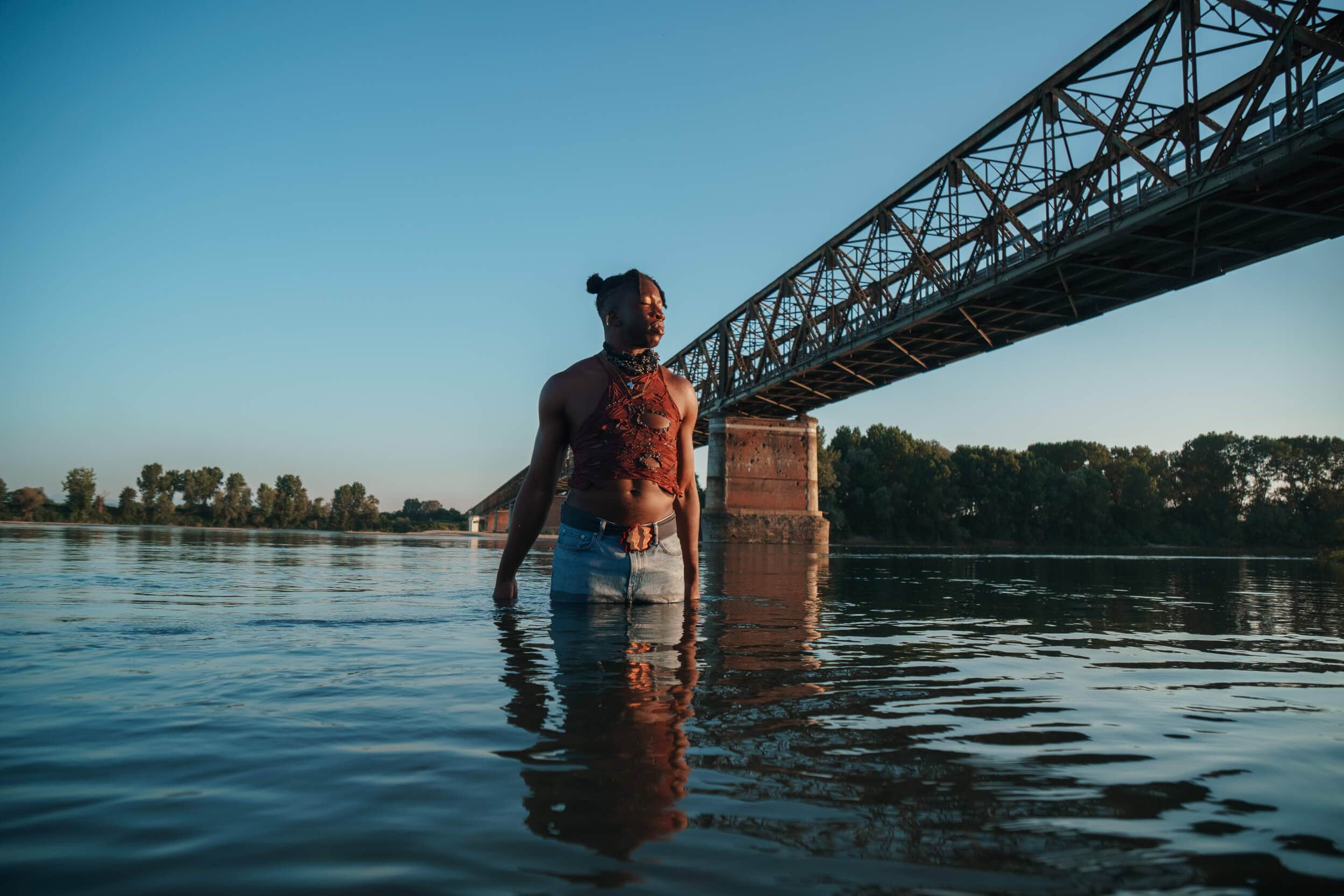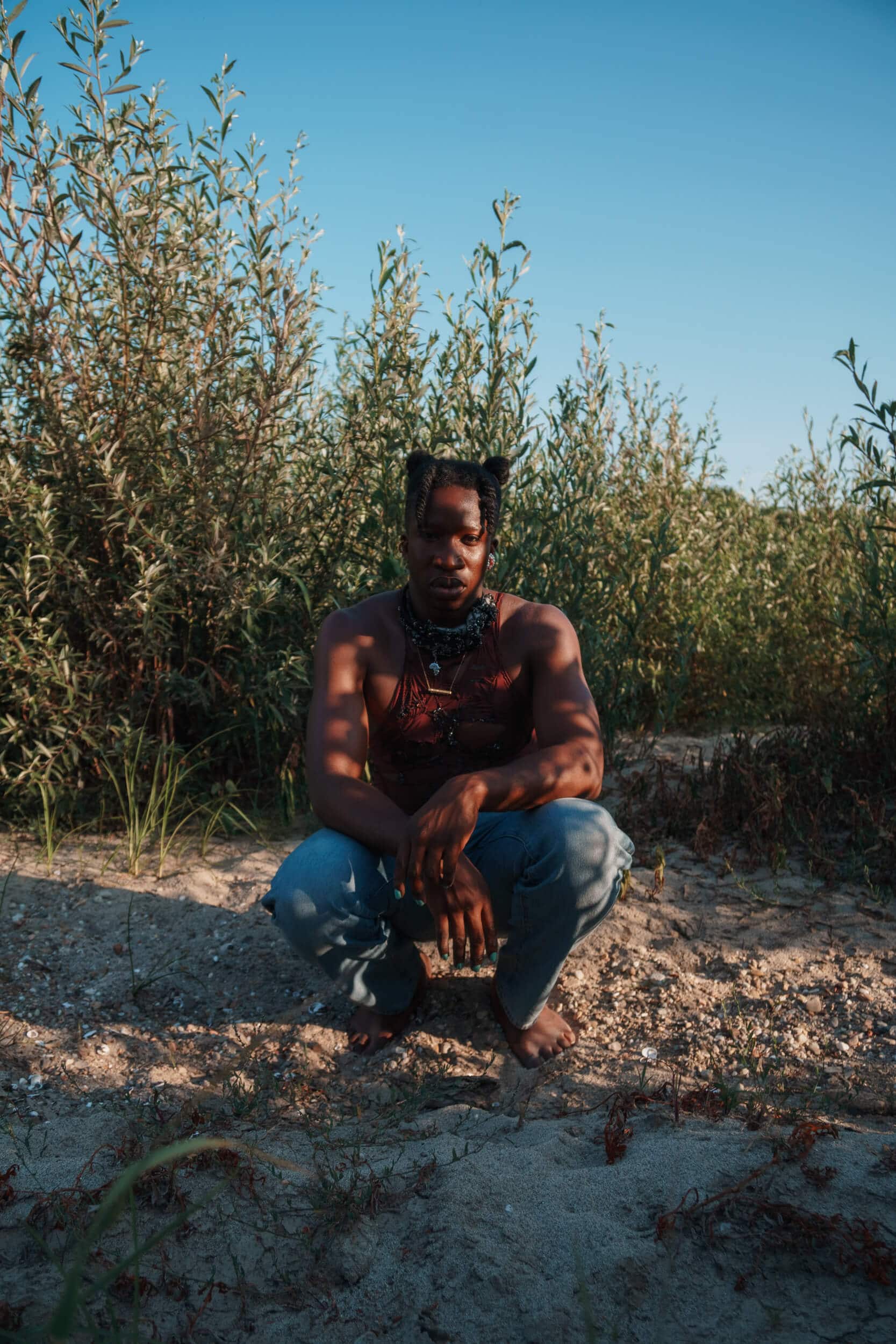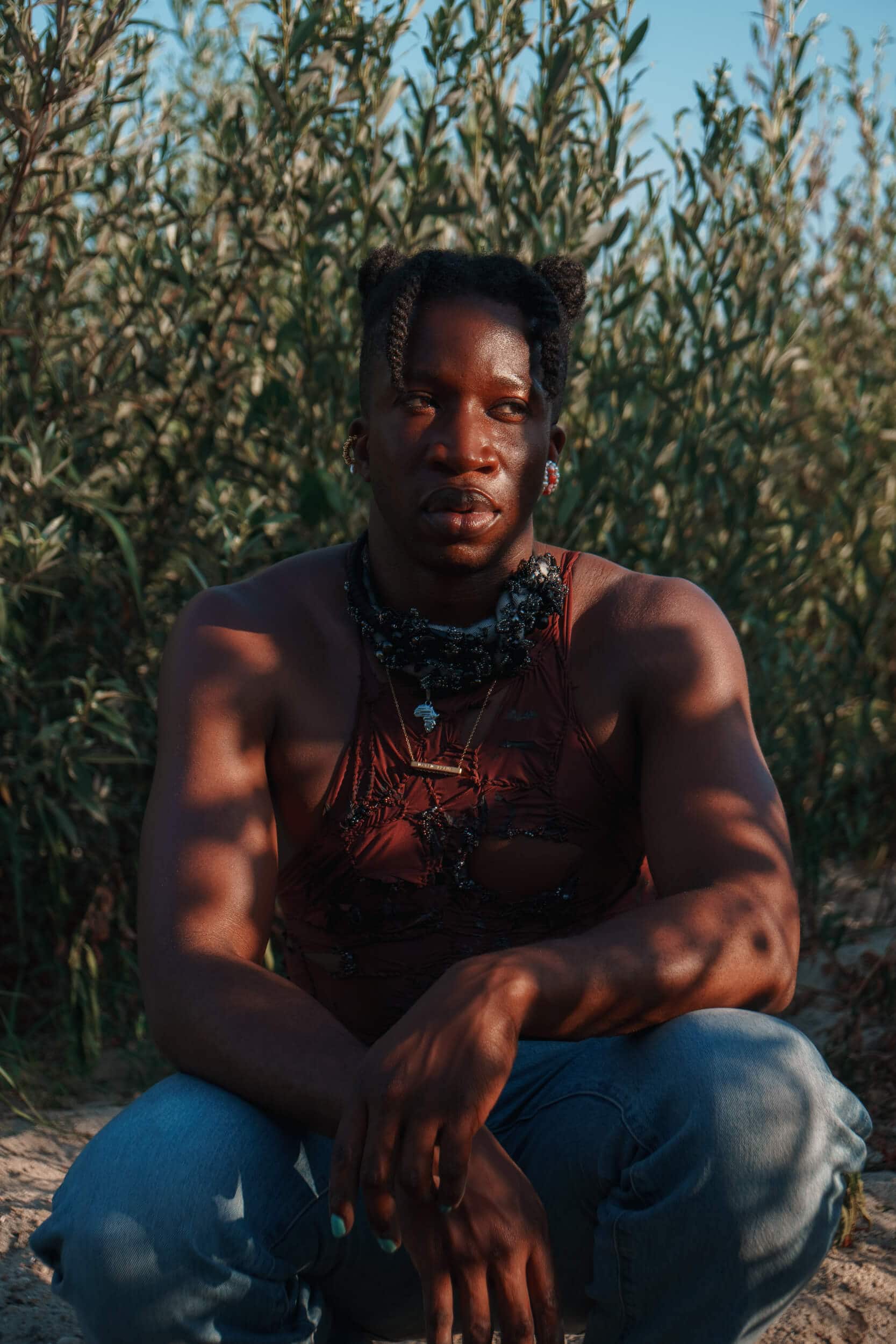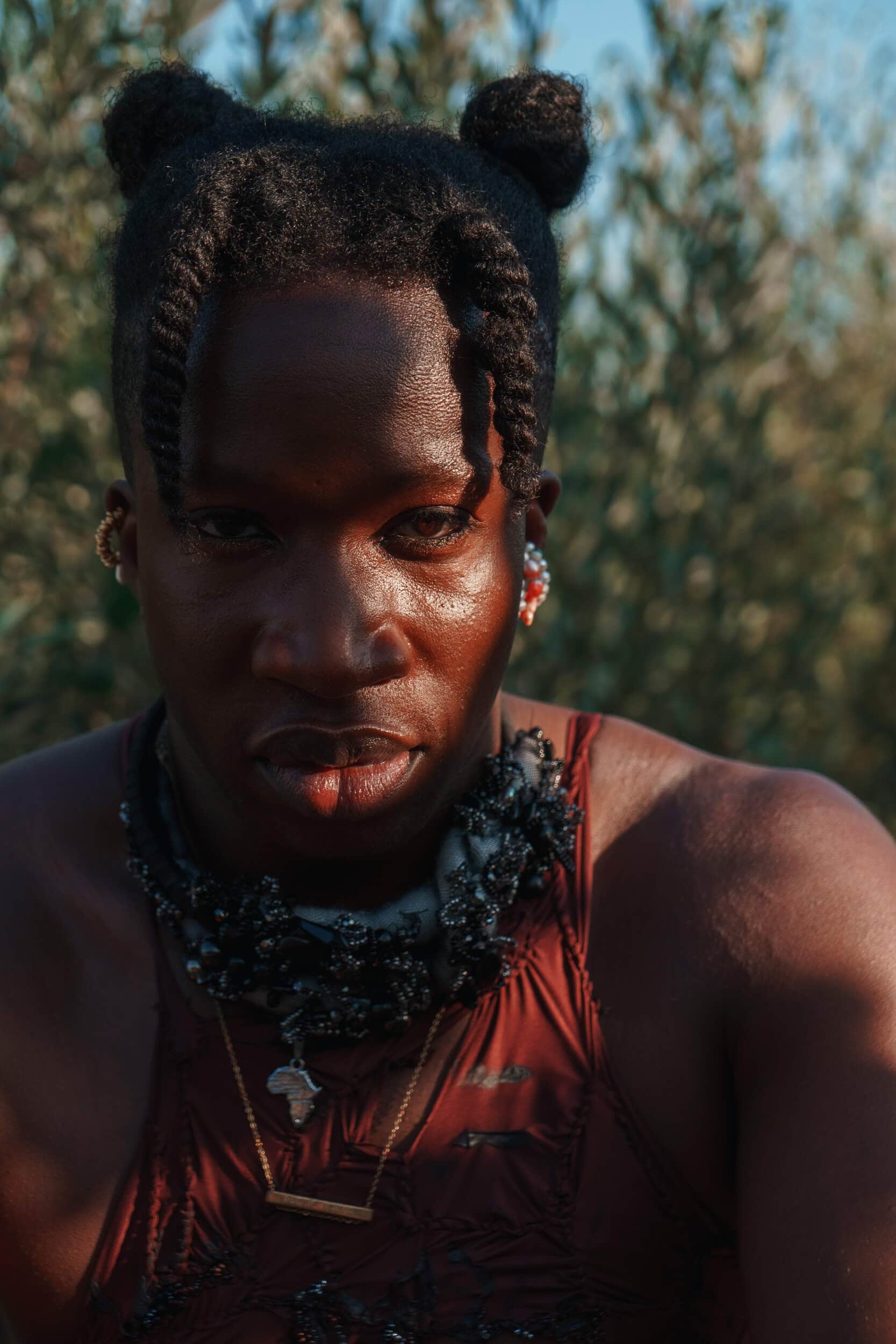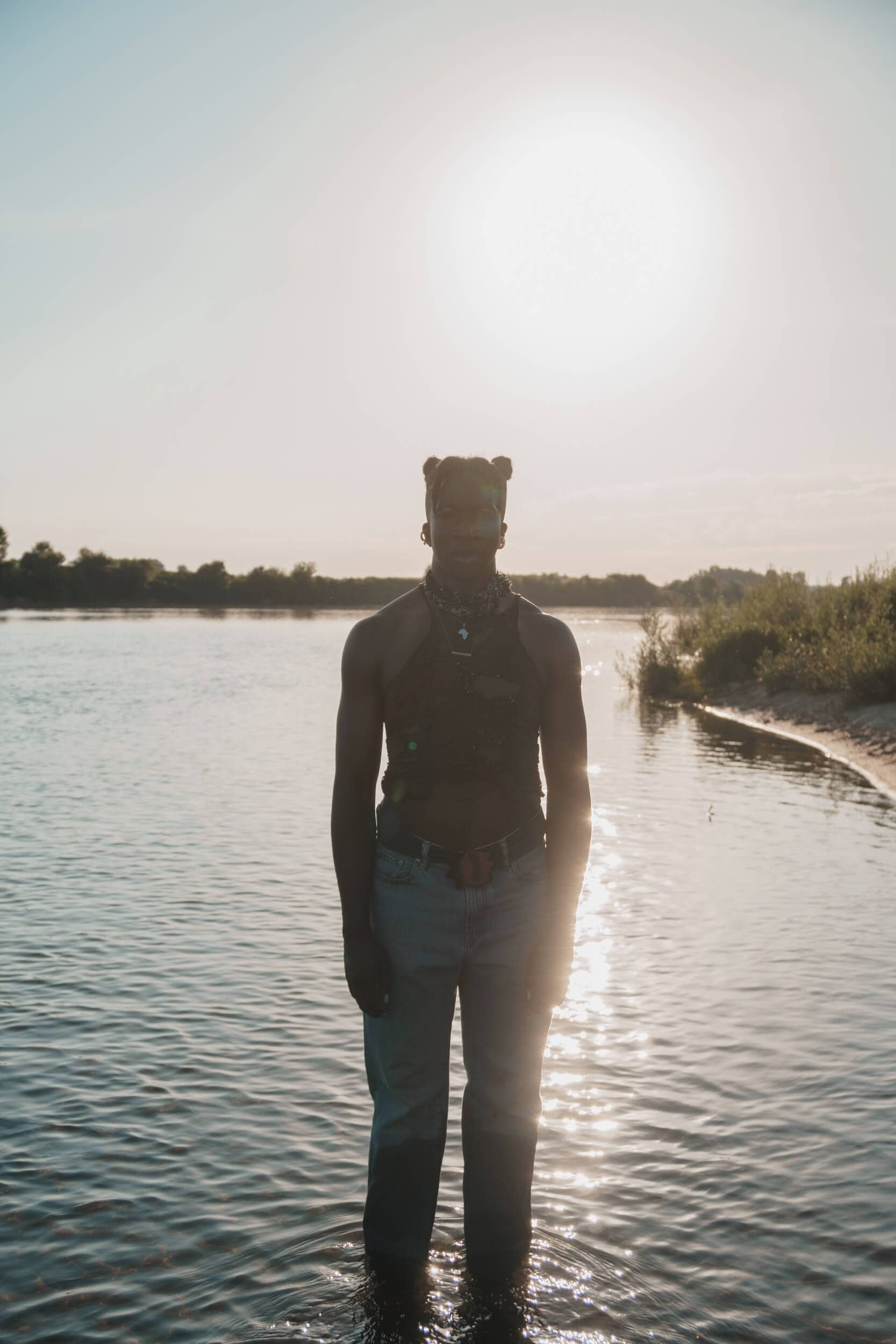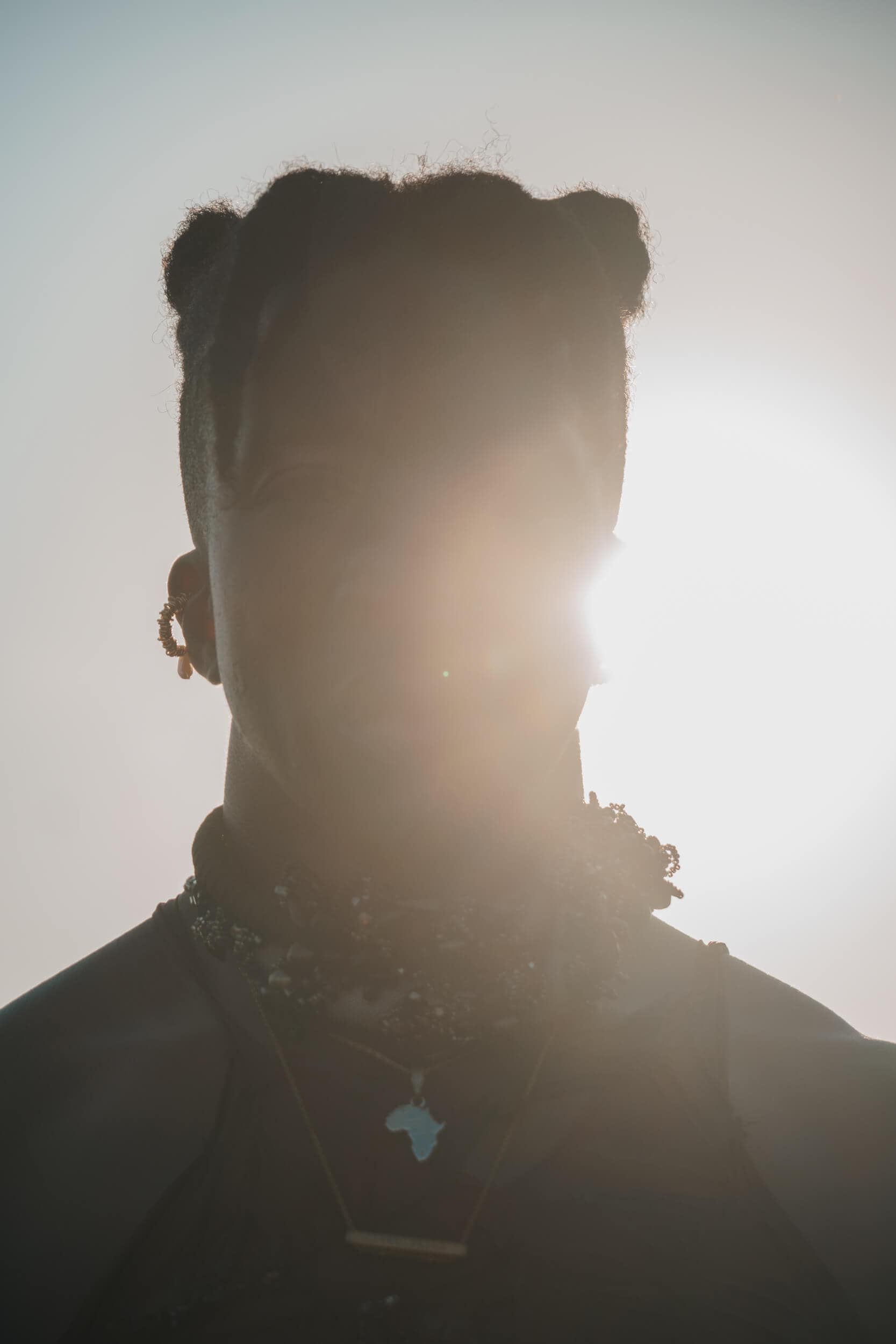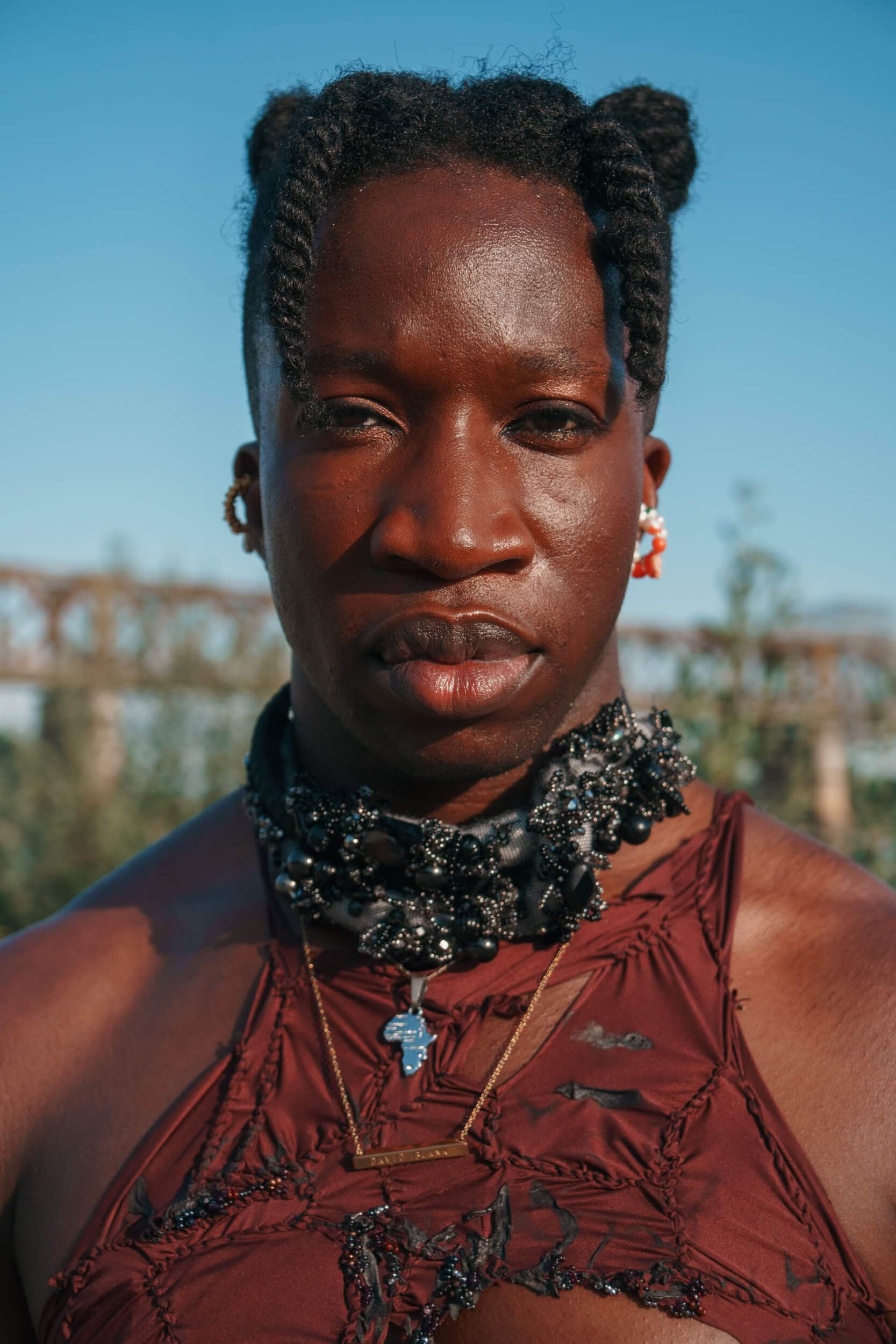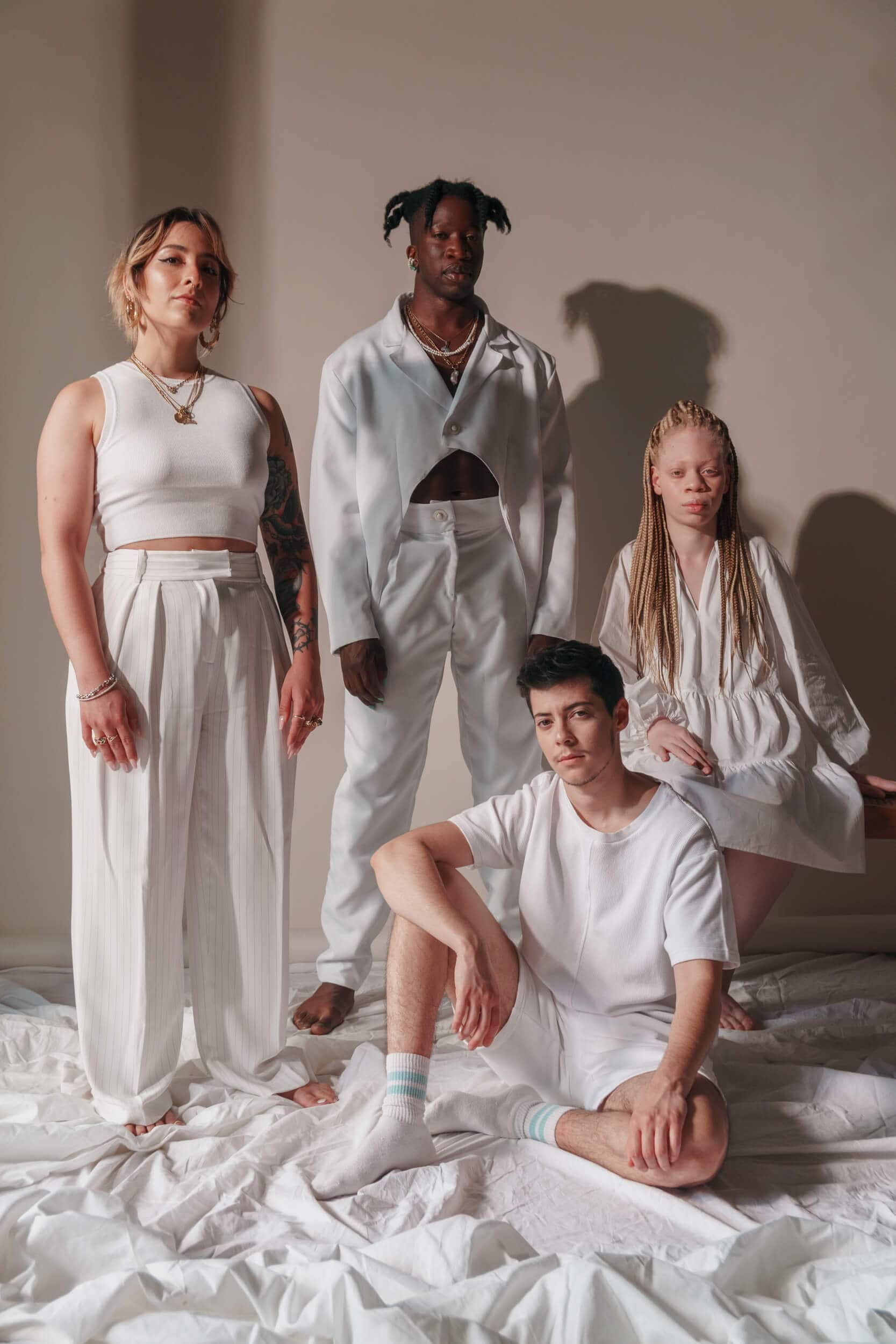 Photos & Video by Johnny Carrano.
Follow Oxana here.
Follow Ethan here.
Follow Assia here.
Follow David here.
Makeup & Hair by Chantal Ciaffardini.
Makeup Assistants: Giulia Mosca & Claudia Raia.
Styling by Lucia Capelli.
David's Styling by Ivan Bontchev & Francesca Farina.
Behind the Scenes video by Paolo Terraneo.
Runner: Elisabetta Piantoni.
OXANA'S LOOK 
Dress: P.A.R.O.S.H.
ETHAN'S LOOK
Blazer and Shirt: Exté da "Le Vintage Milano"
Trousers: Paul Smith
Waistband: Prochownick
ASSIA'S LOOK
Body: Ritratti
Cardigan: Le Solferine Milano
DAVID'S LOOK
Earrings: Alter Alter
Necklaces: Oh Carla and David's personal collection
Top: Oh Carla
Belt: Oh Carla
Denim: David's personal wardrobe
DAVID'S WHITE LOOK
Earrings: Alter Alter
Necklace: Alter Alter nd David's personal collection
Jacket: Valenti
Trousers: Valenti