In the last few months, makeup has represented an excellent escape for many of us, an escape from our thoughts, from our reinvented habits and a way to feel a little more like ourselves or to feel completely different from ourselves.
Within this new makeup idea, we researched and searched for all those products that could give more space to our imagination, even if it was a question of playing with the most neutral and natural colors.
But, with the arrival of summer, our thoughts have become even more evident: we want something that makes us look like we have golden skin that highlights our cheekbones, something that gives a nuanced definition that is impalpable but present. And that's how we want to feel: ourselves but with a touch of creativity, playing with innovative textures that, once again, make us feel present, even if in other dimensions: on a deserted beach, in a forest sheltered from the summer heat, under the sun with a white dress, or in a modern context, in the city, made of bold lines that follow those of our makeup.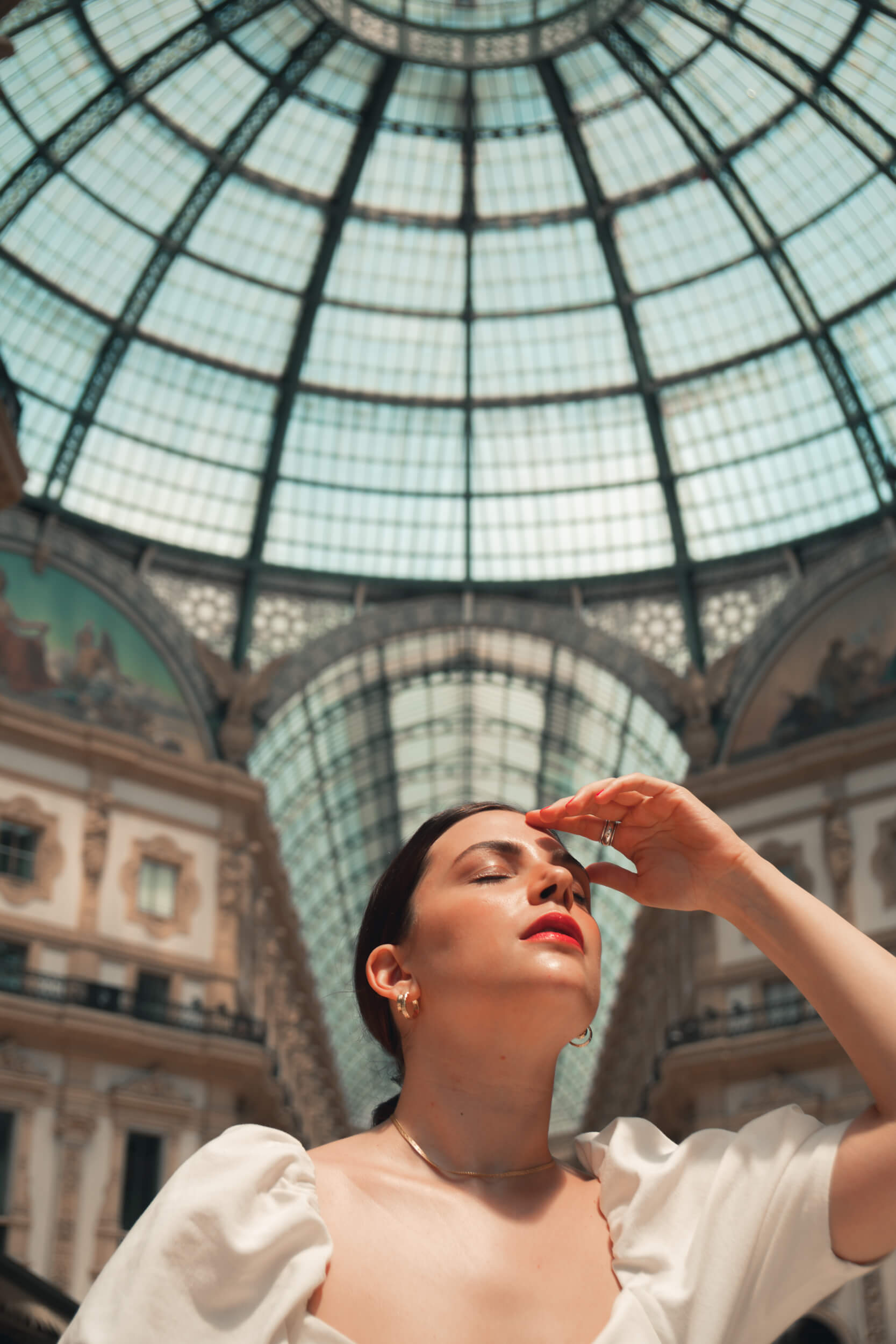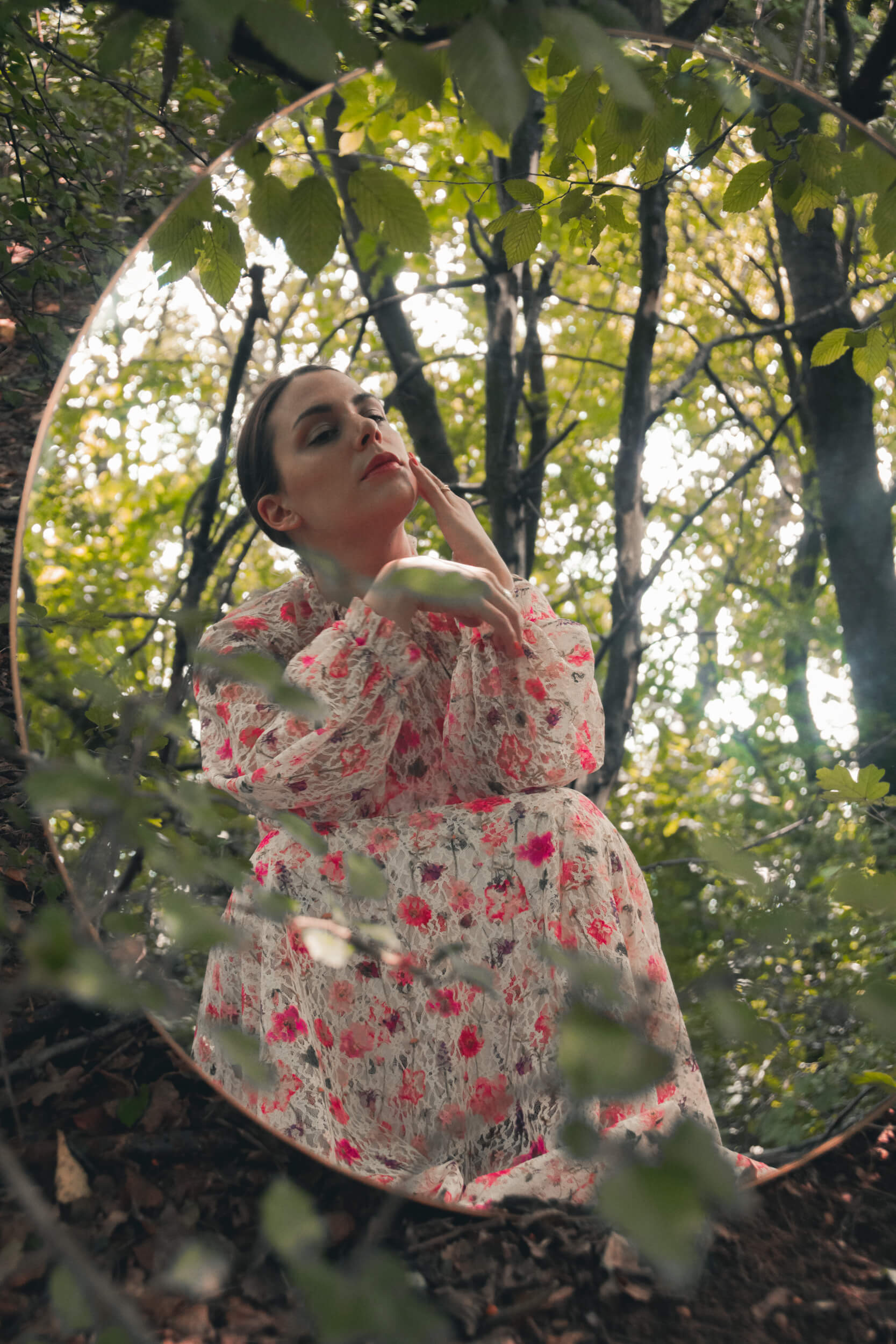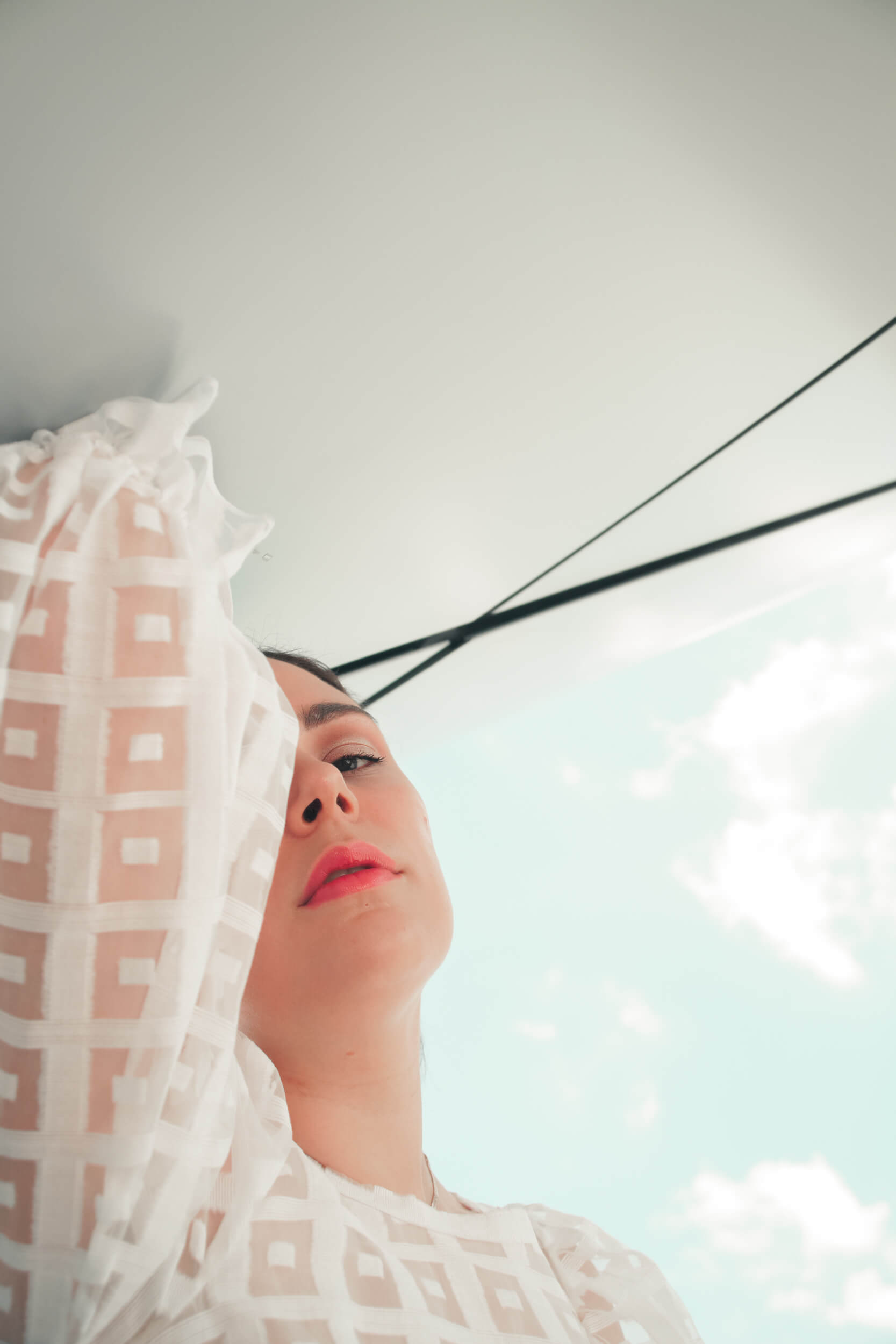 Like every year, we look forward to seeing what the world of makeup will give us in this escape season (whether it is a mental or a physical one) and, among the many summer collections, there is one that never disappoints: the collection Les Beiges by Chanel. Every year it never ceases to amaze us, and perhaps this year, it has done it even more.
We were invited by Chanel to try the collection and, thanks to a self-makeup lesson with the Chanel National Makeup Artist Gianandrea Ghiardello, I personally learned how to make the best use out of all the new textures, powders and colors of this collection. However natural, he pushed me to have fun once again with makeup and travel with my mind to places that recalled my imagination. Because in a Chanel Beauty Boutique everything is possible, even going to unknown places.
Try knocking on their door, and you will see.
#STEP 1 LES BEIGES: HYDRATE WITH CAMELIA REPAIR MASK
With this product, we discovered a true multitasking skincare treasure: a repairing moisturizing balm that can be used as a refreshing regenerating mask for 10 minutes, as a repairing solution for the driest areas of the face, as a night mask, or, what we did during our lesson, as a makeup base.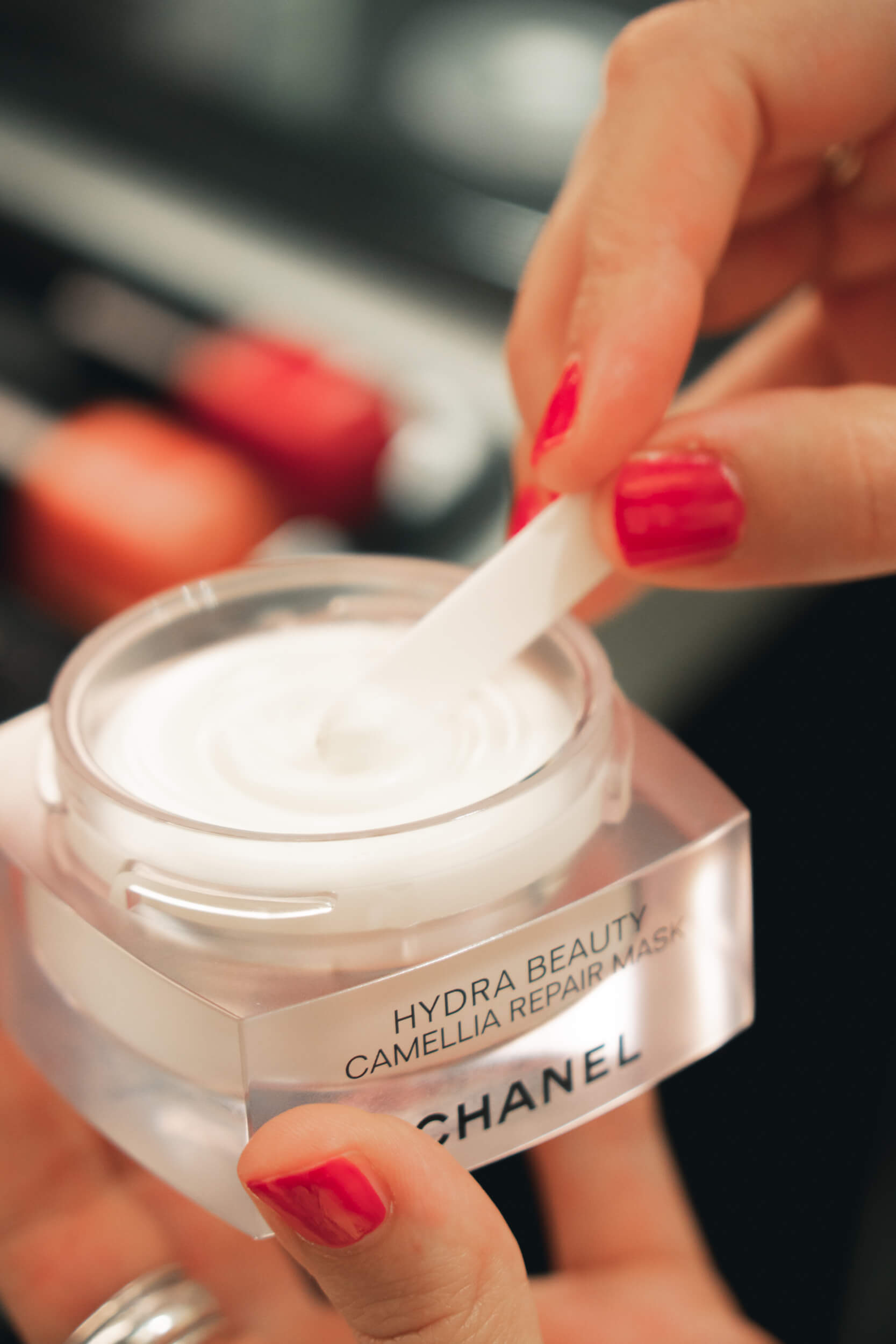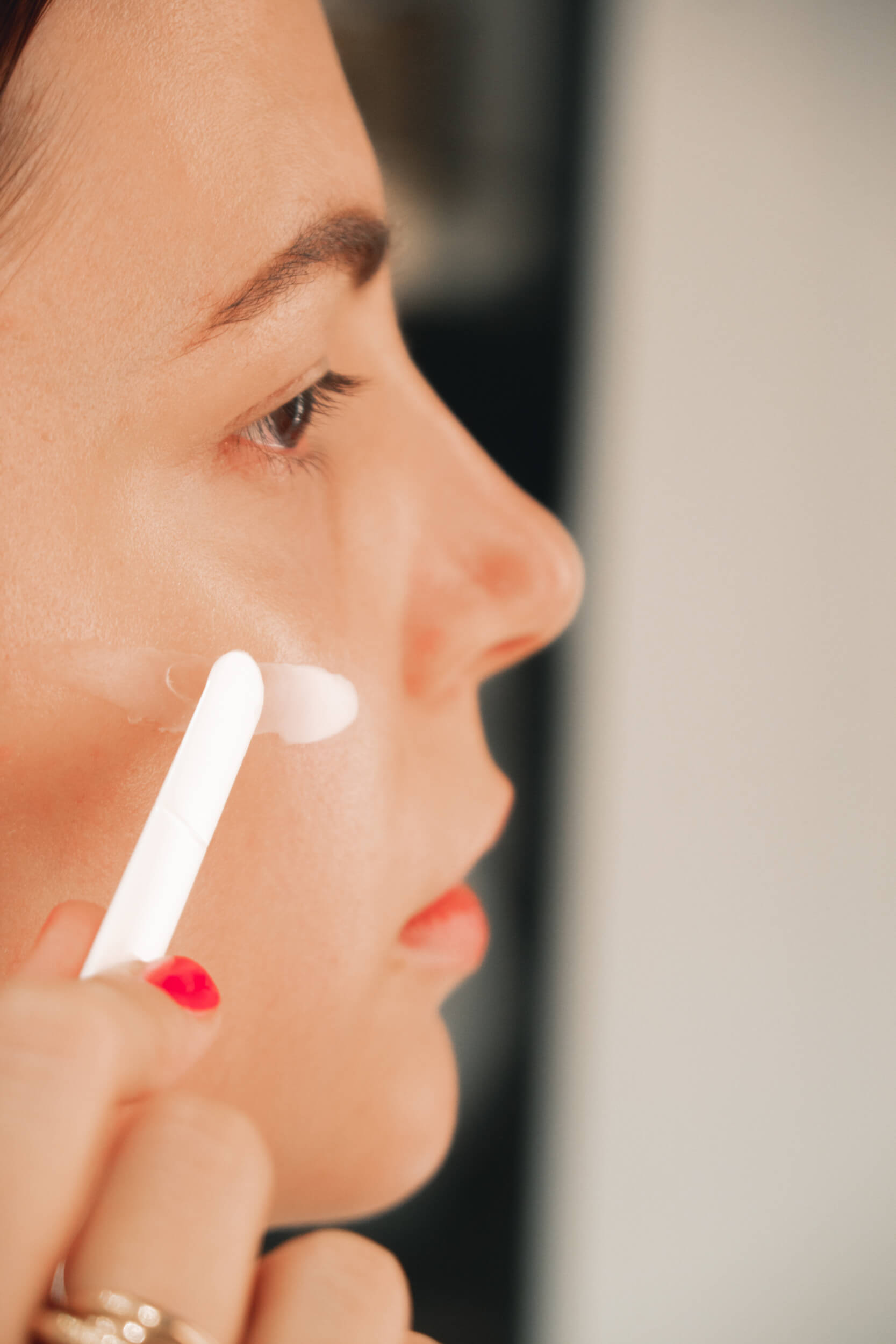 There is not much to say except that it is one of the most cooling and moisturizing products we have ever tried: the texture, which looks like a wax, melts into the skin just by massaging it. Precisely for this reason, it is an excellent makeup base, giving that effect of perfected and hydrated skin. If you close your eyes, between its scent of camellia and its freshness, a journey begins that takes you to a refreshing and sheltered place.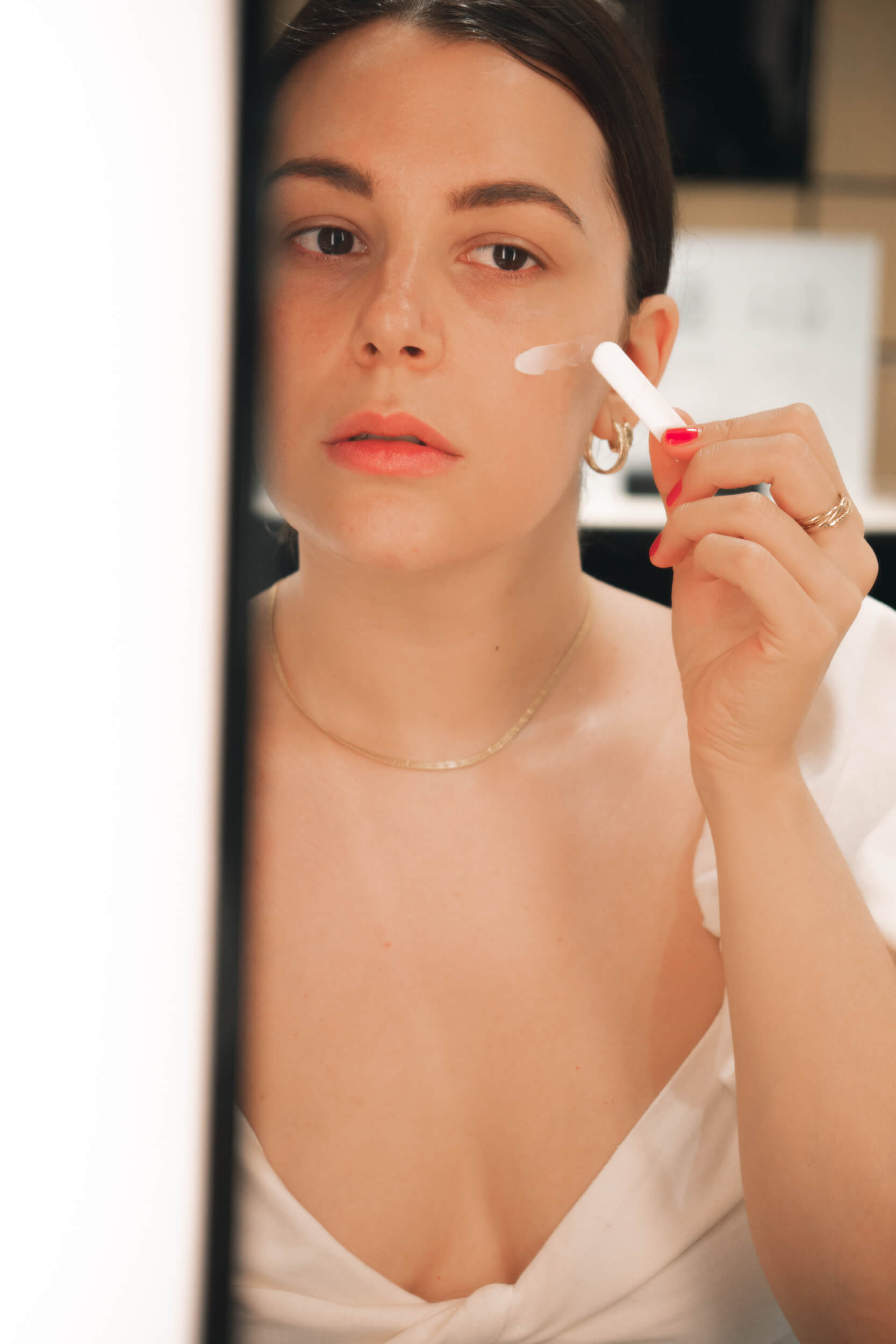 #STEP 2 LES BEIGES: HIGHLIGHT THE BASE WITH FLUIDE ENLUMINEUR BELLE MINE IN PEARLY GLOW
Think about the luminous power of pearls. And then think of a genuinely multitasking product, with a light, buildable, glowing but glitter-free texture, which can make you experience that typical natural glow of the skin. If you didn't think this product could exist, now you have to change your mind because Les Beiges introduces us to a super liquid highlighter, consisting mostly of water. It can be your ally for the summer.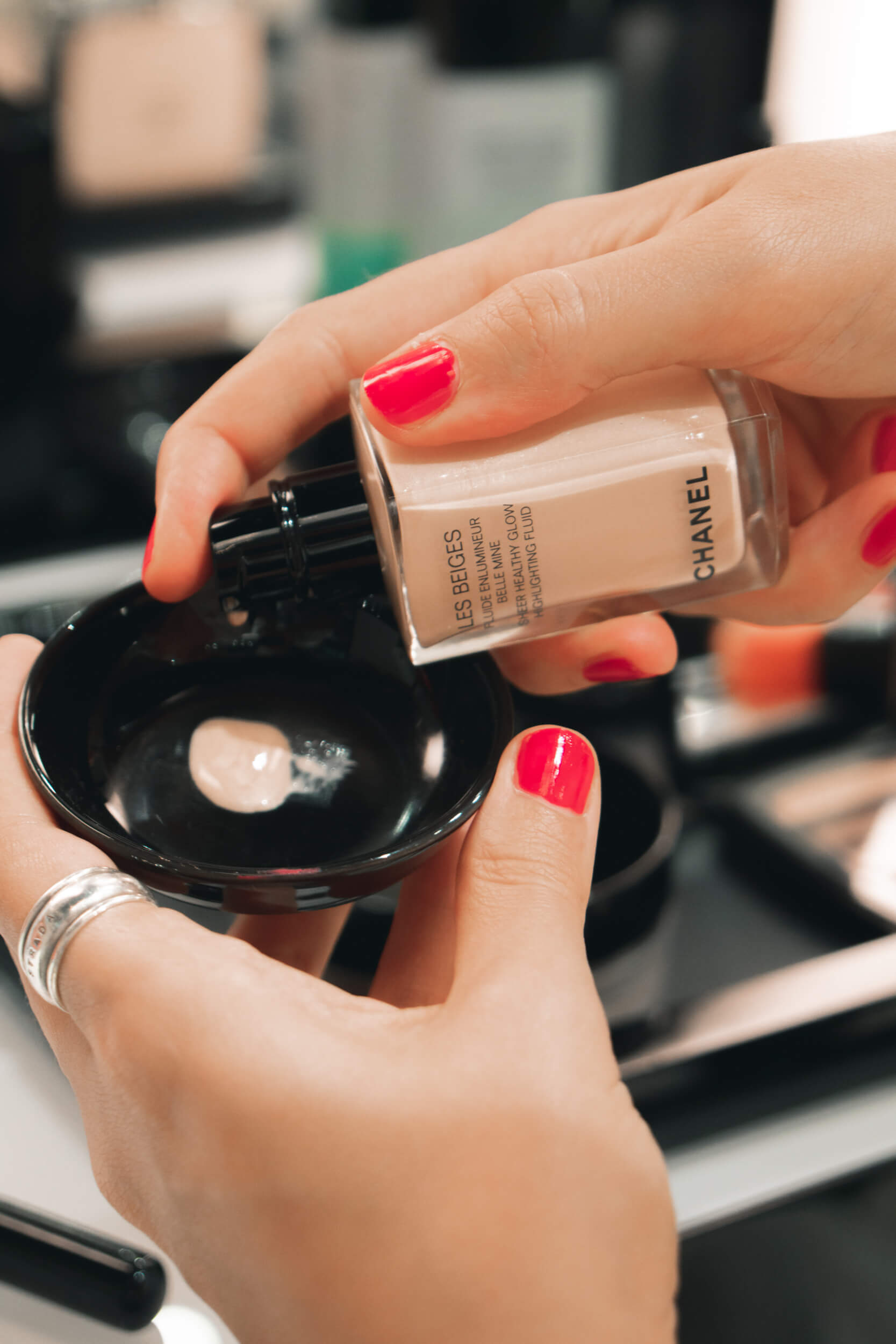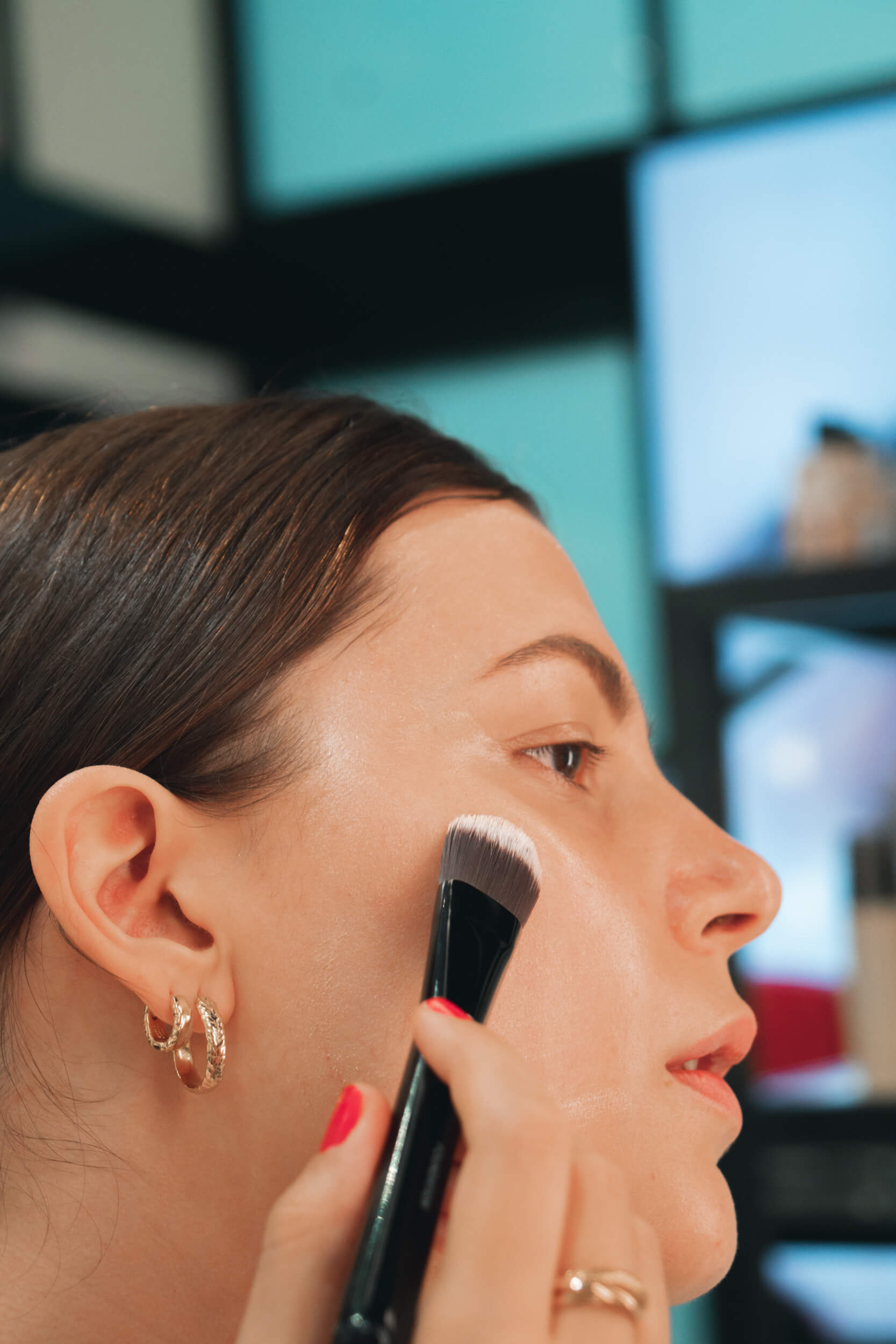 We applied it as a makeup base, almost as if it were a primer, all over the face, without being afraid of exaggerating, which is, however, practically impossible.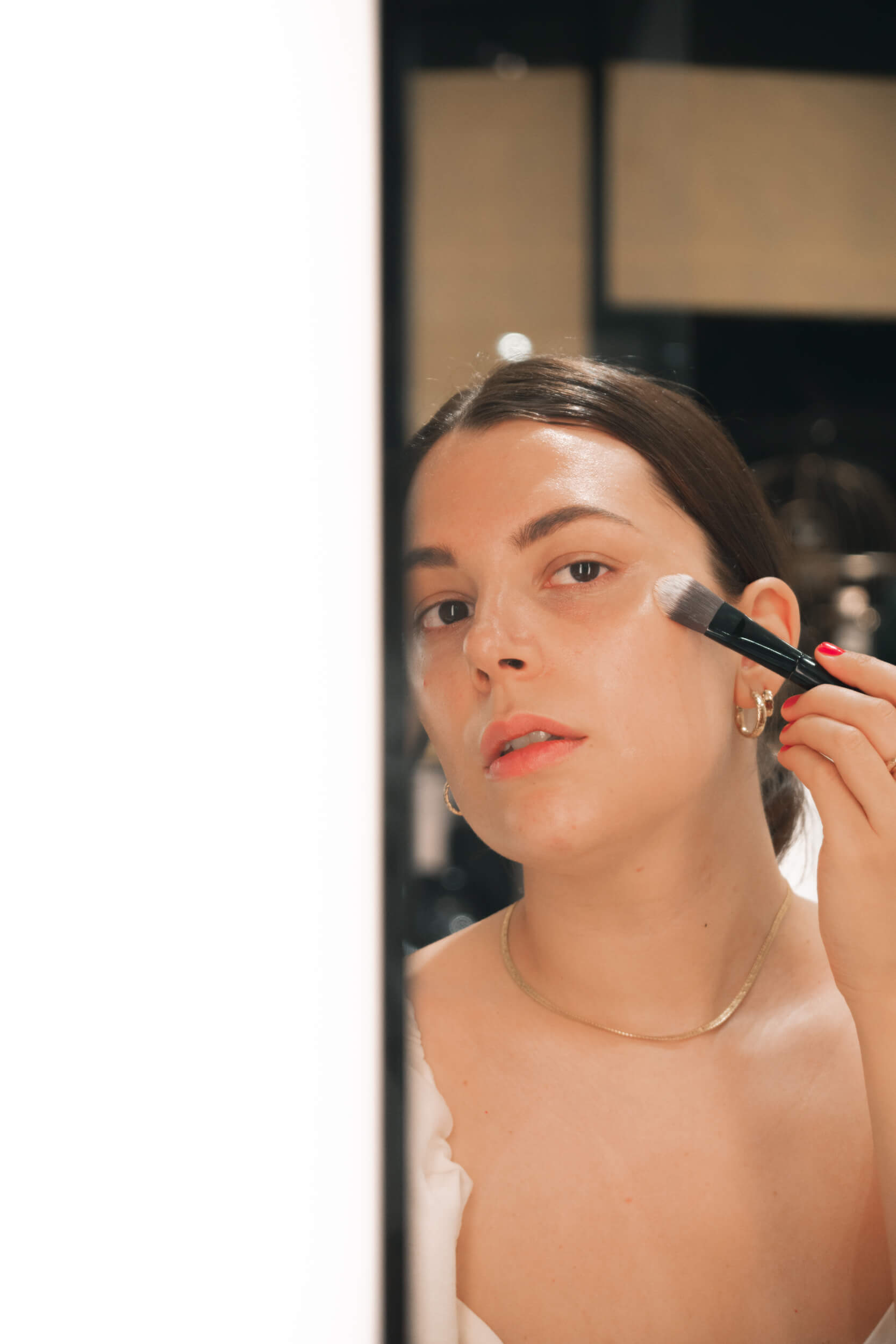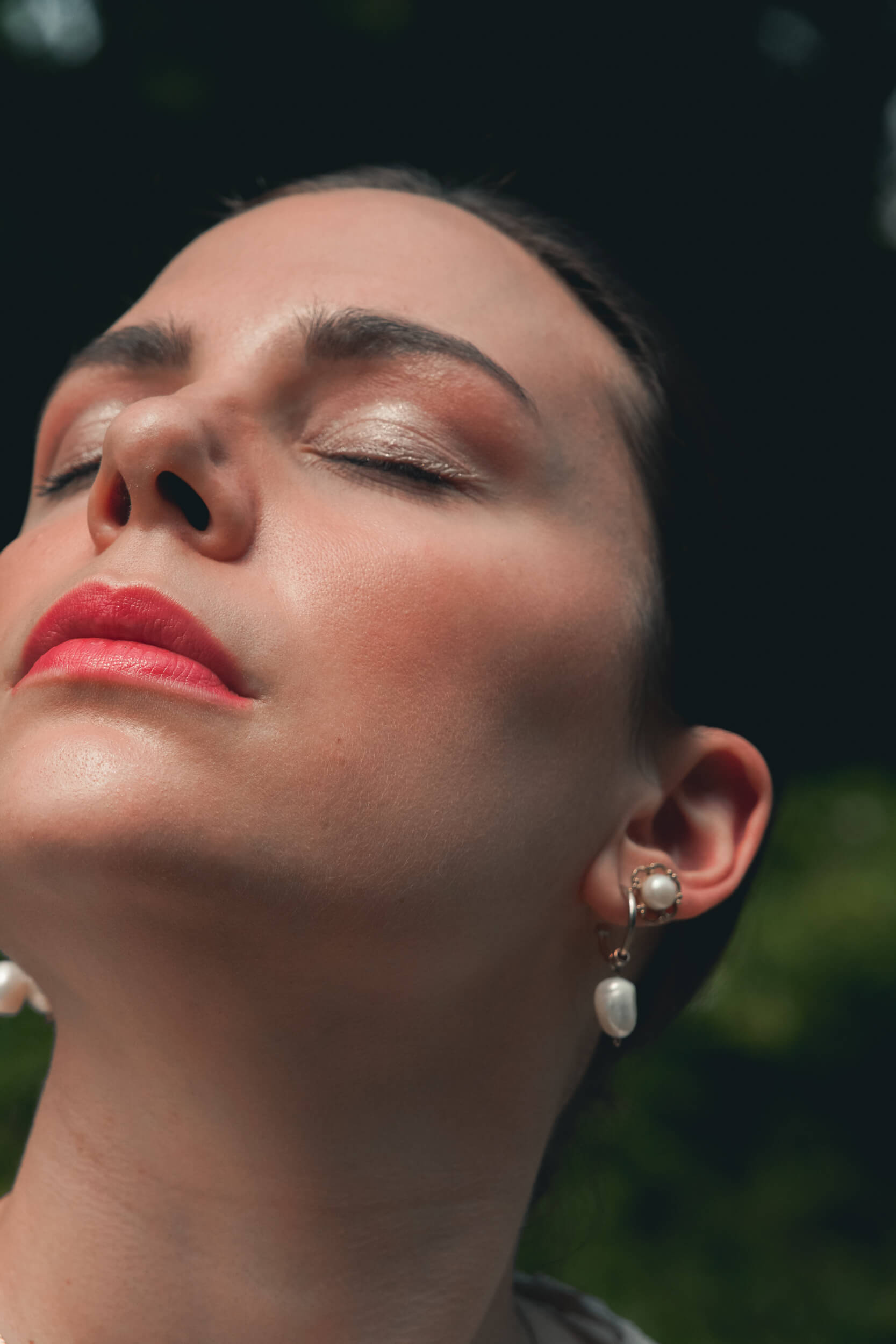 #STEP 3 LES BEIGES: PERFECT THE BASE WITH THE LES BEIGES TOUCHE DE TEINT BELLE MINE GEL FOUNDATION
This compact foundation completes the Les Beiges base perfectly: it's a cushion foundation that allows us, by tapping it on the face, to obtain a good coverage in the areas where our skin is reddish, but it leaves a super glowing and natural effect. Here too, the sensation of freshness on the skin is immediate.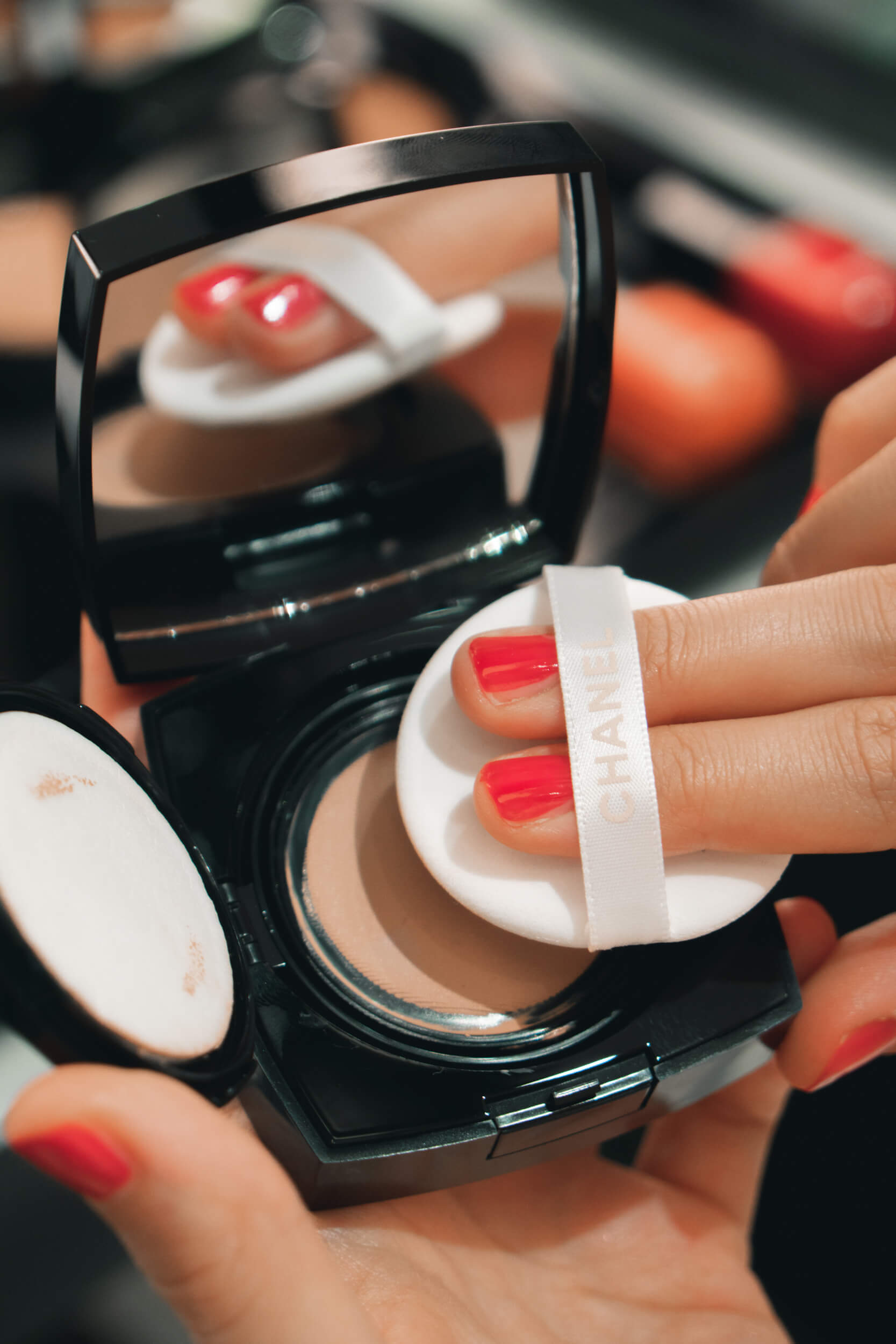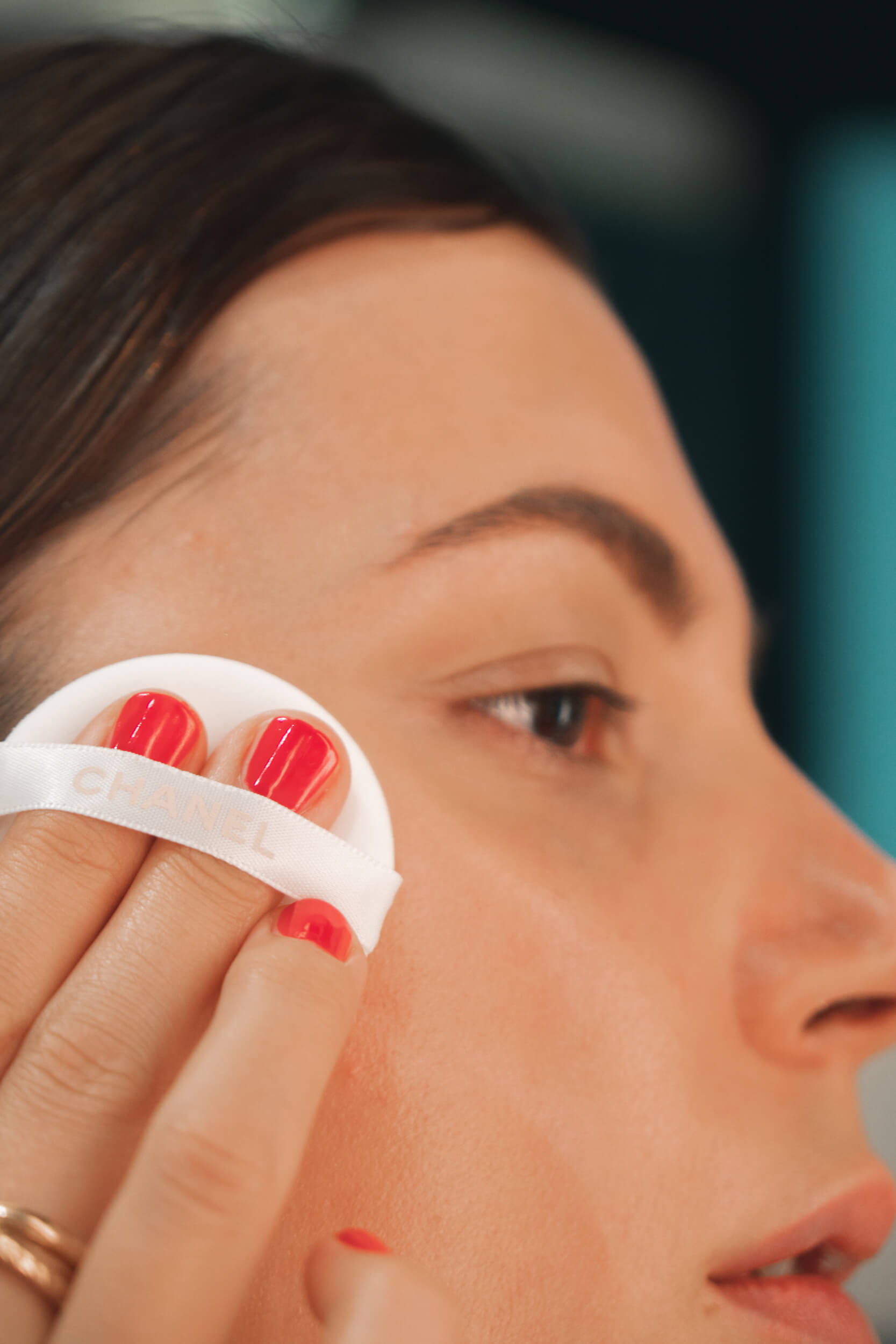 #STEP 4 LES BEIGES: BRONZING WITH LES BEIGES CRÈME BELLE MINE ENSOLEILLÉE AND POUDRE BELLE MINE ILLUMINATRICE
This is one of our absolute favorite products: to be used with your fingers or with a brush, on the cheeks, on the whole face, or the eyelids of the eyes for a light color. It is a unique product, a creamy bronzer that will give the effect of a day at sea thanks to the sun stripping technique, that is, the application of the cream bronzer on the areas of the nose and cheeks very close to the nose. We applied it with this technique and then moved on to blending it on the cheeks, temples, forehead, and décolleté.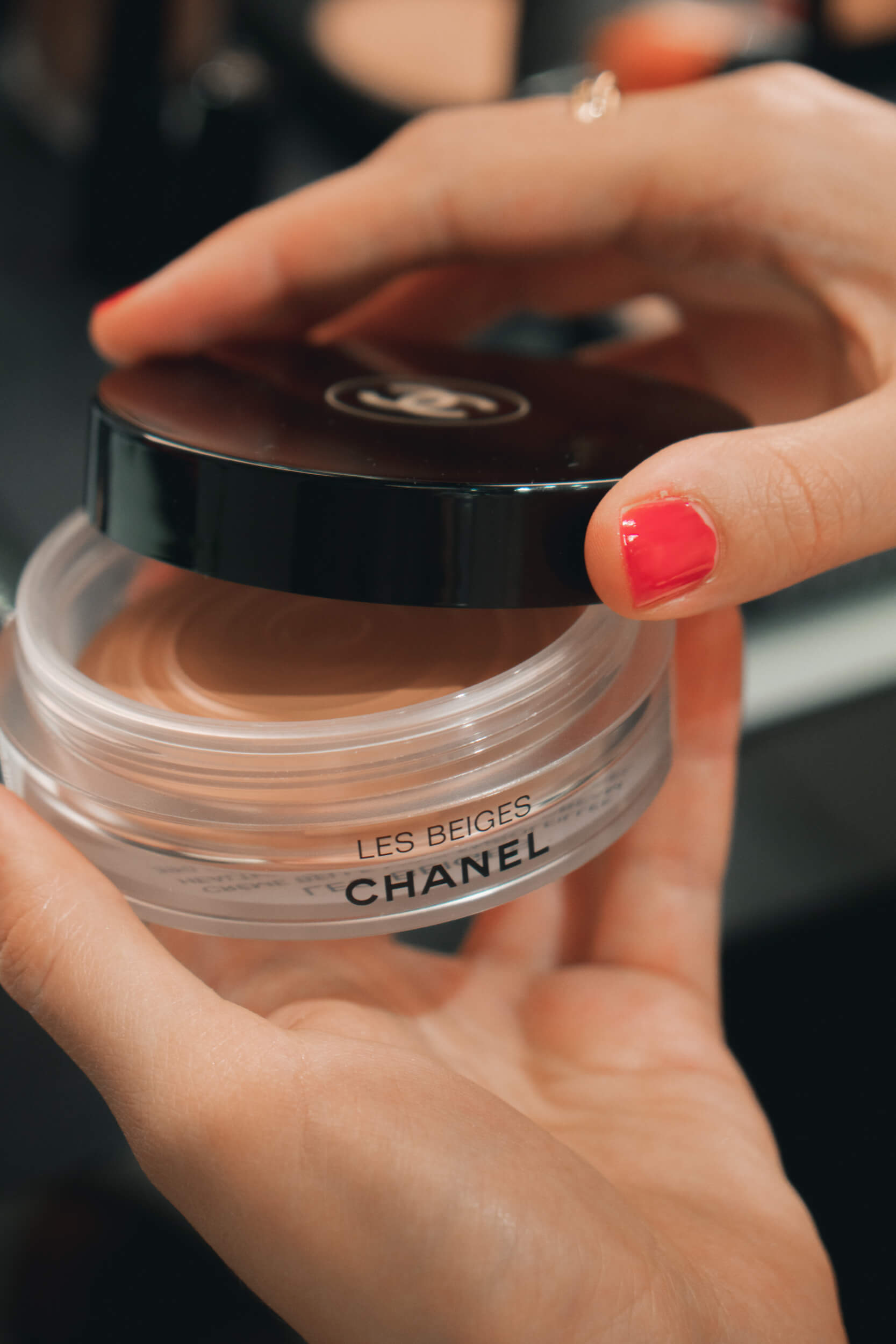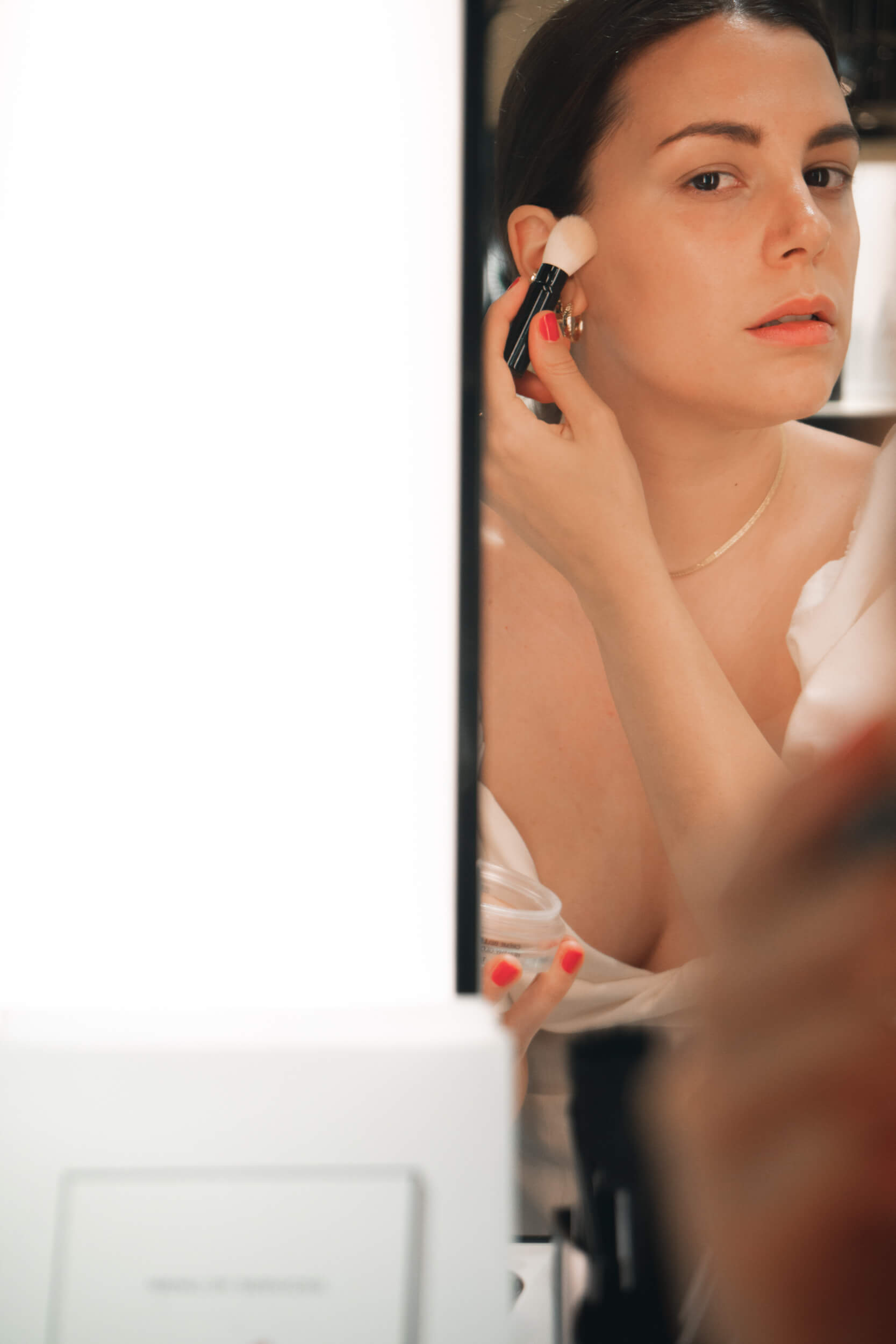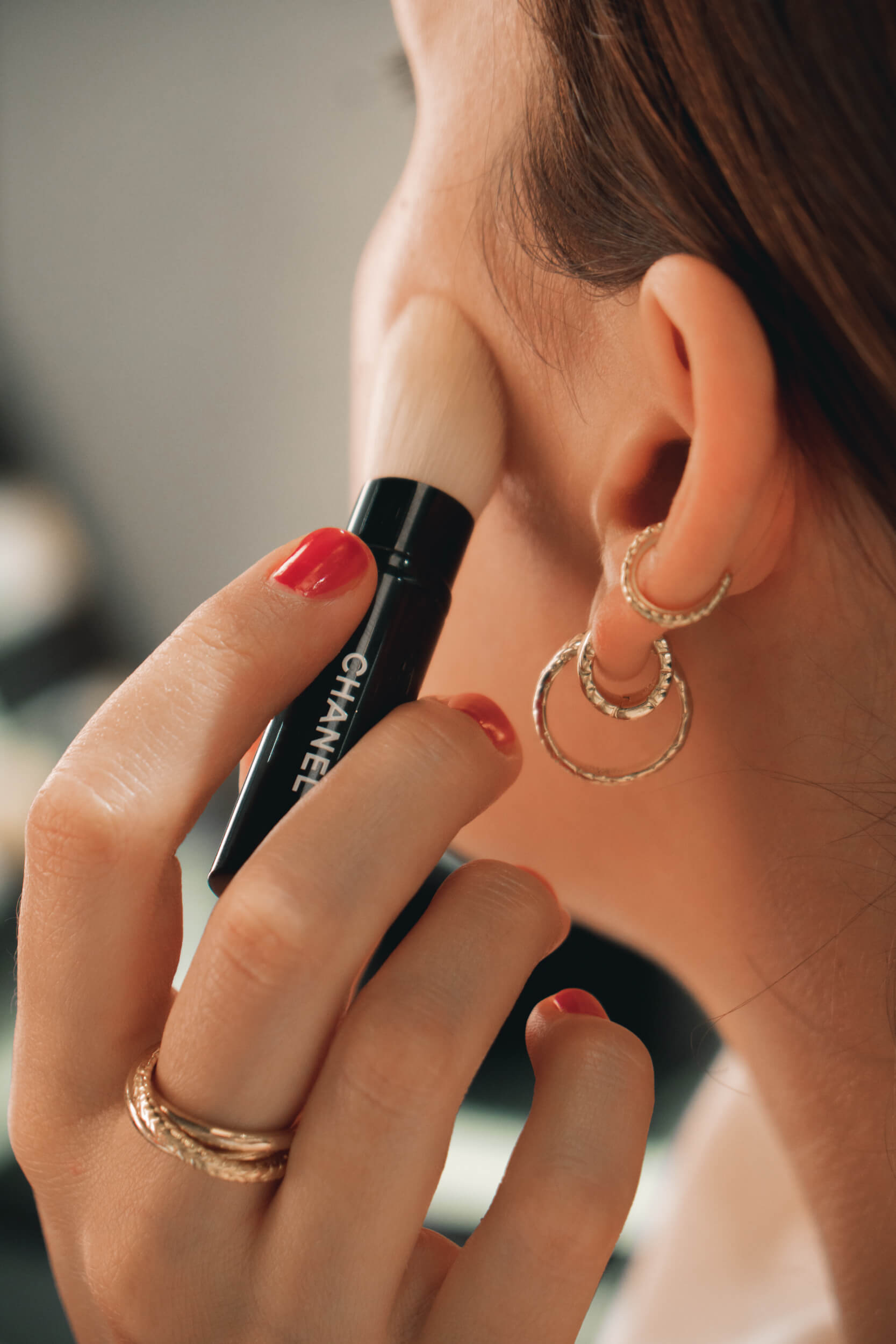 We then repeated all the movements made with the Crème Belle Mine with the Belle Mine Illuminatrice powder, a sort of skin perfector with a light and luminous texture. We followed all the steps to intensify the sun stripped technique, to then end up on the décolleté.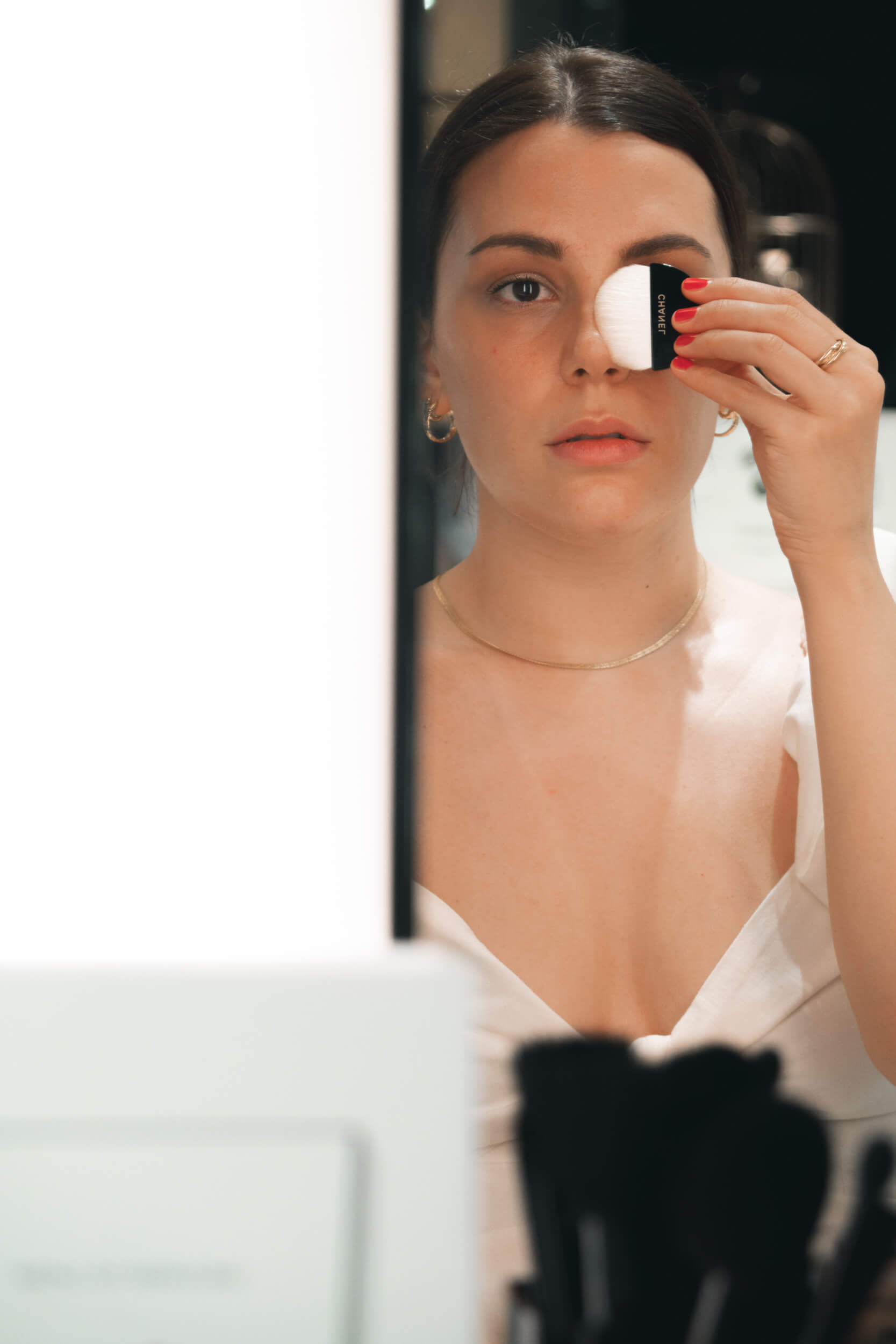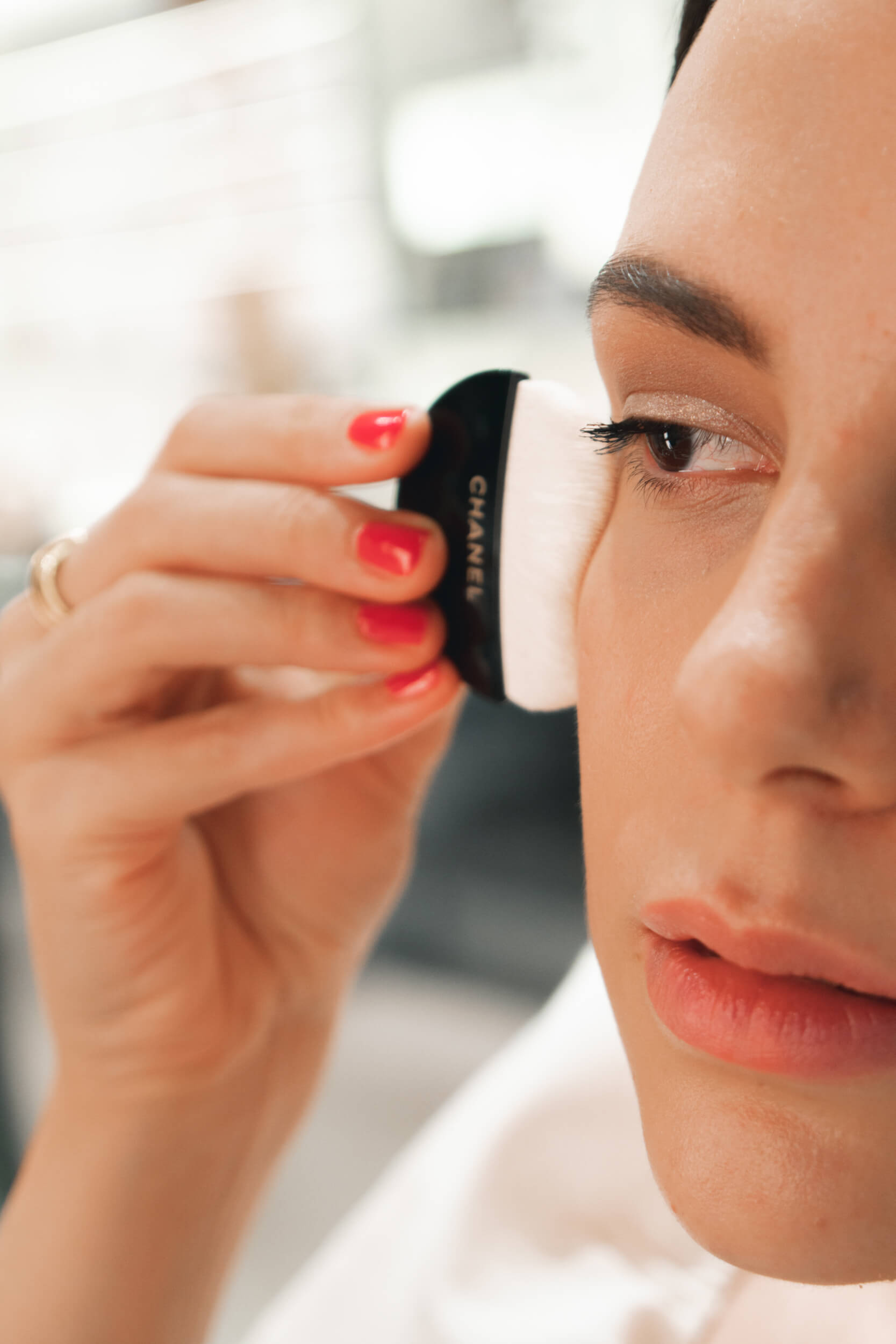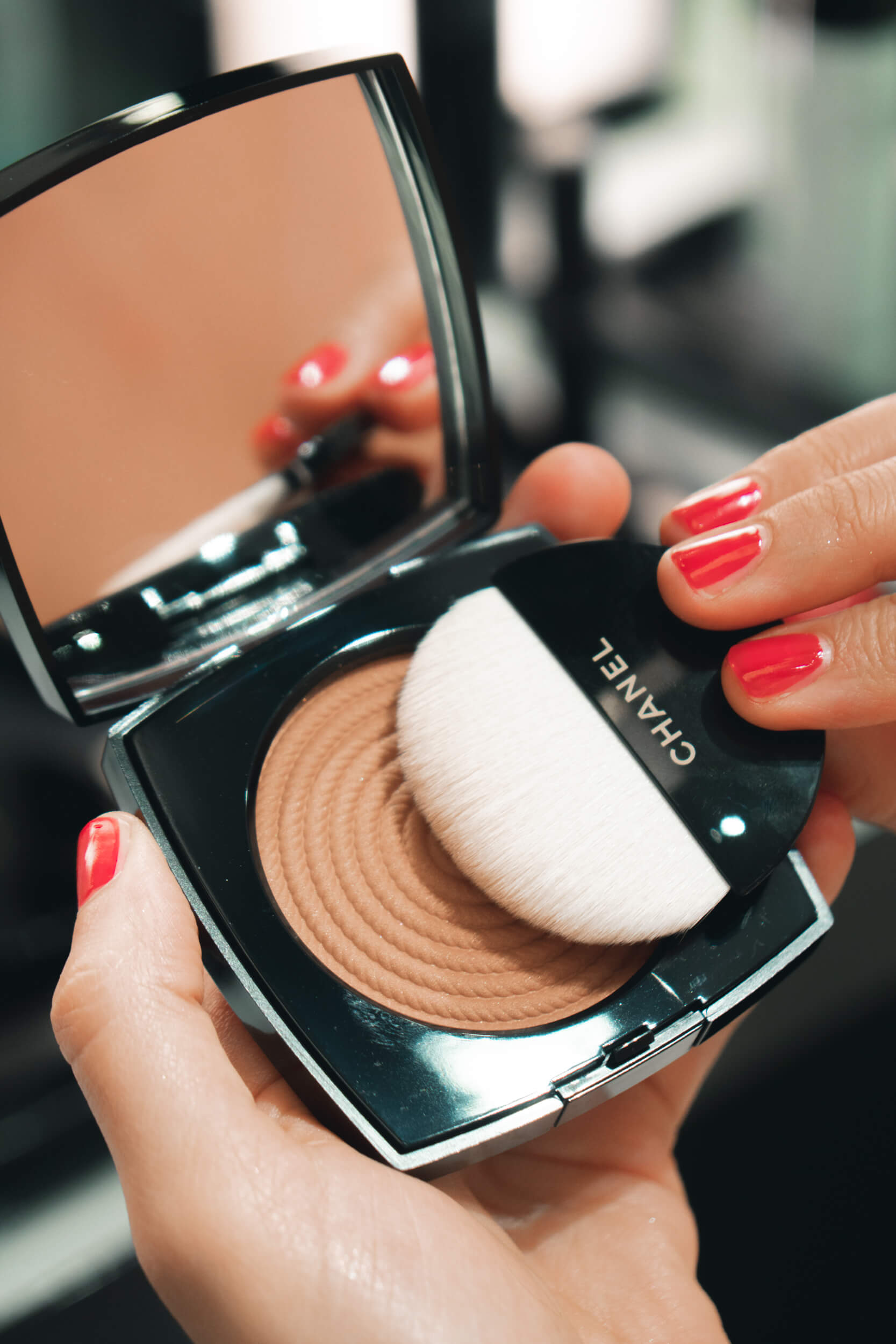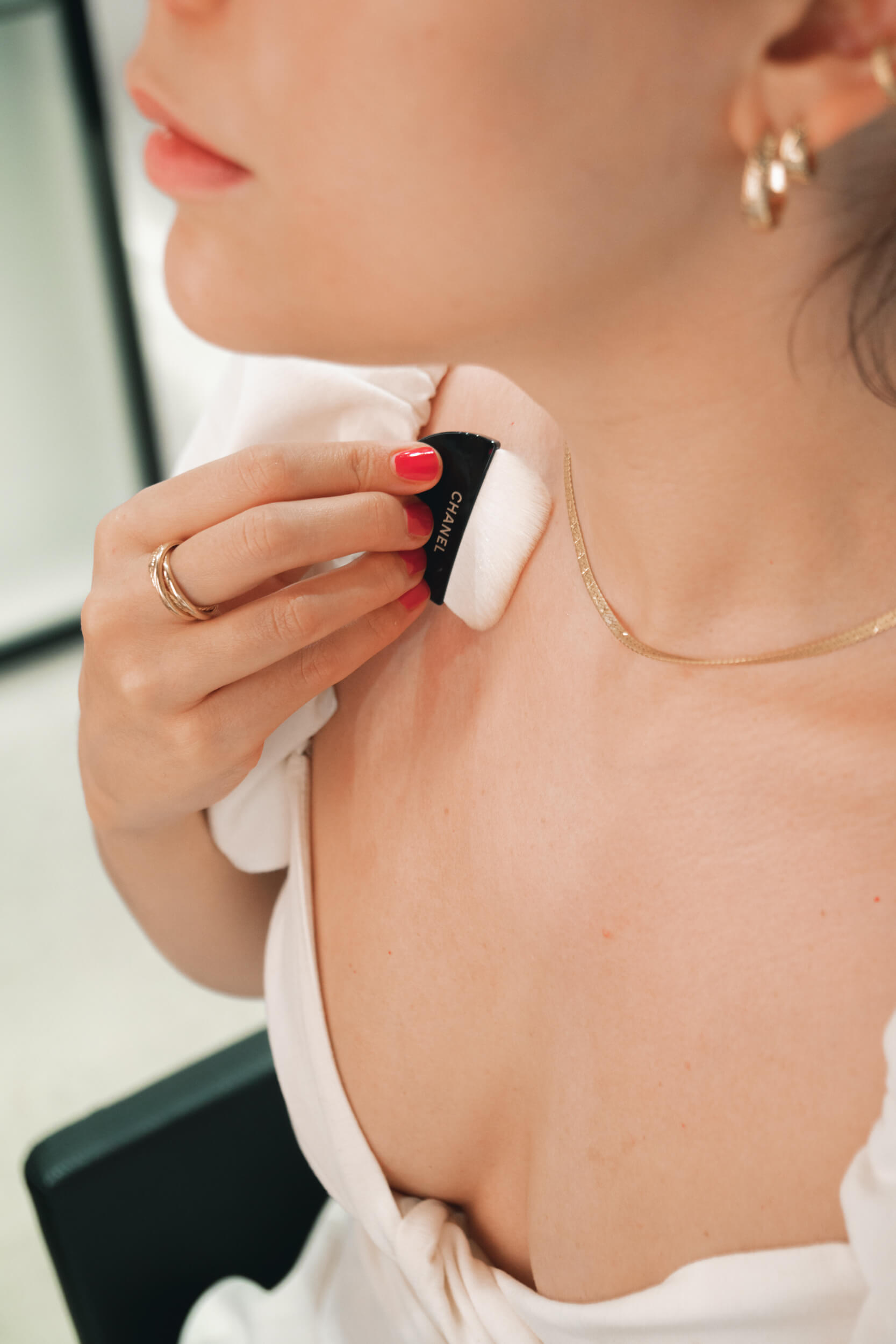 #STEP 5 LES BEIGES: HIGHLIGHT AGAIN WITH FLUIDE ENLUMINEUR BELLE MINE IN SUNKISSED
The name of its shade says everything, this product, same for texture and packaging of the Pearly Glow, only changes in color to make our complexion even more bronzed and glowing. The points where to apply it are the cheeks, the cupid's bow, the nose and, why not, also on the eyebrows, a little pro tip to make them lighter, just as if they have just spent a bit of time under the sun.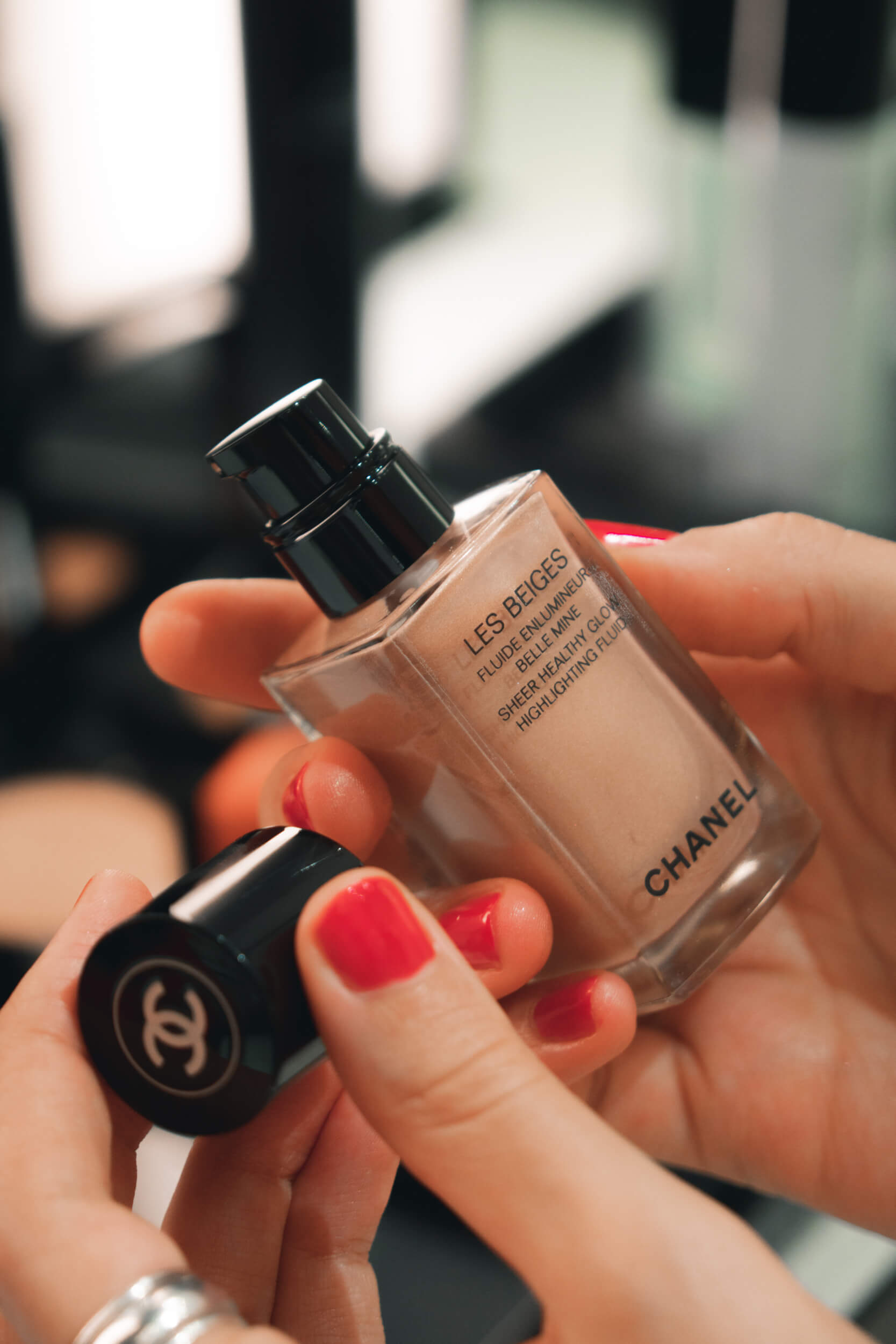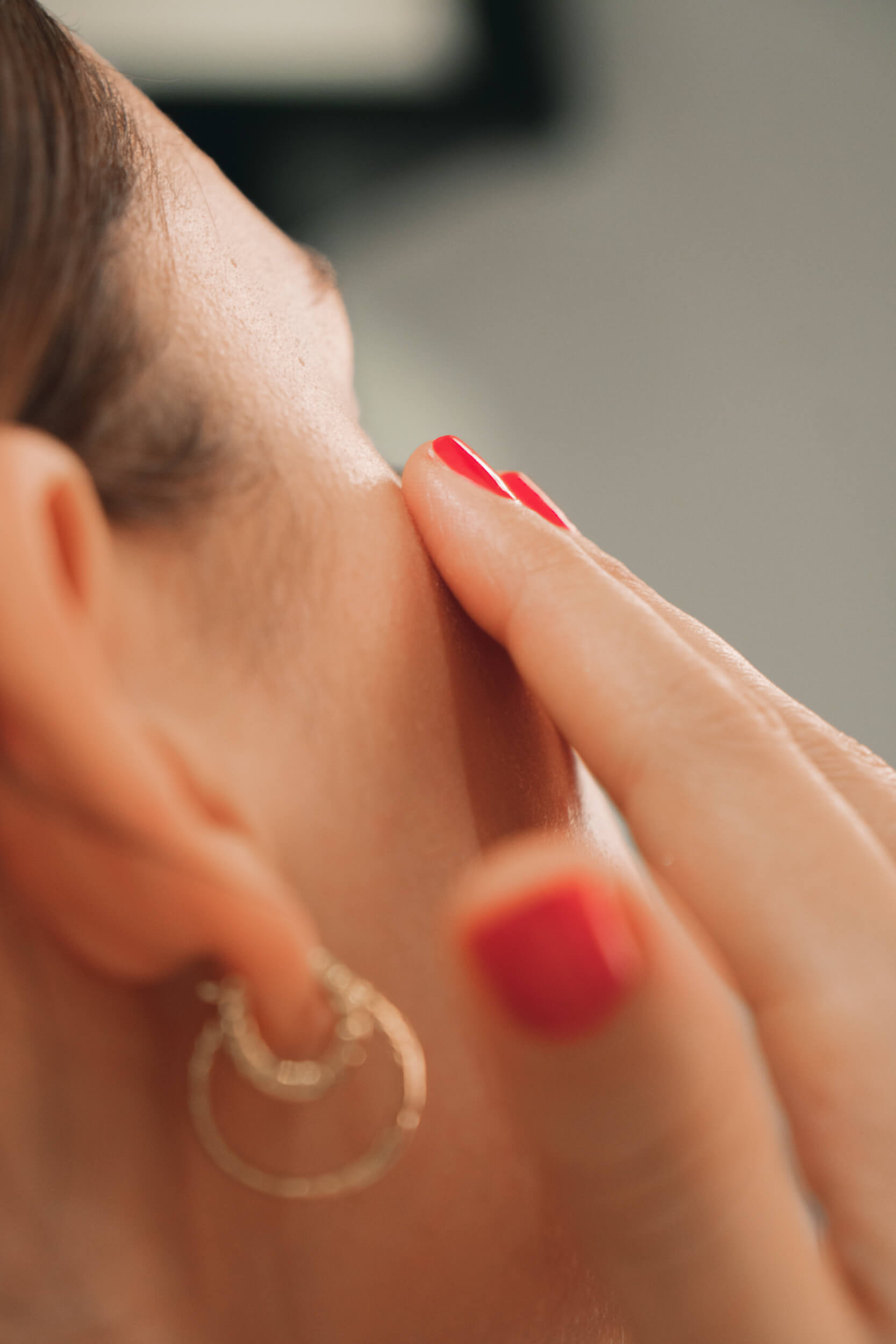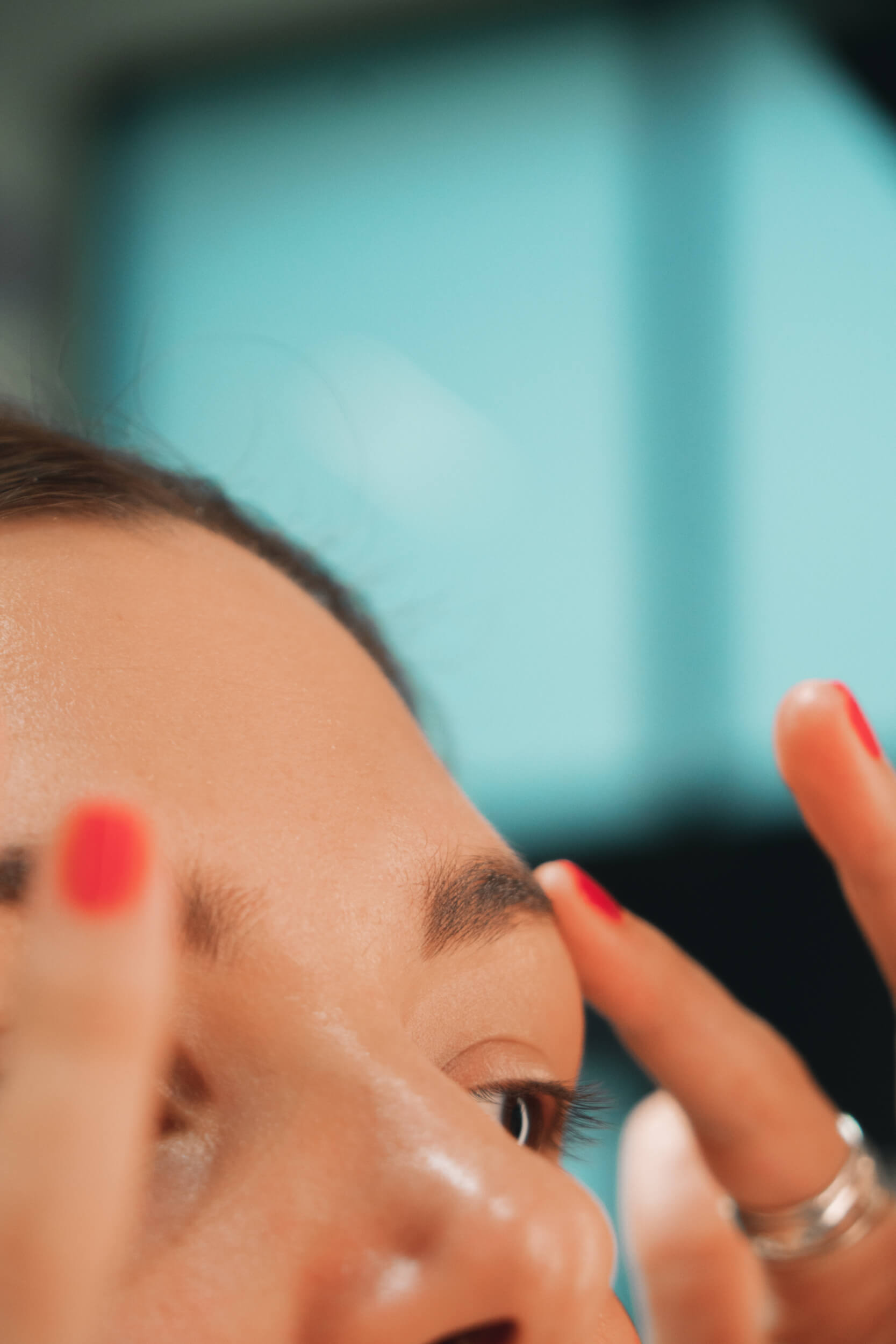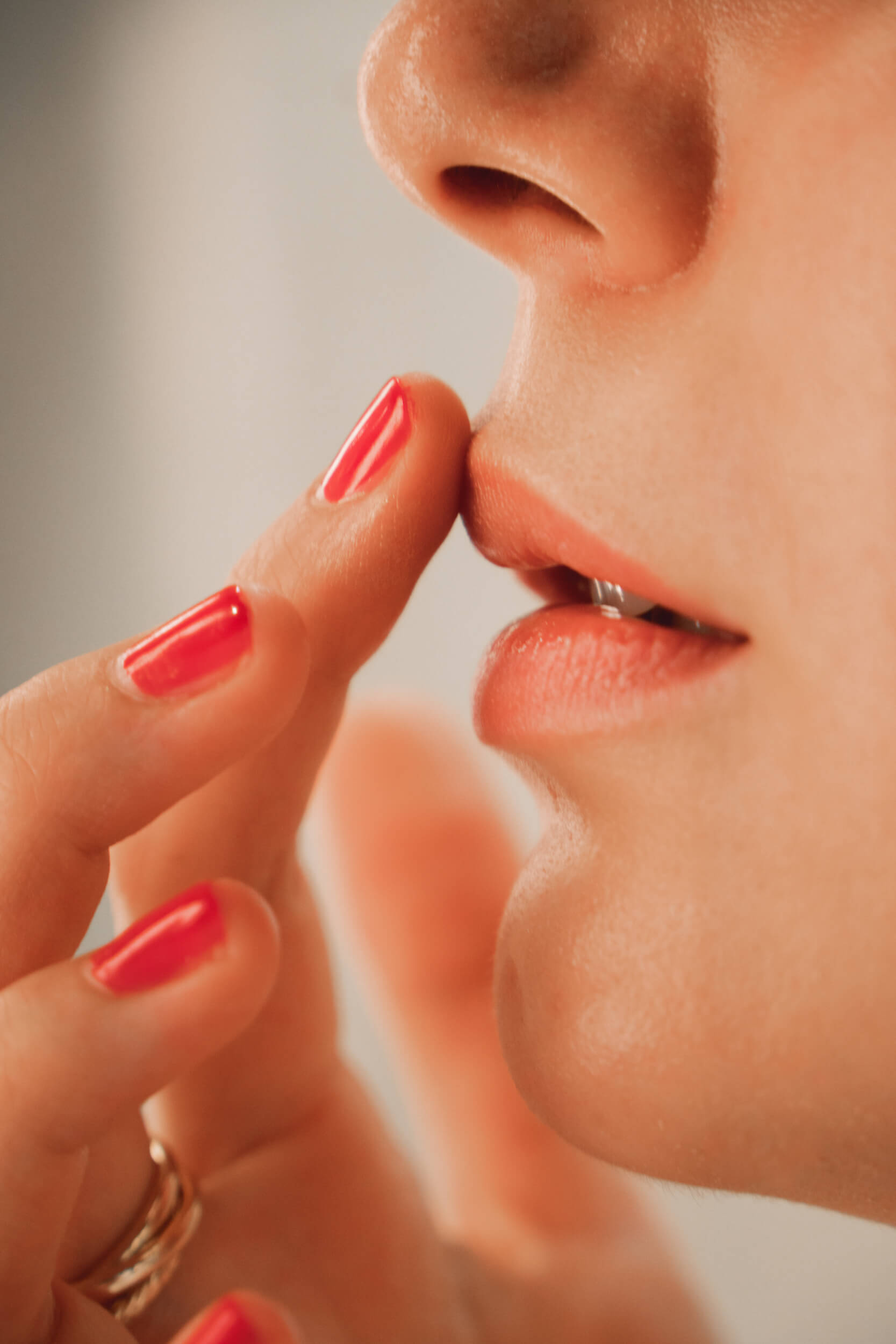 Here too, its liquid, buildable texture, and its bronze color make it perfect for application on any base.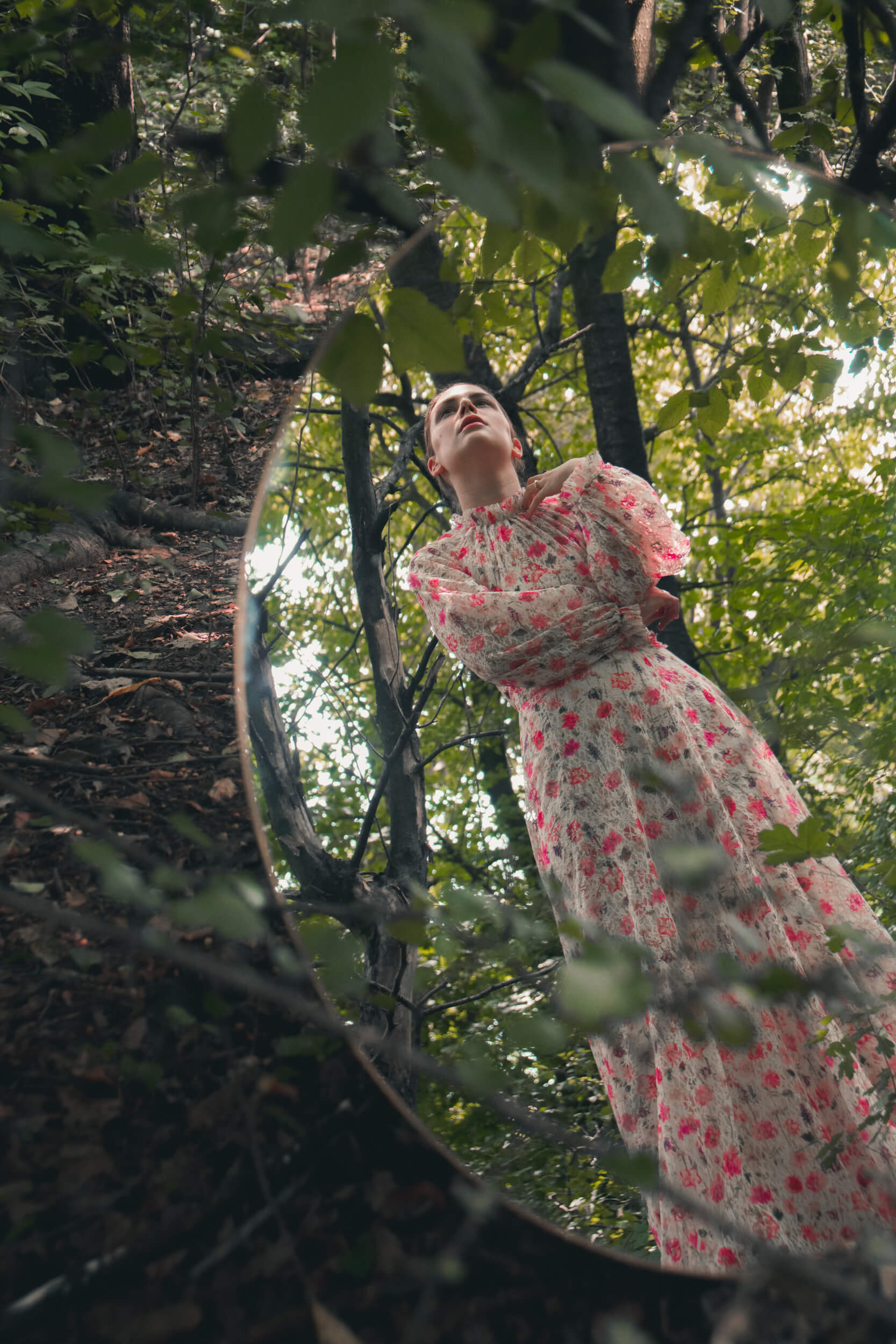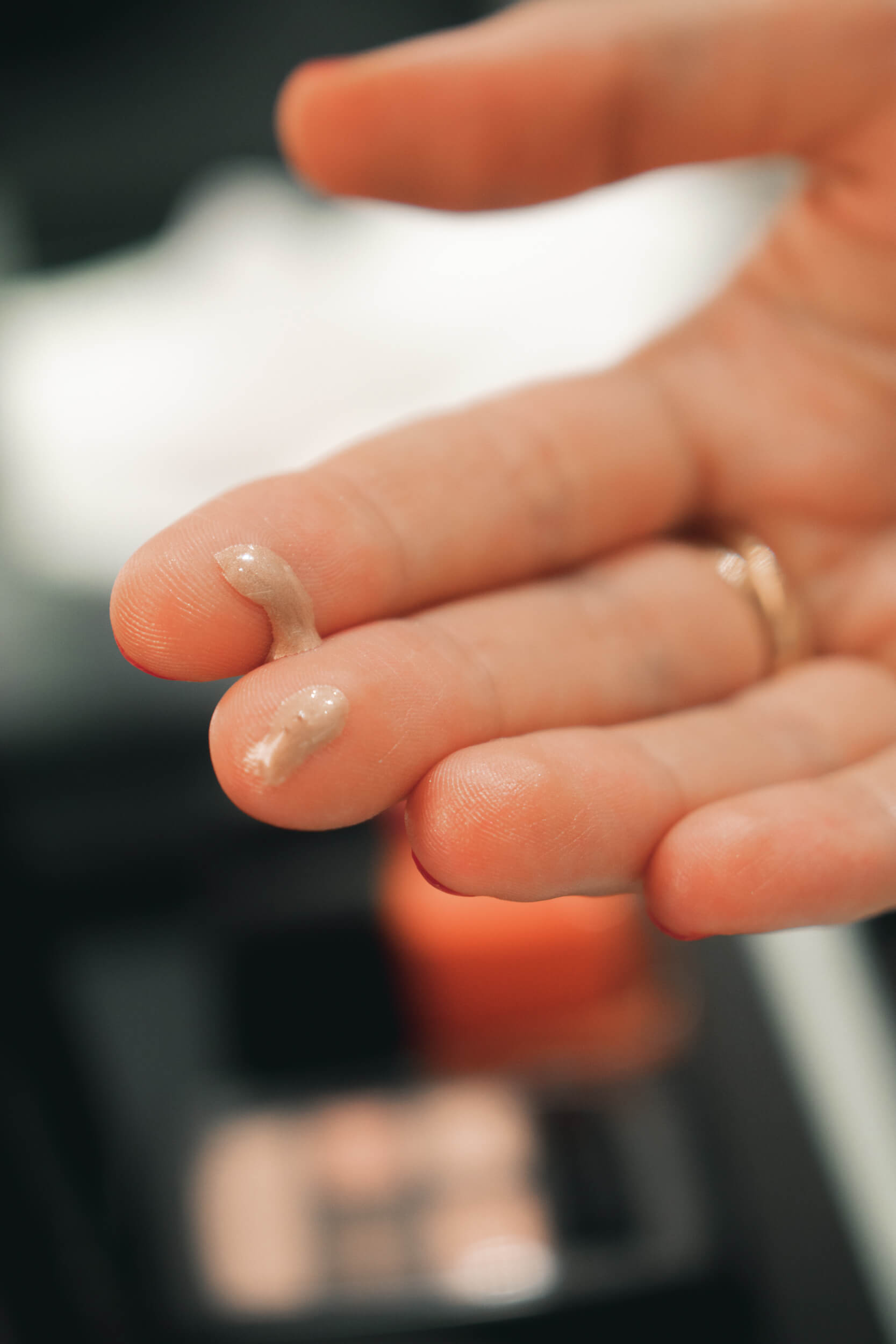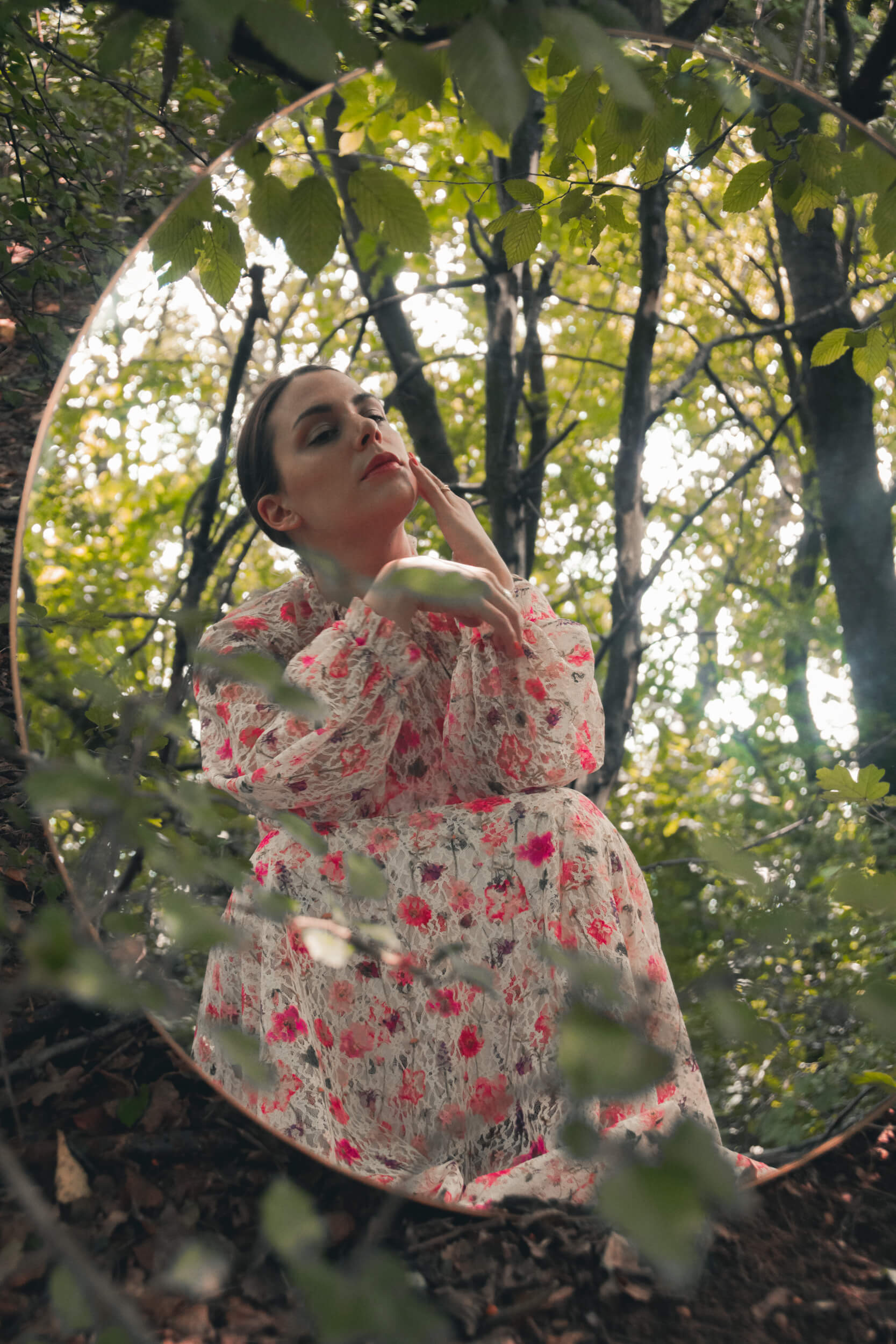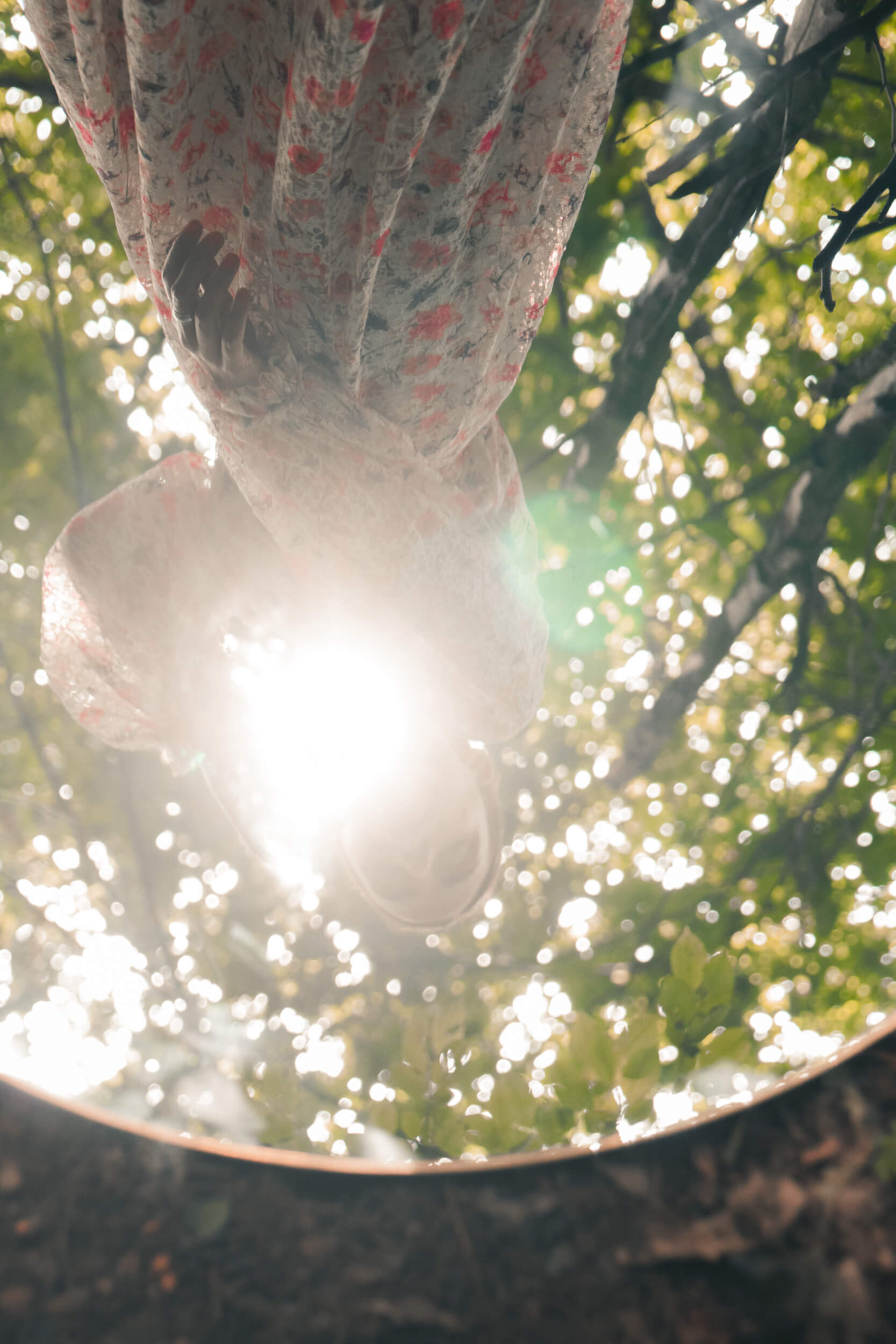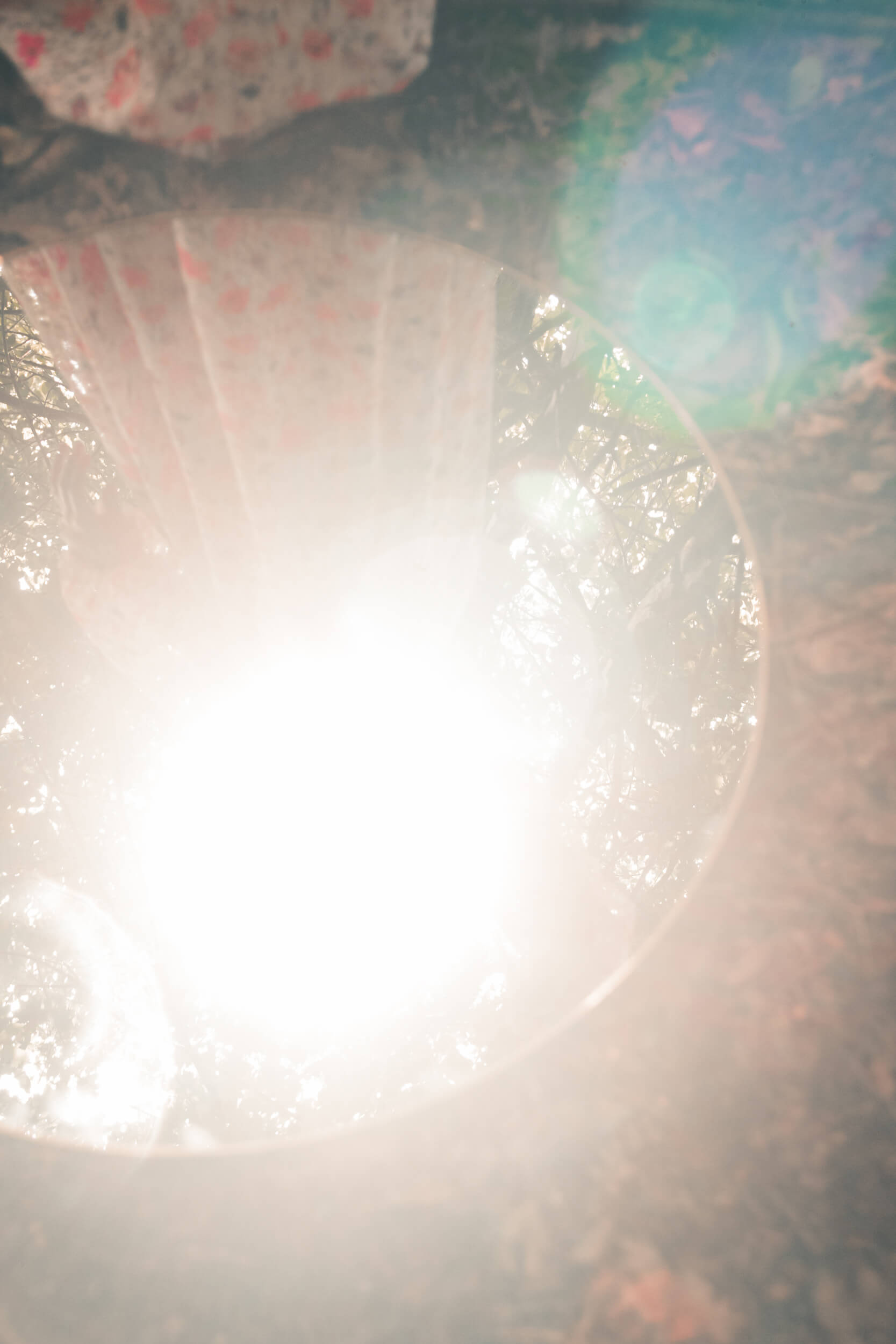 #STEP 6 LES BEIGES: A GRAPHIC AND SHADED EYE MAKEUP WITH THE REGARD PALETTE BELLE MINE NATURELLE
The five eyeshadows in this palette have an almost creamy consistency, which makes them perfect to be applied also with your fingers. Comfortable and long-lasting, they slide easily on the eyelid in an even and, of course, glowing way.
Comfortable and long-lasting, they slide easily on the eyelid in an even and, of course, glowing way. We like this palette because even though it seems to be a simple palette with warm natural colors, it's so much more: a cream beige that we used as a base on the whole eyelid, a taupe brown that we used on the crease of the eye from the inner to the outer corner to create an almost graphic 60s line, which we then blended out, just as Lucia Pica's dictates, so that the lines are never sharp.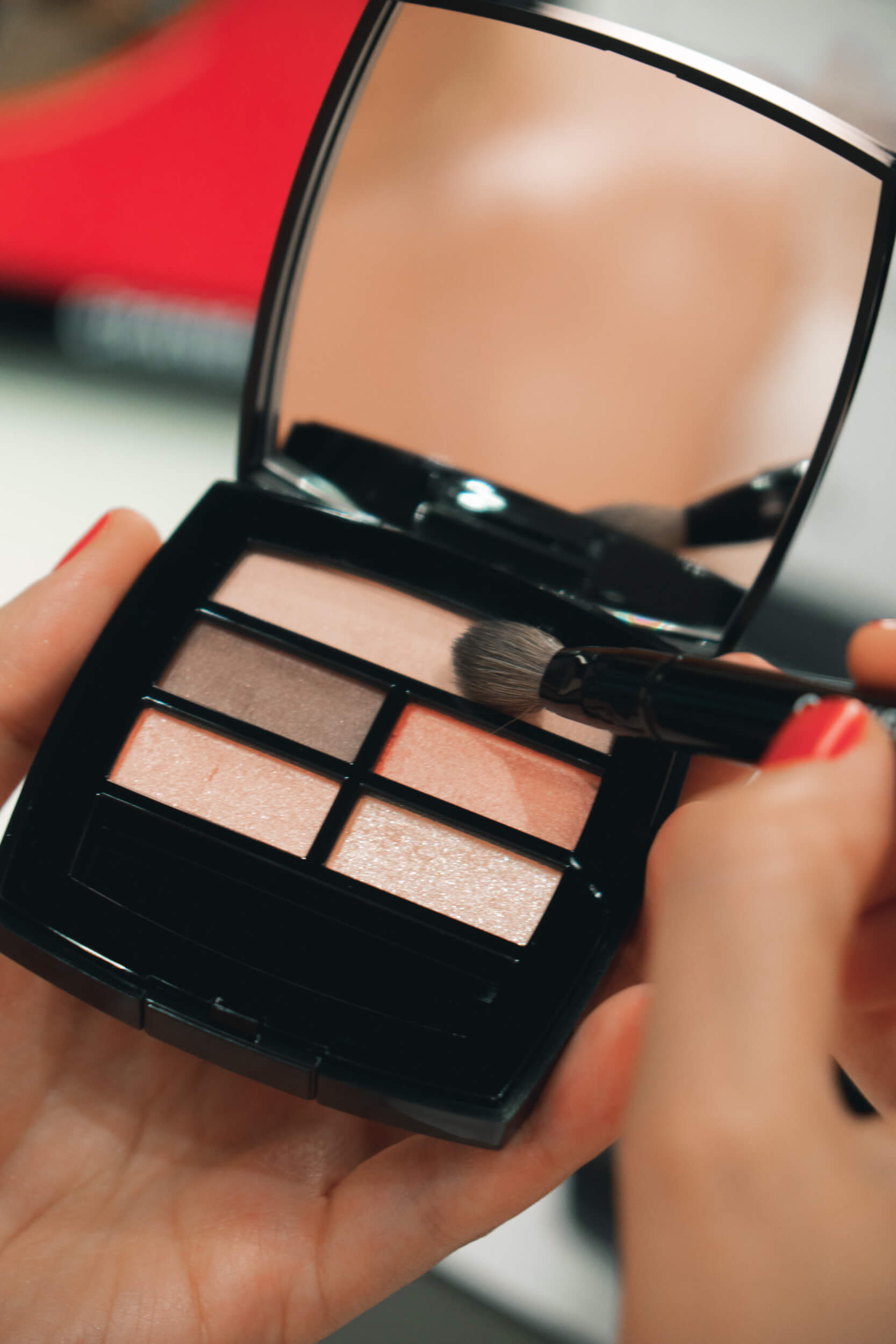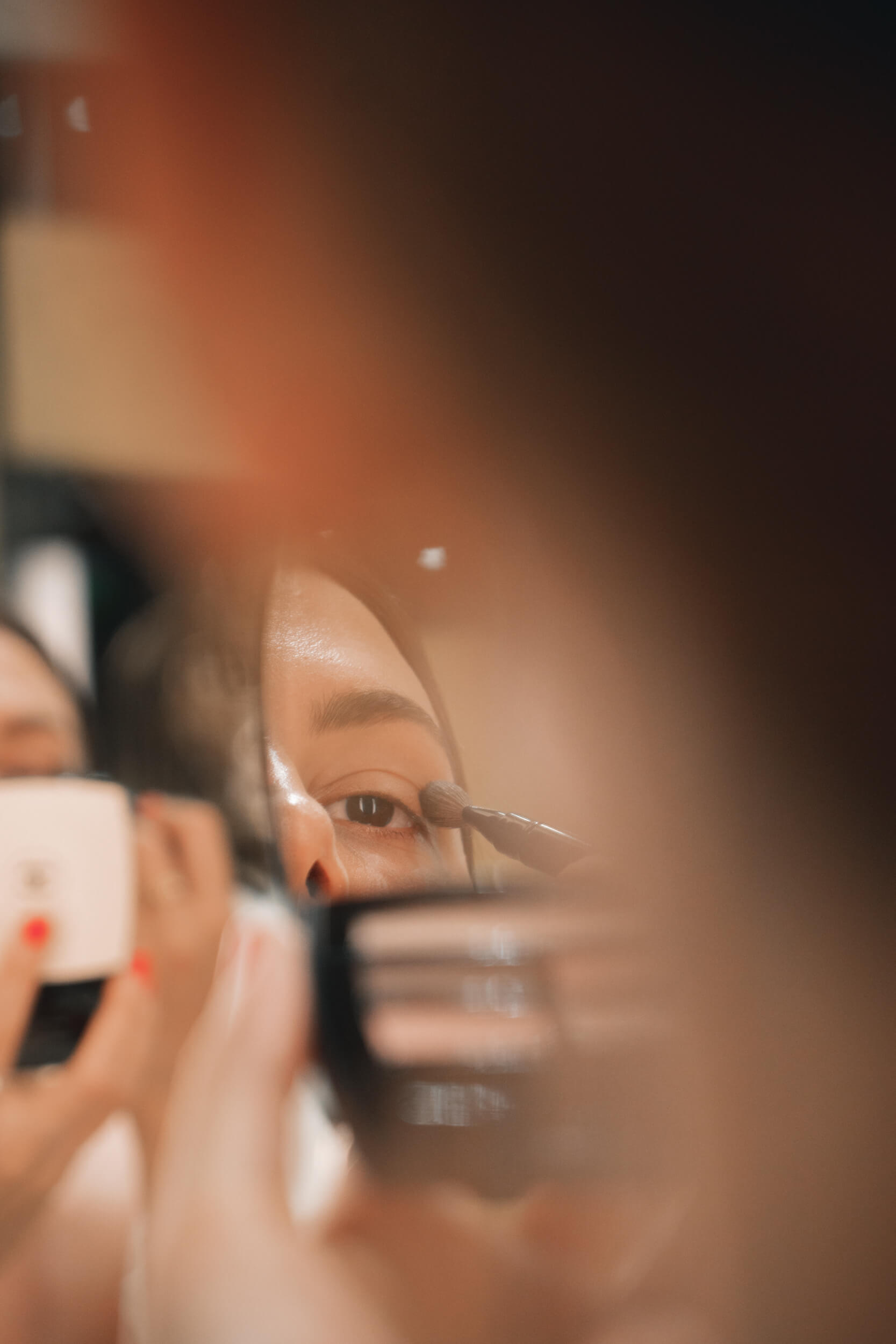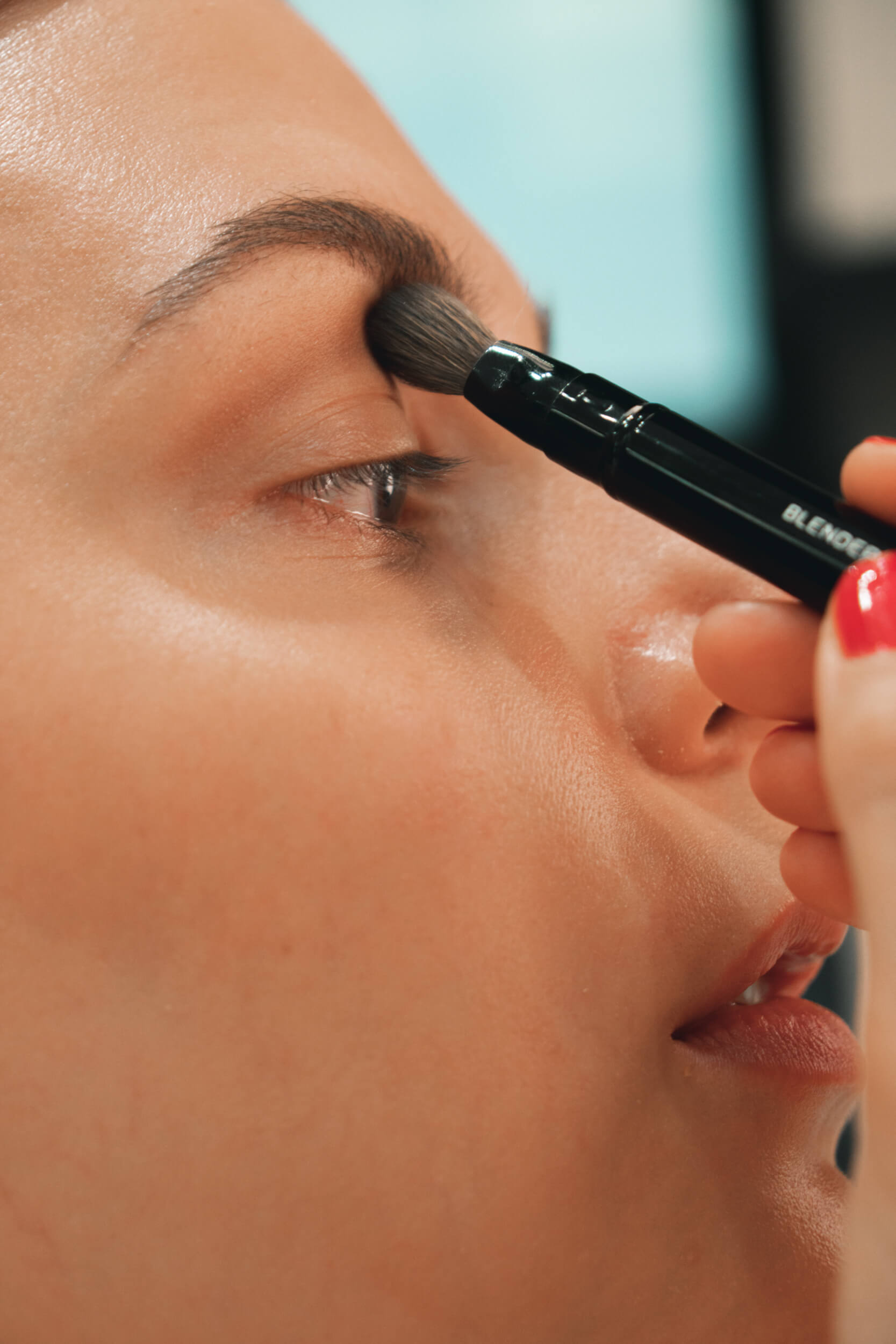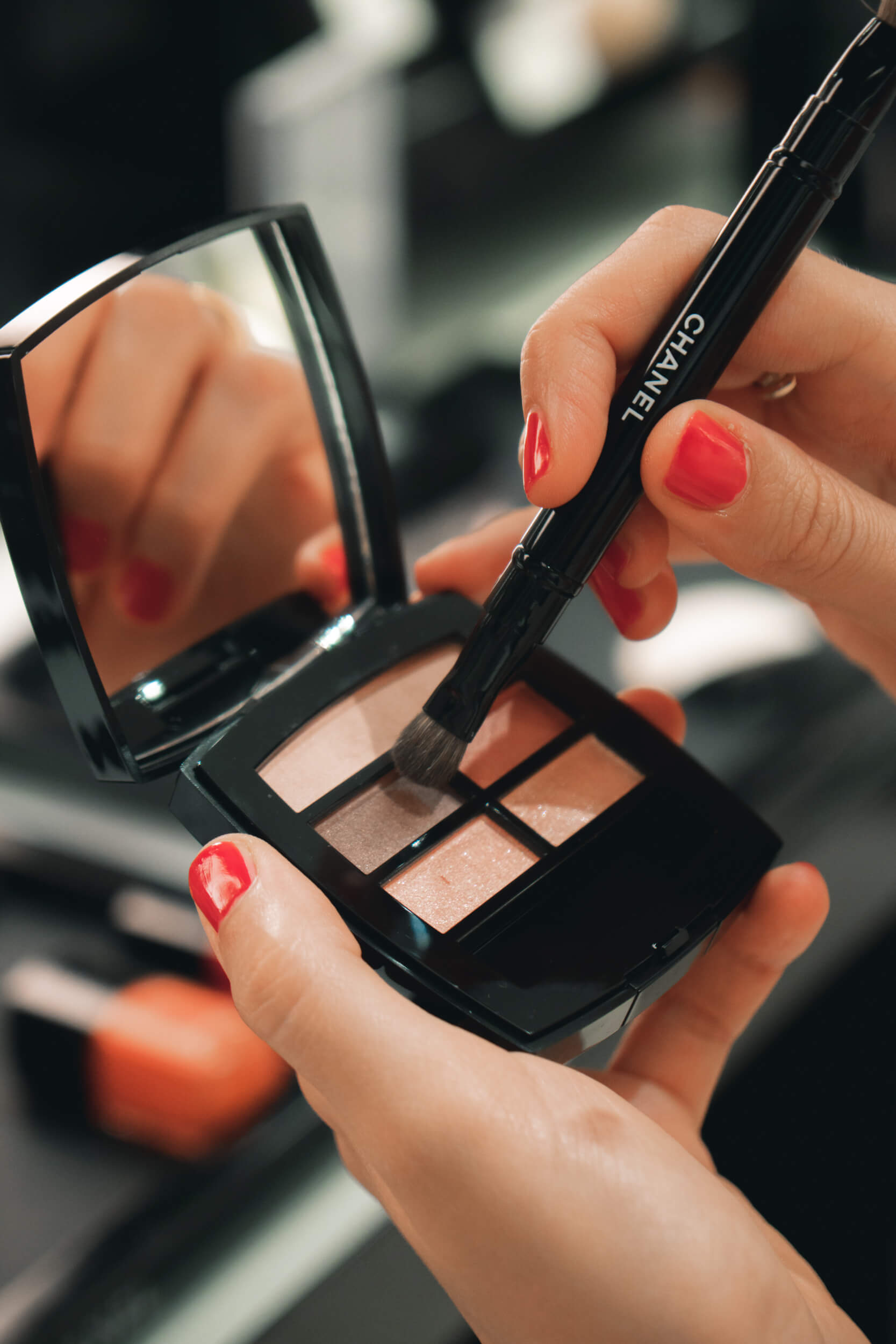 To give that beautiful graded effect, we blended with the coral shade; then we moved to illuminate the eyebrow arch and the inner corner with a delicate and satin peachy beige. Finally, we applied with fingers the lighter eye shadow with golden and pink shimmers on the entire eyelid, focusing on the center. These eyeshadows blend perfectly with each other, to give us infinite possibilities.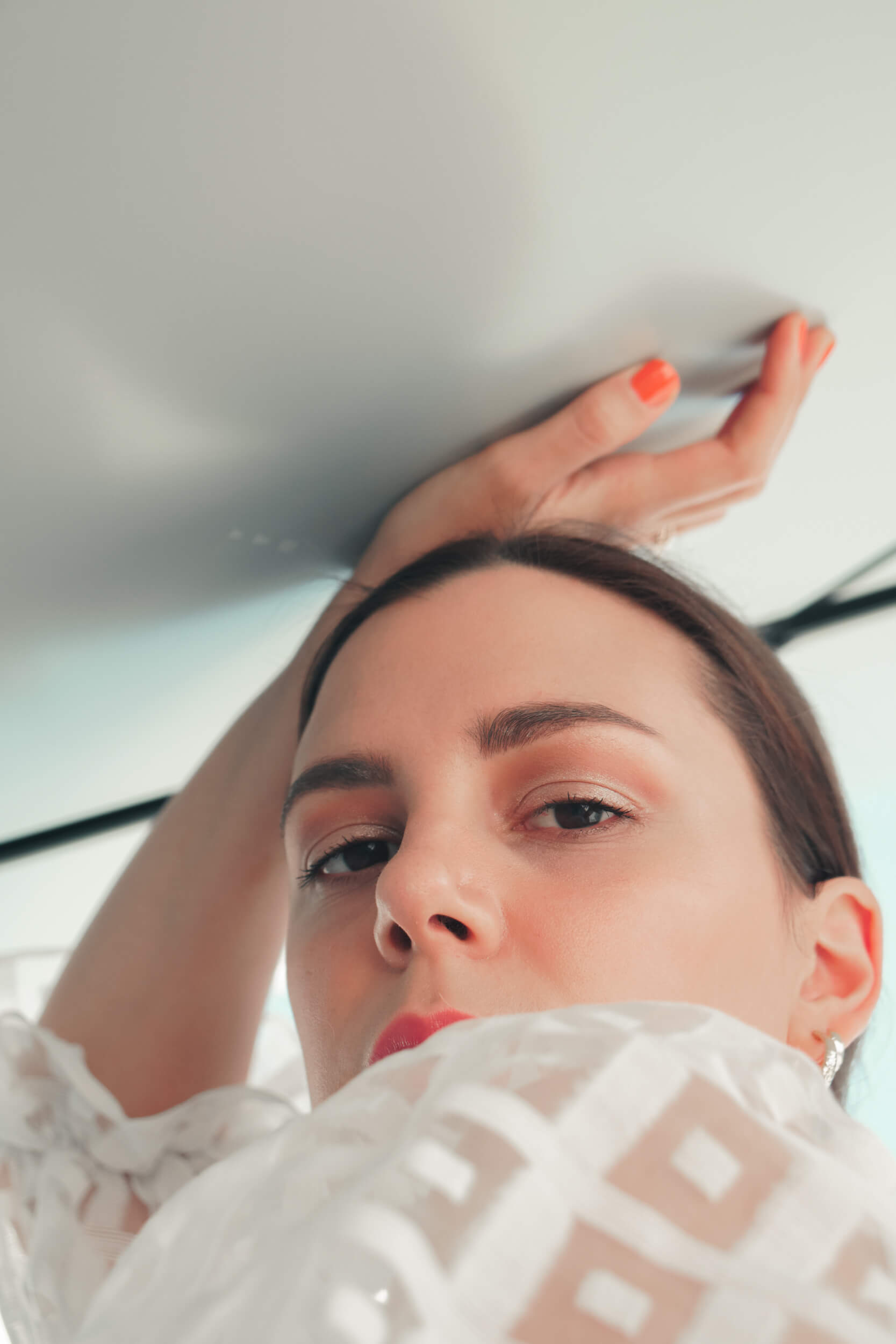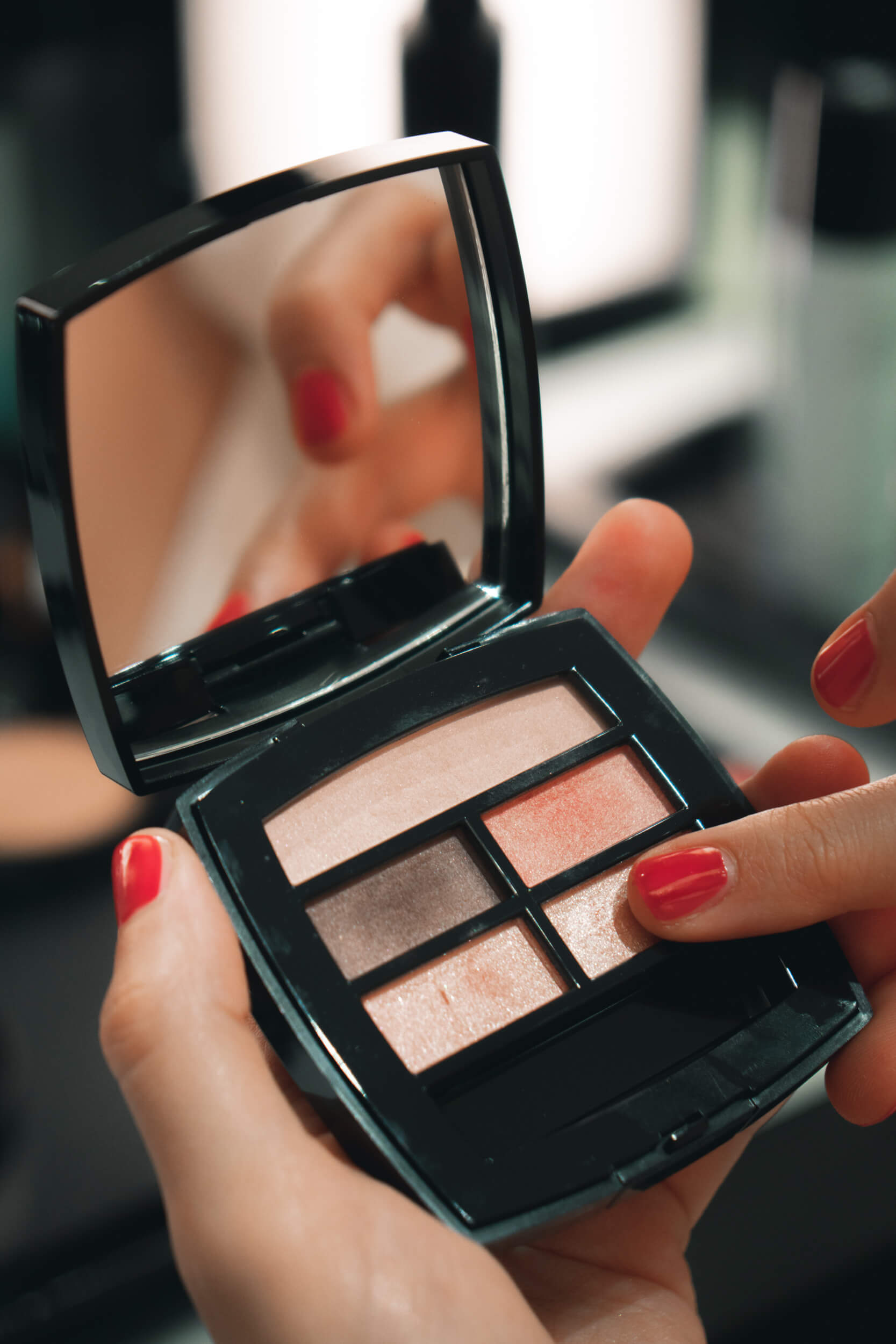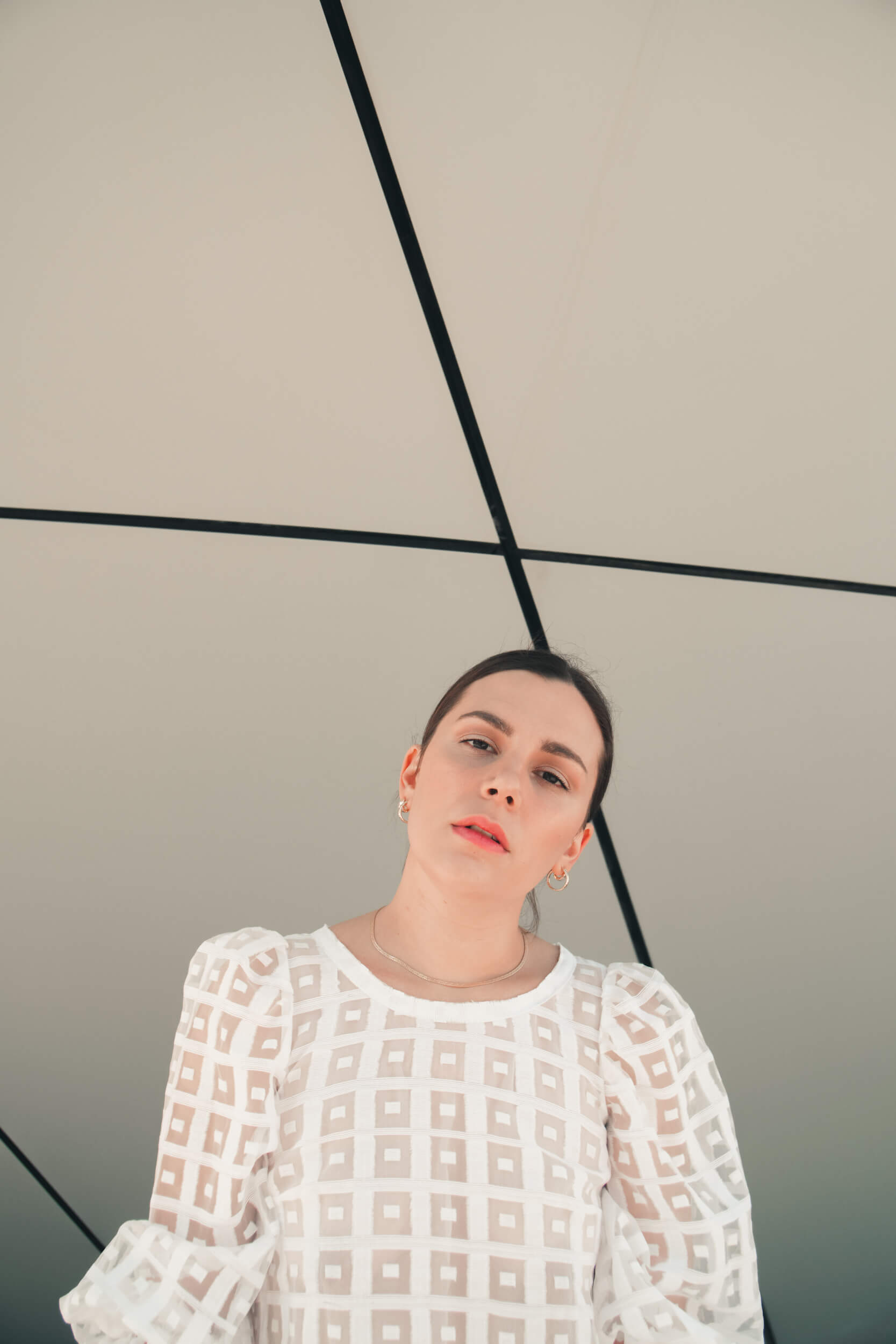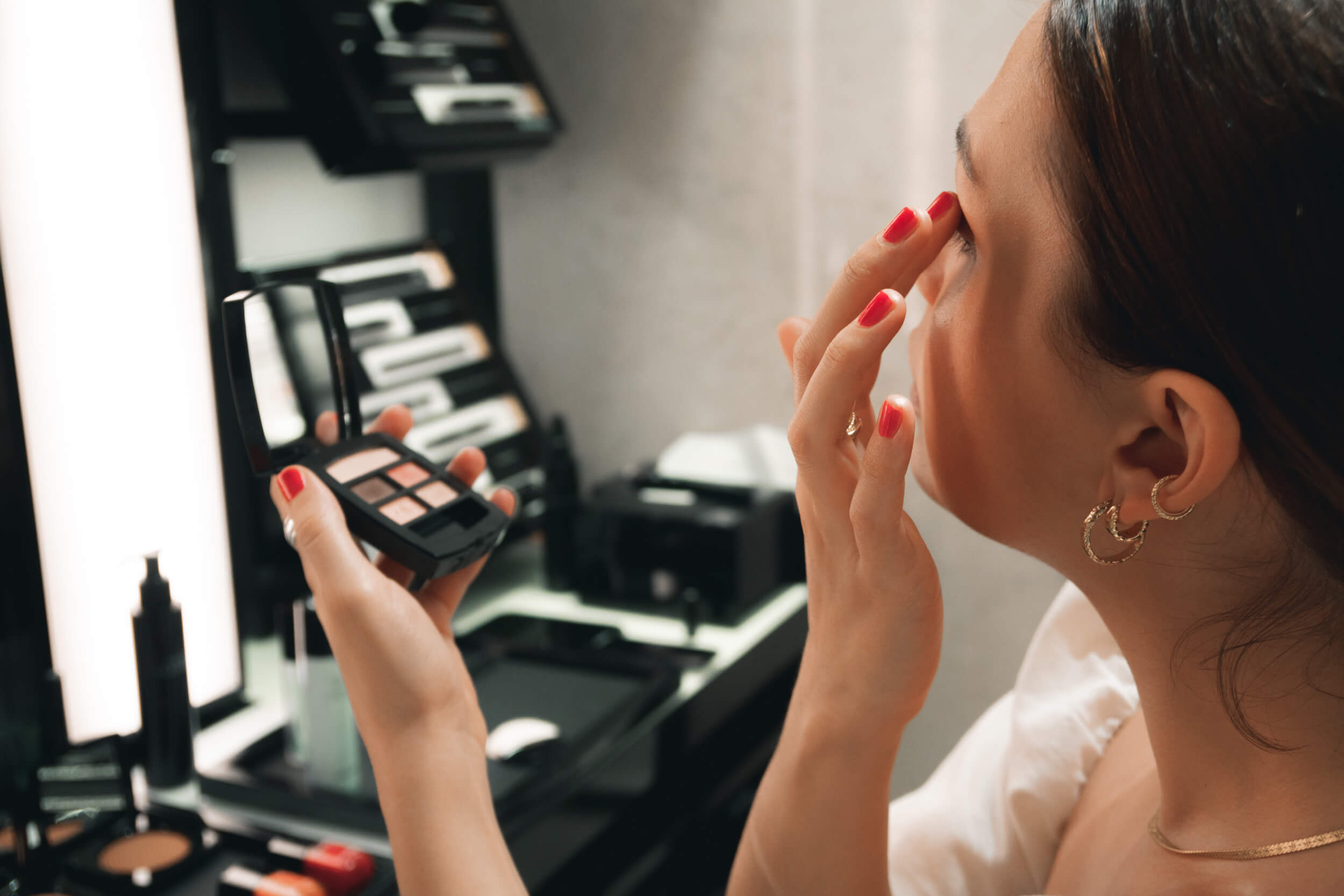 #STEP 7 LES BEIGES: A TOUCH OF COLOR WITH BAUME À LÈVRES BELLE MINE IN WARM
Here we are at the last, but not less important step: a touch of color. A coral/red enveloping lip balm with a buttery and creamy texture, enriched with moringa butter and a derivative of vitamin E. This balm is applied both on the lips and on the cheeks for a touch of color: with the fingertips, we heat the creamy texture on the cheeks for a not only perfect but also luminous effect.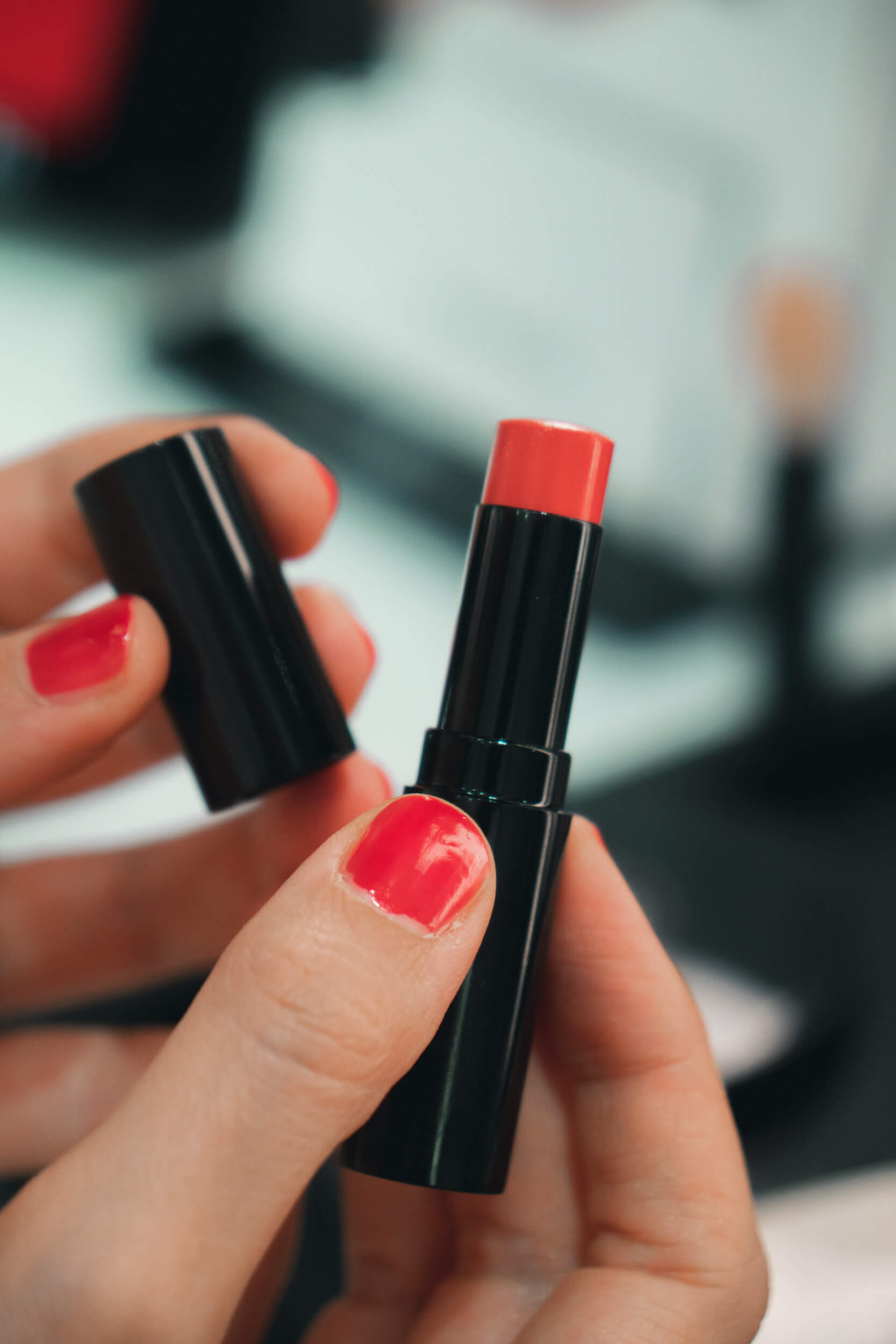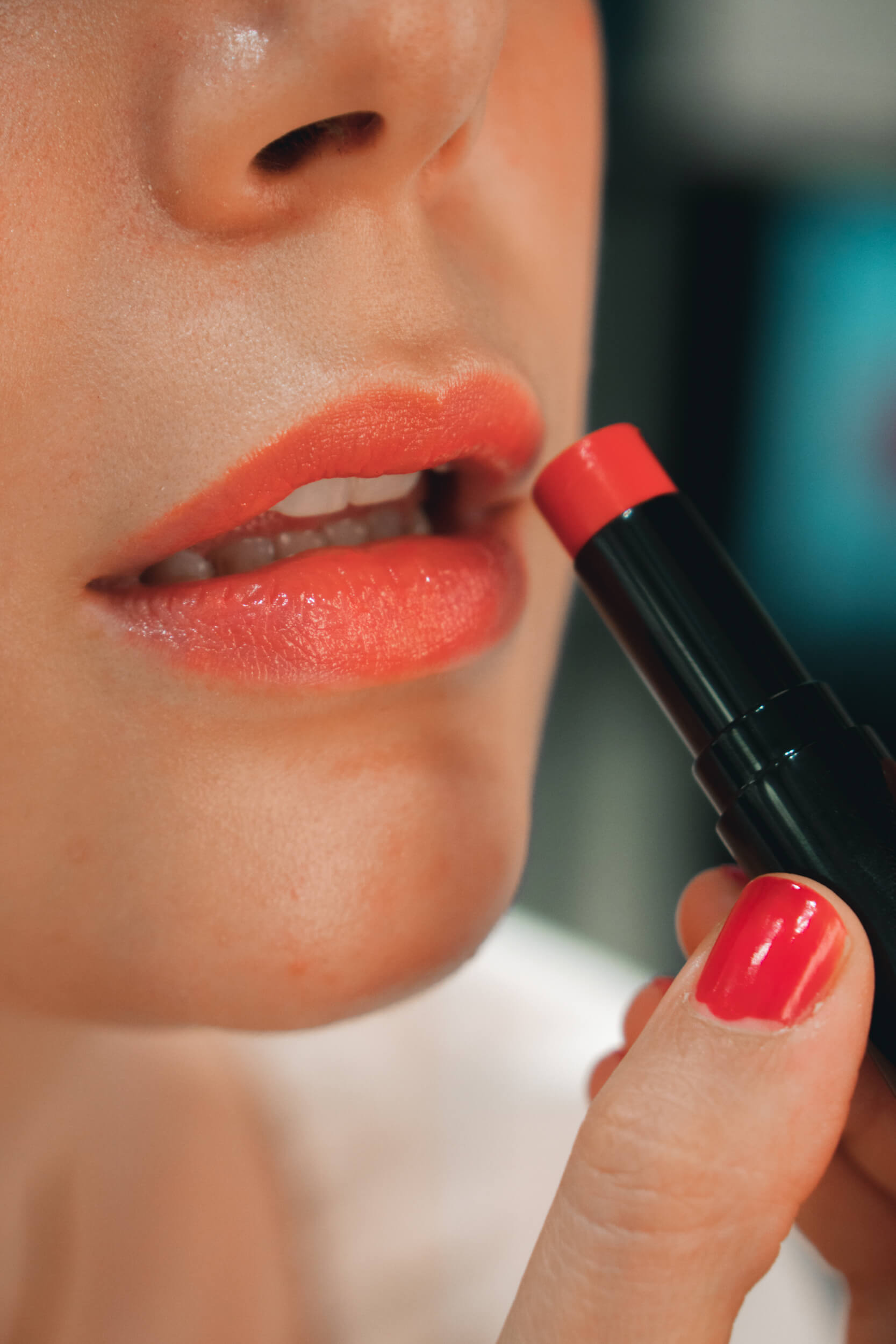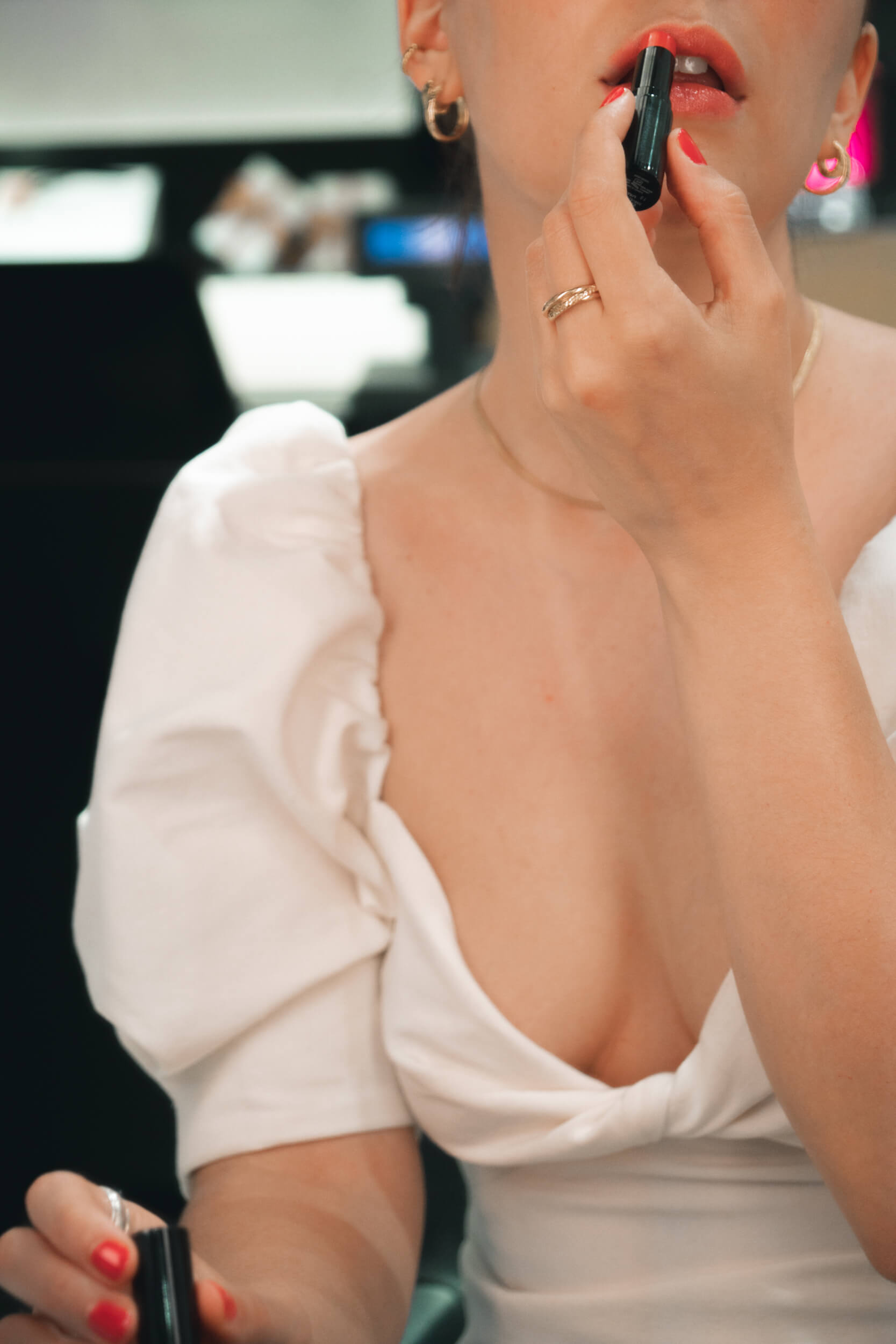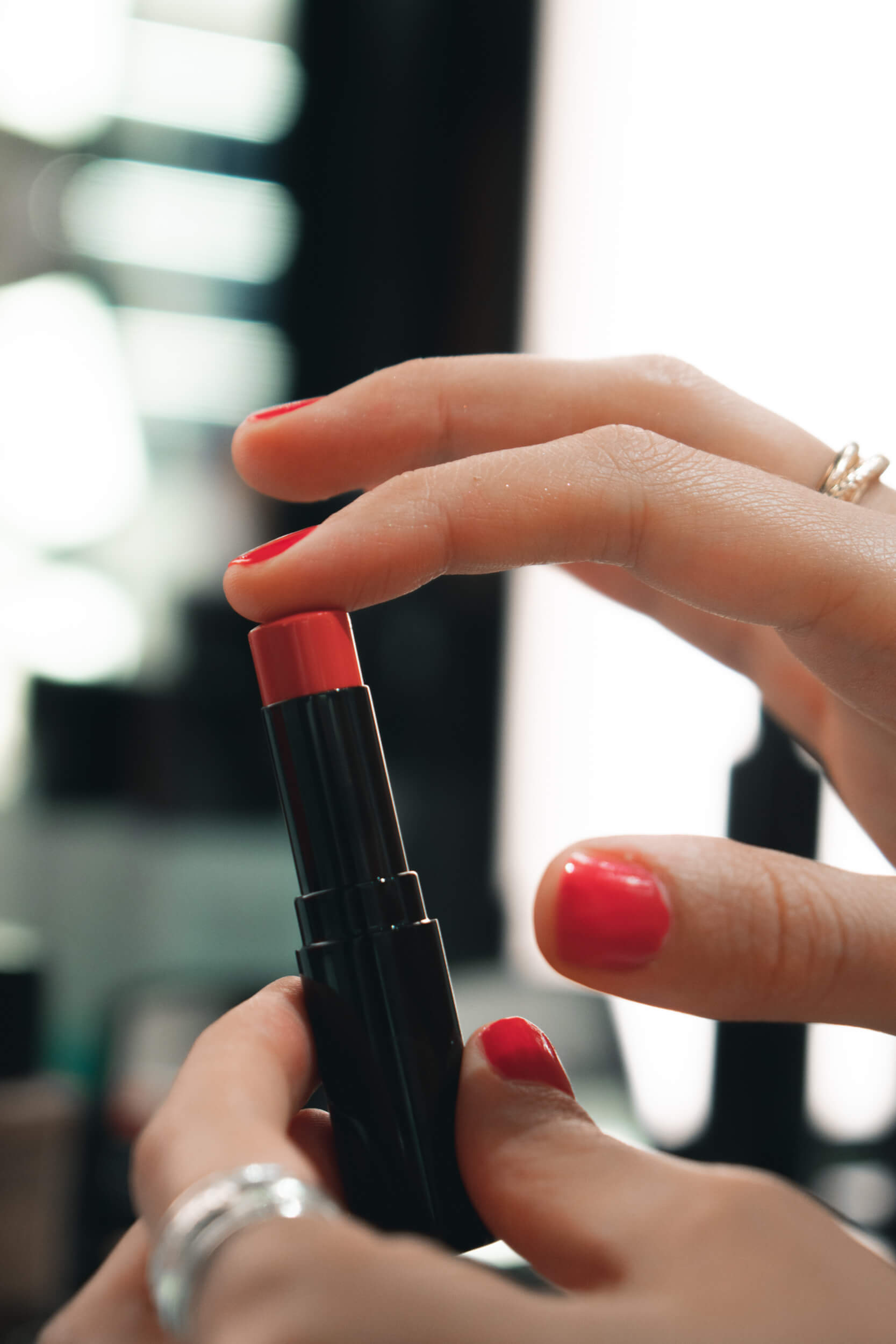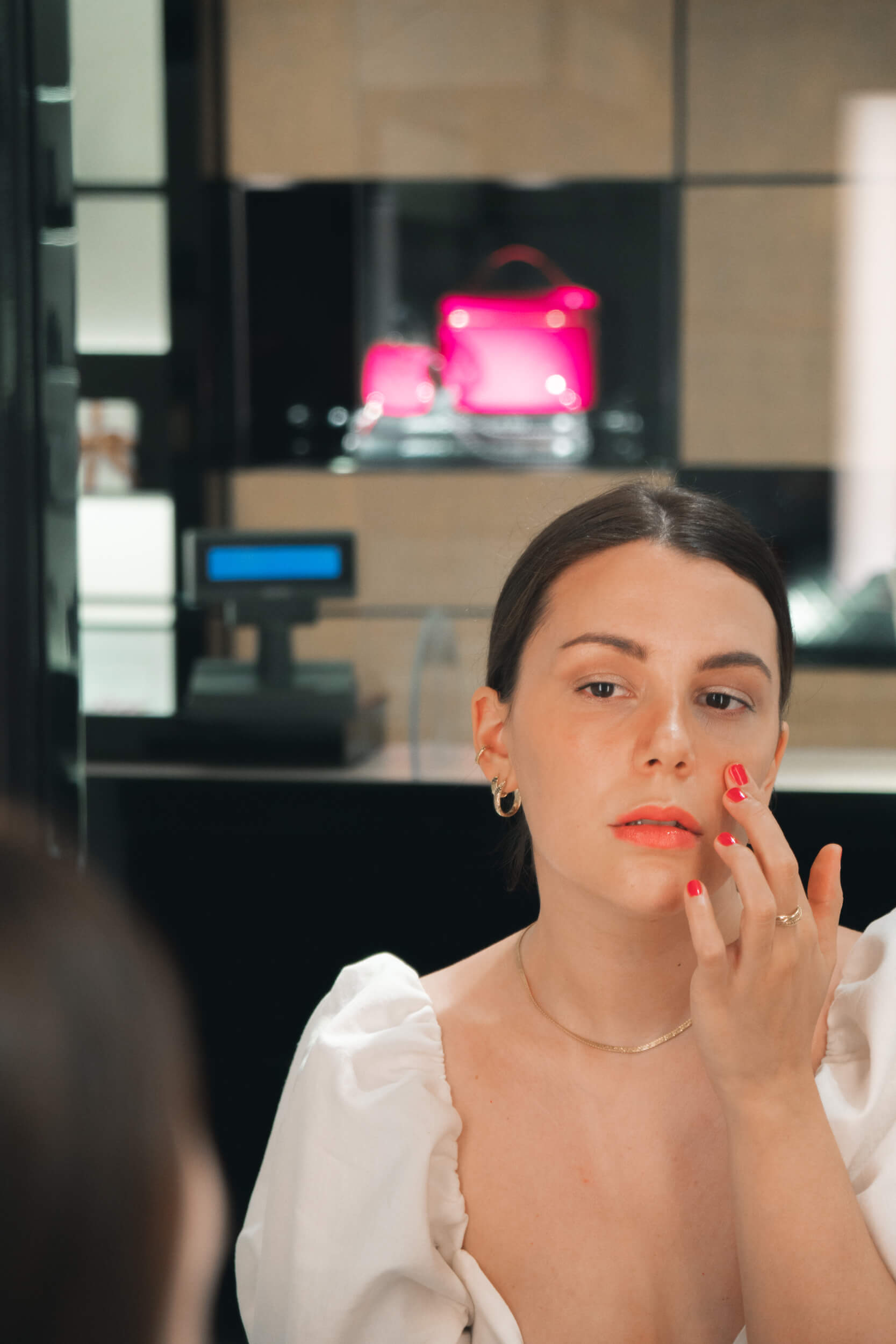 If, on the other hand, you prefer an incredible reflecting effect on the lips, you can add two coats of the new Rouge Coco Flash, we choose it in color No. 148 Lively.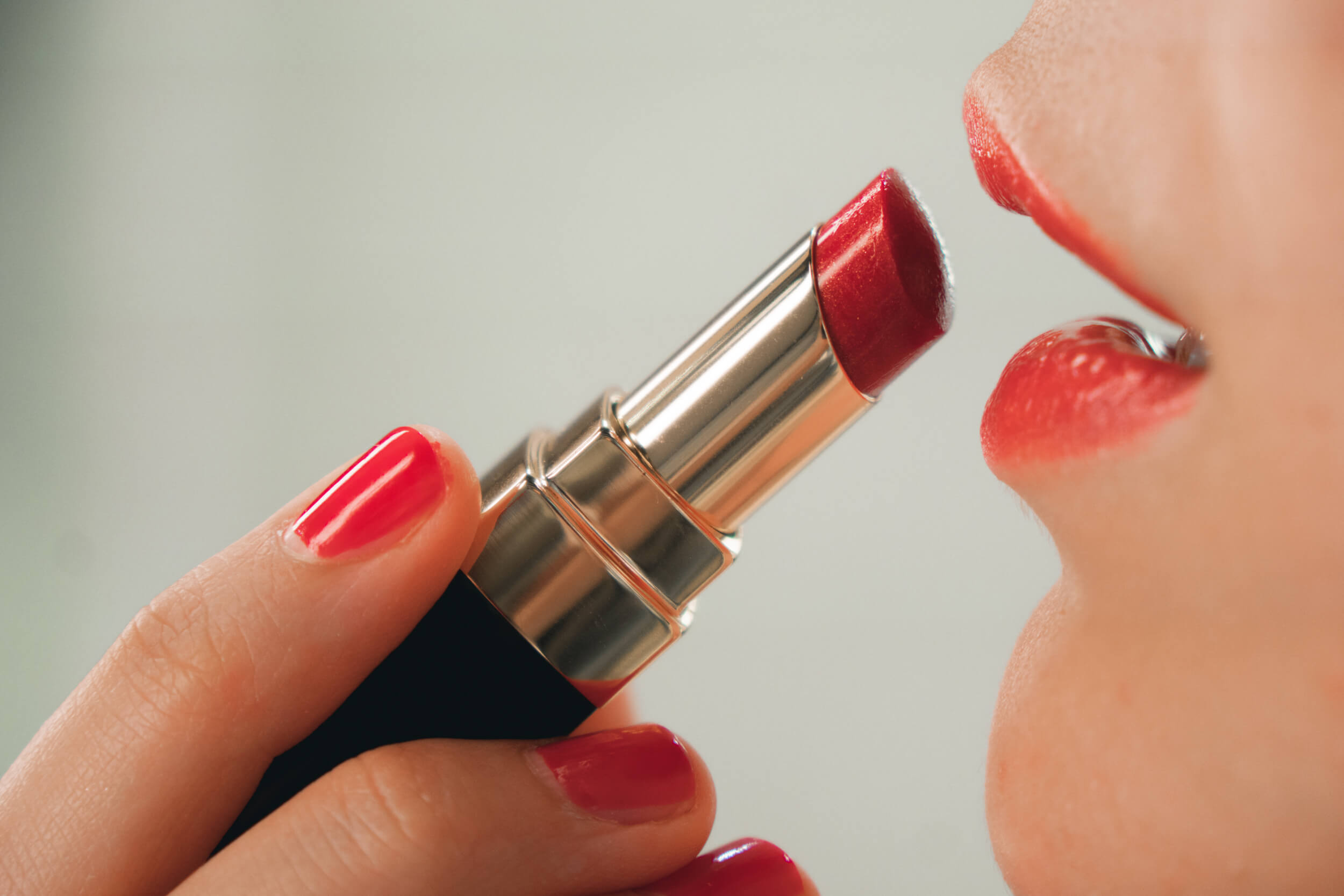 As a last touch to give freshness and even more brightness to the makeup, we sprayed the Hydra Beauty Mist Essence for an immediate sensation of freshwater on the face and at the same time to fix the makeup thanks to the power of camellia.