It's summer, the hot season and long hot days are fast approaching…what better time for our "beauty wardrobe change" then, to put away our winter must-haves and replace them with everything we need for a dewy and featherlight makeup?
Exactly: just as our clothes go through a seasonal change, the same goes for makeup.
It's not just about changing the color palette we normally use during winter and opting for more delicate or vibrant shades, but also about taking care of the particular seasonal needs of our skin!
In the months to come, we will prefer light cream products that won't obstruct the pores (in summer more than ever, it's important to let the skin breathe), moisturizing mists and strictly water-based and heat-proof formulas.
The first rule, undoubtedly the most important, is to listen to your own skin. And never forget to apply sunscreen with a good SPF.
SUMMER FOUNDATION
The foundation is one of the first products that should be changed, both in shade and texture: the perfect base for our complexion in winter can often turn out to be too grayish and light for the warm months and the texture can be excessively heavy.
In addition to avoiding heavy formulas (it's the perfect time to switch to a CC cream or a colored moisturizer!), another step is to get rid of products with a shiny finish.

Giorgio Armani Beauty – Neo Nude Foundation
This foundation is available in 22 shades and combines skincare and makeup, for a natural and photoshoot-proof effect that lasts all day.
The skin is hydrated and pampered thanks to its formula consisting of 50% water and infused with hyaluronic acid and glycerine. Meanwhile, the mineral pigments give a bright and natural appearance and also full coverage.
Comfortable, delicate and revolutionary, it is undoubtedly our foundation of the summer.
Givenchy – Teint Couture City Balm
Teint Couture City Balm is a 2-in-1 product and an ally that takes care of our skin: this colored moisturizer allows our skin to be the best version of itself while the hydrating component protects and quenches the thirsty skin.
We like it because it uniforms the complexion, protects it from pollution and has an SPF 25 PA ++ filter. If we spend the summer in the city, this product should always be in our bag!
Clarins – Milky Boost
If not even the heat convinces you to give up your foundation, this lotion is exactly what you need to combine color and protection. Milky Boost has conquered our hearts with its delicate milk-like texture that results as very comfortable on the skin, while the micro-pearls adapt to our complexion for seamless coverage.
Clarins' summer novelty makes our skin soft and radiant all day long, with a natural and velvety softness.
Make Up For Ever – Reboot Active Care Liquid Foundation
A liquid foundation that grants a radiant skin all day thanks to the Active Care Matrix complex, with red snow extract which helps restore the natural light of the complexion, while the ginseng in the formula nourishes and restores the elasticity of the skin.
SUMMER BLUSH

With the heat and the sun, we should replace our powdery blush with creams and sticks, even better if they're multitasking.
Green light to all the shades of pink, red and orange. Let's avoid powder products that can be heavy on the skin and replace them with the many seasonal alternatives: creams, colored tints, multitasking balms and gel products.

Nudestix – Nudies Bloom
Summer is the perfect time for a minimal look.
Nudestix offers multi-tasking creamy sticks with a bright but matte finish, giving the possibility to play with an easily blendable shade and to layer the shade according to our needs.
We love it because it ensures a touch of color without being excessive, but that you can make it as bright and colorful as you want.
Benefit – GoGo Tint
No transfer, with a great staying power and easy to blend simply with your fingertips, this multitasking, cherry red tint is ideal for monochrome looks or just to give a touch of color to the cheeks without drying out the skin.
This product has definitely earned its place among our summer must-haves.
Giorgio Armani Beauty – Neo Nude A-Blush
A-Blush offers a light veil of color for all skin types, from light pink to darker hues, passing through bright orange. This revolutionary product is available in a range of five shades and promises a weightless veil of color: with a super light to wear and moisturizing formula, it grants the skin the classic "healthy flush" with a nude effect. As always, less is more.
SUMMER BRONZER
Leave the contouring palettes aside and pick products with a creamy finish!
The bronzer is a great resource in our summer makeup kit, but it should be chosen with an eye for the texture: if we pick a powdery finish, we should prefer products with a very thin and lightweight texture.

Natasha Denona – Tan Palette
A palette with an ultra-light cream formula, rich in chromed crystals and enriched with mother of pearl to give a delicate but elegant glow to the complexion.
The palette is composed of everything we need for a sun-kissed look, from matte shades to glowy ones. All the looks of the warm season are contained in a single palette, and we are living.
Huda Beauty: Tantour
With its five shades and a splendid cream-to-power formula, this high performing bronzer is one of our certainties. Rich in pigments but easily blendable and adjustable, this product also works as an asset to contour and, according to our preferences, it can be used either to give a tanned touch of color or sculpt. The formula is resistant to sweat and water, ideal for long summer days.
Dior – Diorskin Mineral Nude Bronze
Can't sunbathe and the beach seems like a distant mirage? No problem! Dior saves us with a bronzer that is rich in minerals but light and gentle on the skin, with a bonne mine effect that will give you a tanned and radiant look with literally zero effort. Just like our natural skin, but better.
SUMMER EYESHADOWS
There are still no rules for the eyeshadow, but in summer it becomes more spontaneous: we choose colored shades, pastel or neon, and use them on the entire lids or just to create little colored details. Hot reds and oranges or cool fuchsia and purples, or maybe green and blue shades that remind us of the sea: if for makeup the rule is usually "less is more," with eyeshadows we can play, have fun and experiment.

Viseart Paris – Petit Pro Chou Chou
This mini palette has vibrant colors with matte and shimmery finishes that make us think of the warmer months, reminding us of the nature that awakens and, of course, of the holidays.
Sparkling like the summer season, this palette is a novelty that we can't wait to try!
Natasha Denona – Mini Eyeshadow Palette
Whether it's in the Tropic shade, with its bright green color, or the new Mini Retro, Natasha Denona's Mini palettes have vibrant colors, from pink to a deep blue like the one of the ocean, for popping and colorful looks but with the inimitable finish that Natasha Denona never fails to deliver.
Nars – Powerchrome Eye Pigment
Ultra pigmented, long-lasting and extra bright for a wash of color on the lids that no one will fail to notice, this eye pigment by Nars offers an easy-to-apply formula that remains all day long and enriched with real pearls. Among the shades, the blue of Islamorada adapts to evening looks, vibrant and pop, while a chocolate-brown like Stricken is ideal for a more "daytime" look… but no less stunning!
SUMMER HIGHLIGHTER
Picking the right highlighter is among the most complicated choices of the summer: it is indeed a product that must be changed with the season and that, generally, must be used with great care in the heat.
No to metallic shades, better stick with cream highlighters with a 3D glow.

Becca Cosmetics – Ignite Liquified Light Highlighter
This comfortable-to-wear highlighter releases the natural radiance of the face and it's also ideal for the body. The crystal gel formula contains multidimensional micro-pearls and is (naturally) summer-proof thanks to its water resistance.
In addition, the sweet fragrance of pineapple, coconut, and orange blossom is perfect for the summer.
Sephora – 3D Glow; Highlighter for face, eyes, and lips
A highlighter with a fresh gel consistency that adds a multidimensional glow to all looks thanks to its wet and radiant finish, available in pink or copper shades. We love it because it adapts to all skin tones, adding a light veil of color and brightness without feeling heavy or sticky on the skin.
Giorgio

Armani Beauty – Neo Nude A-Highlight
Ideal for the hot season thanks to the "second skin" formula, this liquid highlighter amplifies the brightness of the complexion, dressing the face with a light veil of radiance for a look that is "natural, but better."
The formula is designed to be subtle, lightening up our skin without ever being excessive. A true hero product of the summer.
SUMMER MASCARA
This is easy: choose your favorite mascara but in its waterproof version. In fact, most brands offer two versions of the same product: same formula, same bottle brush, but summer-proof.
If, on the other hand, you want to change and can't stand the waterproof versions, which may be too aggressive for your lashes, make sure you find the right formula for you.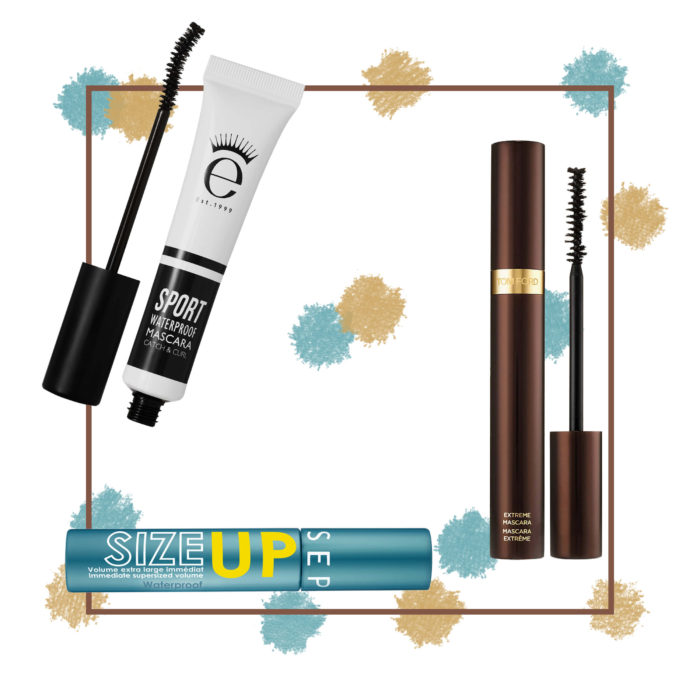 Eyeko – Sport Waterproof
Winner of the Allure Best of Beauty Award 2015, this mascara with handmade bristles offers a formula that doesn't smudge, with good coverage but without weighing down the lashes. Of course, it's waterproof, ideal for the hot season (and, as the name suggests, also for sports)!
Sephora Collection – Size Up Waterproof
A waterproof, resistant and ultra-pigmented formula that is also ideal for tackling the warm summer days: this mascara turns out to be XXL in all, from the volume and length boost of the lashes.
Tom Ford – Emotion Proof Mascara
An intense black mascara with a creamy formula that doesn't smudge under the pressure of heat, water and humidity. This mascara boosts the length of the eyelashes and volumizes them throughout the day. We also love its packaging, very elegant and in full Tom Ford style.
SUMMER STAYING POWDER
We replace our talc-based powders and remember to use this product very sparingly, ideally only in the T-zone when and if needed: the powder is an excellent asset to retouch the makeup and most makeup artists recommend using a thin layer of powder to fix the makeup and avoid excessive shine, but the secret is to have a light hand.

Fenty Beauty – Invisimatte Blotting Paper
These pocket-sized wipes, made with vegetable fiber, mattify and capture excessive oil and are perfect for retouching make-up discreetly (also thanks to the pack that fits perfectly in our bag).
With a great absorbent powder and at the same time comfortable and silky on the skin, this blotting paper is made with the same technique used to produce traditional Japanese paper.
Hourglass – Veil Soft Focus Setting Spray
A mist enriched by the "Photoshop effect" that mattifies and evens imperfections! The fine texture of this product is hyper-moisturizing and guarantees a dewy and natural effect.
We like it because it creates a soft, even and naturally radiant complexion, and the formula is perfect for the summer thanks to the ability to maximize the staying power of the makeup while remaining water-resistant.
SUMMER LIPS
Even on the lips, less is more!
Moisturizing lip balms enriched with water-based formulas and lip stains that are easy to blend and apply with your fingertips will replace the winter lipsticks, generally heavier and darker in color for the next few months. Yes also to plumping lip glosses, but make sure they are never sticky.

Laneige – Lip Glow Balm
The Lip Glowy Balm combines the power of a hyper-moisturizing conditioner that contains Murumuru and shea butter with the power of shiny, delicately colored shades for a light and summery look. In addition, the vegetable butter nourishes the lips and creates a layer that retains moisture to ensure long-lasting hydration.
Chanel – Rouge Coco Flash
With Rouge Coco Flash, Chanel offers hydration, color and protection with a lib balm that covers the lips in a shimmering veil. The formula is enriched with mimosa, jojoba and sunflower waxes for an intense moisturizing effect while the oils grant ultra-bright finish. Lots of colors to choose from, for a delicate but also colorful summer product.
Huda Beauty – Diamond Balm
Enriched with diamond dust and a blend of emollients, including an extract of mango butter, the new Huda Beauty balms are a delicious novelty for our kits! They ensure plumped and healthy lips all summer but, as the name implies, they are embellished with a "diamond" effect.