Avocado is one of the most popular ingredients of skincare thanks to its moisturizing, nourishing, and illuminating properties, and it is one of the key elements of many products that will always have a special place in our heart (just think of the classic and timeless Eye Cream Kiehl's Avocado).
Avocado oil penetrates deeply into the skin, it is easily absorbed, and it is rich in omega 3, vitamin E, and phytosterols – essential for the hydration and elasticity of the skin – while the presence of antioxidants that fight free radicals helps combat premature cellular aging and reduces fine lines and wrinkles.
Recently, this perfect anti-age ally has once again made its appearance in many beauty products – you know, sometimes they come back – and that's why we thought of making a list of the most interesting (and relatively new) beauty products that contain this miraculous fruit!
1. Avocado Melt Retinol Eye Sleeping Mask, Glow Recipe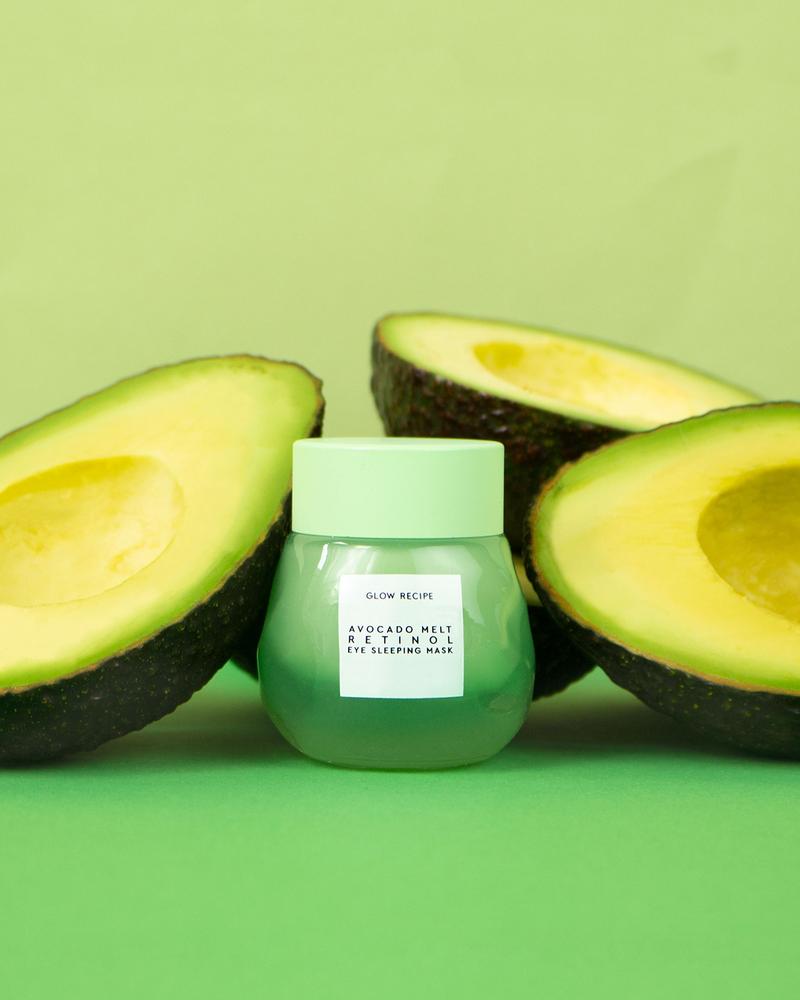 Let's start with the retinol and avocado eye mask by Glow Recipe: rich in moisturizing, anti-aging, and illuminating ingredients such as antioxidants, vitamins E and C conditioning + avocado oil and extract, it soothes and nourishes the delicate area around the eye, protecting it from harmful environmental aggressors such as free radicals. It also contains niacinamide, which helps to strengthen the skin barrier visibly improving the appearance of fine lines and wrinkles, and coffeeberry, which reduces swelling and dark circles, giving us an awake and rested look – just like coffee in the morning! Its key ingredient, however, is encapsulated retinol, which helps firm, smooth and plump without all those collateral effects that are often associated with retinol. Let's be clear: the encapsulation allows the ingredient to penetrate deeper into the skin and release its properties more slowly, making it more delicate than other traditional retinol formulas. You can apply it after cleansing as a night mask, every evening, without stratifying it with other eye creams but, if you prefer, you can also use it as an eye treatment during the day!
2. Love & Haight, Avocado & Jojoba Hydrating Moisturizer, Pai Skincare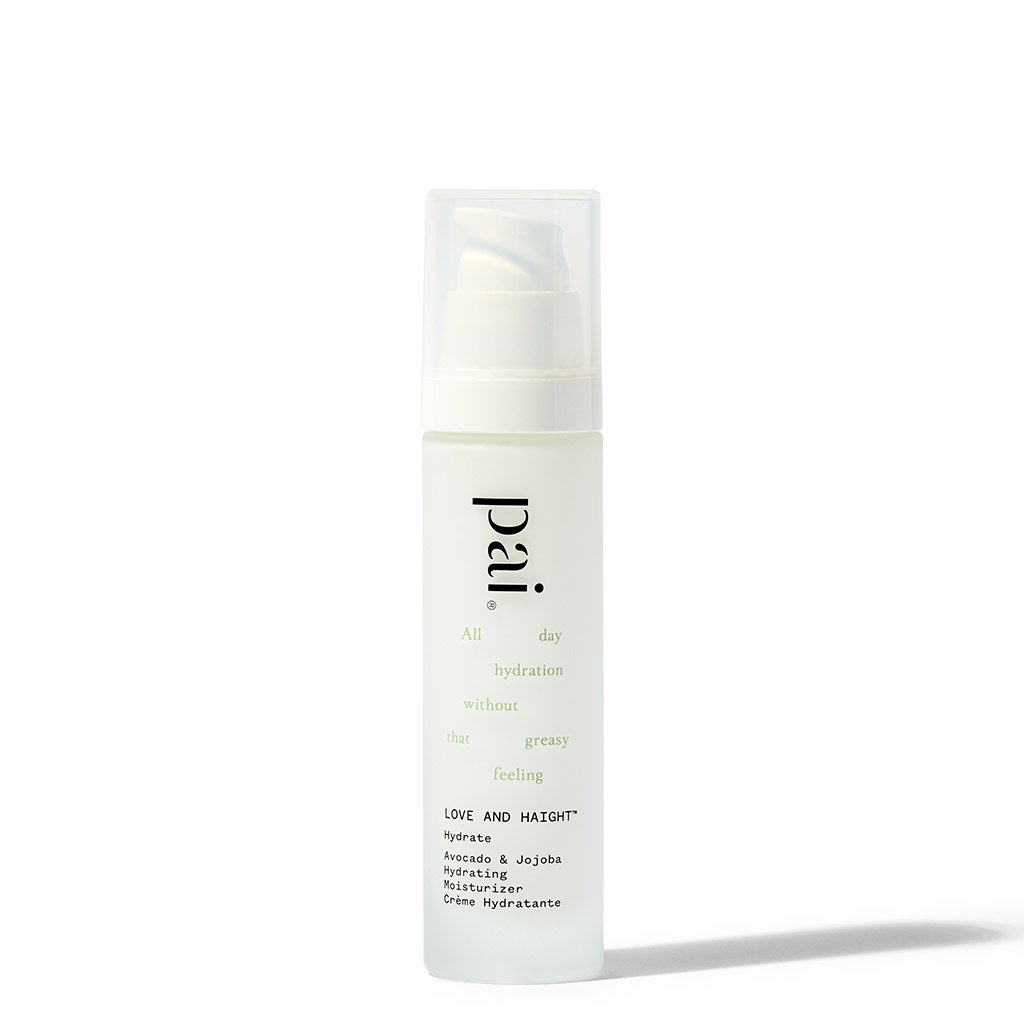 Dry, dehydrated, sensitive skin? We have the product for you: this moisturizer contains organic avocado, rich in vitamins A, D, and E, and able to help keep the skin's protective barrier healthy, and jojoba oil, which has a composition similar to natural sebum, thus being easily absorbed. These two ingredients, together with omega 3 and 6, soothe, nourish, make elastic and quench our skin. In addition to that, the texture of this mask is buttery but light, perfect for oily or acne-prone skin that needs hydration but without any unpleasant oily feeling. Have we already told you about its scent? No? Because it is just fantastic. Jasmine and may chang unite in a unique sensory note.
Ps: Love & Haight is also composed of at least 90% natural ingredients, all vegan and non-animal-derived.
3. Drink Up Intensive Overnight Hydrating Mask with Avocado & Swiss Glacier Water, The Origins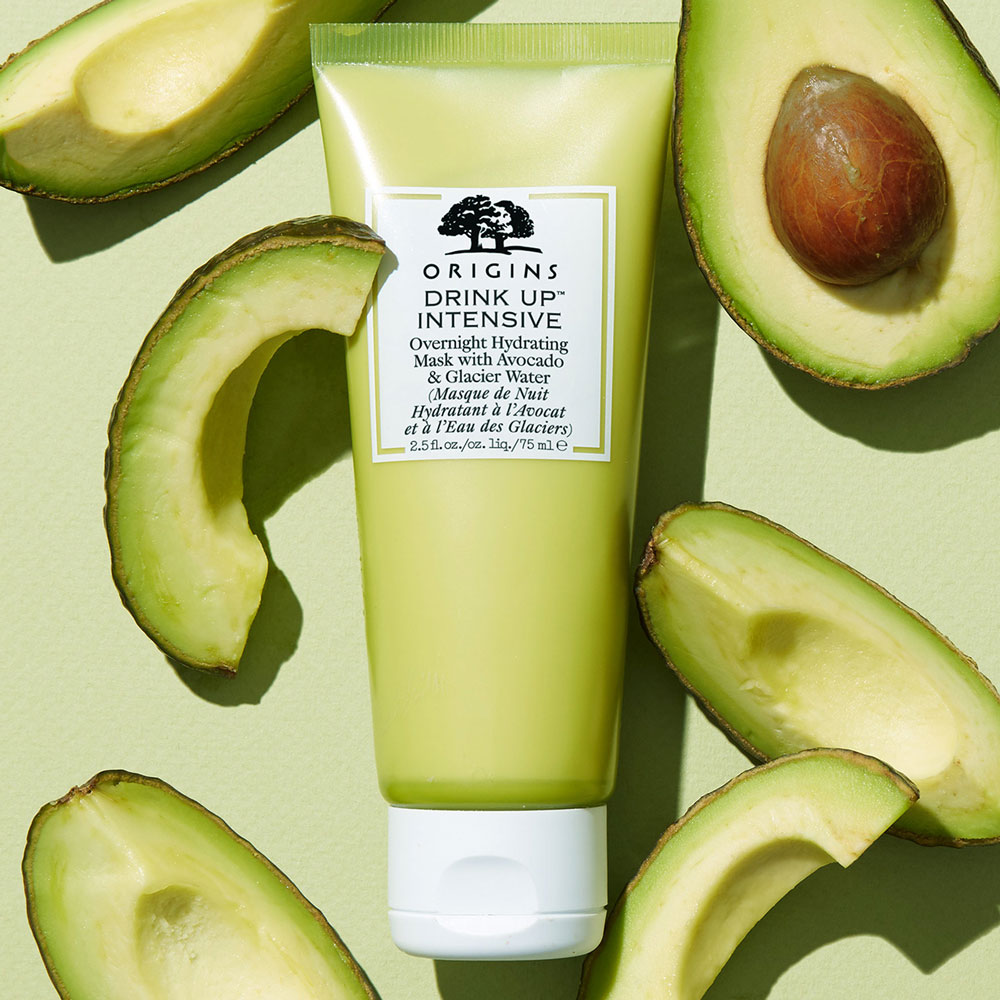 It looks like night masks are always trending: the Drink Up Intensive Overnight Hydrating Mask with Avocado & Swiss Glacier Water is a mask that acts throughout the night while you sleep, containing the Advanced Hydration Technology added powder – with Swiss Glacier Water inside – and is also formulated with hyaluronic acid, avocado butter, fatty acids such as Omega-3 and vitamins A, D, E, which allow the skin to retain moisture for 72 hours, for continuous hydration. You will wake up in the morning with much softer, nourished, and elastic skin!
4. Avocado Face Milk, Fourth Ray Beauty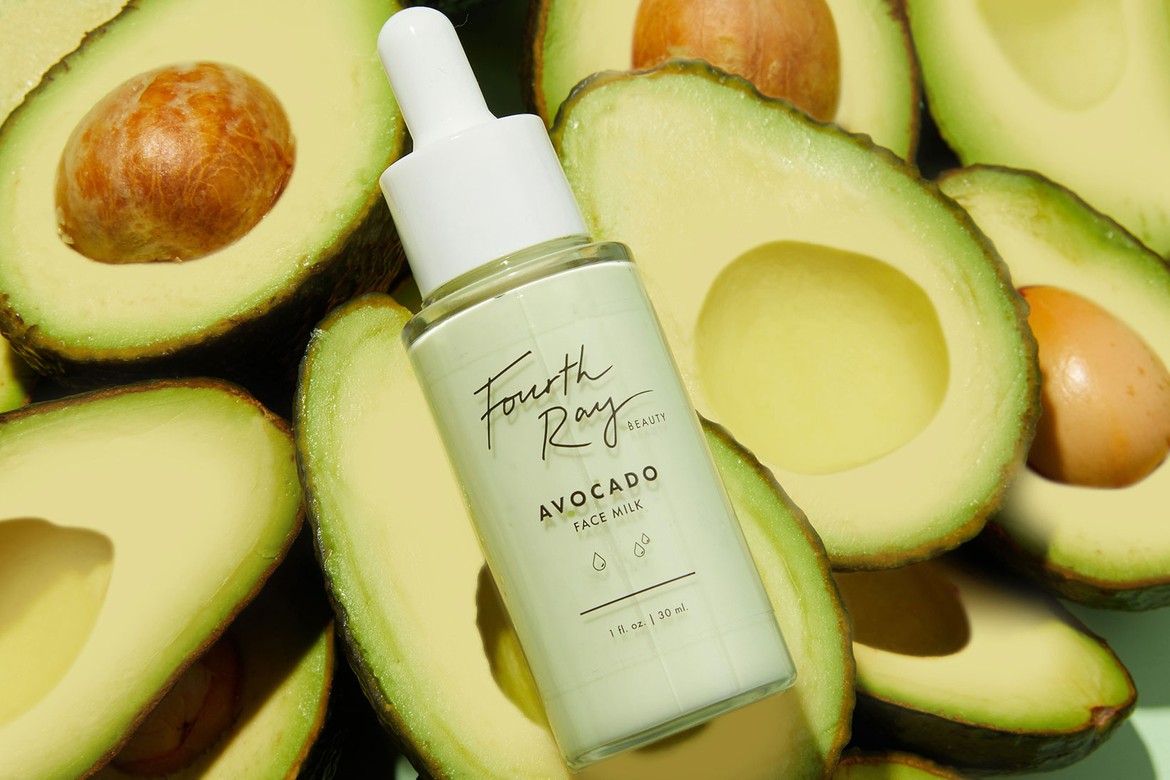 A moisturizing and nourishing elixir to replenish the skin! Formulated with avocado oil, cucumber, (known for its refreshing, soothing, and astringent properties, as well as containing antioxidant substances that help counteract the signs of time, and being particularly suitable for mature and dry skin) and aloe, with its antiseptic and antibacterial properties. Avocado Face Milk softens and moisturizes the complexion: dispense 2-3 drops on the palms of your hands, rub them together to warm up the product, and apply it according to your needs.
5. Avocado Relief Cream, Frudia
A relief treatment for sensitive and irritated skin, which makes the skin brighter, toned, and elastic. The Avocado Relief Cream strengthens the barrier that defends the skin from external aggressors and soothes redness thanks to 75% of avocado nectar, the booster of vitamins and antioxidants and fruit extracts, obtained with the special technology R Vita W, a procedure that makes it possible to extract the active ingredients of the fruit at low temperature while preserving their active properties.
6. Avocado Melt Retinol Sleeping Mask, Glow Recipe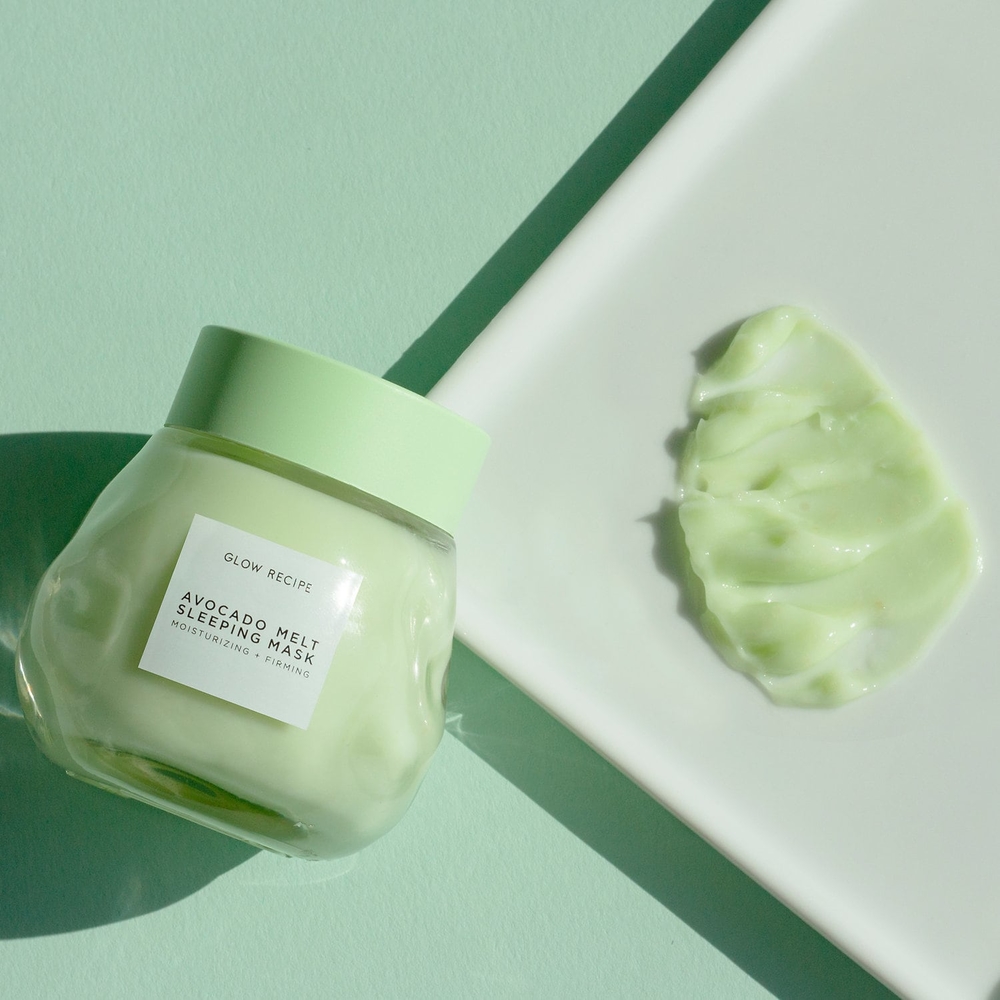 Older sister of the Avocado Melt Retinol Eye Sleeping Mask, the face mask of Glow Recipe also contains avocado, which ensures a rich supply of oleic and linoleic acids for a super nourished skin + encapsulated retinol, that helps stimulate collagen production and increases the cellular turnover of the skin to alleviate the appearance of fine lines, hyperpigmentation, congested pores, and irregular skin tone. Furthermore, polyhydroxy acid (PHA) gives lightening effects, illuminating the complexion. Use it the night before going to sleep and let it rest all night long, for a real recovery-dream!
7. Avocado Nourishing Hydration Mask, Kiehl's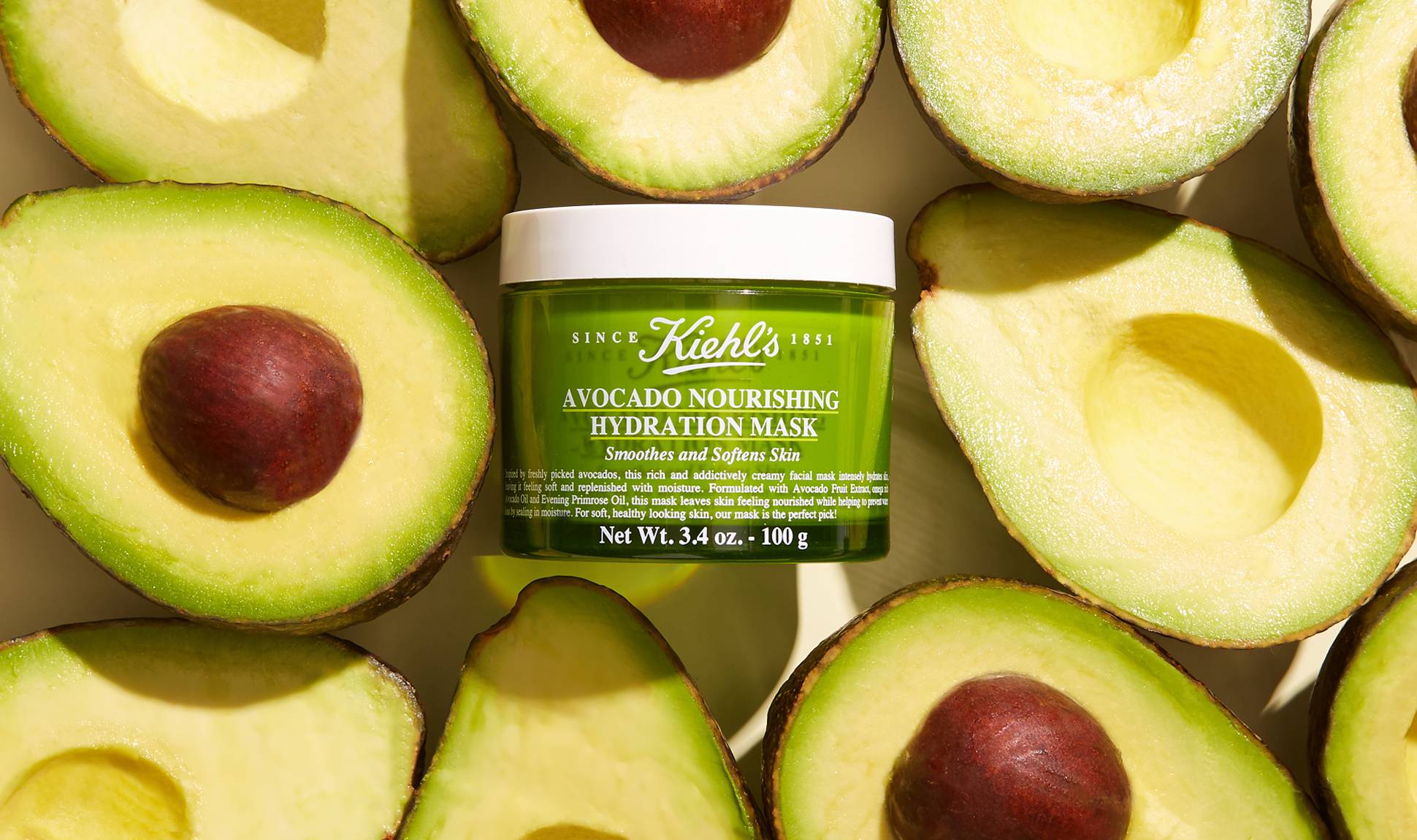 Kiehl's Avocado Nourishing Face Mask is all you need to give new life to your skin! It strengthens the skin barrier, nourishes it, and prevents water loss by retaining moisture. It contains avocado extract, whose pulp is crushed and filtered and then mixed with Squalane + avocado oil with a rich and emollient texture that contains essential fatty acids, and primarosso obtained from the seeds of the Flower of Enotera, added to regenerate and improve skin elasticity. Leave it on for 15 minutes, rinse and you're done!