WHO
_______
August Beauty News
Rihanna Launches Fenty Skin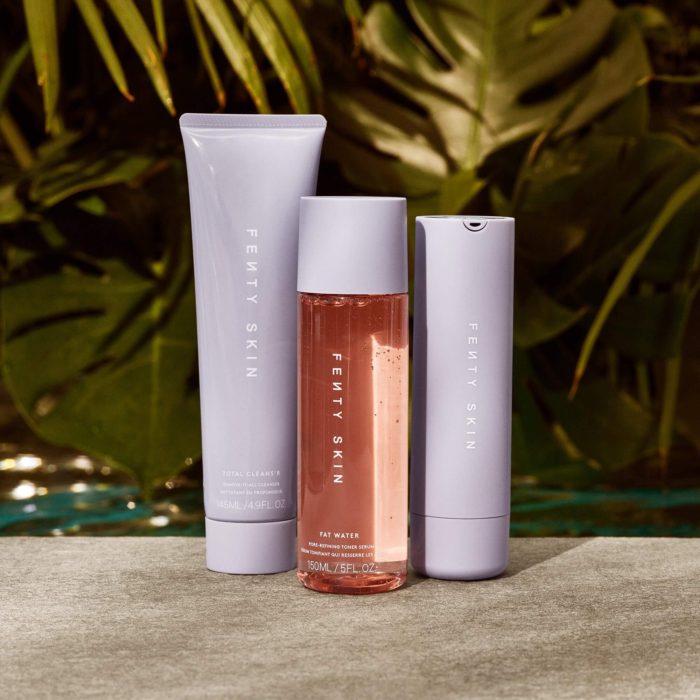 Genderless, accessible (also for the wallet, thanks to the refill-friendly packaging), suitable for everyone – and we mean really everyone – but most of all effective.
This is the new skincare line Fenty Skin, launched by Rihanna after two years of hard work: a line that promotes skincare within everyone's reach, without barriers and without gender, vegan and designed for absolute radiance and an eco-sustainable glow, ideal "for those who wear a lot of makeup and for those who prefer the no-makeup look".
Rihanna once again expands her personal view on beauty and, now, on skincare, thanks to a super Insta-friendly packaging that is strictly recyclable and, moreover, allows you to refill the bottles once the product is finished. The formulas are vegan and natural, with ingredients such as the Barbados cherry, rich in Vitamin C.
August Beauty News
Patrick Starr Launches One/Size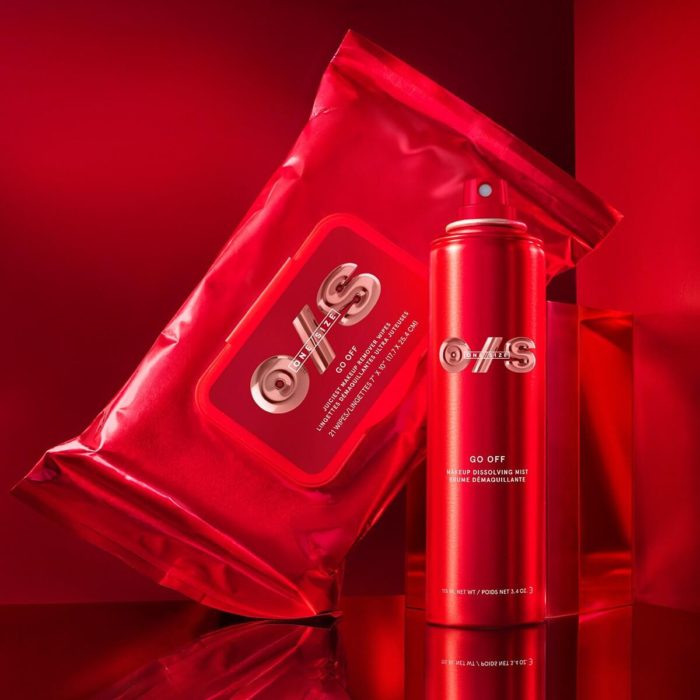 One/Size is the name of the line by Patrick Starr, makeup guru and Youtube Beauty Royalty. The collection praises uniqueness, beauty for everyone, unique sizes and inclusion in an environment (such as beauty) that is just as full of barriers and prejudices as fashion. One/Size is a brand dedicated to those who are not represented and that enhances the individual, offering makeup and skincare for everyone (for example, make-up remover wipes or the super versatile colors within the Visionary palette).
The Visionary palette is exactly the piece we want to start from: a beautiful baby pink palette with 15 colors, made to experiment with. There are rich and intense shades such as Titleholder, a metallic antique gold, or the vibrant blue of Blue Mon Dieu, but also more matte colors, such as the opaque Taupe Of My Game and Suede, an enveloping caramel shade.
We then find sparkling liquid eyeliners, two Point Made 24-hour gel eye pencils in the shades coffee and black, and an eyeliner. There are also options to remove the makeup after a long day, such as the delicate cleansing wipes, although the most interesting novelty seems to be the makeup remover spray: Go Off Make-Up Dissolving Mist, such is the name of the revolutionary product, promises to dissolve makeup without leaving residues and only by vaporizing the thin, featherlight mist on the face. Are we witnessing a makeup revolution? We can't wait to find out!
WHAT
_______
August Beauty News
The New Becca Zero No Pigment Collection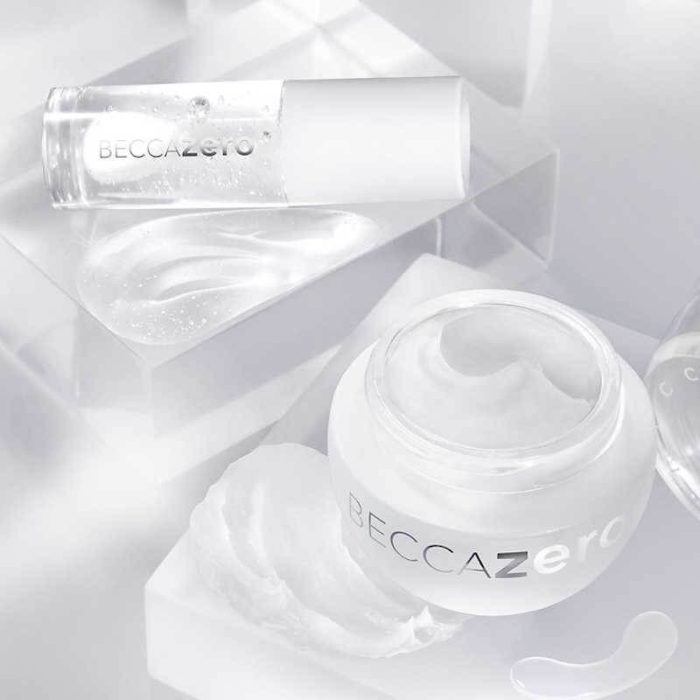 A Glass Skin-proof collection that embraces the motto Less Is More and takes it, in a sense, to the extreme. The new Becca Zero No Pigment Fall 2020 collection revolutionizes the concept of makeup and takes it to the opposite extreme: from an explosion of color to the total absence of nuances!
The collection, which is vegan and absolutely genderless, aims to enhance and improve natural beauty without overlapping and distorting, promoting a new beauty idea that, instead of hiding, enhances the complexion.
The two products that compose the line, a light foundation with a gel texture and a multi-tasking jelly highlighter for lips and cheeks, are already making people talk because they are (as the name suggests) 100% transparent. For the foundation, despite the lack of pigment, the finish is designed to mattify the skin for a blurred effect that minimizes imperfections while leaving the skin fresh: a beauty boost and an Instagram filter in a jar, enriched with hyaluronic acid to nourish the skin.
The multipurpose highlighter, on the other hand, promises absolute radiance without effort: the texture is fresh and delicate, ideal to recreate the Glass Skin and designed to blend immediately without stickiness.
August Beauty News
Pat McGrath Launches Rose Decadence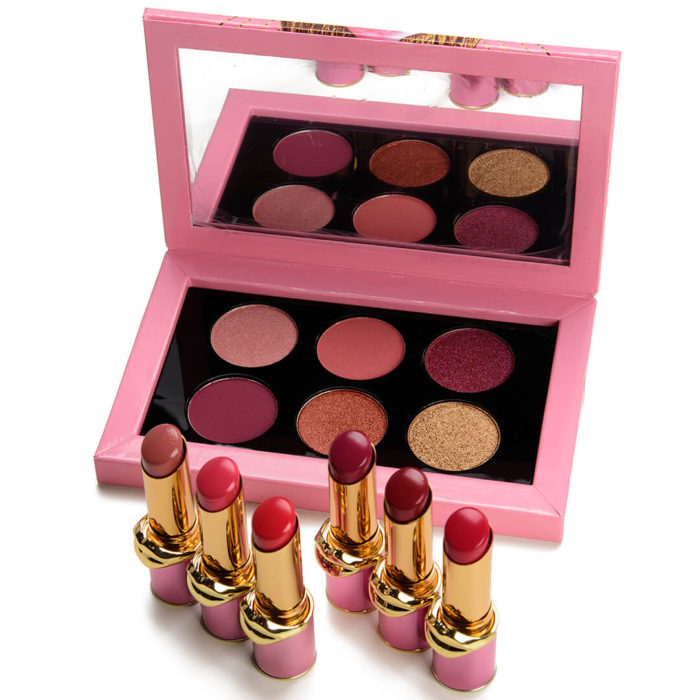 Roses, roses, roses, and then romance, femininity and more roses! Pat McGrath's new collection is a hymn to beauty: fragile and breathtaking, but fleeting. The fall 2020 collection, for Pat McGrath, is proudly dressed in opulence and shades of pink and gold, to flaunt a delicate beauty on eyes and lips.
The most exclusive novelty of the collection is born in a pink case: the new Divinyl Lip Shine. It is a hybrid between a lip balm and a gloss that comes in six shades that are ideal for all skin colors: an innovative lip product for a bright, mirror-effect smile.
Next, we find the palette (consisting of six pods) MTHRSHP Rose Decadence, in a delightful pink and gold packaging. The colors also are between shades of red, pink and gold, range from shimmer frost finish (like Pink Champagne) to matte (Hedonistic Rose, a mauve pink) and metallics. The collection closes with the Fetish Astral lip balms, embellished with new multicolored micro-glitters that we also find on the pink package, and the Permagel Ultra lip pencils: a hyper-pigmented, comfortable and water-resistant texture, fully no transfer and life-proof.
August Beauty News
Haus Laboratories: New Colorful Eyeliners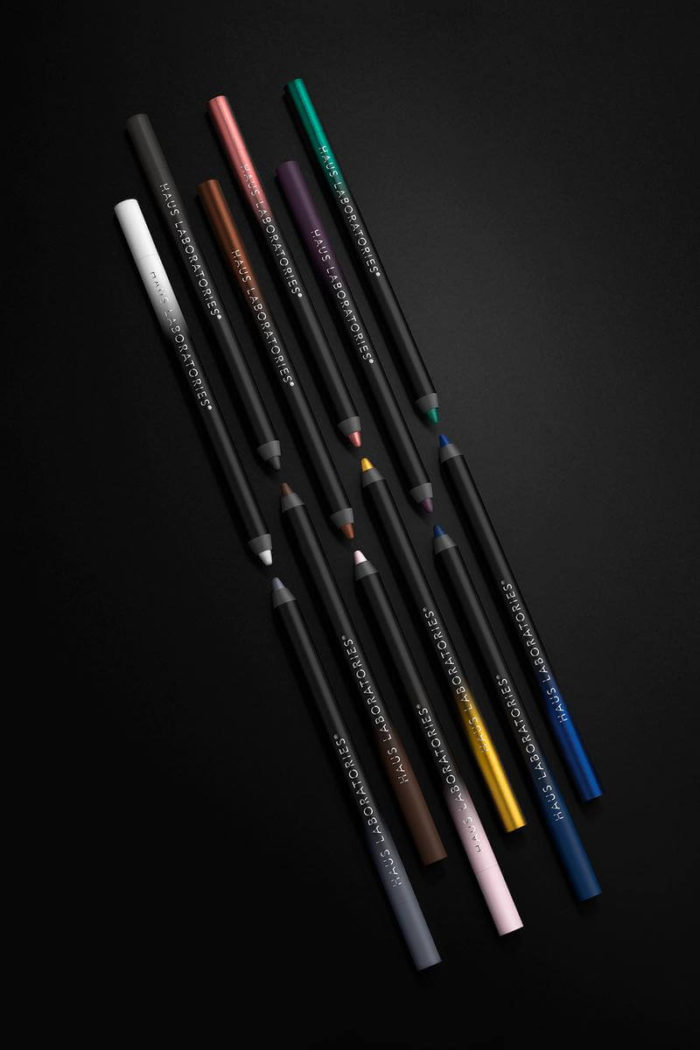 Lady Gaga is a powerhouse and she has always been known for the unique and crackling personality, sometimes irreverent and sometimes classy, who never lets herself be crushed by conventions. Like its founder, once again Haus Laboratories proves not to be afraid to play with color and launches the new Eye-Dentify Colored Eyeliners which, as the name implies, invite you to "identify," to show yourself and be unique! Twenty colors that are ready to become the protagonists of our looks, from classic (black or white) to popping colors like purple and golden yellow.
But it's not only that: we also find different finishes like matte, shimmer, or metallics.
All eyeliners, however, are characterized by the same ultra-smooth and hyper-pigmented texture, for strokes that can be very simple and classic or graphic, shaded, avant-garde! It doesn't matter whether you choose saturated, opaque or pearlescent colors, cold or warm tones: the new Eye-Dentify eyeliners are ready to follow your hand while outlining your story and your personal vision of beauty.
Like all Haus Laboratories products, moreover, they are vegan and cruelty-free.
August Beauty News
Fenty Beauty: All The News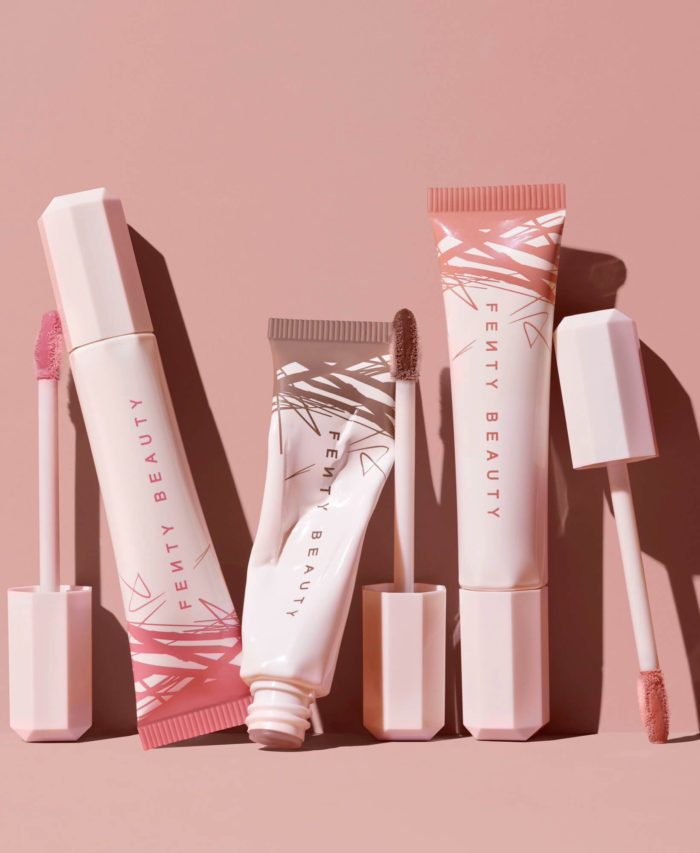 This August, Fenty offered us a lot of new products, either novelties or big returns with new colors. For example, the beloved Pro Kiss'r Luscious Lip Balm is offered to the public in 3 new shades: Cocoa Drizzle (transparent chocolate), Latte Lips (transparent nude) and Pinch Me (transparent pink).
As always, the texture is creamy and light: it envelops the lips effortlessly, hydrating them perfectly. Always in new colors, we find two new shades of the mascara Full Frontal Volume Lift & Curl: in limited edition and thought to perfectly match the new Mix & Match palettes, for a show-stopper eye look, we find Mi$$ Merlot (burgundy) and Ivy League (forest green).
Next, we find a new universal eyebrow wax, the Brow MVP Brow Sculpting Wax Pencil & Styler, waterproof and whose formula is suitable for all hair colors, to easily shape the eyebrows.
There are also two new shades of the Snap Shadow Mix & Match Eyeshadow Palette mini palettes, available in limited edition for the fall season: 9-Wine which includes shades from neutral colors to burgundy and 10-Money, which includes a mix of forest-green colors. We close the many news about Fenty Beauty with a new shade of Stunna Lip Paint – now available in the color Underawg (a deep burgundy).
August Beauty News
Kiko Milano: New "Lost In Amalfi" Collection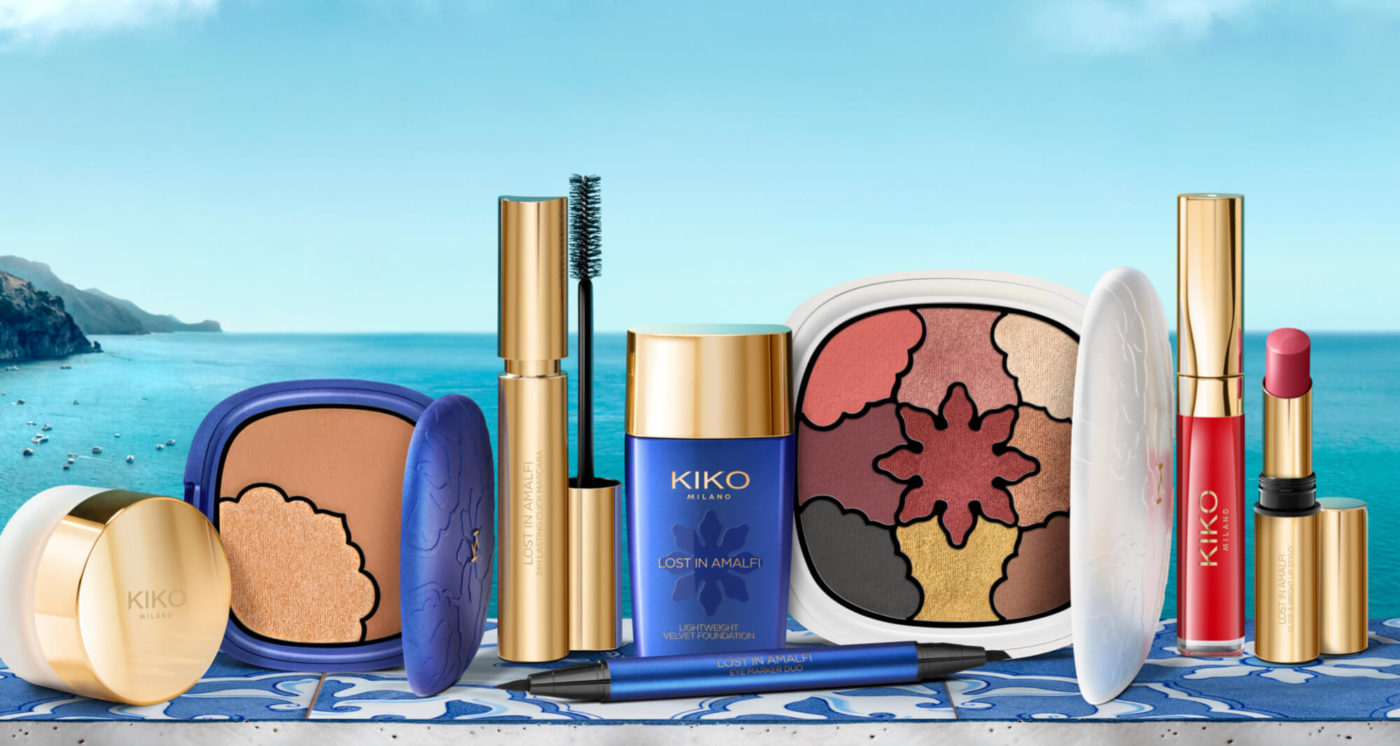 Kiko's new Autumn collection is lost in the intense and vibrant colors of artisanal ceramics, lemon trees, sun and the southern sea. The packaging of the collection (the inspiration comes from authentic Majolica ceramics) embraces the colors of traditional ceramics and the essences of citrus fruits typical of the South of Italy and transforms them into beauty tools, in shades that enhance and illuminate the face and in beauty essentials.
Inspired by tradition, by ancient, evocative landscapes and the simplicity of an endless summer, this collection plays with the same contrasts you might encounter in Amalfi, experimenting with light and shadow for a makeup look that crosses the borders of summer. But just like in summer, where a lighter makeup still leaves a lot of space for skincare, in this collection we find a large space dedicated to skin prep.
A skincare that is first of all energizing, thanks to the citrus scent infused in the Transforming Cleansing Foam (from gel to foam), in the Gentle exfoliating Exfoliating Face Scrub for a radiant complexion and, finally, in the Multi Protector Face Fluid, a protective moisturizing fluid with SPF 30.
As for the makeup, we find everything we need in a full-face. The collection ranges from the extra comfy Lightweight Velvet Foundation to baked bronzers (available in two colors) and the compact duos, composed of Bronzer and highlighter, enclosed in a luxurious deep blue shell.
The corner focused on eye makeup consists of maxi eyeshadow palettes (available in two sets of colors, A Dive in the Blue Sea and Bouganville Balcony) and the Metal Chrome Eyeshadow, in an easy-to-apply and jelly texture and six different colors.
But that's not all: baked and jelly highlighters, lipsticks, lip glosses and brushes make this collection hyper-complete, reliable and ready to respond to every need during the beauty lover's holiday.
A Made in Italy made to be loved just about everywhere.
August Beauty News
Darphin: New Intral Rescue Super Concentrate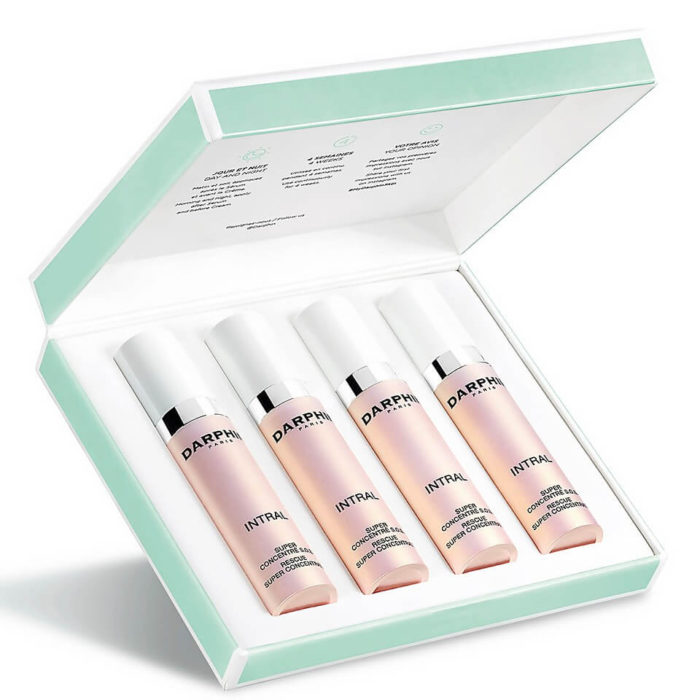 The new Intral Rescue Super Concentrate is a real super concentrated repair treatment that soothes, moisturizes, protects and repairs the skin, a real beauty SOS for when the skin needs a real boost. It can be used after a stressful period of time or ahead of an important event: if our skin is asking us to be at its best and to be stabilized, re-balanced, this is the answer.
Algae and Vitamin E extracts strengthen the skin, which easily absorbs the product and is reborn with a real detox effect, thanks also to the relaxing chamomile.
August Beauty News
Clinique: The New Moisture Surge Pop Triple Lip Balm & All About Clean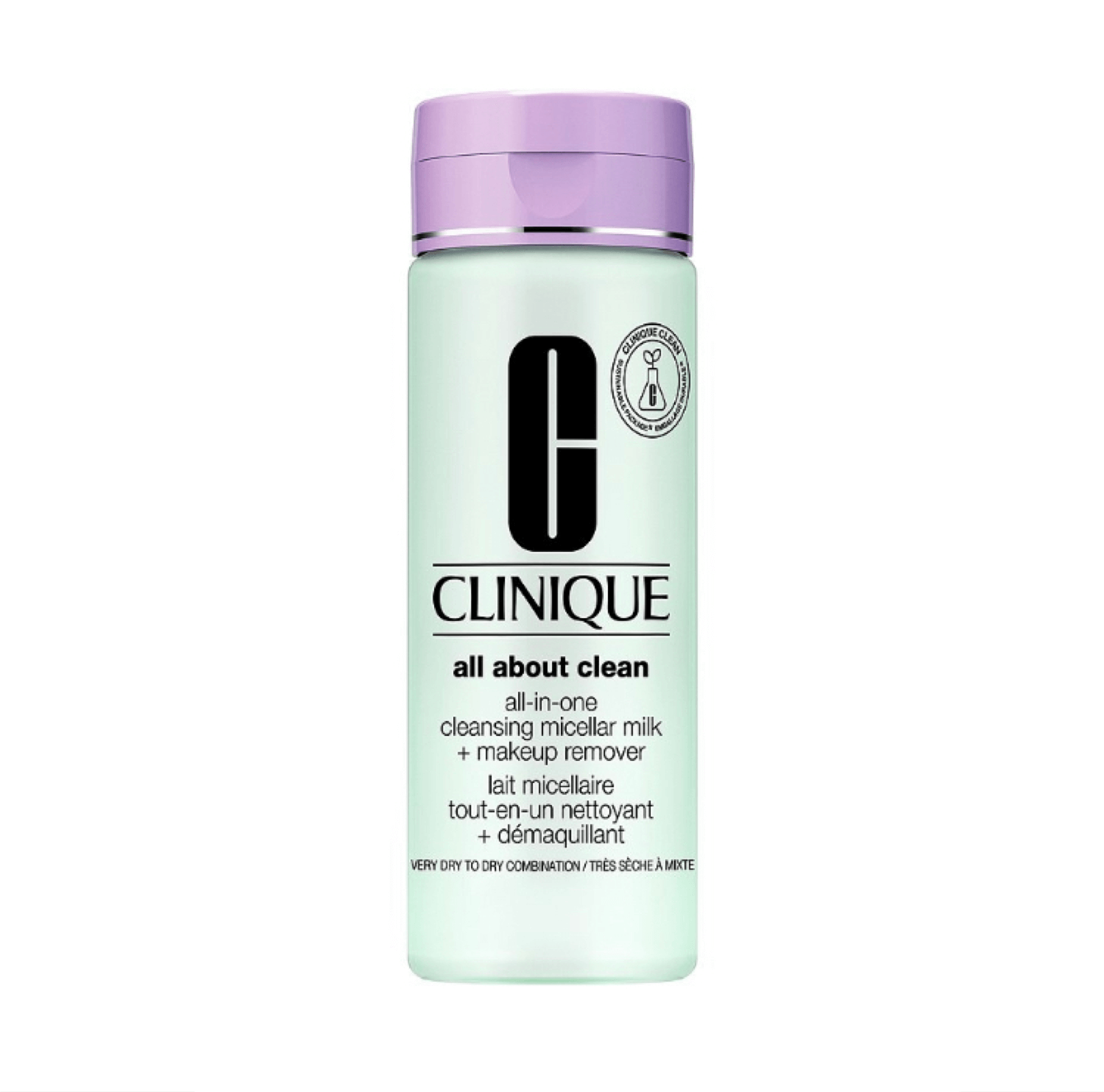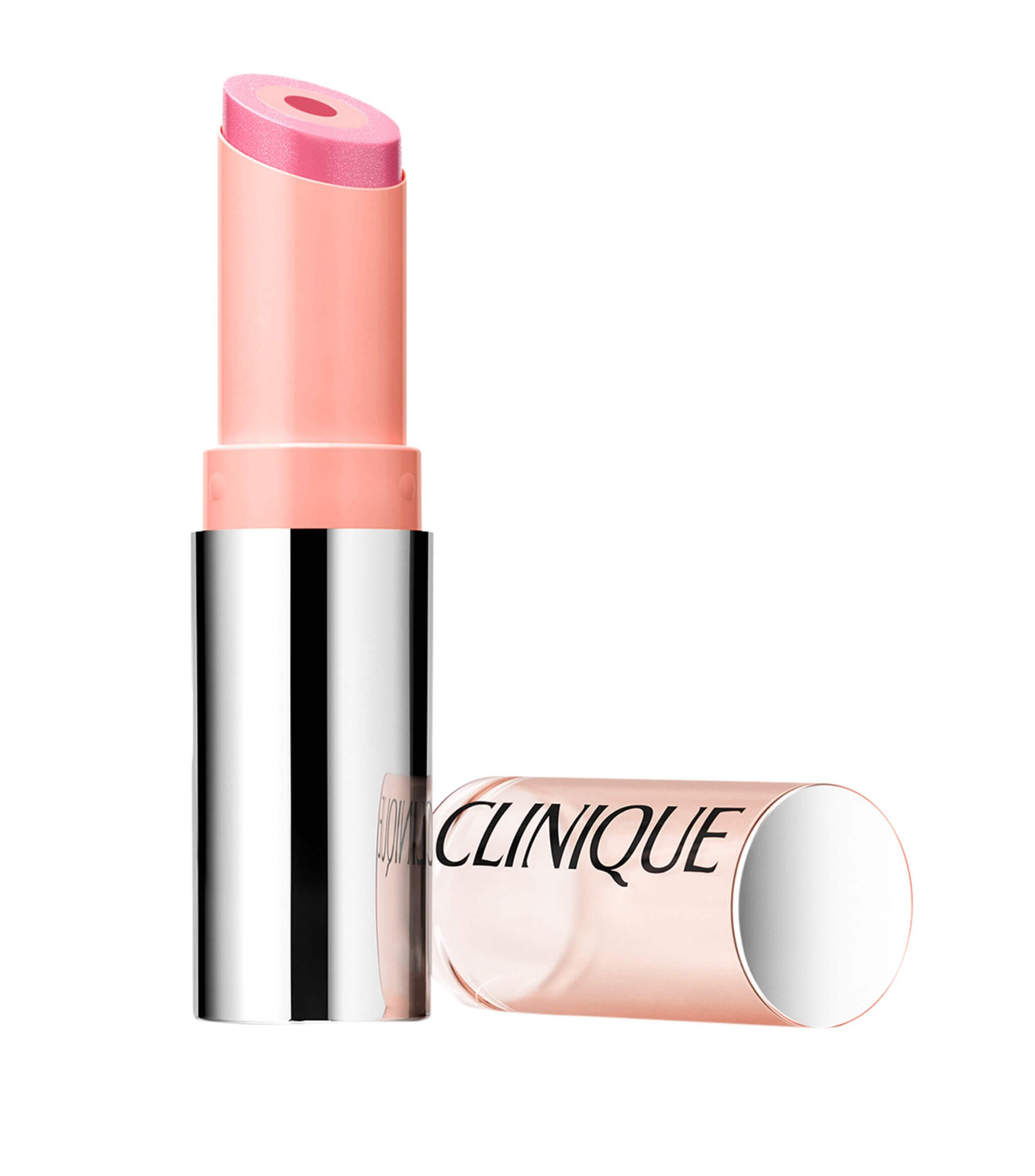 For those who love their lips, Clinique offers a new cuddle that combines skincare and makeup: Moisture Surge Pop Triple Lip Balm, which gives a veil of color but which makes the lips very soft, plumped up, and extra vital. Available from September, this balm combines the power of cocoa butter with Vitamin E, which hydrates for up to 72 hours but with a colored heart (available in six shades) to give that extra touch.
Starting from August, Clinique also presents a new way of experiencing skincare: All About Clean – products suitable for every skin types (which include Liquid Facial Soap in the versions Mild, Extra Mild and Oily, Foaming Facial Soap and Rinse-Off Foaming Cleanser) with a new entirely recyclable and sustainable packaging.
August Beauty News
Eisenberg Soin Actif Calmant Hydratant: SOS For Sensitive Skin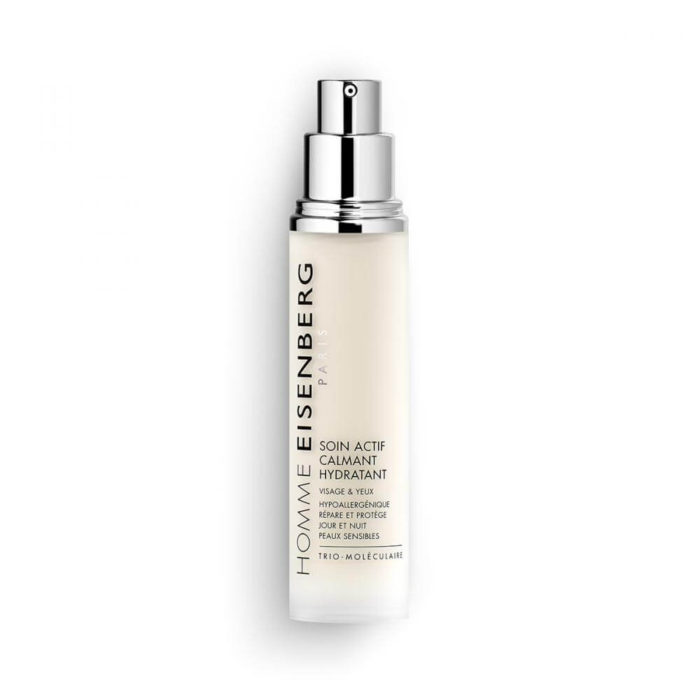 Eisenberg offers a super high-tech daily male treatment for the metropolitan man with sensitive skin and in need of a boost: to protect, calm and repair sensitive skin because, despite the fact that men's skin is generally thicker than its female counterpart and more resistant to aggression, it still needs special attention. And, just like women's skin, it becomes more fragile over the years.
Furthermore, Soin Actif Calmant Hydratant, which contains Raspberry Leaf Stem Cells with excellent antioxidant and anti-inflammatory properties, is ideal for making up for the average men's lack of attention in the use of protective skin treatments, and to protect the skin from daily micro-traumas such as shaving and stress.
The protective features are followed by deeply moisturizing ingredients such as pure Shea Butter, the regenerating Jojoba Oil and Bisabolol, emollient and anti-inflammatory. Plus, as in all Eisenberg products, there is the Trio-Moléculaire Formula®: a patented formula that ensures an anti-aging effect and acts delicately, thanks to the presence of targeted active ingredients, ultra-performing and of natural origin.
August Beauty News
The Skinlongevity Line by BareMinerals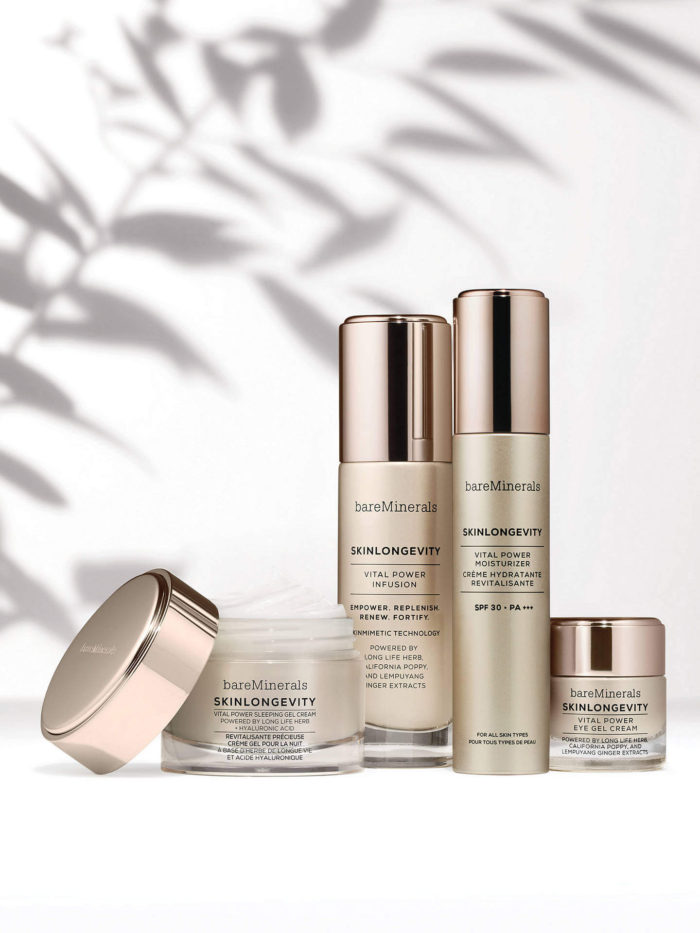 Available from September, BareMinerals will be offering a vegan skincare line that will be the best friend of a more rested, young and happy skin. Made with Long Life Herb, it favors a more radiant and youthful skin while respecting nature and the environment.
The range of products that BareMinerals offers with the Skinlongevity is wide and consists of a serum, eye treatment and night treatment, but also of an innovative eye mask made with green tea hydra-gel, which is refreshing and energizing.
Keep an Eye On
_______
BareMinerals, Strenght & Lenght Mascara
Out: Now
Laura Mercier, Translucent Loose Setting Powder in the shade Honey
Out: Now