The excitement that characterizes the backstage of a fashion show is unique: it is as thrilling as the fashion show itself, despite being totally different. There is a great energy behind the scenes: makeup artists who create the beauty looks, hairstylist that curl and straight the models' hair, dressers who control clothes and accessories to check that everything is ready for the fitting… It takes place before everything starts but, at the same time, everything has already started.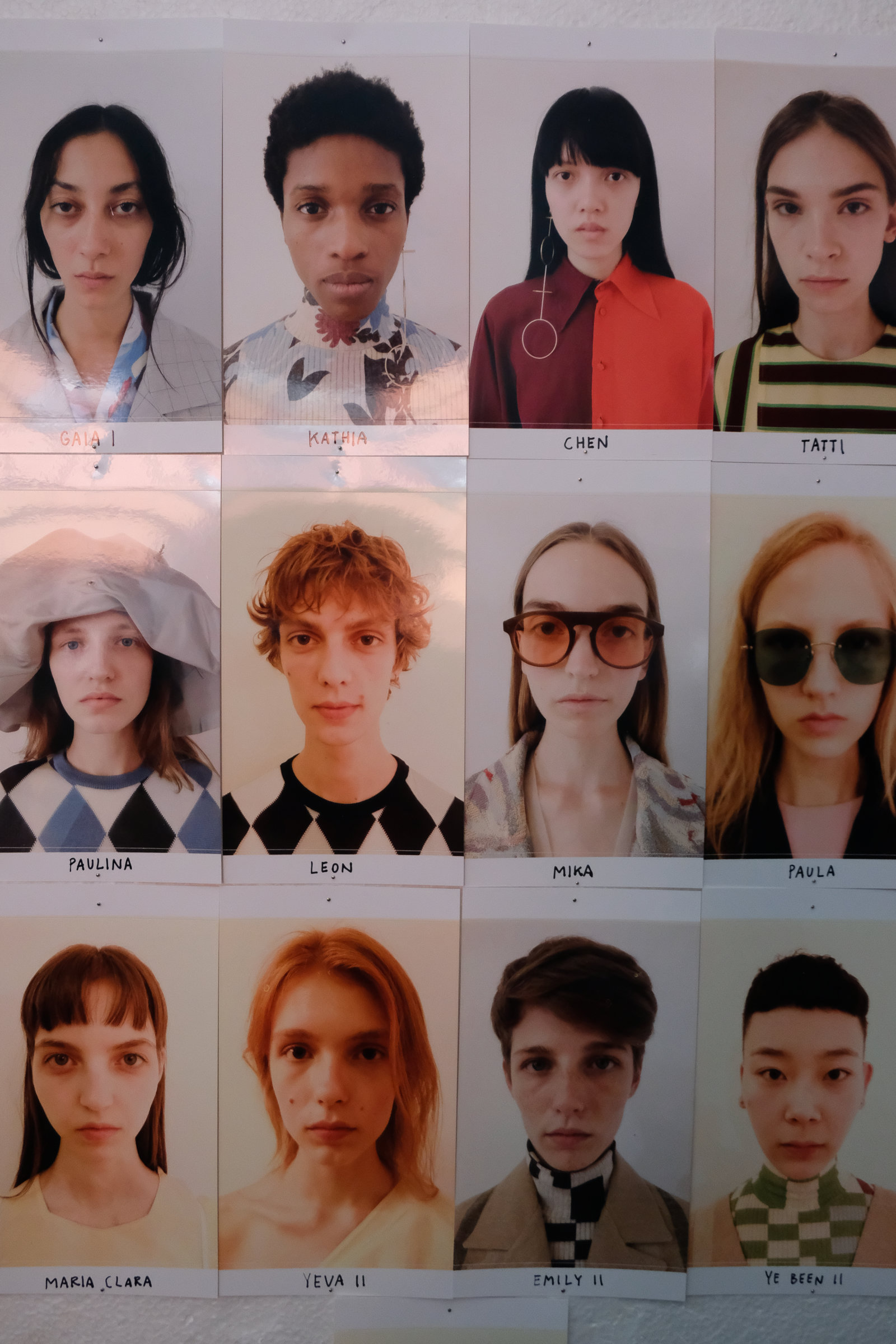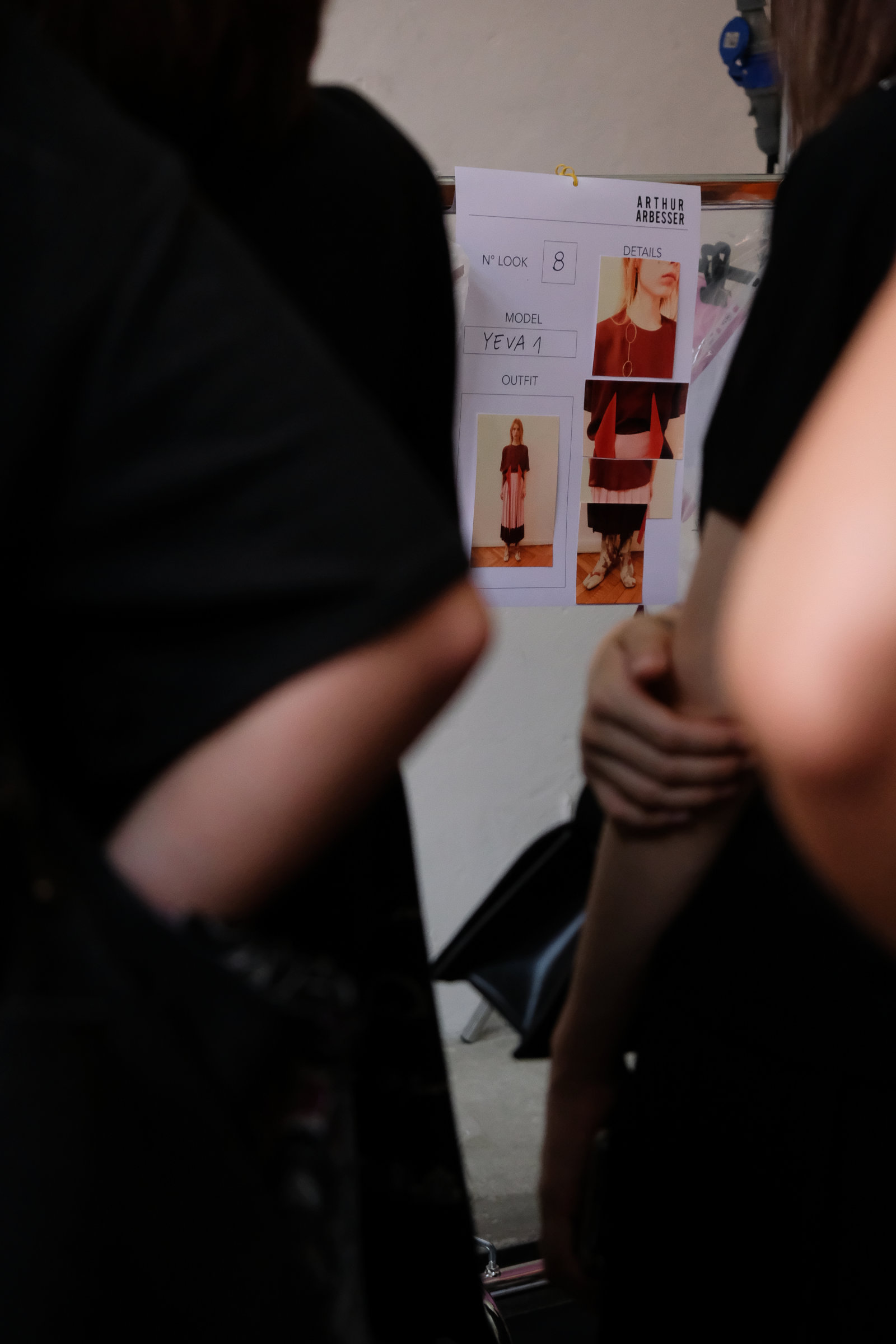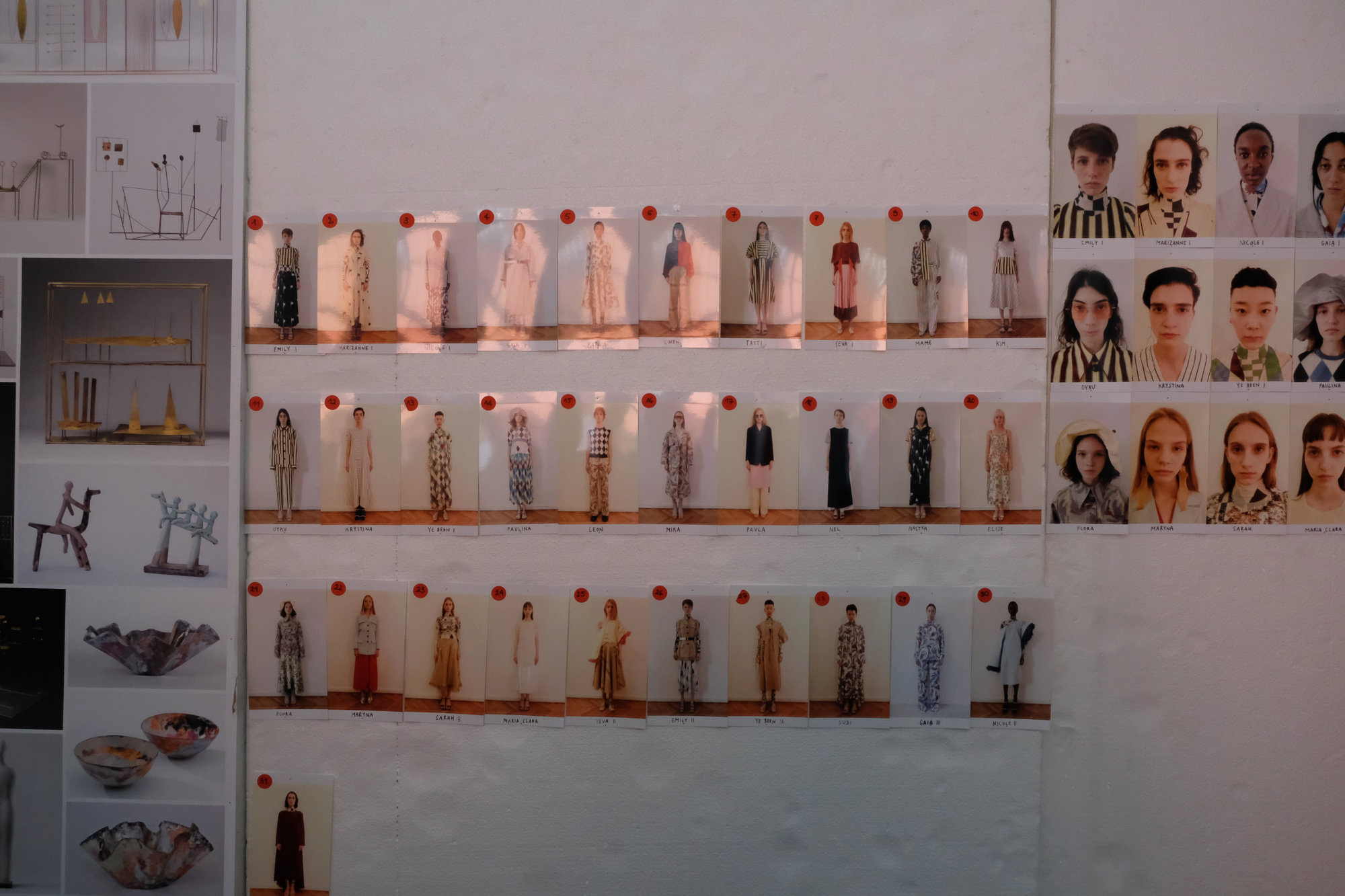 The "when" is the Milan Fashion Week, Spring/Summer 2019 edition, the "where" is an old factory and storage for logs of wood that became elements of interior design, and the protagonist is the one and only Arthur Arbesser, the young designer who, from Vienna, landed in Italy with his rich in artistic collections, and his historical and personal references.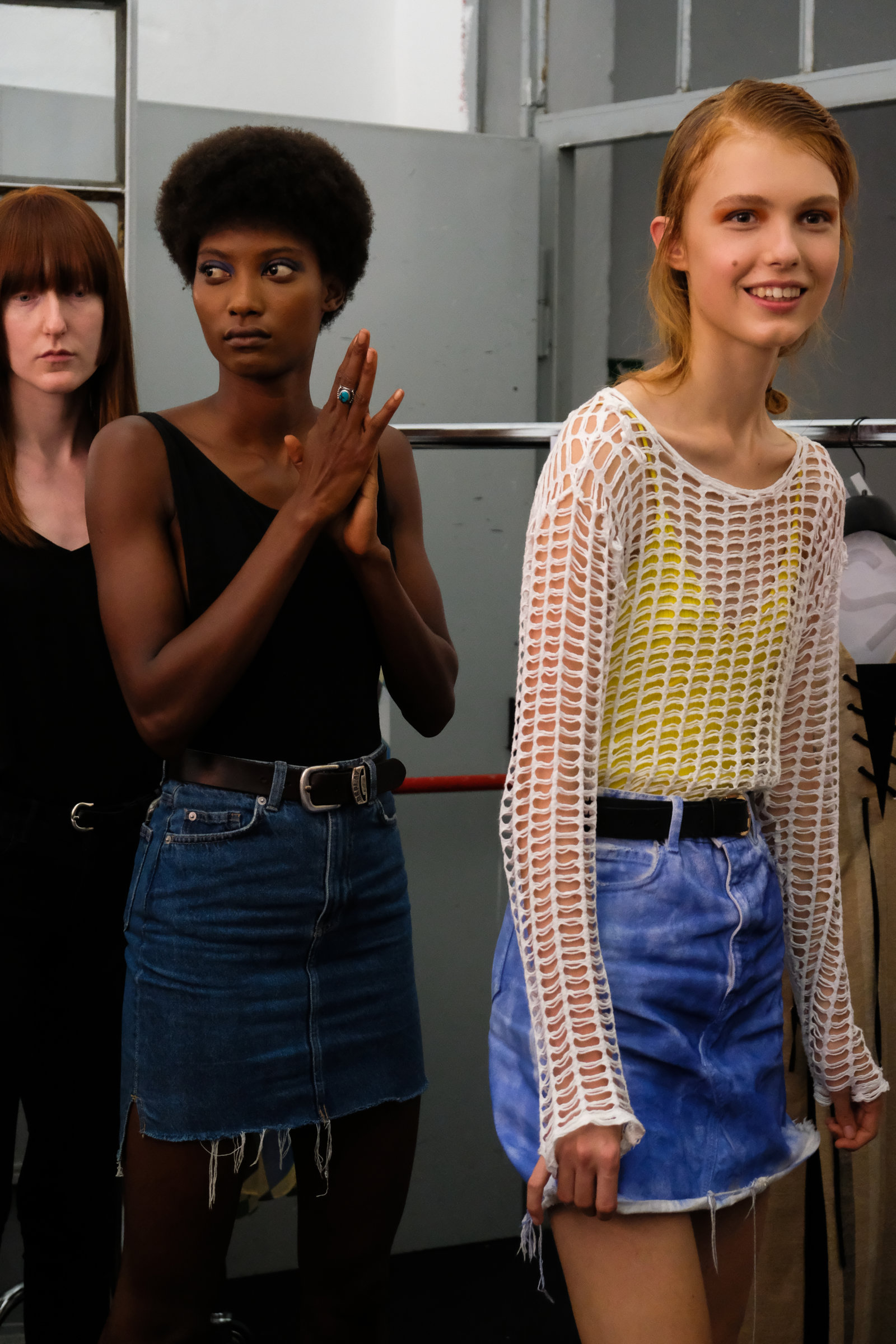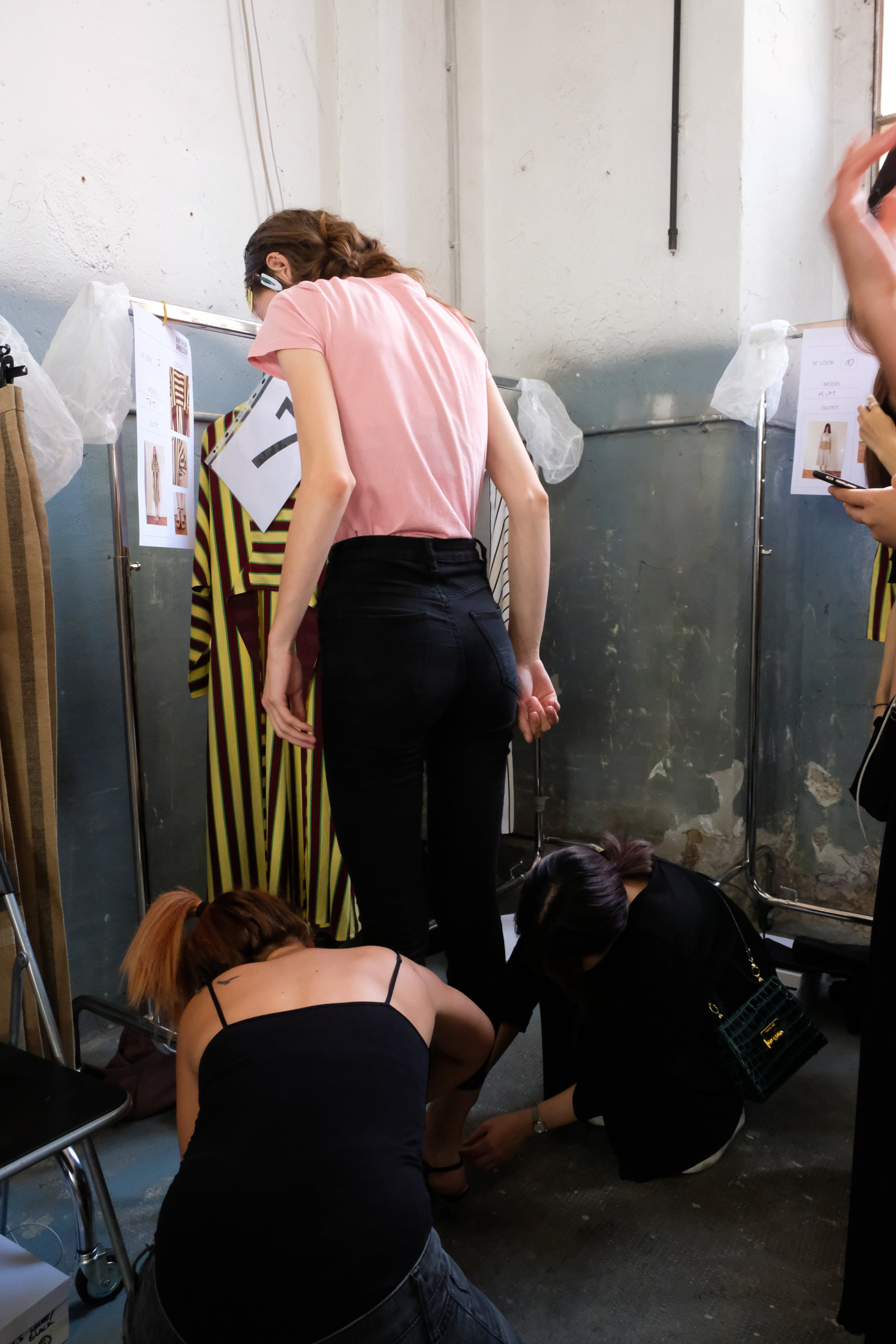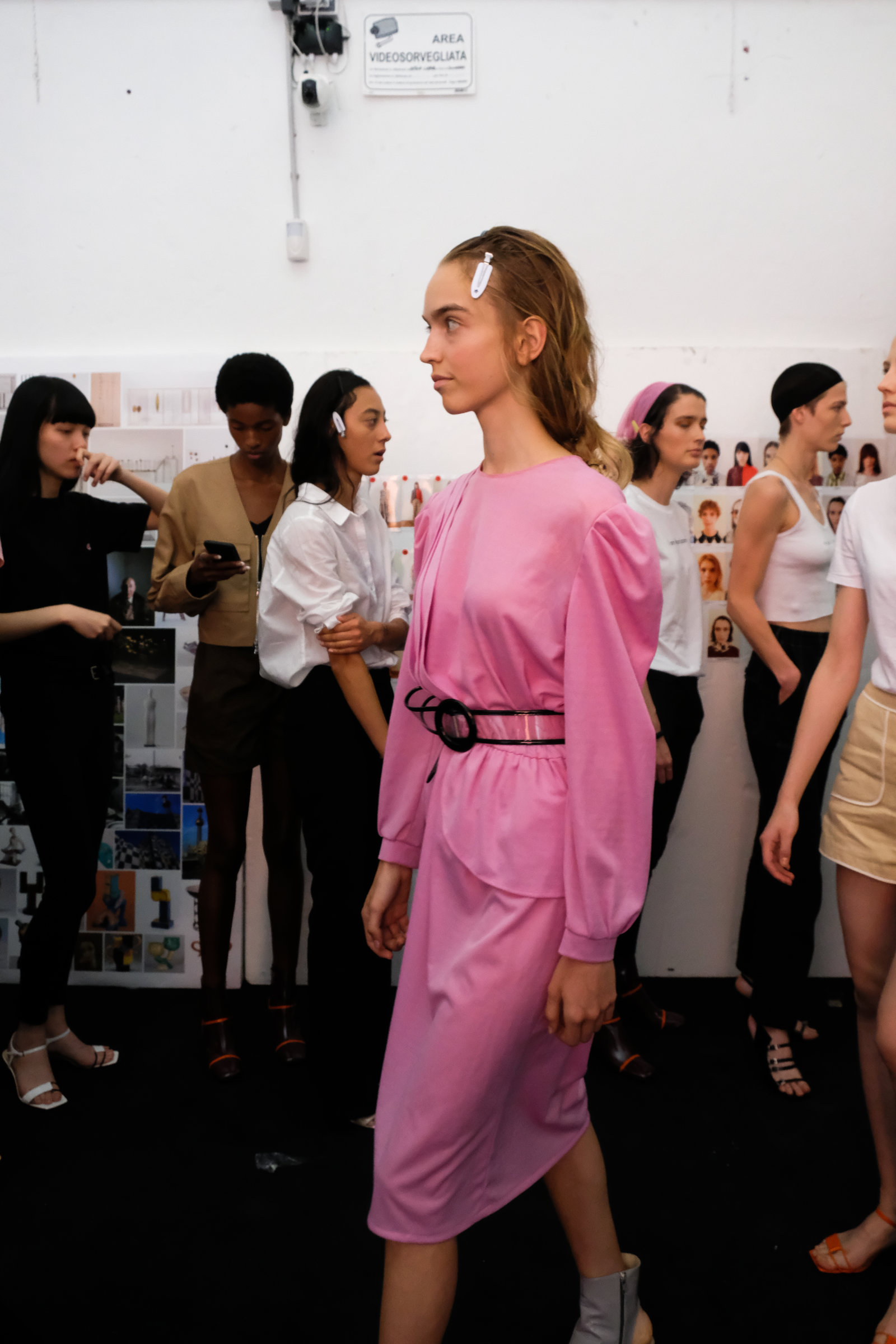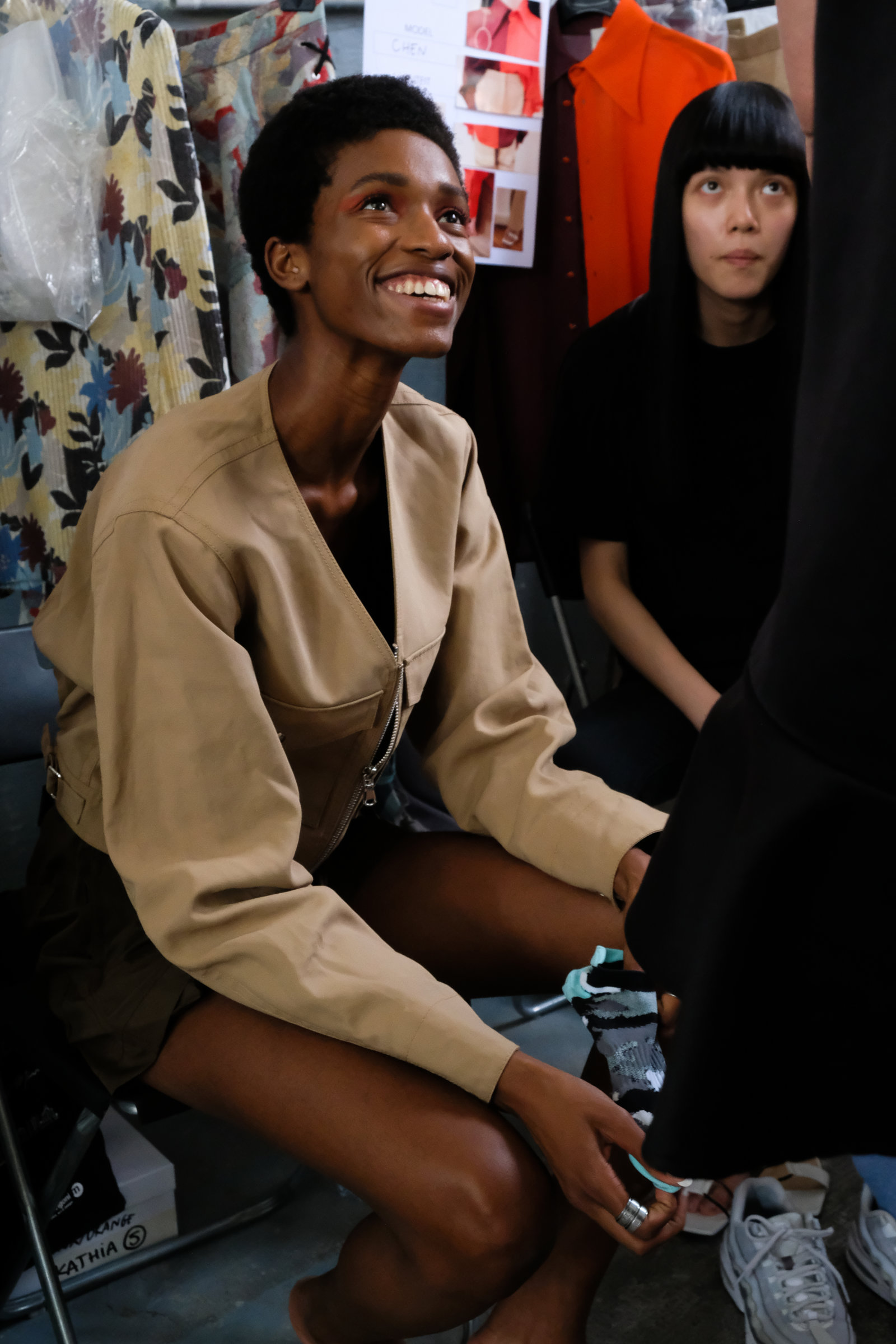 Considered one of the most talented voices among the young fashion designers, Arthur Arbesser is always smiling, with the messed-up hair of those who are checking out a thousand of details at the last second to control and incredible energy that drags whoever is around him. We had the honor to interview him after his fashion show, as soon as he came back from the sea of (well deserved) hugs, kisses and "congratulations" that invested him like a wave.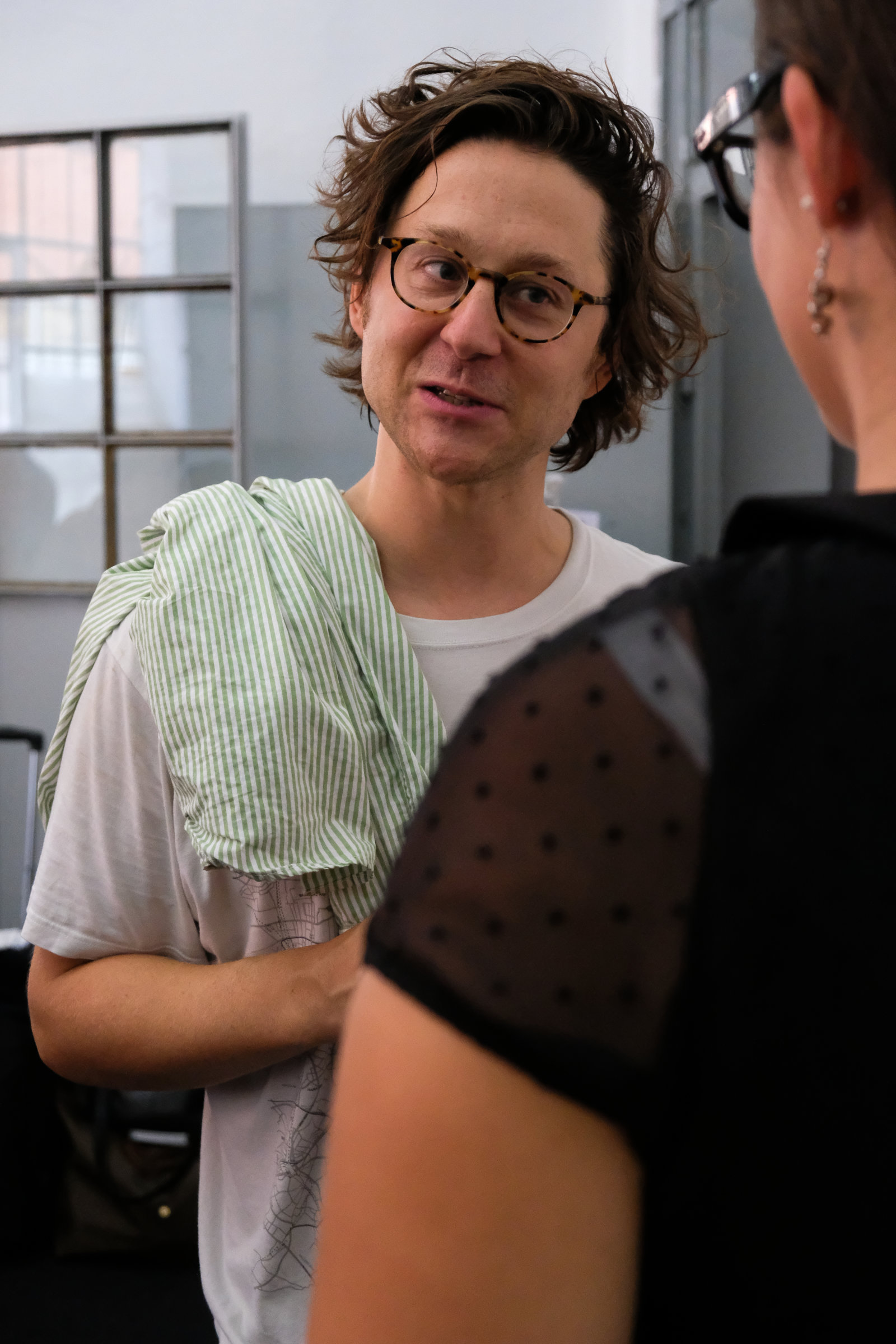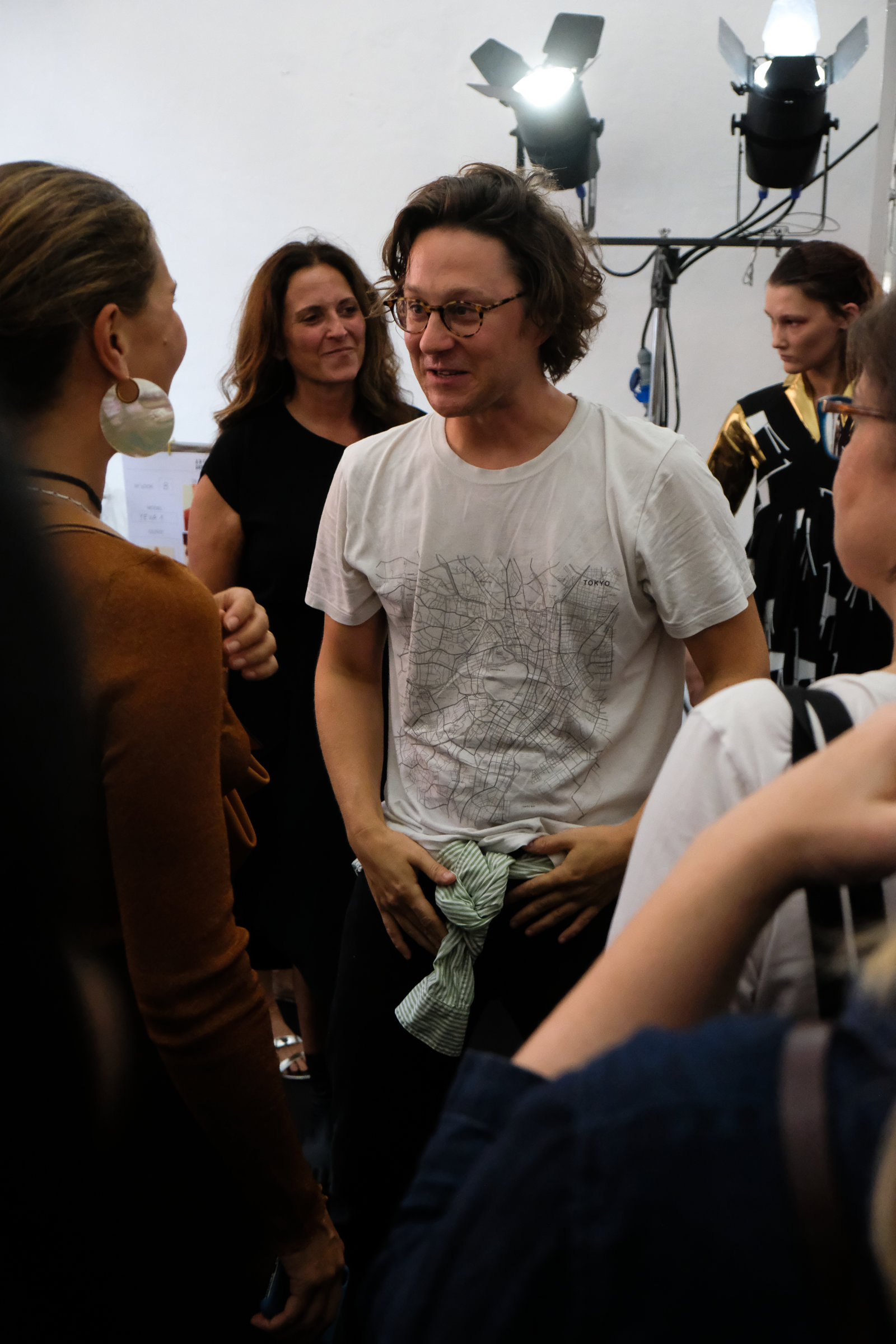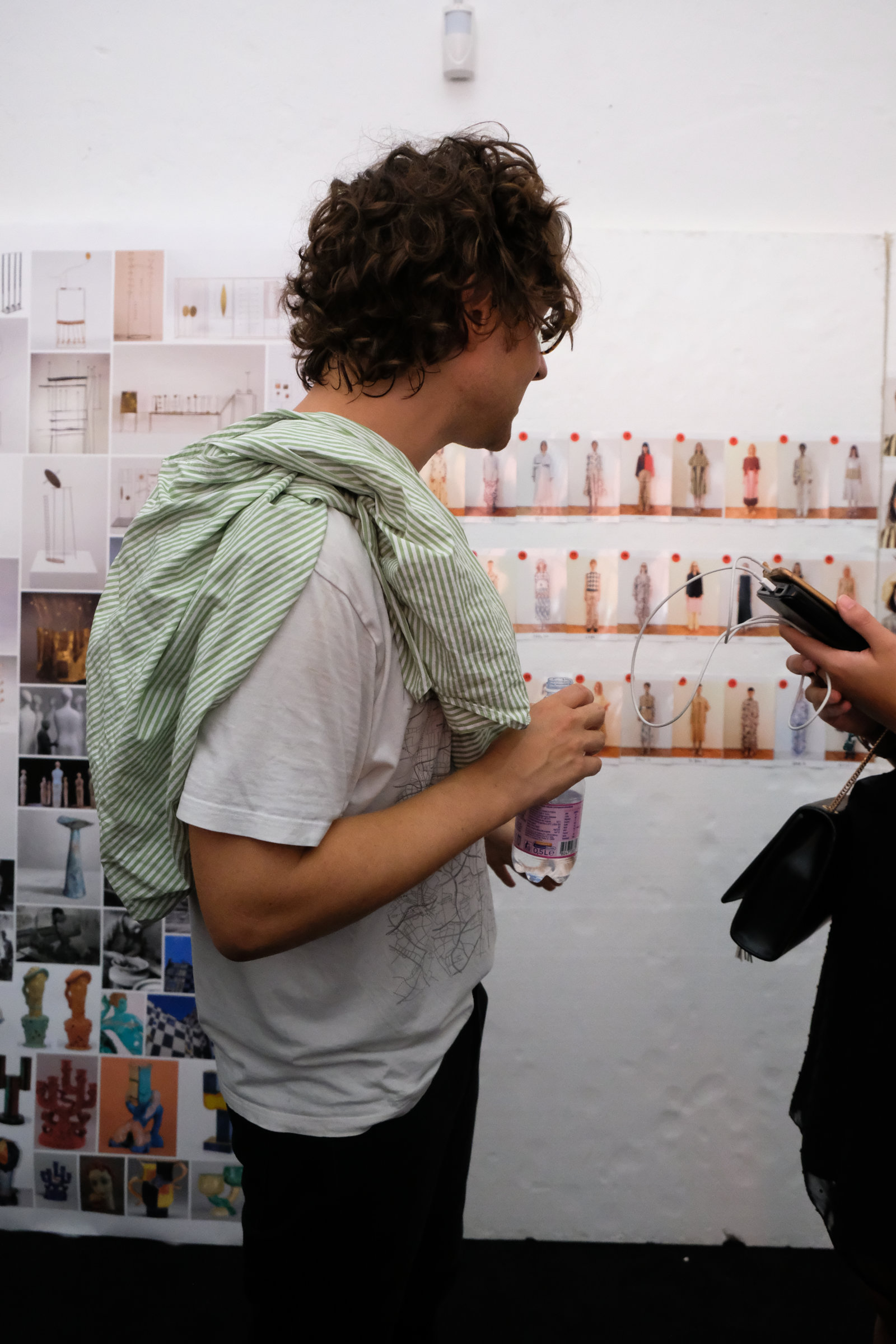 This new collection by Arthur Arbesser represents the artistic process that goes from the thought to the realization, where the stylist becomes a sculptor and where the clothes are transformed into geometric masterpieces. On the one hand, we find the Viennese artistic tradition of the beginning of the last Century, so dear to the designer, while on the other one there are the works of Fausto Melotti, an Italian sculptor who explores humanity and its great themes through his slender figures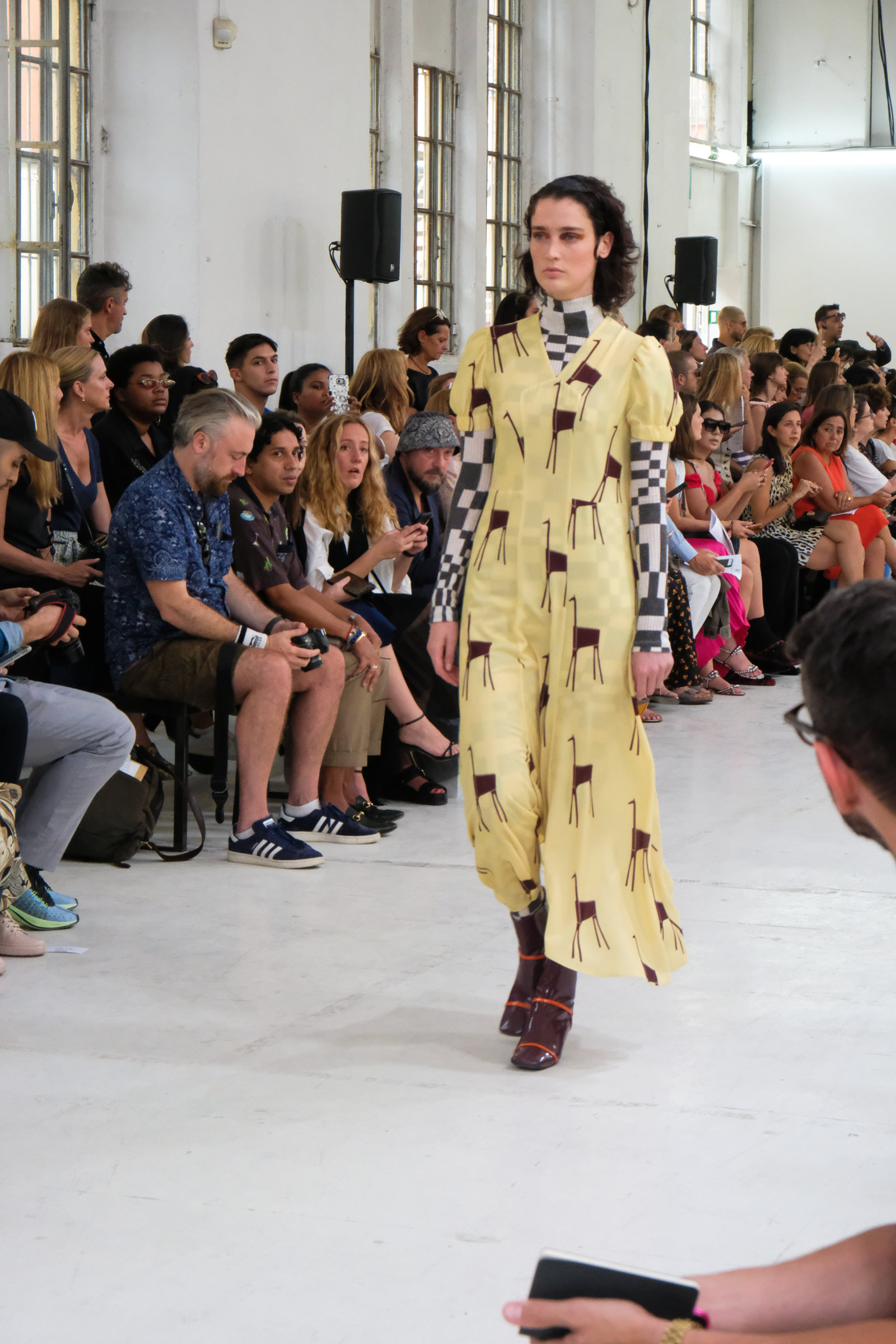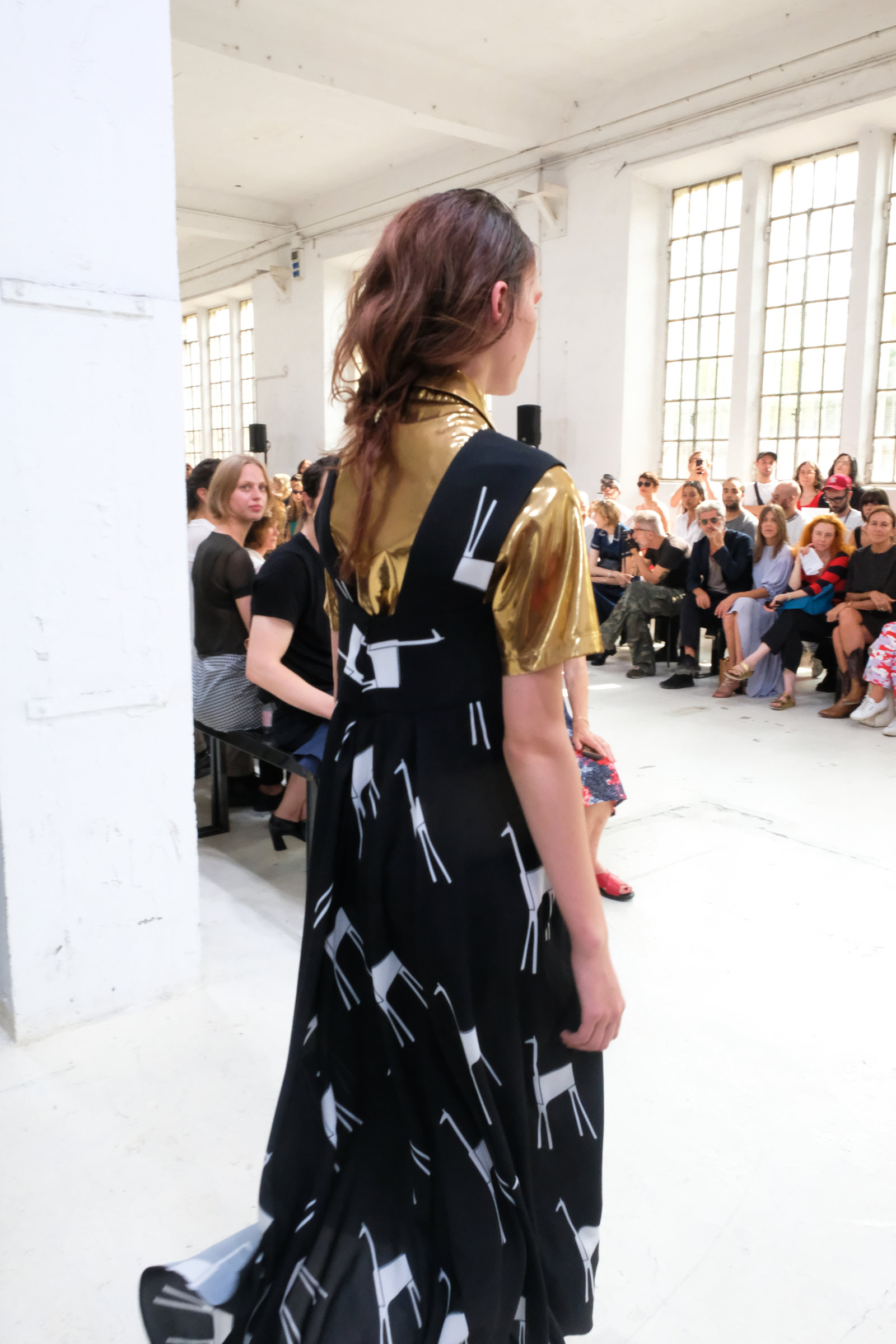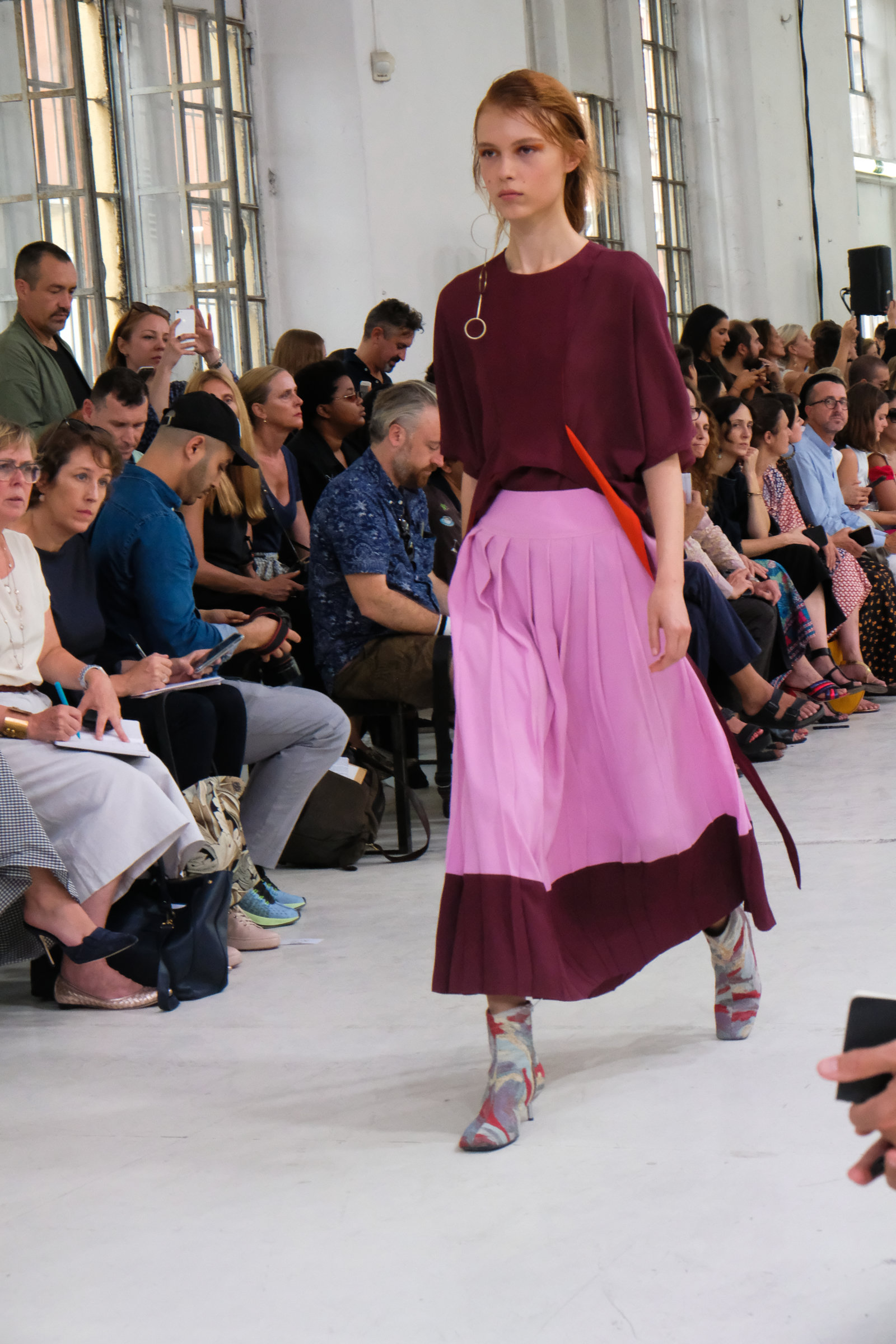 Thought
Realization
Masterpiece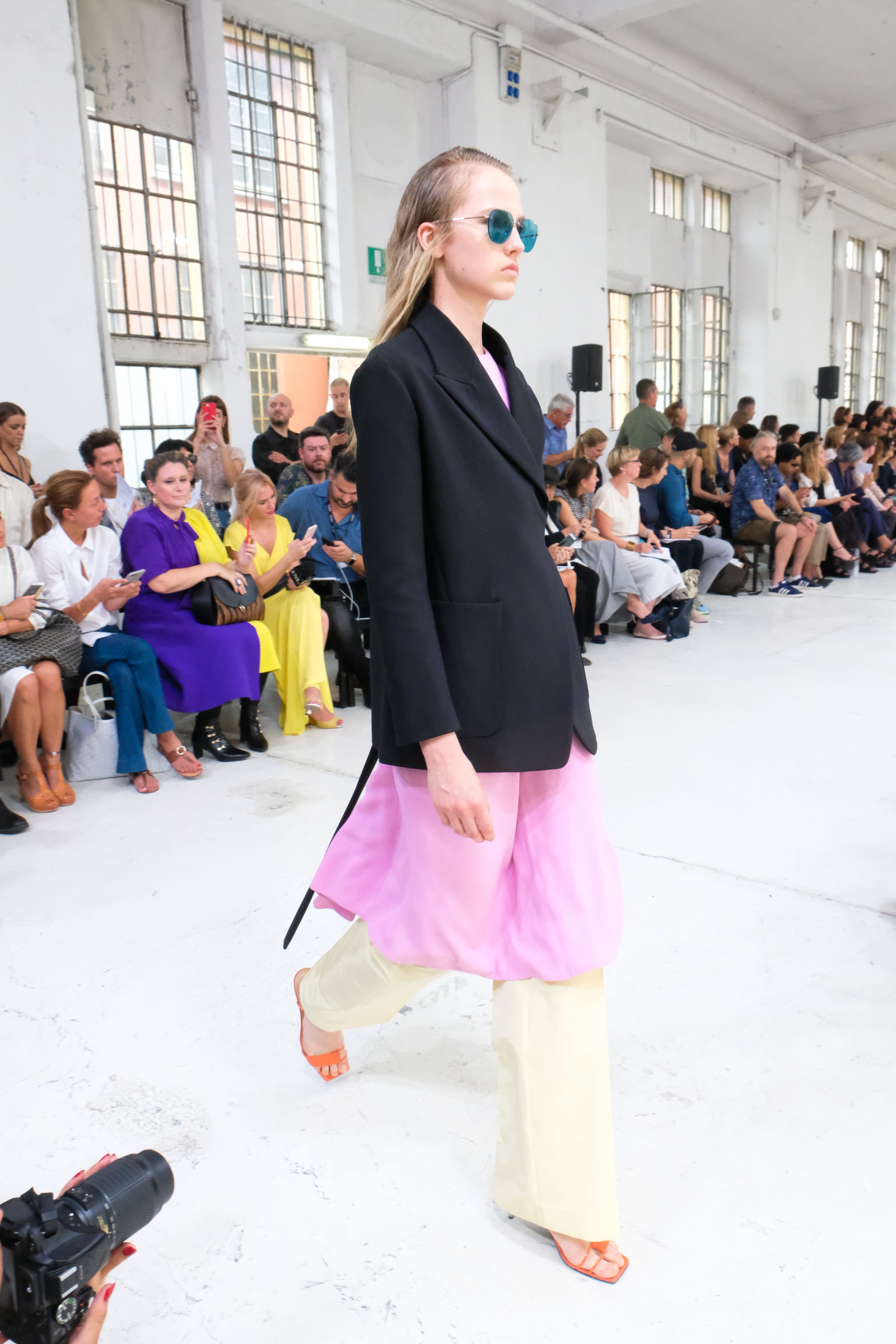 On the catwalk, we saw floating dresses with colorful drawings, primitive representations, pajamas with graphic prints, sequins' details, rigid lines and a great number of materials ranging from leather to silk, through the metallic fabrics in Platinum Gold and some natural ones too, such as crêpes and the linen jersey. A dialogue between romantic softness and austere rigidity that is harmonious and well-managed, sometimes even surrealist.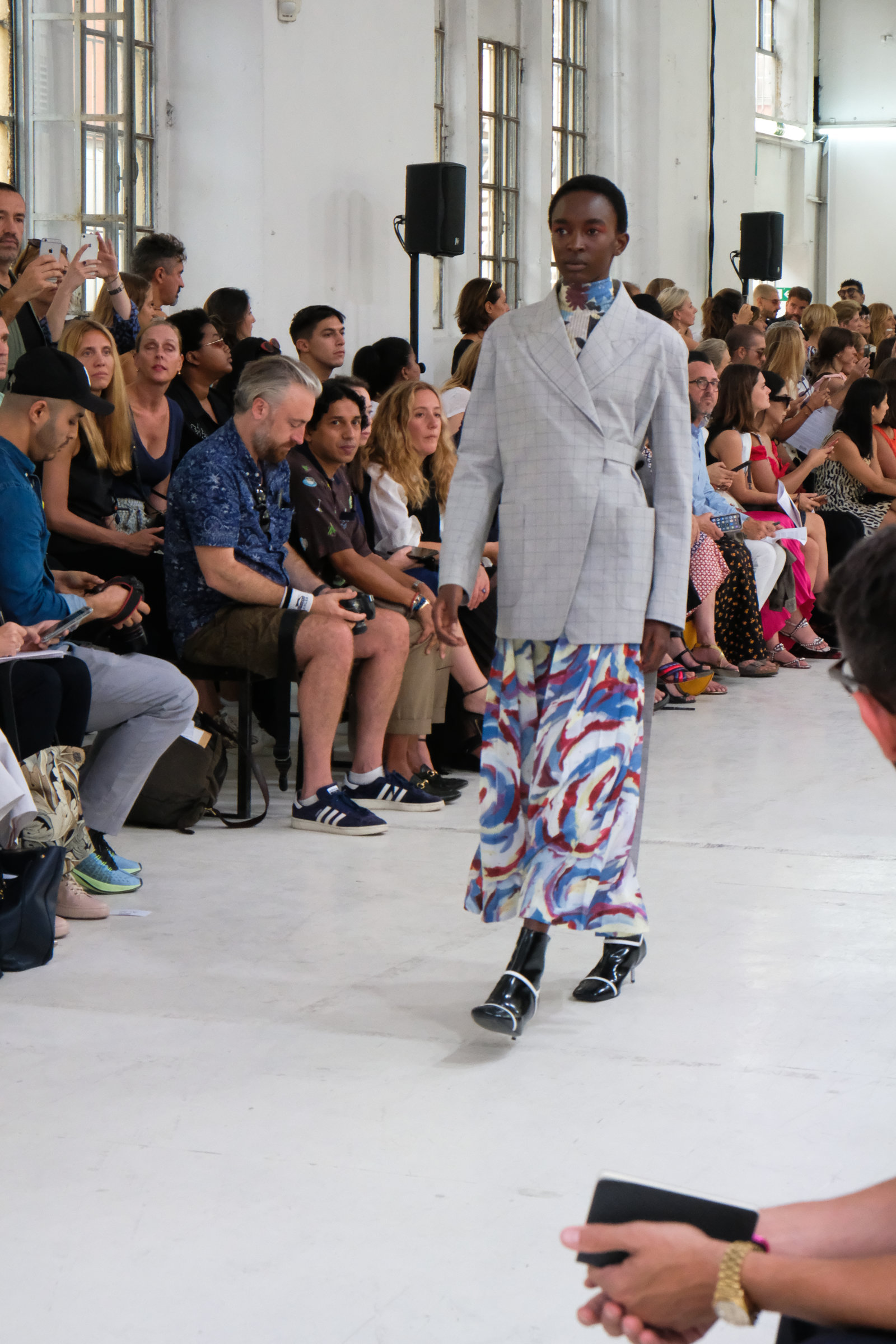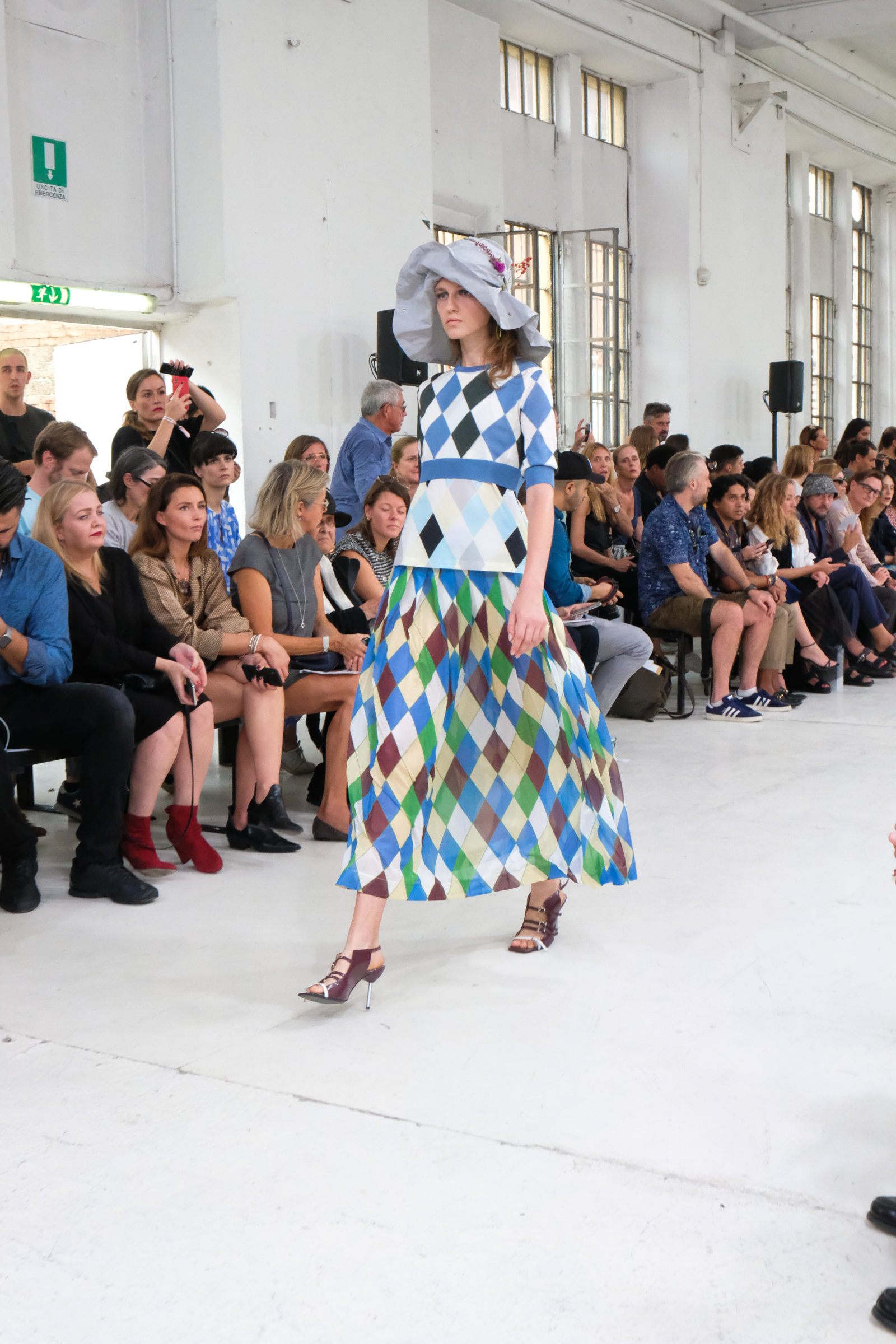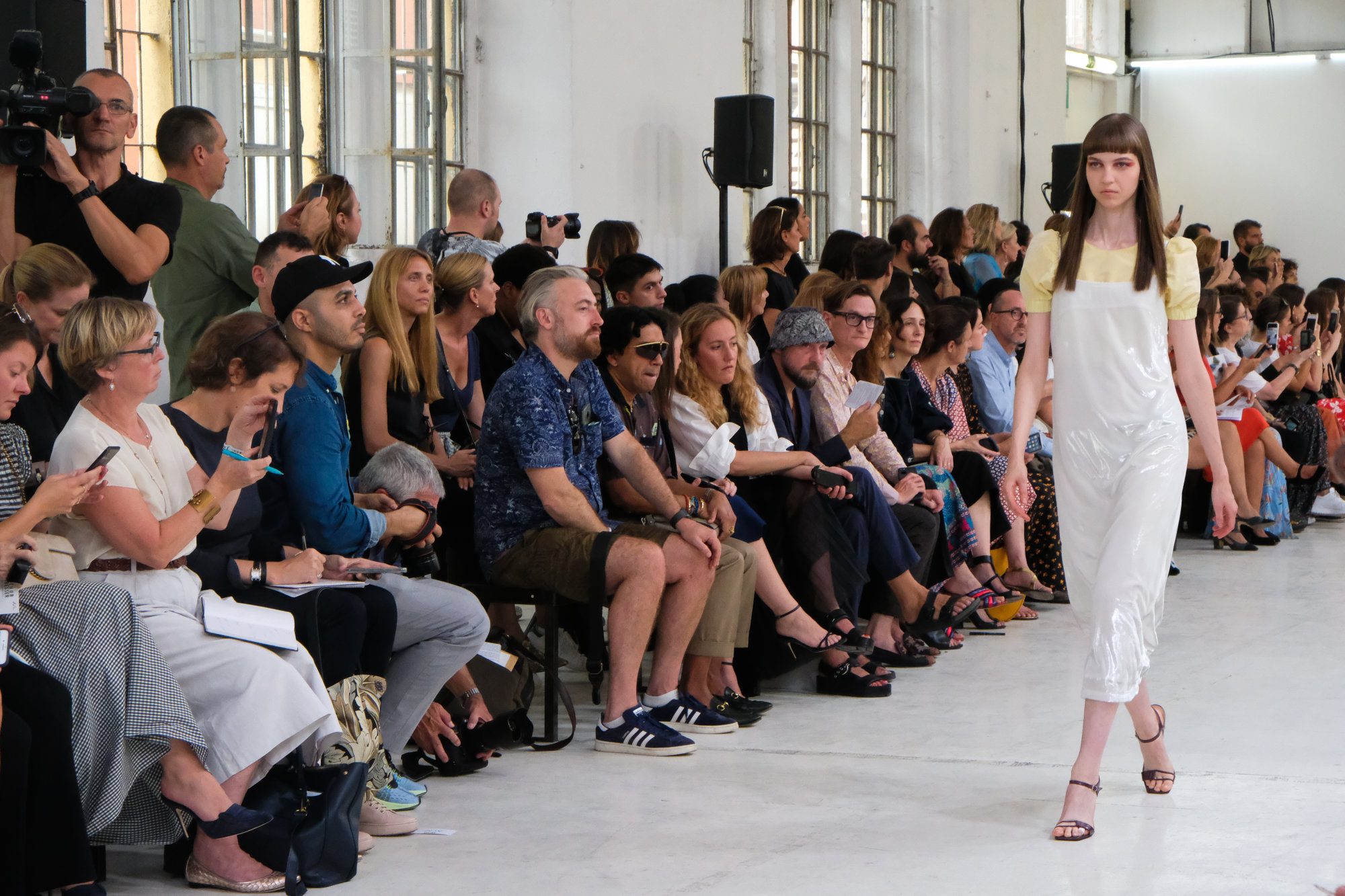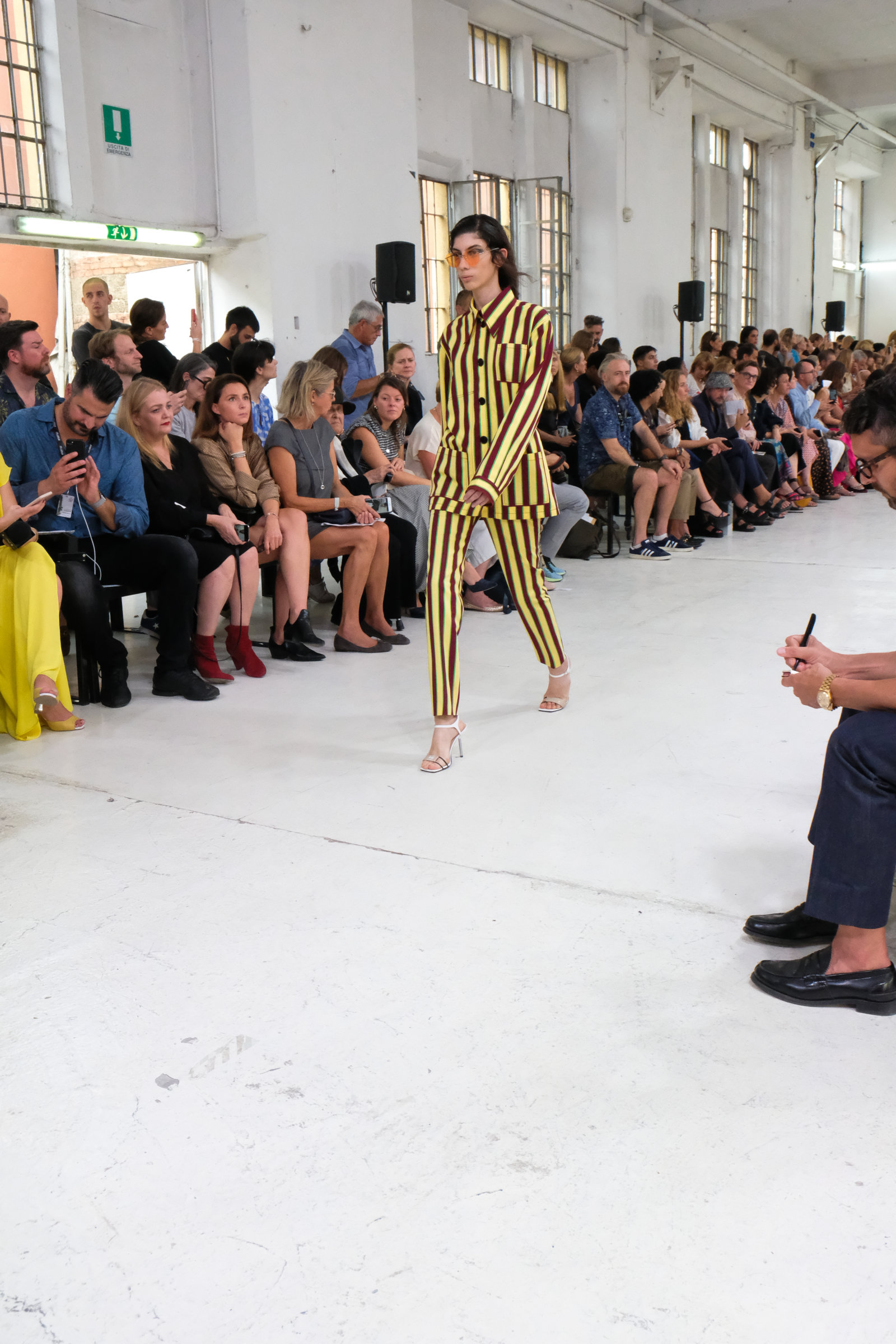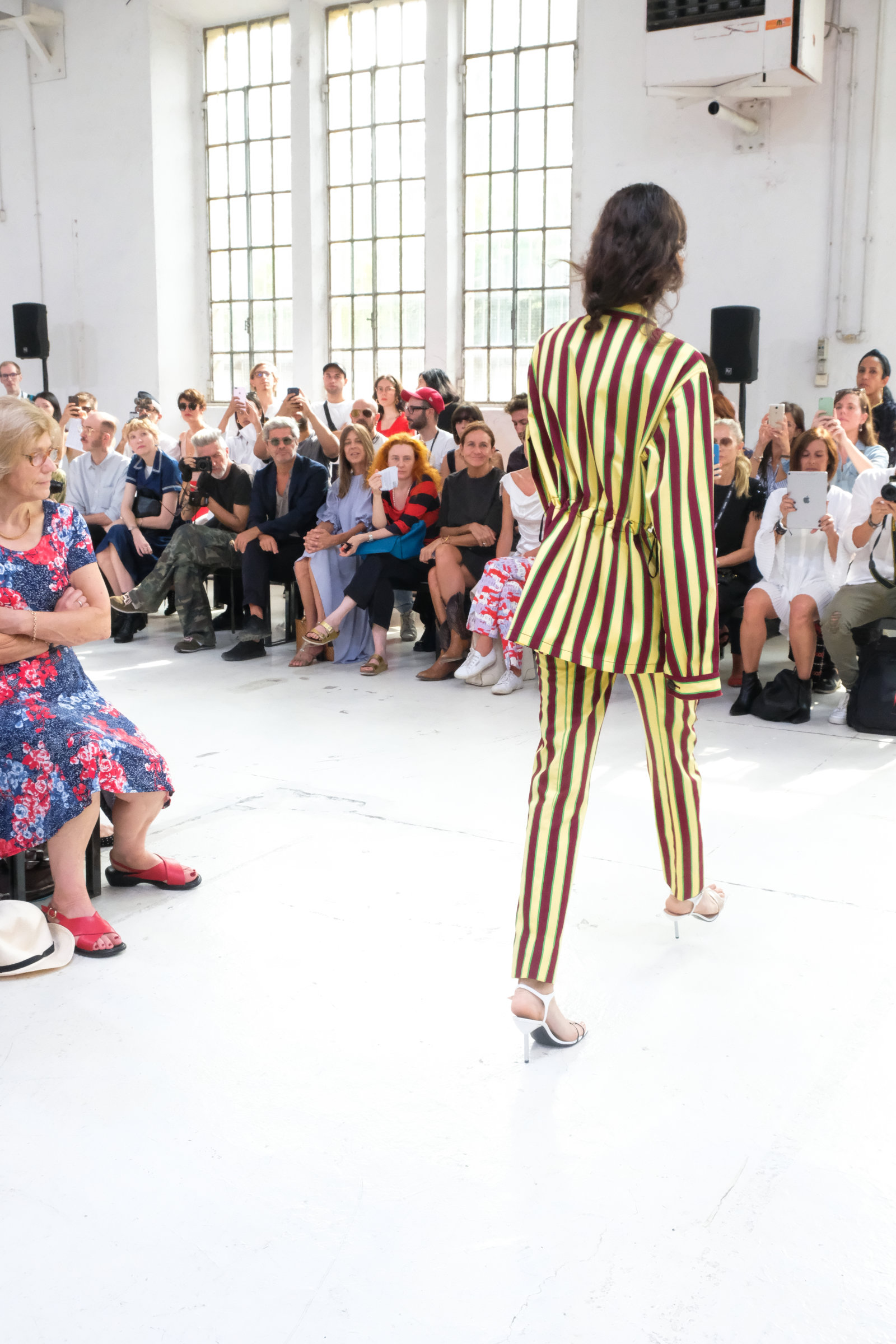 The minimalism of accessories allows to focus on the shoes, impressive in their open and modern forms, totally "Millennial-friendly": the use of materials such as leather and sequins make them perfect for women of any age and absolutely versatile. Onka Allmayer-Beck, an Austrian designer and ceramist, is the mind behind these shoes and the one who, nails and hammer at hand, walked through the backstage to fix the shoes whenever necessary.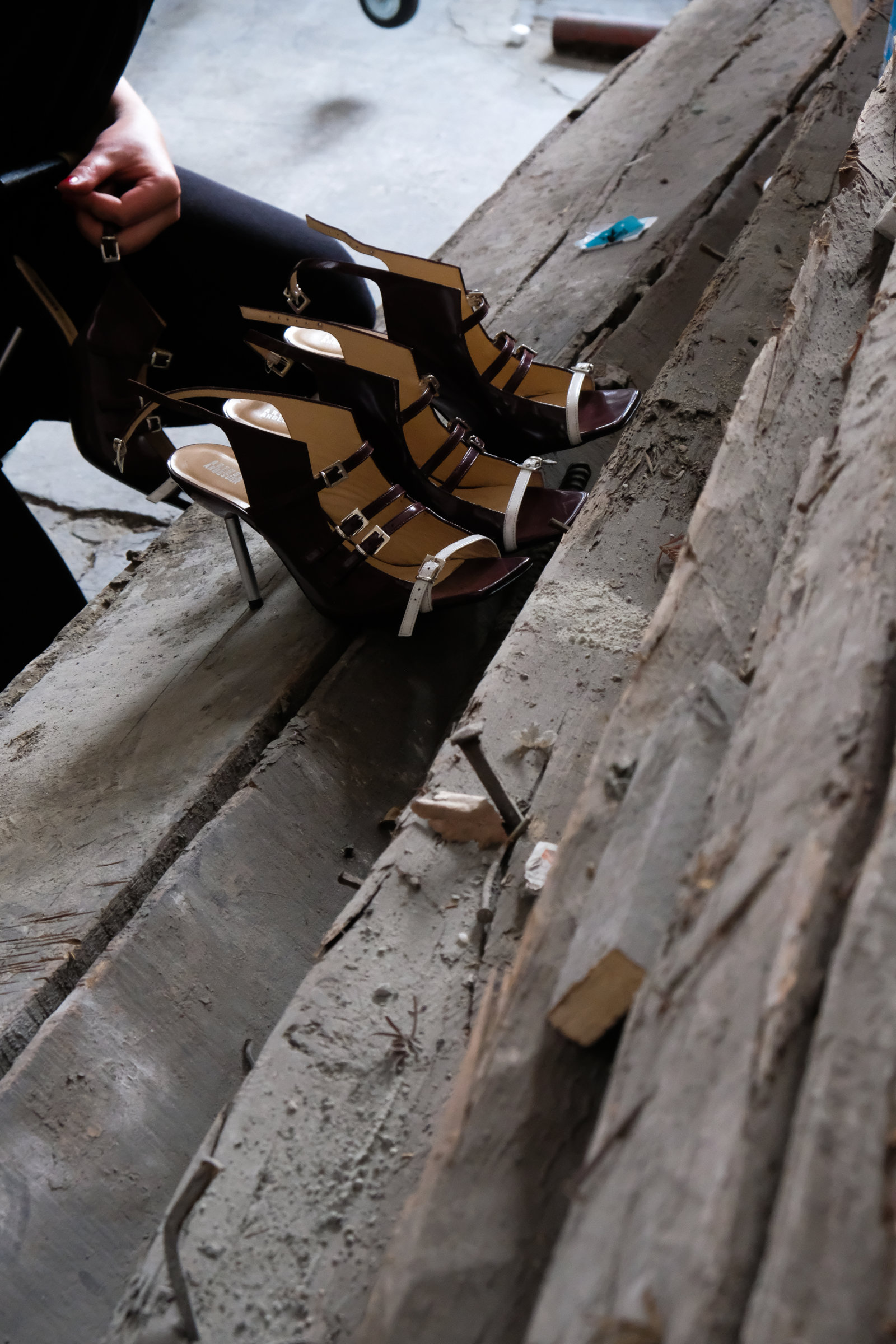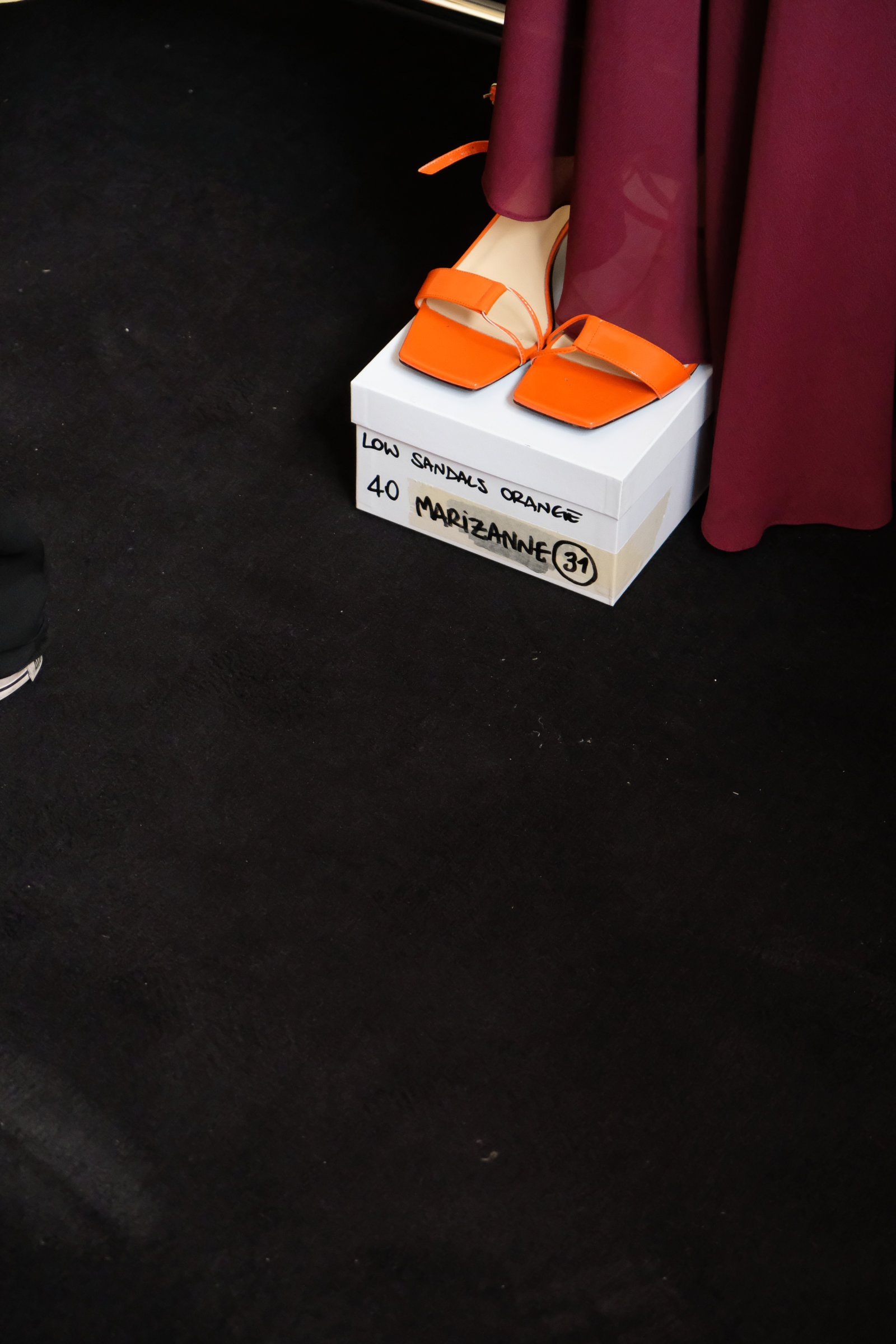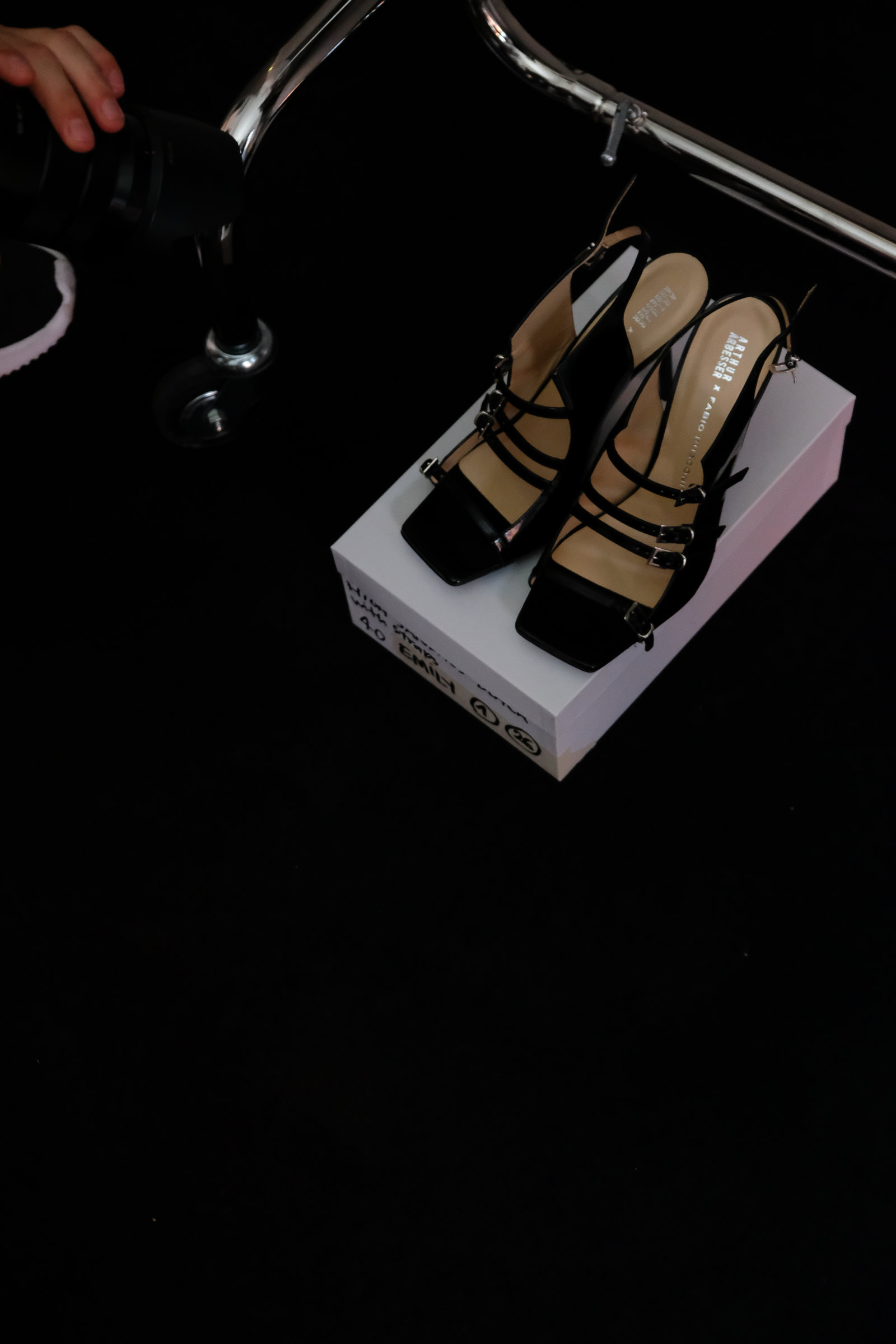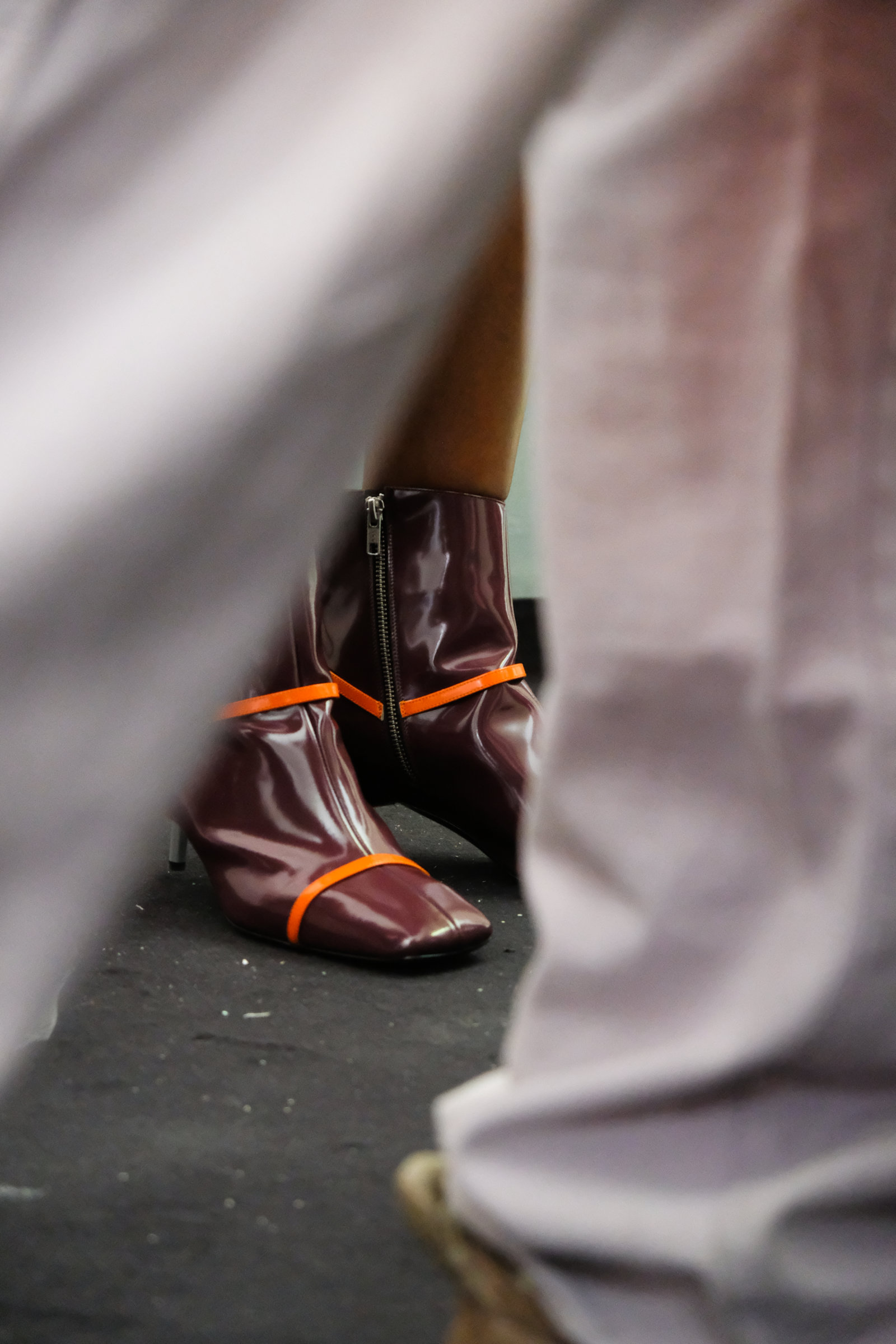 "Arthur always knows very well what he wants to do, we have known each other for a long time and, together, we thought about the materials he used for clothing: there is printed jacquard, sequins and leather, all made in Italy, using the main colors of the collection. The lines aimed at a cool, smart and still very feminine woman," revealed us Onka in a moment of calm.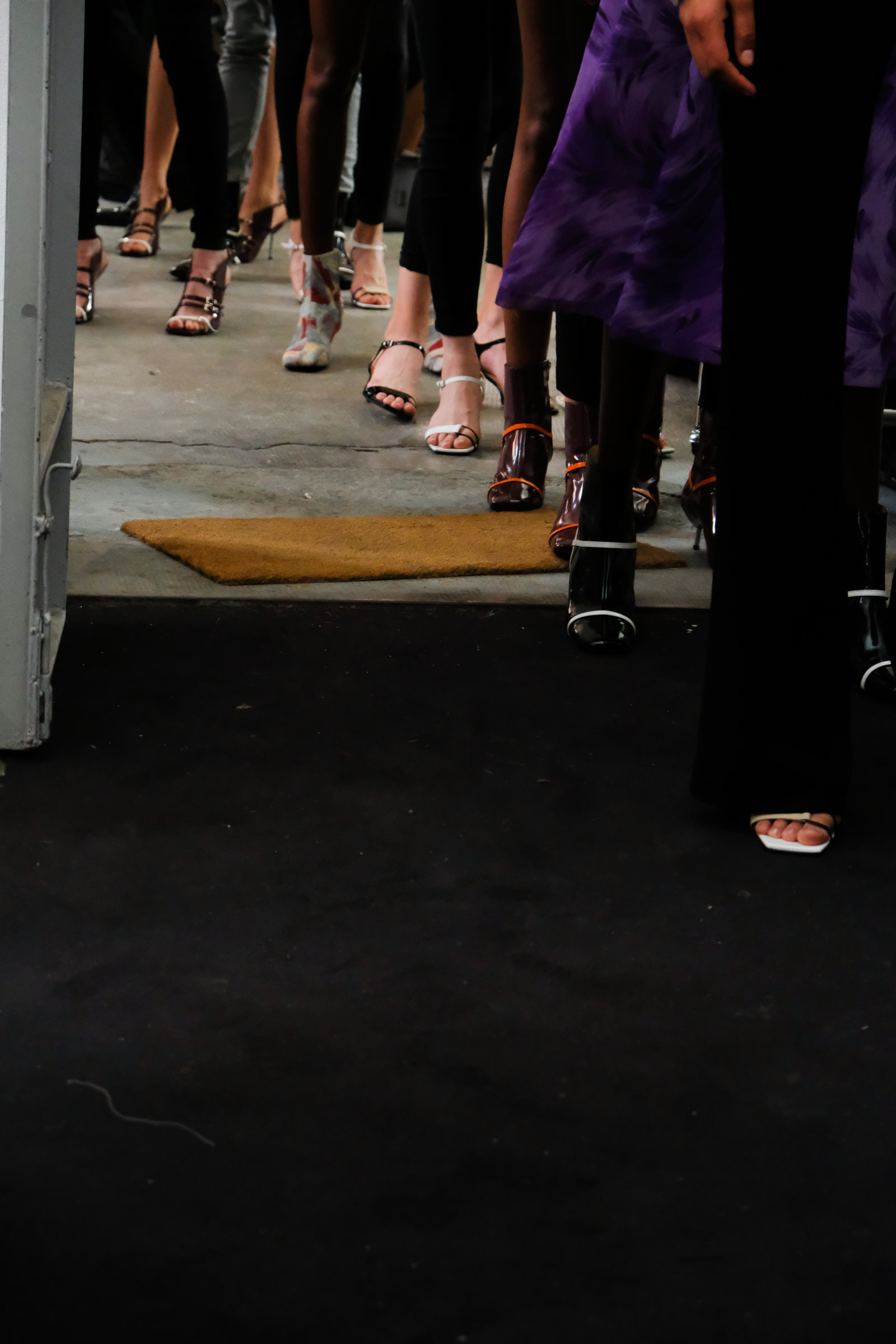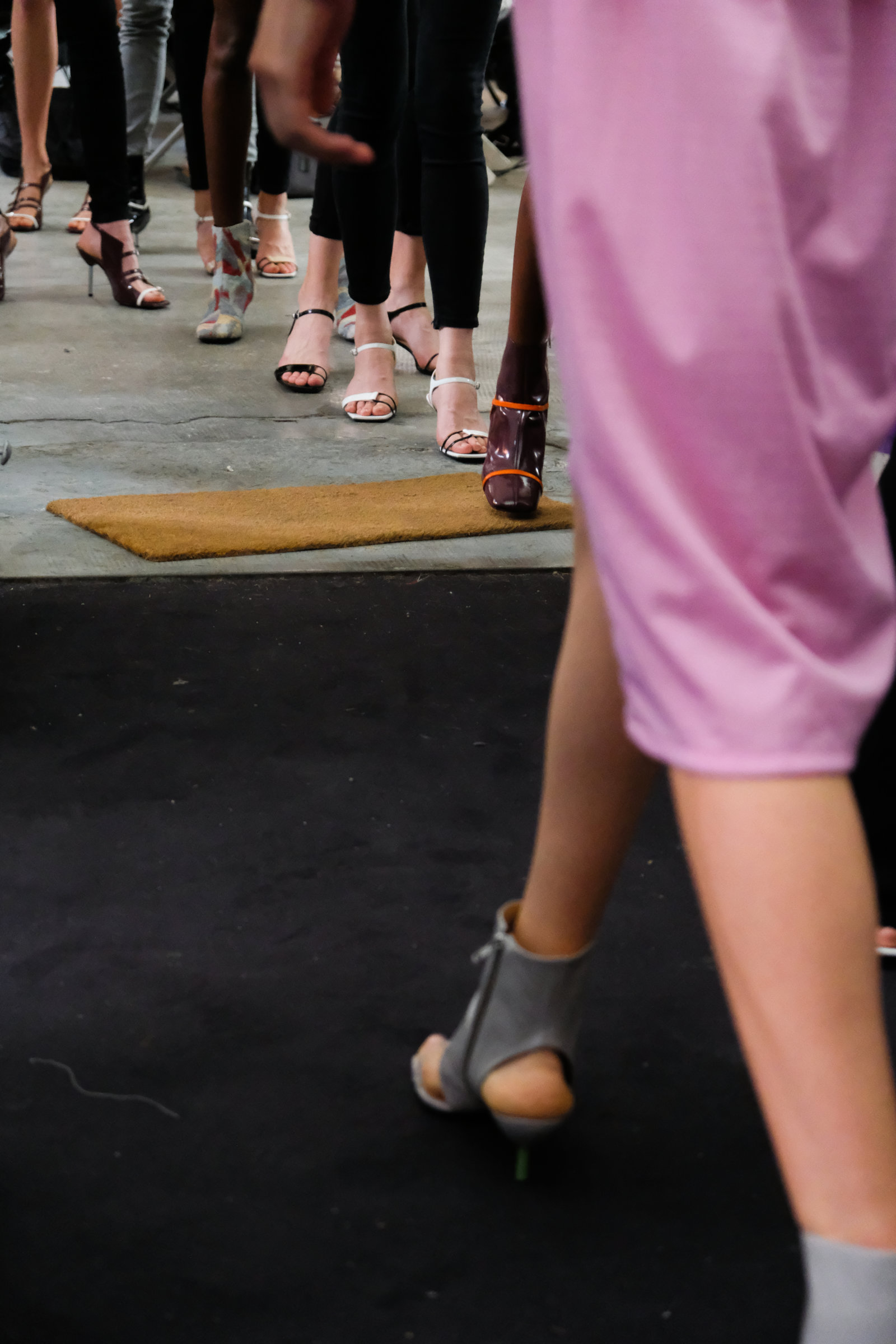 Arthur, instead, told us about art, inevitable in his collections, what fashion means to him and the message that he wanted to convey through this last, enchanting collection that has immersed us even deeper in the world of Arthur Arbesser, where everything is still possible and where what really matters is believing in the strength of dreams, always.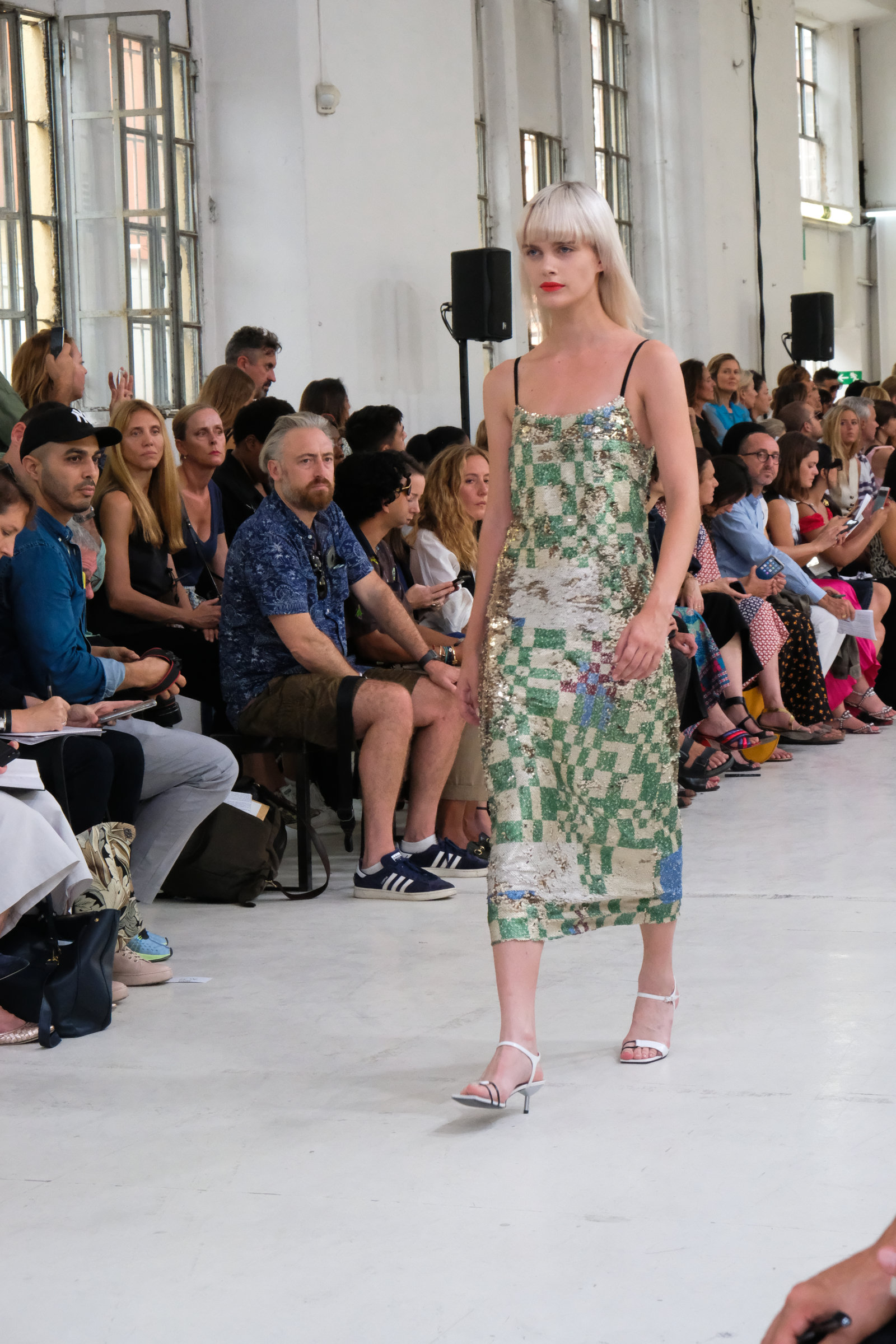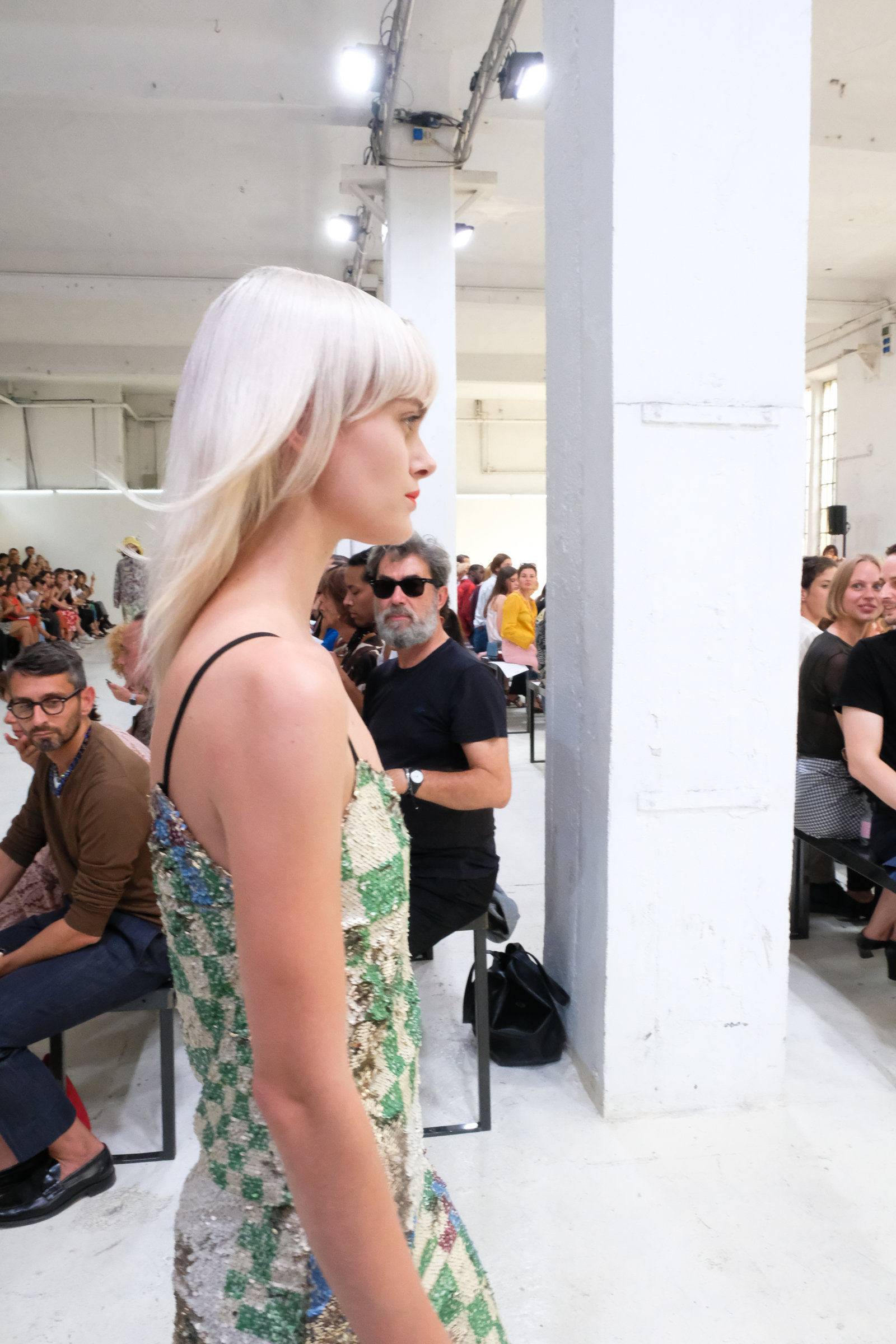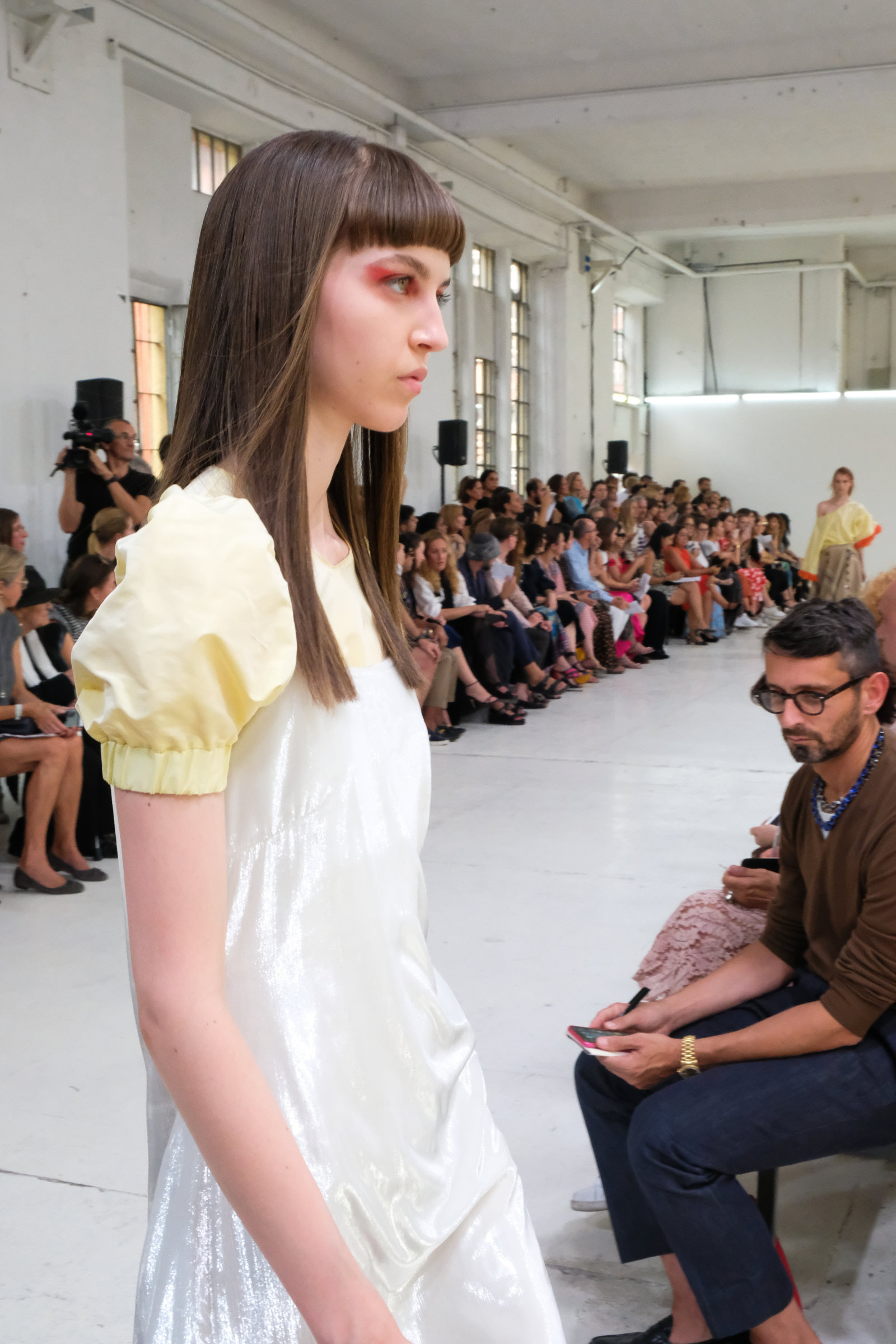 __________
You are always able to combine art, passion, and geometry in your collections: what is the key to this successful mix?__________
I think the key of success for a designer is to do what you really like, because when you start trying to please others you make mistakes and in my opinion, at the moment there are not a lot of people who are honest, who speak and do their things without fear. My world is this one, my friends are part of art, architecture and design fields and it seems natural to me to feel attracted to this world. I have never taken a vintage garment to do it all over again using new fabrics, I always start from a different concept, this is my philosophy. Here I am, in peace with myself, I am happy, I do not do this to receive compliments.
"I think the key of success for a designer is to do what you really like…"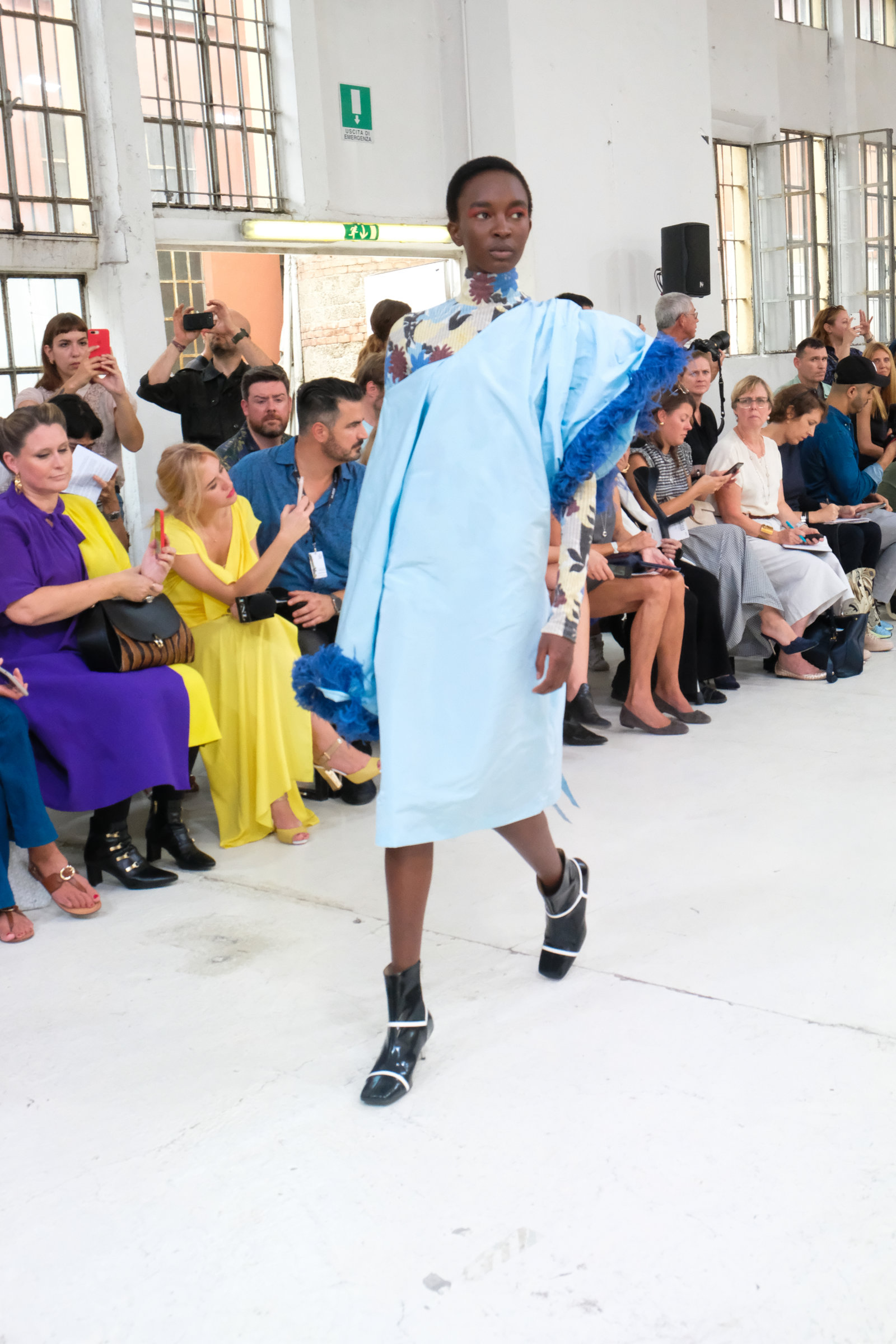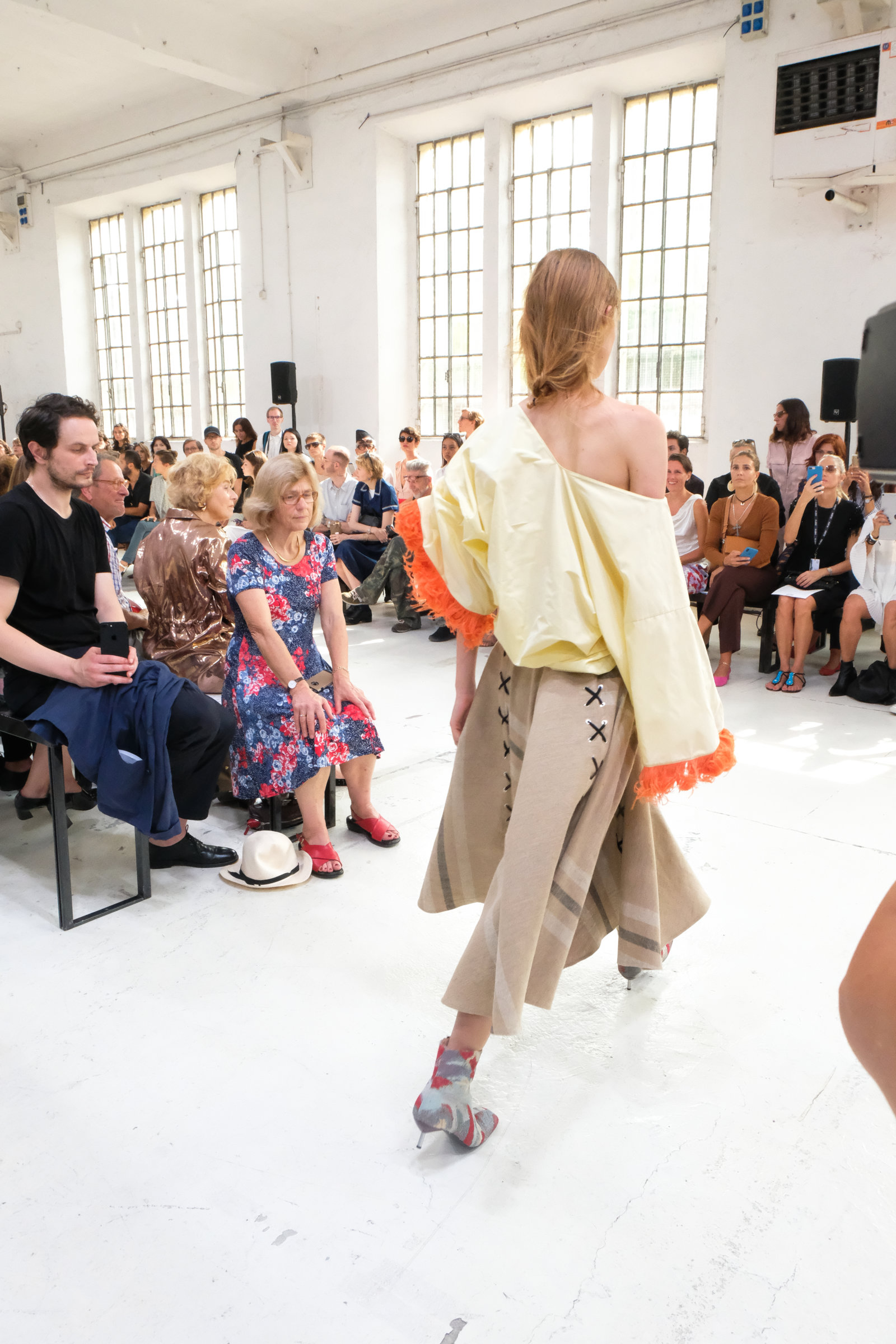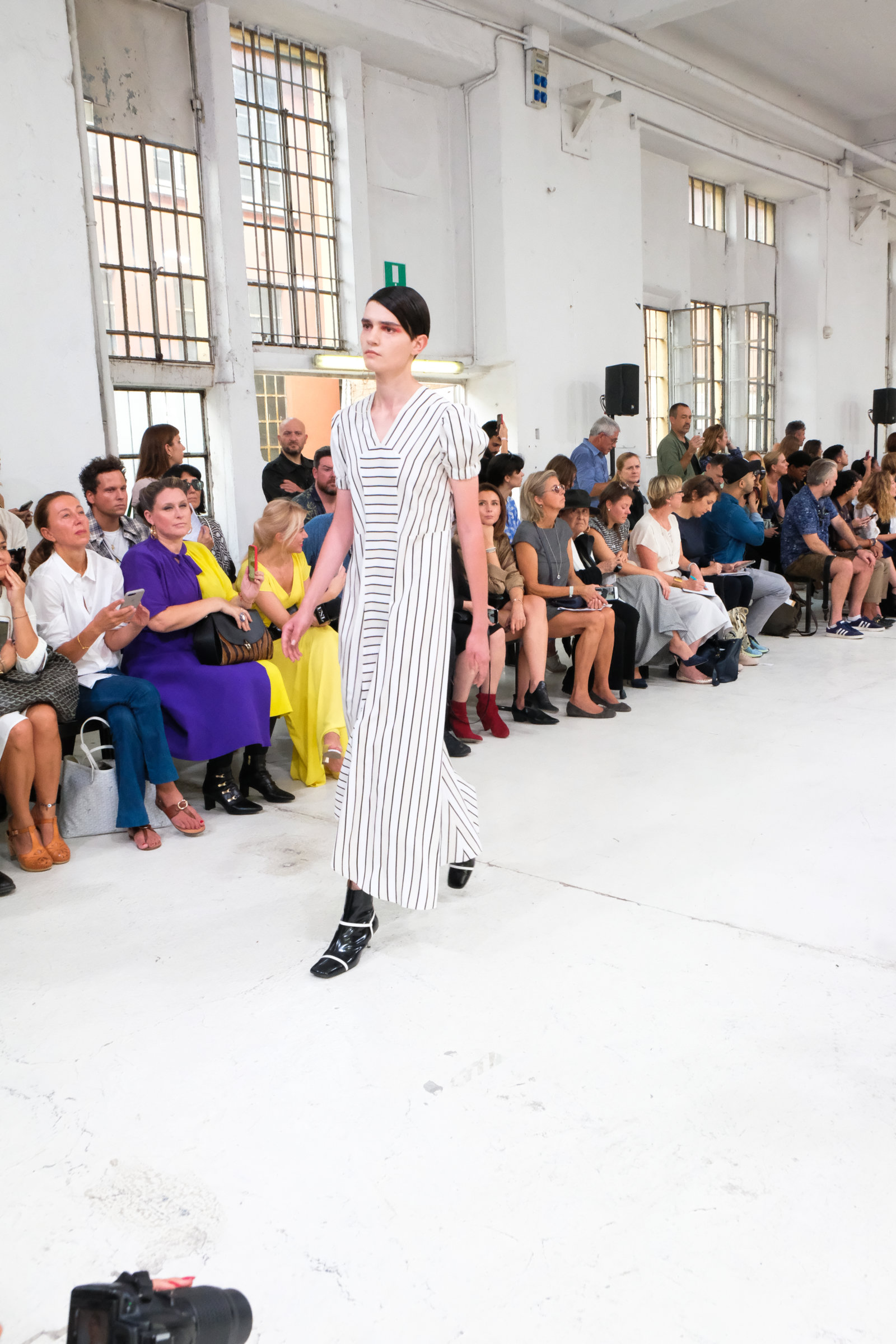 "…Because when you start trying to please others you make mistakes."
__________
I think it's a great satisfaction too…
__________
It's always a crazy job, we're young, we love what we do and we put on track things that are real and considered true. My team works with so much passion, we are all friends and you can feel it. Being together in this fashion world makes you stronger, you create your family and it is very important to have a close team in this reality.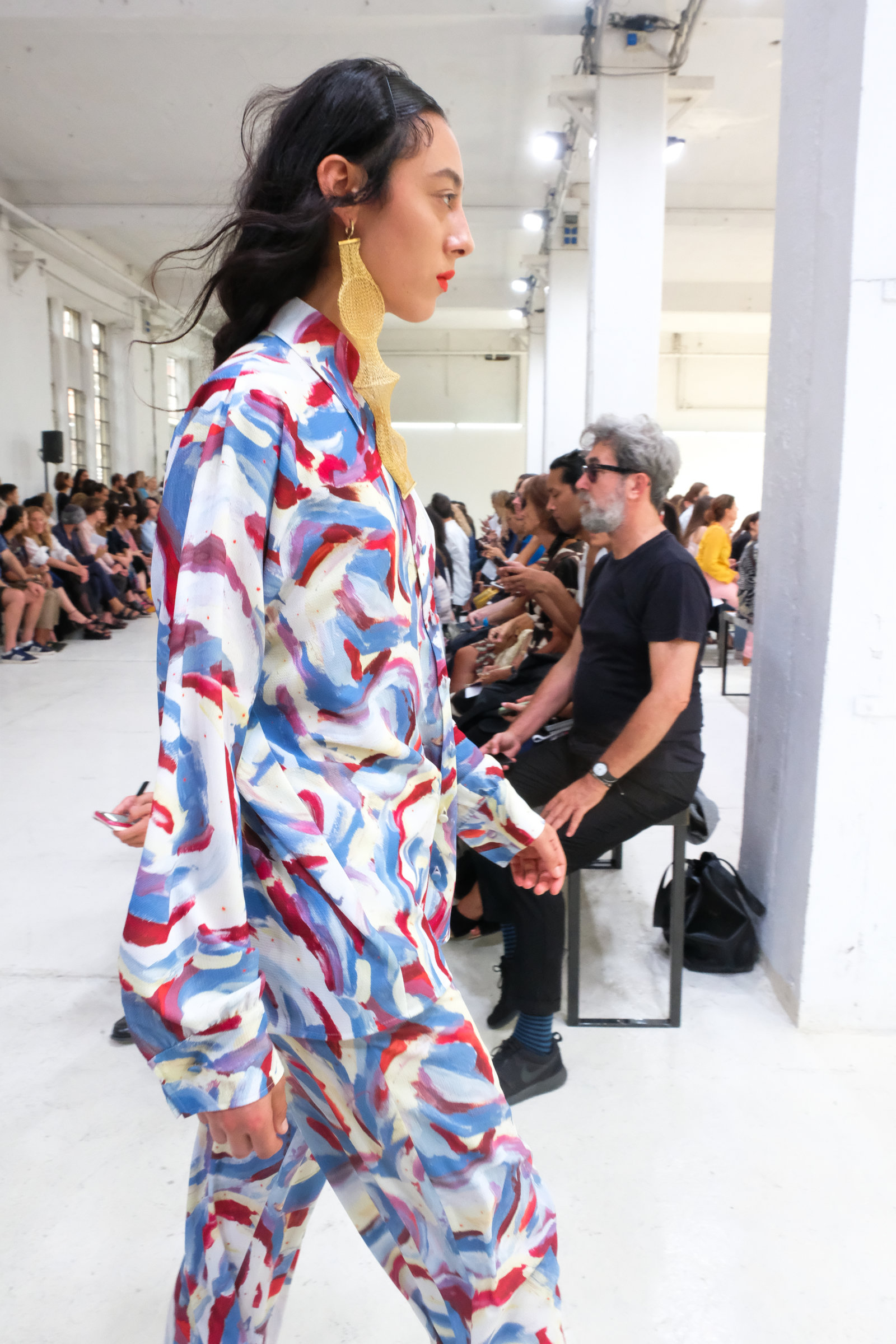 __________
What is the look of this fashion show that better represents your world?
__________
I would say one of the pajamas, many of my women love it. It's a tough look, with a printed shirt and trousers. it's a mix between being super casual since it's good with sneakers, and being very elegant. I think I have a very sophisticated language that I hope is not too heavy. The idea of art, however, is an idea of lightness and fun.
__________
What kind of woman do you want to reach with this collection?
__________
Mostly my friends. Some women are 60 years old, while some others are 25, coming up to my mom who has 75 and wears my dresses as well, and she looks great! For me, this is a great satisfaction. Then I have my students at the IUAV, where I teach, who maybe wear my shirts and still look beautiful. I realize that it has nothing to do with shape or age, but with the appreciation of matter, work, prints and history.