"With JULISIS I could realize my dream of a highly efficient, biological skincare line incorporating ancient knowledge about the healing powers of nature united with the art and science of alchemy. JULISIS works with the natural biorhythm of our skin. Let your skin breathe again."
This is the statement that we read on the JULISIS website which made us curious to discover more about the world, the products, and the inspirations of Julius Eulberg, the founder of that incredible skincare line. JULISIS offers organic and luxury skincare must-haves that are used by Julia Roberts, Tracee Ellis Ross, and Erin Wasson among many others: but what's behind them? How was the idea of that unique line born? And what are Julius' pieces of advice for a perfect skincare routine during the lockdown?
Discover everything about Julius, JULISIS, and the concept of transformative skincare!
What does your "stay-at-home" skincare look like?
I use our masks every other day, normally I don't take the time. Especially our Rose Pearl Hydra Mask is so divine, moisture pure for dry skin a delight.
And what's your skincare routine regularly? 
I use Gold Wash Day, Gold Elixir Day (our serum) every other day and Gold Emulsion Day, Eyemulsion, and in the night, the Contour Hydra Serum with the precious blue lotus and cannabis extracts.
During this time, how have you stayed creative? Maybe could we expect to see a new product? 
Exactly, I enjoy the slow down very much and let all the creativity out. 3/4 new products were created during that time.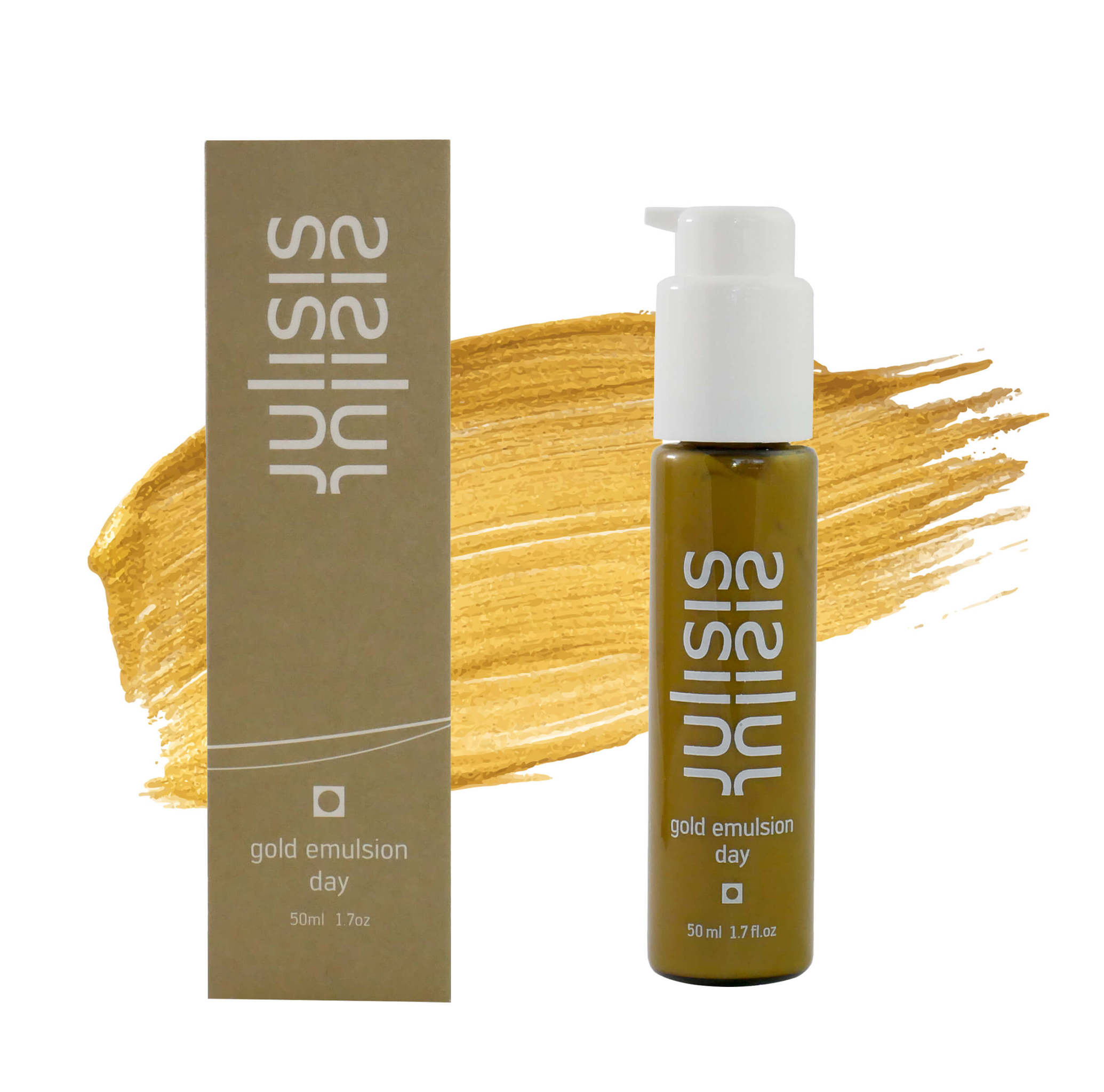 Gold Emulsion Day, Eyemulsion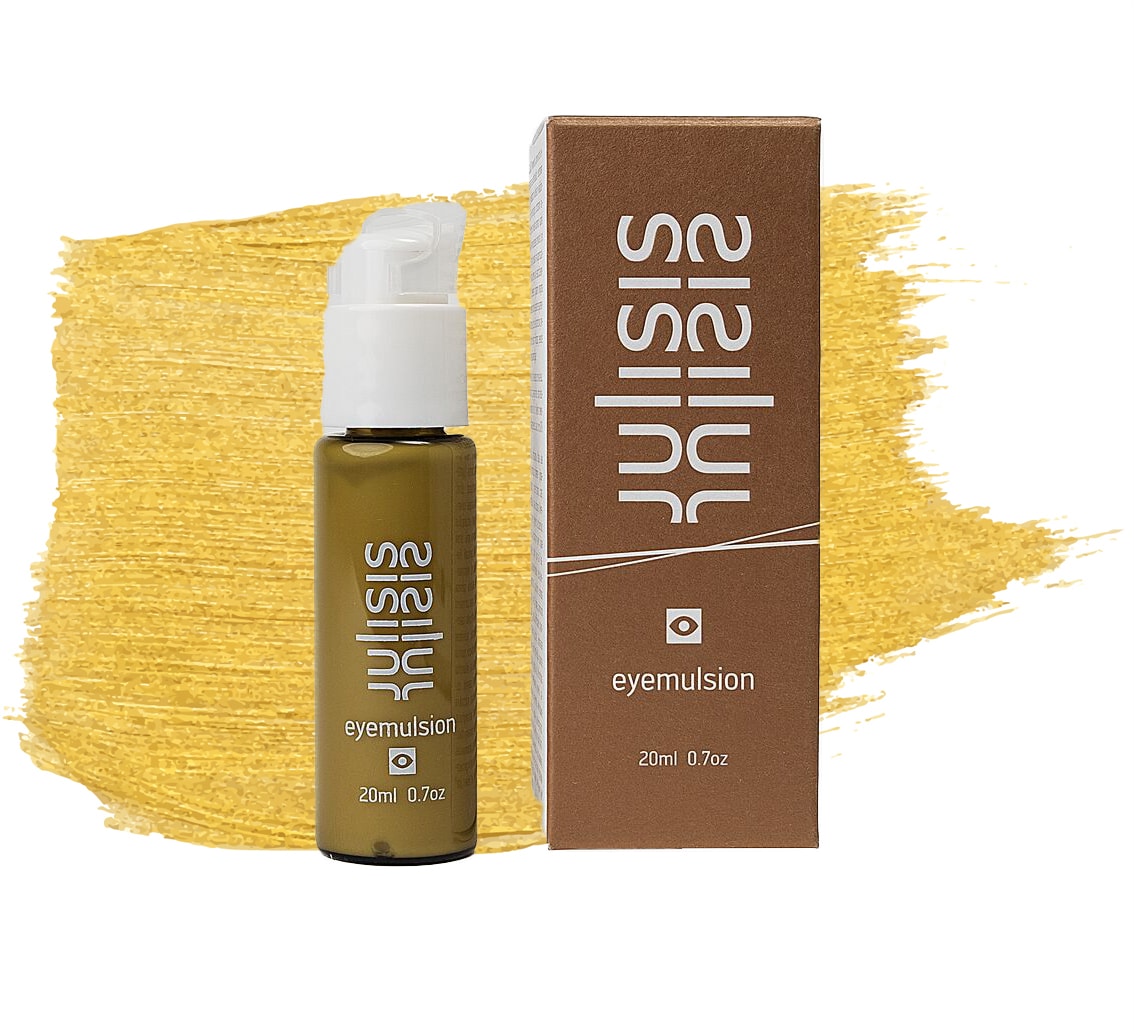 What are for you the best ingredients for the skin in this time of the year, when spring is coming but the weather is not still crazy hot? 
The changing seasons I prefer oils, they have to be cold-pressed seeds and I am very proud that we have our own oil press so freshness is guaranteed, and the spectrum of vitamins and minerals is high and active. Awesome for keeping the moisture level at bay.
A beauty product you are extra loving during this time? 
Facial oil serum for moisture and that extra glow and Silver Mineral Mask to replenish minerals and refresh the surface.
What is your best advice for being productive? 
To do a meditation before, center yourself, and keep breathing deep and consciously. I use the mantra" ham" on the inhale, "sa" on the exhale.
Which self-care practices help you to cope with stress?
I do Kundalini Yoga since 2012 which helps to balance your brain, stimulates your glands, and overall increases your aura, your energy radius.
Speaking of beauty in general: who or whom has influenced you most? How or why?
Mama, I guess she took care of herself very much, shoes and handbag needed to match or she had it dyed the same color. Always impeccable with pearls and jewelry in the kitchen.
But in general, I see beauty in rocks and materials, shapes really everywhere – It goes hand in hand with a positive outlook on the world I think.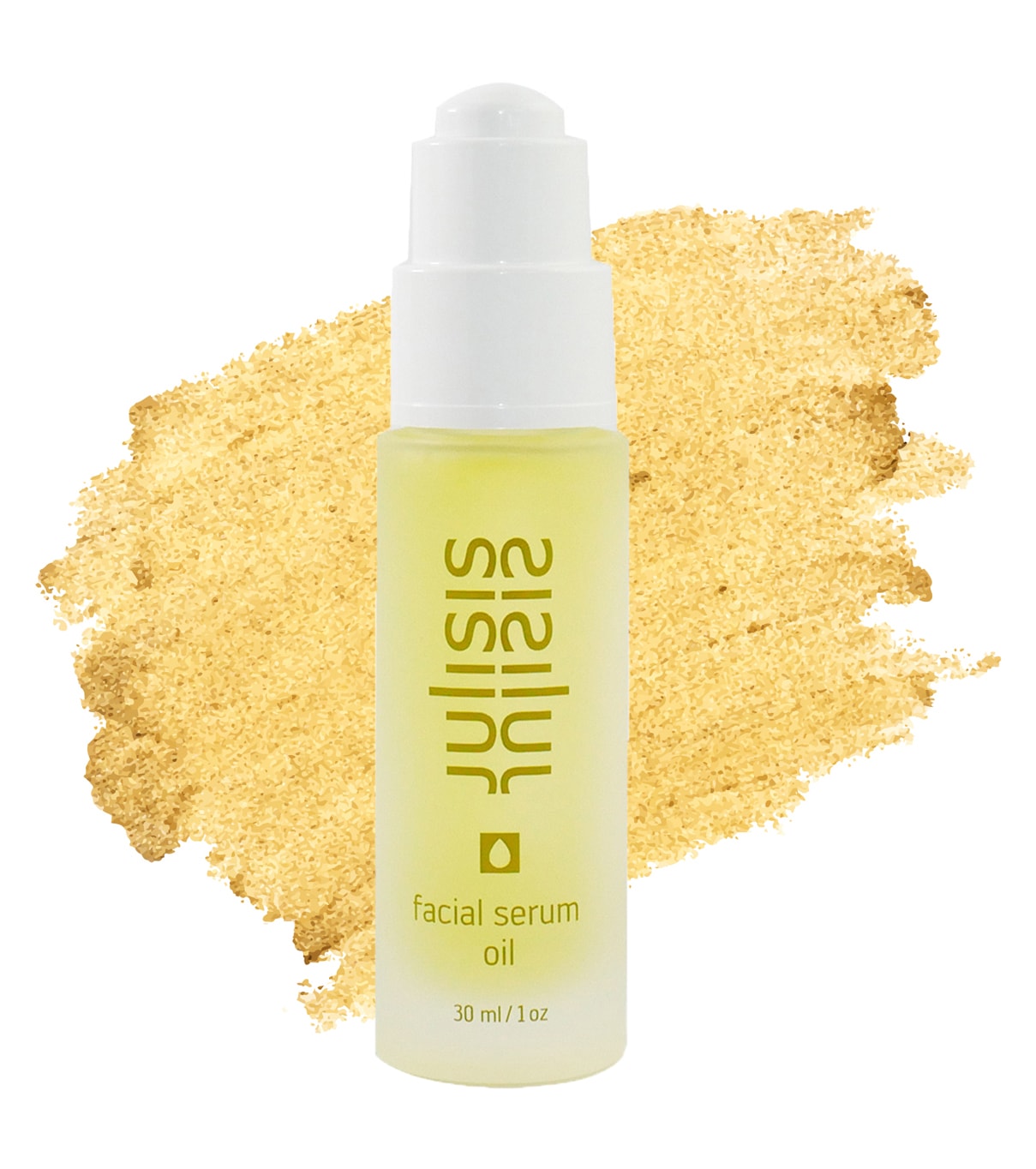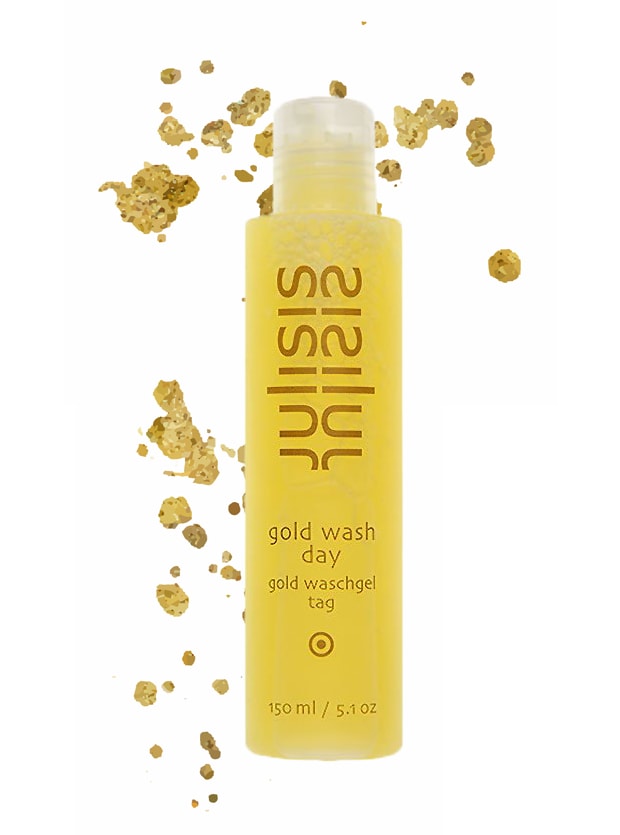 Which are the skincare products you are the most loyal to?
I have no particular problem (I think a lot of problems people have actually come from products and their toxic ingredients) I can't be without the Gold Face Wash, Gold Emulsion and our Eyemulsion.
I often try other brands, I want to know what is out there, only to be very happy to go back to my own – my maid is very happy for that. Because she gets almost full bottles from other brands.
What gives you the energy to wake up and be productive in the morning? 
I am a happy camper:) The sunlight here in LA is a great motivator to get up around 6 am, short meditation to center and express gratitude to our creator and our existence.
And what keeps you in bed instead? 
My incredible mattress and I am crazy about high-end bed linens, always white or cream. A phantasy partner who has not materialized yet….a steiff teddy is just a poor replacement.
How do you feel about what's coming next in your life? 
We are moving into nutrition/supplements – beauty from the inside- to be able to offer a complete program. I actually think clean beauty with really clean and active ingredients is a major contribution to health in general.
"Transformative skincare": what's transformation for you? 
For me, it is transformation if you used to wear heavy makeup because you want to cover up and conceal and with using Julisis for 4,6 weeks your skin clears up, is less sensitive and harmonized and you can show your natural self without masquerade.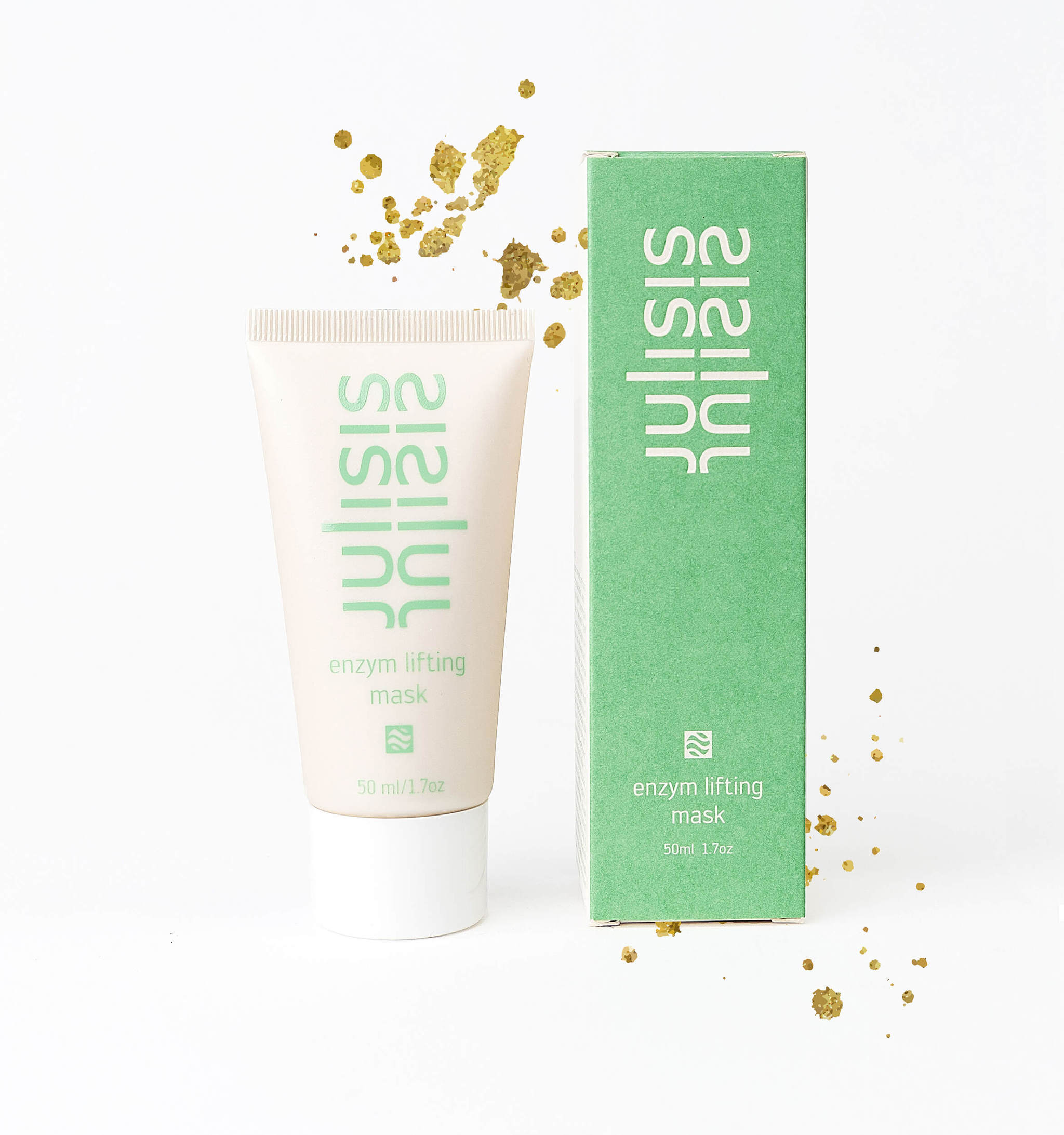 A woman in her thirties with dehydrated skin and first signs of aging/dullness: what's the hero product?
After using our Wash, a must, and fundament of any healthy skin then the Gold Elixir Day, our daytime serum that protects to the outside but lets your skin breathe, and helps to seal in moisture. It also contains a natural SPF.
A man in his fifties with combination skin: what's the hero product? 
Gold Wash Day and Gold Emulsion Day as it regulates the sebum moisture balance, due to its ingredients and the over 100 active enzymes… It is perfect after shaving as it is anti-fungal, microbial, viral, and it promotes skin healing almost instantly.
What's the last book you've read? 
"Perfect love, imperfect relationships" by John Weld.
What's your mantra right now? 
Consciousness is not negotiable! Everybody has a personal road map to their spiritual development. So you are where you are meant to be…
What's always in your bag? 
My iPhone XS, Eyemulsion (I use it also for the lips), wallet with cc and ID, and a Missoni cashmere blanket with holes.
Bath or shower?
If I need a deep relaxation I use Epsom salts and a few essential oils from our lab, once-twice a week. In general, I am more a shower type. Rainshower of course.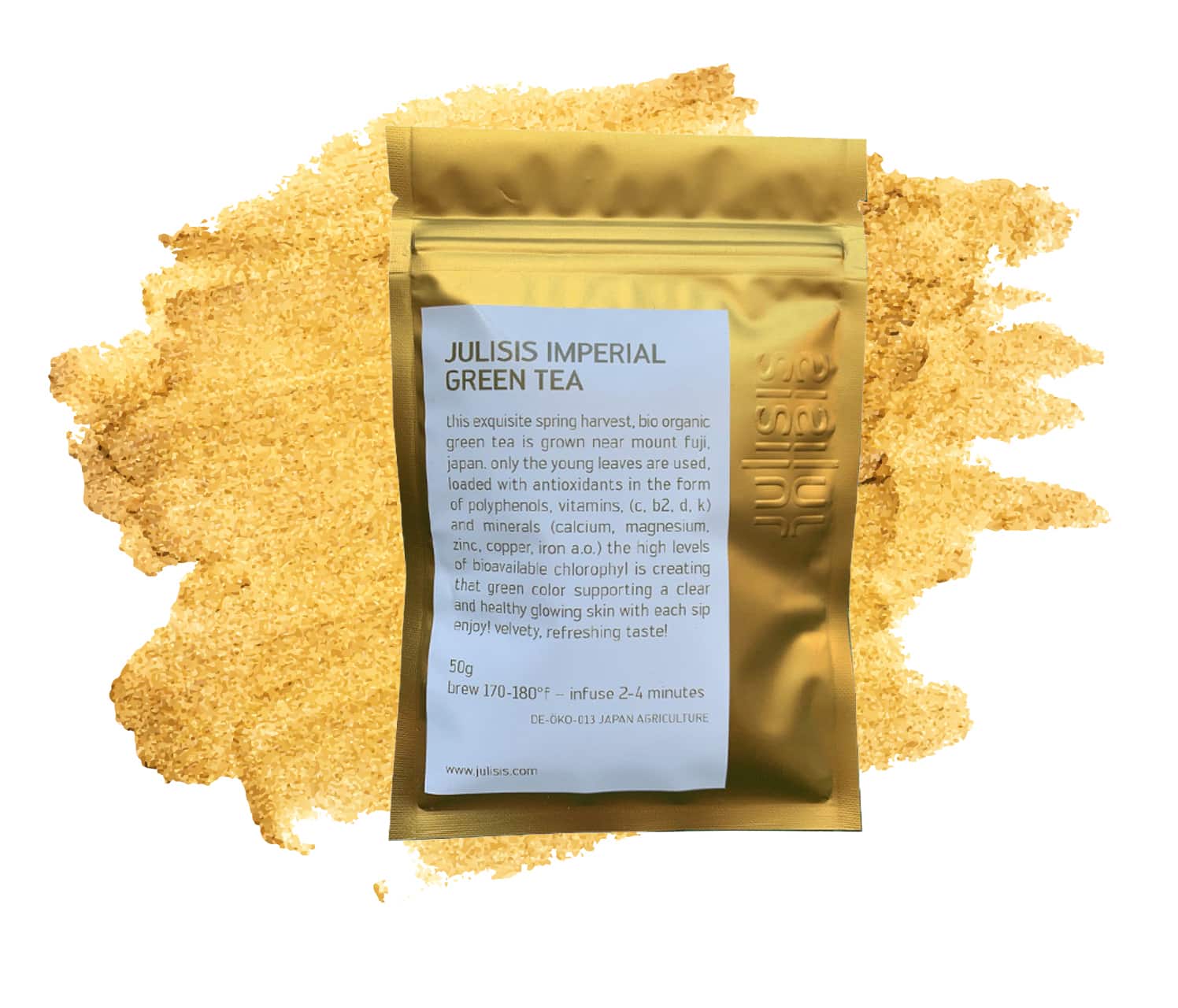 "Consciousness is not negotiable!"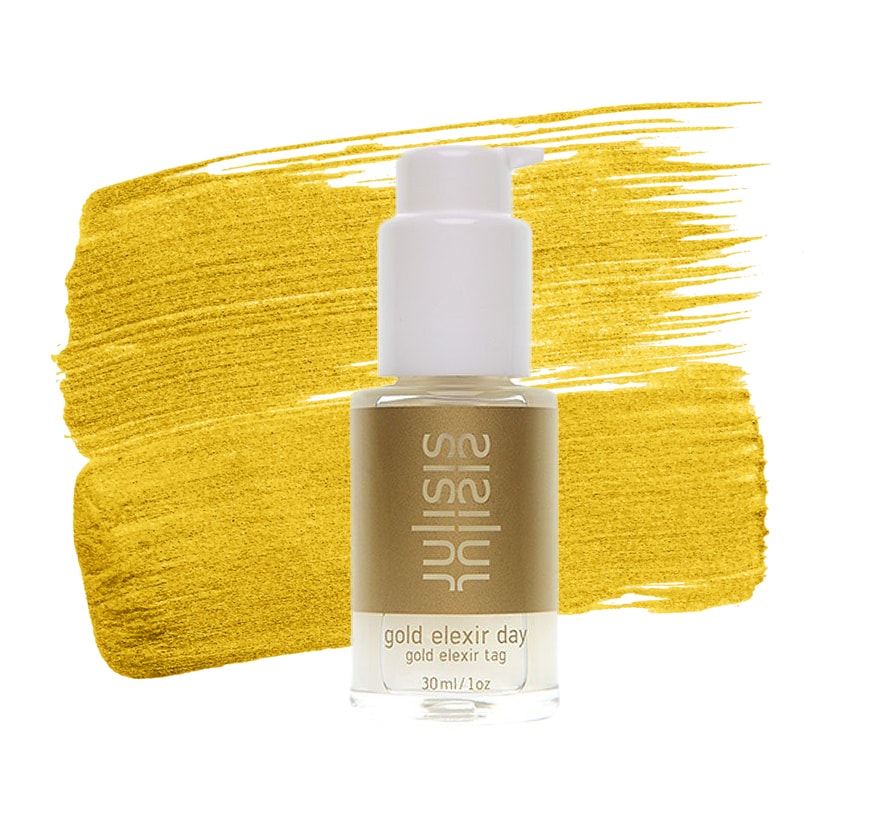 What do you have too many of?
I collect antiques from various periods, again beauty is in everything. From Fornasetti to antique Persian carpets. I have an extensive collection of porcelain parrots and cockatoos from Meissen, and Nymphenburg. Around 200 beasts.
What's the bravest thing you've ever done?
Starting a skincare line with no financial back up from point 0 in 2002. No business plan but a strong vision. Friends thought I was crazy.
Your jet-leg beauty cure? 
Sleep, sleep, sleep, and a hot bath with neroli essential oil. Moroccan mint tea (republic of tea) in the night, Julisis Imperial Green Tea, with the high content of Chlorophyll, in the morning while soaking up the sun on my balcony.
Your favorite meal? 
Raw artichoke, celery salad with Parmigiano.
How do you honor yourself, every day? 
The awareness of "attitude is gratitude": grateful for my eyes to see, my nose to smell, my feet to walk, my ears to hear the chirping birds. My inhale, my exhale how lucky to be breathed without effort and deeply embracing that we are spiritual beings having a human experience. Perfection is illusion.