I've known Jen for a long time.
Actually, I only knew her through her work, her writing, and her Instagram profile.
Inevitably, over the years, I let myself become more and more fascinated by her creativity, her way of using colors (and imagination), and her looks that were never something I had already seen, always different.
Jen Mulrow is a beauty and fashion editor for Refinery29, an online magazine with a vast community and one of the absolute leaders in its category. It is also a place where people have always represented equality and diversity, since day one.
Her creativity and her way of standing out led me to write her an email: "We would like to interview you. Can you show us how you do one of your colorful looks?". Once in New York, we went to visit her in her apartment, where we talked about her skincare routine, her biggest inspirations from cinema, and retro looks with a preference for the 70s. We discovered with her the beauty and simplicity of a pastel-colored look on the eyes and how to balance it according to your personality, without being afraid of making mistakes or doing something messy (there is always time to fix some smudged makeup).
We also talked with her about what it means to feel comfortable with your skin, not feeling represented by the canons of society, and wanting to create a world for yourself. In Jen's case, this world is made up of dresses, colorful elements, pastel colors, and a pinch of courage.
Because, as Jen herself says, we're all here for a reason, and we don't have to doubt it.
What's your earliest beauty memory?
I think it comes from my mom: she would always have those Clinique eye shadow palettes that had little mirrors on them, I can remember her getting ready for events, always doing pretty pastel eye looks like lavender. Even today. So, whenever I see Clinique eye shadow palettes, I think of my mom.
What's the first thing you do when you wake up and the last one when you go to bed?
The first thing I do, I just splash water on my face. I feel like I don't need to focus on cleansing too much in the morning, because I'll do a double cleansing at night, so my face it's pretty much clear. So, after splashing, I'll use a Ph balancing toner, just to balance the Ph levels and make sure everything is good for my serums coming up after. Before I go to bed instead, after I've done my full routine and everything, I like to do a lip mask, as a last-minute thing to hopefully wake up with less chapped lips in the morning. I like the Laneige one. It's no secret how amazing it is.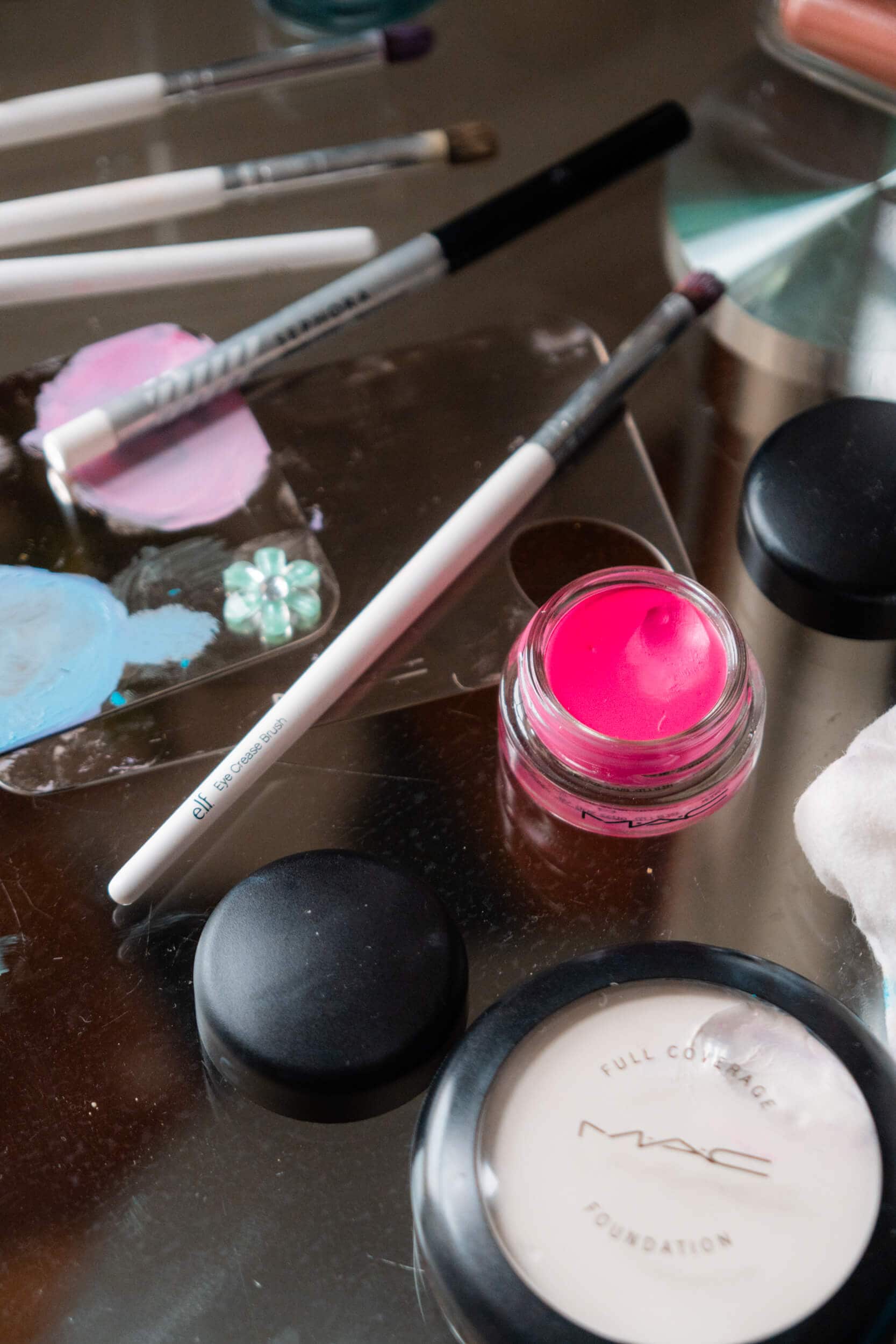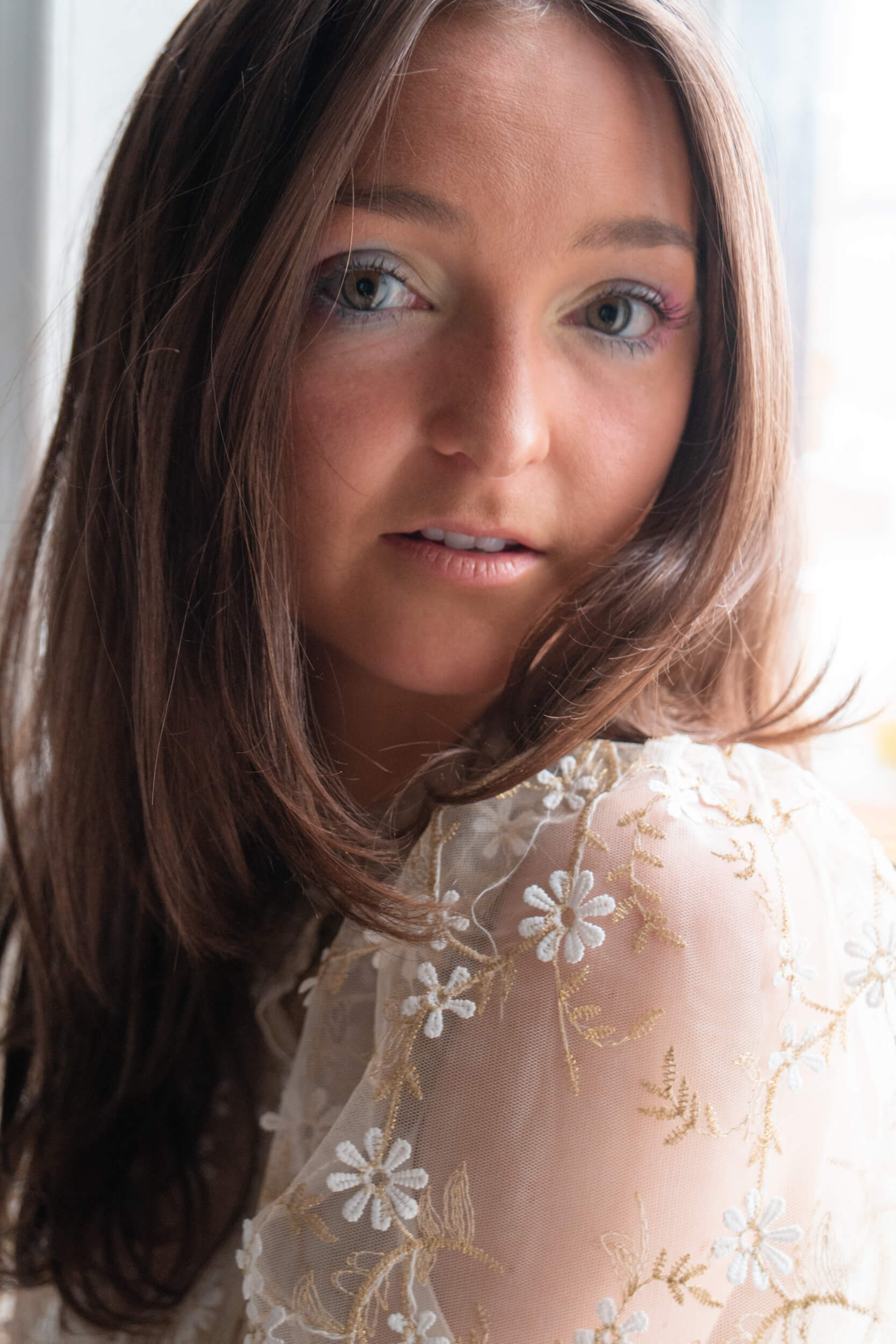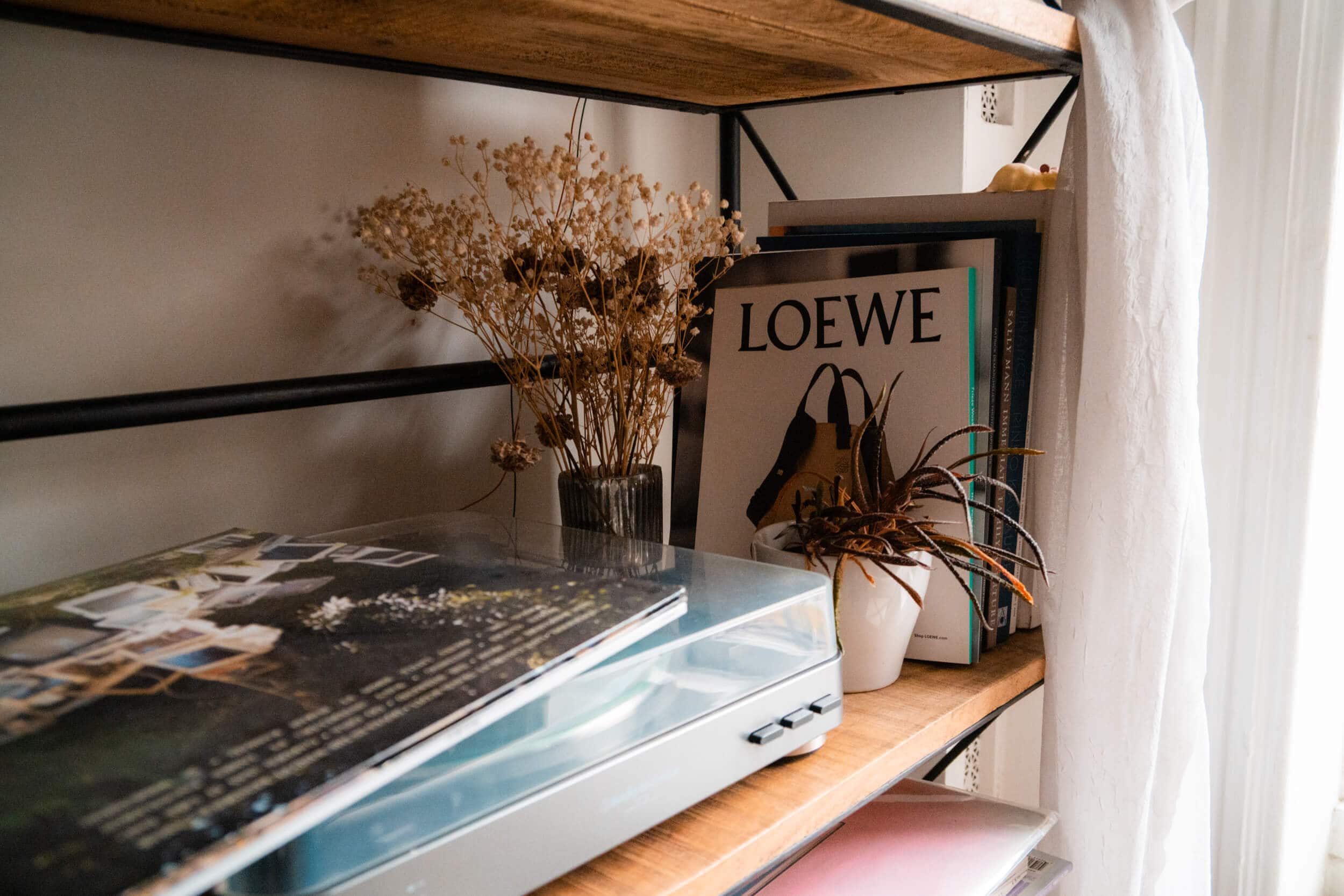 What's your skincare routine?
I find that the less I do, the better my skin looks. In my industry, it's especially hard because we try so many different products, and it's part of our job to, but I like to pair back as much as possible. So, in the morning I'd just use a toner after I splash water on my face, followed by a serum, maybe a hyaluronic one if I'm feeling dry or a vitamin C one if I want a little bit of brightening. Then a moisturizer: I like very fuss-free moisturizers like no fragrancies or anything. I like Embryolisse, First Aid Beauty and Weleda Skin Food, the latter more for night-time, it's a little bit heavier. And I finish with sunscreen, which is every day, non-negotiable for me. I like Supergoop, anything mineral that is not too sunscreen feely: it's kind of amazing how it does not feel like sunscreen. It's like invisible. So again, I feel the less I do, the better, for skincare: I don't break out too much, I'm not too oily, so I don't like to disrupt it. I like to just moisturize it and make sure that is healthy.
And then at night I always double cleanse. I love Then I Met You, Charlotte Cho's skincare line: it's this Korean brand and it's a balm cleanser and then you follow up with a gel cleanser. The balm gets rid of all of your makeup and sunscreen, and then the gel tea cleanser gets rid of more dirt and sweat. So I feel that does a really good job of just clearing my skin; then I'll follow up with the serum as well. And then maybe a heavier cream at night-time I'll do maybe the Weleda one or I love La Prairie or La Mer, and then my lip mask seals the deal.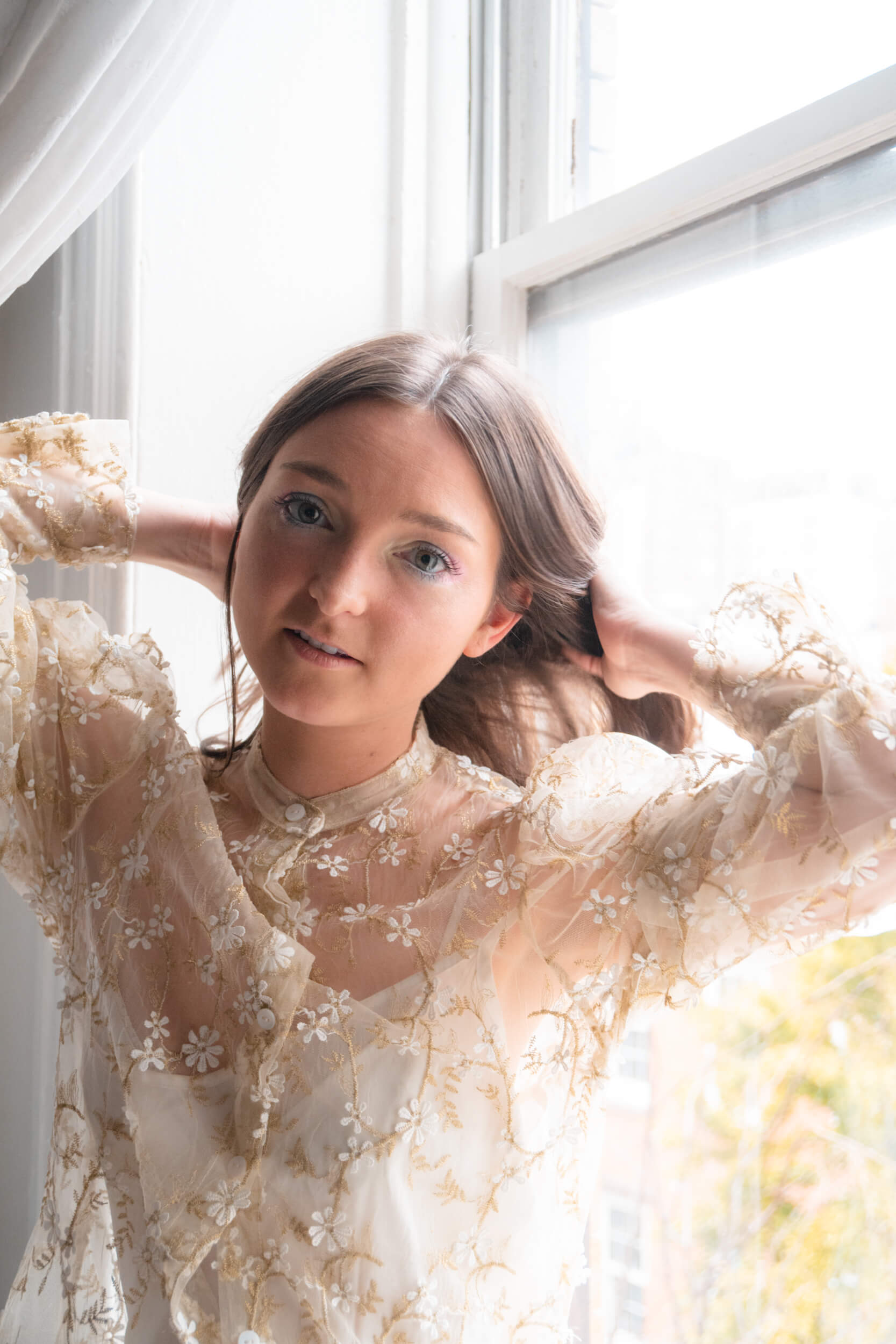 Skincare: "I find that the less I do, the better my skin looks."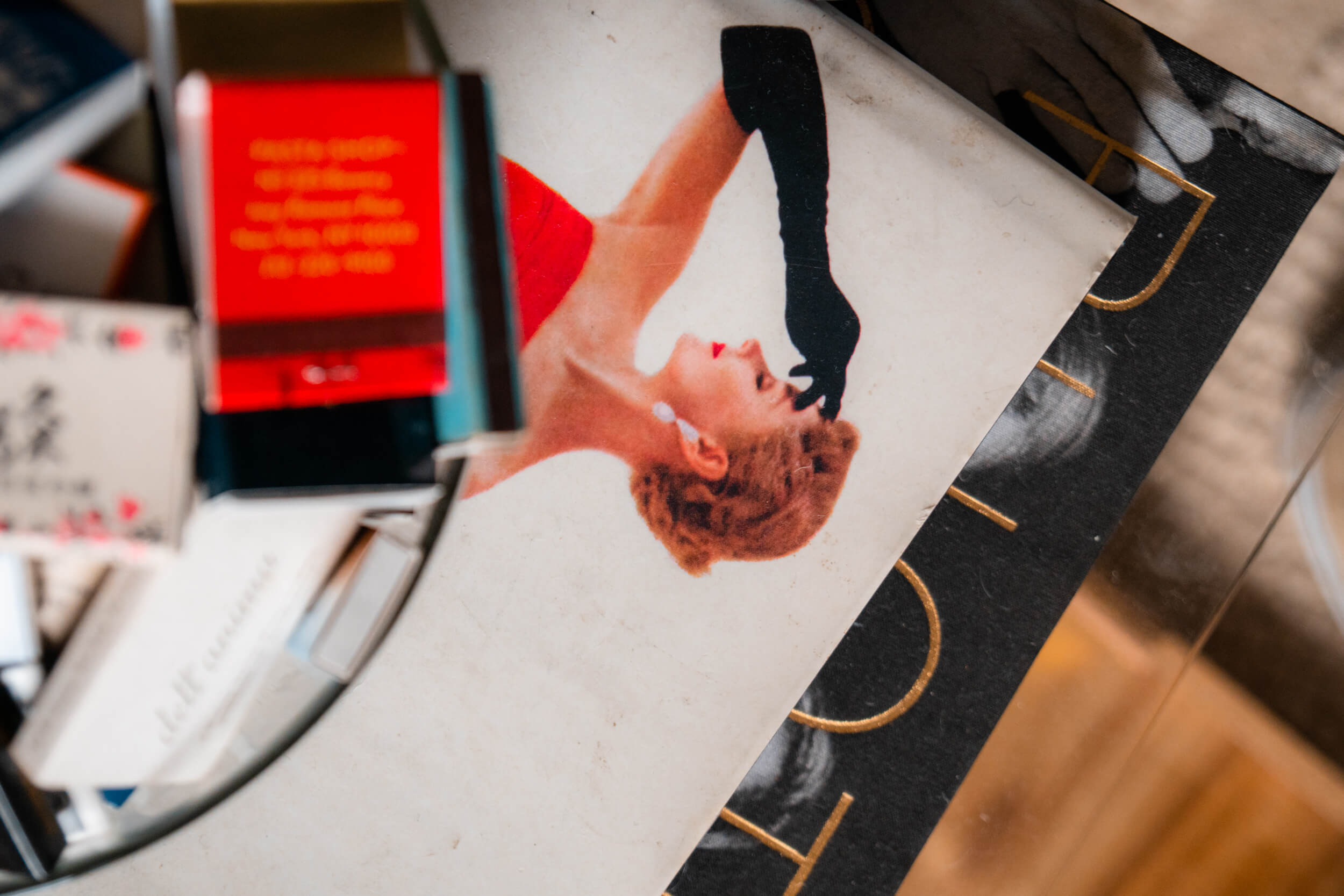 When you are buying new skincare products, do you look for some ingredients in particular?
Yes, I look definitely for hyaluronic acid: I always feel the need to moisturize my skin. When it comes to sunscreen, I look for zinc or something mineral; Vitamin C, I think it's good just for brightening, evening your skin tone. Those are the ones I go out of my way to look for.
What's your favorite facial? 
That's tough. I had a really lovely one at Clarins; also, Joanna Vargas has great facials. They opened up a SPA here in New York last year; Mario Badescu has a good one for extractions.
I got one that I quite liked at the European Wax Center, Cirefusion: It's heated up wax to better infuse the active serums that they put in your face into your skin. It was 20 minutes long but I literally so relaxed I fell asleep. They peel it off at the end and I was just glowing.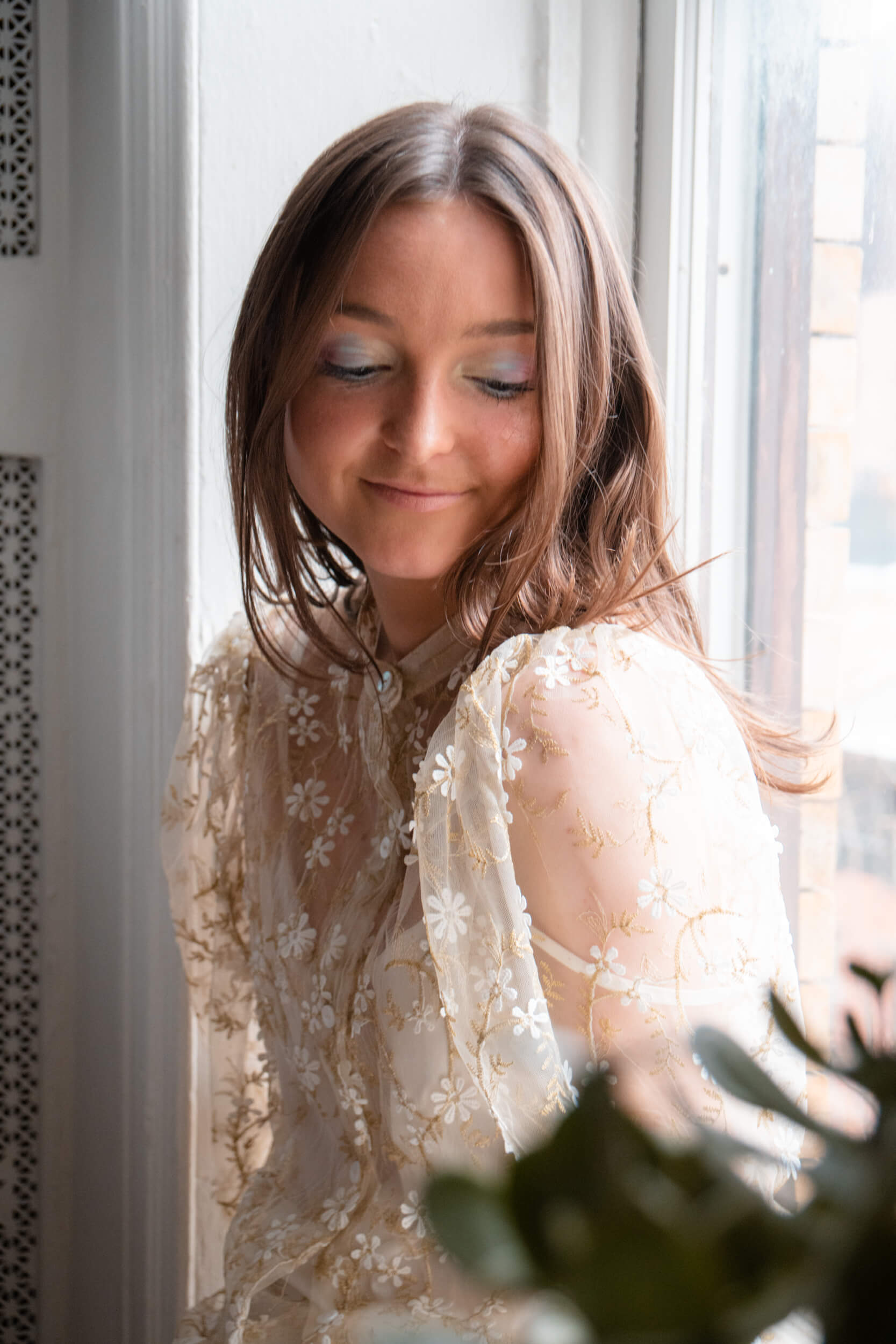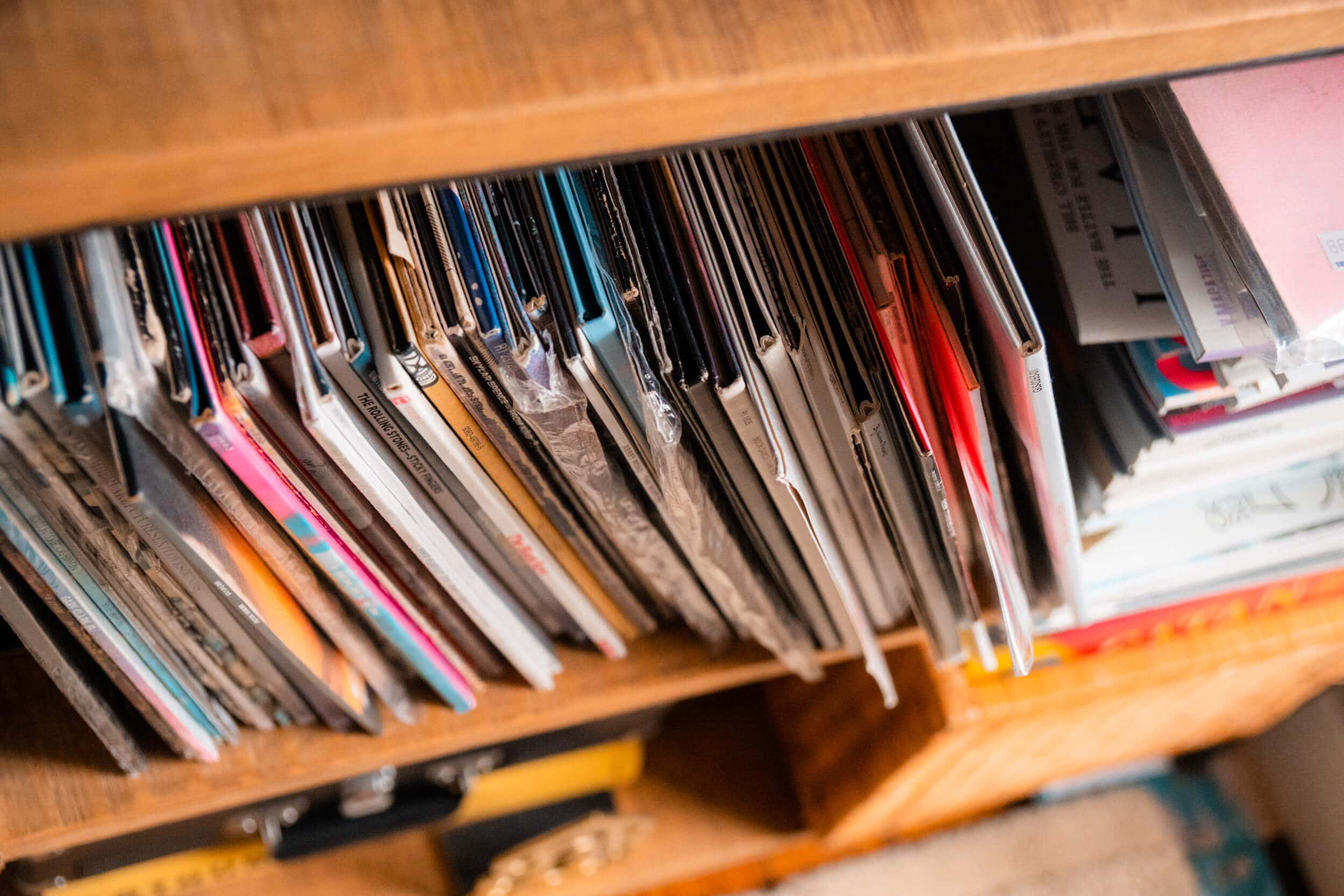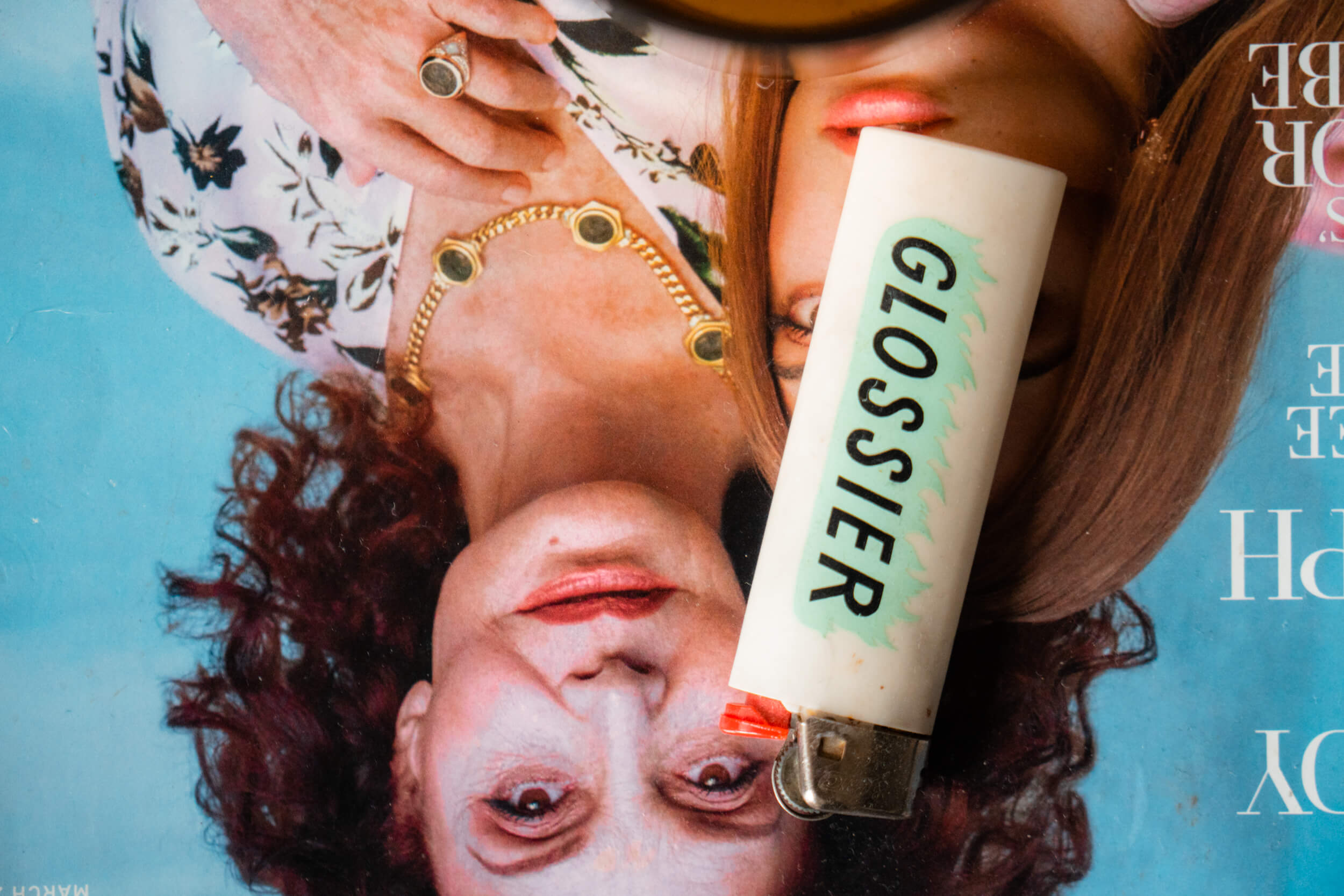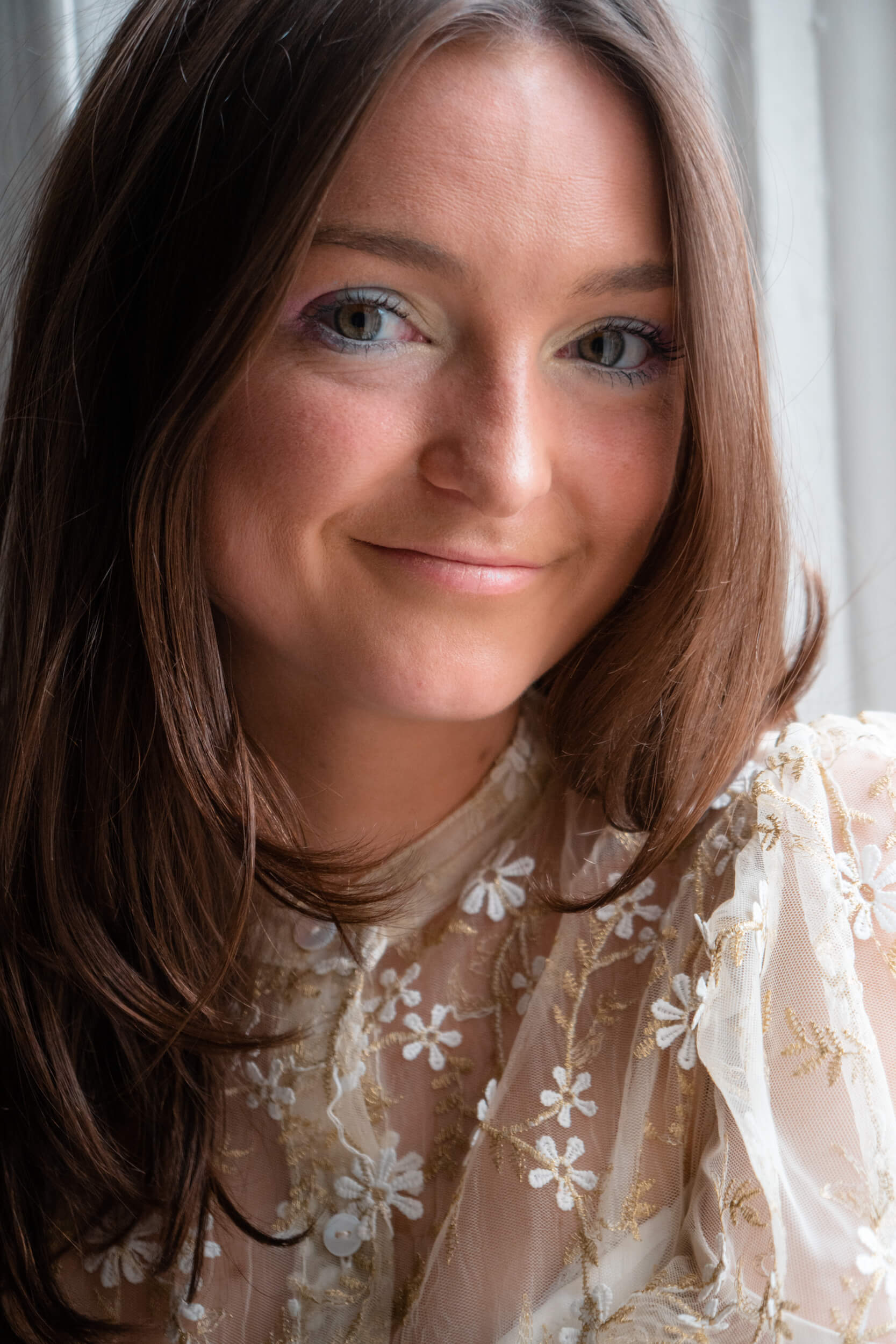 What does feeling comfortable in your own skin mean to you?
It's when I feel like I am an individual: when I have my own sense of self. I think that comes in with makeup a lot because it's a creative form of expression and anytime that I use color or anything it's like an extension of my personality or my mood. So, I feel comfortable and like myself when I am expressing myself and doing something that feels different.
You worked for Glamour before, now you work in Refinery29 for beauty and fashion. So, you are into the world of beauty…would you love to see some changes in the world of beauty? Or do you already see some changes happening?
I think we are getting started: there is definitely a need for more representation and more diversity. I think brands like Fenty by Rihanna are really setting the tone and leading the charge on that.
We are definitely making good steps but there's always more that we could do in a real way that's not just like a trend, but actually in an earnest way.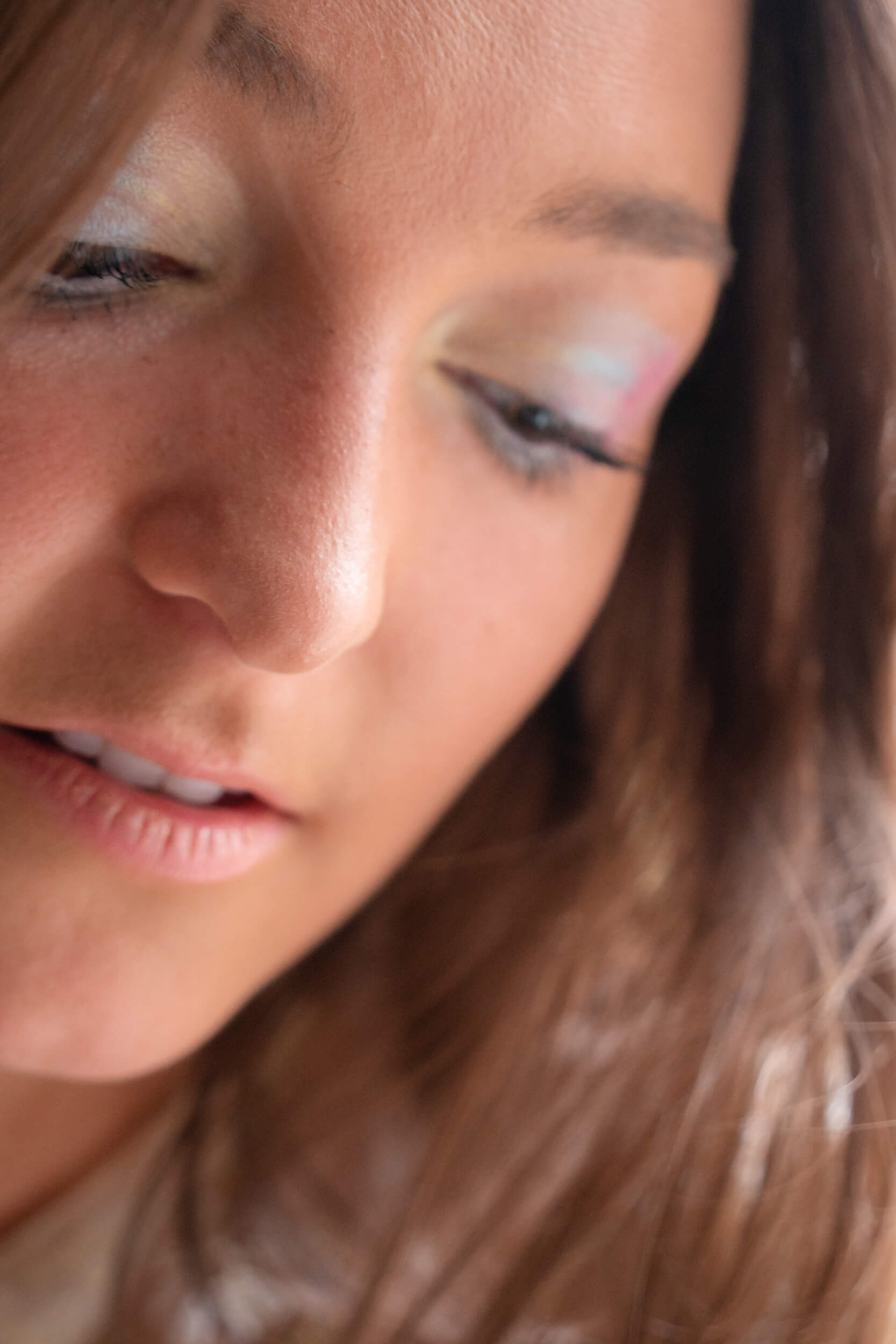 "I feel comfortable and like myself when I am expressing myself and doing something that feels different."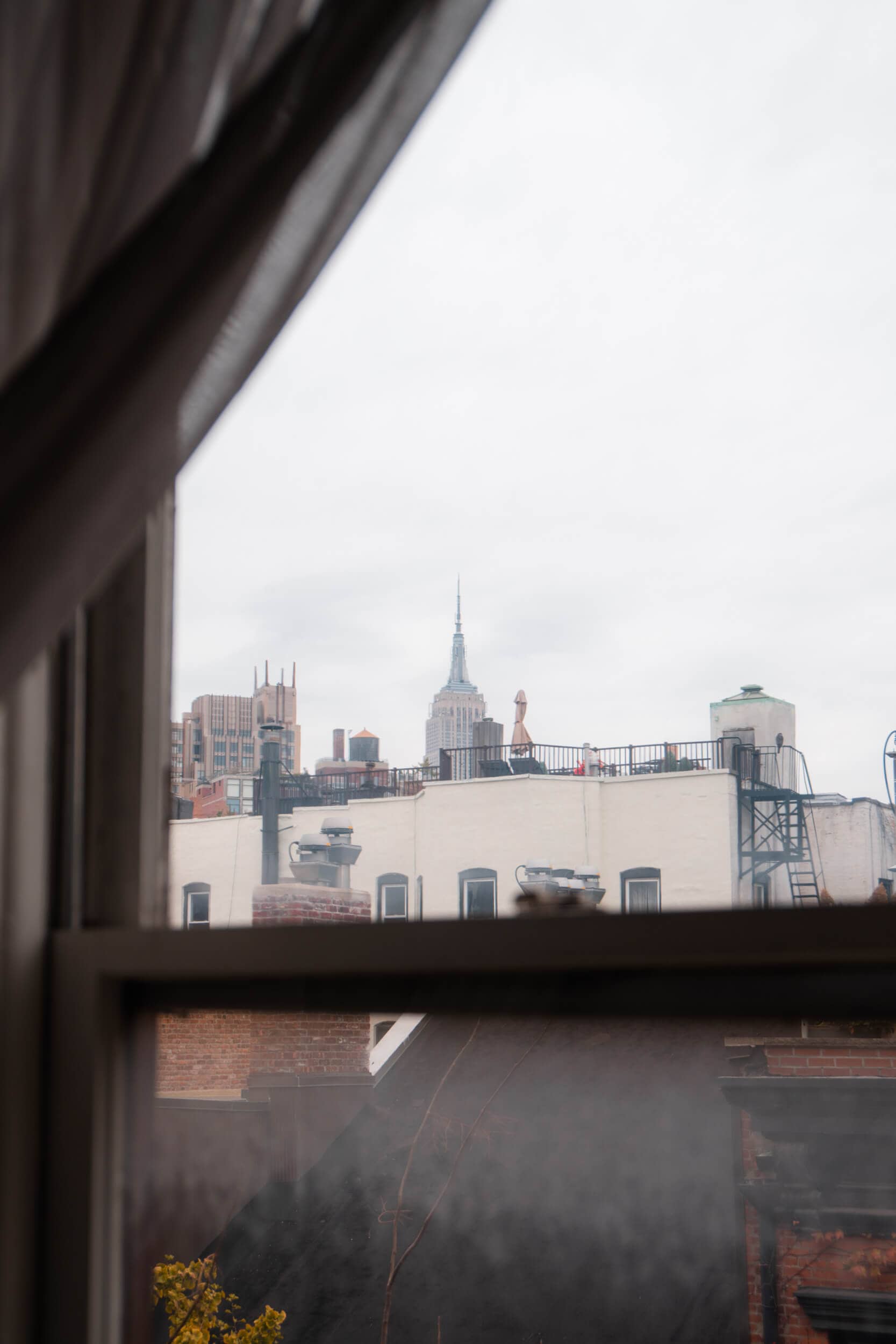 Do you combine your makeup looks to your fashion looks?
Definitely. I am always in my own dreamworld and I love going to the movies and get inspiration from all of the actresses and paintings…and I think that all comes together in one for me with my makeup and my fashion choices. I love pastel tones and this plays into my makeup and my fashion. My friends always make fun of me: I never wear jeans or pants. Even during the winter, I am always wearing dresses, always in skirts. They are like "you are going to be freezing. You've lived on the East Coast your whole life. How have you not gotten this yet?"
Also, I was an art major at school, so I was exposed to lots of different photographers and I think that just that creativity in that visual world plays into everything I do.
Speaking of movies, what's your favorite cinema/TV series beauty look?         
I love to watch old movies from the Criterion Collection whenever I have a free night. I recently watched Valerie and Her Week of Wonders, a Czech surrealist horror film, and I fell in love with the main character's full bangs and baby blue eyeshadow. I've also always loved a retro, 70s beauty look, à la Sharon Tate, or Jean Shrimpton.
"I love pastel tones and this plays into my makeup and my fashion."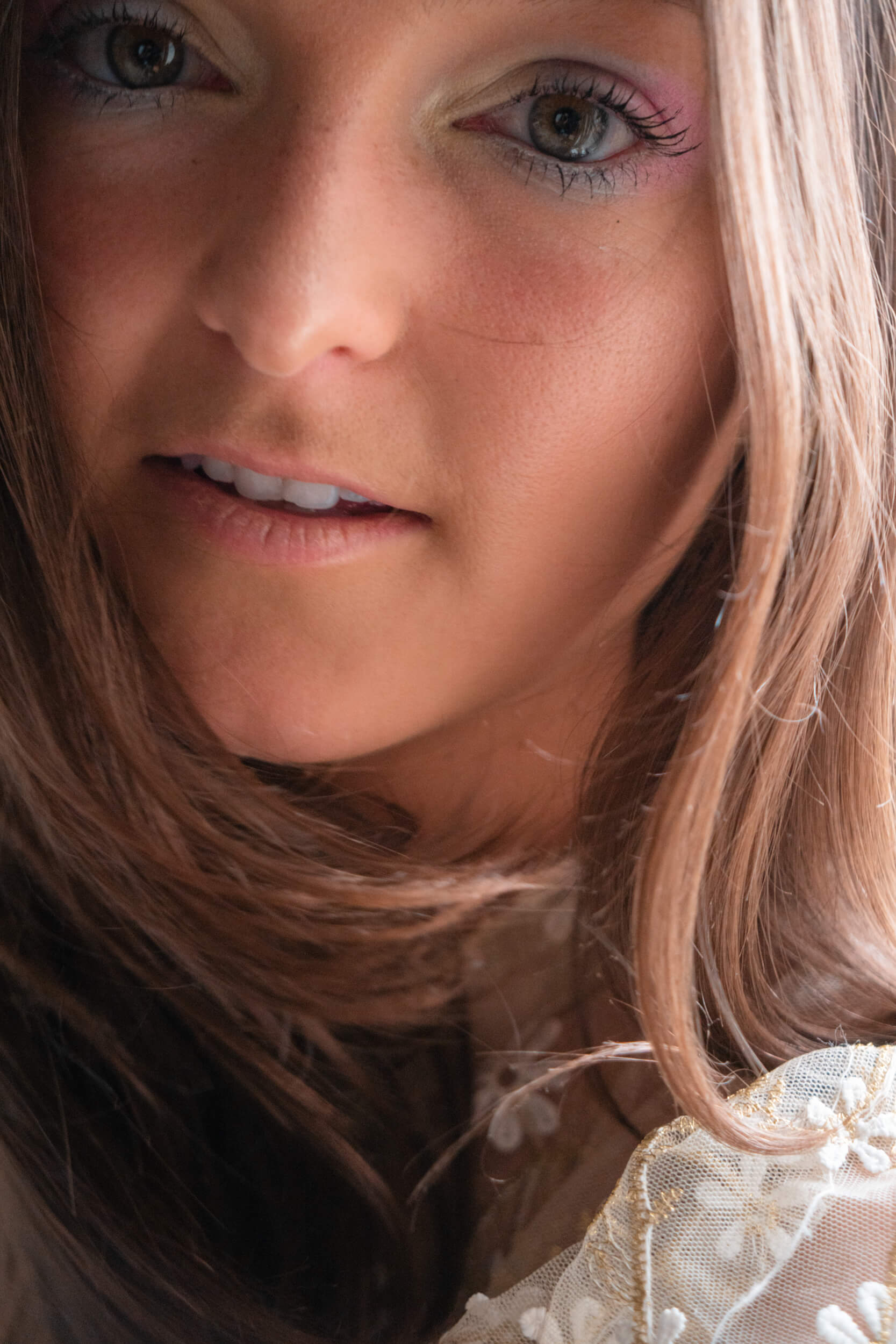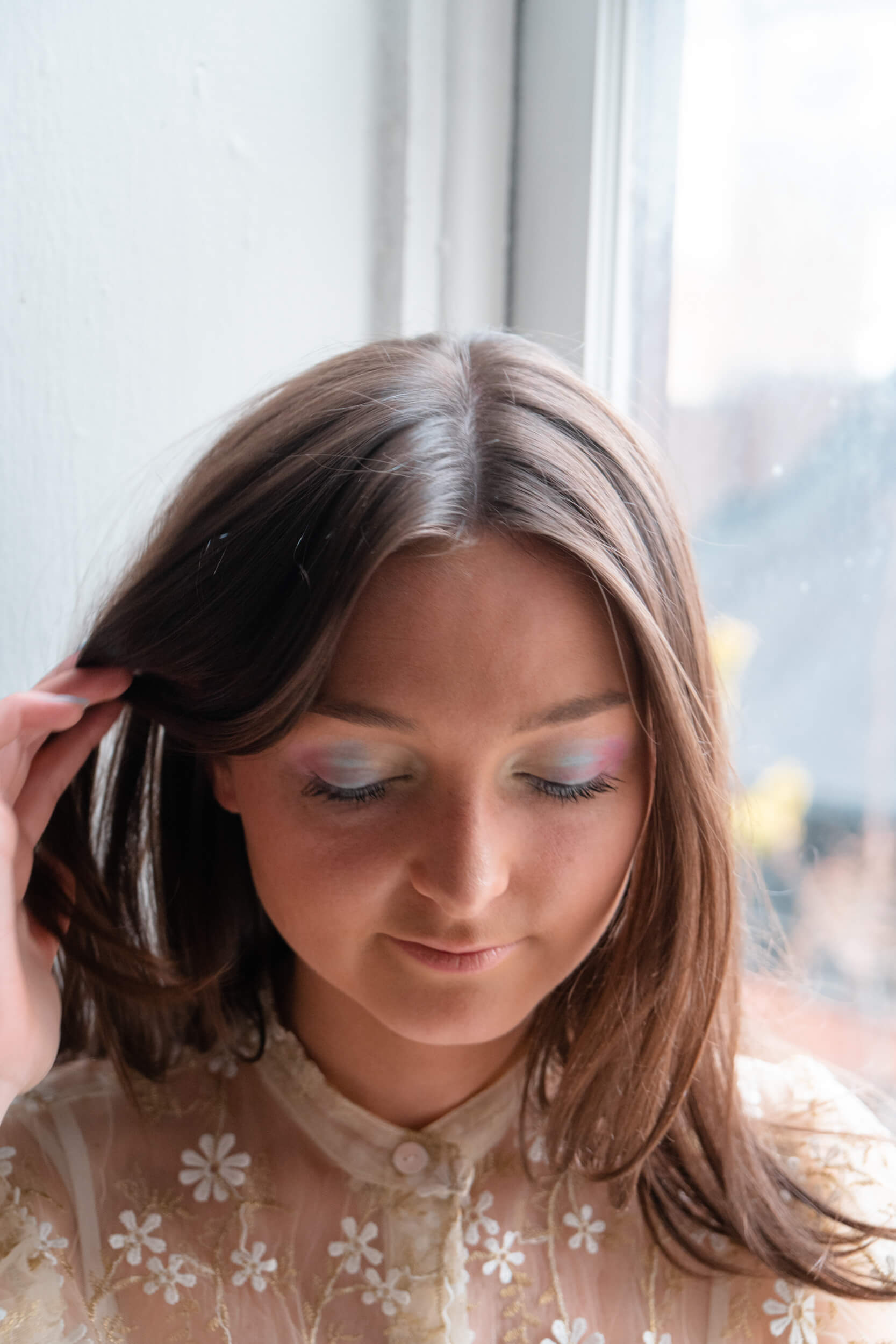 What's the book on your nightstand right now?
I have a few, but the one that I am reading right now is "The Lady and the Monk" by Pico Iyer. It's about this author that moves to Kyoto (I love Japan and I was in Kyoto in spring last year) which is just like a magical place and it's his experience like as an outsider in Japan, he sort of falls in love with it and he describes the city very well. So, it takes me back. 
Have you ever traveled to a place that inspired you very much also makeup-wise?
I think Tokyo. The makeup there is just incredible — I love the "Kawaii" culture. It's very bright and pink and exaggerated. I wrote a story about this for Glamour: how I identified with anime characters more than like other typical bombshell beauties. Because I don't have the big lips or like the body of whatever bombshell but anime characters have big and inquisitive eyes and exaggerated features…that's who I identify with more. Everything is just so colorful and vibrant and fun.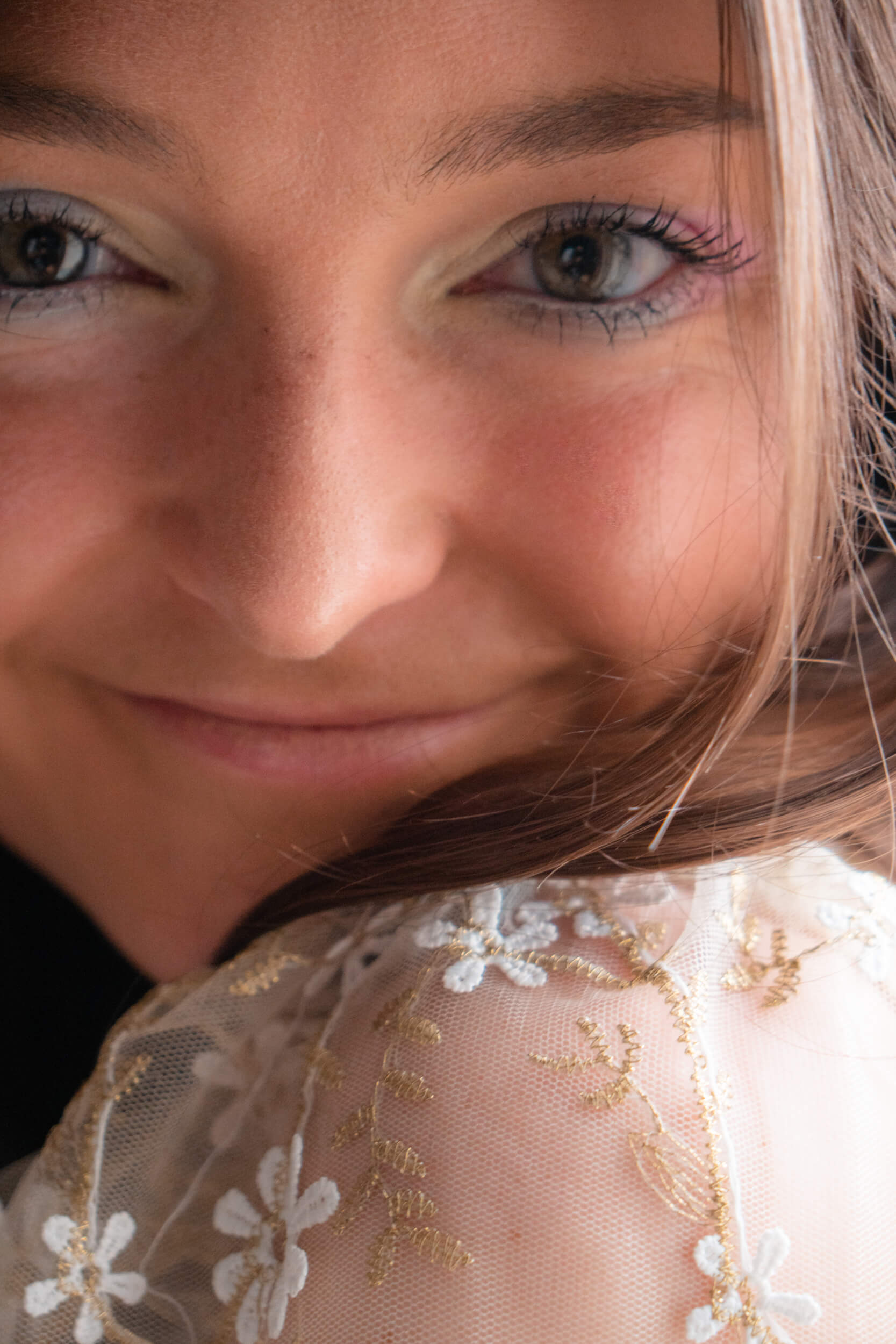 "I identified with anime characters more than like other typical bombshell beauties."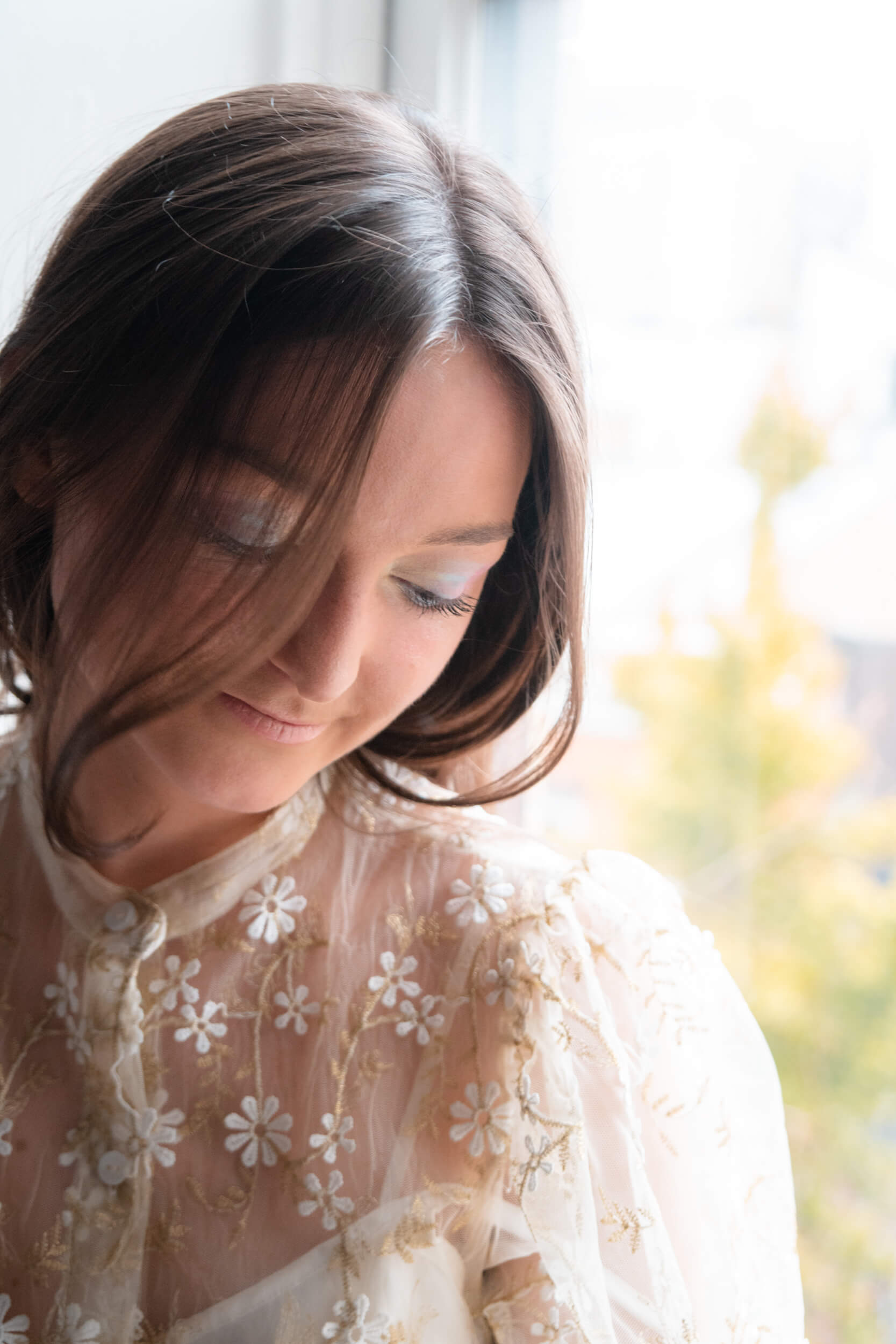 What's your go-to look?
I love a cat eye, every day. I have a winged eyeliner from Pat McGrath that I just like to use to the end. I don't feel awake until I have my black, sharp cat-eye on. So, I'll do that every day and then just like a light even base makeup.
What's the secret for your beautiful, luminous complexion?
Thank you. I think that a good blush goes really far: people forget that the blush brings a lot of life into your skin; I guess it's something people are nervous about overdoing, but it's the secret for making your skin look flush and radiant. An incredible one is the Cellular Radiance Cream by La Prairie: it has a peachy pinky shade, it blends very well and it's a cream. The second I put that on I feel like I look so much more alive. And my skin is glowing every time I use it.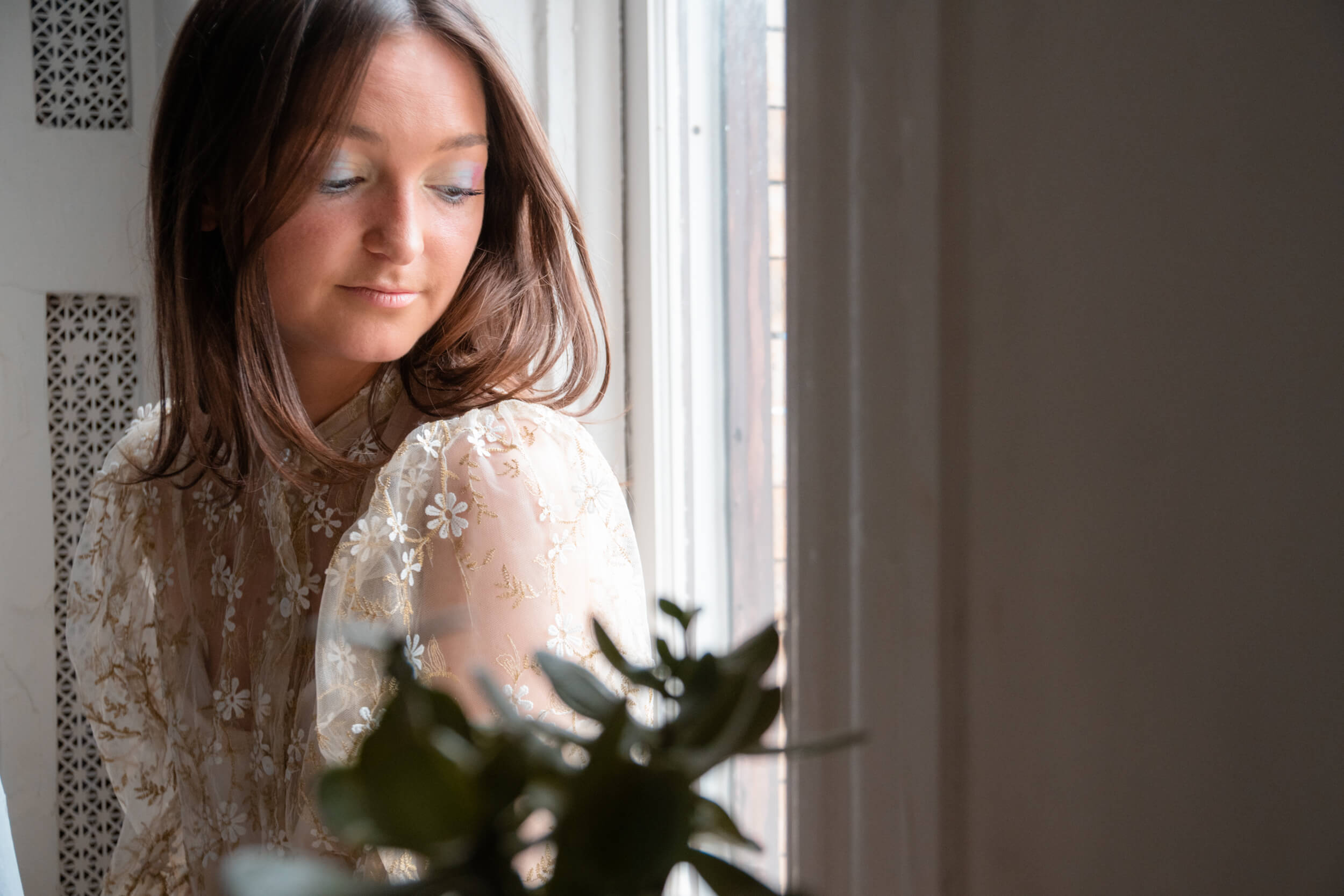 So yes, ending on a nice cream blush goes really far.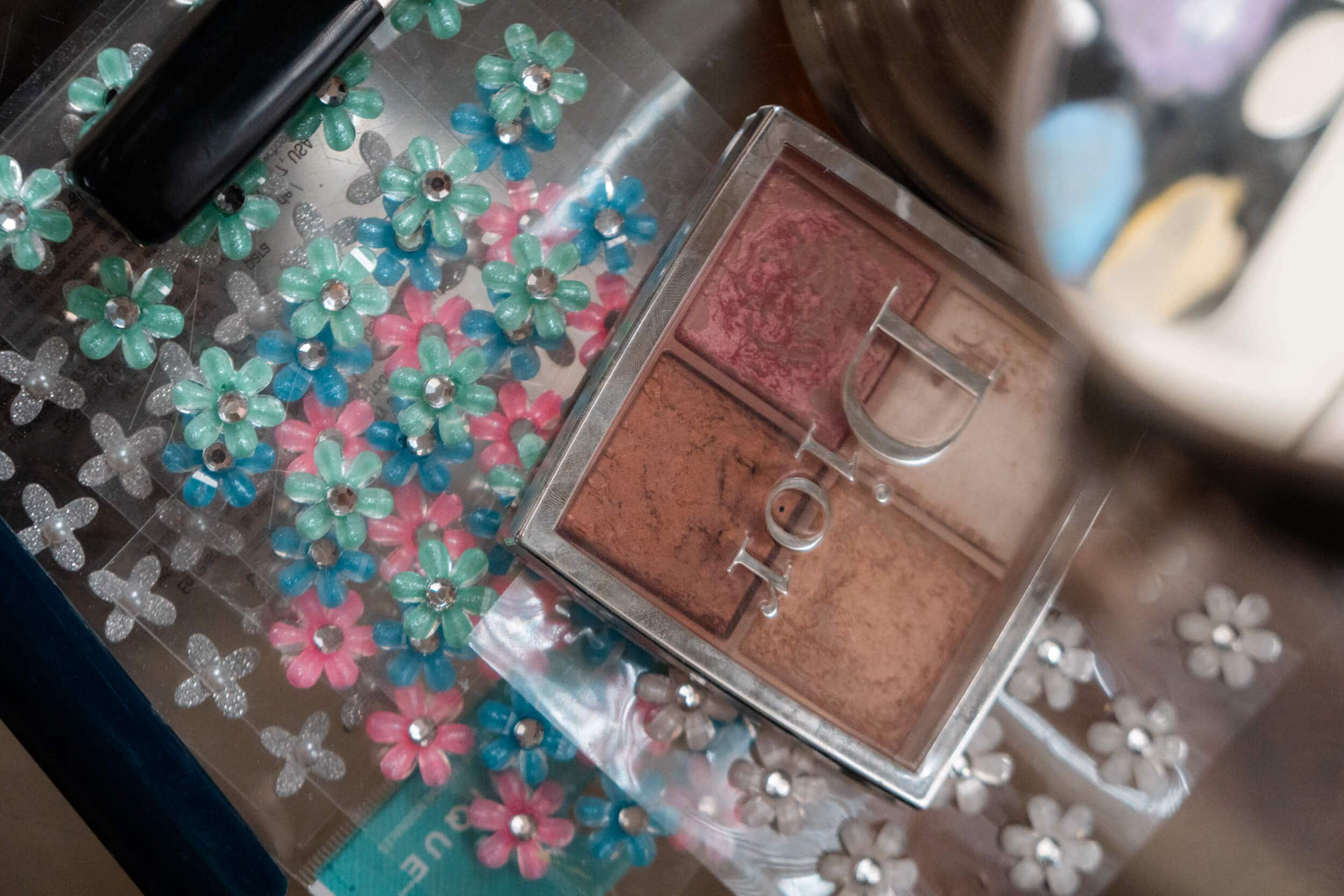 Bath or shower?
Shower. I mean, I wish I had a nice enough bath.
What's your favorite hair styling product or tool?
I blow dry my hair a lot, so, honestly, the Dyson. I got gifted that a while ago but I think I would buy it because it's so good for your hair: it's quieter, it doesn't bother my roommate and it just gets done in like 5 seconds, I swear. But otherwise, I don't do too much on my hair because it's pretty thin so I don't like to weight it down. Also, dry shampoo is a staple, I love the Klorane one with oat milk. I live off of that.
What's your favorite fragrance?
I love the Hermès fragrances, also the backstory to them. I love Twilly.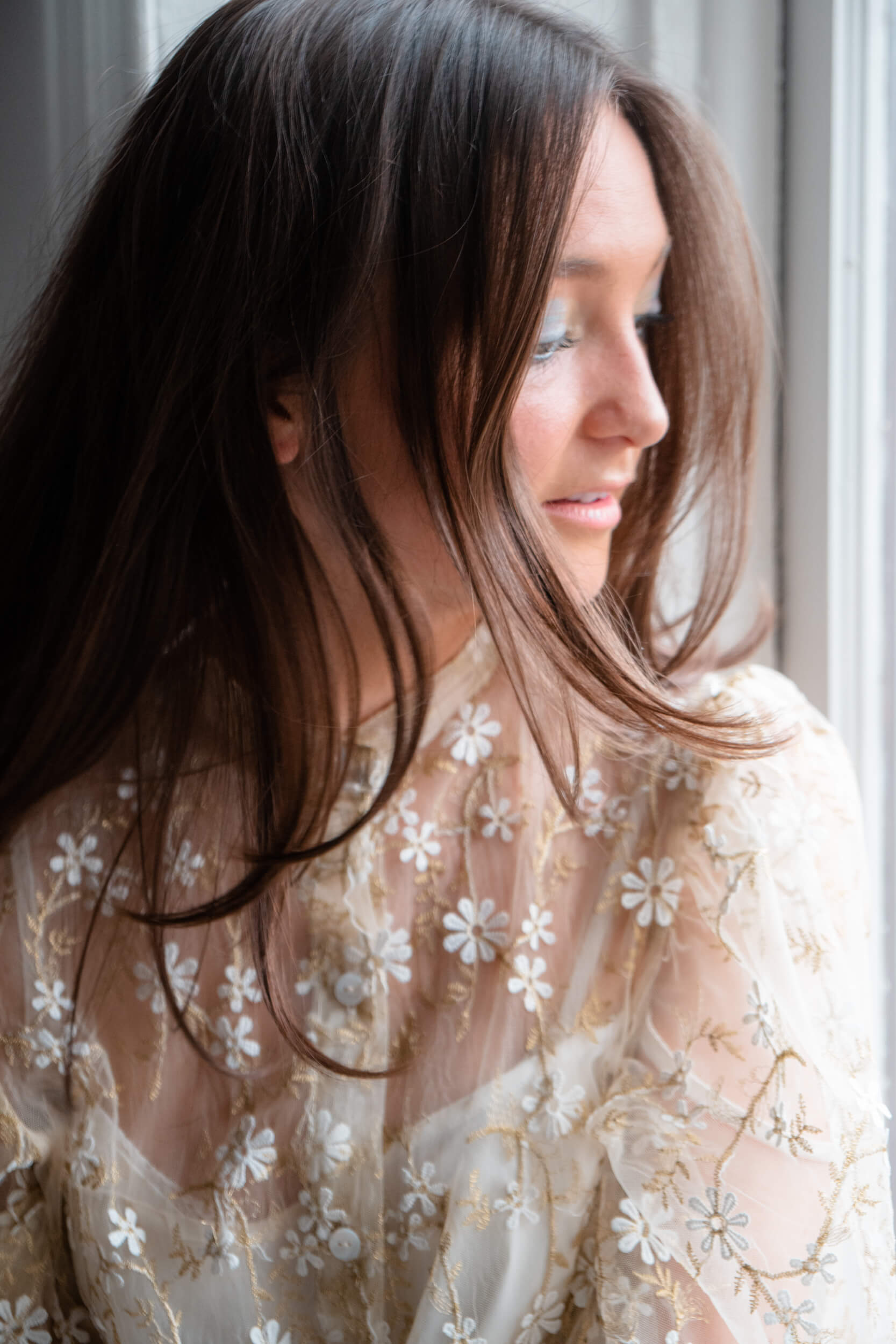 What was your first beauty product obsession?
It's fun because I came into beauty sort of later in life. I didn't know much about beauty until I started, actually at Glamour. I was lucky enough to get an entry-level job in the beauty closet, and so, I had the best beauty education, opening all the boxes and organizing everything.
What do you have too many of?
Light pink lipsticks. So many. And I only use the same ones over and over again. But they are like all under my bed. I'll get to them one day.
Your jet-lag beauty cure. 
A sheet mask. I like to travel with them. I usually don't get them on the plane but when I get to where I am going, I think it just resets me. And under-eye masks too.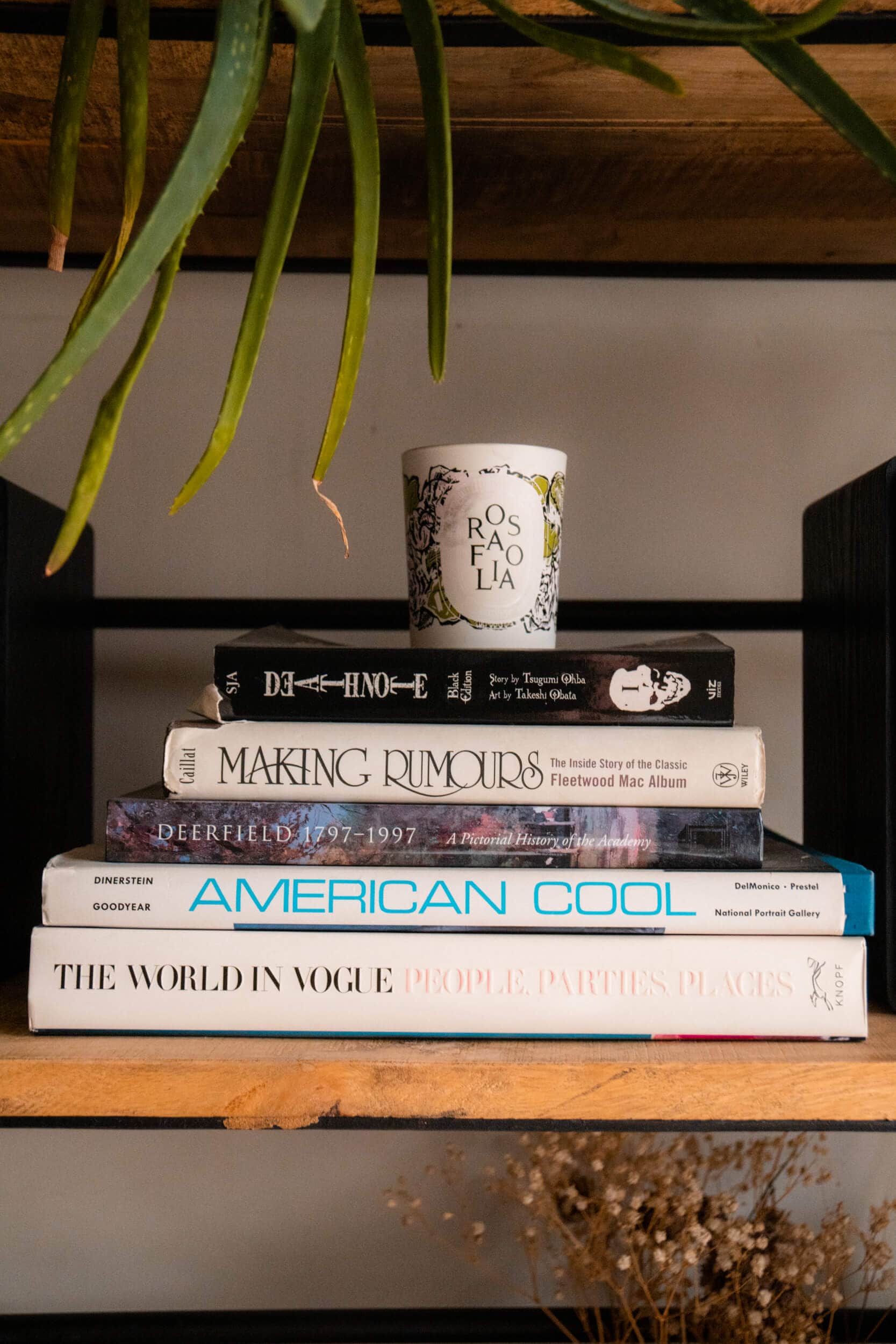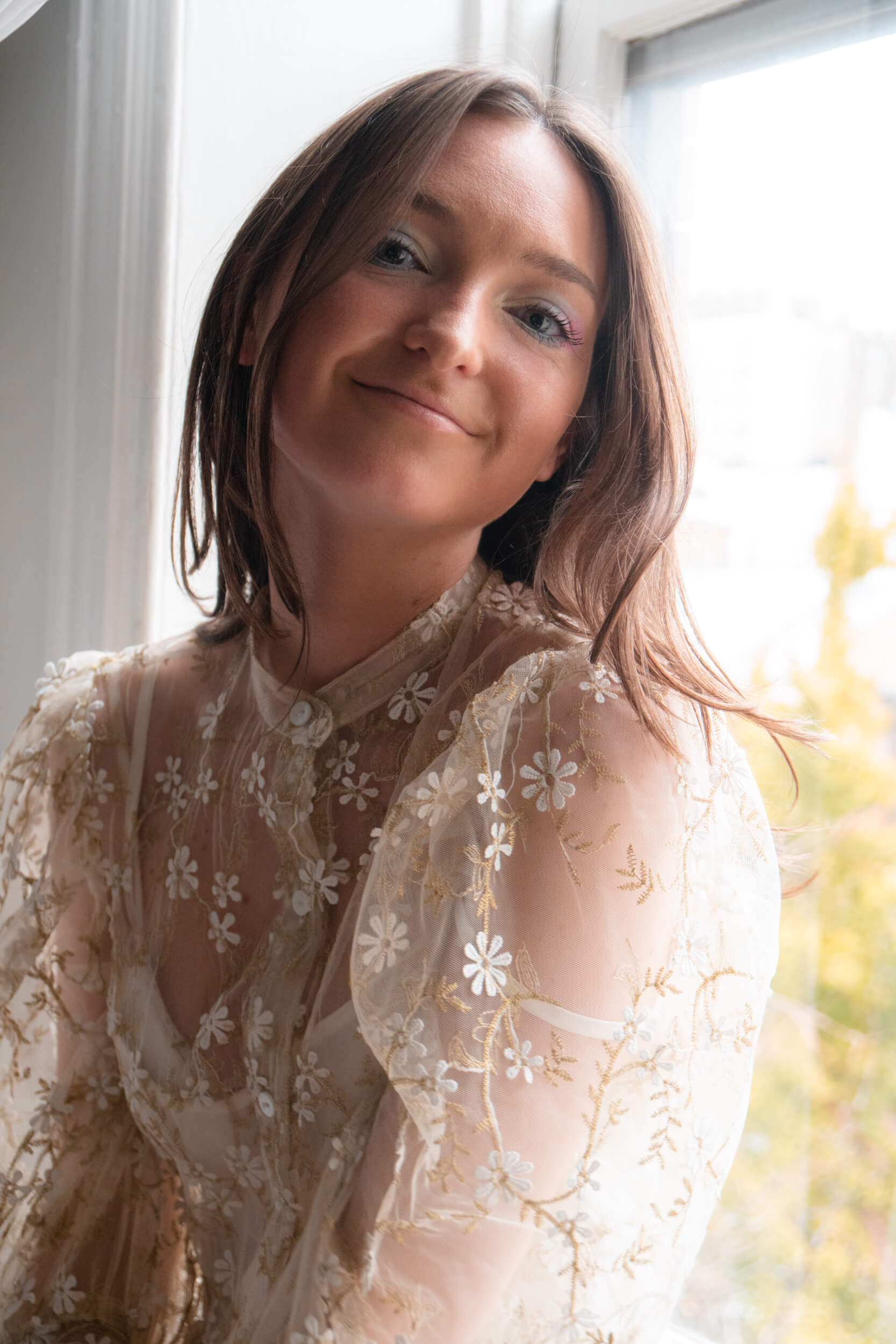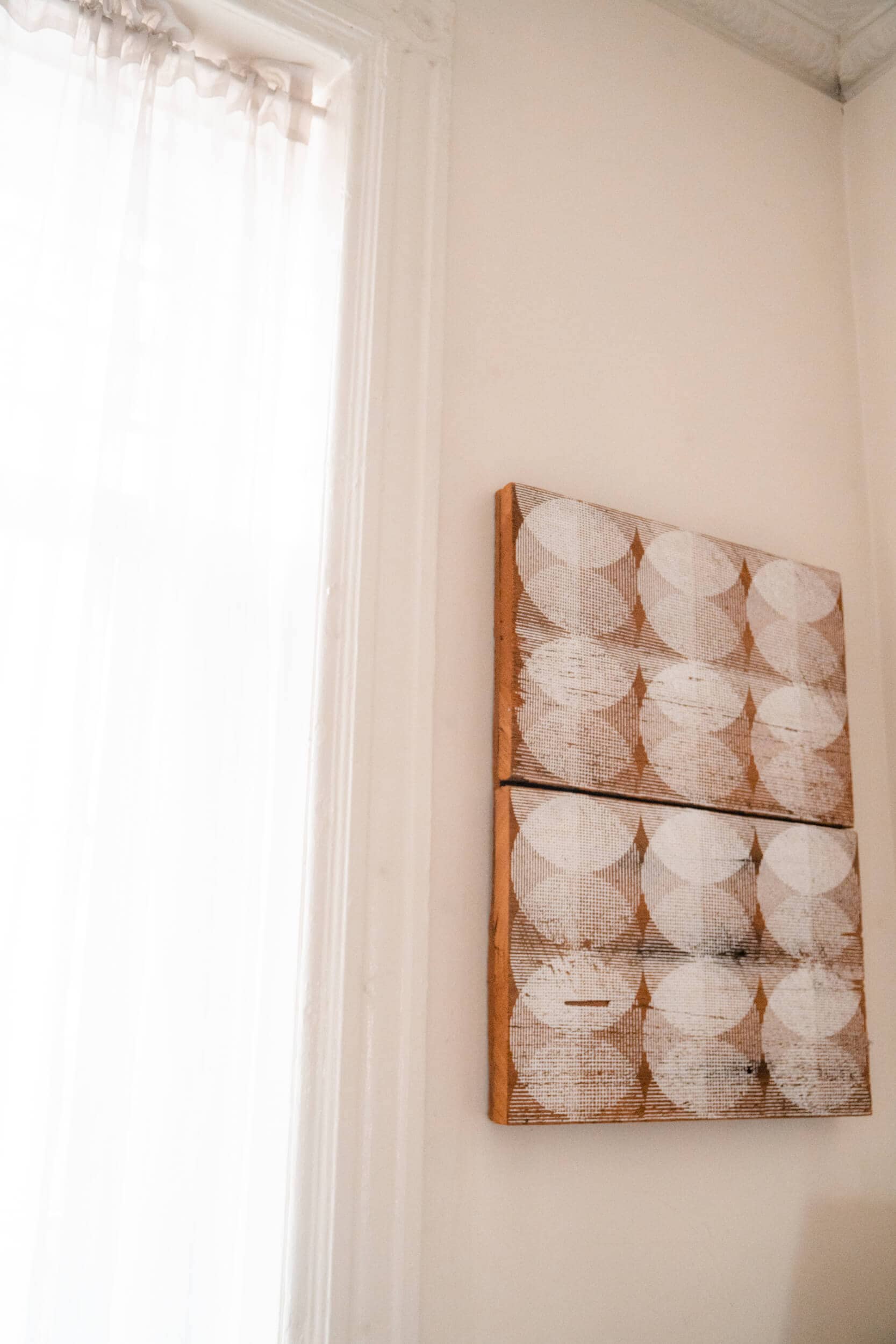 What's the bravest thing you have ever done?
It was hard leaving Glamour; working there was such an important part of my life, but I also knew I wanted to grow more. And going into the unknown is always scary. I had been there for almost 4 years, so pushing myself to trust myself to move on was no easy feat. I learned a lot.
What's your motto right now?
Just experiment and play. And I believe that comes easily with makeup because you can put something on, put on a look one day, and then you can just wipe it off at the end of the day. There is no pressure. There's always space for growth and experiment and playing with creativity. But you are never tied down to anything. So, you can start totally fresh the next day.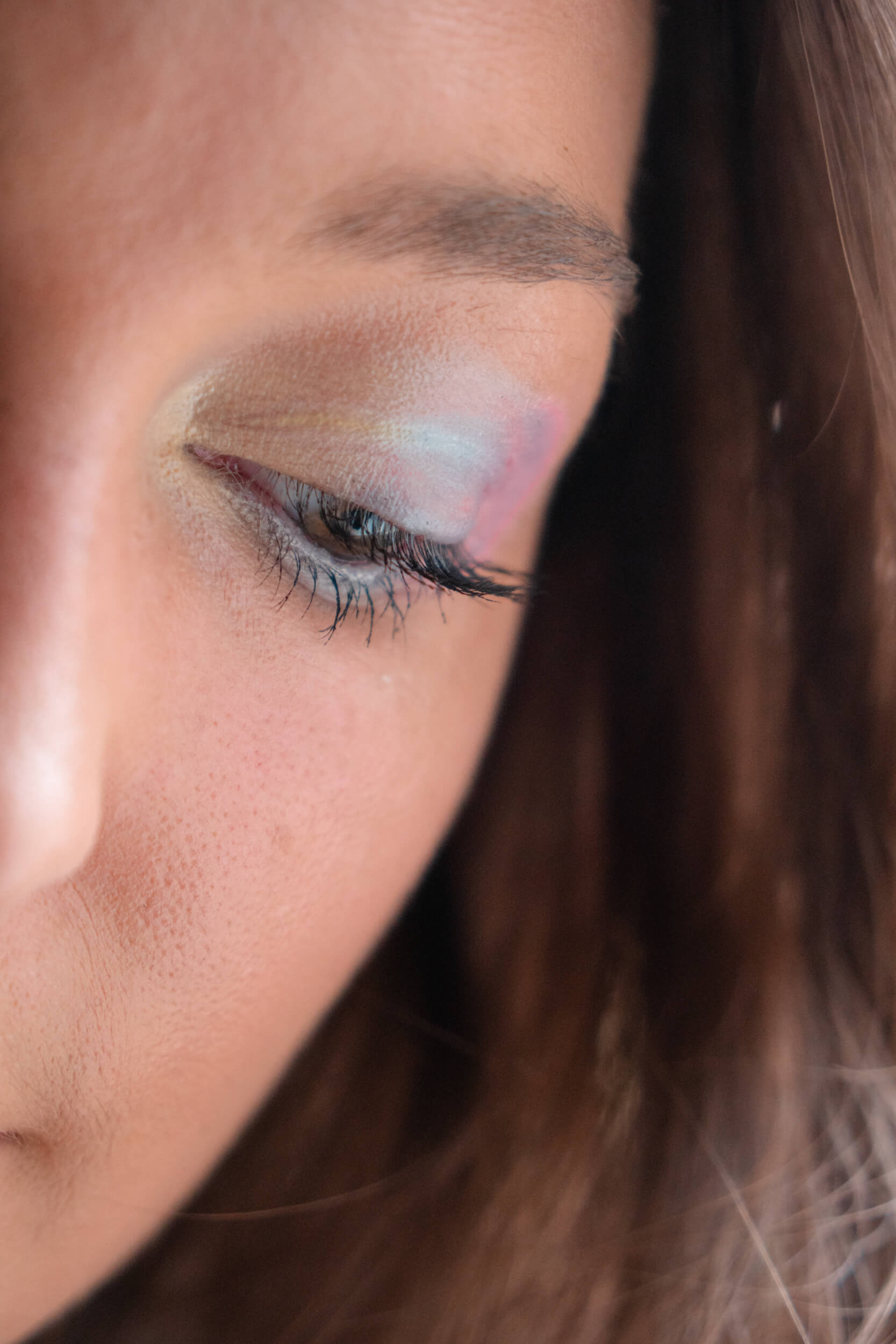 "Just experiment and play."
Do you have an epic beauty fail?
Yes. I have a problem with cutting my own hair after haircuts and ruining it. It's really weird, I know. I cut my own bangs which was fine, I actually like the way I cut them better than the way the salon did but even now I want to cut my own layers. So, I just like took scissors and cut layers. So yes, I have this weird thing where I'll cut my own hair and then regret it immediately after.
What advice would you give to your younger self entering the world of fashion and beauty?
Trust your creativity and trust your individuality and you are meant to be here for a reason. I think many of us go through impostor syndrome and thinking back to myself starting in the industry, thinking I didn't know anything, it's like I knew so much just by being who I was and everything that got me there and trusting that. Just trust who you are.
You are there for a reason.